Sponsored by The Tourism Association of Central Region in Fukushima Prefecture
Koriyama city is located in central Fukushima Prefecture. Because of its convenient location, and because both the Tohoku and Banetsu Highways and the Shinkansen run through the city, it acts as the commercial capital of Fukushima Prefecture, drawing visitors from many different prefectures to the city center.
Located very close to Koriyama City is a small town called Ono. This town is especially well known for its local dessert, the "Ice Burger," which fuses warm burger buns and various flavors of ice cream into one tasty sweet. I recently had the opportunity to try the specialty myself, and was pleasantly surprised by the combination of savory and sweet flavors that are incorporated into this unique dessert.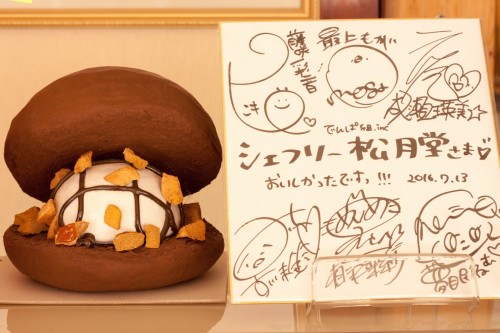 Ice Burger
This specialty has been a local sweet in Onomachi for over thirty years, and is loved by the locals in the surrounding areas.
The Ice Burger is quite simple in it's design. A scoop of vanilla ice cream is cradled inside a savory heated bun, and topped with nuts, and flavored syrup. There are two flavors that are offered year round.
Chocolate: The bun is a chocolate flavored heated bun, and the vanilla ice cream is topped with chocolate syrup and crushed almonds.
Blueberry: This is a plain flavored bun, and the vanilla ice cream is topped with blueberry syrup and shaved almonds.
There are also seasonal specialties available depending on the time of year. When I had the opportunity to visit, the two seasonal flavors were Orange Tomato (the vanilla ice cream was topped with an orange tomato syrup), and Chocolate Banana (vanilla ice cream topped with a banana syrup.)
The syrups are specially made with local ingredients and each store location offers different flavors to try out.
My Review
One bite and you'll fall in love. The crunchy texture of the nuts mixed with the cold ice cream and the warm bun set off a multitude of senses. The bun is just savory enough to add some contrast to the sweetness of the syrup and the ice cream, while also complementing the sweetness perfectly. If you are an ice cream connoisseur, be sure to check out this local dessert and give the seasonal specials a try!
Scheffli Shogetsudo Bakery
The Onomachi Komachi Ice Burger can be ordered at four different locations in the town of Ono. I gave it a try at "Scheffli Shogetsudo," a small bakery located in Ono Town. The bakery also hosted an interesting array of different baked goods, one of the more prominent being the "Cake Omelette," a folded over sponge cake with frosting in the center. The "Cake Omelette" came in a variety of flavors, from the traditional chocolate and vanilla, to more Japanese oriented flavors such as green tea.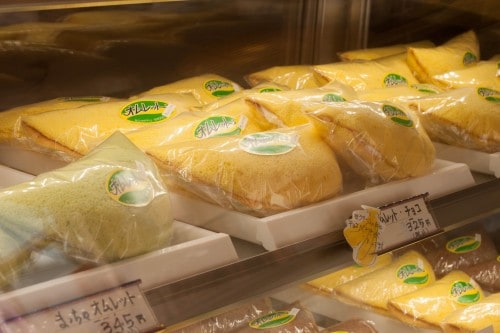 The Four Locations
Sheffli Shogetsudo: Offers the two traditional flavors of Chocolate and Blueberry, as well as seasonal specialties such as Orange Tomato, or Chocolate Banana.
Susumu Store: Houses the original Ice Burger.
Maruchu Store: Offers two distinct flavors, Chocolate and Maple.
Resturant Shiki: Offers a large variety of flavors and toppings, Chocolate, Fresh Cream, Mango Sauce, Powdered Green Tea Ice Cream, Fresh Cream, and Red Bean Filling.
The price varies from place to place but generally hovers between 100 yen to 350 yen per Ice Burger.
Access
From Tokyo Station: Take the Tohoku Shinkansen to Koriyama Station.
From Koriyama Station: Take JR Banetsu Tou Line to Onoshinmachi station (52mis /840 yen), from there take a walk for 10 minutes.