Sponsored by Akasaka Bar Yokocho.
When the conviviality of Spanish tapas meets the promiscuity of Japanese yokocho – the small smoky alleys that started appearing after World War II, filled with tiny bar counters where Japanese salarymen gather for a drink or two after a long day of work – it results in a place fusing two cultures into one unique concept at Akasaka Bar Yokocho (minus the smoke, cigarettes being banned there).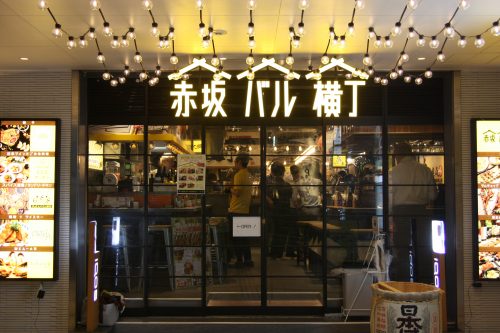 A bit of history
But before we start, here is a bit of background. Yokocho (横丁) were originally black markets called yamiichi (闇市), created as a form of resistance of the unique Japanese culture in a context of food shortage and US occupation under the Showa era just after WWII. The Kanji '丁(cho)' literally means 'encountering' or 'crossing', which is very close to the concept of tapas in Spain, where people of all generations and styles get together and can interact in a relaxed atmosphere.
A culinary journey
Nine small restaurants coexist under one roof, each of them with a singular style and an original menu, offering a multitude of flavors to discover. The idea is not to come to Akasaka Bar Yokocho and sit at the same table for two hours. The idea is to wander around, following the tempting fragrances coming out of the open kitchens and start a culinary journey from counter to counter. Add to this a modern decor, slightly softened lights, friendly prices and you already know where you will spend your next night in Tokyo! Here is a visual summary of our gourmand itinerary in seven of these nine restaurants (two of them will soon be changing and are not introduced here).
Shirogane Kidor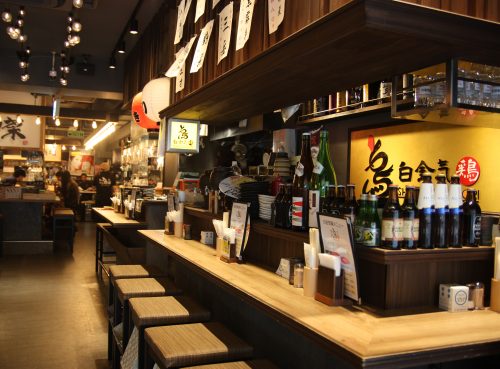 Starting with a classic in Japanese cuisine: grilled meat skewers or yakitori. There is one distinctive feature on the menu here, every dish being prepared with chicken.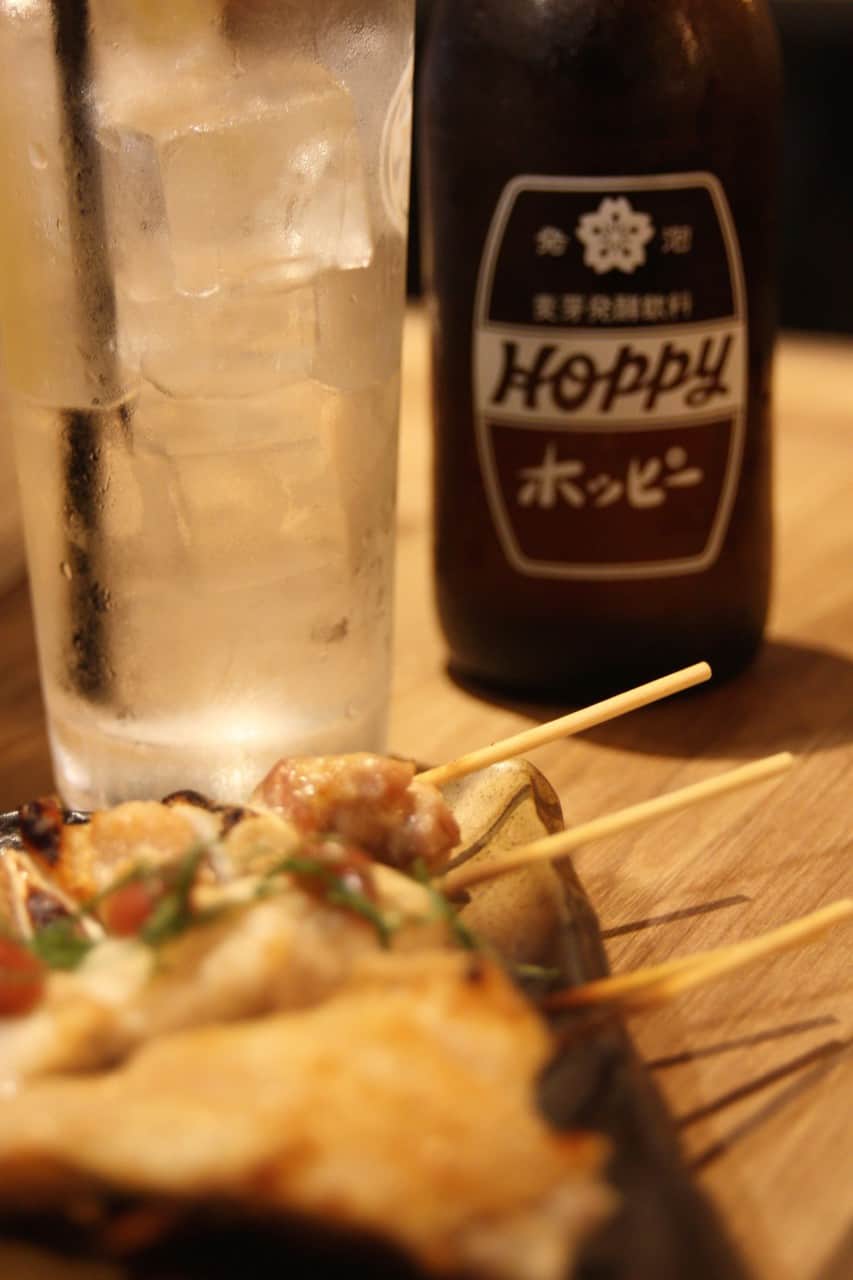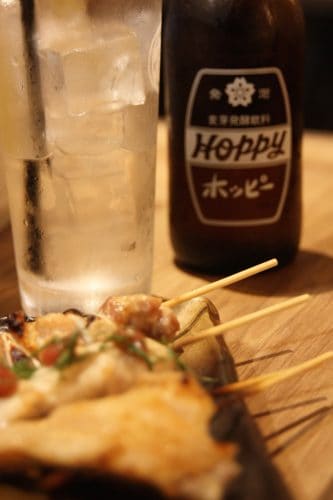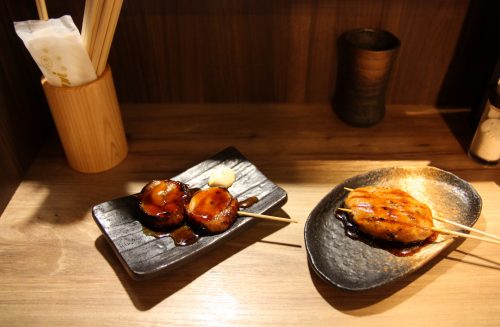 And everything is cooked and seasoned to perfection. I particularly recommend the thick chicken thighs skewer, served with a slightly sweet sauce at a very affordable 250 yens per skewer. To accompany the food, you can order a cocktail made with plum alcohol or a Hoppy, a refreshing beer-like drink.
Chop Shop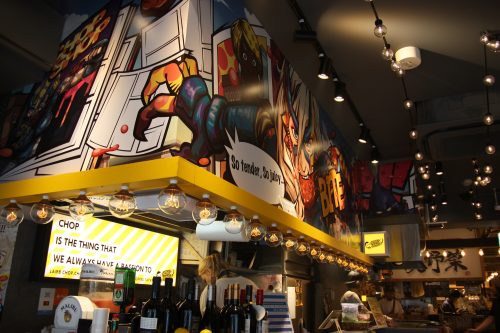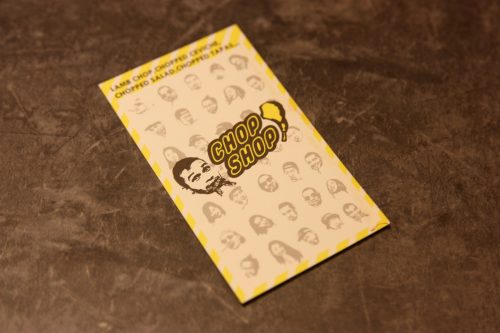 Moving on to the next restaurant and the next ambiance! At the counter of Chop Shop, you will be served lamb chops, with a dozen seasonings to choose from on the menu: pepper, raspberry vinegar, goat cheese… I tried the coriander/lime combination as well as the konbu seaweed marinated chops with a slightly salty taste. Price wise, count between 480 and 880 yens per chop.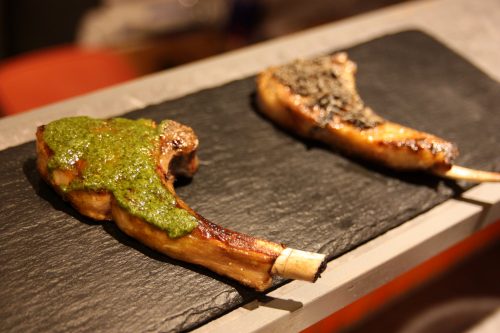 You will also find on the menu salads, ceviche, tacos and other tapas to share. And don't forget to ask the staff for a recommendation on the best wine to pair with your food.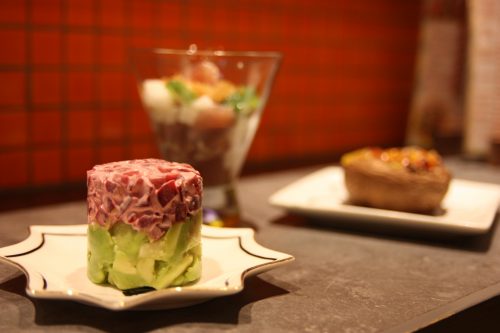 Tregion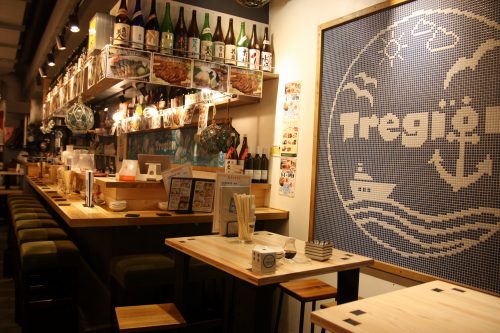 If you are more of a fish and shellfish enthusiast, you can go straight to restaurant Tregion's counter. Here, you will be served seafood coming from the Tohoku region, in the North of Japan.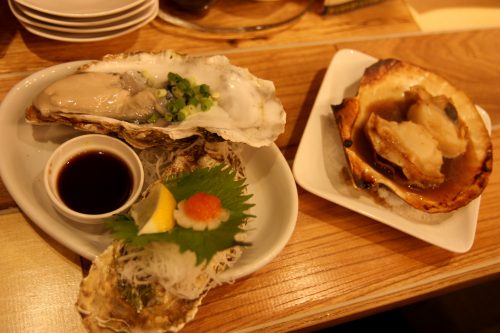 Cooked scallops or prepared in sashimi, oysters, octopus, tuna tartar… everything on the menu is fresh, in season and served with delicious local sakes.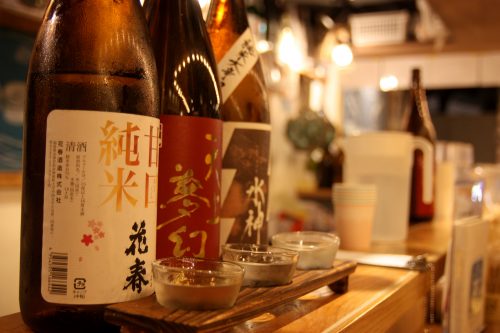 If meat is more your thing, you can also find on the menu items such as beef tongue and sausages (the only dishes that cost slightly more than 1000 yens).
Teppan Yakiyasai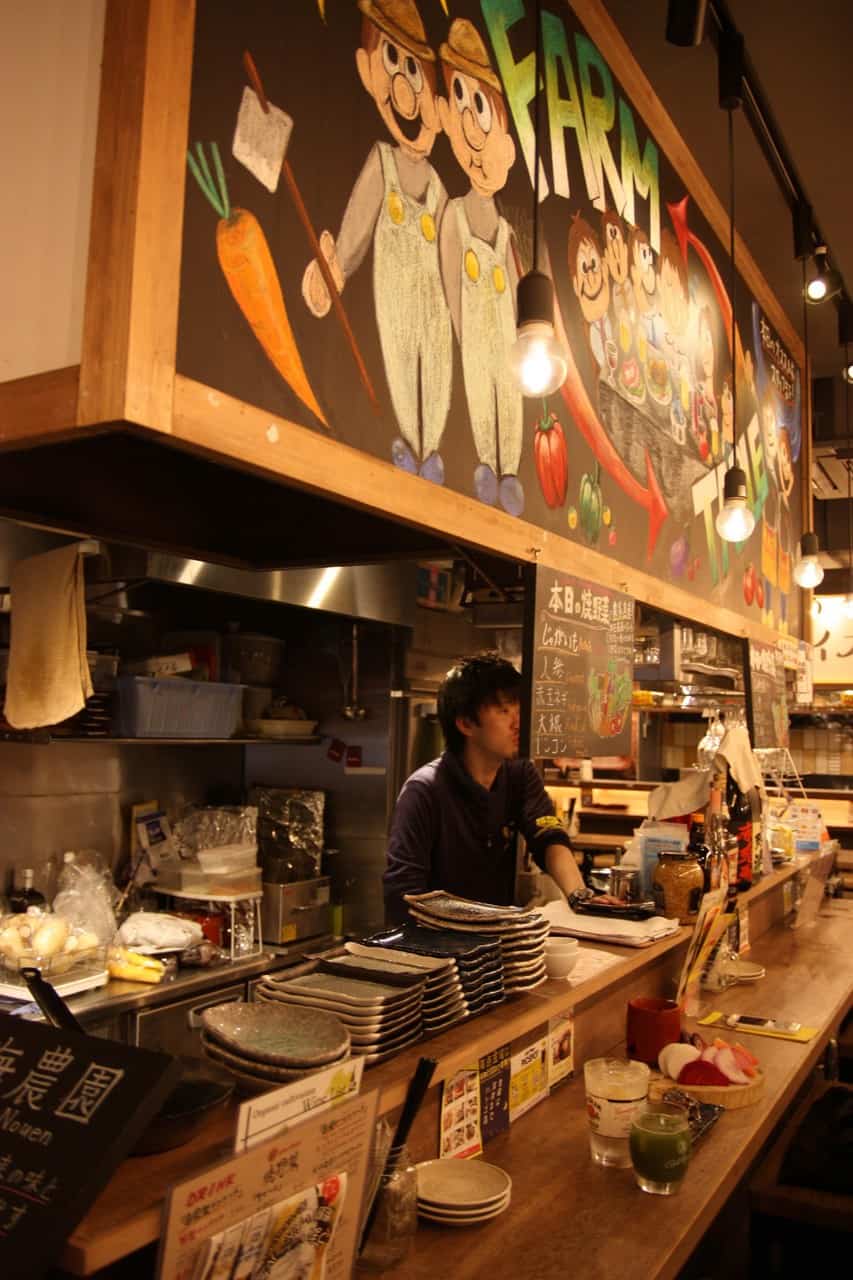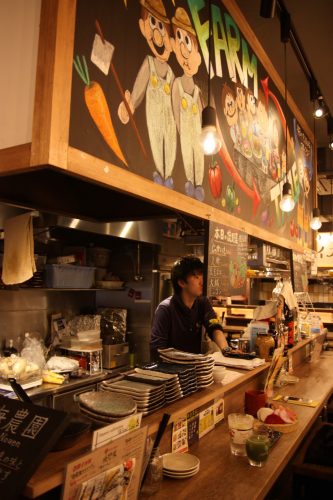 As a big fan of fruits and veggies, Teppan Yakiyasai sure was one of my favorites! The restaurant offers a selection of organic Japanese vegetables in season, prepared with simplicity to preserve their natural flavors. The menu evolves with the seasons and the crops to serve only the freshest of ingredients.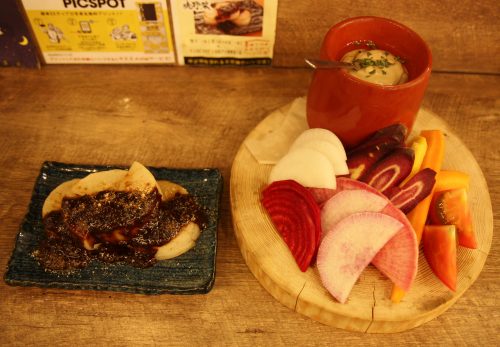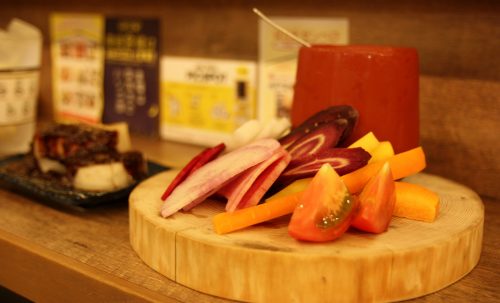 Make sure to try one of the specialties of the house: grilled slices of daikon radish served with a sweet and savory sauce. Dishes on the menu range from 380 to 880 yens and can be enjoyed with a glass of fruits and veggies juice or a glass of organic wine.
Gyoza 365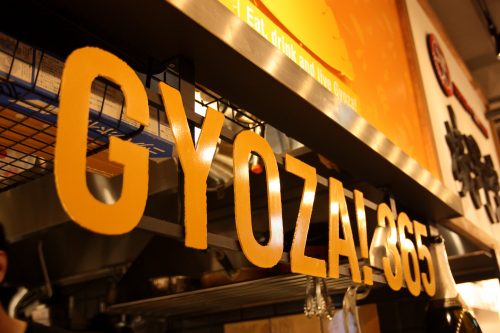 With the name of the next restaurant, Gyoza 365, it seems like we know what to expect on the menu. Not much surprise here, it seems like we will be eating gyoza, the Japanese ravioli filled with pork meat. But that was without counting on the creativity of the chef who gets inspiration from international recipes to entirely revisit gyoza as we know them.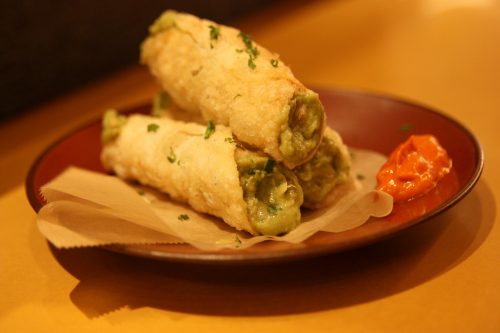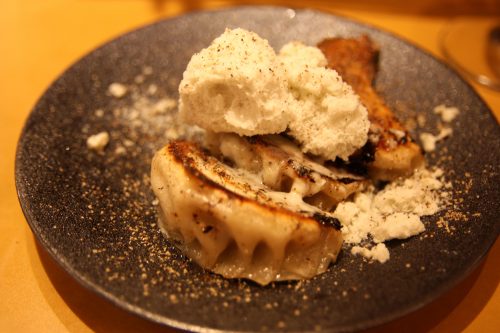 Of course you will be able to order the classic version of them, but you can also order a plate of fried, guacamole filled gyoza (a delight!), another version with beef and pepper or the arrabbiata style ones. You can count between 480 and 980 yens for the gyoza, 980 yens for a craft beer and 580 yens for a glass of natural wine.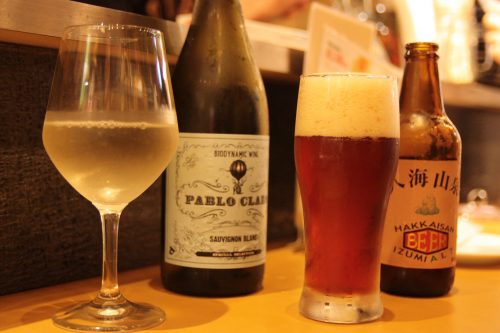 editor's fav Rurubu kitchen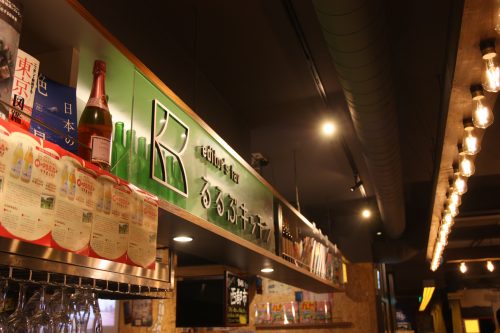 The menu at editor's fav highlights a selection of regional specialties from all over Japan. Products that are carefully selected by the editors of Rurubu Travel magazine that you can taste among the dishes of the main menu, as well as the temporary menu – changing every month – or among the products sold directly at the counter.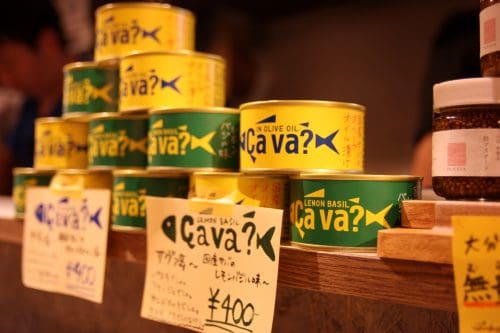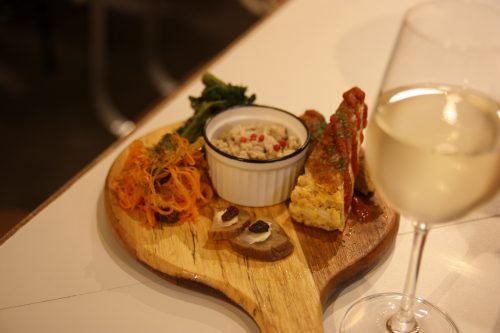 I could taste an assortment of five small dishes (special mention for the rillettes!) for a total of 1780 yens, all of it served with a glass of Chardonnay.
Good Spice Curry Sakaba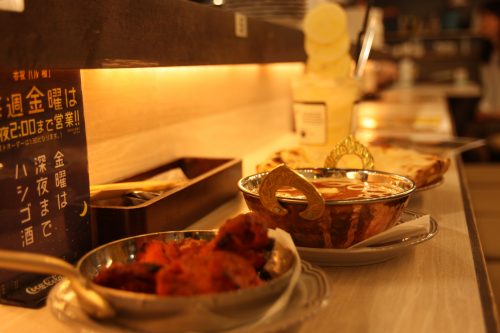 By the time you have moved to the counter of Good Spice Curry Sakaba you will feel transported to India! You will find something for everyone here, for those who can handle spices as well as the rest of us. Among the softer dishes, the butter chicken is delicious – and even more so if you order a cheese nan to go along.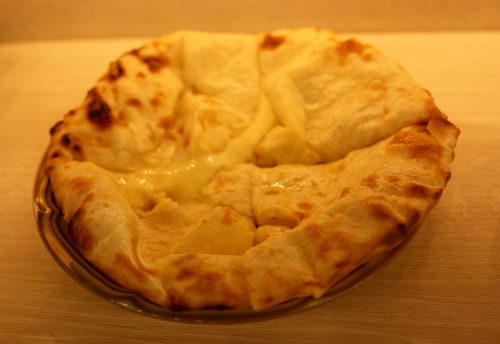 As for the drinks, you can go for a yokocho classic, the lemon sour, served here with a tower of lemon slices, or for a more exotic and sweet blackcurrant cream lassi.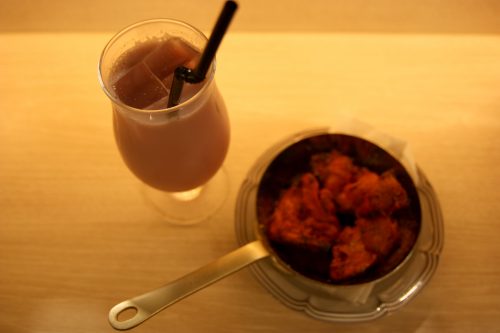 And here again, no bad surprises regarding the prices with the chicken tandoori costing 680 yens, the cheese nan 450 and the lemon sour 480.
The little extras of Akasaka Bar Yokocho
Yokocho have the reputation of being very convivial places, but also very smoky ones because of cigarettes and open kitchens. The Akasaka Bar Yokocho offers however an environment that is more pleasant and welcoming to non smokers as cigarettes are banned here, attracting a younger and more feminine crowd. Guests are instead invited to use Iqos electronic cigarettes which produce no smoke nor unpleasant smell.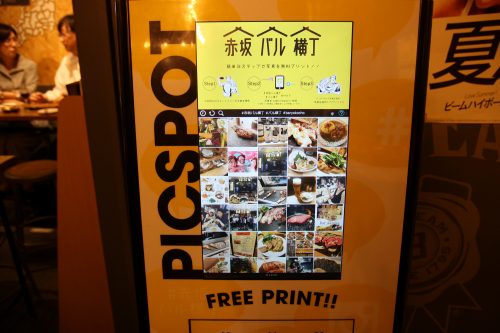 Another little extra is that you can print out your Instagram photos taken there for free. To do so, you simply need to use the #baryokocho when uploading a new photo to the social network and it will then automatically show up on the terminal to print it out. Quite a clever idea to offer this service in such a highly Instagram-worthy spot…
How to get there?
As its name suggests, the Akasaka Bar Yokocho is located in the Akasaka district, not far from Roppongi or Aoyama. It is rather easy and quick to get to the bar from metro stations Akasaka, Akasaka-Mitsuke or Nagatacho. You will need no more than 4 minutes to walk there. Installed on street level, you won't have a hard time recognizing the place, with its yellow letter sign and light garlands hanging from the ceiling.
A voice from Bar Yokocho
Yokocho was derived from the black market after World War 2. And even now, Yokocho which locates all over Japan has been rooted as one of the original cultures in Japan. Yokocho was used to be a middle-aged man's oasis before, but recently, the young generation, especially ladies and foreign tourists are visiting Yokocho and enjoy hopping. This is why the company 'Recruit' predicted epidemics of the year 2016 as Yokocho Renaissance. The new movement of young ladies that visit this venue like tourists to take pictures for posting SNS, and enjoy communicating with a middle-aged man who supports these venue's business without any complicated human relationship but has a warm heart, has been spreading recently. And Neo Yokocho stimulates the trend. There have been born new places where can feel good old days but on the other hand, serving stylish food, drink, and hospitality at Tokyo and another region.
Bar Yokocho that opened 3 places consecutively at Kamata (downtown of Tokyo), Akasaka (the premier business district of Tokyo), and Karasuma (the premier business district of Kyoto) is the Representative for that trend. Bar Yokocho is a new style fun place to hop, which unites Spain and Japan's bar culture. In Spain, people enjoy hopping bar where have specialties at night time, and bar is watering-place to local people.
Also in Japan, 'cho' as in the word 'Yokocho' has a meaning of 'meet' and 'come and go'. So it named Bar Yokocho. So please enjoy!
Feel free to visit the Akasaka Bar Yokocho website (in Japanese) to find out more.
| | |
| --- | --- |
| Name | Akasaka Bar Yokocho |
| Category | Bar/Restaurant |
| Address | Akasaka Bar Yokocho, 〒107-0052 Tokyo, Minato, 赤坂3丁目17−1 |
| Access | [map]Akasaka Bar Yokocho, 〒107-0052 Tokyo, Minato, 赤坂3丁目17−1[/map] |
| Opening Hours | From Monday to Friday: 11:30-14:00 et 17:00-23:30 (02:00 on Fridays), Saturday: 11:30-23:30, Sunday: 11:30-22:30 |
| Price Range | 200-1500 yens |
| Payment options | Cash |