Sponsored by Niigata, Murakami and Sado City
When traveling to Japan for the first time, people tend to focus on visiting the most famous places in the archipelago, namely Tokyo, Kyoto, Osaka… And even though these are amazing places to visit, they tend to be crowded with many other tourists. If you would rather travel off the beaten path and discover other places in Japan, you might want to go to Niigata! Only located a mere 2 hour train ride from Tokyo, Niigata and its surroundings – Murakami and Sado Island to name a few – are worth checking out for their beautiful natural landscapes: rice fields stretching as far as the eye can see and mountains covered in snow during winter, all of which opens along the Sea of Japan. But that's not it! The region also offers plenty to see and to do. Here are five main attractions you shouldn't miss.
Diving into the rich Japanese culture
Are you a fan of Japanese culture? Whether it is in Niigata, Murakami or Sado Island, you will find plenty to satisfy your curiosity.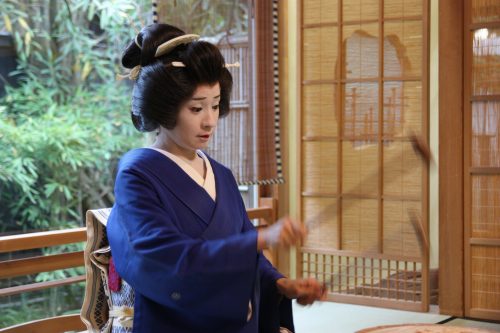 You will be able to meet the Geishas of Niigata – or Geigis as they are called in the local dialect – in the district of Furumachi. There, you'll discover that Kyoto isn't the only renowned city of Japan hosting these elegant artists!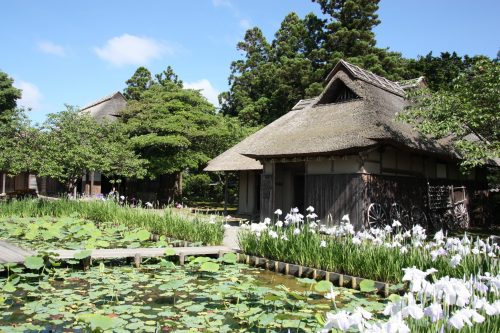 While in Niigata, head towards the Northern Culture Museum to go back in time. The impressive residence of a rich family of land owners awaits there, nestled in the heart of a magnificent Japanese garden.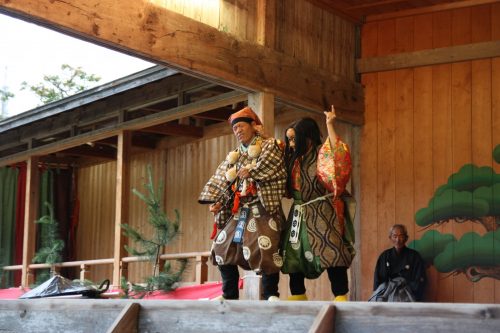 If what you're really into is art, and more specifically performing arts, then Sado Island will offer you the unique opportunity to attend a Noh theatre play, a traditional form of Japanese dramaturgy.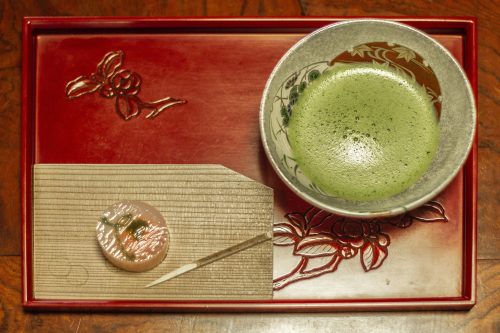 As for all tea enthusiasts, they will be able to go to Murakami to push the doors of some of the most renowned teahouses of the region. More than just a drink you will discover there a proper art of living.
Getting an introduction to traditional craftsmanship
For the most gifted with their hands and creative persons among you, the region also offers ways to discover more about traditional craftsmanship with hands-on workshops.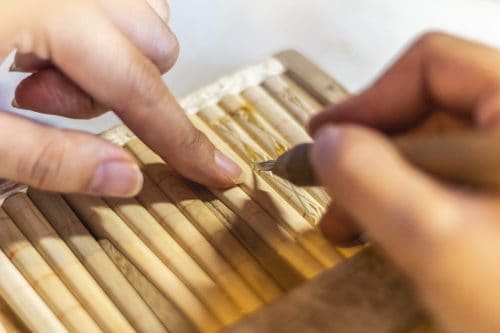 Starting with the very meticulous and precise arts that are wood carving and lacquerware, making all Murakami master crafstmen proud. They will be more than happy to open the doors of their workshops and guide you through a beginners class in their craft.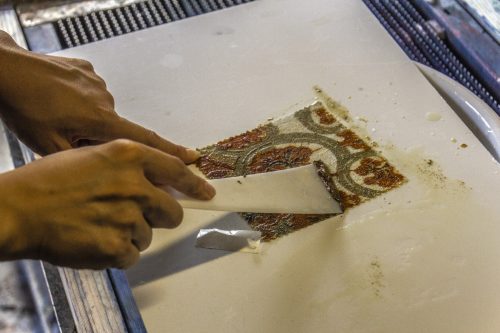 If you prefer working with textile than wood, don't miss a chance to learn more about fabric dyeing with an ink made out of tea! A printing technique that is unique to Murakami.
Discovering local folklore
If what you are after is discovering the folklore traditions of the area, we suggest you take a trip to Sado Island, a former exile land with very rich and diverse cultural influences.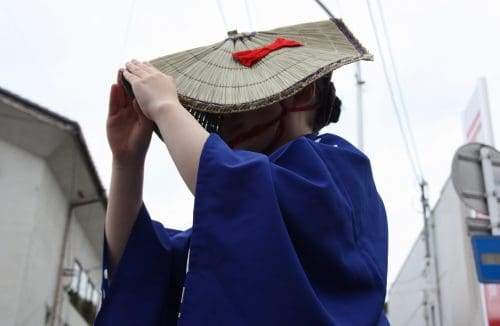 Visit Sado Island during the summer months, the high season for festivals, to mingle with the locals and catch various street performances.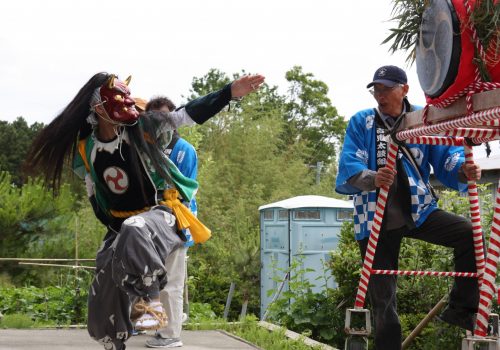 Whether you come across masked dancers and the sacred lion at Hamochi festival or Deity Masked Dancing to the rhythm of the drums at an Ondeko performance, you will not leave the place disappointed.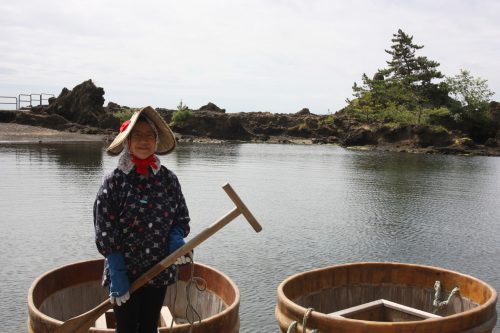 You can also get a taste of local folklore by jumping aboard a tarai-bune, a small traditional fishing boat, for a very uncommon tour on the clear waters of a local creek.
Tasting local specialties
If Japan as a whole is well known for its culinary culture, Niigata Prefecture actually is a particularly good example of that. Famous for its rice, sake and fresh seafood from the Sea of Japan among others, you will find plenty to fully satisfy your taste buds.
Starting with the famous sake! The drink won't have any secret left for you after a tour of the Imayo Tsukasa brewery in Niigata, followed by a one of a kind tasting session at the Ponshukan shop.
To get your hands on the best and freshest local products, spend some time at Pier Bandai, Niigata's permanent market. After a walk around the market aisles, don't miss a chance to try out one of their restaurants (especially the sushis!).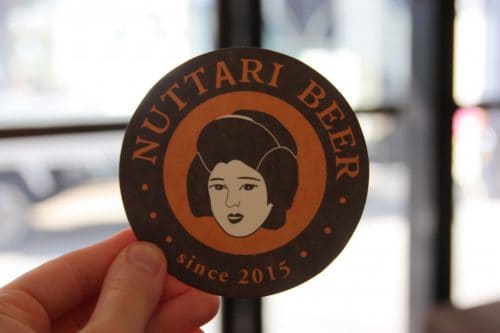 As for the fermented products, another specialty of Niigata, head for Nuttari district. There, you will find local beers and products made of miso and koji (a mushroom).
Unwinding in nature
And as the busy days spent visiting will surely empty your batteries (and your stomach), here is a selection of traditional Japanese accommodation to spend the night in the region:
Located on Sado Island, the Hananoki Inn ryokan will offer you a quiet night in nature, with a magnificent view on rice fields from your room.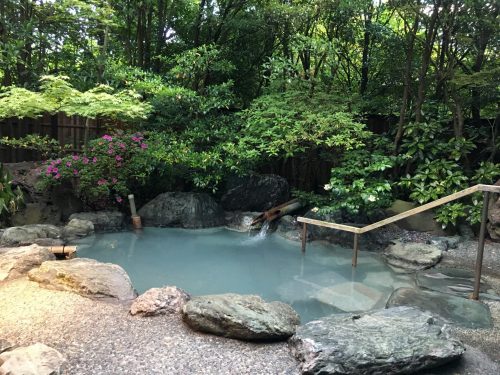 For all the hot spring baths enthusiasts out there, go spend the night at Yumeya, a high end ryokan located in the thermal town of Iwamuro. Both an exceptional decor and diner await you, along with spring water filled with multiple benefits.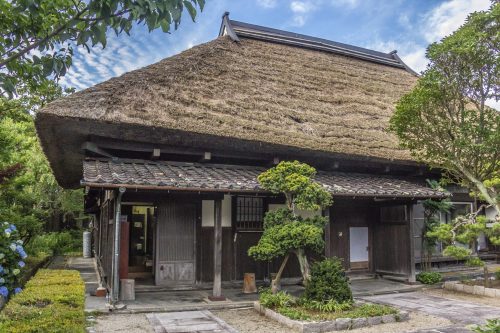 Finally, if you wish to stay close to Murakami, a relaxing night spent at Goushikan Inn at the bottom of Niigata mountains will fully recharge you before going back to your visits packed days.
How to get there?
Niigata can be easily reached from Tokyo, Kyoto, Osaka or Kanazawa. Once you are there, it is simple to travel to Murakami (a 50min express train ride) or Sado Island (1h by jetfoil, 2h30 by ferry).
From Tokyo: the trip from Tokyo to Niigata can be easily made by train, via the Joetsu Shinkansen line. With no connection and only taking 2 hours, a trip to Niigata is ideal for all JR Pass owners.
From Kyoto: you can choose to go to Niigata from Kyoto via Shinkansen but note that a night bus is also available at a cheaper price (around ¥7000).
From Osaka: the fastest to reach Niigata from Osaka is via a domestic flight lasting about 70 minutes, with about 10 flights each day. For travelers who came to Japan via an airline which is a member of the Staralliance or Oneworld alliance, note that all domestic flights within the archipelago won't cost more than ¥10,800.
From Kanazawa: you will need around three hours and 30 minutes to reach Niigata from Kanazawa Station via the Hokuriku Shinkansen Line, with a change in Takasaki.