Sponsored by Murakami city
There is an undeniable elegance inherent to the Japanese way of life, and some of the most renowned proof of this is the sense of service and hospitality you experience once you arrive at your holiday destination. Far away from the rather standard Western hotels in the city, traditional inns or ryokans are unique to Japan's history and still remain the pride of thousands of inn owners today. Today, we visit Goushikan Inn, a magnificent centenary facility built in the heart of breathtakingly lush rural scenery.
At the edge of Niigata Prefecture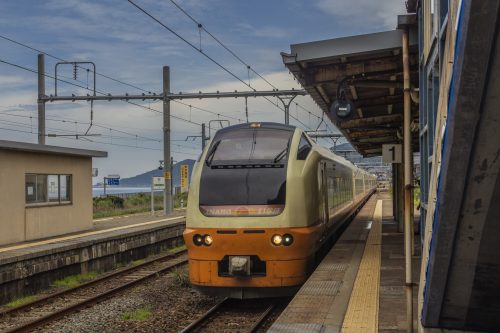 Our destination isn't far from Fuya Station, surrounded by what makes the pride of the region: rice fields. Niigata Prefecture is indeed renowned in the entire country for its rice filled with pure spring water growing in fields stretching out as far as the eye can see. On the train on my way there, I am reminded once more that travel is as much about the journey itself than about the end destination. On your way there, you can let yourself be gently rocked by the soft train vibrations, all the while contemplating the rice fields spreading over kilometers and the beaches opening onto the Sea of Japan that you'll spot if you come from Murakami. Once you arrive at the station, the inn owner will come to greet you and pick you up by car.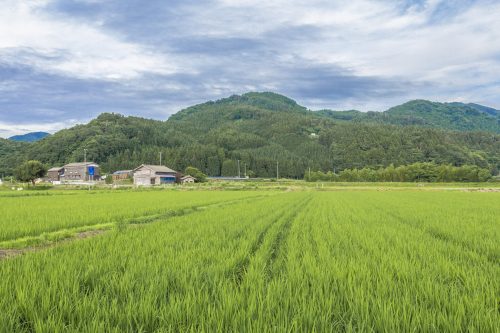 The final kilometers of the journey will completely immerse you in a sea of light green only ending where the mountains start. You're not just at an inn, you've been transported somewhere else entirely.
Goushikan Inn 豪農の館 郷思館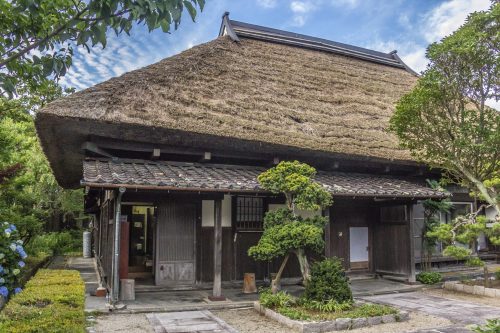 Nested behind a high wooden gate separating it from a road where you'll meet cheerful neighbors and friendly cats, Goushikan Inn offers an intimate atmosphere with its delicate tree-filled garden that stands in contrast to the impressive main building.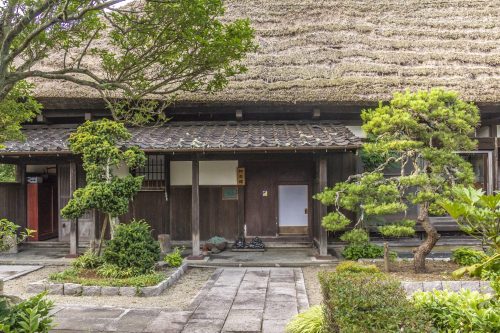 Don't be fooled by the misleading proportions! The front door hidden in the shadow of the magnificent thatched roof is actually much bigger than it looks and our hostess will need the strength of both her arms to open it completely. Luckily, you can just gently slip inside through the fusama, a small sliding door made of rice paper.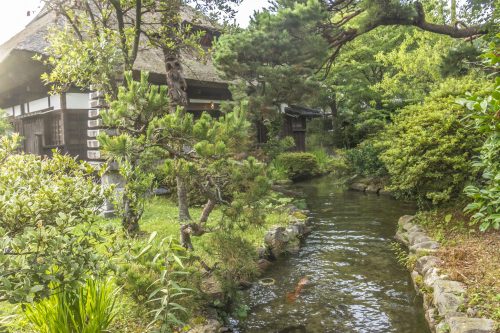 A few carps will keep you company throughout your stay, sheltered from flying predators with a smart protection system made of fishing lines. They are friendly and will gladly accept a few seeds that the hostess leaves for you to feed them. Their tiny leaps out of the water will punctuate your stay, bringing a sweet surprise to your ears in the otherwise relaxing quietness surrounding the pond.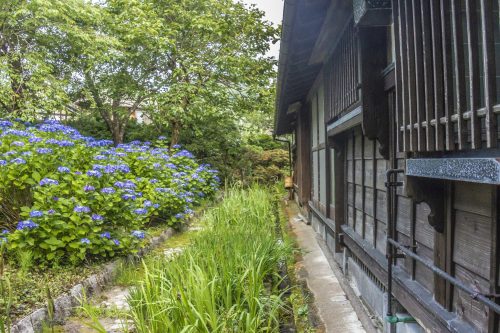 You will find at the back of the house a last stretch of garden, the most flowery one, which you will also be able to admire from your shower. No worries about being seen though as no one except for a few butterflies will disturb your privacy.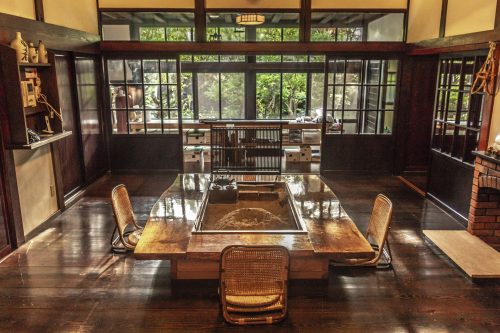 The dining room is the centerpiece of this long established inn, built over a hundred years ago by a fisherman from the region who had made a fortune. It was a private residency at first but the owner decided to turn it into an inn after a few years, to welcome guests from all over the country.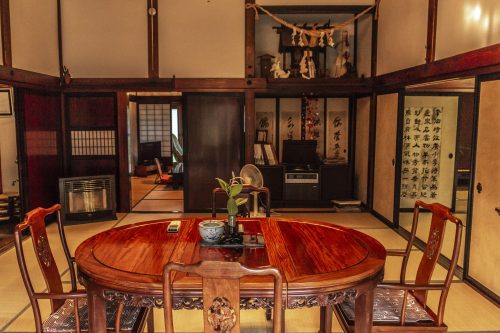 The second dining room, one of the main rooms of the building, will delight you with its historical decorations. Items dating back to the construction era of the building are displayed, such as traditional umbrellas, along with objects from a more modern age like a vinyl turntable with speakers, creating a few mesmerizing crackles, all of which will completely cut you off from the outside world. You can then let yourself be guided by your hostess who, even though quite reserved, will enjoy taking the time to tell you all about Goushikan Inn's history and share anecdotes.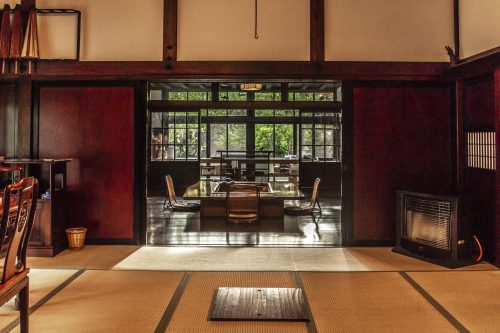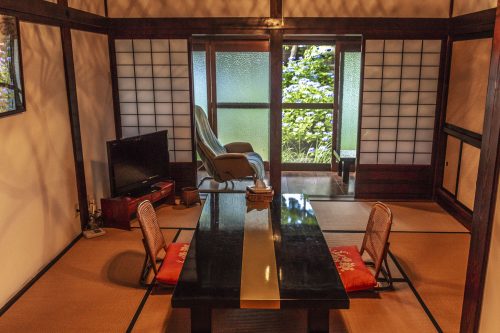 The small rest room opening onto the flowery garden is equipped with a massage armchair, to top off a relaxing bath taken in the room just next door.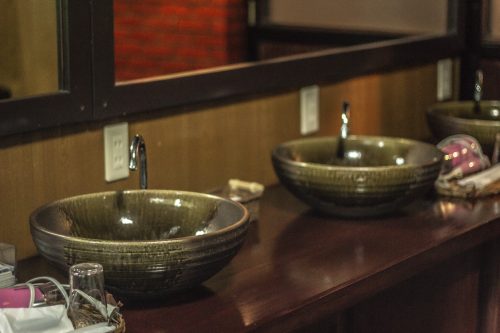 The traditional bathroom comes with an additional four basins, to welcome larger groups of guests, on top of the shower for getting washed on one side and the bathtub to relax on the other side.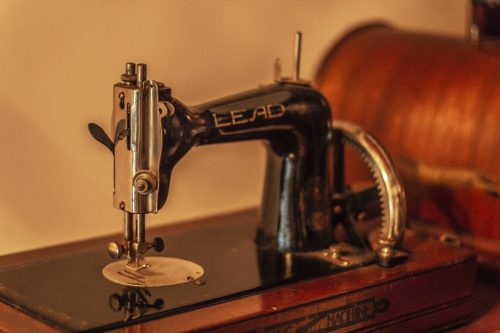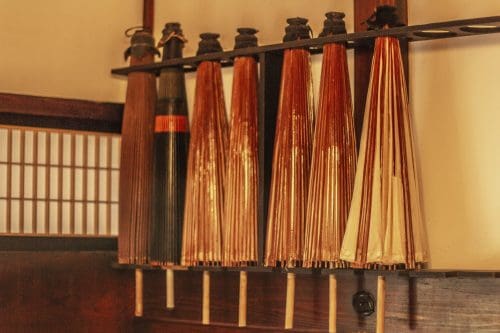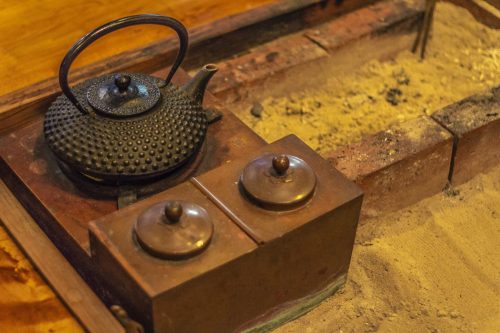 A stunning tribute to Japanese cuisine, washoku 和食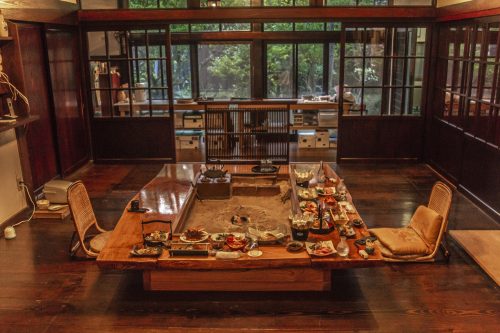 Dinner is served. The majestic dining room is ready to welcome you again for the impressive meal both the hostess and chef have prepared for you.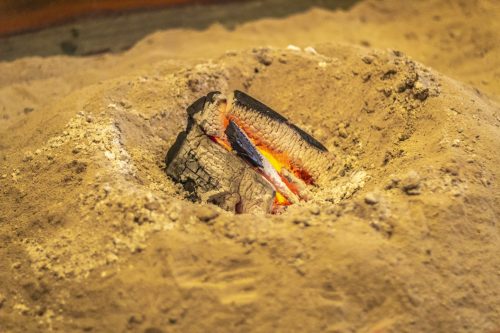 Even with the perfect temperatures and humidity levels of Goushikan Inn during the summer months, you can ask for the small hearth at the center of the table to be lit for a perfect setting.


It is not an easy task finding the words to do justice to such a feast. A panoramic photo is even necessary to capture the plethora of flavors and scents laying before you: fried vegetables, sashimi, royal crab claws, sweet potato, shabu-shabu and many more. The hostess insists that I should take all the time needed to enjoy the nuances of the various flavors, which are often far more complex than they seem. A delicious chilled nihonshu (rice wine or sake) is also recommended to pair with the food and refresh your taste buds.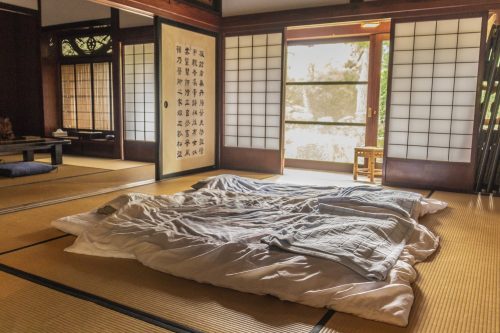 Such a generous meal calls for a nice digestive walk dressed in your yukata (a light summer kimono) and your geta (traditional Japanese slippers). The carp will sure enjoy your company after a few hours spent in your absence. You will then discover Goushikan Inn's garden at night, elegantly dotted with lanterns that highlight an entirely different architecture in the garden. A shikibuton, Japanese mattress, as well as a kakebuton, a blanket, have been set up in your room during dinner time, together with a makura, a pillow filled with rice grains, that feels hard to the touch but ended up being surprisingly comfortable. No doubt that this will be one of your sweetest awakenings, with the sound of the carp leaping in the water and the sun glowing through the rice paper of the sliding doors, gently opening your eyes up. The smell of straw coming from the tatamis will enchant and relax you before you fall asleep, and will be as pleasant in the morning, proving to be quite efficient in waking you up before a hearty breakfast.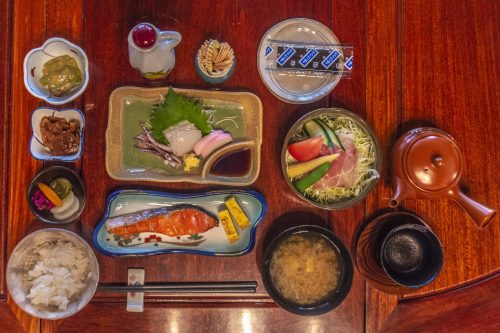 A hearty but perfectly balanced breakfast, the offerings here will provide you with enough energy to last until a late lunch. At the centre of it, a bowl of rice with grilled salmon – a classic first meal of the day among Japanese people – with miso soup, green tea, cabbage salad with a few fresh vegetables, seaweed and tsukemono or small pickled vegetables. It is hard to think of a better way to end such an exceptional stay. Your time here will undoubtedly make a lasting impression.
Reaching Murakami
Murakami is located only three hours away from Tokyo by train (with one connection). Feel free to visit the Tourist Office website for more information. Find other suggestions on what to do in Murakami right here.
Practical information
Goushikan Inn 豪農の館 郷思館
Address: 289-1 Nukuide, Murakami-shi, Niigata-ken 959-3904 (Google Maps)
Telephone: +81(0)254-77-3485
Price: from 1 to 5 persons, 15,000 yens/night/person on a weekday, 18,000 on Saturdays and Sundays, dinner and breakfast included.
From 6 persons and over, 13,000 yens/night/person on a weekday, 16,000 on Saturdays and Sundays, dinner and breakfast included.
| | |
| --- | --- |
| Name | Goushikan Inn |
| Category | Ryokan |
| Address | 豪農の館 郷思館, 289-1 Nukuide, Murakami-shi, Niigata-ken 959-3904 |
| Access | [map]豪農の館 郷思館, 289-1 Nukuide, Murakami-shi, Niigata-ken 959-3904[/map] |
| Opening Hours | Check-in until 18:00, check-out until 10:00 |
| Price Range | 13,000-18,000 |
| Payment options | Cash |
Original text: Léo Martial
Translation: Marion Pont