Sponsored by Koshimizu Tourism Association
Cycling in Koshimizu
Koshimizu is a great place to get all the natural beauty of Hokkaido in one place. A popular activity in the area is cycling as the roads are fairly flat and easy to navigate.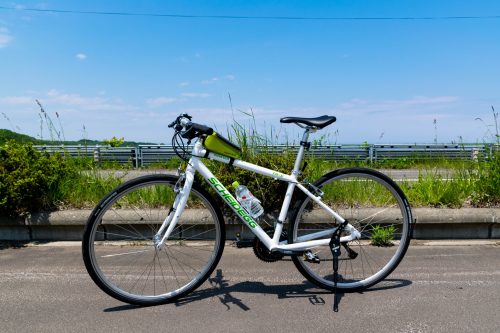 The Koshimizu Tourism Association offers guided cycling tours for those interested in learning a little about the area as you go. On these tours guests can get the full experience of nature and farmlands all while getting a good workout. From Lake Tofutsu to fields of perfectly lined-up green vegetables and wild flowers to Mt. Shari standing above these open fields, it's a great place for a bike ride.
For travelers who like to travel ligh, the tourism association center rents hybrid bikes with helmets to visiting guests. The bikes are fairly easy to use, with a gear shift that is very simple. The course we set out on was about an hour and a half long. We started at the tourist center located near Hama-Koshimizu Station and headed out northeast, making our first stop at Furetoi Scenic Viewpoint.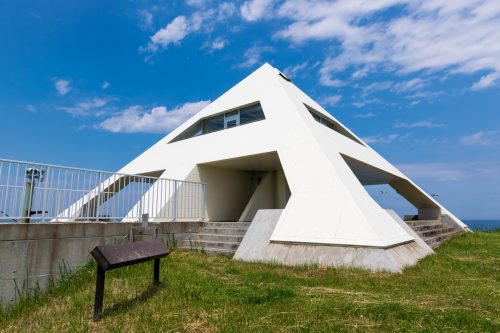 The Furetoi Scenic Viewpoint is a pyramid shaped structure that offers 360 degree views of Koshimizu. It overlooks the Sea of Okhotsk on its northern side and Lake Tofutsu on the opposite side. I could see steam rising from fields of plotted farmland in the early morning heat, giving the view a bit of added drama. Just below the Furetoi Scenic Viewpoint is a campground that is practically on the beach.
Wild Flowers
Leaving from the viewpoint, we got back on our bikes and embarked a little further down Route 244 before turning left towards Lake Tofutsu. Among the fields are several varieties of wild flowers, dotting the area with purples, pinks and magentas.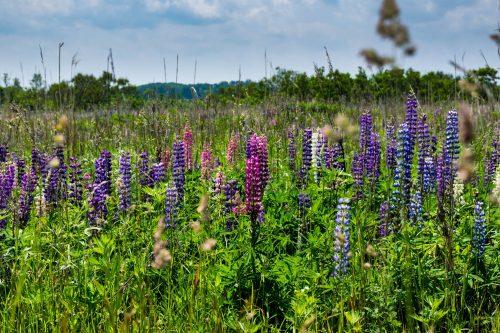 We crossed Lake Tofutsu via the Heiwa Bridge and entered a wooded area on either side. I had learned the day before that due to the lake's proximity to the sea, half of the species of birds in Hokkaido can be found in this area. In fact, Koshimizu welcomes many birdwatchers and photographers looking for eagles, hawks, herons, cranes, smaller varieties of finches, and sparrows, as well as other migratory birds. My guide explained that many whooper swans come to the lake from Russia in early spring. She pointed out to the singing birds in the trees as we passed through the wooded areas. She noted that on bicycle you can hear and appreciate the different calls of the birds; from a car it's too loud and you are traveling too fast to appreciate these natural surroundings.
Trees on either side zoomed by. The wind zipping past us as we cruised down the road was refreshing and cool. Occasionally the woods would open up onto fields with rows of crops, accentuated with old farmhouses. There was something quaint and calming about cycling through farmlands. We approached one of our first hills.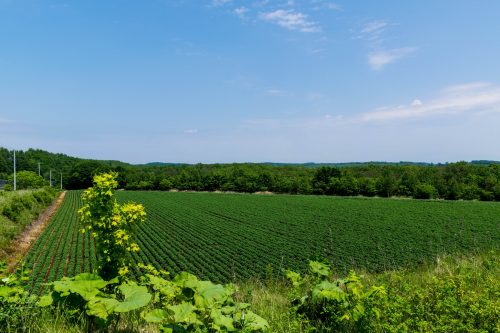 We took a break at the top of the hill above a field of potato crops. The guide shared that in July the potato blossoms are a beautiful sight, turning the area a bright white. It's a good workout and at the top was the reward of seeing fields below and, of course, there is the thrill of riding back down. My guide reminded me not to break too quickly.
The Road Reaching to Heaven
After passing through a few more areas of farmland, we stopped again at the top of a third hill for a view of a very straight road. My guide says this is very unique to Hokkaido. Hokkaido was settled much later than the rest of Japan, even as recently as 150 years ago, which allowed for planning to be done in a more grid-like fashion. The results is roads like this, which stretch out as far as the eye can see or at least until it dips down and back up again with the hills. This stretch goes on for about 20 km, she tells me. We stood at the other end of so-called Ten-ni-tsuzuku Michi or "the road that reaches out to heaven." Just to right of this point is a view of Mount Shari.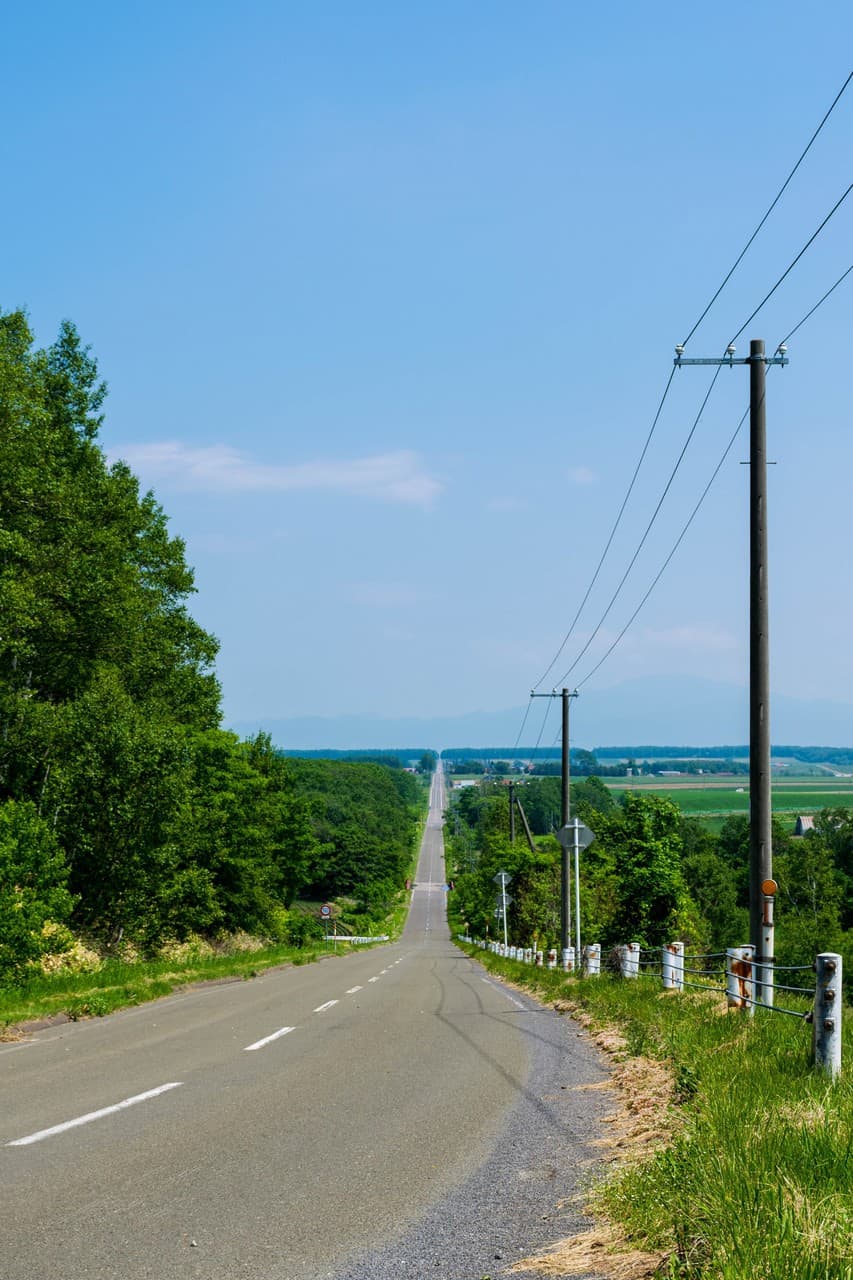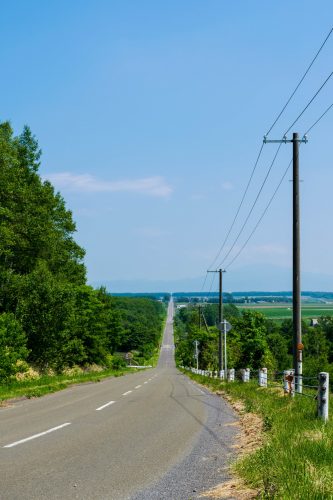 We rode down the hill which gave us the momentum to get up the next one before stopping between some more green farmland. Rows and rows of perfectly planted crops were on either side. There is something really soothing and peaceful about this natural scenery. Koshimizu is known for potatoes, wheats and sugar beets. The potatoes and flowers are alternated on a yearly basis to keep the soil from becoming depleted of nutrients.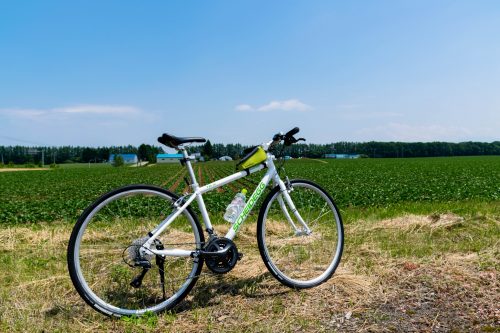 Hogaja Factory
Turning back towards the visitor center we make one final stop at the Hogaja Factory, which makes Hogaja senbei (Japanese crackers) from potato, kombu seaweed, scallops and more. My tour guide quizzes me on what kind of building this was before it was a factory. I guessed it was an observatory, seeing the telescope mounted on the top of the building. She said it actually used to be an elementary school.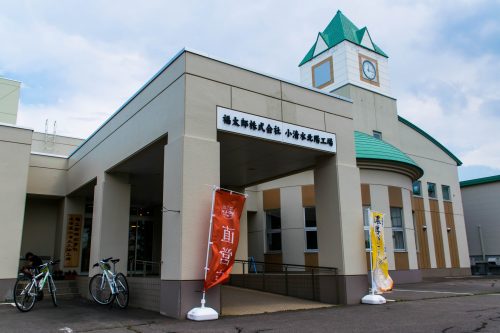 Now guests can take tours and see how their favorite snacks are made. There is also a gift shop with a place to sit and take a break.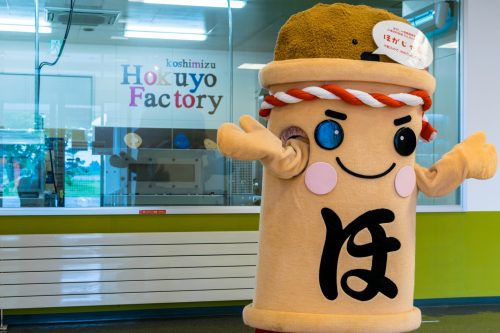 From the Hogaja Factory, it was a short ride back to our start point at the tourist center. We passed a quaint roadside vegetable stand and more lush green fields of crops popping up. I really got a sense for Hokkaido, all in one bike ride. This is an experience that allows you to appreciate the fresh air and natural beauty of this expansive landscape in northern Japan.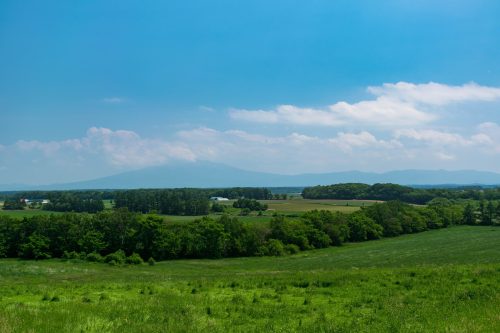 How to Book a Tour
To book a private cycling tour for up to four people, please make bookings for your group seven days in advance. For more information please visit the site here.
| | |
| --- | --- |
| Name | Koshimizu Tourist Center |
| Category | Cycling Tours |
| Address | Hamakoshimizu 474-7, Koshimizu-chō, Shari-gun, Hokkaidō |
| Access | [map]Hamakoshimizu 474-7, Koshimizu-chō, Shari-gun, Hokkaidō[/map] |
| Opening Hours | 10:00-15:00 |
| Price Range | ¥12,000 for one person (¥10,000 per person for two or more people.) |
| Payment options | Cash |