Sponsored by Sado Island
Summer in Japan is synonymous with matsuri, these traditional festivals often have a religious element and occasions for people to dance, parade, and eat…in a nutshell it's when locals gather to celebrate a special occasion! Almost every city, big or small, has its own matsuri. Here is my experience of the Hamochi Festival on Sado Island off of Niigata Prefecture.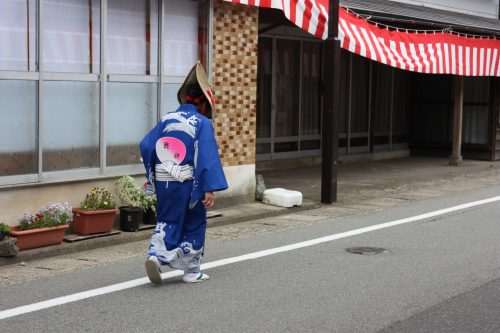 Origins of the Hamochi Festival
The Hamochi Festival is held every year on the 15th of June. It is the annual festival of two of the town's shrines: Kusakari Shrine and Sugawara Shrine. A portable shrine (mikoshi) is actually paraded all day through Hamochi until the evening. But the appeal of the festival is less this parade and more the traditional dance performances given in front of the Hamochi Chamber of Commerce, where locals gather all day.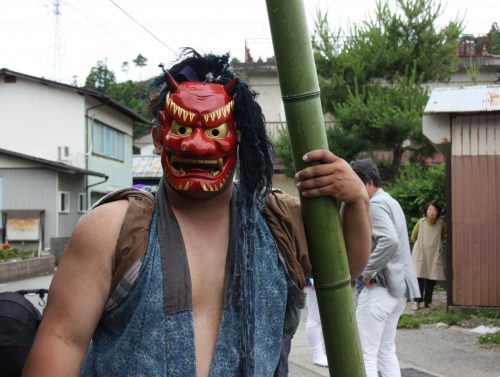 At the heart of the festival, a folk dance for fertility
The festival is actually known for its performances of Tsuburosashi, a traditional dance that's completely unique and rather comical.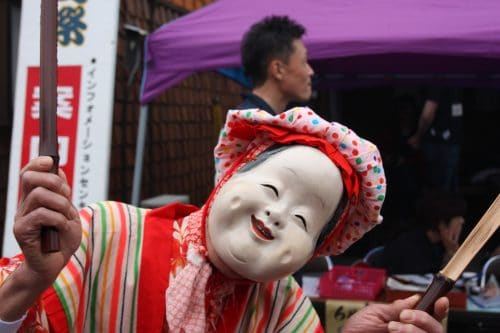 Registered as an "Intangible Folk Culture Asset" of Niigata Prefecture, this dance is part of the Daikagura category of traditional dance, meaning it requires a costume and props to be performed. This folk dance is practiced in honor of fertility, for both the families of the village and the surrounding farming lands. One of the dancers is dressed up as a man and the other as a woman, and both of them move in a way that is not only funny but also engaging! Because a picture is worth a thousand words, let's take a look at these pictures…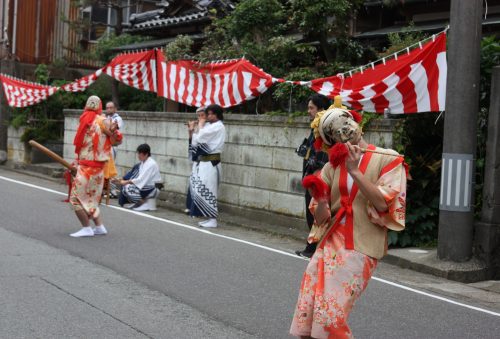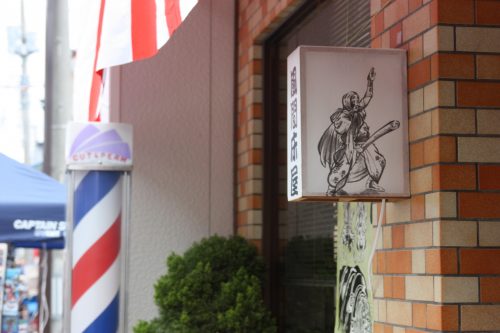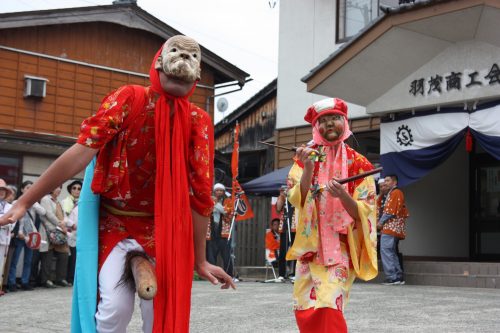 This dance is actually so central to the Hamochi Festival that two different groups of dancers with slightly varying costumes took turns in performing.
A day of festivities
Although Tsuburosashi is the highlight of the festival and why this event is so renowned, the day is actually filled with other forms of entertainment. Throughout the entire day, dancers and other artists followed one another on the stage in front the Chamber of Commerce. Several masked dancers, a duo of women dancing, magicians, all of the performances are accompanied by music and the applause of a cheerful local crowd.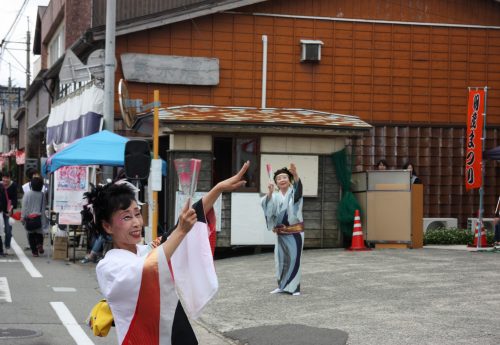 With a bit of luck, you'll also come across the sacred lion—which requires a dozen men to set in motion—visiting the local households that made an offering and bringing them good health and harvests.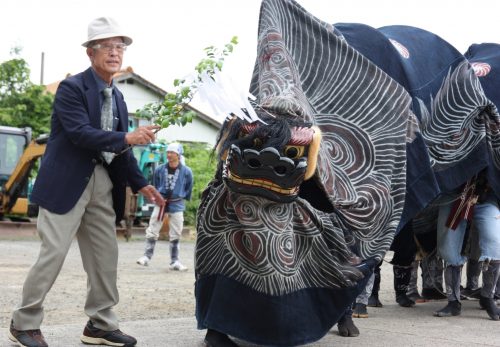 Even though I enjoyed all the performances, I have to admit I had a preference for the troupe of local high school students who prepared a show of traditional Sado Island dances and music, the Sado Okesa. It might have been because it was my first time seeing such a dance performed to melancholic music, or maybe because of the incredible energy and talent these young performers had. Either way, judging by the applause in the audience, I wasn't the only one enjoying the show!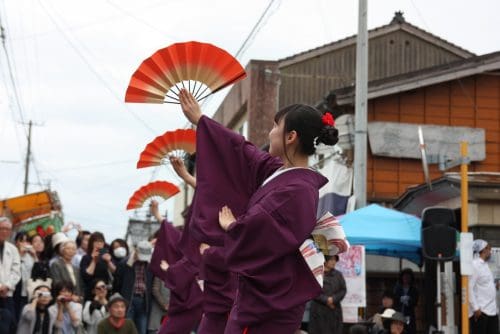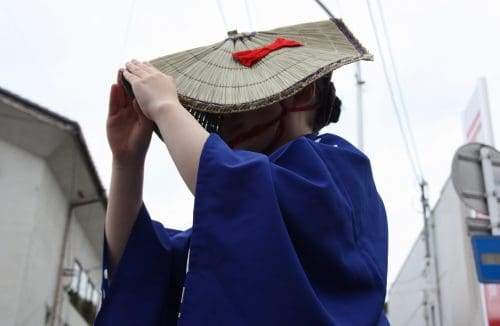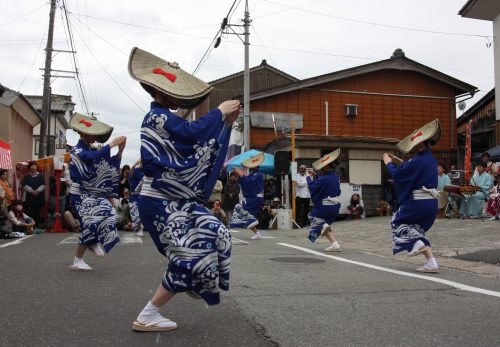 Mingling with the locals in Hamochi
In between these two shows, I took time to stroll along the main street of Hamochi, which was closed to cars and decorated with a few food and drinks stalls for the day. The residents whose houses border the street all have their windows and doors open. I can see a few of them seated around their table, enjoying a nice meal with neighbours, recharging their batteries for the rest of the festival. In the main street, kids mingled with the elderly and artists with the audience, creating a family atmosphere to the festivities.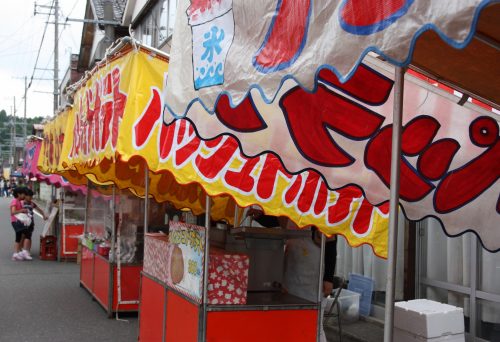 As the evening falls, this merry group of festival-goers walks to Kusakari Shrine in the company of the portable shrine. A traditonal Noh theatre performance awaits them there to top it off the day.
Reaching Sado Island
From Tokyo:
Start your journey by reaching Niigata. The Tokyo-Niigata trip is easily made via the Joetsu Shinkansen Line in about 2 hours. You will then need to take a ferry from Niigata Harbour, located 3km away from Niigata Station.
The Sado Kisen ferry boats travel from Niigata to Ryotsu Harbor on Sado Island several times a day. You have the option to take an express ferry taking you there in just over an hour, or a regular ferry connecting the two harbors in about 2 hours and 30 minutes. Here is the ferry company's website (available in English) for more information on the timetables and prices.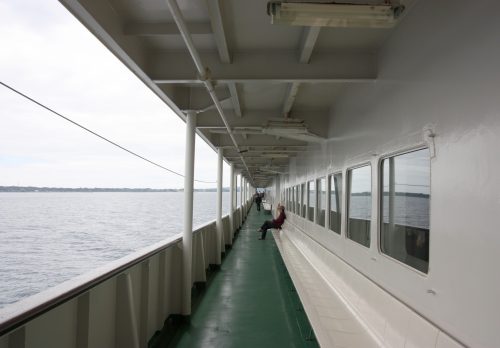 You can also take advantage of the Sado Niigata Pass which includes a one-day bus pass in Niigata, a round trip ticket from Niigata Station to Niigata Harbor, a round trip ride on the ferry bound for Sado Island, as well as a 3-day bus pass on the island. All of this at a rather attractive price: 4,000 yen for adults and 2,000 yen for children. You can find more information about the pass here. To get around the island you can also rent a car or travel by taxi.
From Kanazawa:
You will need to reach Naoetsu Harbor via the Hokuriku Shinkansen Line and a local bus before taking a ferry to Ogi Harbour. Feel free to check out the ferry company's website for more information.
You can also take advantage of the Sado Joetsu Pass which includes a 2-day unlimited ticket on the Echigo Tokimeki Railway, a round trip bus ticket from Joetsu-Myoko JR Station to Sado Kisen Naoetsu ferry port, as well as round trip ferry tickets. The pass is 7,000 yen per adult and 3500 yen per child. To get around the island you can also rent a car or travel by taxi.
For more information on transportation, check out our previous Voyapon article on the topic here.
Practical information
For more information on the Hamochi festival and its traditions, please visit their website.
Do you need more information? You can find up-to-date information on Sado's history, main tourist attractions, accommodation, gastronomy, and transportation here.