Sponsored by Sado Island
Sado Island…its dense and wild nature, its mountaintops wrapped in fog, its rich history, its friendly inhabitants. If you haven't already guessed, this island located off the coast of Niigata Prefecture was a true favorite of mine while visiting the area. It is the ideal destination for a peaceful getaway and a dose of fresh air only a couple of hours away from Tokyo. One of my favorite experience on Sado was a trip to the southwest region of the island and the village of Ogi for a tour aboard a unique traditional boat, the tarai-bune.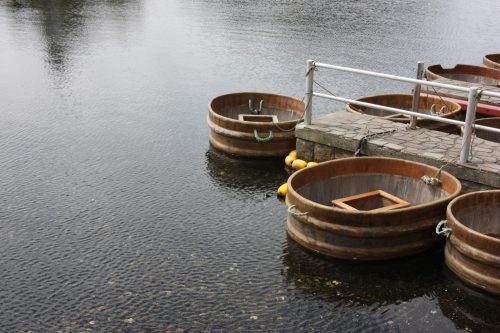 What is a tarai-bune?
This small intriguing craft made of cedar and bamboo wood might look familiar to Miyazaki movies fans—you can spot it in Spirited Away. To others, it might just look like a simple barrel cut in half. Far from an animated movie invention, this "bowl boat" (the literal translation of tarai-bune) first appeared on Sado Island at the end of the 19th century.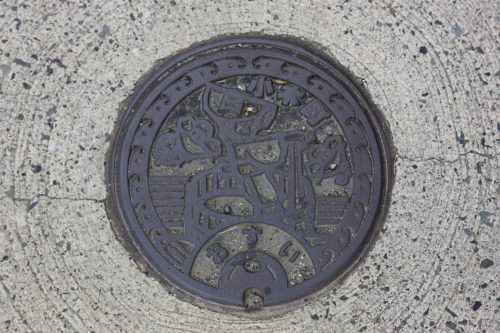 Back then, and long before becoming a memorable tourist attraction, it was mainly used by women living on the island to collect seaweed and shellfish. What makes this traditional boat typical of Sado Island so unique is its flat bottom, allowing it to navigate in shallow waters, and the method for handling the craft, using only one paddle to steer.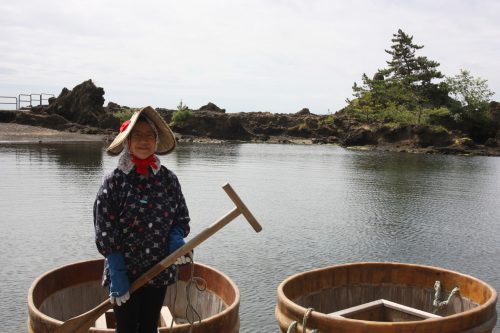 Since this type of boat is used far less in fishing villages and is a tradition specific to Sado Island, you can only experience a tour in one of them if you pass through Ogi. For 500 yen (300 yen for children) you can climb aboard a tarai-bune with a local guide for about ten minutes.
The beautiful Yajima Taiken Creek
If you decide to go for a "bowl boat" tour in Ogi Harbor, there are a few other places to try it out that are more preserved. Among those, the small Yajima Taiken Creek, where I got to try the experience on a slightly cloudy morning in June.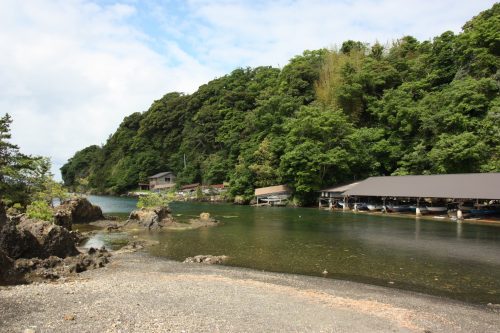 First you need to drop by the reception desk at the Yajima Taiken Centre to buy your ticket. No need to book in advance, unless you come with a group of more than 10 people. The receptionist kindly kept my bag with her for the duration of the boat tour (it is quite a small boat!). Arriving there quite early, I was probably their first client of the day and was asked to wait a little while my guide prepared. I could see her at the back of the building tying a traditional Sado Island hat on her head, under which you could barely see her face.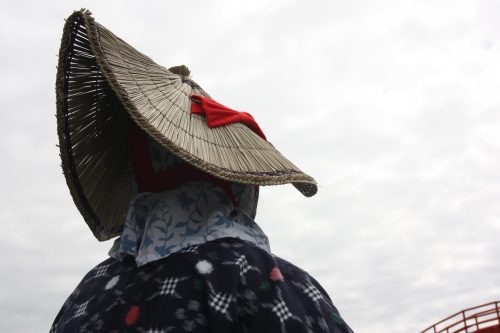 She approached me and showed me which boat was ours for the trip. While she managed to steady the tarai-bune, I jumped aboard and sat on a small piece of wood. Right there, in the middle of the boat, is a transparent window to look at the bottom of the creek.
A unique experience, typical to Sado Island
And off we went! With a fine-tuned paddle movement from the left to the right, she started sailing along the bank of the creek. She got as close as she could to the rocky shore to show me a few sea urchins nested in the rock right below the water's surface. Since the sky wasn't a clear blue, the water of the creek wasn't as turquoise as in the brochure, but it was incredibly transparent nonetheless and offered a great opportunity to observe the varied seaweeds below us.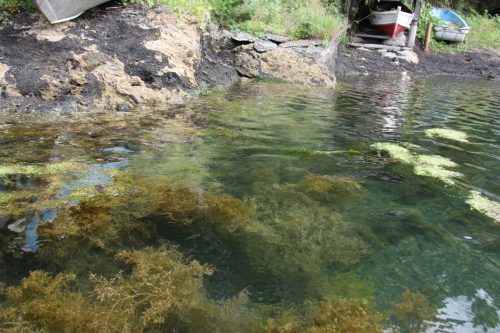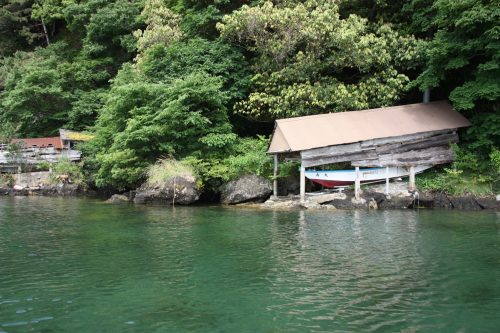 We then sailed to the middle of the creek where my guide pointed at the mountains of Niigata in the distance. The setting is beautiful! A small preserved creek with a vermilion bridge lent a beautiful contrast to the dark volcanic rocks and the bright cloudy sky.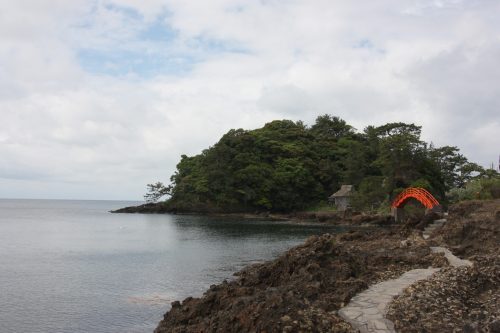 There wasn't a single sound to be heard except for the rhythm created by the paddle tapping against the wood of the boat. Speaking of which, at some point she offered that I try paddling myself! But the exercise is as difficult as it looks, if not more so, and the boat did not move an inch. With a laugh, my guide took the matter back into her own hands to return to the dock.
Once we were on solid ground, she quickly disappears backstage again to prepare for her next client. The experience was quite quick but really fun and authentic. For those wishing to spend a bit more time in this lovely creek, the Yajima Taiken Centre offers other types of activities and workshops (including fishing and soba noodles making experiences) and a few restaurant tables where you can taste a dish of noodles prepared with seaweed from the creek.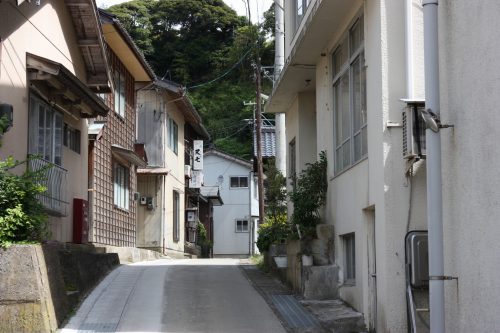 Reaching Sado Island
From Tokyo:
Start your journey by reaching Niigata. The Tokyo-Niigata trip is easily made via the Joetsu Shinkansen Line in about 2 hours. You will then need to take a ferry from Niigata Harbor, located 3km away from Niigata Station.
The Sado Kisen ferry boats travel from Niigata to Ryotsu Harbor on Sado Island several times a day. You have the option to take an express ferry taking you there in just over an hour, or a regular ferry connecting the two harbors in about 2 hours and 30 minutes. Here is the ferry company's website (available in english) for more information on the timetables and prices.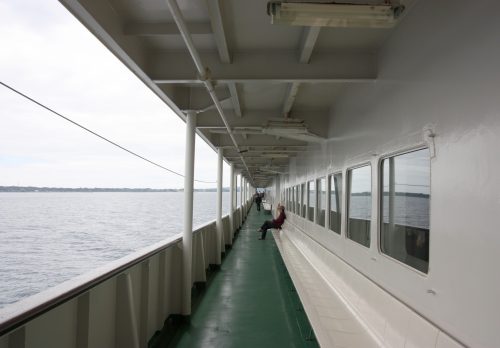 You can also take advantage of the Sado Niigata Pass which includes a one day bus pass in Niigata, a round trip ticket from Niigata Station to Niigata Harbor, a round trip ride on the ferry bound for Sado Island, as well as a 3-day bus pass on the island. All of this at a rather attractive price: 4,000 yen for adults and 2,000 yen for children. You can find more information about the pass here. To get around the island you can also rent a car or travel by taxi.
From Kanazawa:
You will need to reach Naoetsu Harbour via the Hokuriku Shinkansen Line and a local bus before taking a ferry to Ogi Harbor. Feel free to check out the ferry company's website for more information.
You can also take advantage of the Sado Joetsu Pass which includes a 2-day unlimited ticket on the Echigo Tokimeki Railway, a round trip bus ticket from Joetsu-Myoko JR Station to Sado Kisen Naoetsu ferry port, as well as round trip ferry tickets. The pass is 7,000 yen per adult and 3500 yen per child. To get around the island you can also rent a car or travel by taxi.
For more information on transportation, check out our previous Voyapon article on the topic here.
Practical information
For further details, you can check out Sado Island's website (available in english).
Do you need more information? You can find up-to-date information on Sado's history, main tourist attractions, accommodation, gastronomy and transportation right here.
| | |
| --- | --- |
| Name | Yajima Taiken Koryukan |
| Category | Traditional Boat Tour |
| Address | 矢島体験交流館, 365-1 Ogi, Sado-shi, Niigata-ken 952-0605 |
| Access | [map]矢島体験交流館, 365-1 Ogi, Sado-shi, Niigata-ken 952-0605[/map] |
| Opening Hours | Everyday from 8:00 to 17:00 |
| Price Range | 500yen adult ticket / 300yen child ticket |
| Payment options | Cash |