Sponsored by Sado Island
Noh theatre, a traditional form of Japanese dramaturgy that occupies a specific place in Sado Island's history, the 6th largest island in Japan. Once used as a land of exile, the island welcomed the famous Noh theatre playwright Zeami in the 15th century. While I was visiting the village of Hamochi for its annual festival, I had the opportunity to attend a Noh theatre play performed on one of the most iconic stages of the island. Here are the highlights from this experience.
A bit of history
Noh theatre got its inspiration from religion, as it originally was destined to celebrate the gods through dances using masks and props. Over the years, however, other influences, more profane ones, were added to these celebratory dances using stunts or comic texts.
But it was during the Muromachi era (1336-1573) that Noh theatre truly turned into the art form that is still performed today, a more codified and refined one. It is also during this time that it became less of a popular art form and more of entertainment reserved for the Japanese elite, such as shoguns and samurai.
Among the several rules codifying Noh theatre, the first one is to keep the narrative weave as simple as possible and focus on conveying a strong feeling. Another example of these rules: the actors are split between two groups. The main actor, on the one hand, called shite, who is at the heart of the action and wears a mask, and secondary actors on the other hand, or waki, stay on the side of the stage without wearing masks. The stage design is voluntarily kept very minimal, the only decor being the painting on the back wall, most of the time representing a pine tree.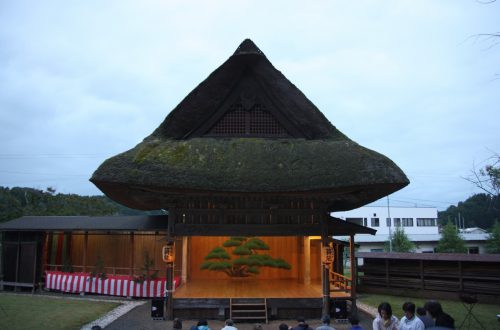 If costumes and masks have a major role to play in Noh theatre, music is very present too, accompanying the actions of the actions of the hero.
To help you measure the cultural significance of Noh, it is one of the very first art forms to have been registered on UNESCO's list of Intangible Cultural Heritage in 2008!
Sado Island's cultural exception
As I mentioned previously, Noh theatre was first imported to Sado Island with the exile of Zeami, the playwright that vastly contributed to codifying and perfecting the art form. However, it is only much later, under the Edo era, that this art truly gained popularity on the island, driven by Sado's deputy and former actor Nagayasu Okubo. Stages dedicated to Noh theatre performances were built all around the island, most of the times within shrine grounds. At the peak of its popularity, Sado Island counted more than 200 Noh stages! Even though that number has dropped to 30 today, the island still has a third of all Noh theatre stages in Japan nowadays. Every year, performances are given from June to August and initiation workshops are also given.
Attending a Noh theatre play
It is in Hamochi Village, within Kusakari Shrine grounds that I was able to attend my first Noh theatre play. And this is not just any Noh stage, but considered one of the first stages to have welcomed performances on Sado Island.
The surroundings of the stage are already an incredible sight! Having spent the entire afternoon in a celebratory atmosphere during Hamochi's annual festival, I found myself in a whole other environment after just a few minutes walking towards the shrine, surrounded by nature and calm. This is where the festival ends, with a play of Takigi Noh theatre, lit by a couple of bonfires.
Once I enter the shrine, I discover the magnificent Noh theatre stage and its thick, thatched roof.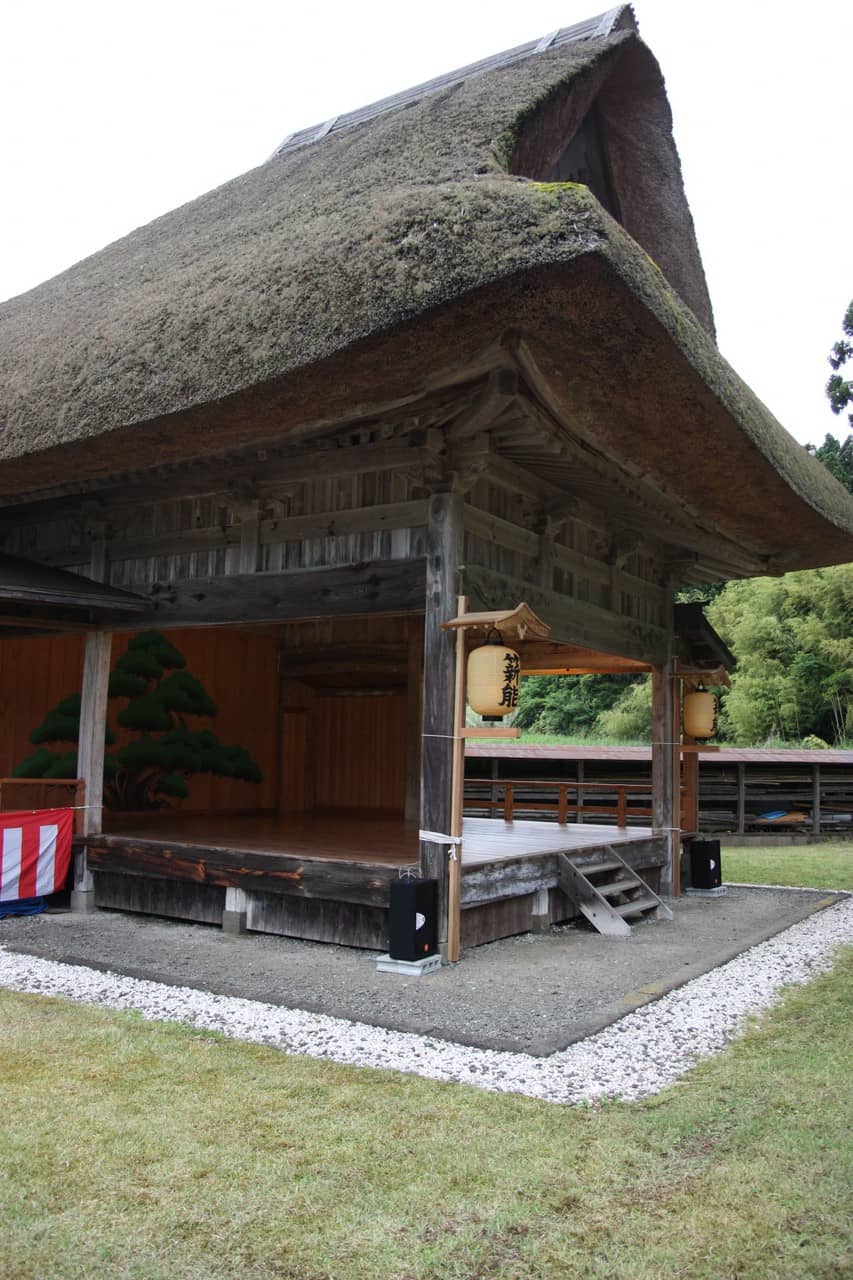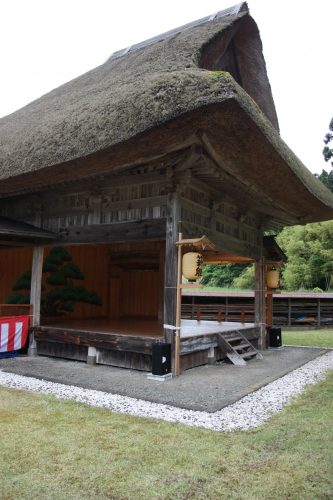 A few boards are laid out in the grass facing the stage where actors are already reciting their verses. This isn't the main performance of the evening, which only takes place once the sun has set, but I can already feel the codes and discipline behind such an art form. Several groups of unmasked actors follow one another on stage performing dances and songs that are meticulously and identically reproduced each time. The atmosphere is almost religious and the audience is extremely quiet and focused.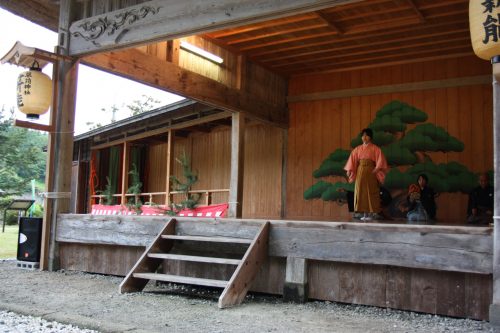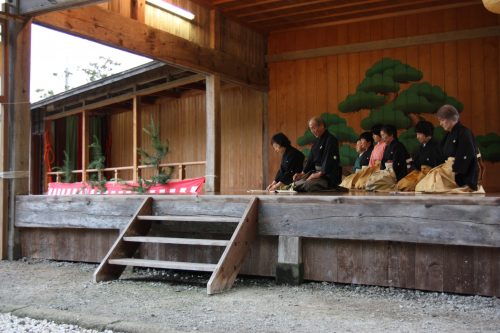 Having to leave a bit early to go to a ryokan for the night, I couldn't, unfortunately, attend the main play of the evening. I could however witness one of the comic interludes that are typical of Noh theatre, designed to let go of the tension and pressure. Even without understanding Japanese, I could very quickly comprehend the situation comedy thanks to very simple and universal gestures.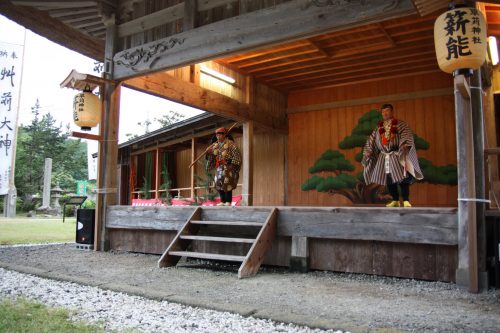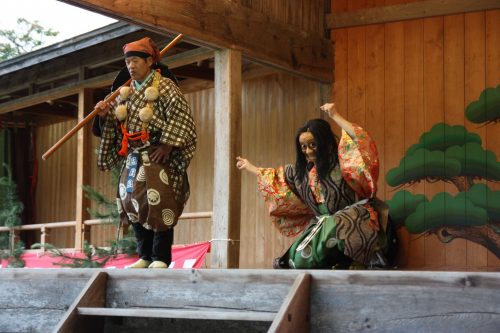 It was at that point that I left behind a very different audience, laughing out loud and getting comfortable for the evening with a snack.
Reaching Sado Island
From Tokyo:
Start your journey by reaching Niigata. The Tokyo-Niigata trip is easily made via the Joetsu Shinkansen Line in about 2 hours. You will then need to take a ferry from Niigata Harbor, located 3km away from Niigata Station.
The Sado Kisen ferry boats travel from Niigata to Ryotsu Harbor on Sado Island several times a day. You have the option to take an express ferry taking you there in just over an hour, or a regular ferry connecting the two harbors in about 2 hours and 30 minutes. Here is the ferry company's website (available in English) for more information on the timetables and prices.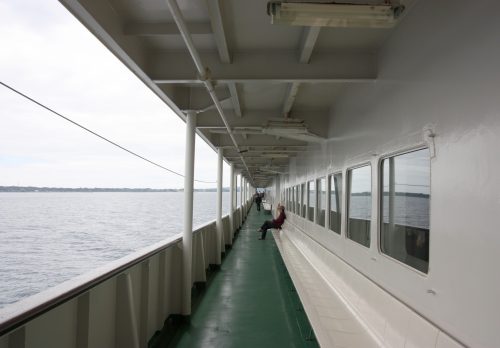 You can also take advantage of the Sado Niigata Pass which includes a one-day bus pass in Niigata, a round trip ticket from Niigata Station to Niigata Harbor, a round trip ride on the ferry bound for Sado Island, as well as a 3-day bus pass on the island. All of this at a rather attractive price: 4,000 yen for adults and 2,000 yen for children. You can find more information about the pass here. To get around the island you can also rent a car or travel by taxi.
From Kanazawa:
You will need to reach Naoetsu Harbour via the Hokuriku Shinkansen Line and a local bus before taking a ferry to Ogi Harbor. Feel free to check out the ferry company's website for more information.
You can also take advantage of the Sado Joetsu Pass which includes a 2-day unlimited ticket on the Echigo Tokimeki Railway, a round trip bus ticket from Joetsu-Myoko JR Station to Sado Kisen Naoetsu ferry port, as well as round trip ferry tickets. The pass is 7,000 yen per adult and 3500 yen per child. To get around the island you can also rent a car or travel by taxi.
For more information on transportation, check out our previous Voyapon article on the topic here.
Practical information
To learn more about Noh theatre and other Sado Island traditions, feel free to check out the official tourist office website.
Do you need more information? You can find up-to-date information on Sado's history, main tourist attractions, accommodation, gastronomy, and transportation here.
| | |
| --- | --- |
| Name | Kusakari Shrine |
| Category | Shrine and Noh theatre stage |
| Address | 草苅神社, Hamochihongo, Sado, Préfecture de Niigata 952-0504 |
| Access | [map]草苅神社, Hamochihongo, Sado, Préfecture de Niigata 952-0504[/map] |
| Opening Hours | Always open |
| Price Range | Free |
| Payment options | |