Sponsored by Seibu Holdings Inc.
A stay at the Sunshine City Prince Hotel offers a great opportunity to enjoy an exceptional hotel experience while visiting Tokyo. The hotel boasts impressive service, comfortable rooms, and a beautifully stunning views of Tokyo; all in a lively and convenient location. It is this one of a kind accommodation experience that can only be found at the Sunshine City Prince Hotel.
The Sunshine City Prince Hotel, in the heart of Ikebukuro
Located just an 8-minute walk from Ikebukuro Station, the hotel is easily accessible. This station is one of Tokyo's main railway stations, (along with the Seibu, JR, Tobu and Tokyo Metro lines) which provides to with easy access to all must see sights in the Tokyo area.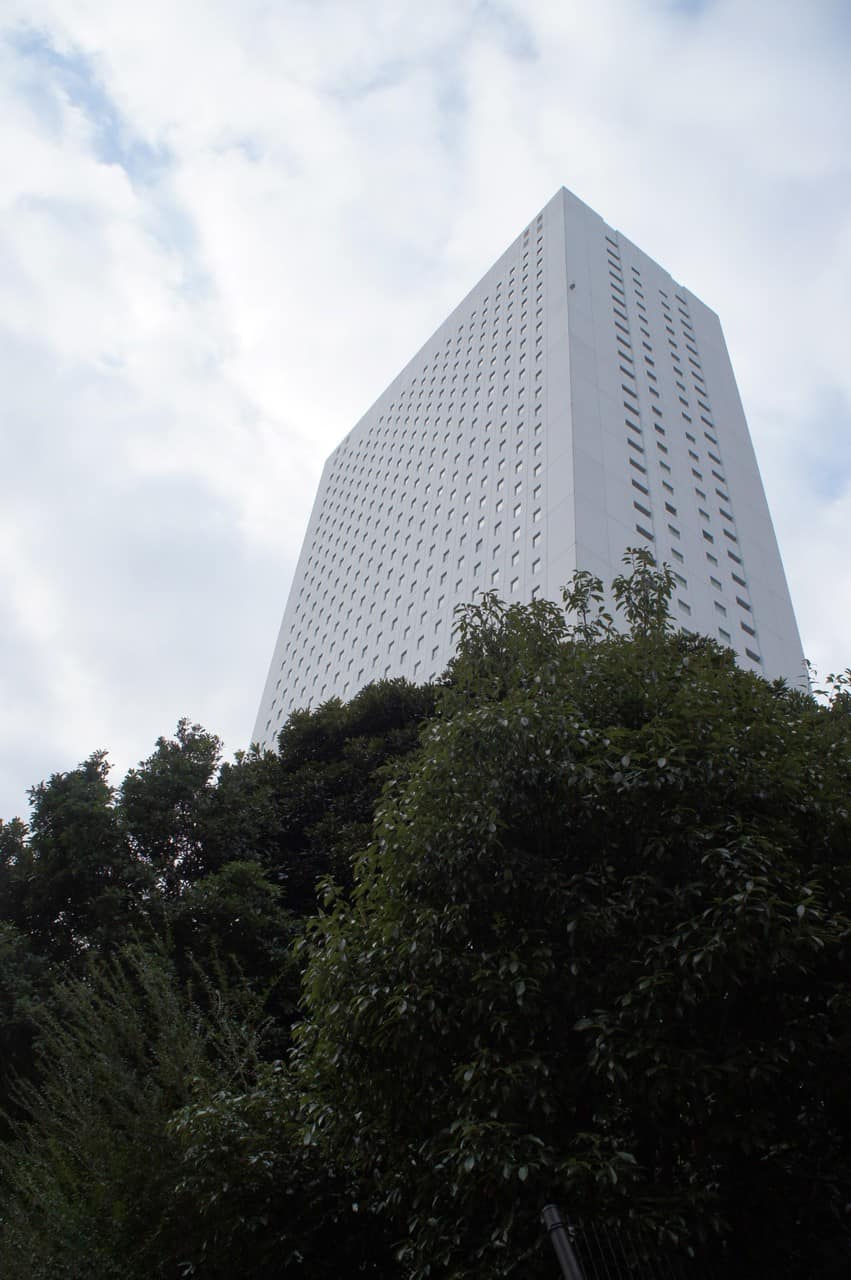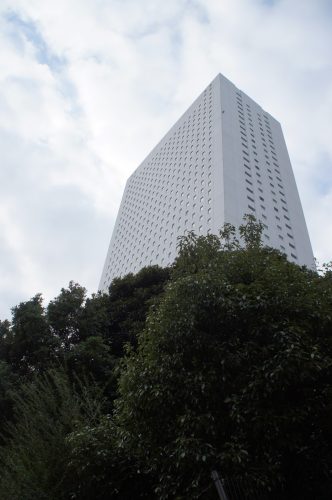 The Sunshine City Prince Hotel at Ikebukuro is located in the Sunshine city building which represents one of the great commercial center in Tokyo. The 60 floor building is impressive, making it one of the iconic commercial complexes of Ikebukuro. This is not only a classic shopping center; you will find numerous shops and restaurants, but also –  a Pokemon Center, an aquarium, an oriental antiquities museum and a Ghibli shop. Several theme parks are located in the area and focus on gaming and the manga universe. The highest tower of the complex, the famous Sunshine 60, has housed the Sky Circus since 2016, a theme park that is at the same time an observatory.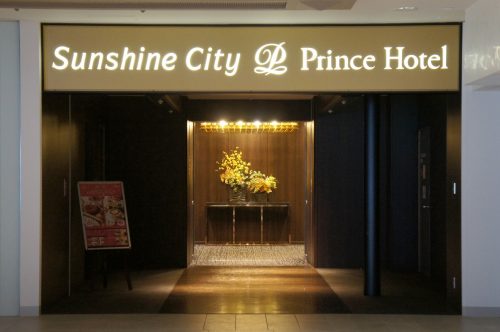 My Room with Breathtaking Views on the 37th Floor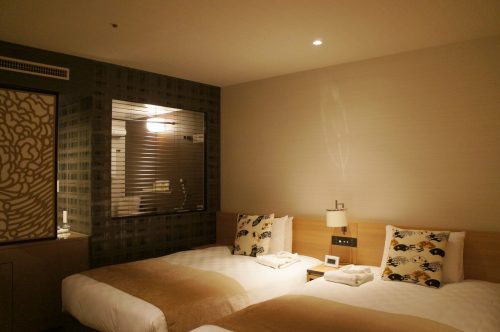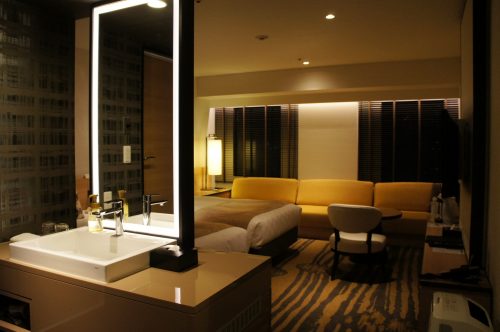 While alone in my hotel room facing Tokyo, I felt like Scarlett Johansson in the movie Lost in Translation. The experience is quite unique, compared to simply admiring the view for an hour in an observatory. For anyone looking for the perfect hotel in Tokyo for a honeymoon, wedding proposal or other special event, you've found it!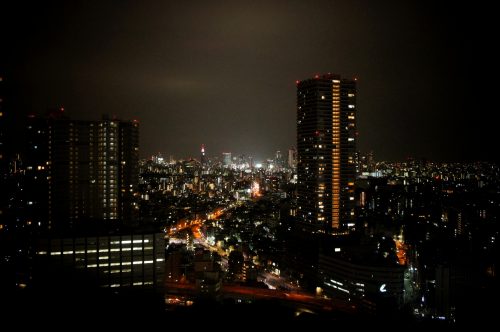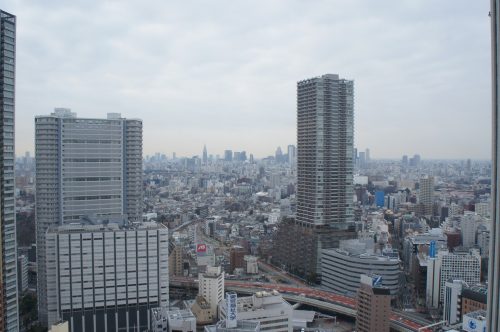 Other rooms of the hotel
I was able to visit a few other rooms at the Sunshine City Prince Hotel. They are divided into "Panorama Floors" (33rd to 37th floor), "Sunshine Floors" (25th to 32nd floor) and "City Floors" (6th to 24th floor), as well as the renewed "Twin Room B" and a bit spacious room "Twin Room A" within the panorama floor which I had stayed in. A room were very stylized, as well as comfortable and luxurious.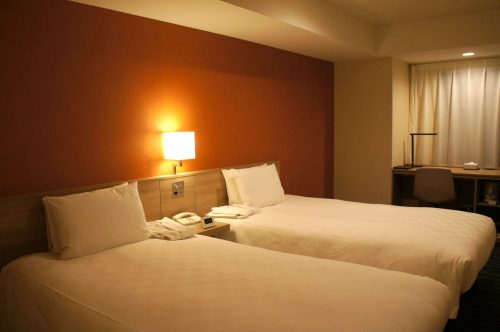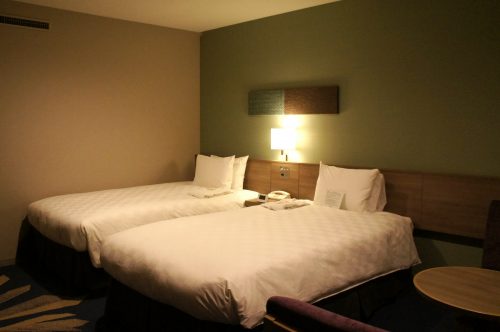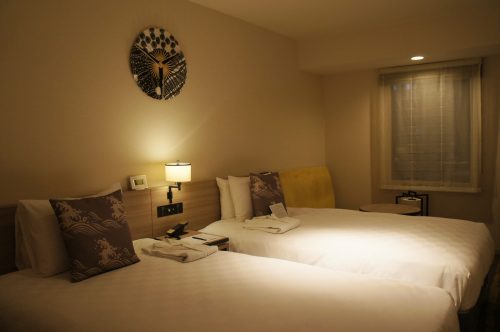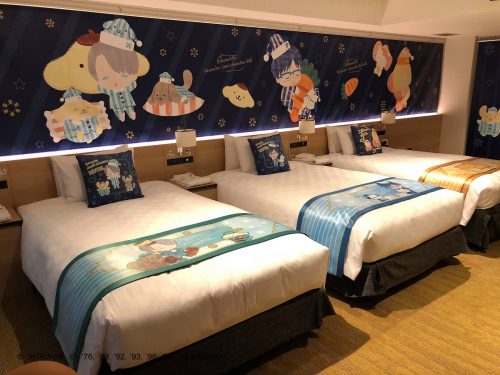 As Ikebukuro is known as the 'Anime town' of Tokyo, this hotel hosts several collaborated events throughout the year: Right now (as of March 2018,) they are having the special accommodation plans named  "Yuri on Ice ×Sanrio characters" that offers the guests a special room decorated with this character, as well as special giveaway gifts, which gives visitors a special take home experience.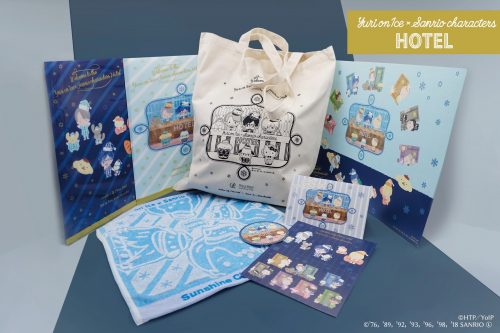 Dinner at Bayern Restaurant
There are four restaurants in the hotel, including a traditional Japanese restaurant and a Chinese restaurant. I had dinner at Bayern, which offered Japanese, Chinese, Western dishes. As it is an all-you-can-eat buffet, you can indulge yourself according to your tastes and desires. I tasted a bit of everything, and the fish with a very French butter sauce was as delicious as the Chinese dim sum.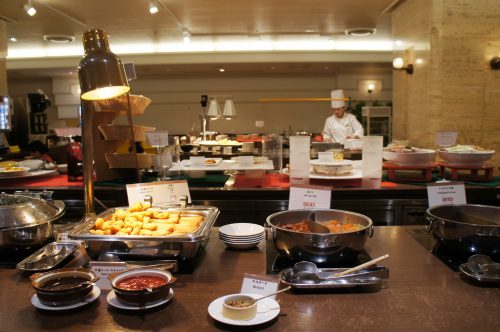 Breakfast at Cafe & Dining Chef's Pallette
For breakfast, I went to the other buffet at the hotel: Cafe & Dining Chef's Pallette. Here again, the food choice was vast. You can have a typical Japanese breakfast with rice, miso soup, fish, and various side dishes, but also a western breakfast, sweet or salty.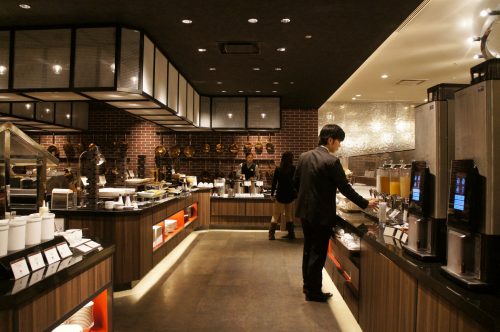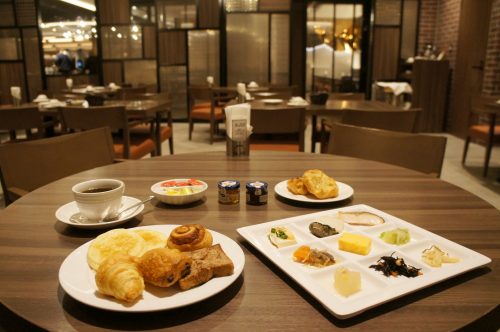 Admire Tokyo While Having Fun at Sky Circus
This hotel is located in the Sunshine City of Ikebukuro, it is possible to go out and have fun or go shopping without even going out of the city (the hotel has an entrance directly into the shopping center). I arrived there in the evening so most of the shops and theme parks were closed. However, I could go to the one that intrigued me the most; the Sky Circus.
This is the observatory located on the 60th floor of Sunshine Tower 60.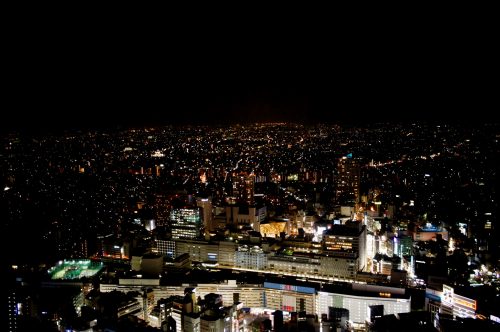 Not only offering you a panoramic view of Tokyo, but it is also a real theme park, focused on optical effects and virtual reality. A route shows you attractions one after another. Ranging from simple deforming mirrors to impressive lighting effects and virtual reality attractions. Everything is designed to allow visitors to take beautiful or fun photos. The place is ideal to have fun with friends or as a couple.
For those who want to photograph Tokyo, be aware that there are many lights and reflections in the windows, so it is difficult to see the city skyline and take "natural" pictures.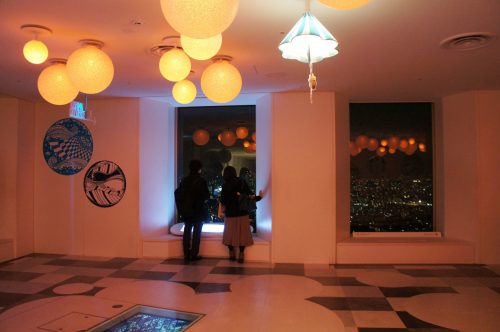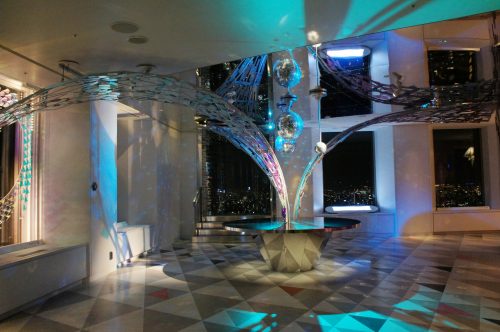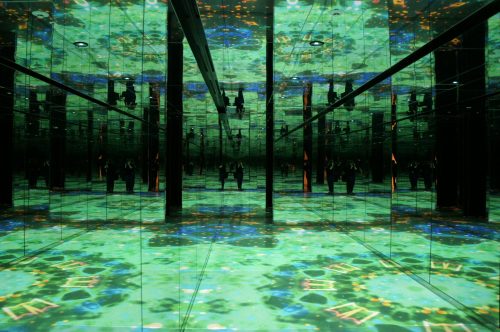 Useful Information
More information and reservations on the Sunshine City Prince Hotel website.
More information on Sky Circus on this website. It is open every day from 10:oo A.M to 10:00 P.M. (the last admission is by  8:50 P.M.). Admission is 1200 yen for adults and some attractions (virtual reality) are optional.
How to Get There
Sunshine City Prince Hotel is an 8-minute walk from Ikebukuro Station in the heart of Sunshine City.
The Sky Circus is on the top floor of the Sunshine 60 tower, the entrance is located on the 1st basement of the shopping center (B1), so it is accessible from the hotel without leaving Sunshine City.
| | |
| --- | --- |
| Name | Sunshine City Prince Hotel |
| Category | Hotel |
| Address | 3-1-5, Higashi-Ikebukuro, Toshima-ku, Tokyo, 170-8440, Japan |
| Access | [map]3-1-5, Higashi-Ikebukuro, Toshima-ku, Tokyo, 170-8440, Japan[/map] |
| Opening Hours | Check-in14:00 / Check-out 11:00 |
| Price Range | ¥9,435 - ¥85,000 depending on the plan |
| Payment options | Both |
Original article by Clémentine Cintré