Sponsored by Seibu Holdings Inc. 
Chichibu (秩父), in Saitama Prefecture, is an ideal destination to get away from Tokyo's urban life. Located just 78 minutes by train from Tokyo, Chichibu has a classical atmosphere with small streets lined with early 20th-century buildings, a time when the silk spinning industry had been flourishing here. To the valley in the nearby mountains, you can discover beautiful Shinto shrines like Mitsumine Shrine, which are all pilgrimage stages, and therefore it can be a great hiking course.
The Mitsumine-jinja Shrine, A Jewel Hidden in Mountains
For my part, I visited one of them, accessible by bus from Chichibu: Mitsumine-jinja Shrine (三峯神社). The bus ride (about 75 minutes) is an opportunity to admire the beautiful countryside and mountain scenery. At the end of February, I was able to have a panoramic view of a frozen river between two mountains.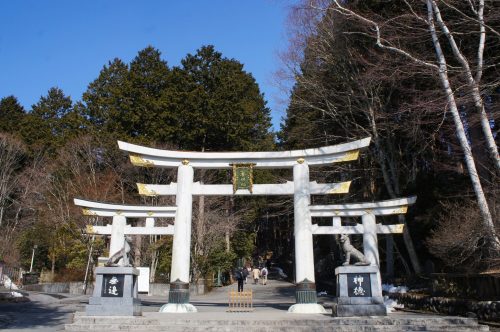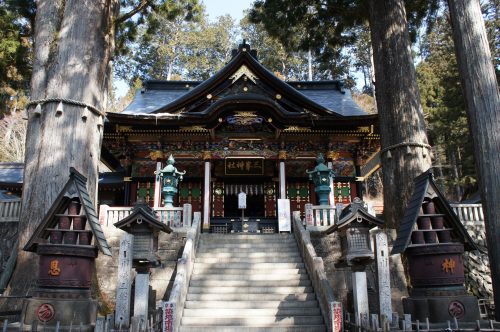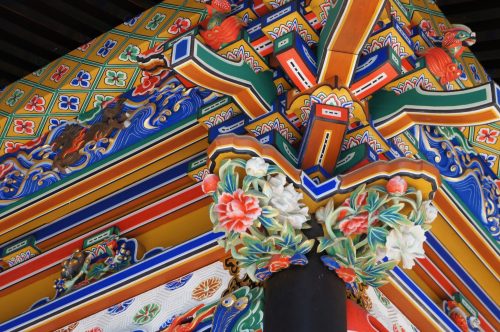 The bus will stop at the parking lot, located just 5 minutes walk from large white toriis with three doors that marks the entrance to the sacred space. The the building are modern, the history of this shrine is very old, having beem a place of worship since about 2000 years ago. One of its unique details is that it is not  guarded by statues of komainu (these "lions" of stone that you usually see at the entrance of shrines) but of wolves.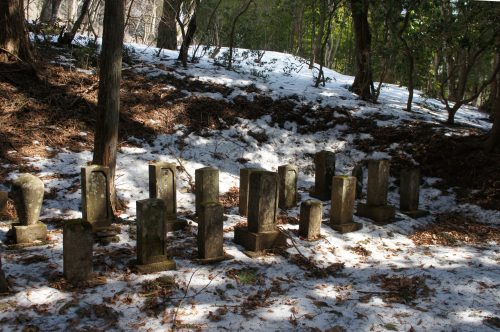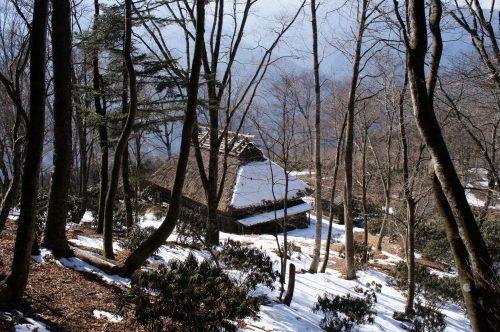 Visitors can enjoy a great mountain hike, but please prepare your equipment well.  Many signs indicating the danger (bears, snakes, icy roads, etc.) warn that incidents are not uncommon in the area. Hikers are also required to report their presence on the trail.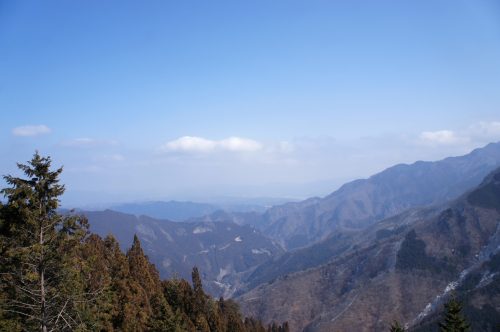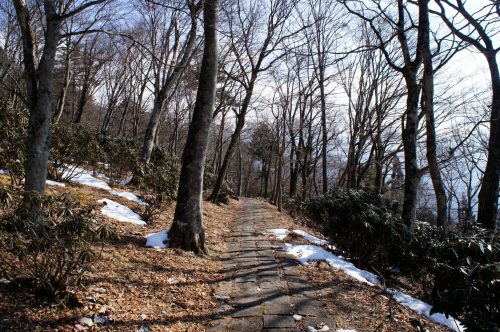 Near the parking lot, a small free museum gives you a lot of information (unfortunately only in Japanese, this sanctuary seems still less known among foreign visitors) on the fauna, flora and local traditions.
While waiting for the bus on my way back, the best way is to take a break at Oinu Chaya (お犬茶屋), this is restaurant and souvenir shop from where we have a beautiful view of the mountain, and the opportunity to relax on tatami mats. I wanted to taste the Imo Dengaku (grilled taro skewers with miso sauce) but the stand was closed and I chose another specialty: konnyaku (konjac) covered with a miso sauce. A light and hot but tasty snack, exactly what I needed after a long walk.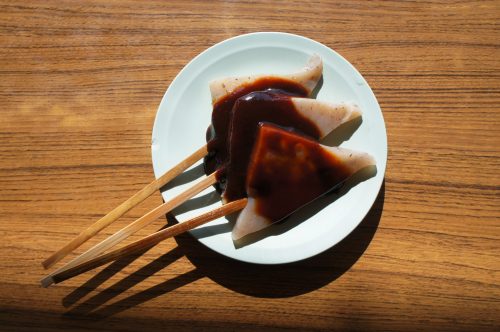 Walk into the City Center on the Chichibu Silk Road
Chichibu prospered in the early 20th century (from the middle of the Edo Period to the beginning of the Showa Period) through silk spinning. Locally produced silk, called "Chichibu Meisen" was then very popular in Japan because of its resistance and shimmering patterns. Since this industry has declined, many buildings of this time still stand, lined up along the streets and give it a special charm.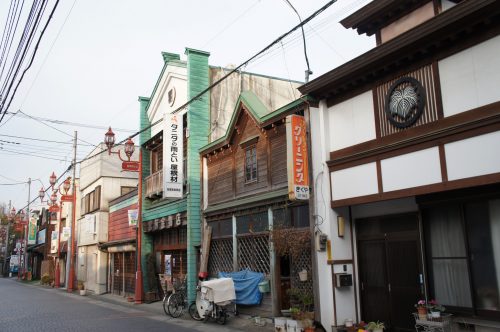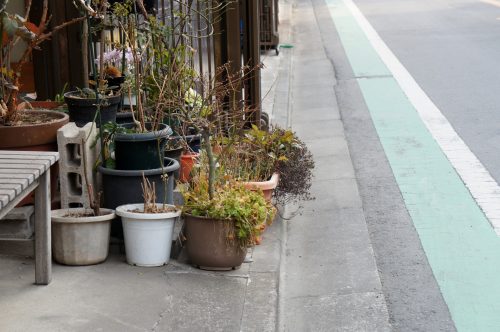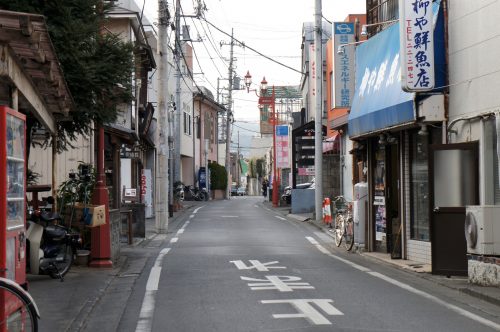 I was surprised to discover a house decorated with pieces and colorful silk threads: Kaikoya (かいこ家, literally "silkworm house"). A small room is open along the street athat reveals a kind of tiny museum of silk: kimonos, dolls, coils and various tools and objects are exposed in a delightful staging. Location on the map below; this is something that you should not miss!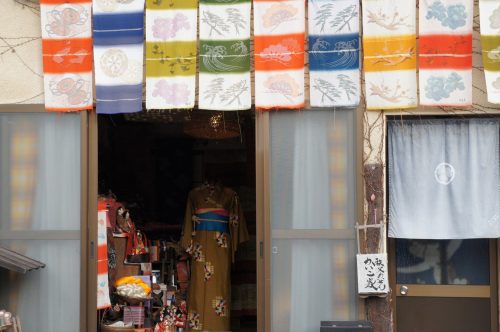 In the Spring: Shibazakura in Full Bloom at Hitsujiyama Park
From mid-April to early May, you can admire the spectacular flowering of shibazakura, the "lawn sakura" at Hitsujiyama Park in Chichibu. However, it is not about blooming cherry trees but phlox, a flower whose different shades of pink and white are reminiscent of those of Japanese cherry trees. Around hanami season, various events are held to enjoy the flowering of these plants.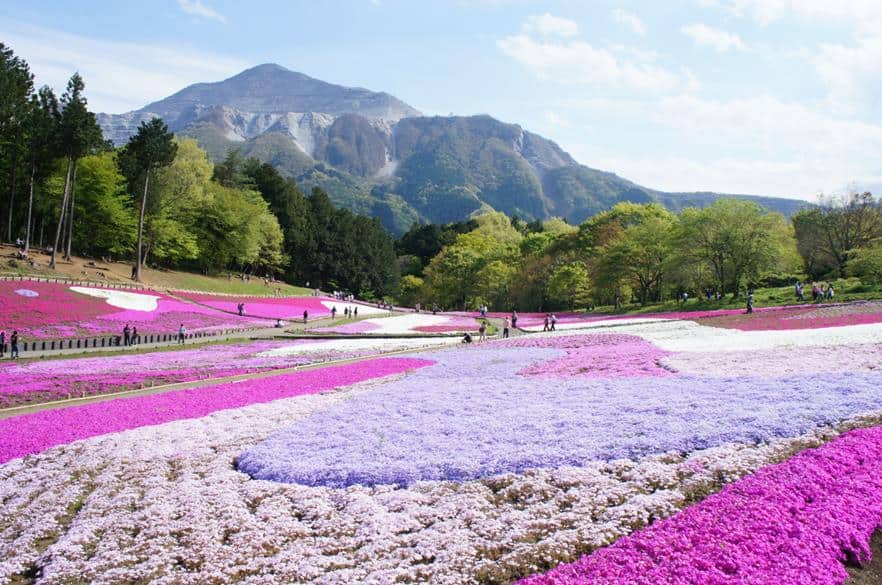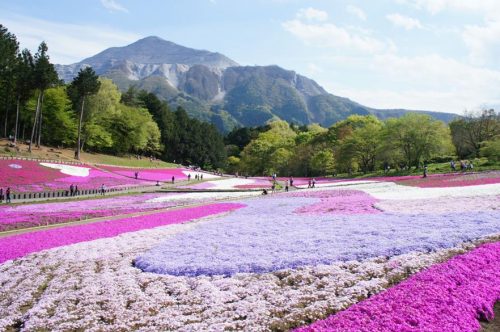 Matsuri no Yu: Restaurants, Souvenirs and Spa
Close to the Seibu Chichibu Station, there is a large building with lanterns decorating the entrance: Matsuri no Yu (祭の湯). As its name suggests ("Yu" meaning "hot water" and, by extension "bath"), it is a spa-type onsen with varied indoor and outdoor baths as well as saunas, hot stones, etc.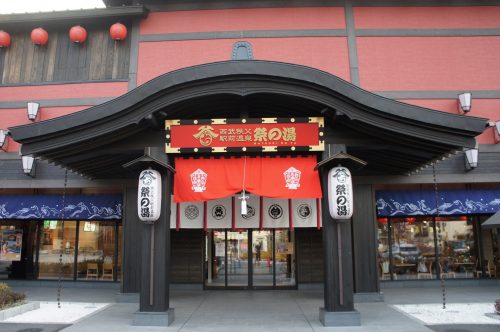 In addition, it also includes souvenir shops: alcohol and local savoy and sweet specialties, accessories made with local fabrics, etc.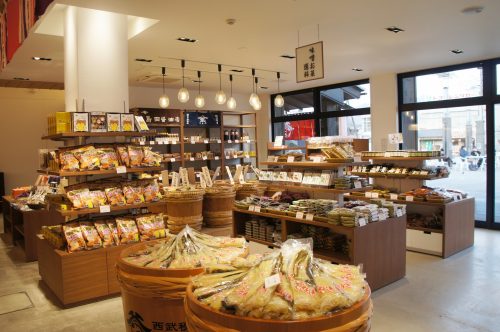 In the restaurant area, you will have all kinds of dishes, each offered at a different counter. I tasted Chichibu's specialty: Waraji Katsu donburi. This is a variation of Katsudon (slices of tonkatsu – or breaded pork – on a bowl of rice) that owes its name to the resemblance between the thin slices of pork marinated and then breaded and the rice straw rope sandals. called waraji.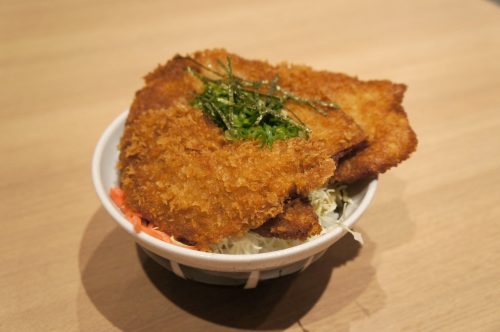 Useful Information
You will find all the necessary information about Chichibu on the website of the tourist office.
More information on Chichibu Matsuri no Yu through here (Only in Japanese.)
How to Get There
Red Arrow Limited Express trains run directly between Ikebukuro Station and Seibu-Chichibu Station (78 minutes). All the necessary information on these trains is on the Seibu Railway website.
Seibu Railways offer you a 2-day passes to visit Chichibu from Tokyo, all information is on this page.
Original article by Clémentine Cintré