On the warm weekend nights of Japanese summers, the skies are lit up with awe-inspiring bursts of fireworks, some displays going on for nearly an hour. Truly Japan loves its colors, but a few months earlier, the colorful displays take place at ground level and last much longer.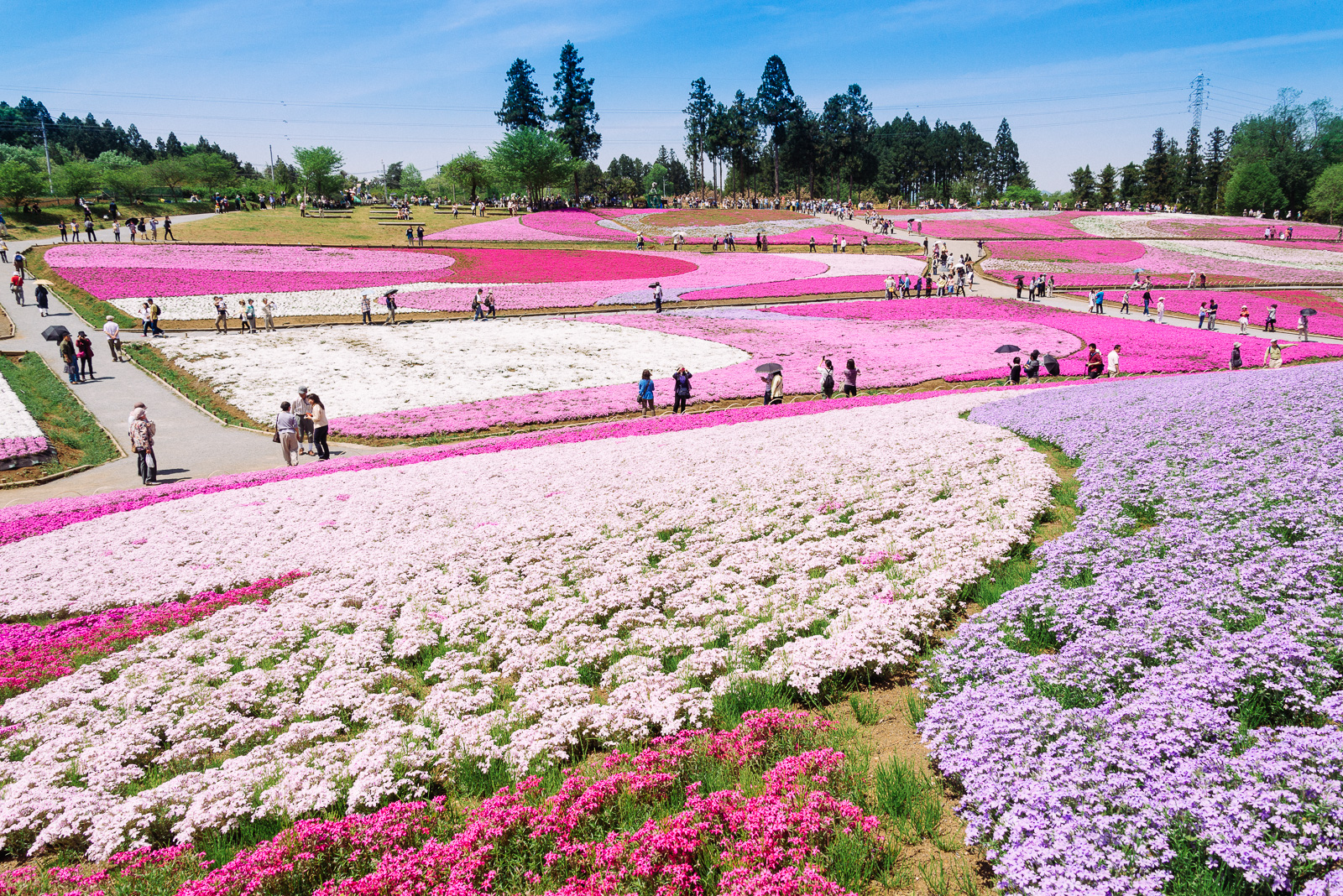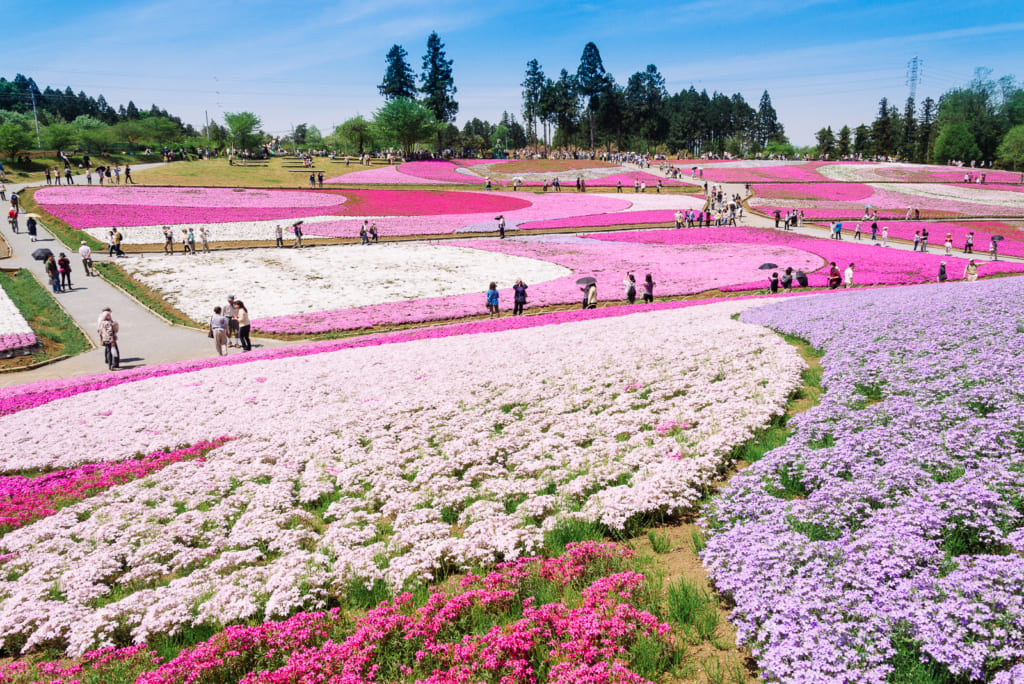 Various areas of Japan are famous for their floral displays in Spring and early Summer: the ocean of nemophila at Hitachi Seaside Park in Ibaraki, the rainbow-striped rolling flower fields of Biei in Hokkaido, the gorgeous azaleas in Matsumoto Azalea Park in Nagasaki. There are peach farms in Yamanashi and sakura and baby blue eyes in Oita. Tucked away on a hillside a little over an hour from Tokyo is the pride of Saitama's Chichibu city, the moss phlox shibazakura flower festival.
Chichibu's Shibazakura Flower Festival
Boarding the Seibu Line limited express train at Ikebukuro station, you're in for a treat. Seibu recently upgraded their fleet of limited express trains to the LaView, a train that resembles a bullet even more than the actual bullet train. This sleek, space-aged beauty will deliver you to Chichibu in about 80 minutes while you enjoy it comfortable wrap-around seats and views of the forest-covered mountains from its near floor-to-ceiling windows. Note that consuming food and drink is acceptable on this train if you want to bring along a snack for the ride.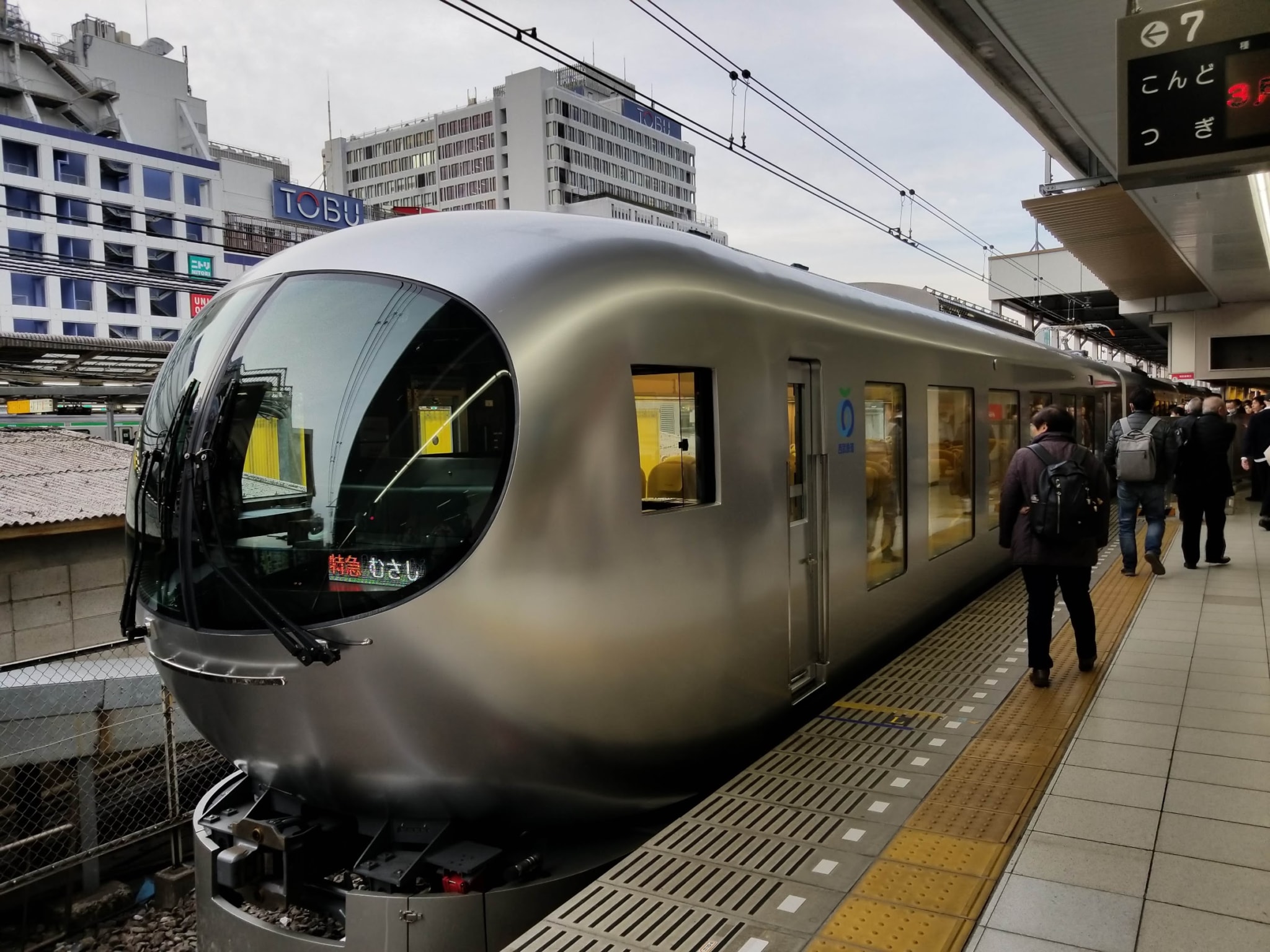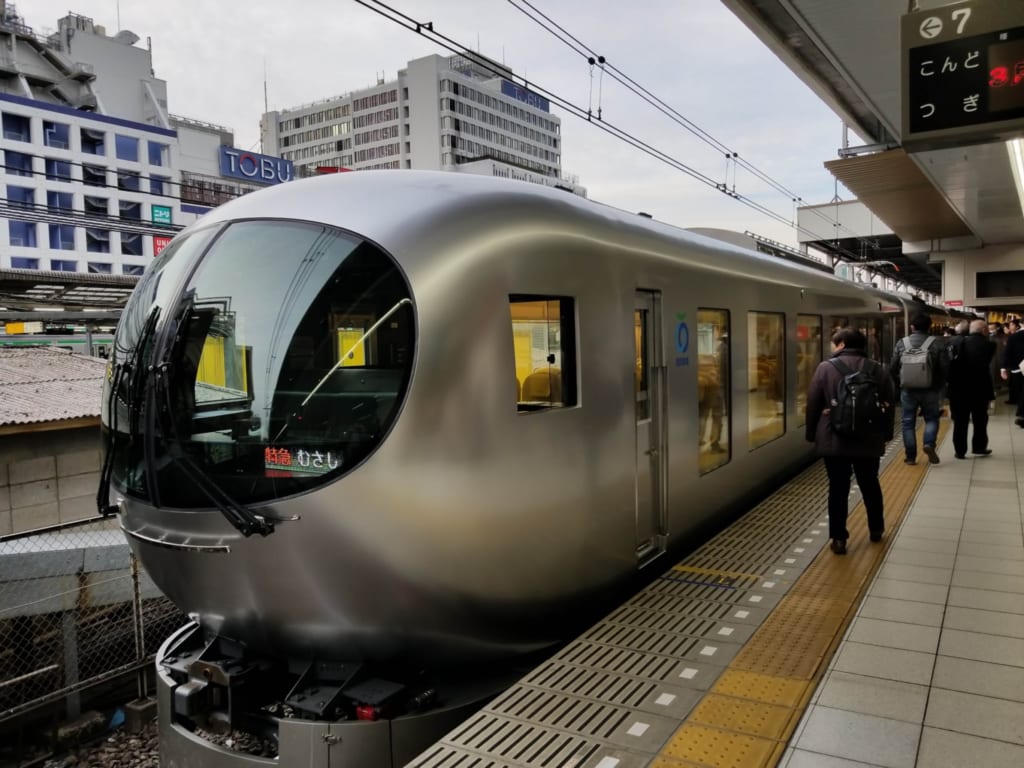 Chichibu was once a thriving industrial town, providing raw and woven silk to the textile industry where it was heavily used in the production of kimono. Chichibu meisen is still a famous style of weaving, easily recognizable in kimono and other traditional garments. Chichibu meisen is known as both a versatile and durable weave, though sadly, the number of weavers has been steadily decreasing as demand wanes.
Today, Chichibu is best known for the imposing presence of Mt. Buko, whose silhouette is being slowly eaten away as the mountain is consumed for limestone used in the building materials for the ever-changing Tokyo landscape. In the afternoon shadows of Mt. Buko is Hitsujiyama Park, site of the annual Shibazakura flower festival from mid-April to mid-May.
A Stroll Through Rural Japan
To get to Hitsujiyama Park, you'll have to walk about 20 minutes from the Yokose train station. Consider the walk as part of the destination, as it meanders through lovely rural neighborhoods, along a bubbling river and up through some light forest. Along the way, enterprising locals set up stands outside their homes, selling homemade foods and cold drinks to passersby.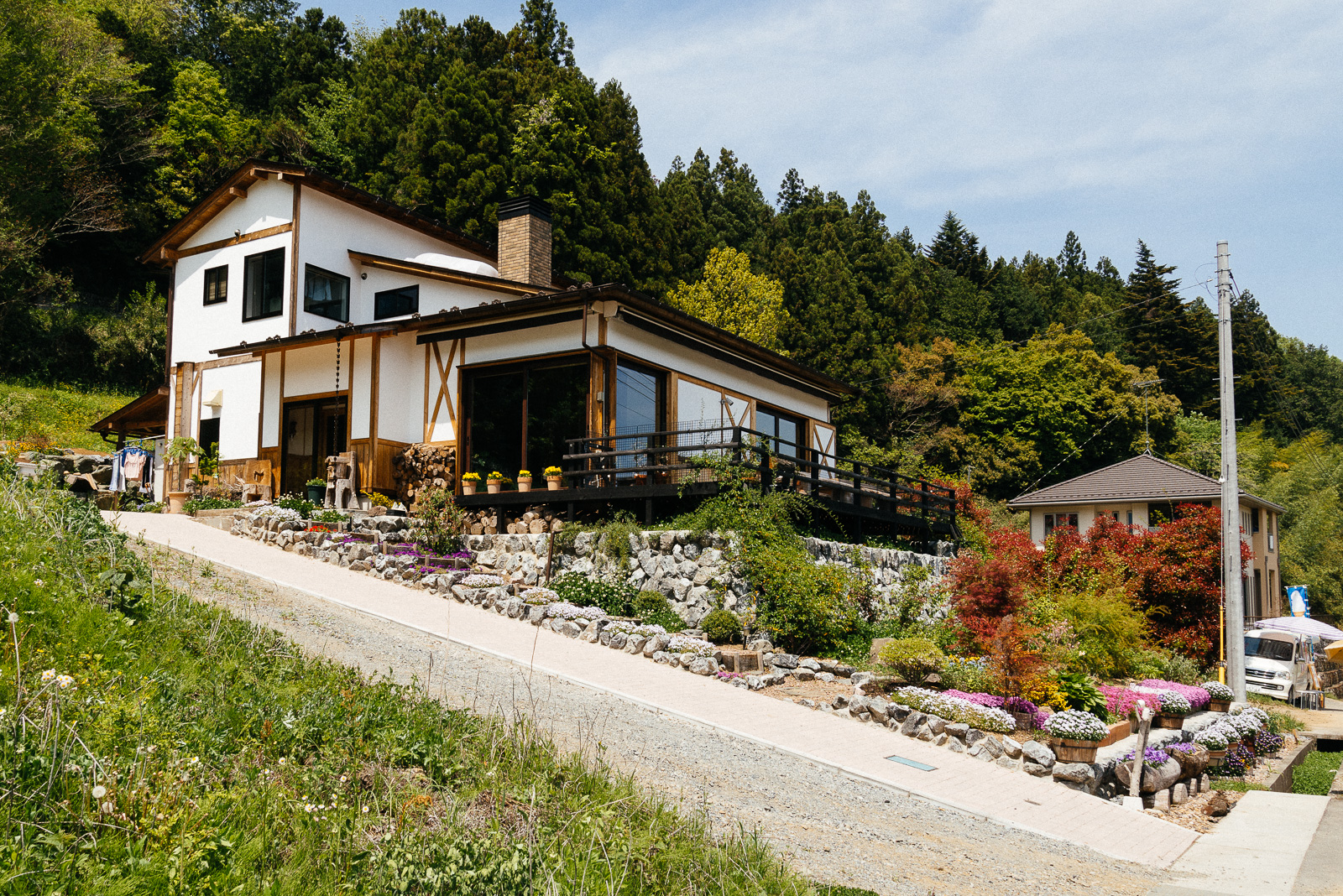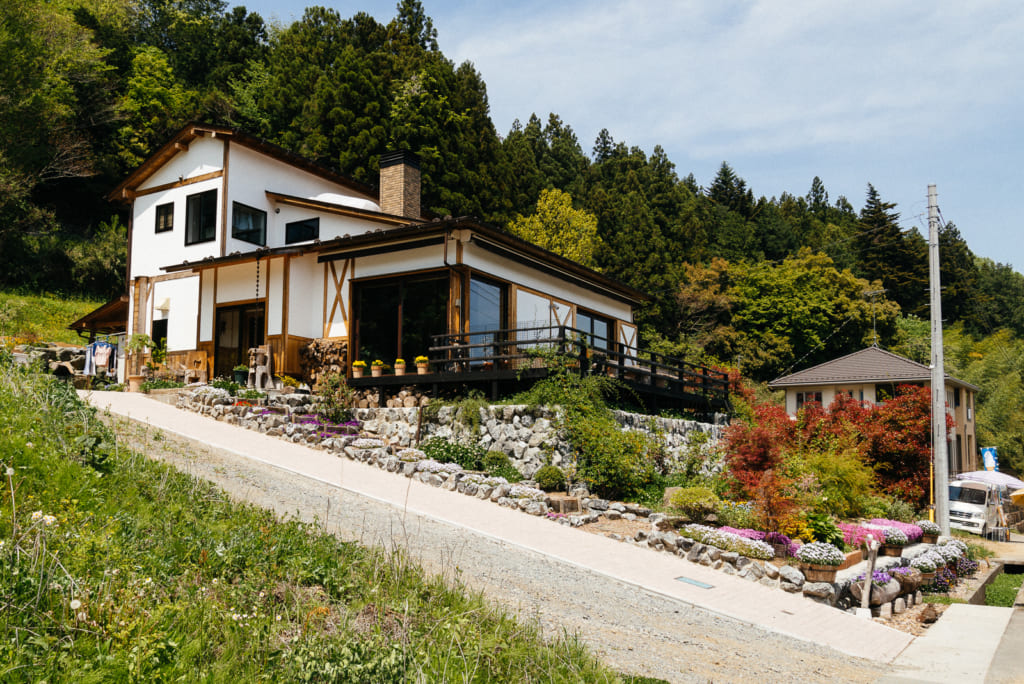 At the gate, pay the modest fee to enter the flower festival and prepare yourself for the most glorious display of pastel-colored flowers you've ever seen. Hundreds of thousands of plants blooming in pinks, purples and white, arranged in patterns of colors, with Mt. Buko gazing down from beyond the trees.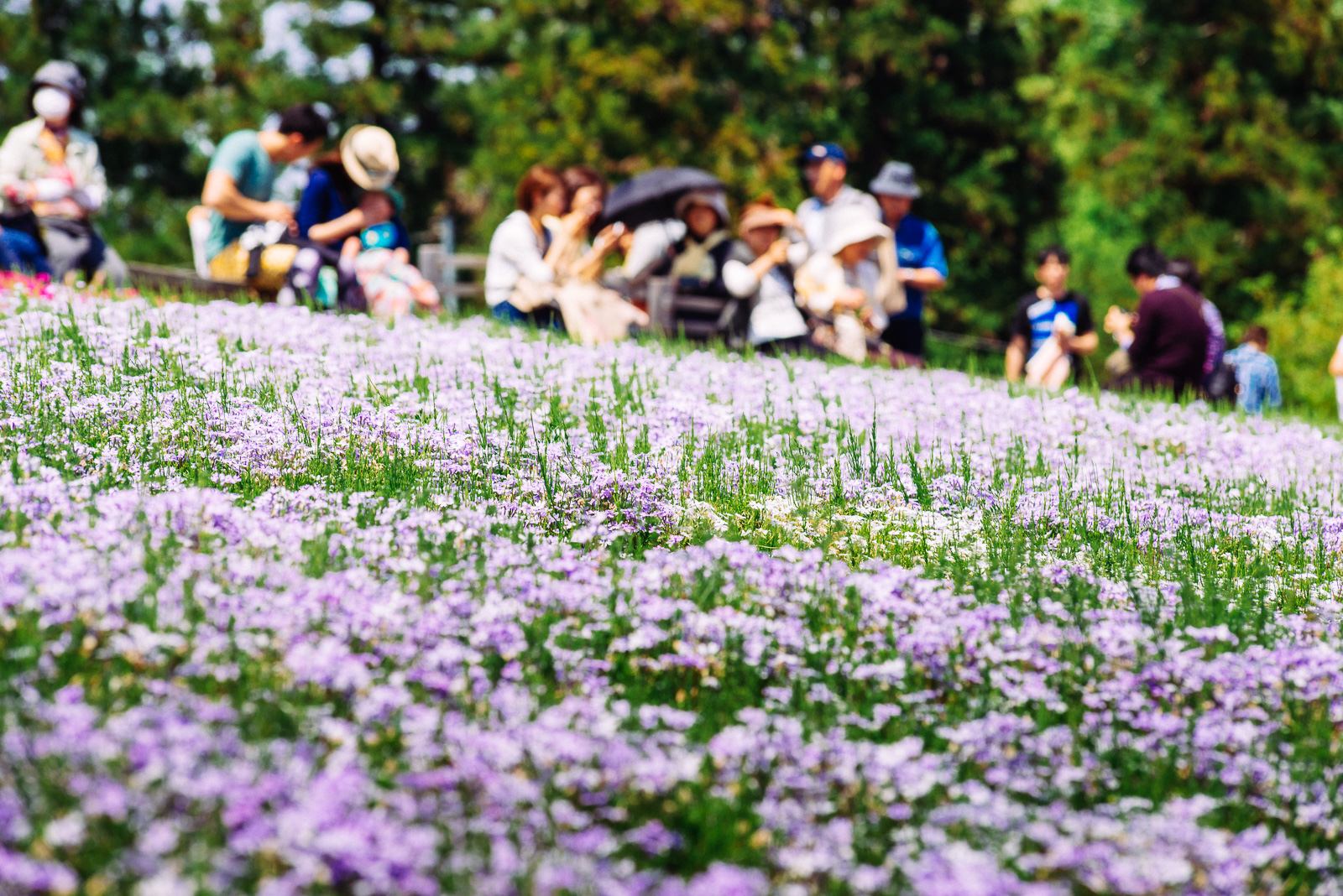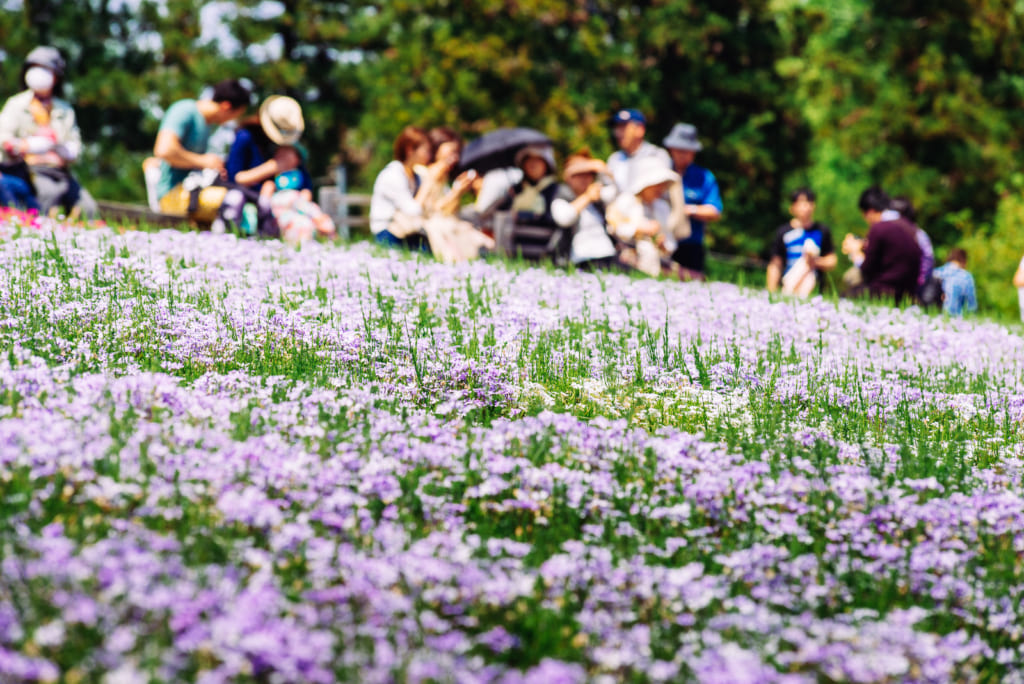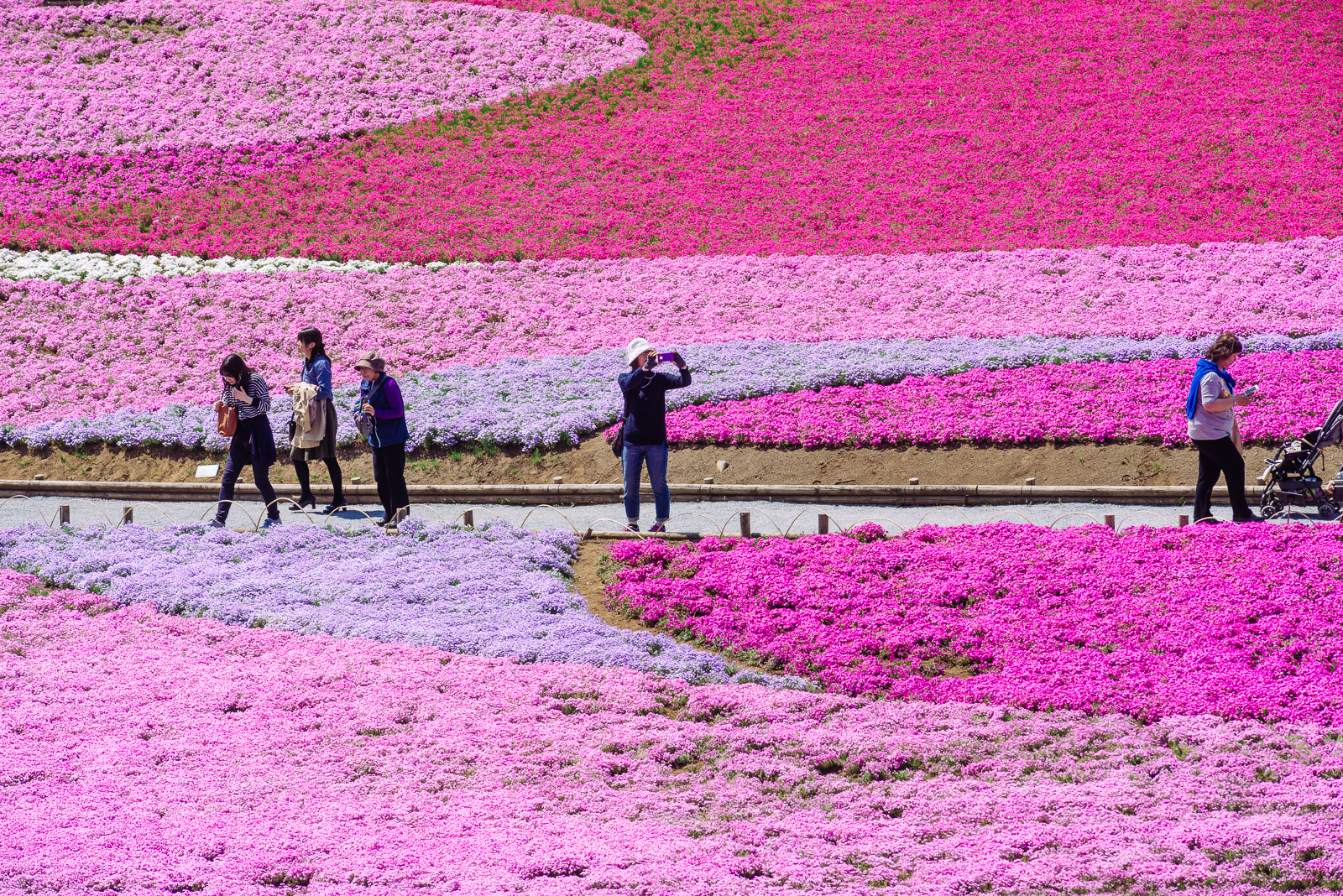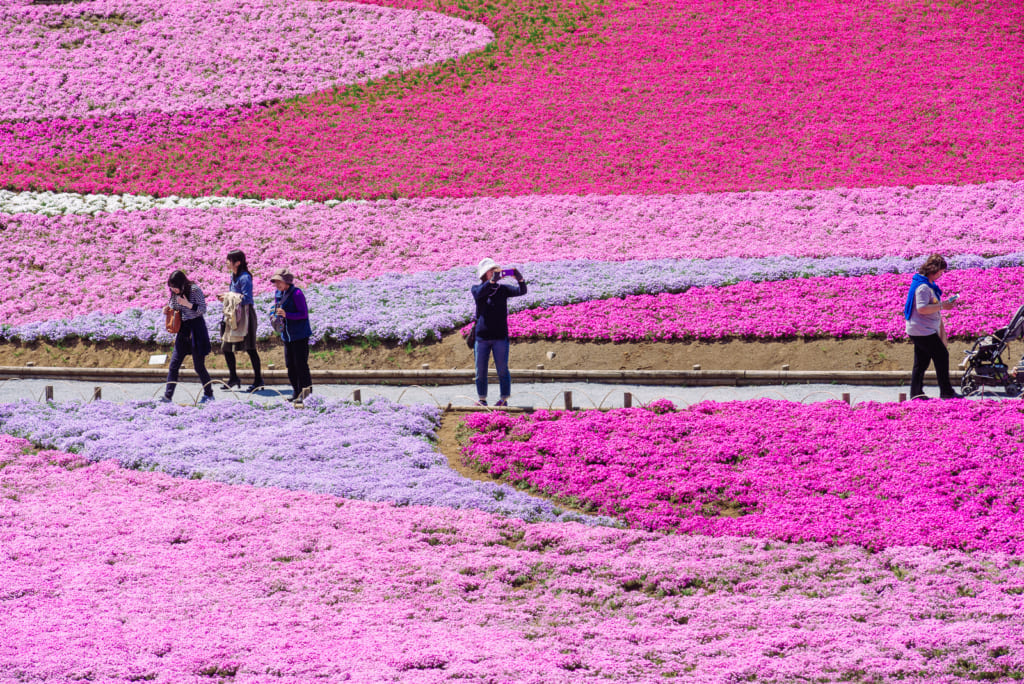 I took about half an hour to stroll among the flowers along the paths that meander between the various fields. On the edges of the field are benches, both in shade and in sun, and an area with food and product vendors. Among the common festival foods and cute crafts are many of Chichibu's local products, surprisingly including craft whisky. You might even spot a local specialty sure to impress your friends: jars of local honey containing the bodies of giant Asian hornets. You don't actually consume the hornet, but it is said that the essence of the hornet which leaks into the honey has incredible health benefits. If you're the type of person who buys tequila with a worm in it or a lollipop with a scorpion, this souvenir was made for you.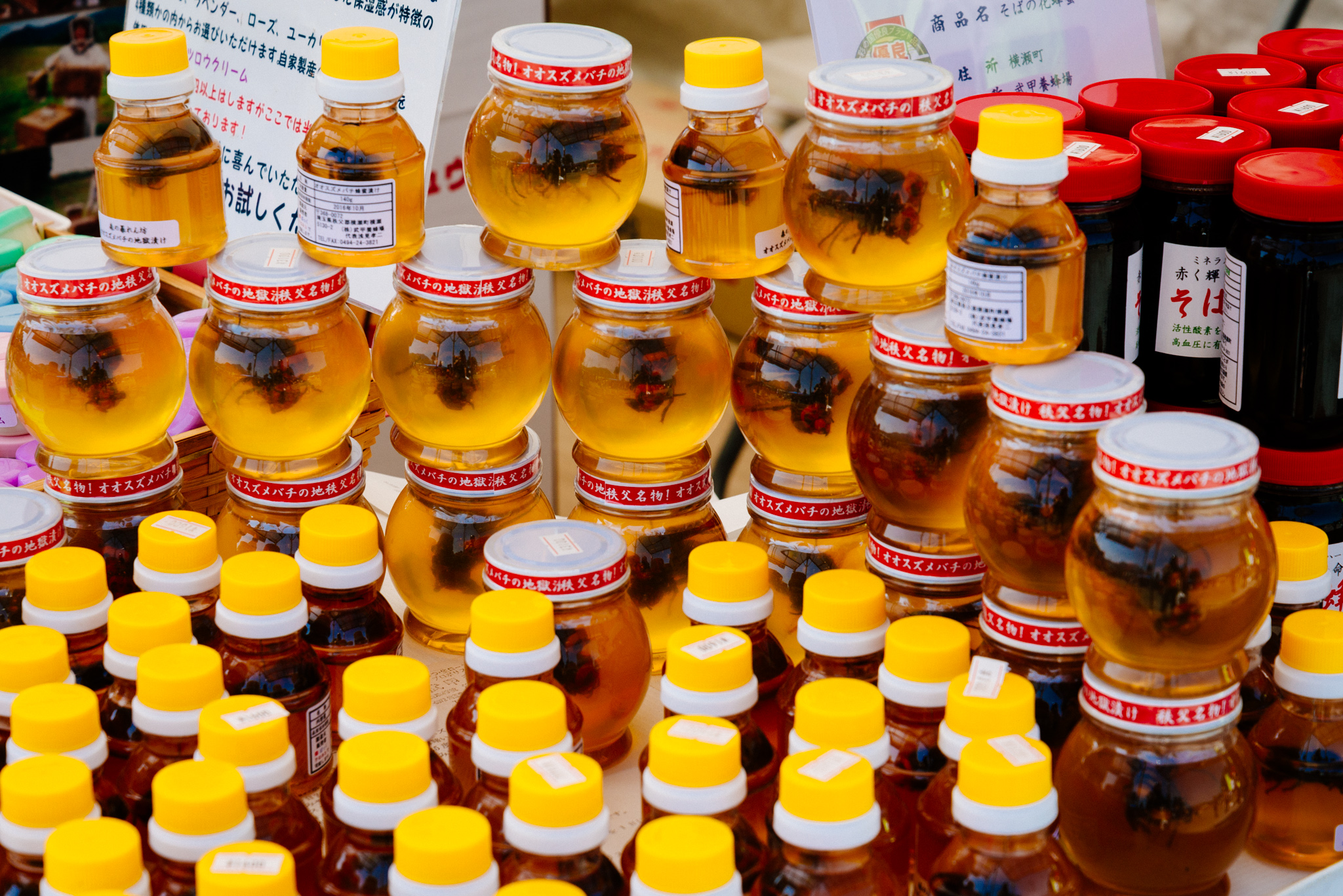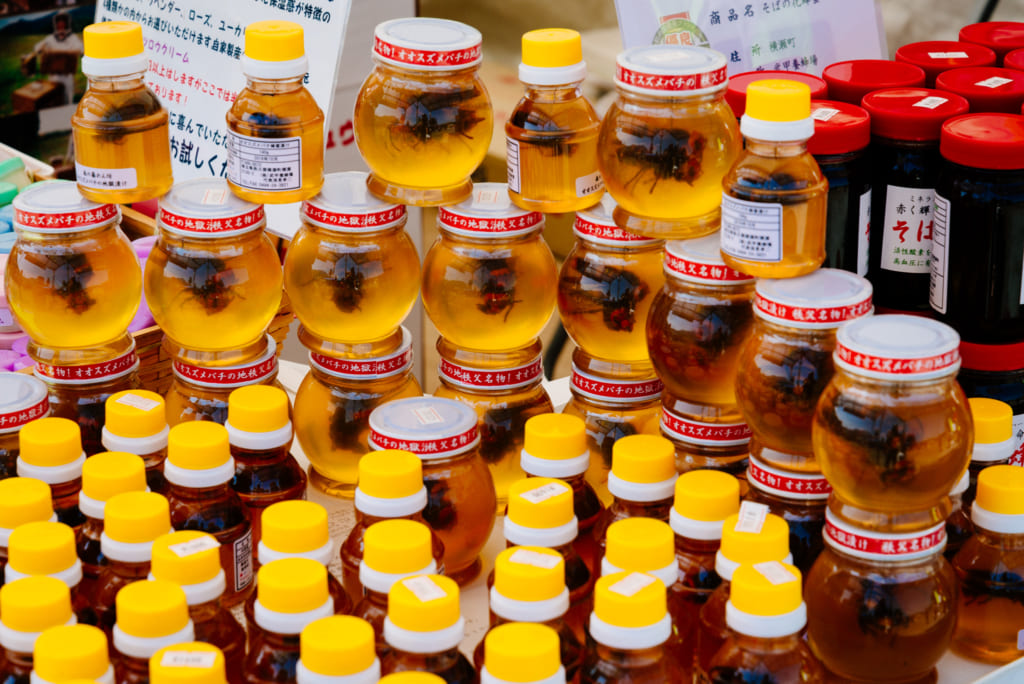 Also near the food and product stalls, I discovered a lovely patch of colorful tulips planted for the occasion. Obviously this kind of festival was created to be photographed, so take your time and enjoy walking around with your camera. I even stumbled upon one of Hitsujiyama Park's namesake animals: a sheep (hitsuji means sheep in Japanese).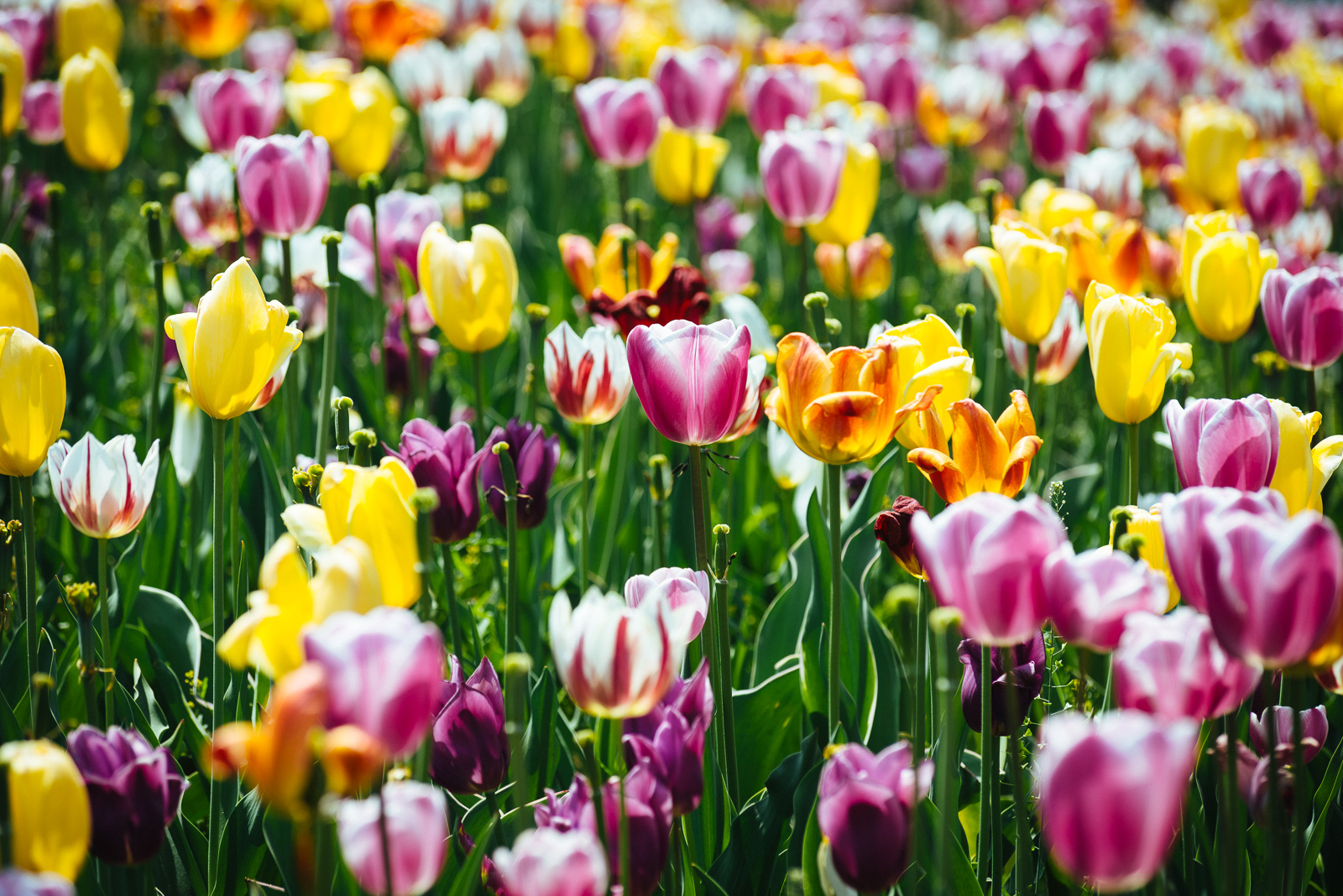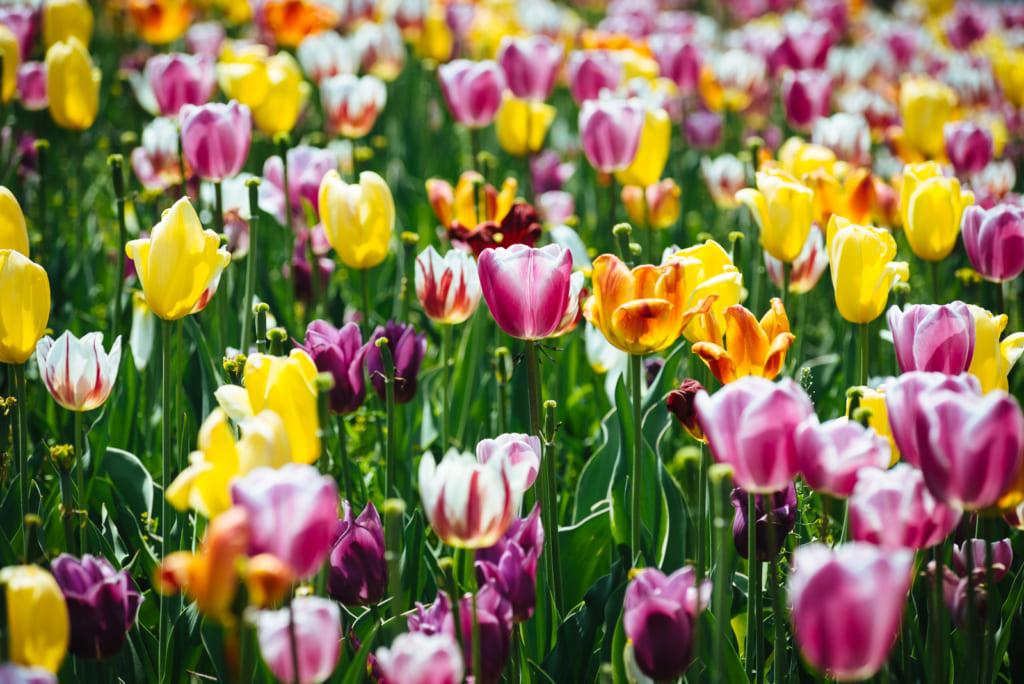 Supporting Local Japanese Economies Through Tourism
I don't usually do this in my articles, but let's take a brief moment to get real about things. We often talk about how traditions and cultures are at risk of disappearing in Japan, but the situation of cities like Chichibu really brings this home for me. With few remaining industrial businesses, Chichibu is reliant on tourism to survive.
When I visit places or events like this one, it doesn't always have to be just about me. Many times, I buy things I don't need or try foods I wouldn't normally try, simply for the reason of supporting a local vendor whose livelihood depends on people like me. So I encourage you as a visitor to these small cities and events, go a little bigger than normal. Splurge a little. Try something new. Because it won't just be for you, but possibly for the well-being of the person you are buying from or perhaps even the survival of the local economy.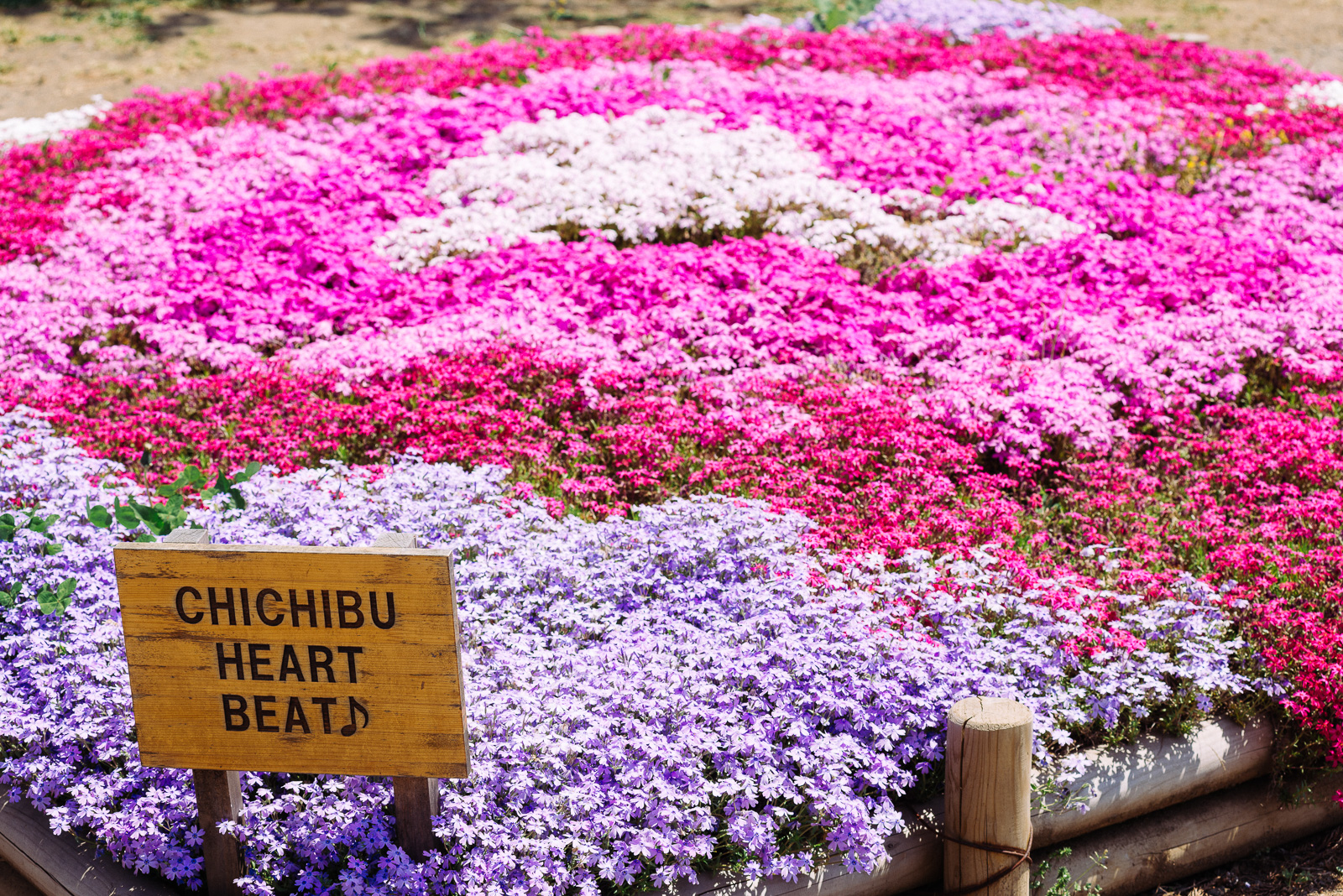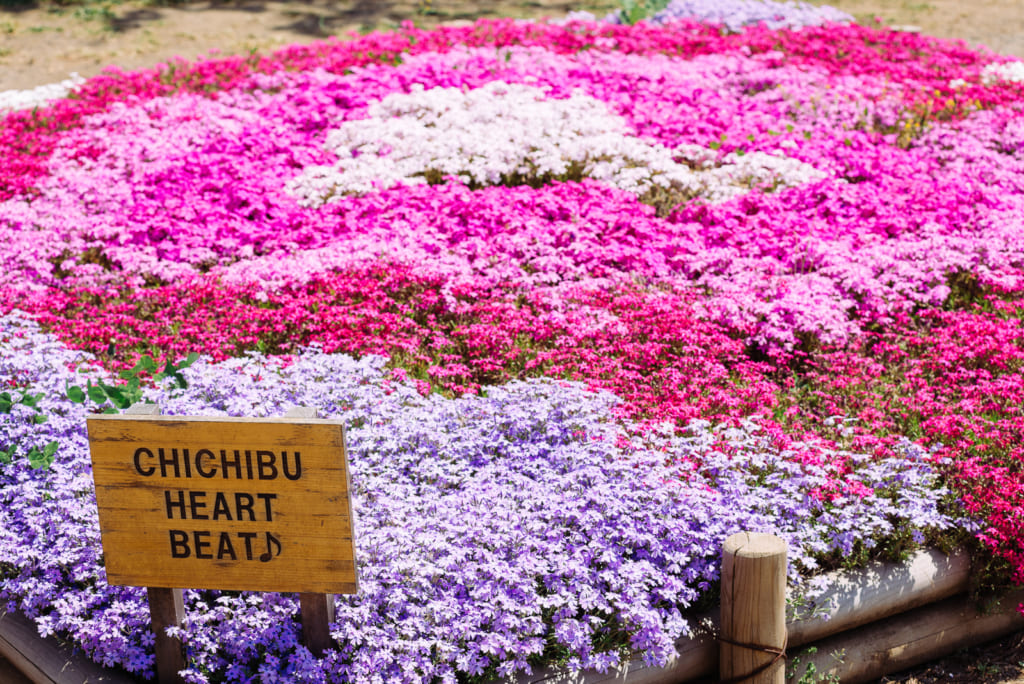 That said, if you want a quick day trip out of Tokyo in the Spring season to see something amazing, Chichibu's Shibazakura flower festival is your ticket. Ride a super cool train, take a stroll in the Japanese countryside and sip on hornet-infused bee honey. Well, that last one is completely up to you but by all means, get yourself to Chichibu in the Springtime; you won't regret it!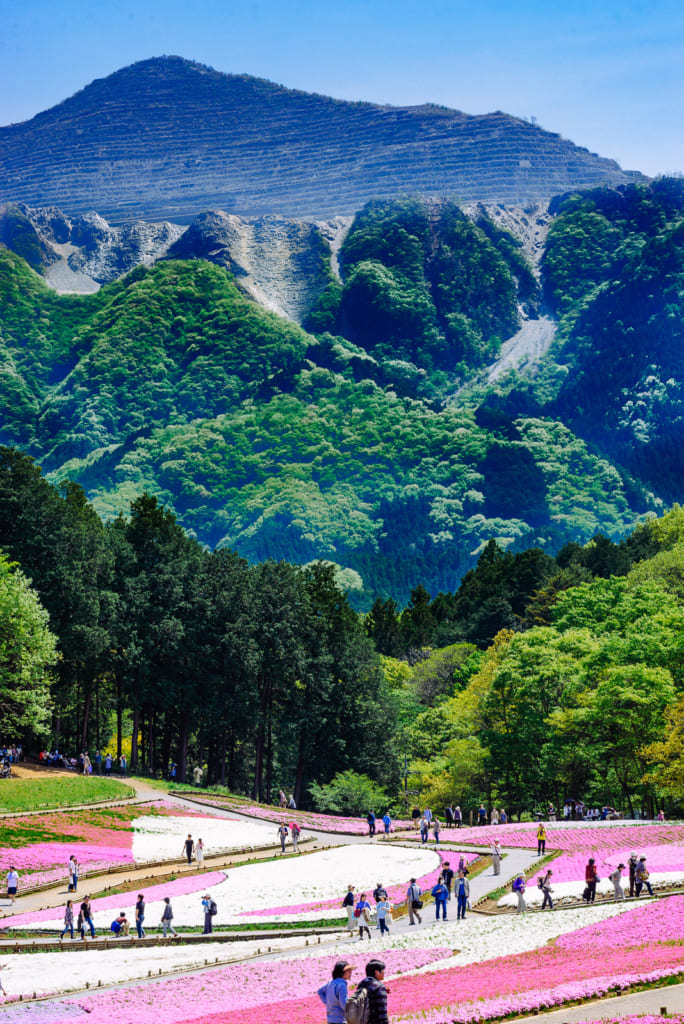 How to Get to the Chichibu Shibazakura Flower Festival
The easiest way to get to the festival is by Seibu line Limited Express "LaView" train from Ikebukuro or Seibu-Shinjuku Station to Yokoze station. There are also stations along the Seibu line where you can catch the LaView, but check the website for details. Alternatively, you can use slower (and slightly cheaper) trains like the Express or even some local trains, but keep in mind it will be a much longer journey on the local train.
Keep in mind that Yokoze station is one stop before the Seibu-Chichibu terminal, so don't forget to get off. From Yokoze station, follow the signs (and perhaps the other people heading to the event) to Hitsujiyama Park. On the way back, there is a shuttle bus available that drops off at Seibu-Chichibu station if you don't feel like walking.
You can come by car, but parking is limited and the event can be crowded, depending on the day, so the recommendation from the organizers is for you to use public transportation.
Important Information for the Chichibu Shibazakura Festival in 2023
Dates of the Chichibu Shibazakura Festival (2023): April 14th to May 7th
Due to the coronavirus concerns, the event will be scaled back from previous years but at the time of this writing, has not been canceled. Visit the official Chichibu website (in Japanese) for the most up-to-date information.