Sponsored by Daisen Town.
Mt. Daisen, a sacred volcano shaped like Mt Fuji, is a mountain with an important religious history and heritage.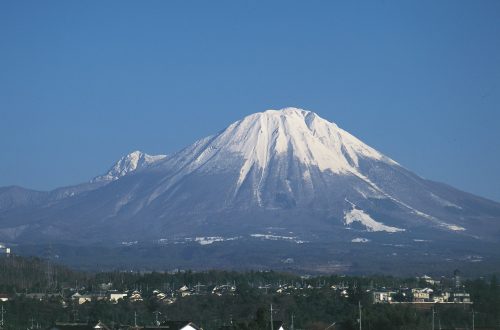 Daisen Town, which is nestled on the mountainside, used to be a major place of pilgrimage for thousands of warrior monks practicing shugendo, a form of asceticism in the mountain wilderness, and was home to hundreds of temples. Mostly known today for its wide array of outdoor activities, you will be able to step off the ski slopes or hiking trails to get a taste of the unique atmosphere that is still palpable today.
Daisen-ji Temple, the main temple of Mt. Daisen
Starting with the main temple of this sacred mountain, Daisen-ji, celebrating this year 1,300 years since its founding. According to legend, this temple was founded by a hunter, Yorimichi, who had an apparition of Jizo Bodhisattva just as he was pointing his arrow at a golden wolf. This event awakened Yorimichi's faith and made him decide to never take another living creature's life. Choosing to lead a life of spiritual devotion, he created Daisen-ji temple in 718. In the following years, and up until the 14th century, it was the first temple to welcome monks practicing shugendo on Mt. Daisen and remains today the main temple of the mountain.
If you arrive tin Daisen Town close to the Tourist Information Office, it will only take about ten minutes on foot to reach the temple, crossing the town's main street bordered with many ryokans and a few restaurants.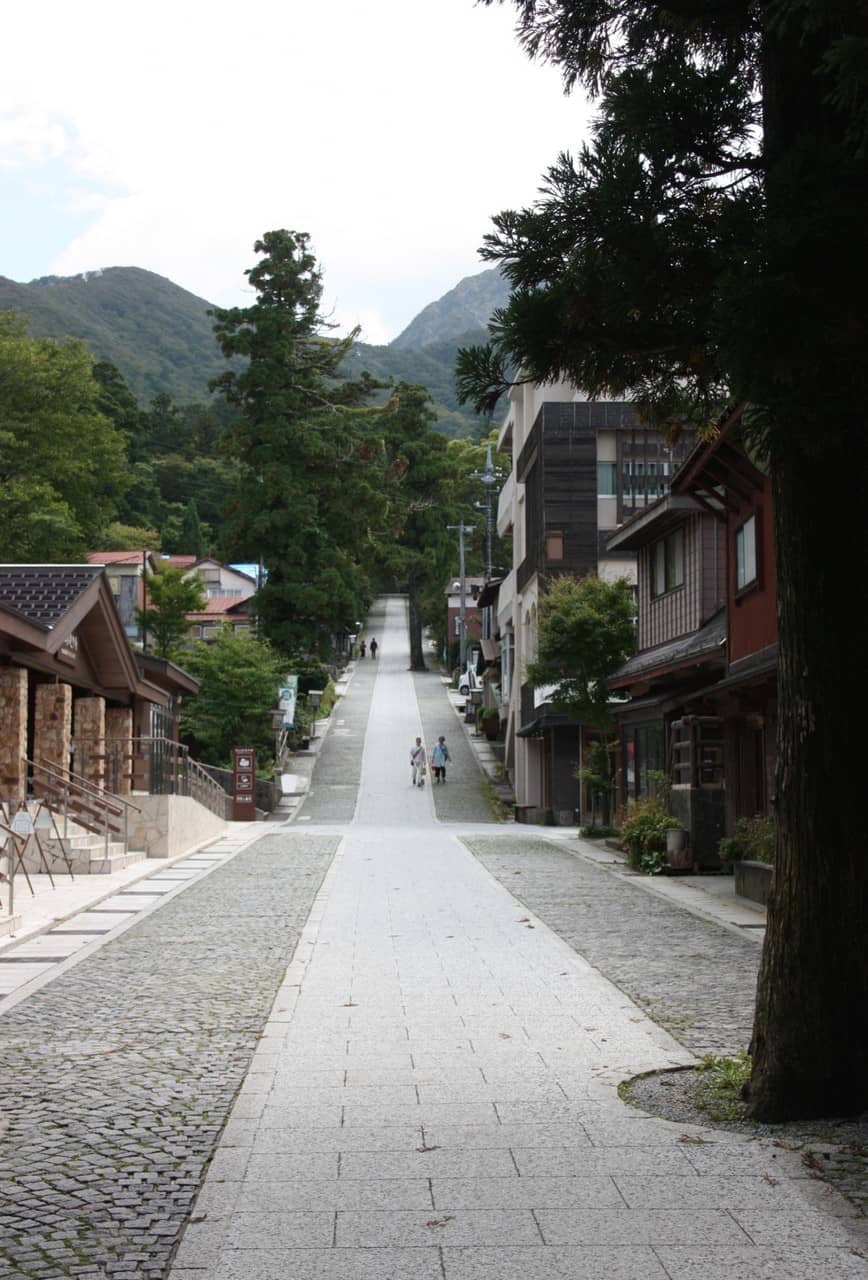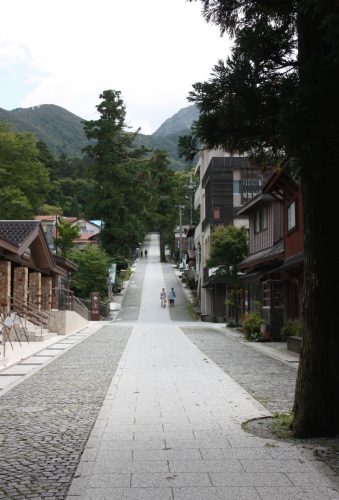 As you walk towards the top of that street, the shop windows and beautiful traditional buildings make way for a denser vegetation, punctuated with a few jizo statues. Once you arrive at the very top, the Daisen-ji Temple will not reveal itself immediately. Start by climbing the stone stairs in front of you and passing the first door.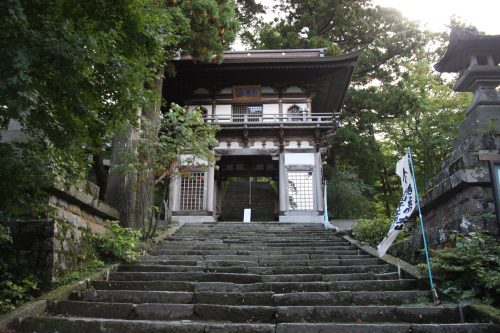 Time seems to be standing still the closer we get to the temple, stair after stair. More and more jizo statues line up, guiding you to your destination.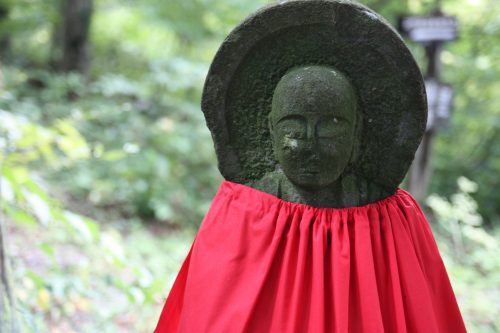 Nestled amongst trees, you will finally discover the main building of the Daisen-ji and its impressive roof. A sober building with vermilion shutters that are particularly eye-catching.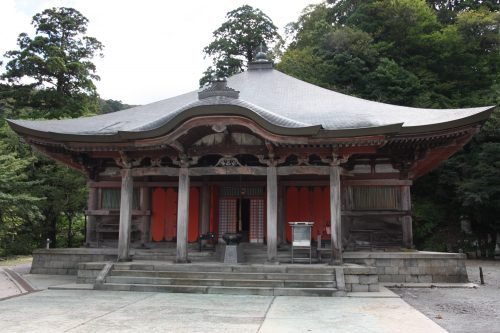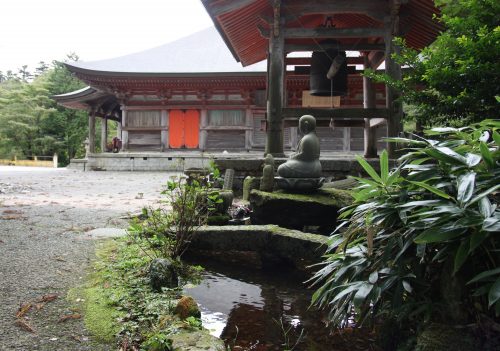 Up there, surrounded by statues, stone lanterns covered in a thin moss coat and mostly by silence, you will begin to feel the unique atmosphere of Mt. Daisen.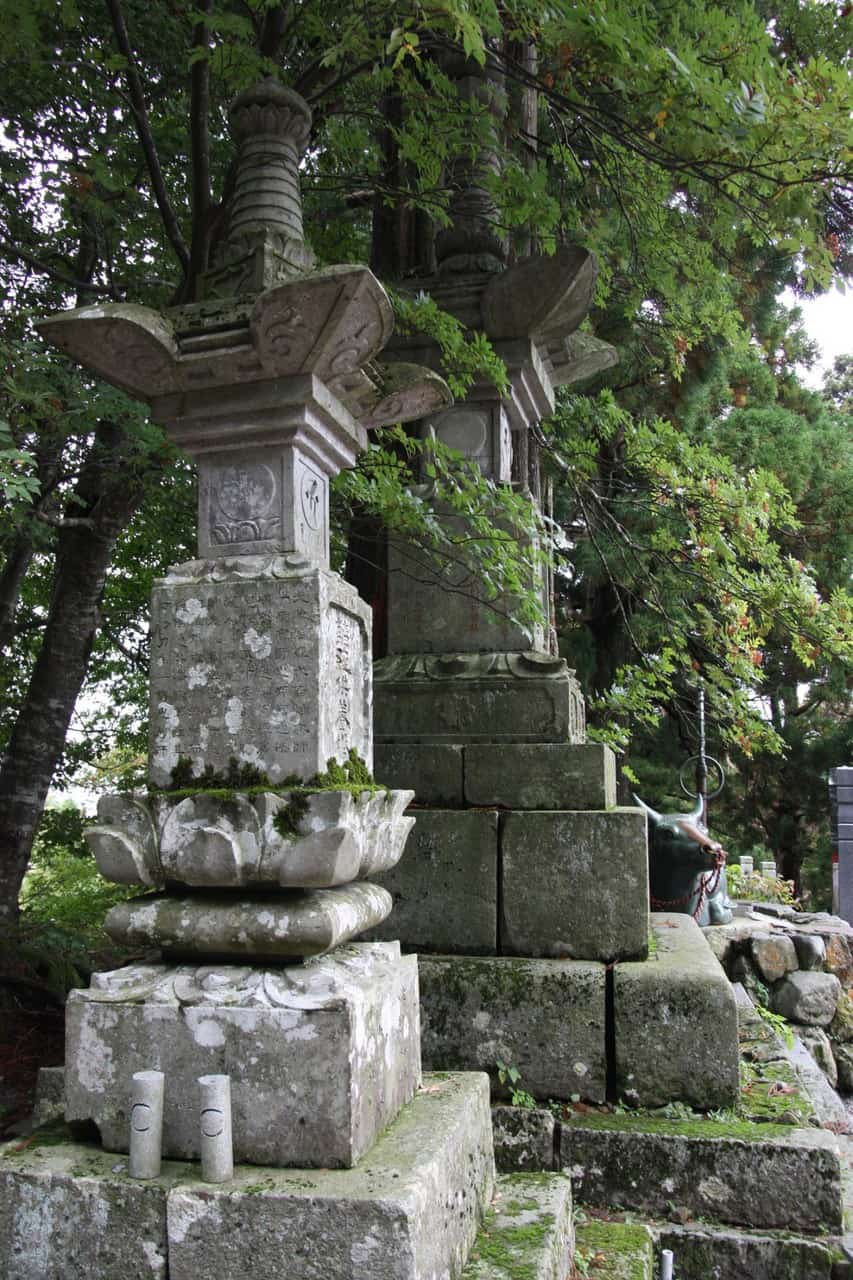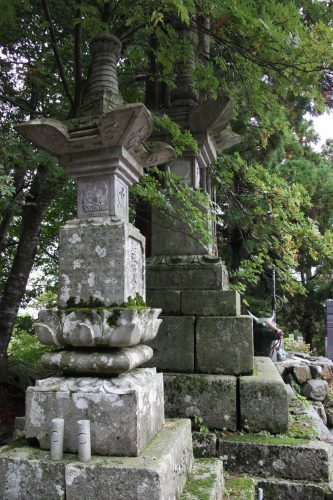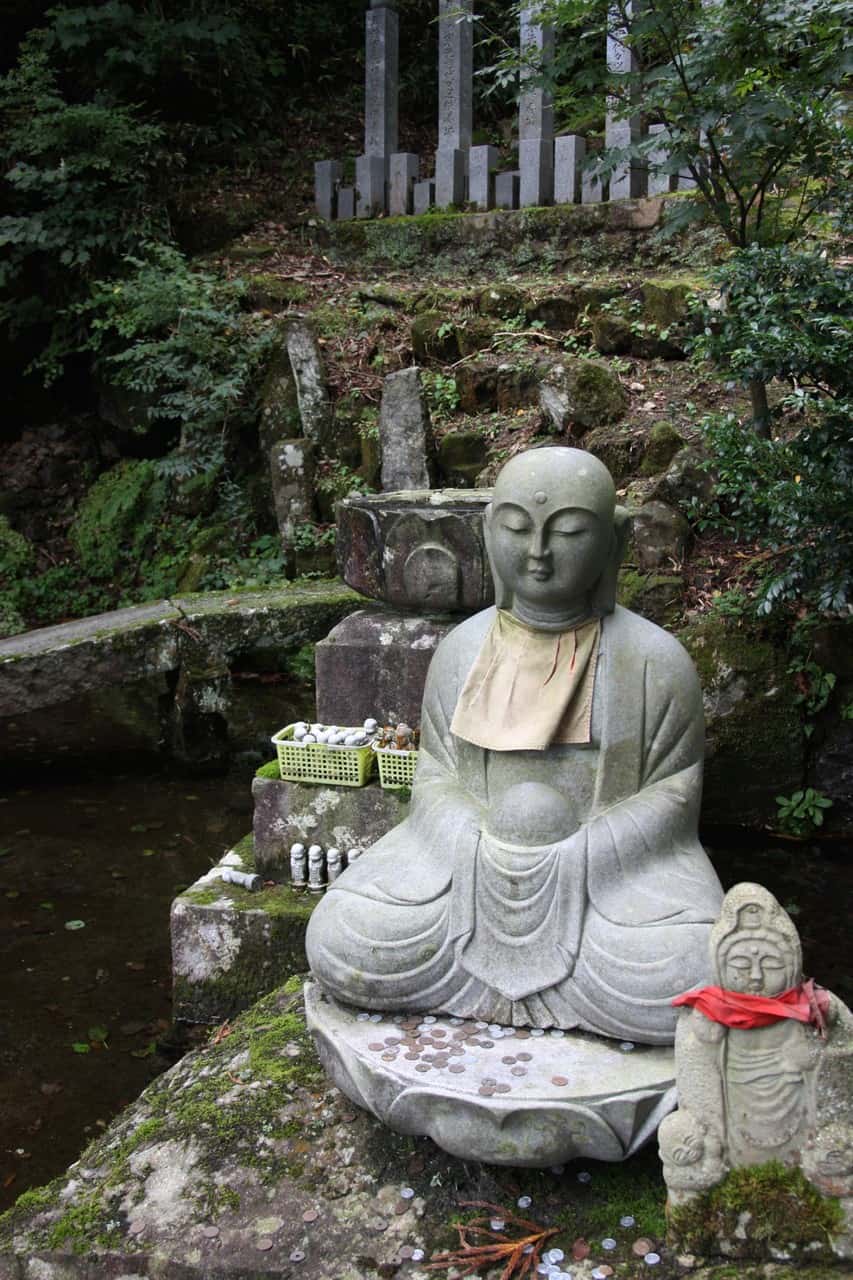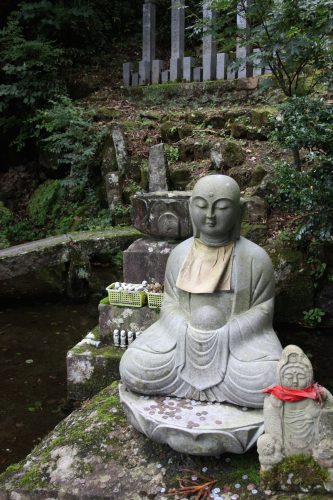 Climbing up to Ogamiyama Shrine
To keep going with this mystical interlude, continue walking to the left of the temple to reach a long paved path bordered with red lanterns.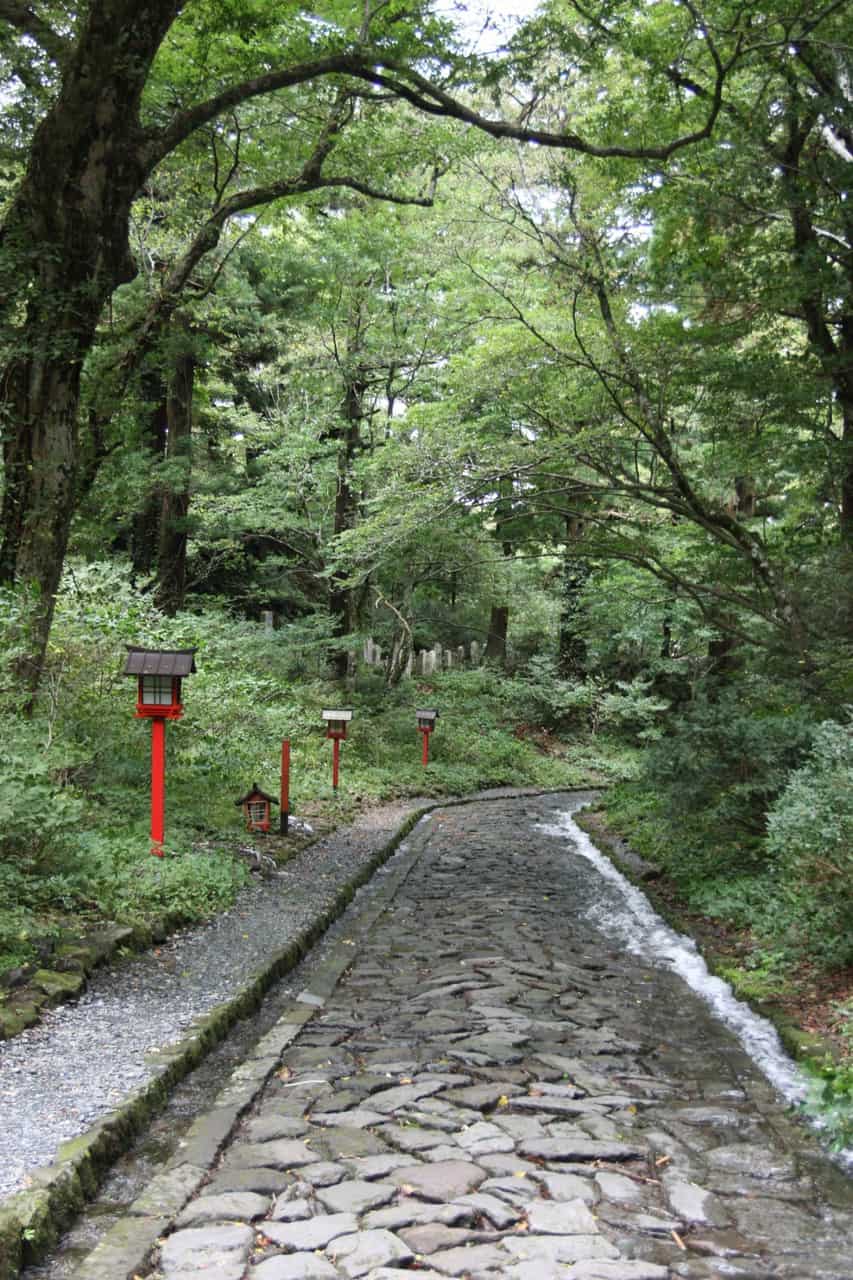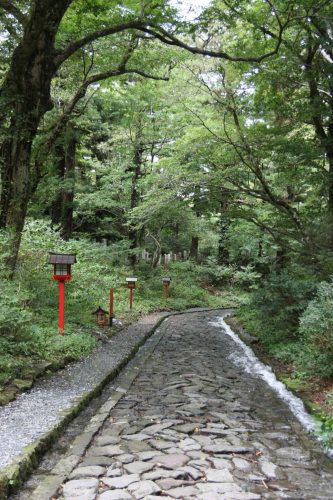 A 700-meter long trail in total – the longest paved trail of its kind in Japan – this will lead you to Ogamiyama Shrine. To escort you there, a couple of statues popping up here and there, sometimes well hidden in the vegetation, immense cedar trees, and the sound of a watercourse in the distance.
The air is fresh and humid with rays of sunlight struggling to peer through the dense foliage. Mushrooms and moss are spreading freely on trees and stones, making this trail looking like it's crossing an enchanted forest. As if at any moment, a fantastic creature could appear before your eyes.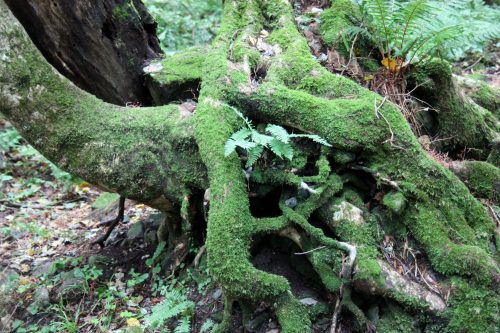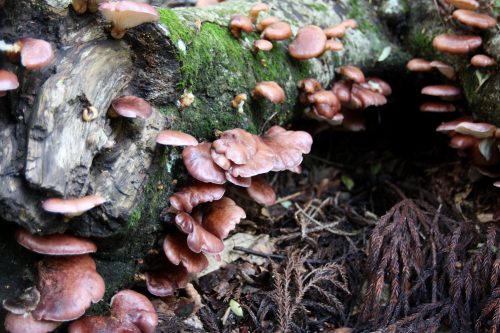 Your walk will lead you to a torii, followed by stairs and a large wooden door, well kept by two guardians with intriguing eyes.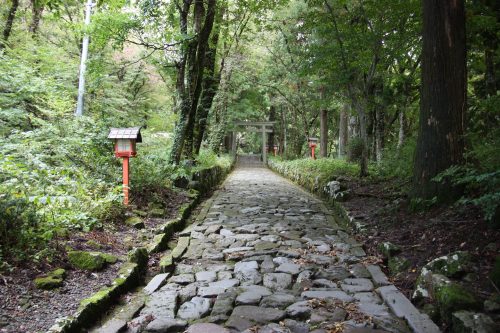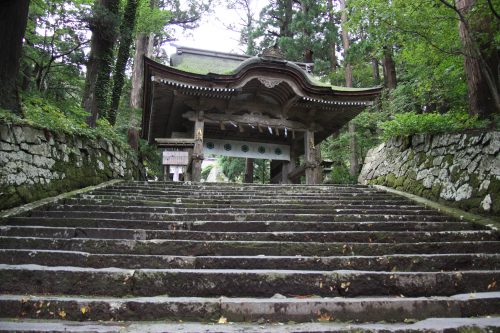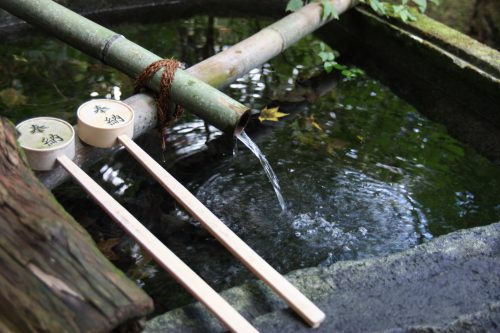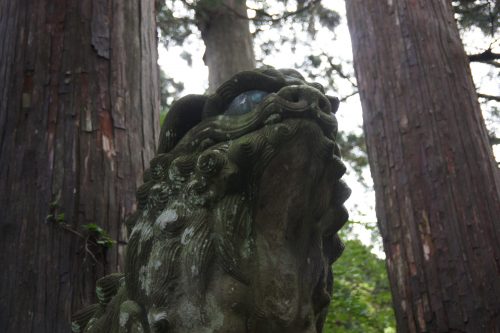 A few more steps to climb and you will discover a shrine with a gongenzukuri kind of architecture – which is quite unique in Japan – that has been designated as an Important Cultural Property. The main hall and worship hall of Ogamiyama Shrine are both under the same roof, creating a very long and impressive building.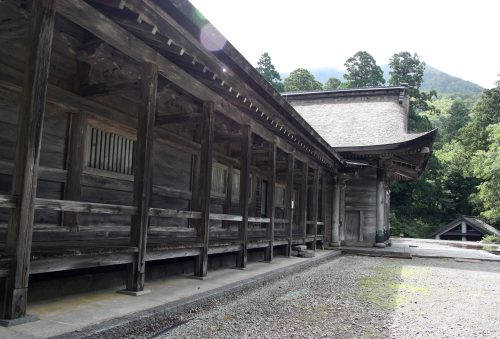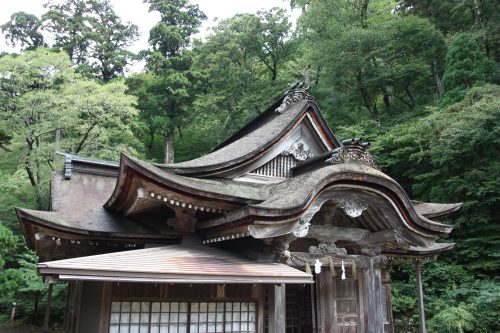 The origins of this shrine remain uncertain, but it is said that it was first simply used as a shelter for the monks who came to Mt. Daisen to practice asceticism. As the lines between Shintoism and Buddhism used to be blurred in Japan until the 19th century, this shrine and Daisen-ji Temple used to work together, thus extending their sphere of influence towards the shugendo sect.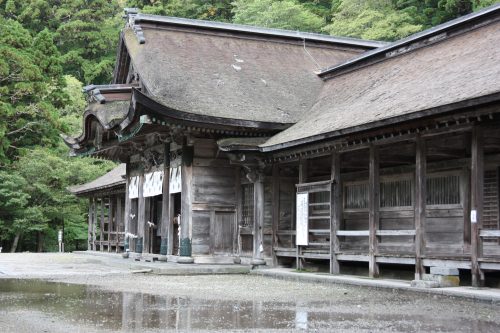 A massive building made entirely out of wood, without any color painted on the outside, the main temple building perfectly blends in with the surrounding landscape. Inside, you will discover very detailed paintings and refined wood sculptures. An indoor space is quite well hidden, as you can only get a glimpse of a small portion of it, adding to the mystery of this sacred destination.
Starting from this shrine a sacred torch-lit parade festival is held every year.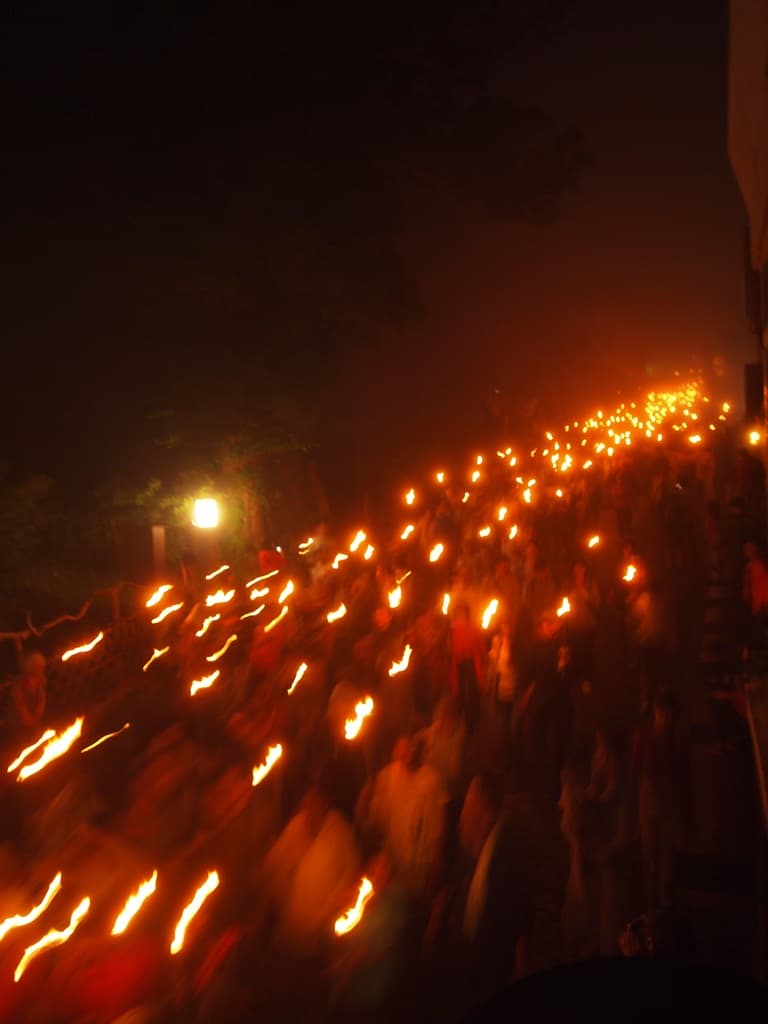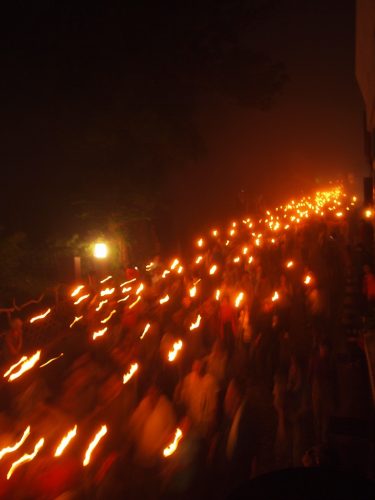 The participants of this parade all get a torch and start marching in the night with their lit torch in hand, crossing the paved path from the shrine to Daisen Town, creating an incandescent light in the darkness.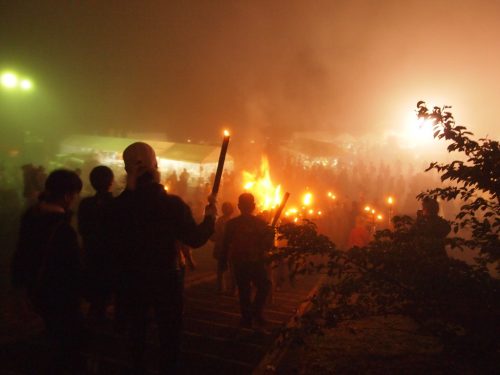 Getting lost in nature
If you can, of course, continue your visit to Mt. Daisen and its historical sites with a hike to the top of the summit. You can also simply stay around Daisen Town and explore the smaller trails going through the forest to get lost in nature.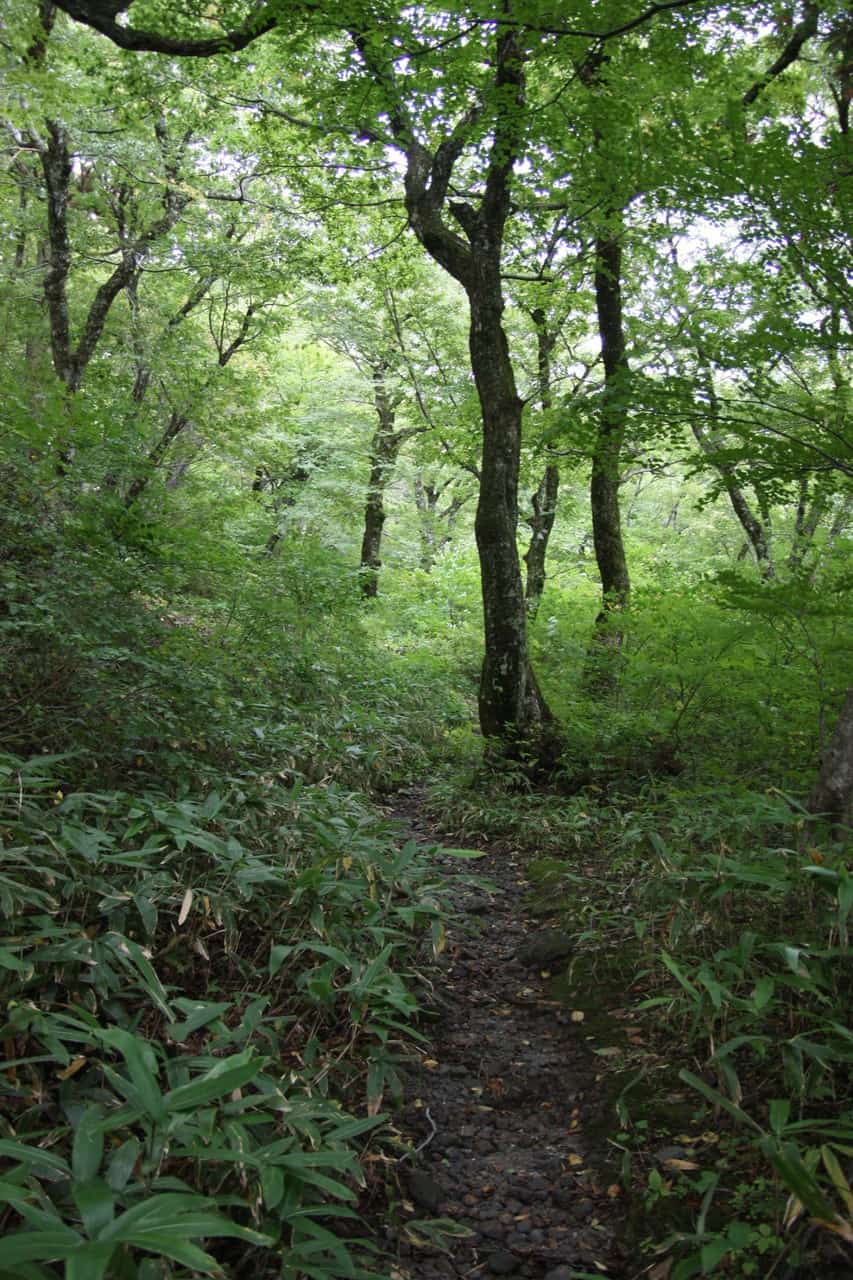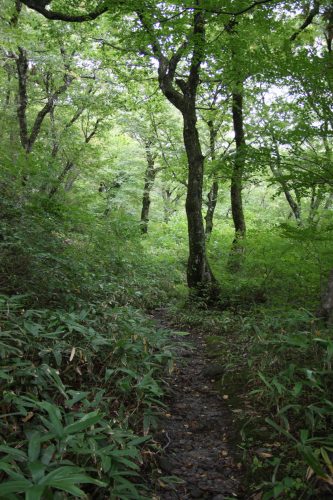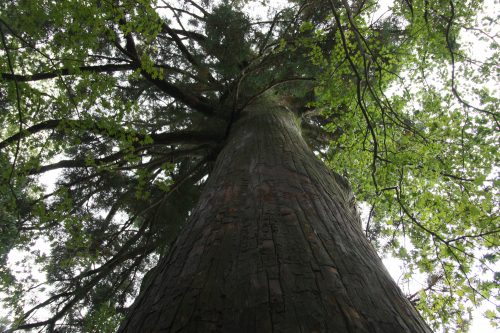 Under the immense trees, you will discover a few picnic areas close to the nearby river which runs parallel to the paved trail. You will never entirely be alone in this forest, with a few statues hidden here and there, keeping an eye on you.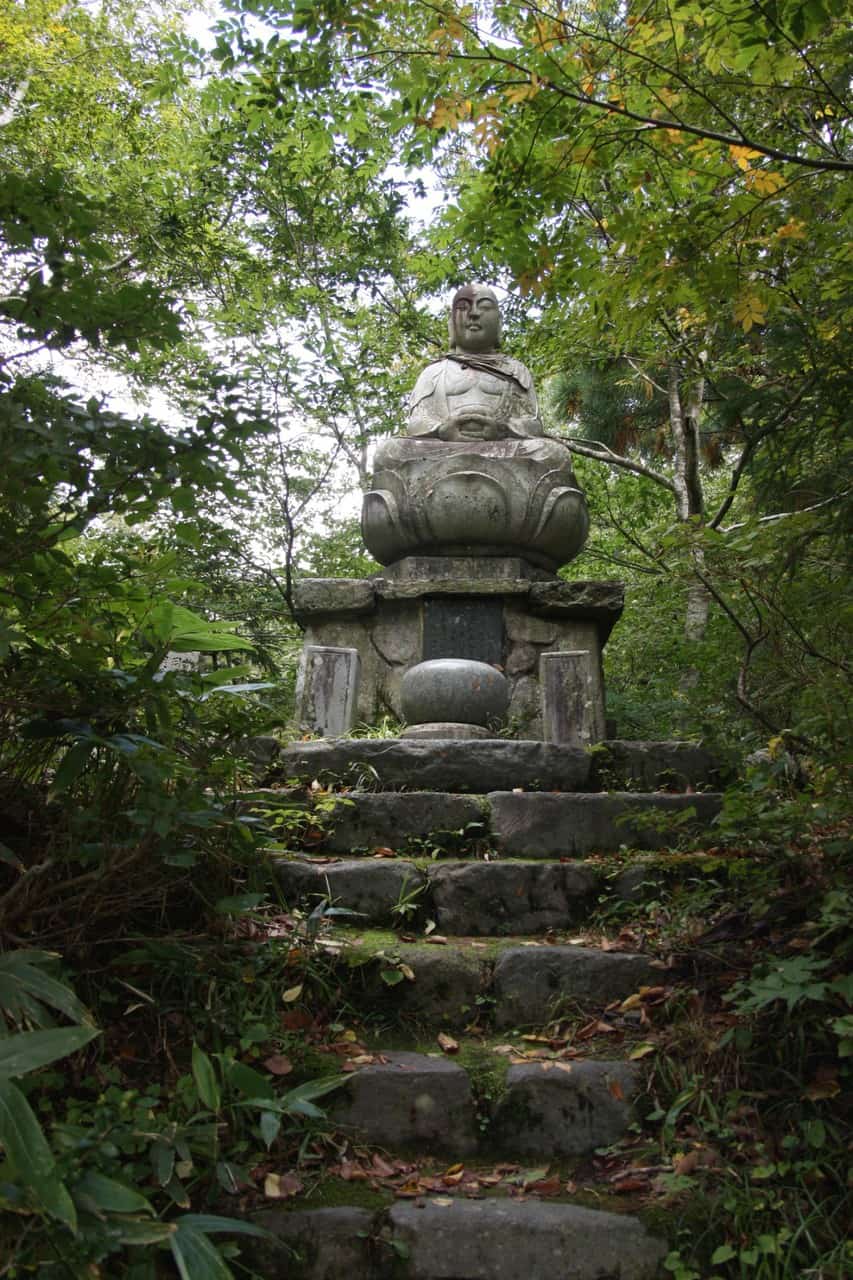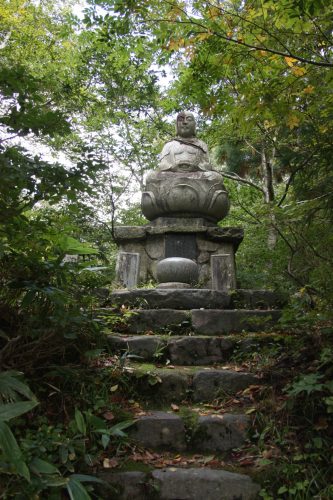 Getting to the historical sites of Mt Daisen
You can go to Daisen's Tourist Information Office by car, before continuing on by foot. You will need about 30 minutes to walk from Yonago Station.
If you would like to travel by bus, the "Daisen Loop Bus" will drive you from Yonago Station to Daisen's Tourist Information Center with no connection. From there, it will take you about ten minutes by foot to reach the Daisen-ji Temple, and about 15 more to get to Ogamiyama Shrine.
If you plan to use this bus line – which goes across all the main attractions at the foot of Mt. Daisen – for more than one trip, you should consider buying a one-day pass for 1,000 yen at Yonago Station's Tourist Information Desk. Feel free to ask them for help with your itinerary, they will gladly help you out!
More information on Mt. Daisen and its historical sites at the following link.