Have you ever flown a kite before? While in Western countries, kites are considered a child's toy, in Japan, they are enjoyed by people of all ages. Aside from being a hobby that enables one to enjoy the outdoors, kites are an integral part of traditional Japanese art.
There are hundreds of styles and types of kites, and each region has its own shape. Decorated with the most beautiful colours, the most original shapes and drawings most often represent historical Japanese characters from Kabuki theater; they have a religious and symbolic meaning.
Japanese kites are among the most spectacular in the world, both for their aesthetic value and for the tradition they perpetuate, not to mention the pleasure they bring.
During my stay in Yuzawa, Akita Prefecture, I had the opportunity to discover the secrets of the creation of these masterpieces, in Shunpu-Kan (春風館), the workshop of Mr. Ono – the president the Yuzawa Kites Association. More than an initiation, it was an encounter with a true artist who perpetuates an ancestral art, unfortunately now in decline in Japan.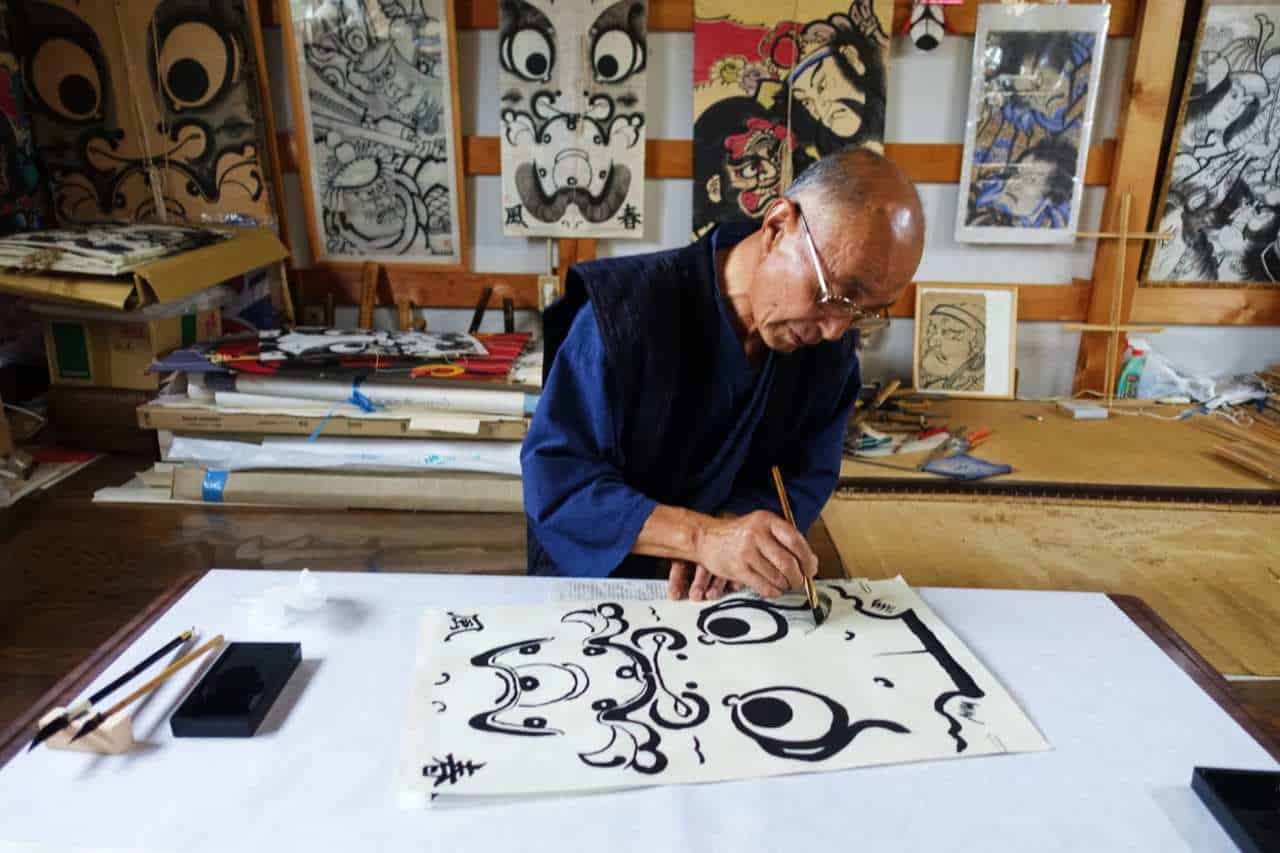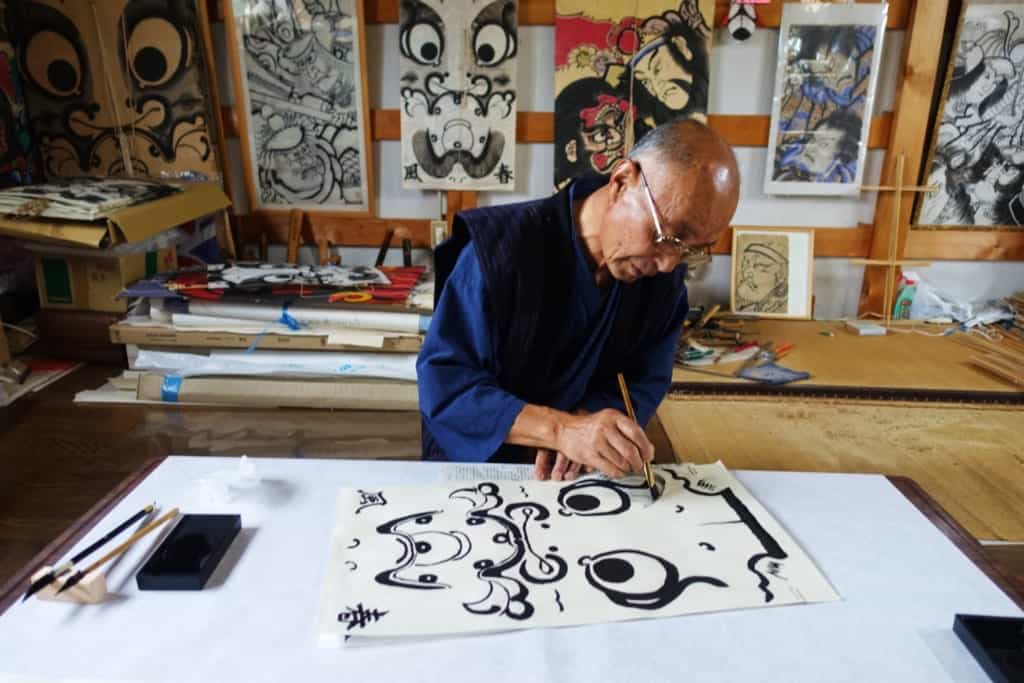 A history of Japanese kites
It is said that kites, or "tako", were first introduced to Japan during the Nara period (710-794 AD) by Chinese Buddhist missionaries. Originally used in religious ceremonies and celebrations, the Japanese have largely assimilated Chinese culture, but have also developed their own varieties of kites and their use.
It was during the Edo period (1603 – 1868), when Japan closed its trade with foreign countries, that most of the Japanese kites we know today flourished. The rectangular shape of the Chinese kite has given way to many new shapes: cranes, dragons, fish, etc. These new representations symbolized longevity, prosperity and strength. Kites were then used as talismans to avert evil spirits.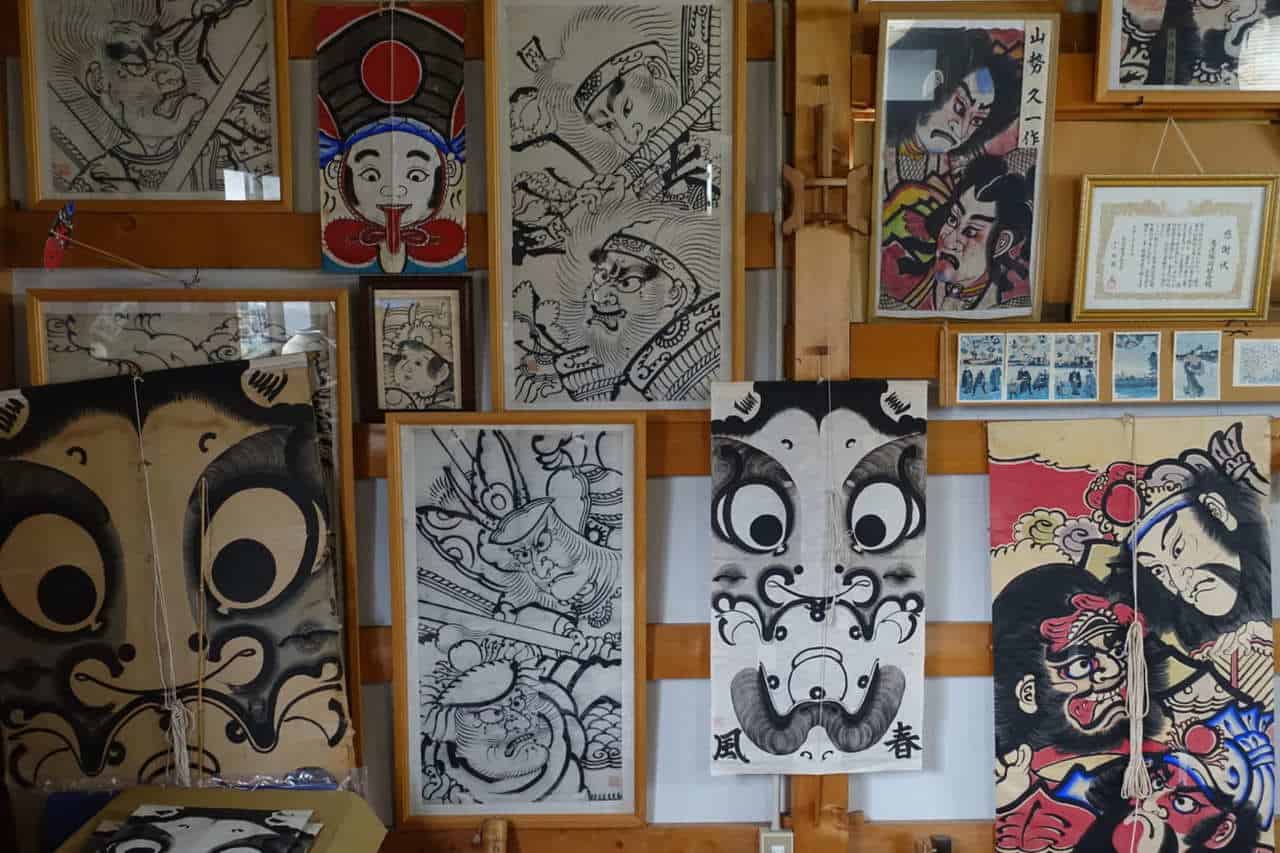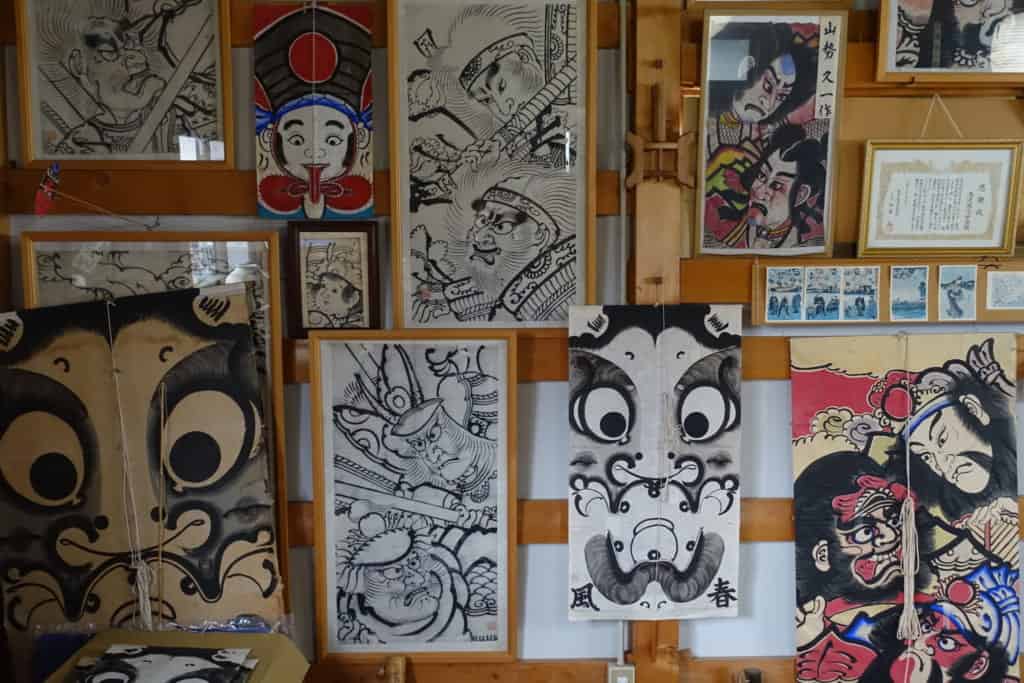 In 1655, the Tokugawa Shogunate banned the flying of kites following several accidents and falls from the rooftops. For a time, it was only allowed on New Year's Eve and it became a tradition to celebrate the new year. Nowadays, it is still common to offer a kite for many occasions, such as on Children's day on May 5th. You will see many kites flying during the many festivals that are held all over the country.
Yuzawa kites, a 300-year-old tradition
While the tradition of Japanese kites tends to be lost nowadays, Yuzawa kites continue a tradition that dates back as far as the Genroku era (1688 – 1704).
The Shunpu-Kan workshop exhibits a multitude of kites, including those of the "Managu" type, which are made in Yuzawa and which are characterized by the large eyes of the characters depicted – "Managu" means "eyes" in the local dialect. Deep black or brightly coloured, the kites are covered with illustrations portraying samurai and kabuki characters. These are real masterpieces, entirely made by Mr. Ono and other kite enthusiasts of past generations.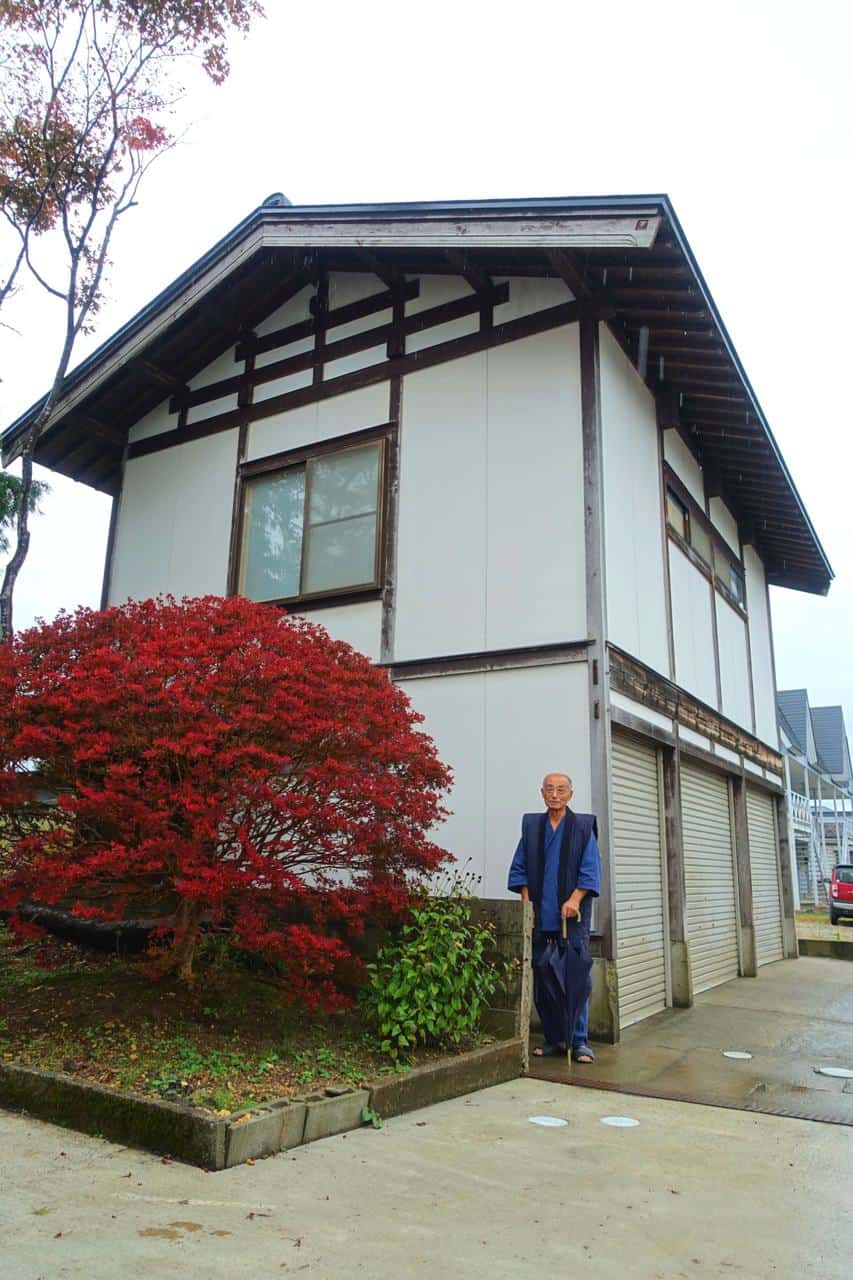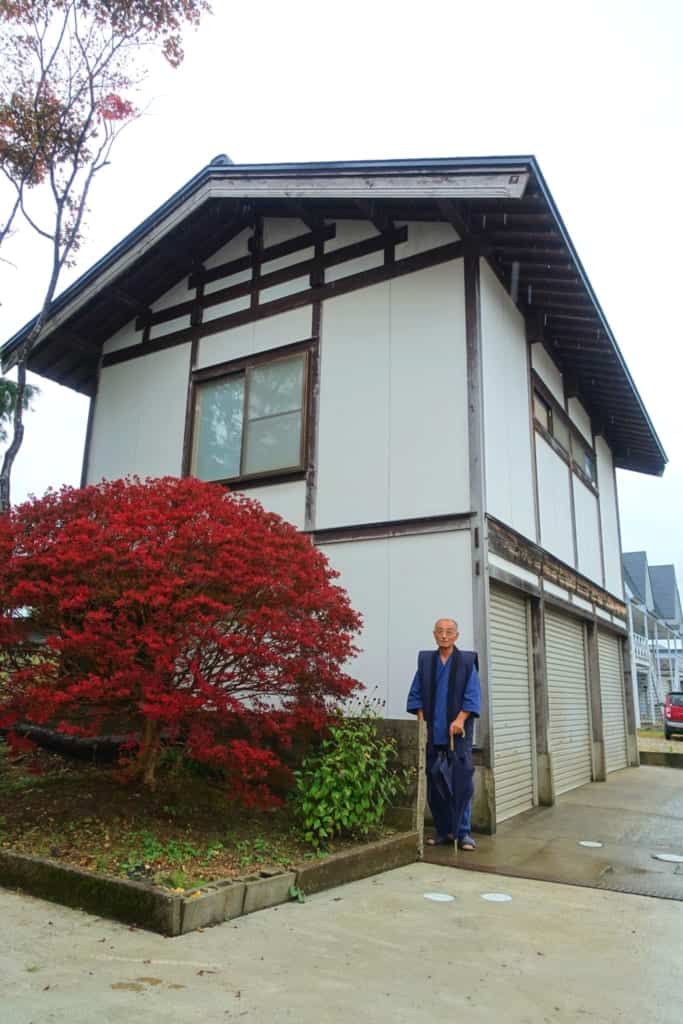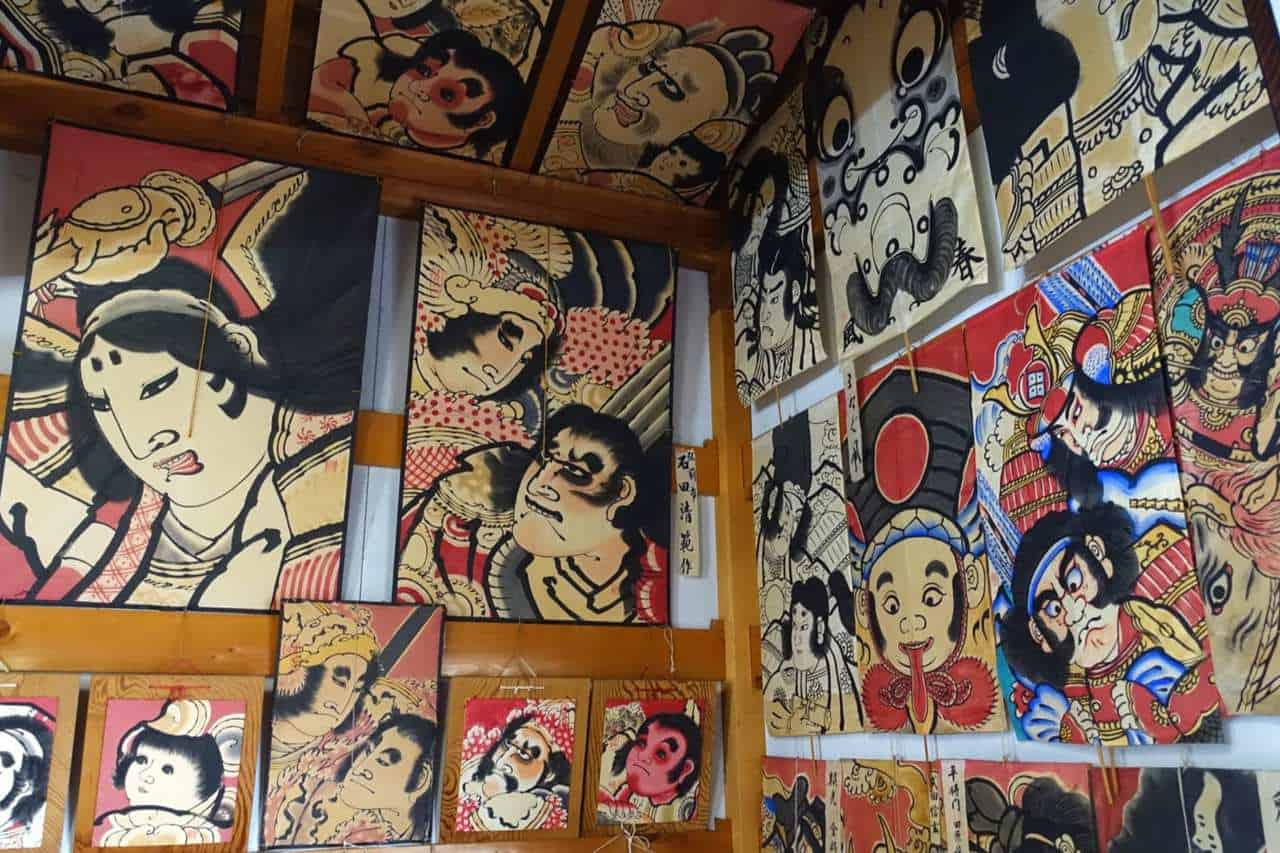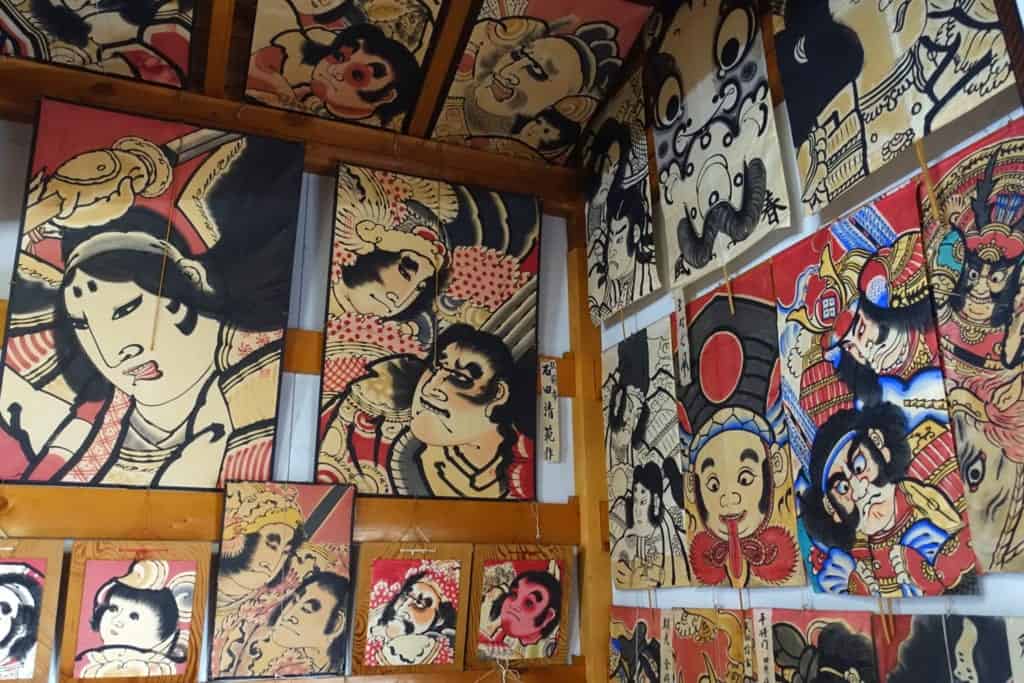 Mr. Ono offers initiation workshops to create your own kite and take it home as a souvenir. More than a workshop, it is an opportunity to enter a unique artistic universe. At the door, Mr. Ono, with a cigarette in his mouth and a deep caring look, welcomes you and guides you into his studio. From the entrance on the ground floor, one is greeted by the faces of Japanese historical figures.
The workshop is perched at the top of a narrow staircase that leads to a large room in which the ceilings are also covered with kites.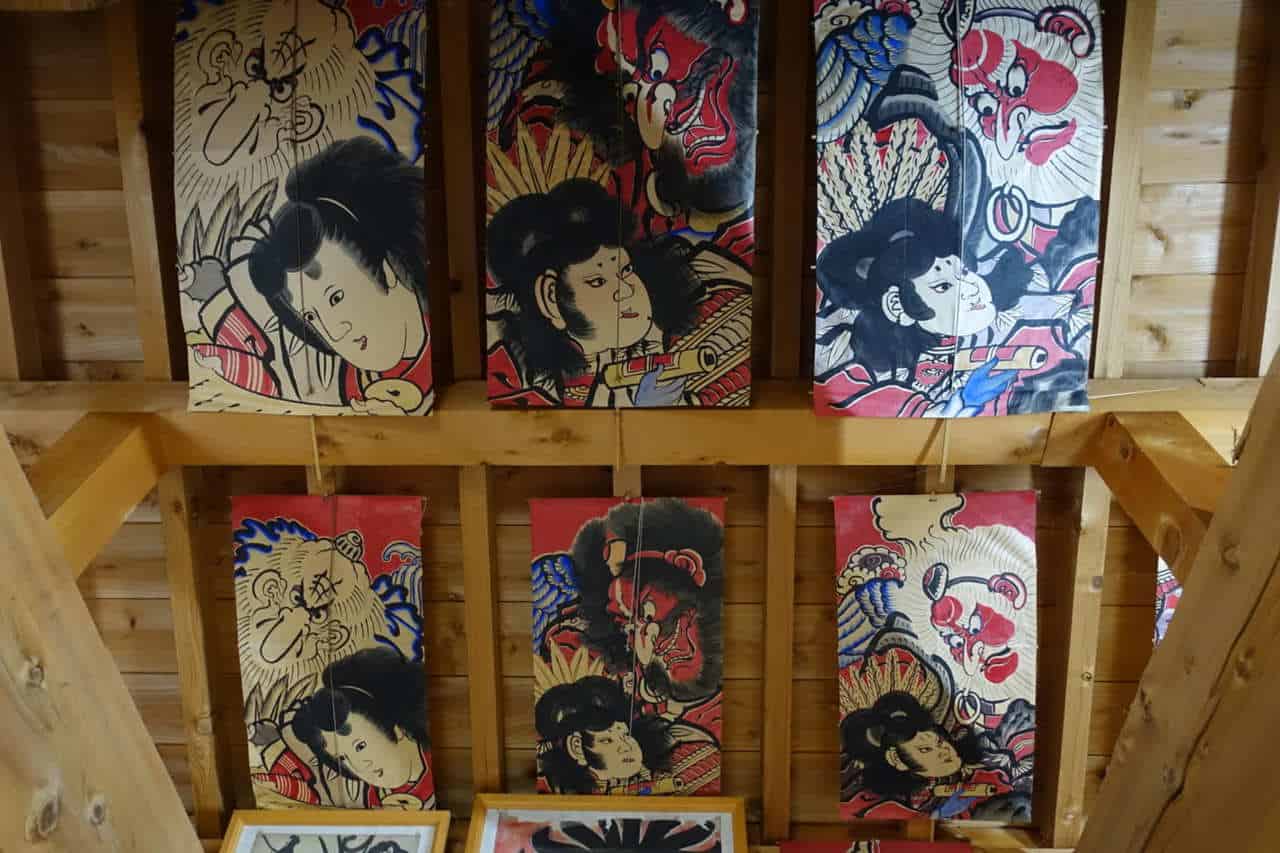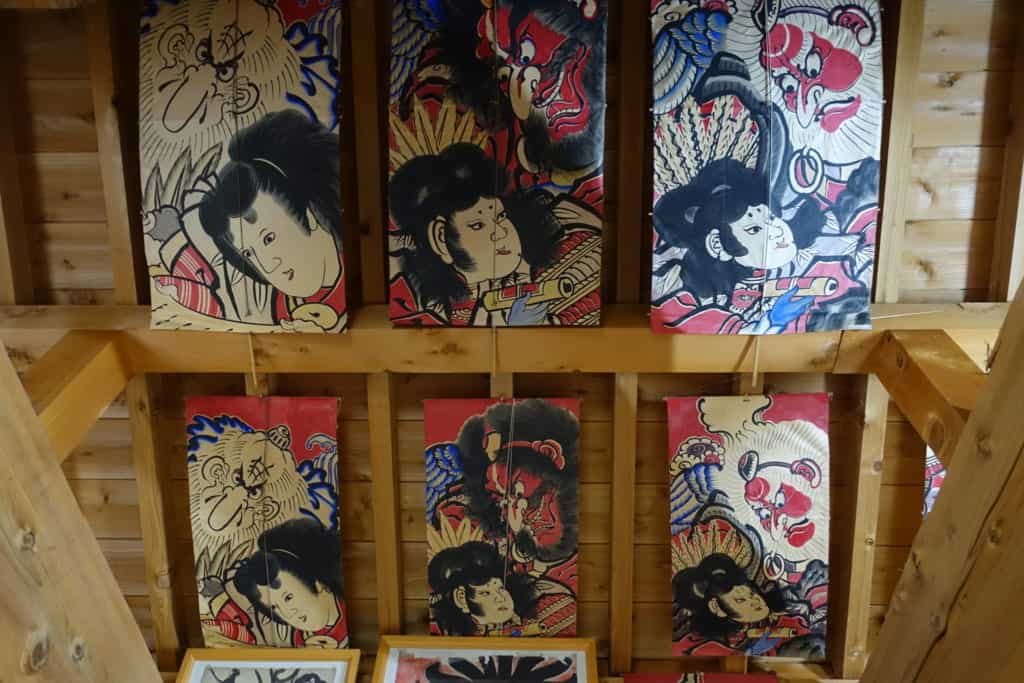 The art of creating a Japanese kite
A traditional kite consists of a lightweight bamboo frame, on which handmade paper painted in bright colours with natural pigments is hung, and the outlines of which are painted with sumi (black ink). The illustrations are challenging; some kites are very large in size and many require considerable drawing skills but also handling skills to enable them to fly.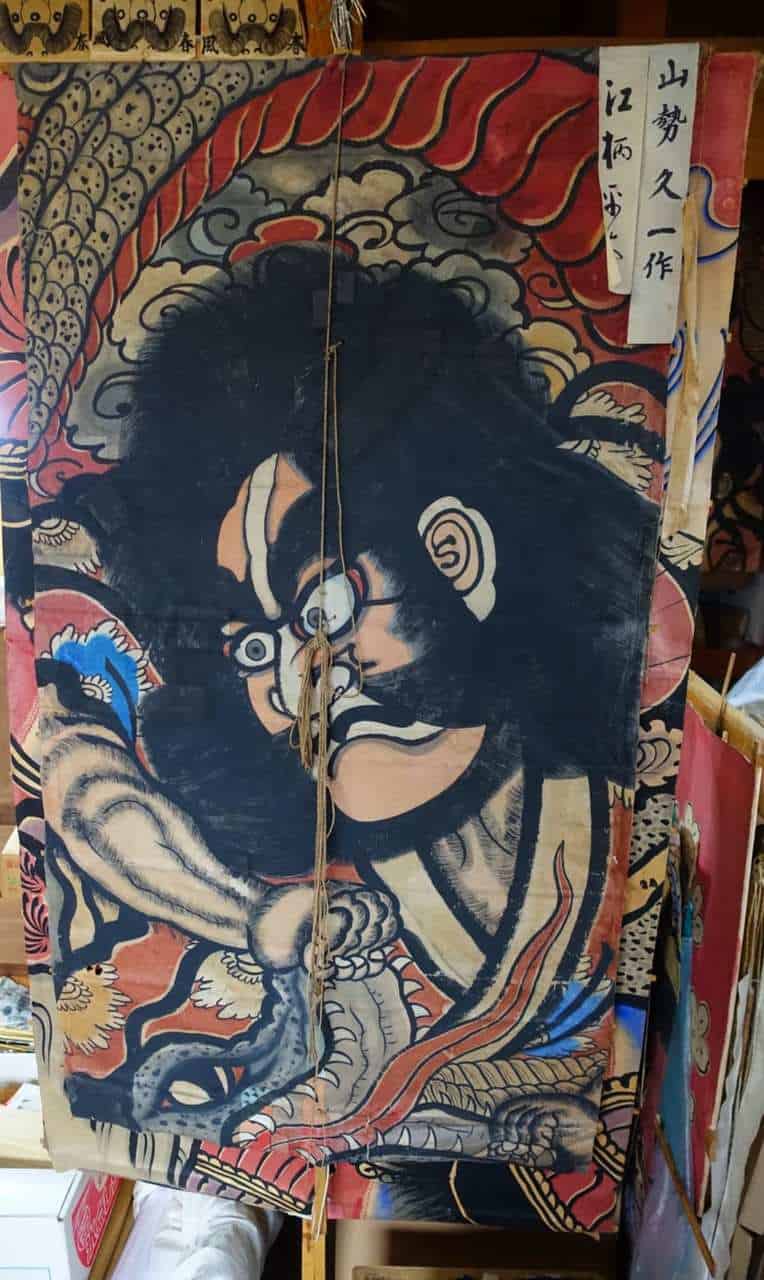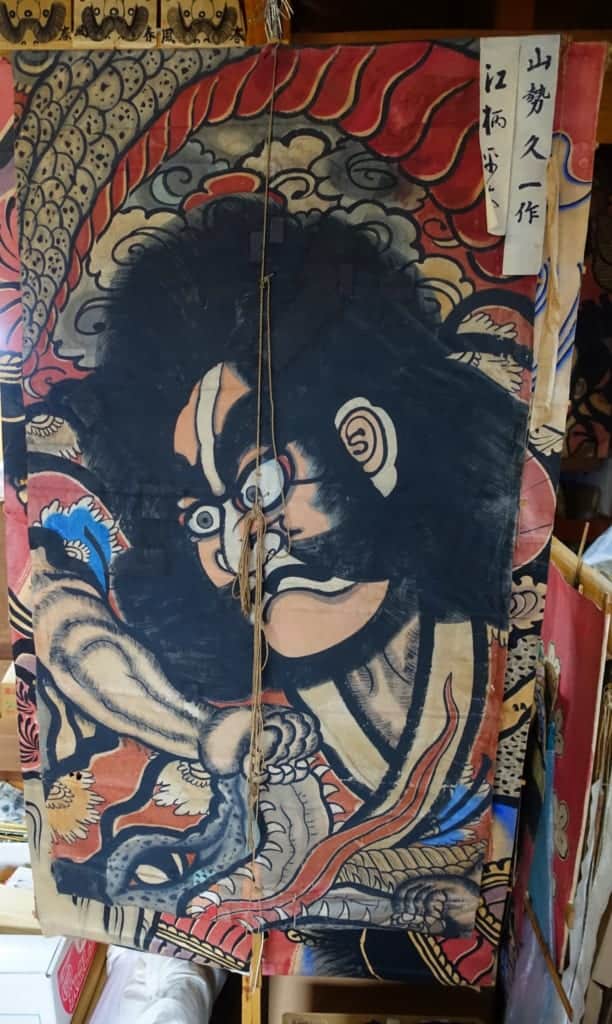 During the workshop, we were able to participate in each step of the creation of a kite, under the supervision of Mr. Ono. First, we draw the contours in ink following the pattern that appears by transparency. To do this, three different brushes are used, depending on the thickness of the lines and the desired effect. Maintaining the brush and how to move it is an art in itself, and Mr. Ono was kind enough to do it with me to get started.
The bamboo frame is then created, and the drawing is attached to the frame.
Finally, the strings are inserted to launch the kite and guide it when it flies.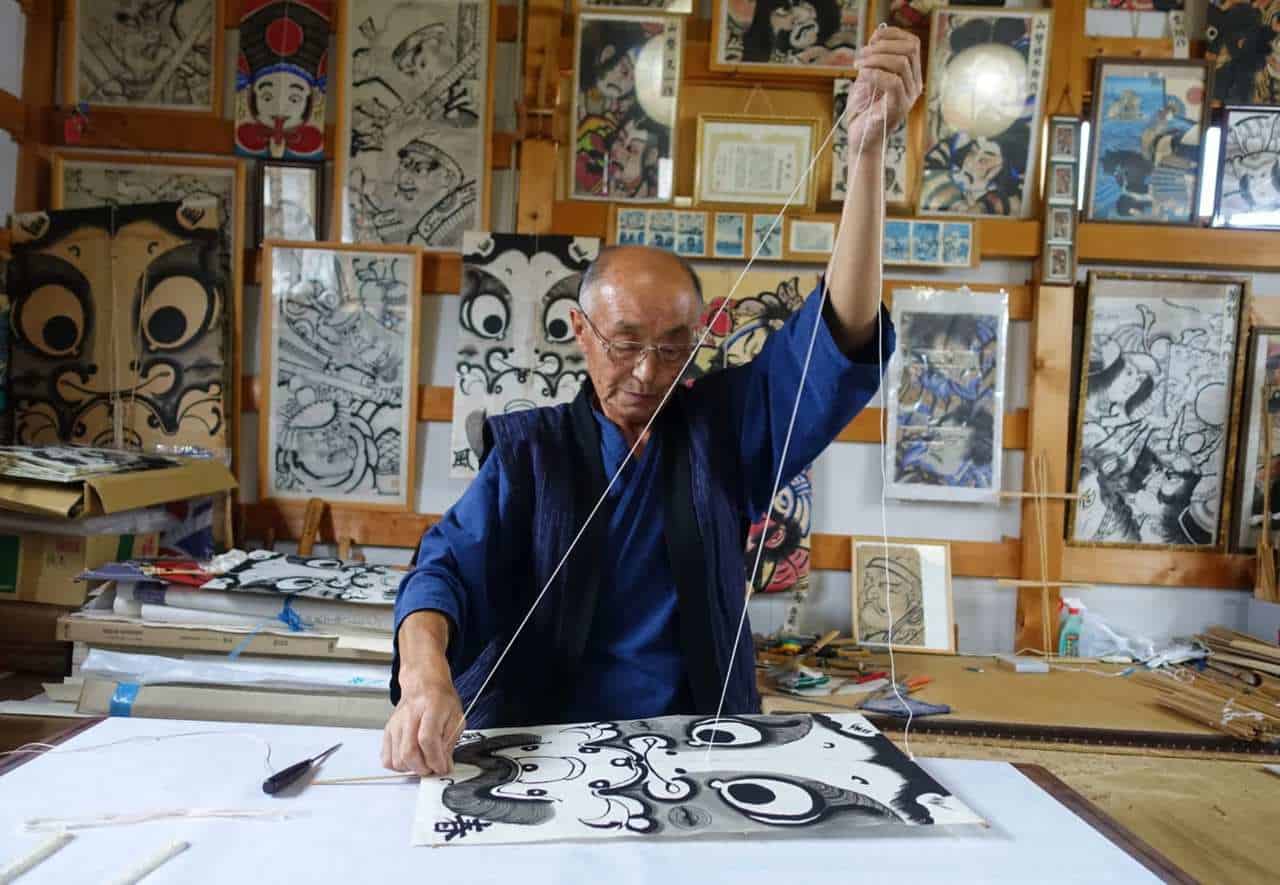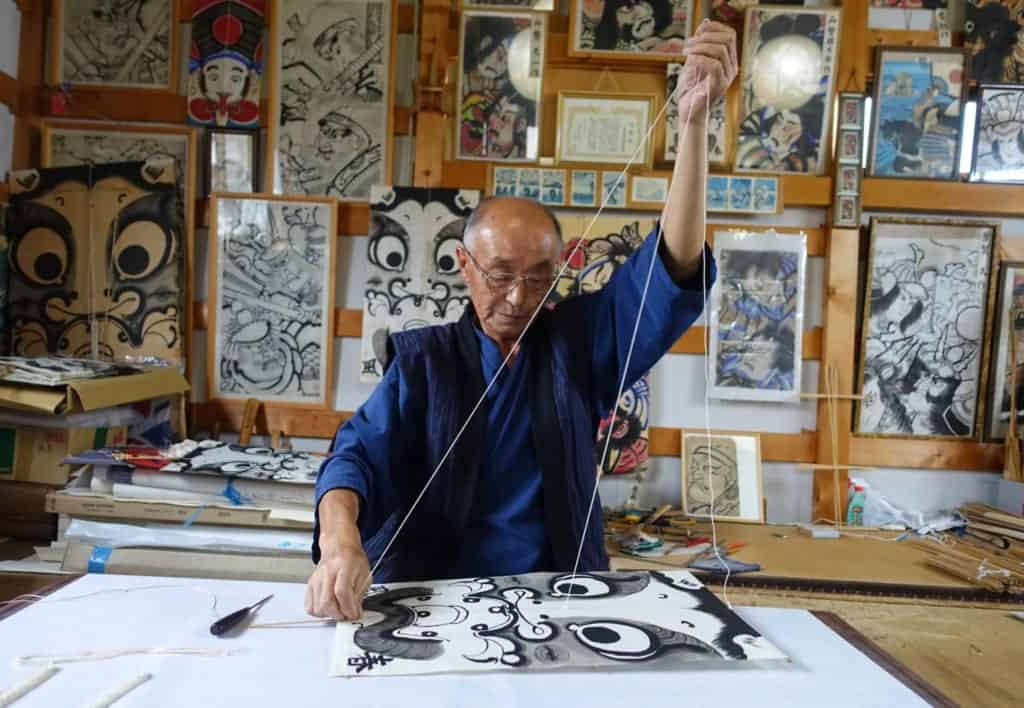 Each step requires meticulousness and concentration, but Mr. Ono is a good teacher and will know how to guide you!
When the workshop was over, I was delighted to be able to take my own creation home. For those who do not have room in their luggage to travel with the kite, it is possible to send it to the address you want from the local konbinis (Family Mart, 7-Eleven, etc.).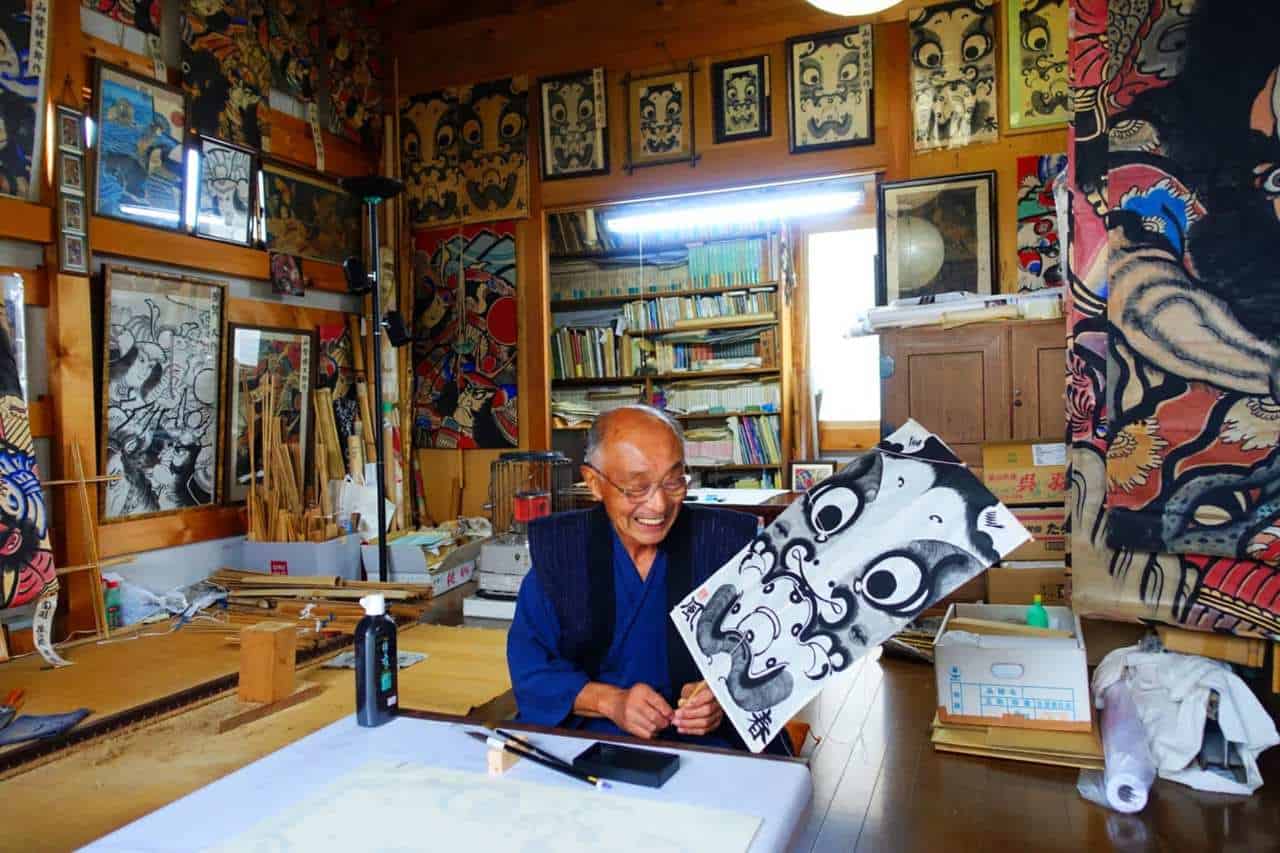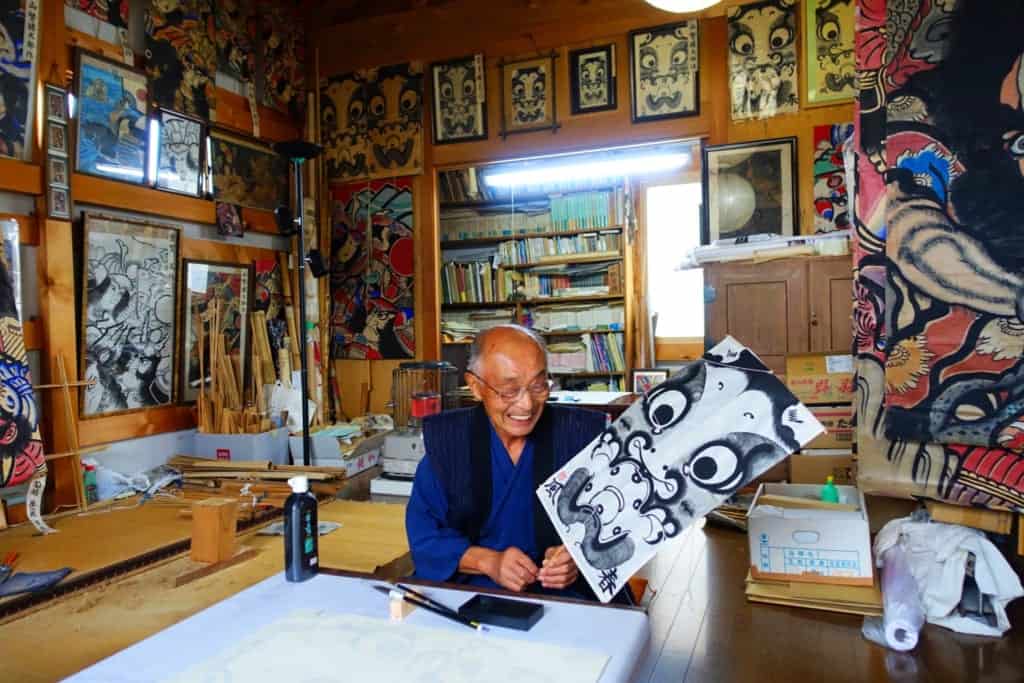 A wonderful experience of Yuzawa culture
In my opinion, participating in a workshop with Mr. Ono is an opportunity not to be missed to discover this ancestral art in a fun and friendly way, whatever your age. A cultural activity that will perfectly complete your stay in Yuzawa.
I was particularly touched by Mr. Ono's generosity and sense of detail, who organizes these workshops to visitors above all out of passion and of taste for transmission: the workshop lasts 3 hours and costs only 700 yen per person!
Access and practical information
It is necessary to book in advance by contacting by email the Geopark Promotion Group, Tourism and Geopark Division, Yuzawa City Hall: geopark@city.yuzawa.lg.jp (website: http://www.yuzawageopark.com/en). The workshop costs 700 yen per person, only cash payment.
Mr. Ono's house is a 15-minute walk from Yuzawa JR station, accessible in about 4 hours from Tokyo and 1h40 from Akita.
You can find more information about the Yuzawa region on the website of the Yuzawa Tourism Office as well as the Akita Prefecture Tourism Office (in English).
For my part, I was able to discover the region while admiring the autumn leaves in the Oyasukyo gorges, and staying in a luxurious ryokan, in the heart of breathtaking landscapes.