From budget and quirky capsule hotels to extravagant and lavish onsen resorts, Japan offers incredible diversity in lodging options for resting up during your travels and explorations. However, there is another option of lodging that is unique from all of these that can only be had in the countryside regions of Japan. These are farmer homestays and far more than just lodging, they offer a chance to become immersed into Japanese culture to a far greater extent than could ever be possible from normal travel alone.
A Farm Stay Experience in Bungo-ono, Oita
I first heard about farm stay experiences through various blogs and firsthand from some of my cycling friends with whom I had traveled around Japan. However, even after four years of living in Japan, I never quite found the chance to try one out until I visited Bungo-ono, a rural agricultural region of Japan in the middle of Oita Prefecture.
Out here in the countryside, lodging options are quite limited, but after being recommended a farm stay with the Harada Family by multiple people I decided to give it a shot.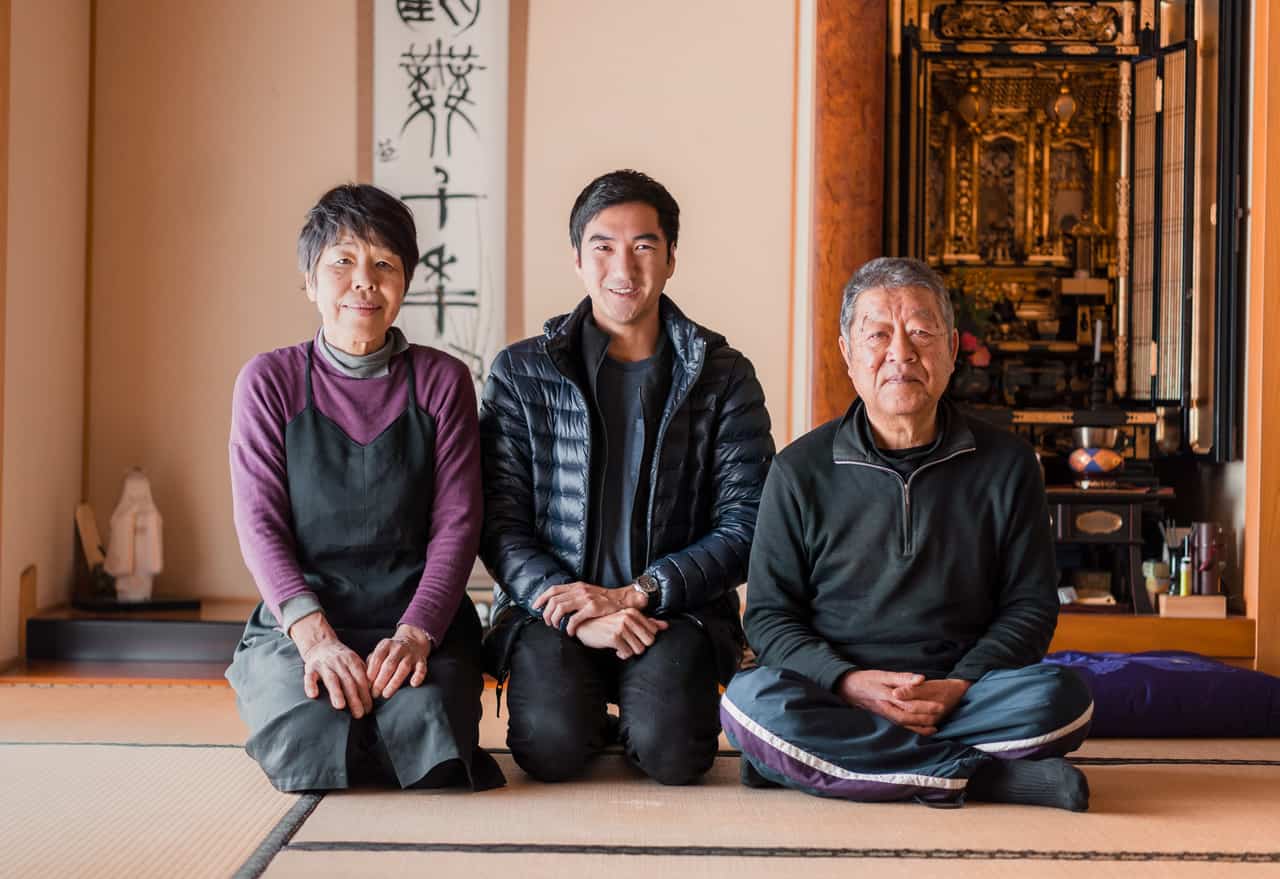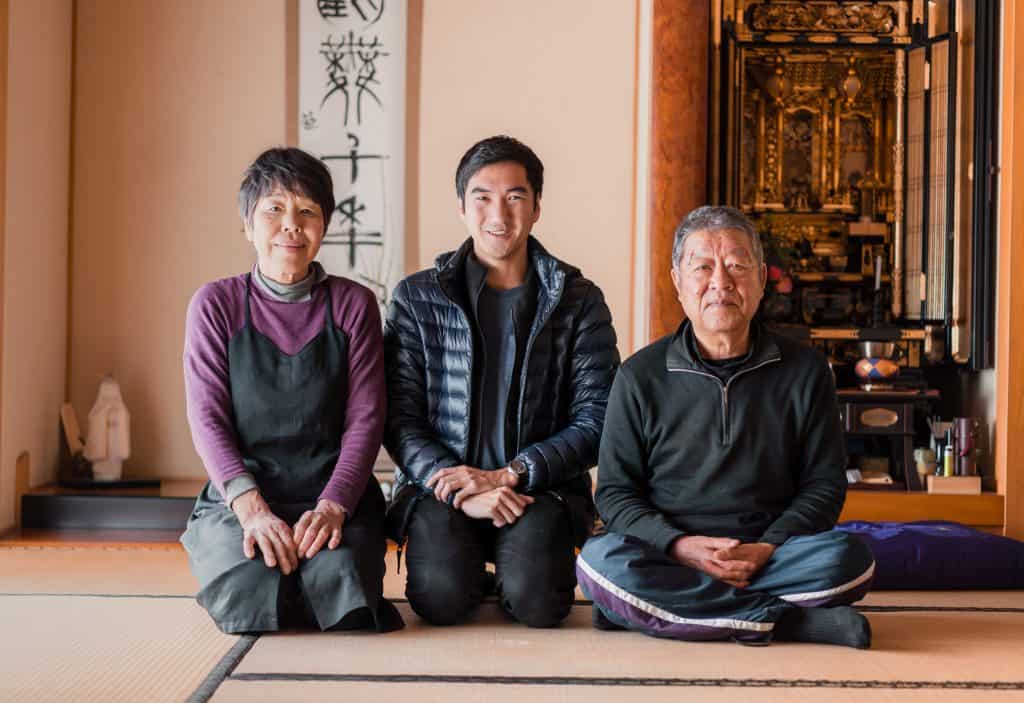 Driving to their home after a day of exploring the nature and historical spots of the Ogata Valley, I pulled into the driveway where I was greeted by a friendly elderly couple who eagerly shook my hand and helped me with my bags into their home.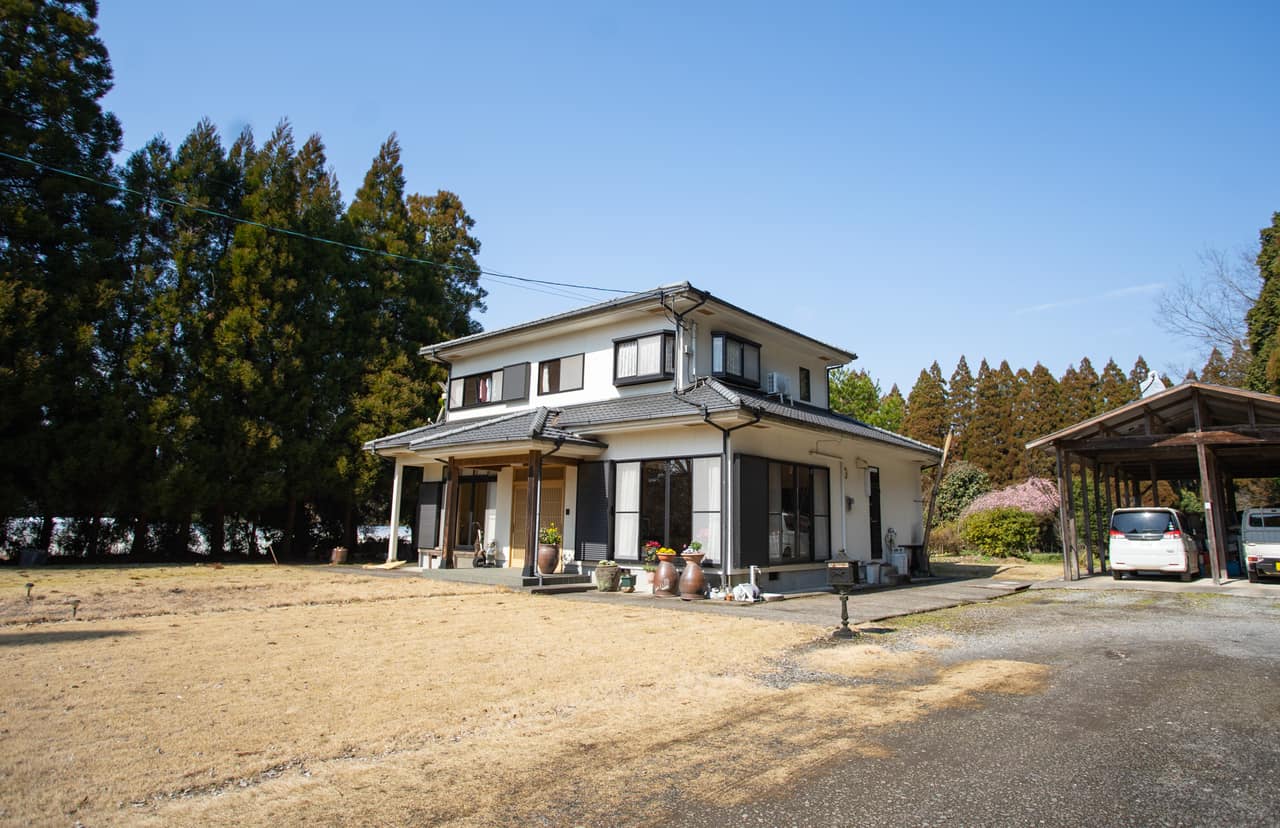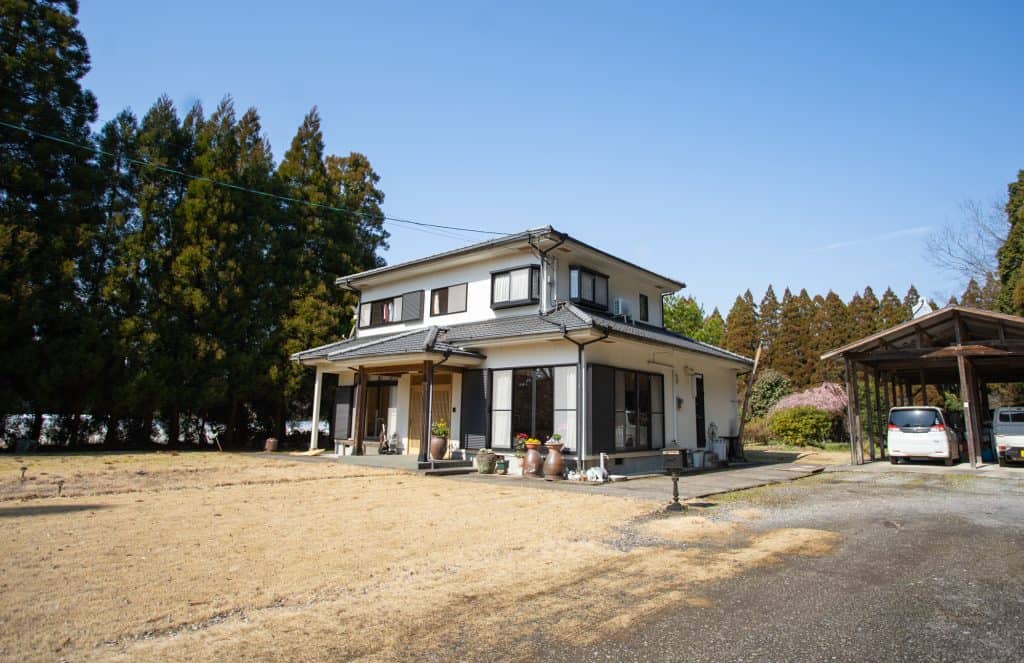 Mr. and Mrs. Harada welcomed me into their living room and under a warm kotatsu where we introduced ourselves and talked about my travels during the day. Mrs. Harada brought out delicious green tea made with tea leaves sent from Shizuoka from her daughter and some homemade mochi with oranges inside.
After taking one bite of the mochi it became immediately clear to me that Mrs. Harada was a very talented chef. I learned that she is regularly asked by Oita Prefecture to showcase the local culinary practices of this region and has even been featured on NHK World for her cooking.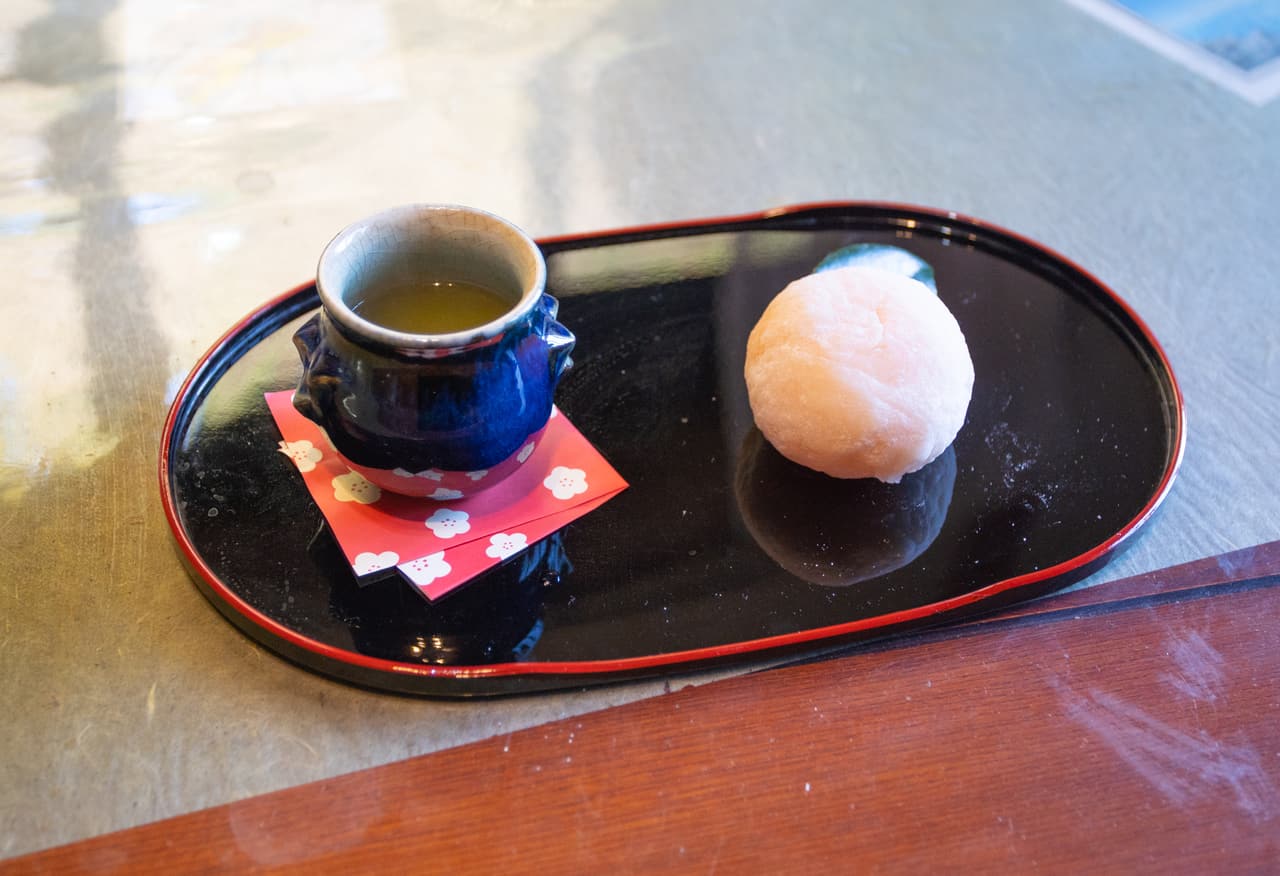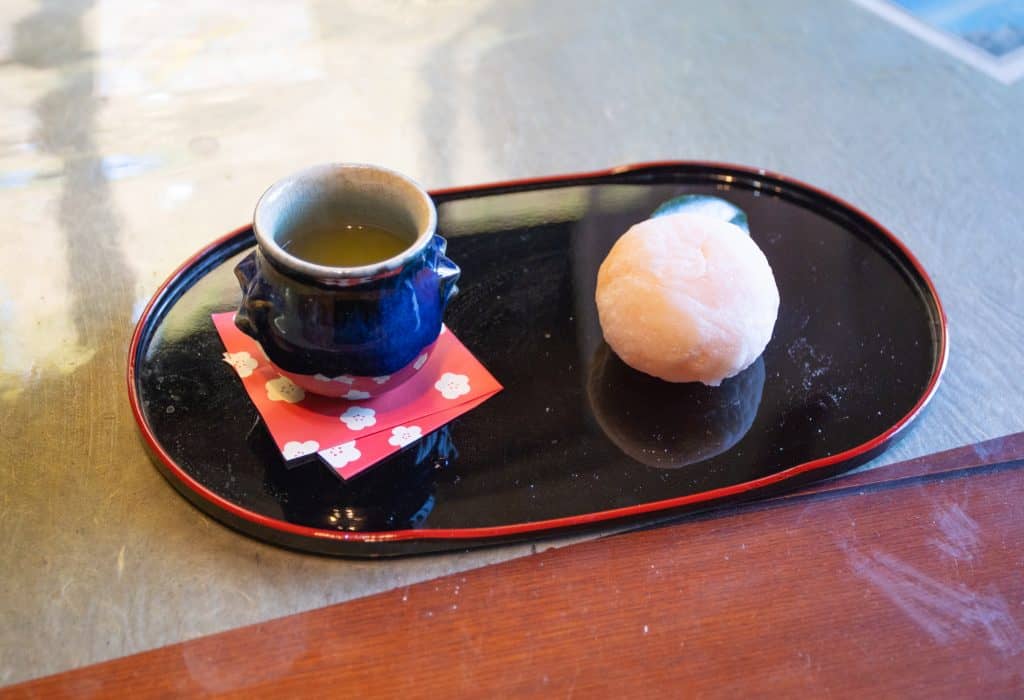 I learned that the Harada's started their farm stay over 15 years ago after returning to their hometown after decades of living in various regions of Japan. They had told me that once they returned to Oita and moved into their home, friends from across the country came to visit them and would often come multiple times.
The idea to start this farm stay was born from the insistence of their friends who had pushed the Haradas to accept money for all the work they do for their guests when they visit. Mr. Harada is a farmer in this region and a central figure in the community, and he also wished to find new ways to promote his town and its traditions to visitors both domestically and abroad.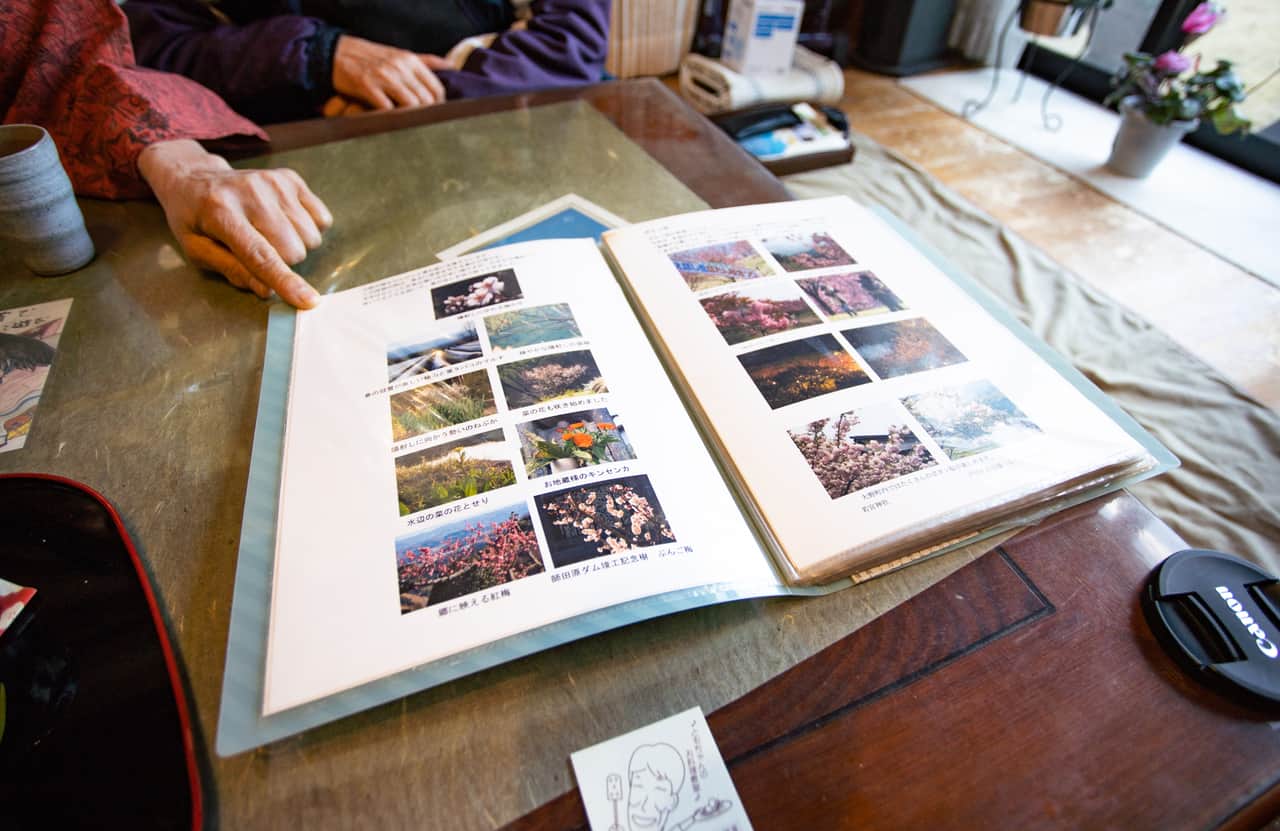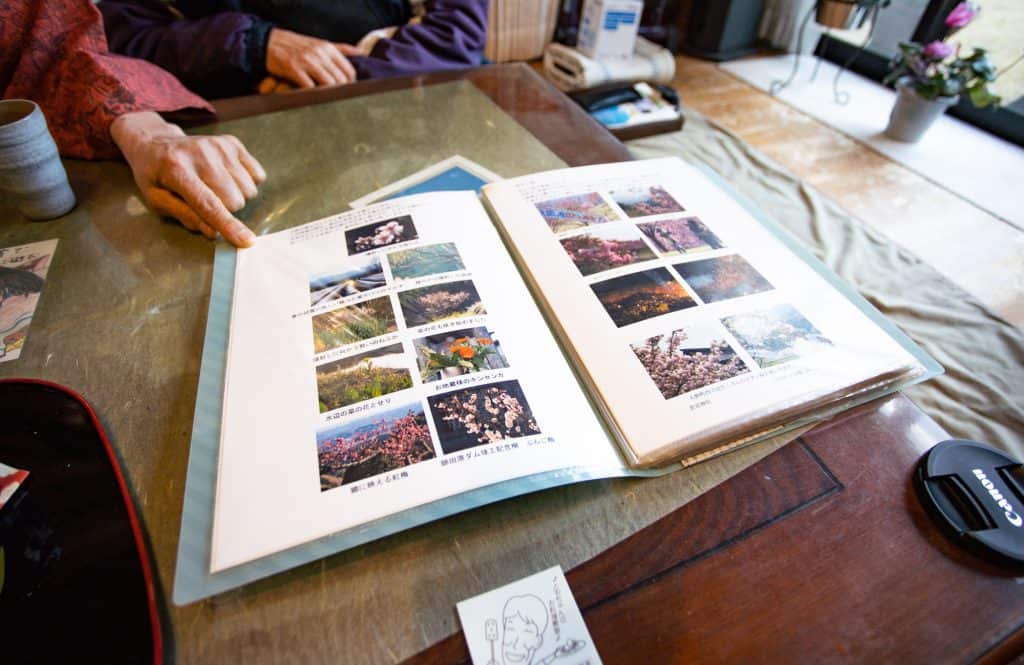 After showing me a photo album of Bungoono throughout the seasons, Mrs. Harada began preparing dinner and Mr. Harada took me for a drive to his fields and gave me a tour of this small farming town. As I had visited in mid-February, the fields were still dormant for the winter, but it was very nice to get a tour of the town from a local resident. The town itself was very rural with small homes dotting vast fields and forests that lay across the rolling hills and mountains of this region.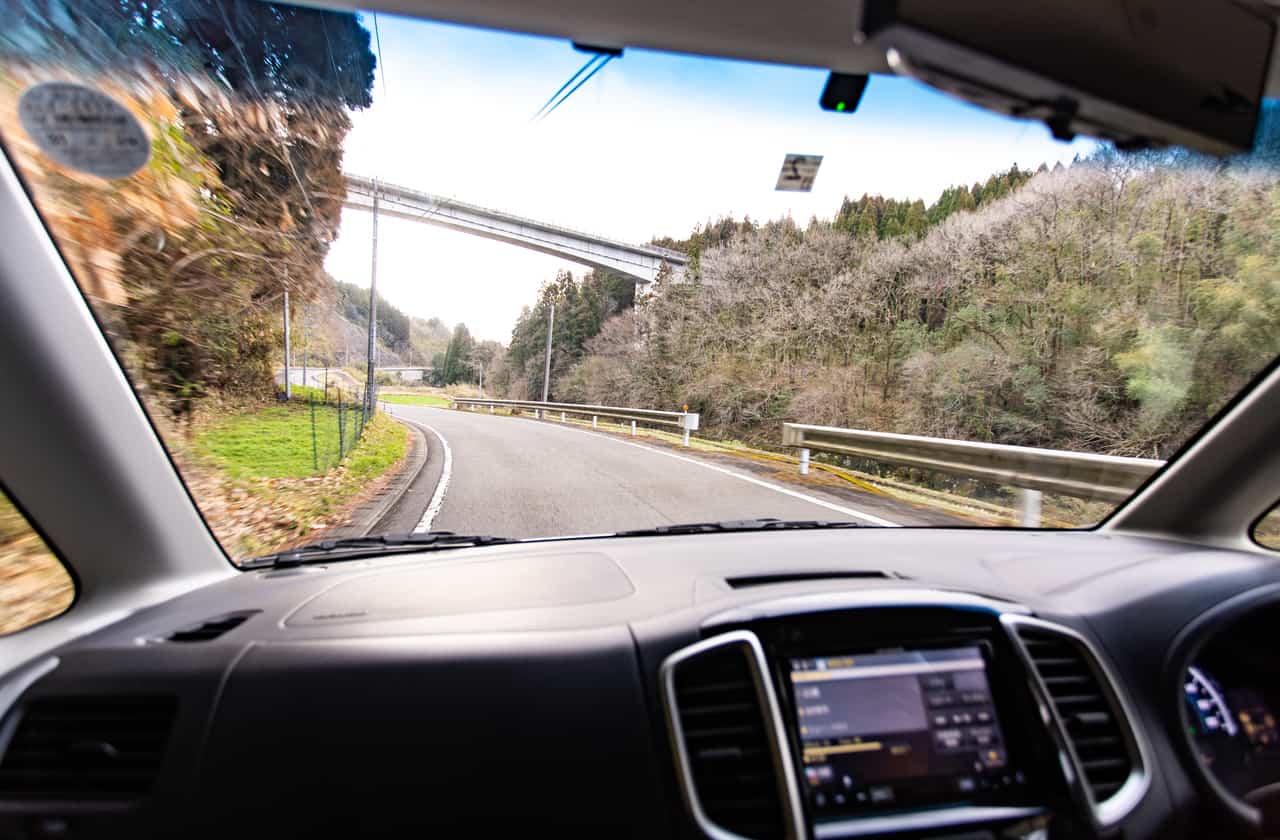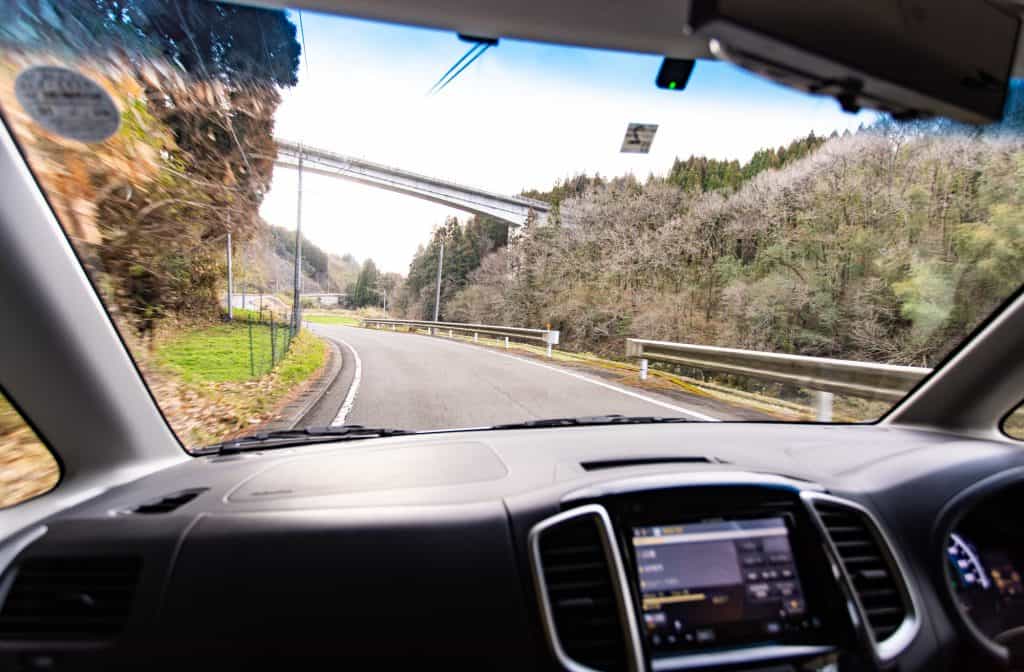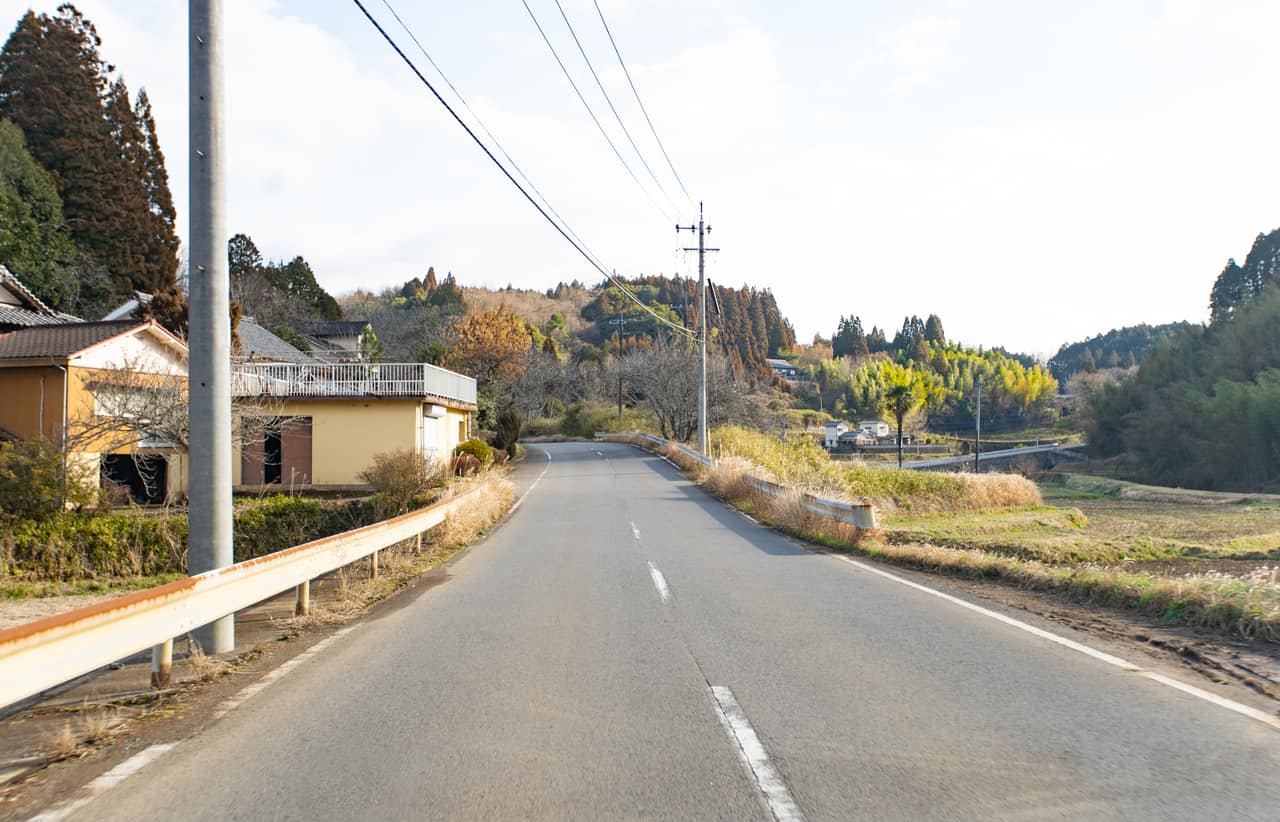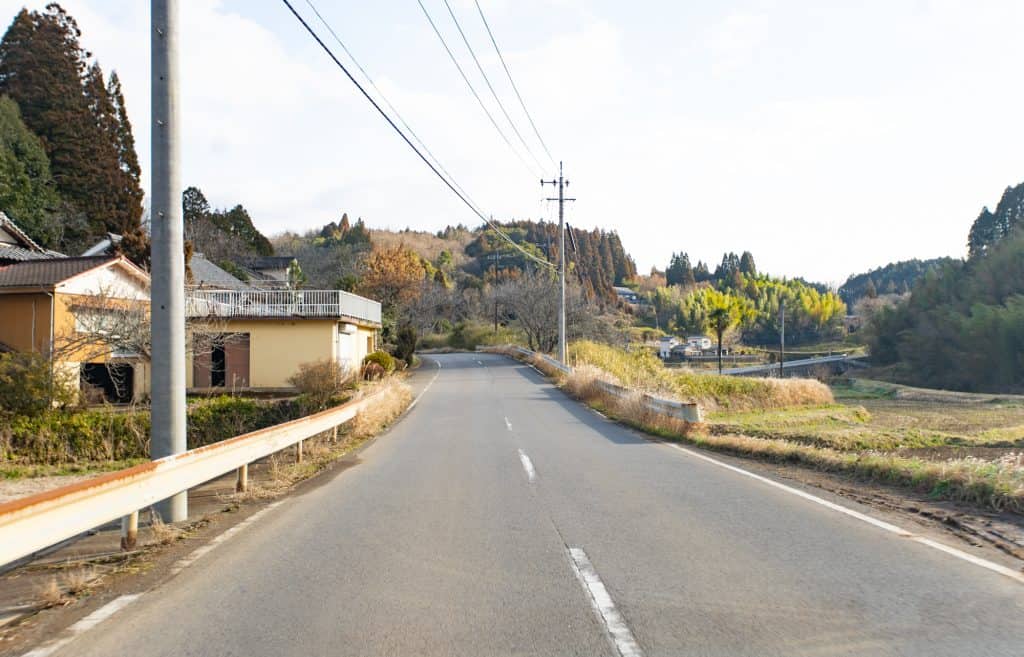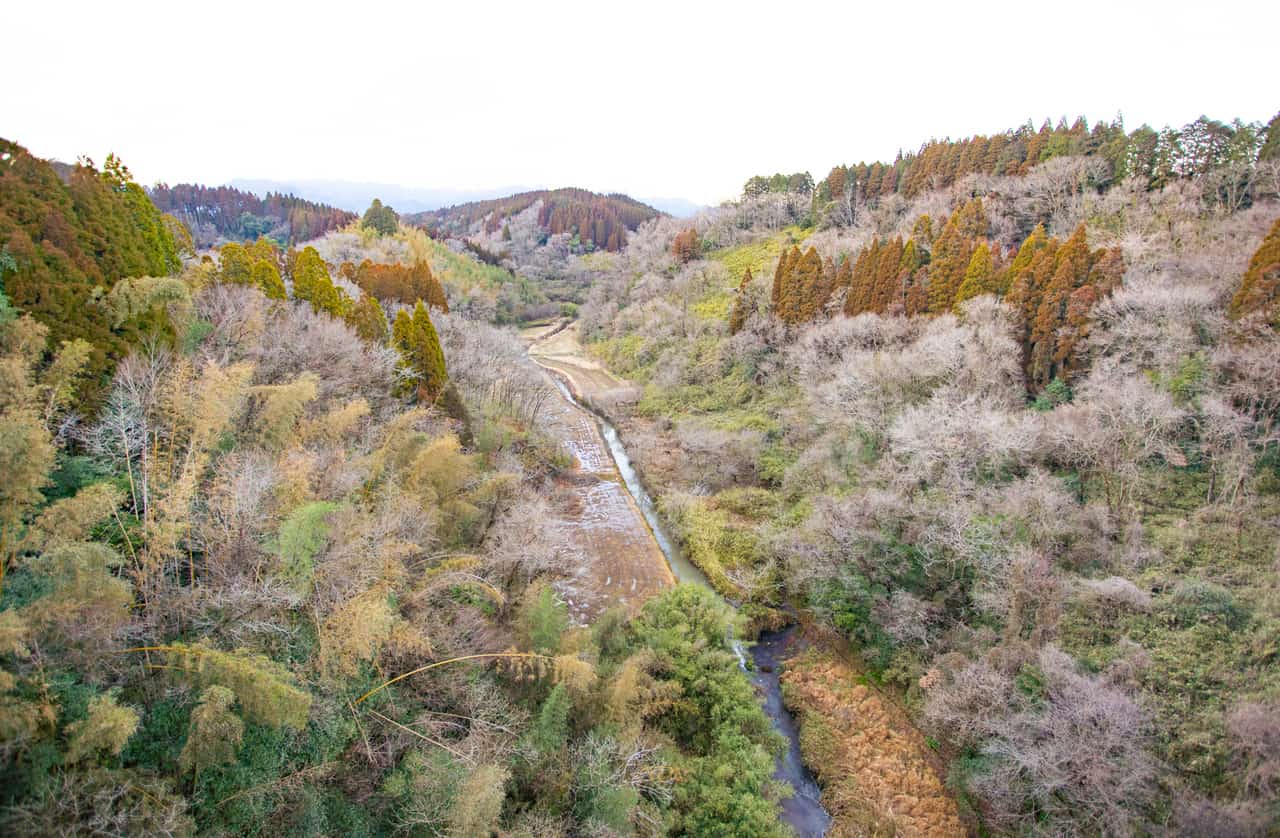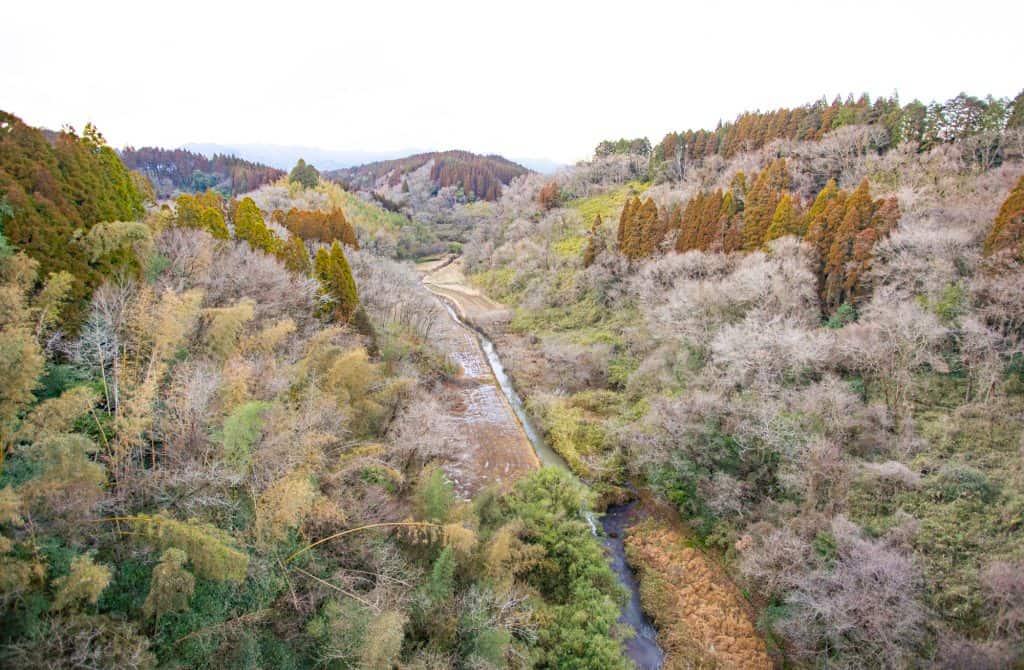 After returning from the drive I was welcomed back with a large feast of various local Oita specialties all prepared by Mrs. Harada. What was even more impressive was that nearly all of the ingredients were either grown or harvested in the wild by the Haradas. This included some delicious homemade miso sauce that we used in our vegetable dish. Mrs. Harada also served me shamo chicken, a regional specialty. This chicken is a premium grade of chicken that is incredibly soft and flavorful and raised in this town.
This was easily my favorite dish of the night and I was surprised to learn that this chicken can cost as much as beef! I was also introduced to Kyushu soy sauce and kabosu, a Kyushu citrus fruit similar to oranges and lemons. Mr. Harada invited me to mix the two of these together and try them with the karaage (fried foods) and it was incredibly delicious. The soy sauce of Kyushu is unique compared to the rest of Japan in that it is sweet and mixes very well with the citrus flavor of the kabosu.
We then drank together and talked until midnight before I retired to my room.
It was during this time that I learned that the Harada's have hosted hundreds and hundreds of guests from around the world. Mr. Harada told me that hosting and being able to forge friendships with people from all sorts of backgrounds is his ikigai (joy in life) and that he and his wife love to learn about the many world views and stories of their guests.
Mrs. Harada talked about how her greatest joy of hosting came after the devastating earthquake that hit the neighboring Kumamoto Prefecture in 2016. Immediately following the earthquake she received calls from her guests from around Japan and many calls and emails from her guests across the world.
She said that she was so touched and grateful to have so many friends.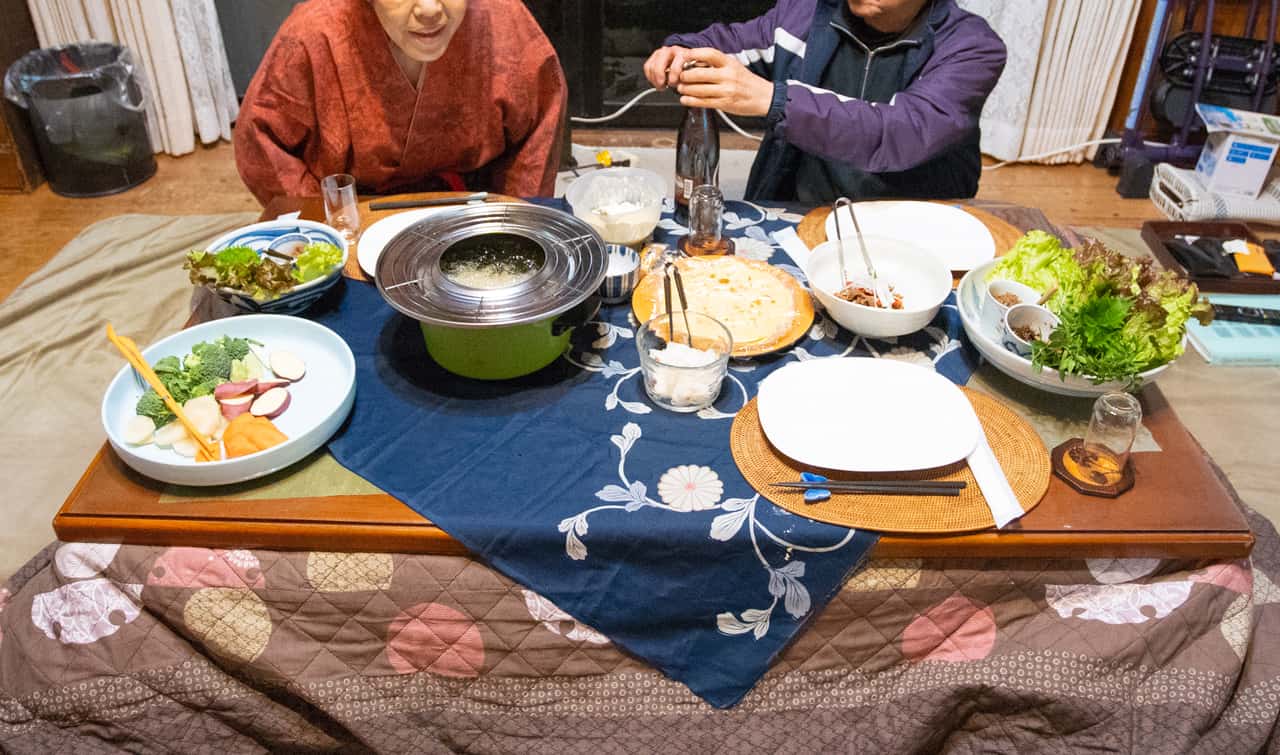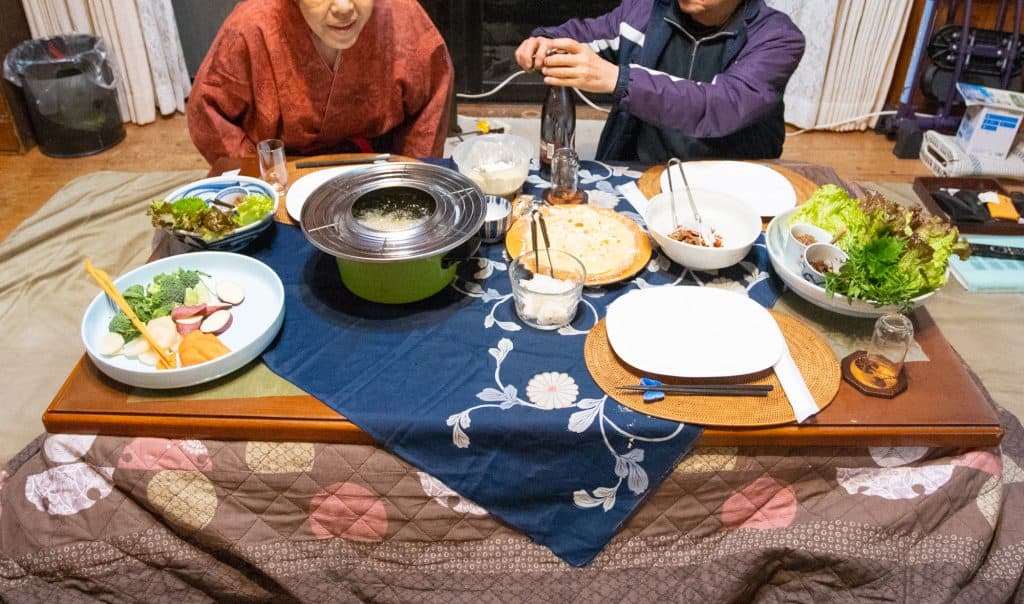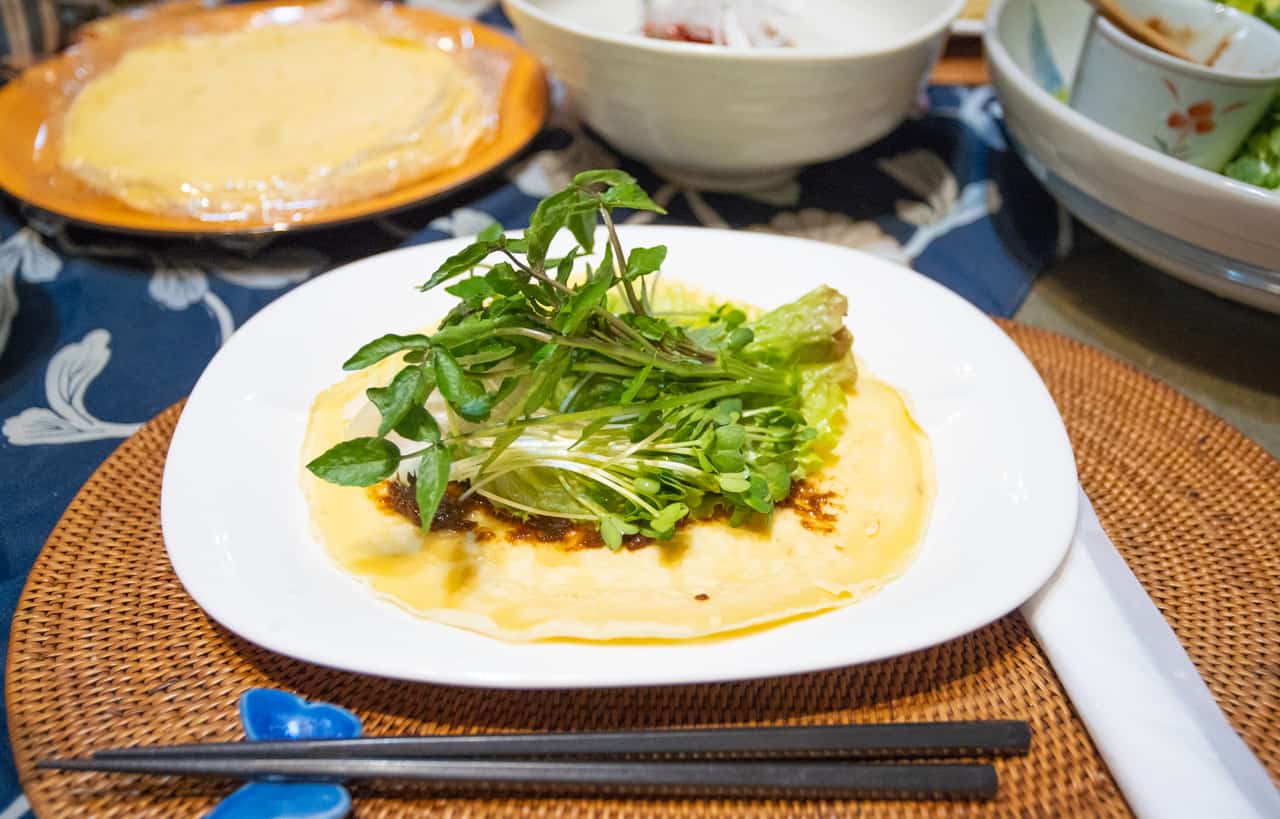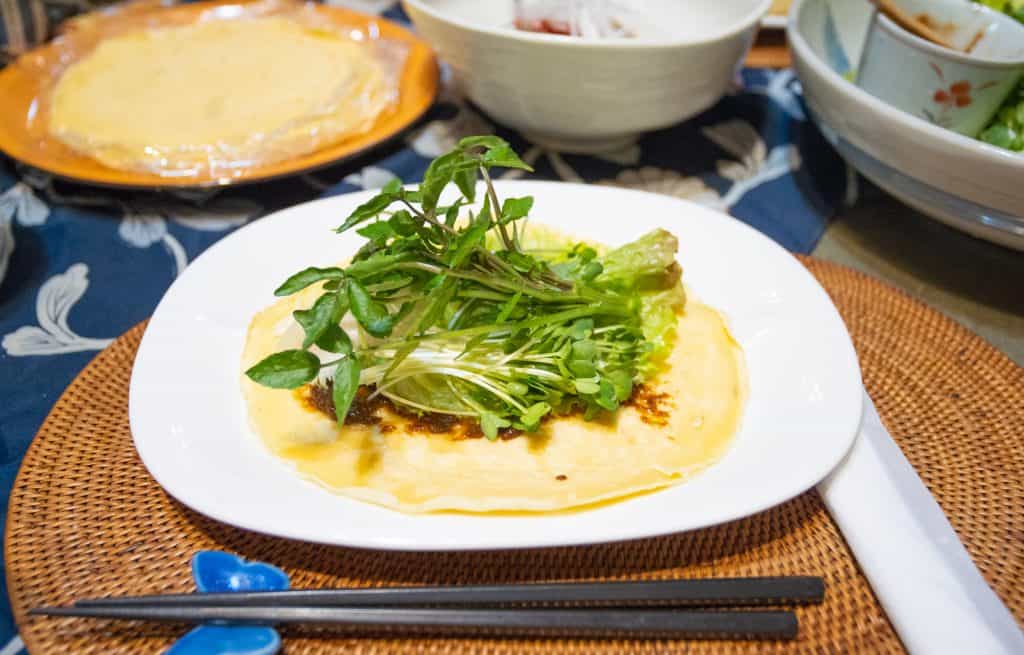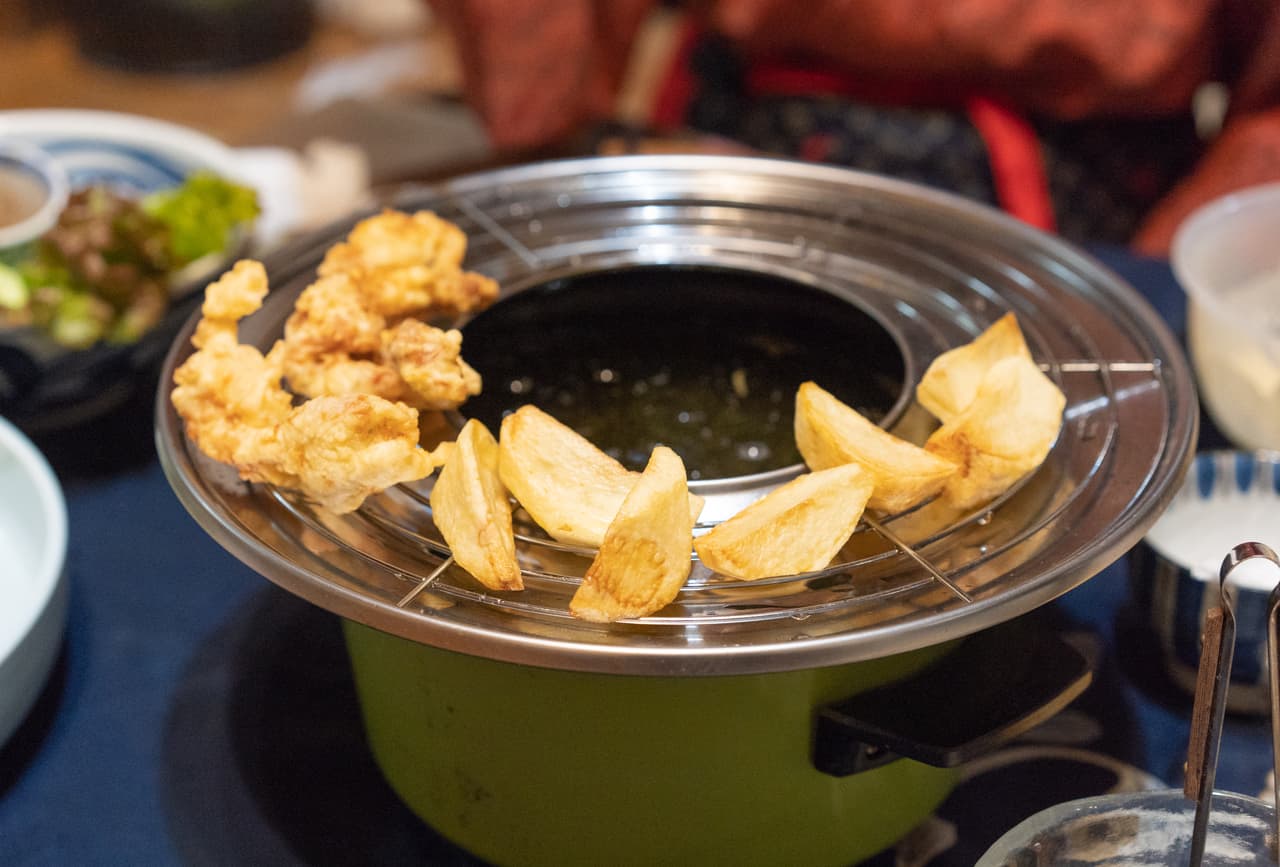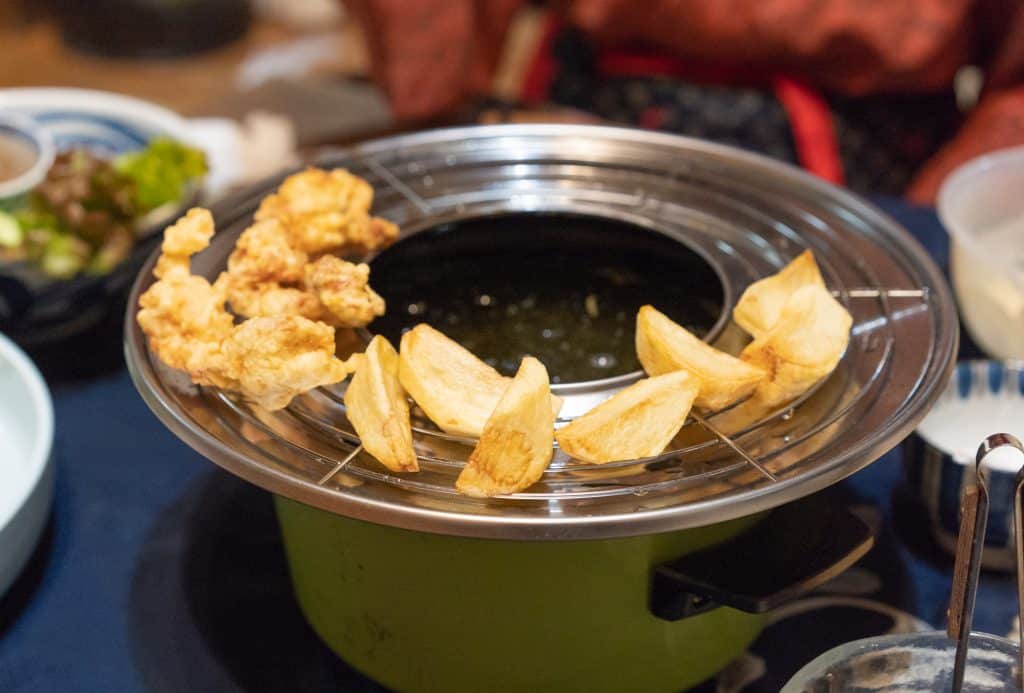 The room itself was a guest room in the left side of their house with a roll out futon bed and drawers and a small desk for me to use. After a long day of traveling across Kyushu I quickly fell asleep. To my dismay the next morning, I overslept ended up being 20 minutes late for our 7:30am breakfast.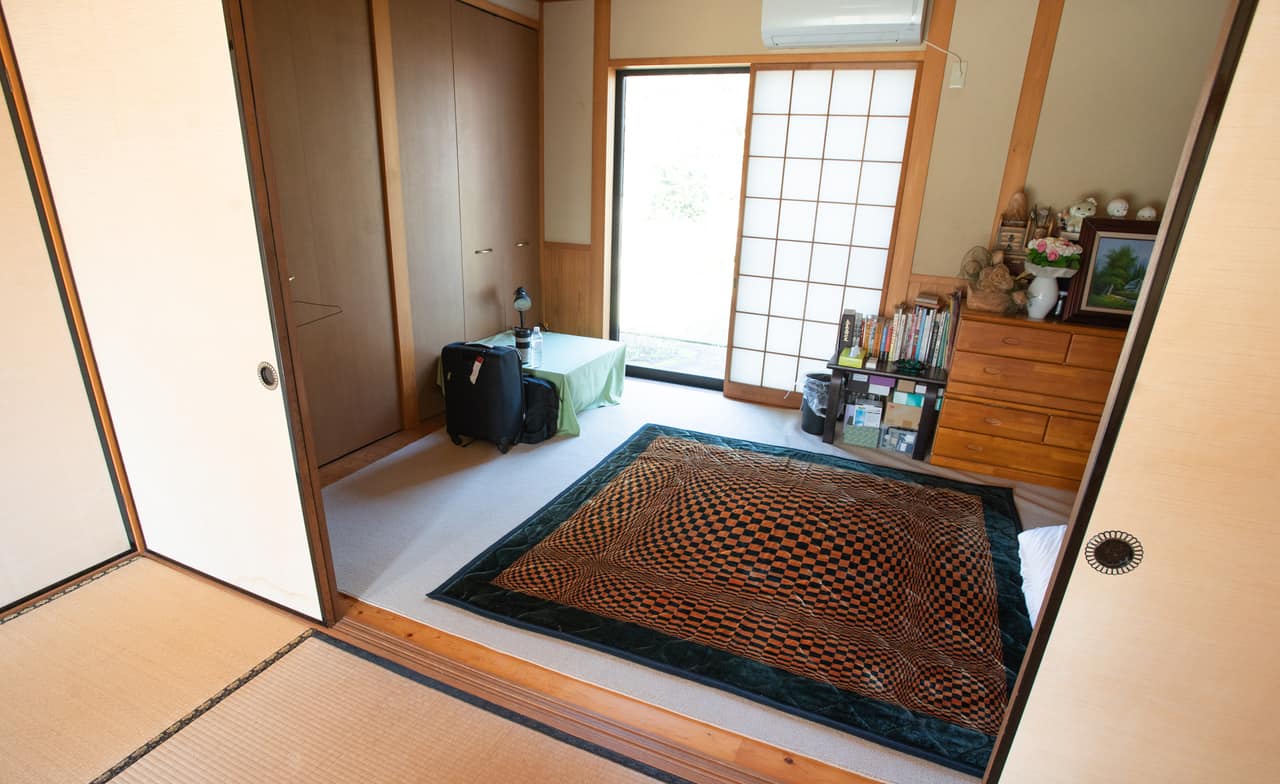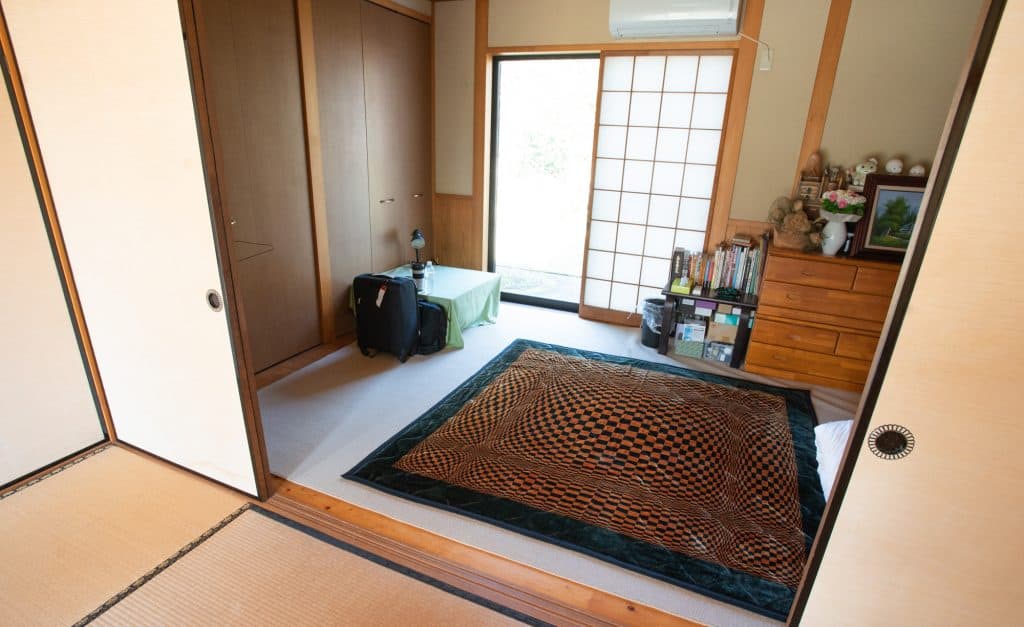 I went into the kitchen where I found the Haradas waiting for me with yet another beautiful and delicious arrangement of food waiting and they asked me if I found everything comfortable the night before.
I apologized for keeping them waiting but they immediately told me not to worry about it. And they meant it.
The Harada's explained that they never wake up their guests and are happy to let them relax and sleep for as long as they want. Many of their guests come from the big city with extremely demanding lifestyles. The Haradas told me that many of their guests are overjoyed by the serenity and silence of the forest and fields around their home and are able to truly relax here for the first time in a very long time.
Some guests sleep until the afternoon and some even sleep until the night.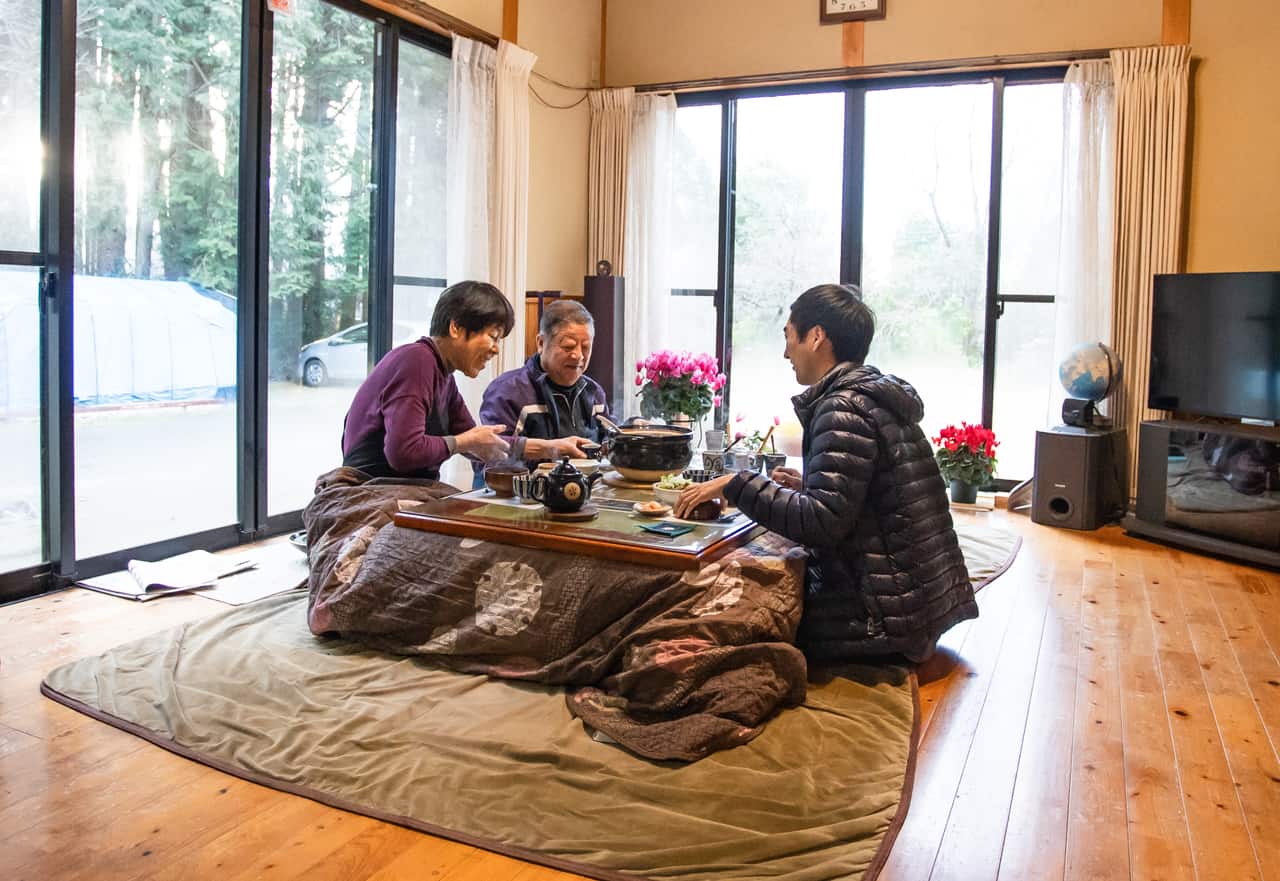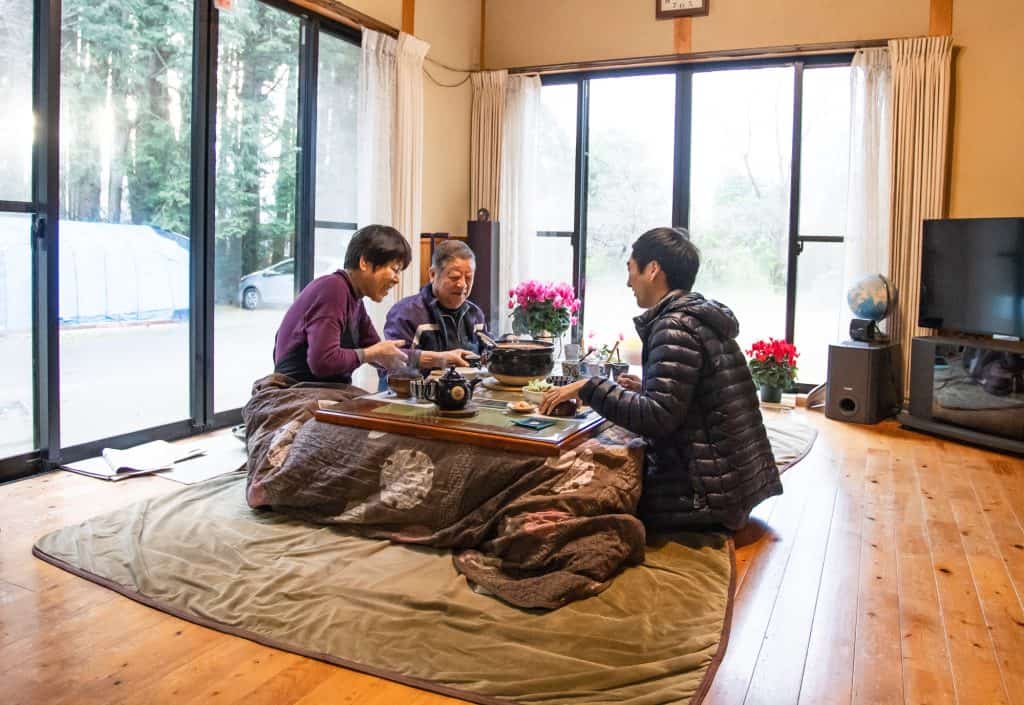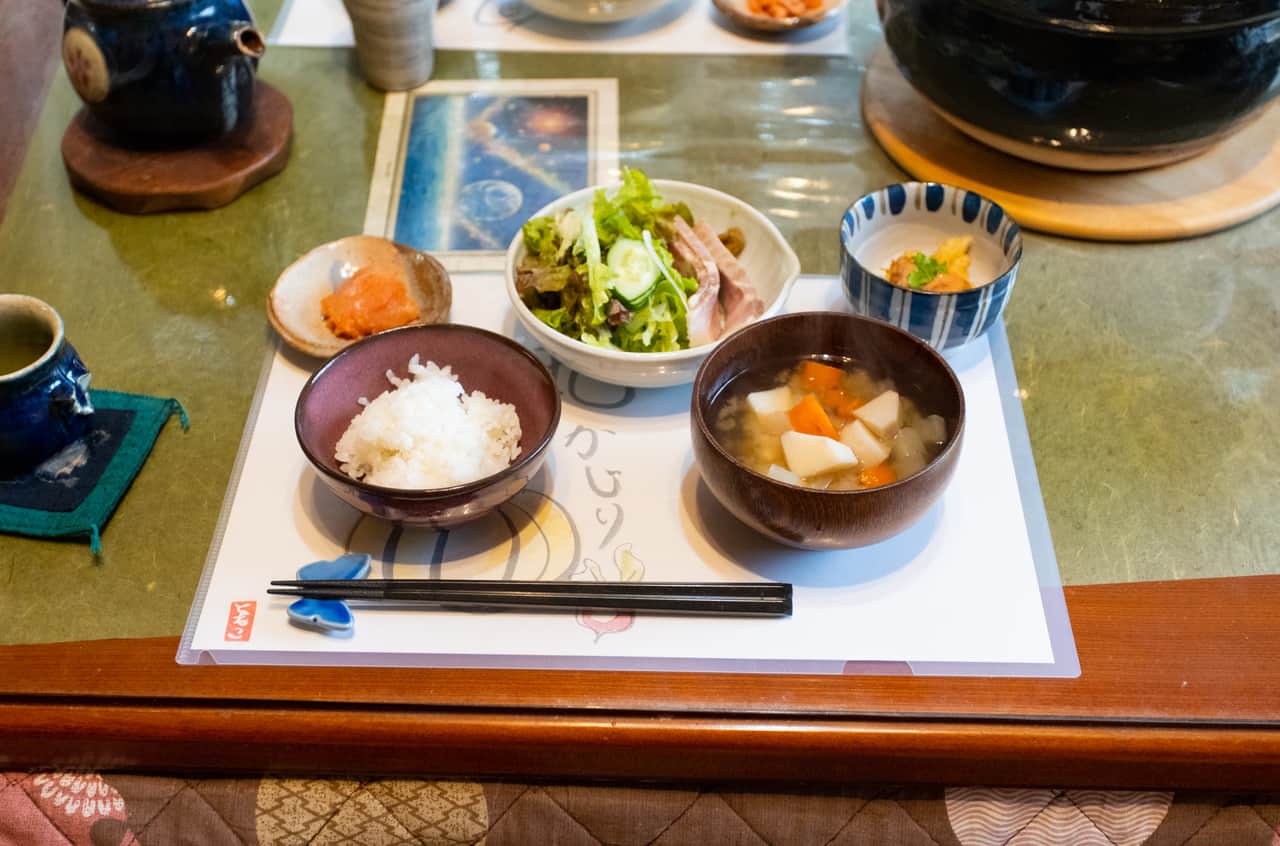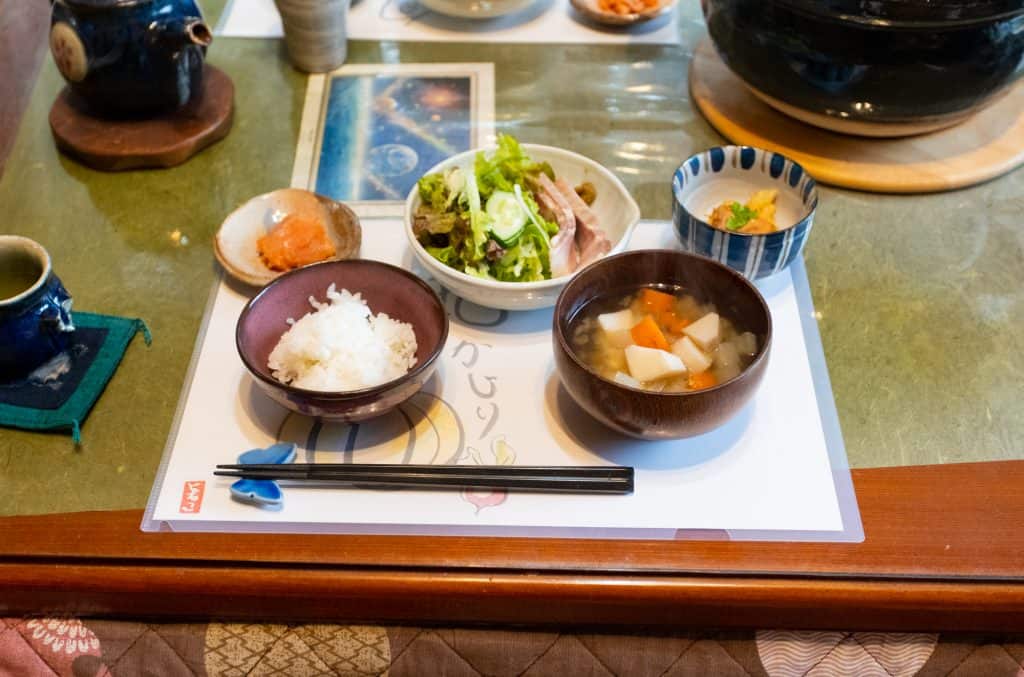 During breakfast, Mr. Harada asked me what I wanted to do the next day and I told him that I would love to see more of the local nature. Mr. Harada also told me that he would have loved to take me to his farms had it not been the middle of winter. Remembering how much I loved the shamo chicken from the night before, he instead offered to take me to the farm where they are raised and to meet his high school classmate who owns a major shamo chicken farm in the town.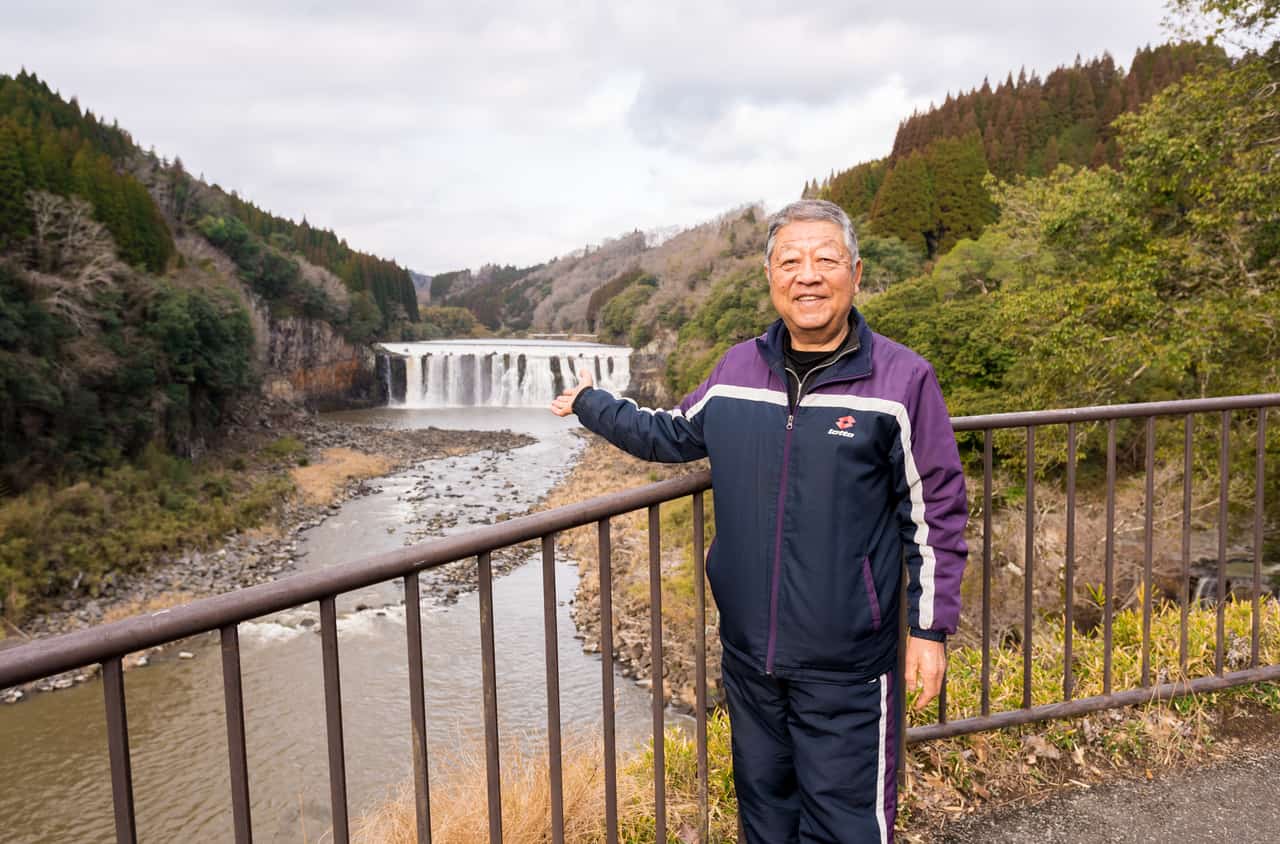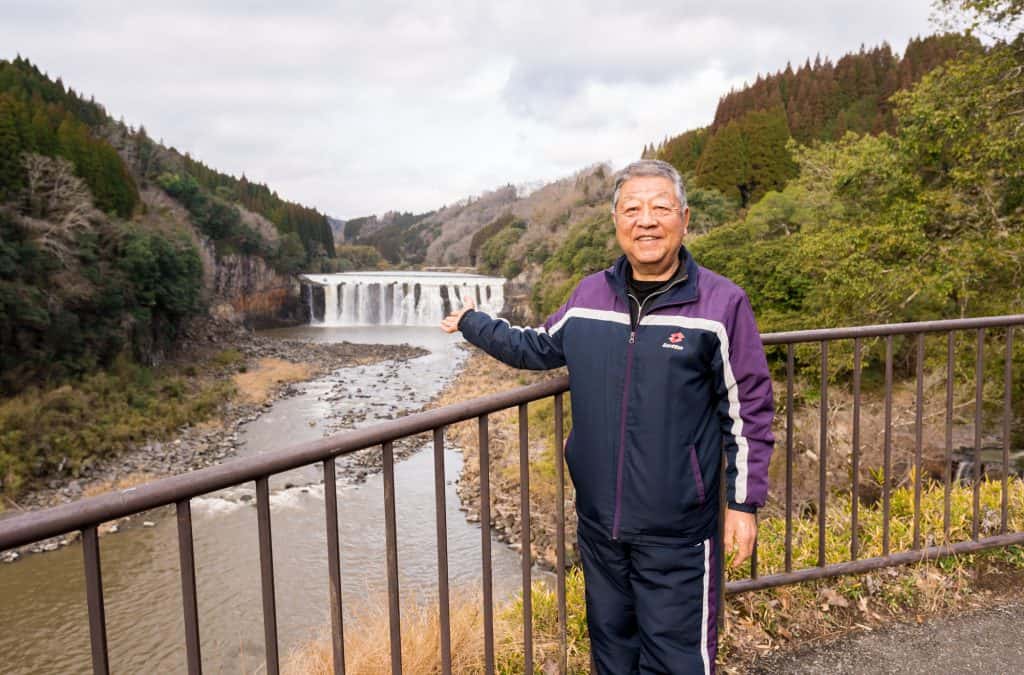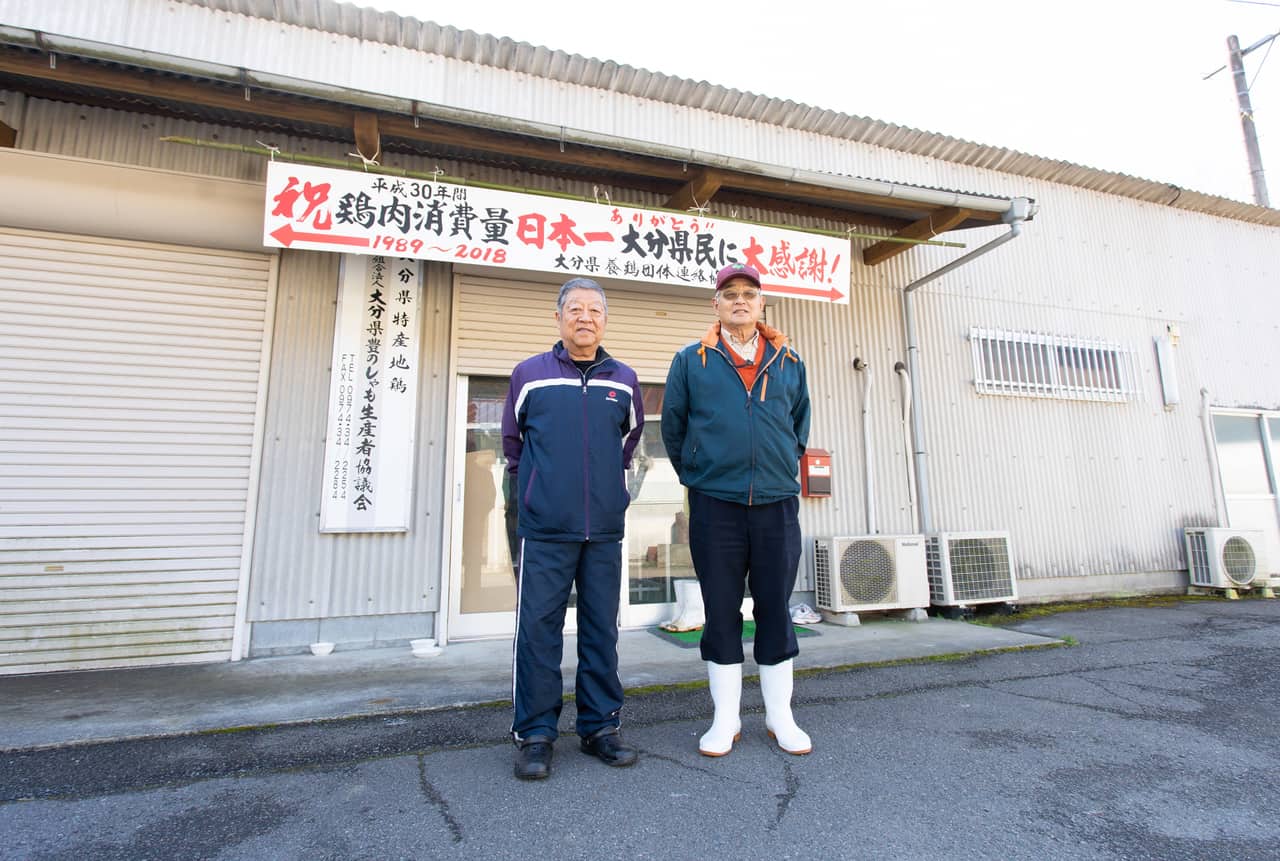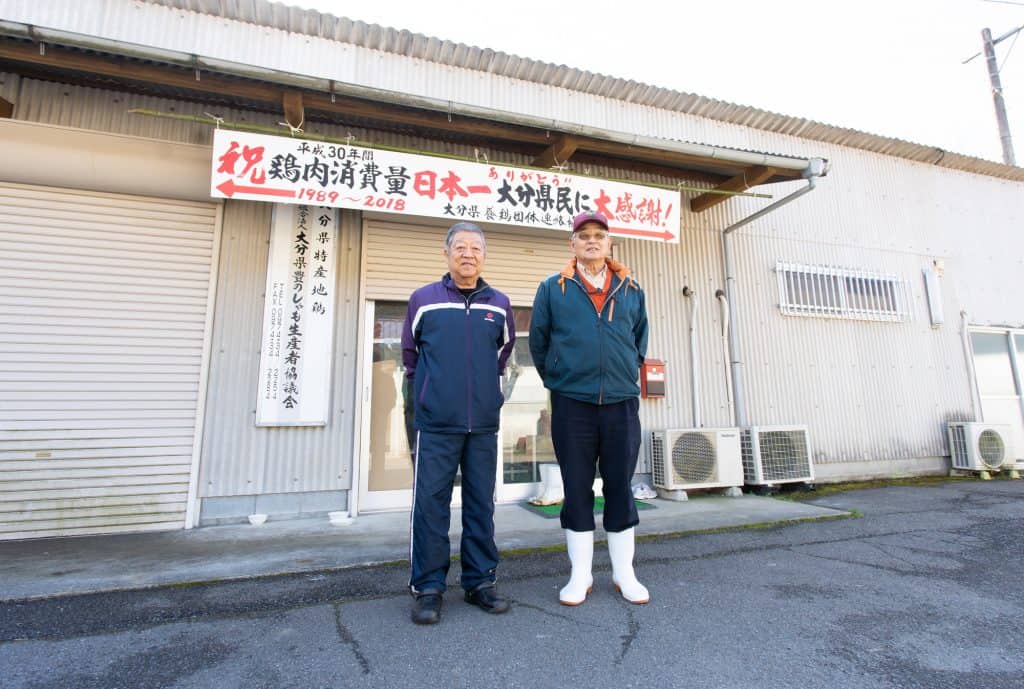 As I had a flight to catch in the evening I had to bid farewell to the Harada family in the early afternoon. Before I left however, the Haradas gave me as many kabosu fruit as I could carry and doubled checked my travel plans to make sure I would make it back safely.
Mrs. Harada warmly remarked that my visit felt like she was able to see her grandson and I too was able to say that my stay with them felt like visiting my grandparents after a very long time away.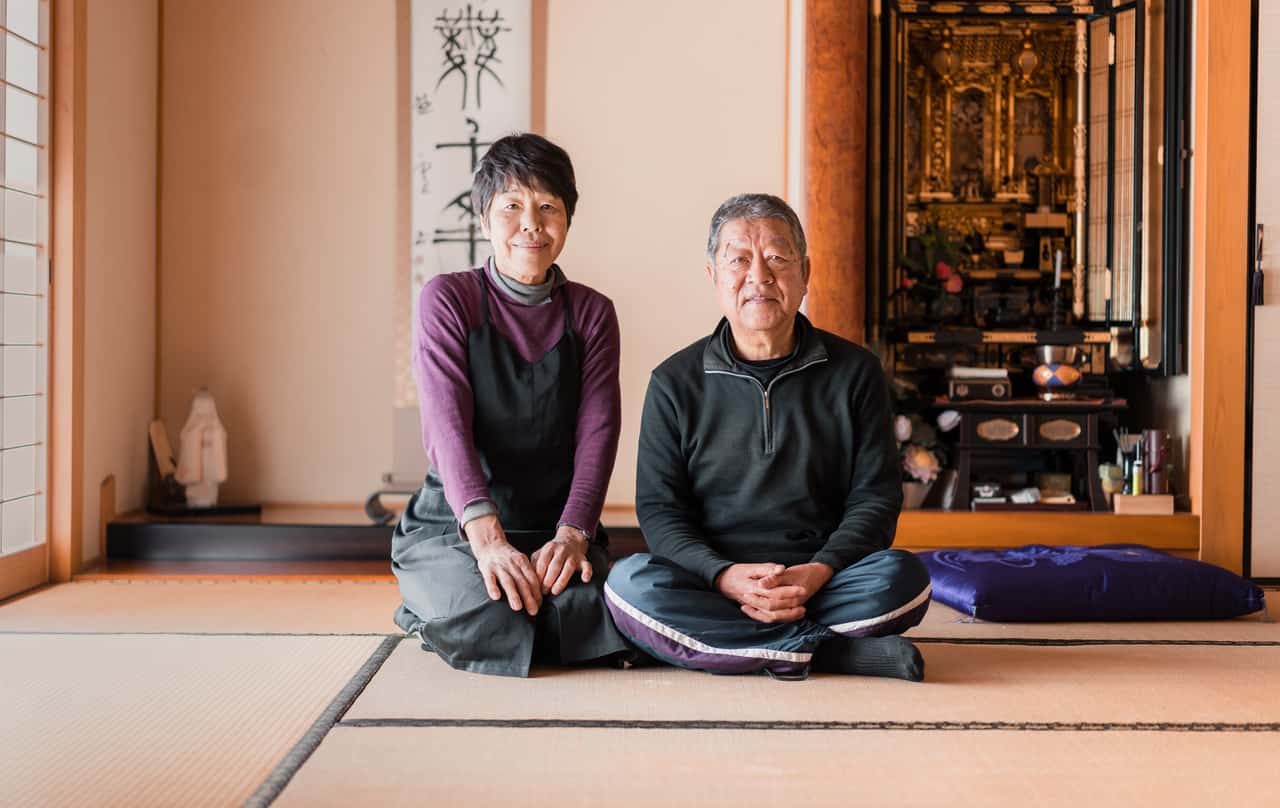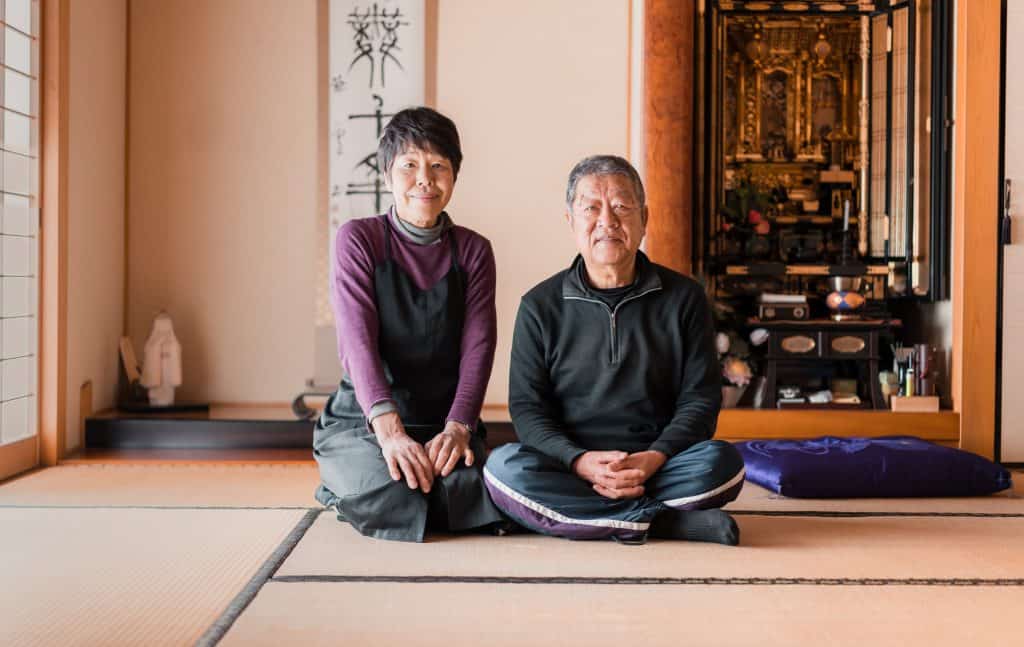 My farm stay with the Harada family was so much more than just lodging in the countryside as I had imagined. Mr. and Mrs. Harada were such welcoming and kind hearted people that it felt more like a family experience where I was able to feel like a part of a Japanese family. After living in Japan for 4 years, I felt that I had already experienced much of what this country had to offer, however, I left the Harada family with the same warm-hearted feeling I first had when I home stayed here in Japan many years ago.
For those of you who have an interest and love for the people and culture of Japan, I insist that you make a night for a farm homestay in the countryside. It may very well be the highlight of your entire trip.
Important Notes about Farm Staying
Do not worry if you are not able to speak Japanese, the Harada's can use a lot of vocabulary and their friendly and enthusiasm easily breaks through any language barriers.
For guests coming without a rental car or other means of transportation, please limit your stay to only one night. This is because the Haradas will set aside everything in their schedule to take you around and host you like their own family. For guests with their own transportation, this is not a problem as they can take care of you in the morning and night, but it can be hard for them if they need to drive you for multiple days in a row.
Bring/rent a bike. Back to my last point, having a bike here can give you the freedom to explore this region and Mr. Harada can give you an excellent day route if you would like.
How to get to the Harada Farm Stay
You may find the address for the Harada residence in the Google Map below and the price is 6,500 yen including dinner and breakfast when I stayed there.
The Harada family is kind enough to offer to pick you up and drop you off from Asaji Station. For detailed information, please consult with Tourism Oita.
Sponsored by Tourism Oita