Sponsored by Fujisawa City Tourism Association
When planning a trip to Japan, the go-to cities are typically Tokyo and Kyoto. But did you know Enoshima is a great escape for a Tokyo-ite ? Close to Tokyo, Enoshima is an island full of rich nature, culture, temples and beaches. And yes, this place really does contain all of these aspects and is great for traveling!
Enoshima and its Incredible Natural Spots: Beaches, Greenery and Views of Mount Fuji
When you arrive at Enoshima, by Enoden train from Kamakura or Romancer from Shinjuku, you can start strolling along the beaches. Seeing the island afar, it seems small but welcoming with its tropical trees and intriguing with its rocks and its very particular geography.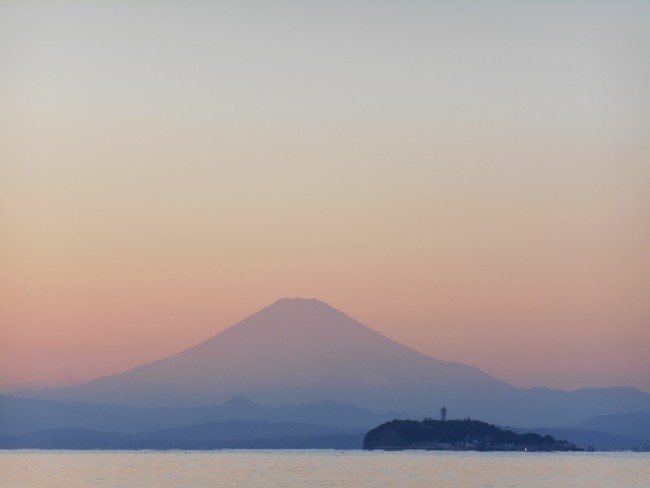 Cross the bridge and embark on a small hike in the island! Beyond the temples and historical places that we will discuss later, you will pass through many observation points that are not to be missed! Keep your eyes peeled, because no matter where you are, there will be somethings to see.
Enoshima boasts of places where we can admire Mount Fuji on a clear day! Here are five points with a good look-out:
Nishihama beach, before passing the bridge that connects to Enoshima.
Katase fishing port, also before crossing the bridge.
Benten Bridge, offers a beautiful, wide view of Mount Fuji.
Enoshima lighthouse in the heart of Samuel Cocking garden which offers you a 360 degree panorama!
Finally, Chigogafuchi, the rocky area in western part of Enoshima and one of the best spots to see the sunset.
Perhaps you will be lucky enough to observe the magnificent spectacle of the "Pearl Fuji", when the full moon is sitting on the top of Mount Fuji, or "Diamond Fuji" when the sun rises and appears just at the top of Mount Fuji by creating a diamond flash.
Enoshima Lantern Festival in August!
The summer is very lively in Enoshima and it offers visitors a special atmosphere. The Enoshima Lantern Festival takes place during the entire month of August. From about 6 pm, all the lanterns light up on the island and create a very beautiful, calming and even romantic view. This gives Enoshima a different atmosphere from the daytime.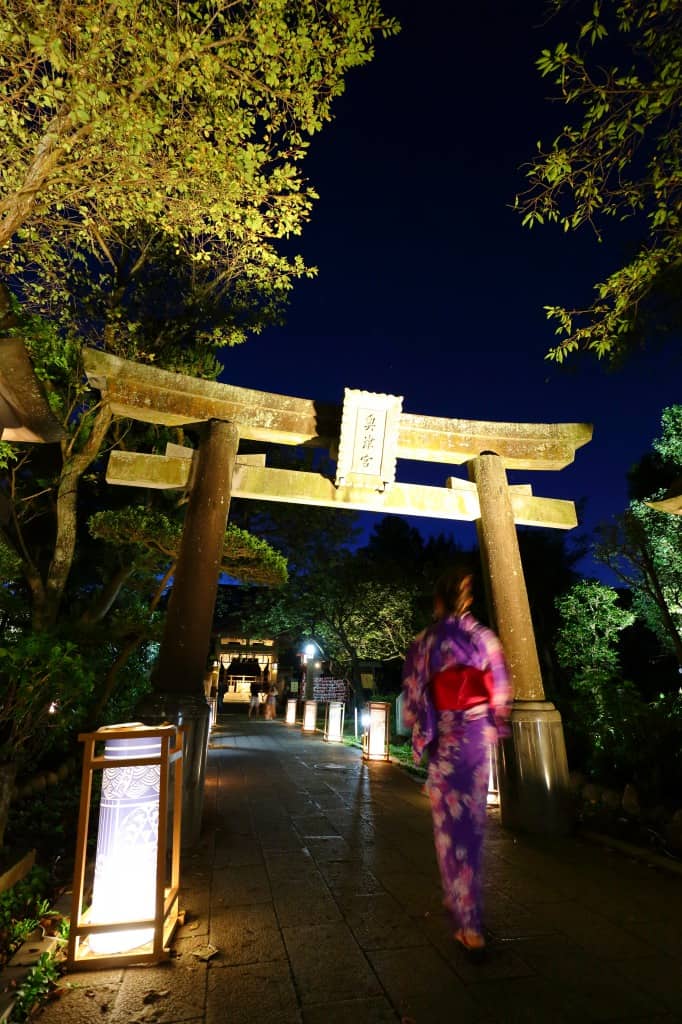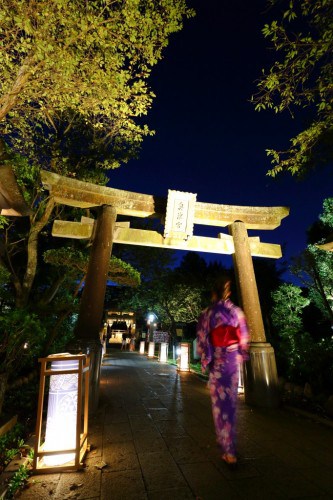 An Island Full of History and Legends
Enoshima, a legendary place, is full of stories to tell!
First of all, the Ryuren no Kane or Bell of the Love of Dragon–it is said that if a couple rings the bell, they will stay together forever! This place is reminiscent of the Pont des Arts in Paris and offers a beautiful view!
Iwaya caves also have very great observation points. The admission cost is 500¥ , and you can reach the sea near the entrance and admire a beautiful sunset!
Iwaya Caves are made up of two cellars eroded by tides for thousands of years and elevated from the sea. It has been worshiped as the holy land. Inside the caves, you can discover the legend of dragon and the candlelight … Mysterious atmosphere guaranteed!
Once upon a time, there was a frightening dragon with five heads who lived in a bottomless lake in Fukasawa and tormented the villagers. People were afraid and called this place Koshigoe (Ko: Child, Shi: Death, Goe: On the Mountain) as they sacrificed their children for the dragon.
One day, thick clouds rose the south of Koshigoe, and very large earthquakes happened for several days. When it finally stopped, a young celestial woman appeared. When the clouds scattered, an island appeared. That was the birth moment of Enoshima island.
The dragon, attracted by the young woman, asked her hand in marriage, but she refused: she would not accept as long as the dragon would continue to do evil.
It is said that the dragon fixed himself, repaired his errors, and gained the heart of the young woman. People also say that the woman of this legend would become the goddess Benzaiten, venerated goddess on Enoshima. As for the dragon, Ryuko Myojinsha temple in Koshigoe is dedicated to him.
General Information
For more information, please visit the official website of  Fujisawa City Tourism Association in English!
You can also go directly to the tourism center, just one minute away from Odakyu line Katase Enoshima station. It is open from 8:30 am to 5:00 pm and they will be happy to provide you with information and, if needed, the wifi information as well.
Translated by: Aika Ikeda