Sponsored by Izumi City
Located on Kyushu island, to the north of Kagoshima Prefecture, Izumi has the second highest production of chickens and eggs in the country. It comes as no surprise that these two ingredients are found in the"Izumi oyako steak meal", Izumi's culinary speciality.
What is "Oyako-don" ?
"Oyako" literally means "parent and child" in Japanese. "Oyako-don" is Japanese rice bowl dish (donburi) in which chicken, egg and a few other ingredients are all simmered together in a sauce and then served on top of a large bowl of rice.
In Izumi, chicken meat and eggs are so fresh that they are served raw. This is the distinctive feature of Izumi Okako-don! It may seem odd, but actually it is really good!
How to eat Izumi's Oyako-don?
All of the ingredients are served separately.
The egg
A fresh egg is brought with an empty bowl and a bowl of rice. You have to break the egg in the empty bowl. Most of Izumi's eggs have two yolks – it is really impressive! Then you pour a bit of soy sauce in the egg and you mix them together with the chopsticks. Once it is well mixed, you can pour over the bowl of rice.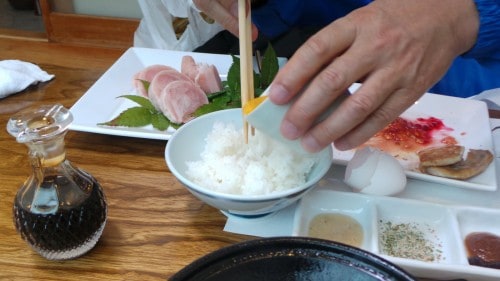 The chicken
Then a plate of raw chicken escalopes is brought with an individual barbecue set. You have to grill the escalopes two by two on the barbecue. Once they are grilled a bit, you just have to soak the meat in one of the sauces or salt that is available. You can choose from miso sauce, lemon sauce or spiced salt. Then you can eat it along with the rice-egg.
Where to eat Izumi's Oyako-don?
I ate Izumi Oyako-don in the very good "Uomatsu restaurant" (魚松) located downtown Izumi (five minutes by walking from Izumi JR station). I chose the special "Izumi Oyako Steak Gohan (いずみ親子ステーキご飯)" lunch set for 1240¥:
Starters
– First starter: the chicken salad. Marinated chicken slices served with raw onions slices, mustard leaves and a slice of lemon to squeeze over the meat. I had reservations about trying raw chicken, since I had never tried it before, but it was really good! I cannot describe the exact taste, but I would say it is a bit smoked. If you have tried it, please leave a comment to share your impression!
– Second starter: slices of chicken again, but this time slightly cooked and served in a jelly (like aspic).
Main course
– They came back with an individual small barbecue like a plate warmer and a plate with new slices of two types of chicken meat: one very tender and the other a bit more fatty, but really good too (I'm sorry I am not able to identify what part of the chicken those two meats were coming from).

– With, of course, the raw egg and the rice.
– And miso soup.
The waitress kept the fire of the barbecue burning thought the duration of lunch.
Coffee and desert
After we finished the meal, they brought the dessert with a good cup of coffee. The dessert was close to an egg cream, perfect to end on a sweet note.
Important : you can find this speciality only in Izumi (developed in 2011 by a collective of local restaurants established in Izumi city). Three other restaurants offer the same type of course (Takenoko, Grand Chateau Tsurumaru and Hotel King). You can find their address and hours on the "food" tab of Izumi city website.
---
Interested in trying "Izumi Oyako Steak Gohan"? You should check the other articles dedicated to Izumi:
| | |
| --- | --- |
| Name | Uomatsu (魚松) |
| Category | Restaurant |
| Address | 50-27 Showamachi, Izumi City, Kagoshima Prefecture 899-0202 |
| Access | [map]50-27 Showamachi, Izumi City, Kagoshima Prefecture 899-0202[/map] |
| Opening Hours | Everyday except sunday from 11:30am to 2pm and from 5:30pm to 11pm |
| Price Range | ¥999~¥3,000 |
| Payment options | Both |