Sponsored by Izumi City
If you have always dreamed about wearing a kimono and/or attending a Tea Ceremony, no need to look any further because Izumi is the right place! In its old samurai district, the Izumi City Tourism Division offers the "Kimono Experience Program", a travel back in time to the Edo period. I tried it for you, and it was amazing!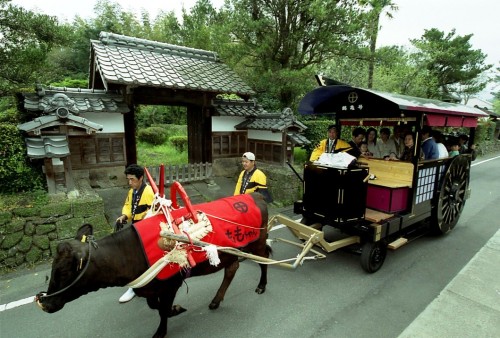 Wear a kimono and take it home
Choosing a kimono
When I first arrived in the house dedicated to the "Kimono Experience program", I was amazed by its beauty: it is a very old, Japanese house surrounded by a traditional garden. On the tatami mats, a variety of beautiful kimono and obi (traditional belt) were waiting for me.
A group of women, all dressed in kimono, invited me to select my favorite kimono. They told me to make a careful choice because I would take it back home with me as a gift. I choose a saffron yellow kimono, and one of the women who spoke English complemented me on my choice. She told me that the bamboo patterns printed on the fabric were a symbol of fulfillment. Good news to start a perfect day!
The dressing
After I chose my favorite kimono, the women helped to find a matching obi. Then, one of the women (I would learn later she was the Mayor's wife), led me to a changing room to dress me. First I put-on the jyuban, a kimono-shaped piece of clothing made of cotton that you wear under the kimono. I had to take off my jeans, but, because it was cold, I could keep wearing my sweater. My tip: if you plan to wear a kimono in winter, avoid wearing a turtleneck. Then I put-on the kimono that the woman tied up with several strings all covered at the end by the obi. Finally, I replaced my socks with tabi (traditional Japanese socks with a separation between the big toe and other toes), which is more confortable to wear geta, the traditional kimono shoes.
Once I was ready, I went back to the main room where I was welcomed with "sugoï" (amazing)!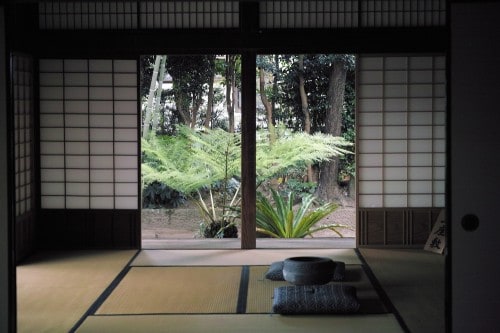 Attend a Tea Ceremony
Next, I was invited to join the tearoom by the garden. A musician was already playing koto, a traditional Japanese string instrument.
Wagashi
The Tea Ceremony began with the tasting of wagashi, a traditional Japanese confection brought by the teishu (host) on a nice plate, placed on special paper called kaishi. After everyone bowed, we ate the sweets, doing our best to stay elegant.
Matcha
Then, the teishu came back with a beautiful bowl containing matcha (green tea powder) that she mixed with hot water using a small bamboo whisk to smoothly blend the large amount of powdered tea with the water.
Then she offered me the bowl of tea that I had to turn round twice before drinking the tea carefully. When the tea ceremony was over, they asked me to wipe the bowl and to return it to the host. It was a very interesting moment; I cannot even describe all the details of the venue. I think it is definitely better to experience it by yourself!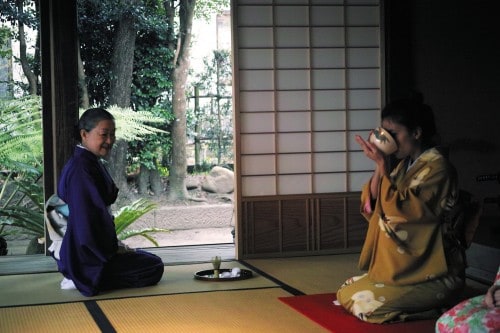 :
'Samurai district' tour
After the Tea Ceremony, I went to stroll through the samurai residences in my kimono!
More than 400 years ago,back in medieval times, Izumi was a strategic city conveniently located at the foot of a mountain castle between Satsuma Domain (now Kagoshima Prefecture) and Higo Domain (now Kumamoto Prefecture). The Edo government decided it was necessary for many samurai to live in Izumi as manpower for border security and emergencies. What is today a quiet residential area, used to be a samurai district! There still remains over 150 former samurai residential buildings wonderfully preserved! The perfect scenery for an outdoor shooting dressed up in kimono!
For ¥1,000, the "Izumi Ox Carriage" provides a better and enhanced tour through the historic area among the Samurai Residences. The 25-minute and 1km ride features a guide to a deeper look into the history of the district (in Japanese). You can also walk around the district, and mare sure not to miss the shrine!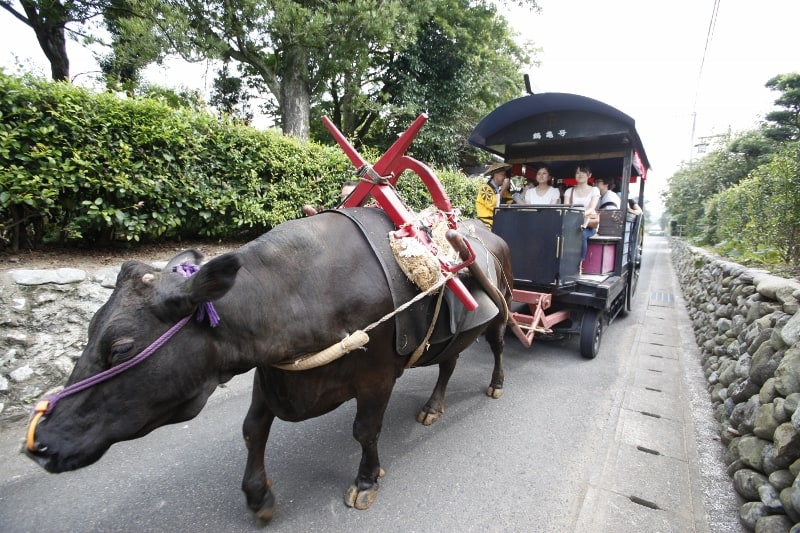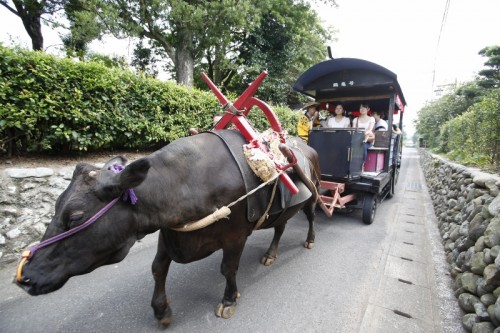 How to Make a Reservation
Please make a reservation no later than 10 days prior to your experience (Otherwise, please contact them directly).
Prices
¥7,000 per person for the "Kimono Experience Program." Includes tea ceremony, admission fee, and bonus: You may keep the kimono and obi as your souvenir (about 2-3 hours).
¥1,000 per person for the ox carriage tour.
From 5 to 50 persons.
Sign up 1 month prior to Izumi City Tourism Division (English available):
By phone: +81 (0)996-63-2111
By e-mail: kanko_c@city.izumi.kagoshima.jp
---
Check-out the other articles dedicated to Izumi:
[cft format=0]