What is Bonsai You Ask?
Bon-sai(盆栽) literally translates to "tray planting," which is exactly what the art of bonsai is. Bonsai is the technique of pruning and dwarfing trees to grow within the set boundaries of their pots. The plants are not genetically modified in any way, instead the limbs are carefully pruned and wired, to encourage specific forms of growth. Almost any type of plant can be used to create these miniature trees, as long as the plant has a woody trunk, and grows branches. The aesthetic element of the bonsai is the most important aspect, as the idea of this type of horticulture is to encapsulate a contained scene of natural beauty.
Bonsai Throughout History
Although the word bonsai is Japanese, this unique combination of horticulture and aesthetics originally got it's start in China. By 700 AD, the art of Pen-sai, as the Chinese called it, was widely practiced throughout the elite classes of the Chinese nobility. During the Heian period, buddhist monks from China brought the art form with them to Japan. It didn't take long for bonsai to spread throughout Japan's own elite and ruling class, before finding its way to the general population.
Types of Bonsai
Bonsai, especially Japanese Bonsai, has spread throughout the world. The art form is widely practiced, and through it's exposure to different cultures, religions, and people, it has grown and adapted to encompass a wide variety of different styles. Each style is meant to represent trees in their natural habitats, from windy outcroppings, to densely populated forests, there is a different style for every imaginable situation in nature.  I won't go into detail here, but you can find some great images and examples on this website.
 
Where to See Bonsai in Japan
Sunkaen Bonsai Museum
This bonsai museum in Tokyo hosts a wide variety of activities and events all centered around Japanese bonsai. Not only do they have a huge assortment of bonsai available for viewing, they also host bonsai classes, and apprenticeships.
The classes allow you to try your hand at making your own bonsai tree, and for an added fee, you can take the tree home with you. These classes are more of a whirlwind experience, and do not allow quite the immersion that the apprenticeship does.
If you are more interested in the apprenticeship, it is recommended that you stay a minimum of one month. This program allows you to learn the art of bonsai over an extended period of time through observation of the other members you work with. You eat, sleep, and work with the other members and bonsai artists, obtaining a certificate of completion at the end of your stay. Definitely a hands on experience, if you are interested in learning more about bonsai.
You can check out the English website for Sunkaen Bonsai Museum here .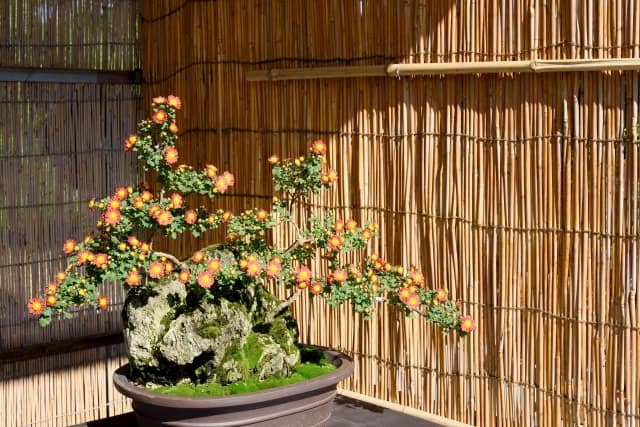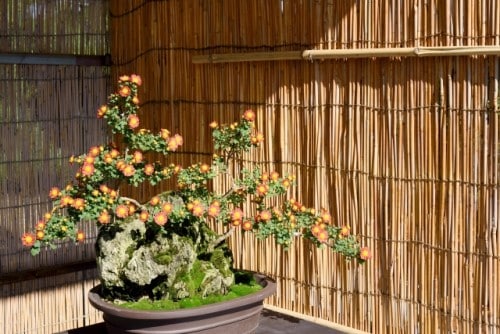 Omiya Bonsai Village
Located in Saitama City, Omiya Bonsai Village is probably the most well known name when it comes to bonsai. The village was established in 1925, and boasts a long history of raising bonsai. The village has participated in numerous World Bonsai Expositions, and conventions, and the village itself adheres to strict regulations regarding their bonsai, and the natural scenery of the area.
There are six gardens at Omiya Bonsai Village, each owned by a different bonsai artist. Each garden has its own unique atmosphere and style, based on the preferences of the owner and artist. One of the regulations of the village is that the gardens must be open for public viewing, so lucky for you, you can take a stroll through each of the gardens and admire the beautiful bonsai on display.
There is also a museum which was recently opened in Omiya Bonsai Village. The museum boasts 120 bonsai masterpieces, as well as a collection of bonsai related items. You can view a handful of carefully selected pots, which are a very important aspect of the bonsai art, as well as bonsai related block prints, artwork, and more.
Be sure to check out their English website here.
Where to Buy Bonsai and Related Supplies
Ueno Green Club
The Ueno Green Club is located in Ueno Park and hosts a number of different shops and small sellers offering bonsai, pots, tools, and equipment. In early February the Ueno Green Club hosts a Spring Bonsai Festival, and the area becomes overcrowded with stands, sellers, and customers. Nearby you can also find the Nippon Bonsai Association, which offers information on upcoming bonsai exhibits around Japan.
You can find more information on their website. https://www.bonsaiempire.com/inspiration/bonsai-japan/ueno-green-club
Living by Design Green Scape
Located in Nakameguro, just sound of Shibuya, is a fashionable bonsai store filled with everything you could possibly need to start your own bonsai hobby. The store also offers classes, so if you are interested in trying your hand here that is another option. You can check out there website for online purchases as well as a blog and tips and tricks to help you manage your own bonsai.
If you are interested in learning more about Living by Design Green Scape check out their website.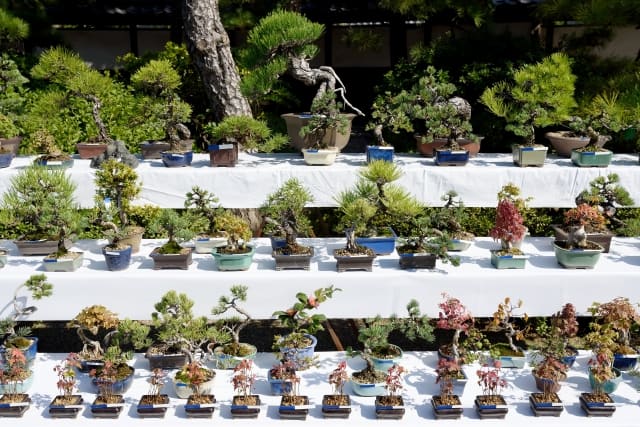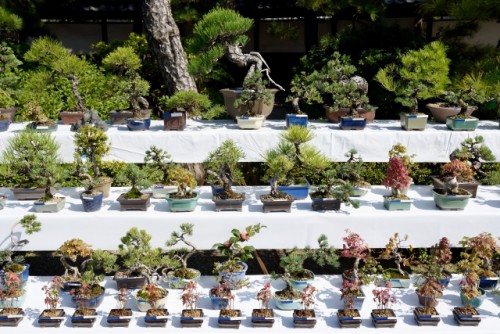 Japanese Gardens And Bonsai Viewing
Finally, if you are just in the mood to admire some beautiful bonsai at a traditional Japanese garden, there are many different places you can go.
Showa Kinen Park
As Japan's first state owned bonsai park, you are sure to find a wide variety of bonsai here. The park offers bonsai exhibitions as well as a hands on learning zone, where you can learn more about the process of how to grow and create your own bonsai.
Adachi Museum Gardens
These gardens are breathtaking, and offer a very serene glimpse at what a traditional Japanese garden looks like. While they are not so focused on bonsai, per se, they still have a few of the dwarfed plants carefully placed throughout the landscape. So be sure to keep your eye out as you take in the scenery. The gardens offer different experiences for different seasons, so if you think you have seen it all, think again. It might behoove you to make another trip during a different season.
Here you can check out their website, which includes a nice map of the garden.
Ritsurin Garden
Last on our list is another traditional Japanese garden, and this one is also incredibly beautiful. This garden boasts the arched bridges and steel blue lakes idyllic of a Japanese garden. The only problem is the distance, Kuribayashi is located in Shikoku, which is about an hour and a half flight from Tokyo. Perfect if you happen to be visiting southern Japan, but out of the way if you are staying in central Honshu.
Regardless, the garden is worth a visit, and while it may not be famous for bonsai, you may be able to find a few scattered throughout the gardens.
Check out their website here.
 
Want More General Information About Bonsai?
There is a great podcast about bonsai here, which goes into more detail about bonsai, and the different types that exist. You can also check out here  for a more in depth look at all of the different aspects of bonsai history, information, and an in depth look at growing your own bonsai!