In Kamakura by a suction-marked road, you'll find a Torii gate littered with hefty stones.  The stones were perhaps hewed from the formerly firmer space of the earthly hollow now known as Zeniarai Benten shrine.  From the shrine, veining from rock into rock, is your tunnel towards the corpus core. Washed coins into prettier pennies at this Kamakura life spring.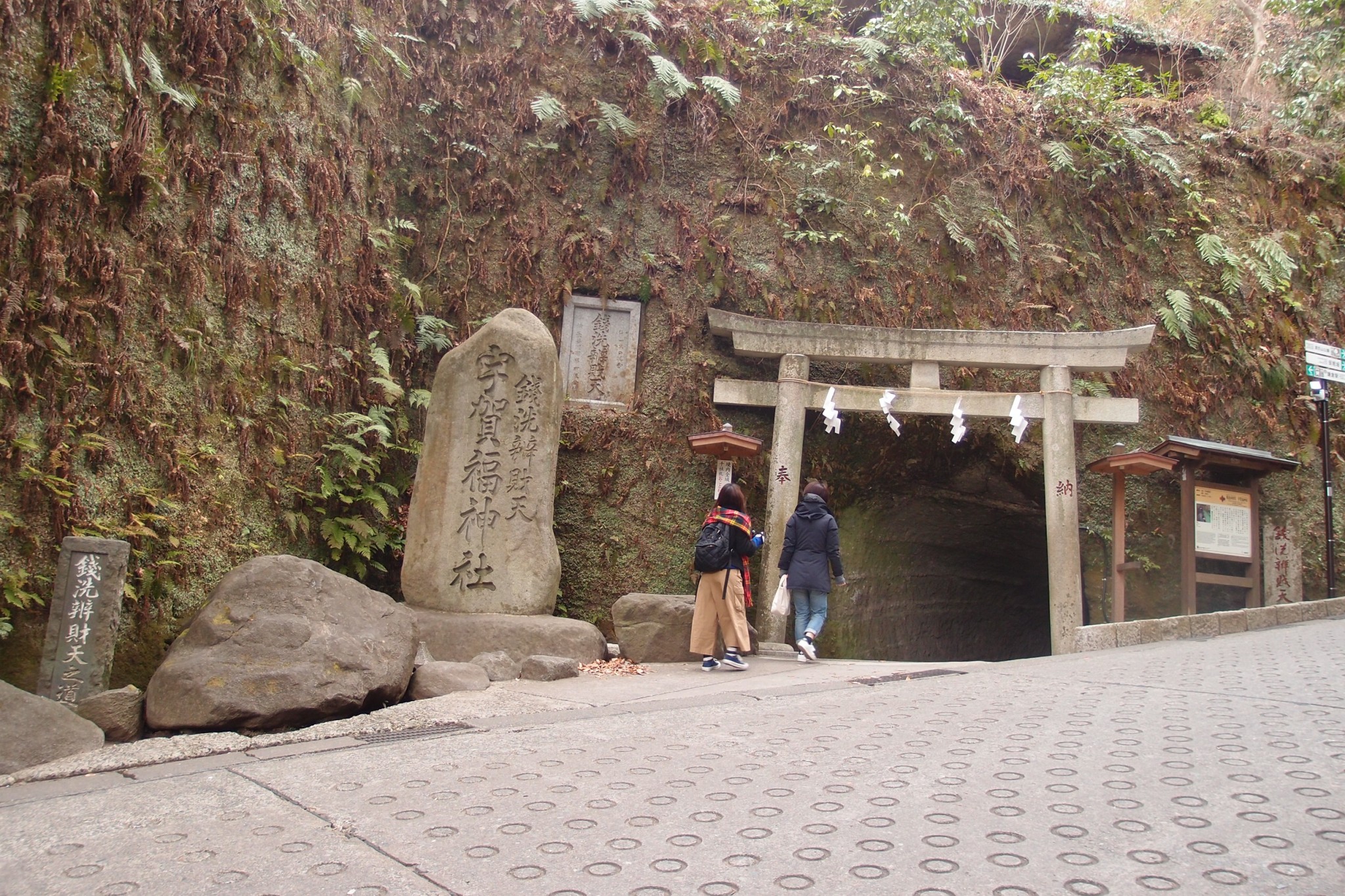 The shrine gate sagging into the subterranean slope, a mobius bend of light flashes into relief. Figures shift forwards from an orange-hued terminal space. The shaft breaks open into the light. A series of gates have here been deposited by a colossal collector: one with a lopsided stone span, another of light green lichens, and a wooden one suffused cinnamon.
From Daibutsu hiking course through deep earth colors, this depository of gates and structures stands within an earthen pit. This ground was first reached by a deep dig sanctioned by Kamakura shogun Minamoto Yoritomo. He had a dream where a god paid him a visit, beseeching him to travel Kamakura's northwest and strike into the Earth. Here, he discovered natural springs burbling like words in the afterthoughts from his resonating dream.
Artifacts around Zeniarai Benten shrine show an eclectic native mix of Buddhist and Shinto icons, alike the Daibutsu hiking course itself.  The non-embellished gates bordering orange-railed sub-shrine bridges show Shinto influence, while well-maned Chinese lions guarding the sub-shrines and perfuming incense brushes a Buddhist breeze. The half-snake patron deity Ugafukujin is the Buddhist Bodhisattva (akin to a saint) Sarasvata or Benzaiten's Shinto interpretation – so picked for Minamoto's dream dreamed in the year and month of the snake.
Zeniarai Benten's auspices are its springs.  Washing your money within its waters will yield double your Yen's (or choice currency's) value.  The five-part procedure actually begins spending money.
The main building sells a set of three candles and incense sticks. This building is the widest of all, and crowds will trail there. From under a nearby char-black peaked roof, a pot for incense perfumes the air.  Another mottled Torii row facing this incense stand designates your standing place – by your side is the main shrine. The second step is lighting a candle, then placing it inside the altar.
Mouthing an incense wisps's whisper lies a cave just by the main shrine. Passing into the sacred sediments, I felt the closest to intrusion in any house of the sacred I've visited. On the walls are wooden signs with faded characters.  Here Zeniarai's springs trickle a small stream.  The stream bed was clear-cut under the spring water's soft erosion. Framed on a luminous in-pouring are the intricate interstices of an altar: set inside the cave but brown as a sunbathed bark. Hanging rainbow fabrics catch the sun for black nights.
Many couples share their ritual financial ablutions here. From a small rock nook, they bring wicker baskets and pockets of small change. Their faces are round, uncreased by any expression; only eyes sparkled like gems of intent. The cave is awash with the wellspring for wealth, all edges washed away. The third step doubling your monetary capital is cleansing your yen, then skewering a candle on a sepulchral candelabra off towards the cave's side.
Coins wicker-wet and second candle lit, wink out of the cave to pray – the fourth step at Shimonomizu- and Kaminomizu-jingu. Shoulder around the shrine's main building and hug the Shinto grotto's side. A spring water pool presents Shimonomizu-jingu, where you can clap a prayer over the soft lap of water. Your fifth step is blazing a final candle at Kaminomizu-jingu.
As you leave for the Daibutsu hiking course, notice the Torii gradient of coin-like light in alternating bright burnish and dark tarnish.  May your purses weigh heavy with the experience.
Access: From Kita-Kamakura station's west exit, walk five minutes south toward the Daibutsu hiking course.  30 minutes into the trail, you will reach the crossroads within Genjiyama park.  Follow the signs to Zeniarai Benten shrine.
| | |
| --- | --- |
| Name | Zeniarai Benten Shrine |
| Category | Shrine |
| Address | 2 Chome-25-16 Sasuke, Kamakura-shi, Kanagawa-ken 248-0017 |
| Access | [map]2 Chome-25-16 Sasuke, Kamakura-shi, Kanagawa-ken 248-0017[/map] |
| Opening Hours | 8:00-16:30 |
| Price Range | Free; 100 Yen for candles and incense |
| Payment options | Cash |