Sponsored by Daisen Town.
Known as the Mt. Fuji of West Japan, and considered one of the most sacred mountains in Japan, Mt. Daisen is a must-visit destination when traveling to Tottori Prefecture. Climbing to its summit on a hike that is immersed in nature is an incredible experience and cycling downhill from its slopes all the way to the coast of the Sea of Japan is another opportunity to enjoy Tottori's unique natural landscapes.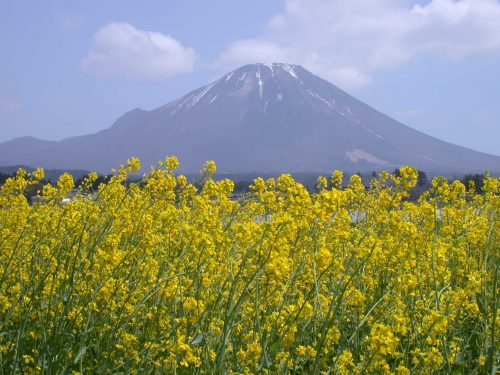 Start at 800 meters above sea level
Several tours are on offer for Mt. Daisen downhill cycling, with variation bases on whether you'd prefer to cycle with or without a guide, or whether you're a beginners or experts cyclist. The tour I took part in was 22km long, starting at 800 meters high, next to the Katori Observatory, and crossing Mt. Daisen's slopes for a few hours (four on paper, but a little less in reality) to reach the nearby beaches.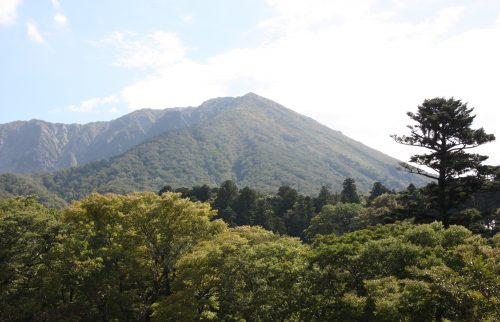 After meeting with Nakagawa-san, a young guide from the area, adjusting my seat and helmet, and listening to a few safety tips, off we went on our cycling tour! The tour started with with Mt Daisen ski slopes on either side of the road, which were very green during my visit in September, but are covered in a thick blanket of snow come winter time.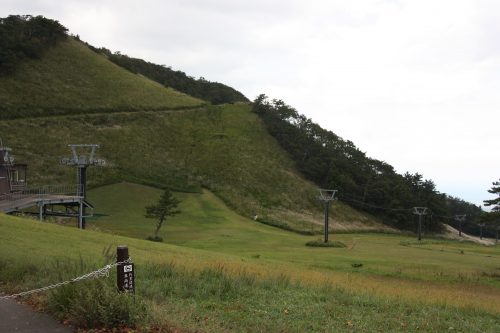 For the entire tour, you will be cycling on paved roads, which is ideal for beginners. Even though we would supposedly have to share this road with cars, the truth is they are rather rare, if not completely absent, making for a very pleasant and serene path. The guide explained to me that we would be making a few stops along the way, to discover more about this mythical summit and meet a few locals.
Mt. Daisen's spring waters
After about ten minutes downhill, we were already off our bikes to walk on a small hiking path, navigating through lush vegetation.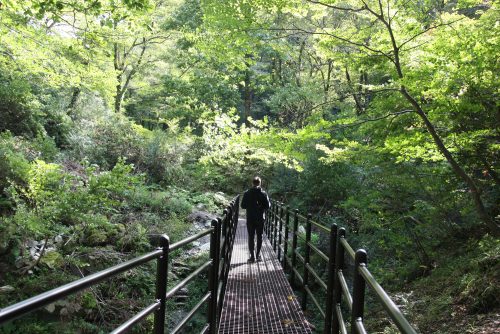 The setting is beautiful, with rays of sunlight peeking through the foliage. As I was following the guide on this path, the sound of a nearby river would get louder and louder, before finally revealing itself.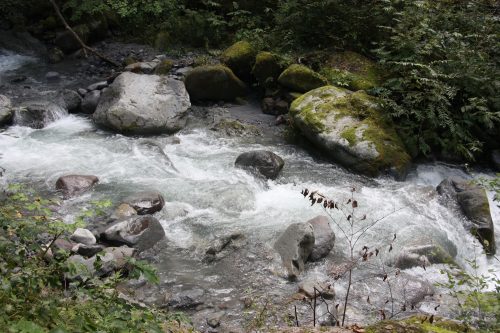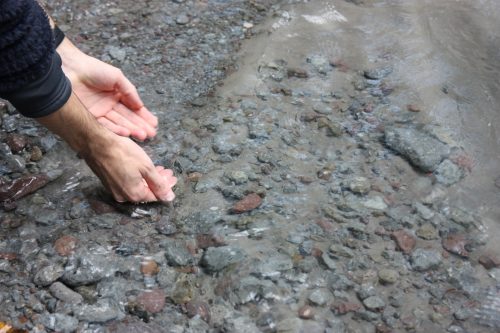 My guide explains to me that we can find on Mt. Daisen an abundance of pure spring water. As I was there just after a typhoon had passed, the water had quite a powerful flow but it was indeed very transparent. While we walked around, he pointed out a few local plants: a leaf with a Batman shape, a local nut and a kind of clover that can be rubbed against a coin to make it appear brand new.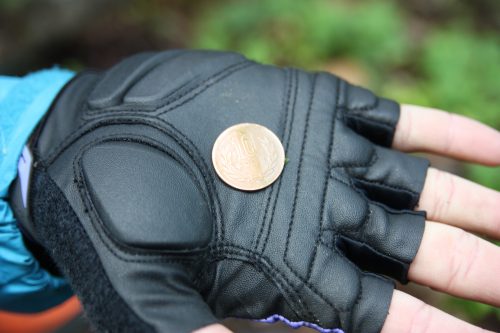 Meeting with the locals
Soon we jumped back on our bikes and were once again going down, descending altitude quickly. The immense trees bordering the road would little by little give way to a clearer panorama, dotted with fields and farms. Our next stop: an apple tree orchard!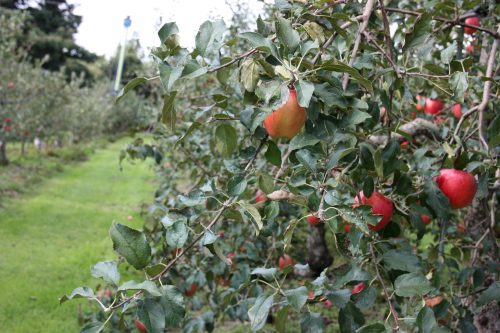 The owner of the place, who seemed to recognize my guide, invited us to walk freely around his orchard. He then offered us a few slices of his apples, perfectly sweet and tangy. The ideal snack before getting back to cycling.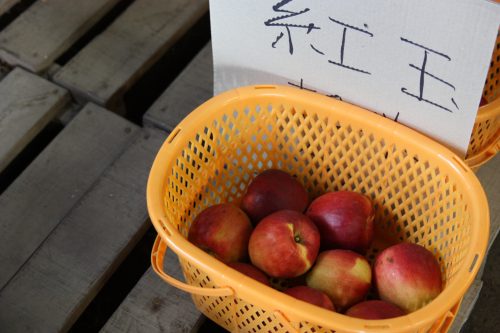 A few kilometers from there, the panorama starts getting even clearer, with large bare stretches of grass and a golf course by the road replacing the fields.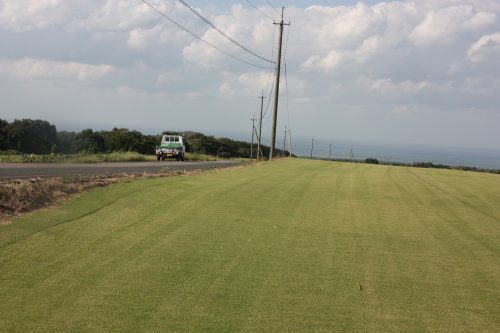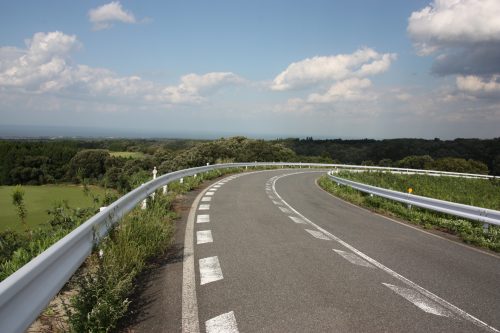 We finally had a glimpse of the sea shore with a few wind turbines in the distance and the Sea of Japan in the background. My guide points to the sea, saying that this is our final destination. Still quite a few more kilometers to go!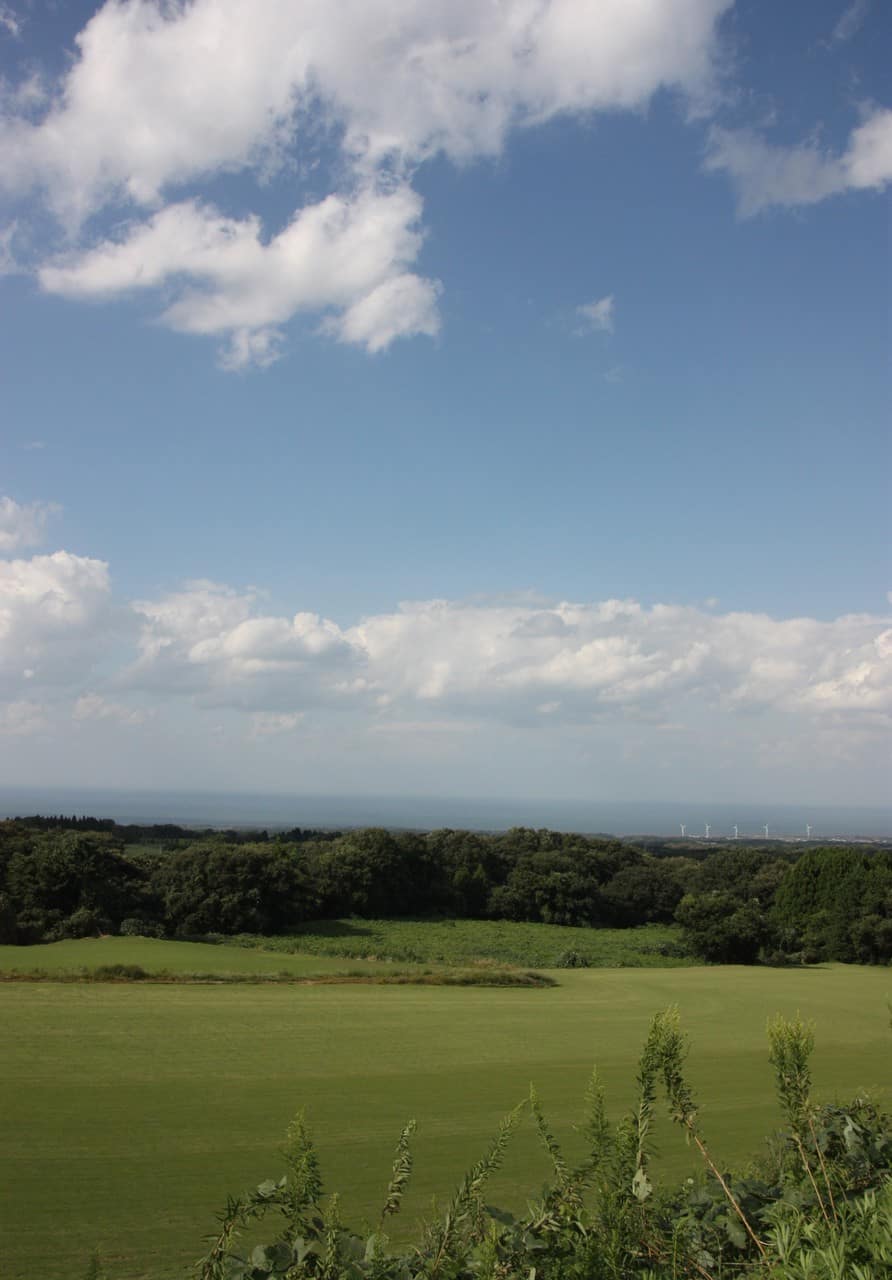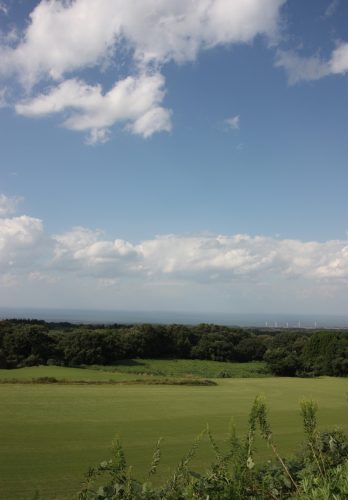 Before we got there, we made one last stop by the house of a local that Nakagawa seems to visit quite often. This lovely lady, who speaks very good English and a bit French, owns a field with a great view of the mountain range in the distance. Putting on her apron and clogs, she guided us to the panorama, escorted by her loyal sheep companion.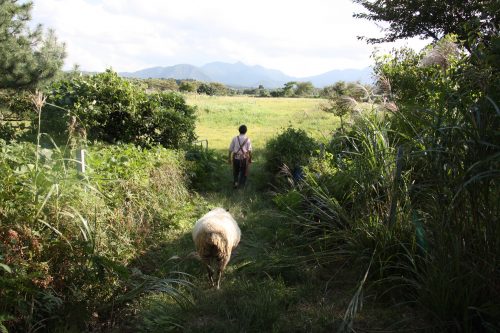 A wonderful setting, without artifice. All that could be seen as the light green of the fields contrasted against the bright blue skies and the darker mountainous relief in the distance.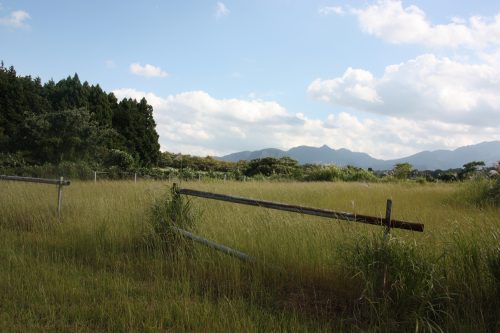 Facing the Sea of Japan
Within the last kilometers of our tour, we crossed a small forest of tall bamboos and a village with traditional-style Japanese houses.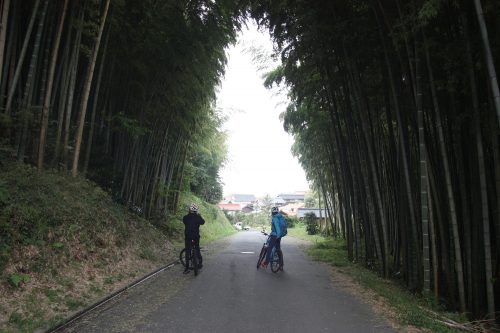 When suddenly, with our next turn, the sea was finally there!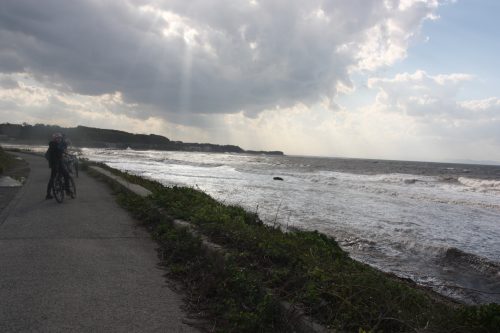 The last couple of meters were cycled with strong winds blowing and the sound of waves breaking on the sand, offering once again a beautiful sight.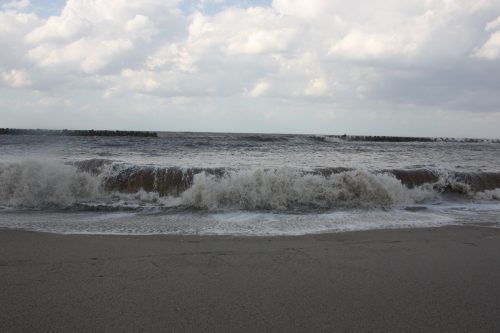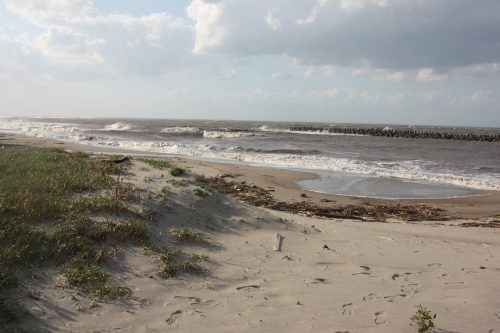 Someone from the tour company "Mori no Kuni" will meet you to pick up your gear and will drop you off at a station close by (Mikuriya Station in my case).
In a nutshell, cycling from Mt. Daisen to the beach is a chance to discover an incredible array of natural landscapes, from the ski slopes to the forest, and journey through fields and local houses. If, like me, you are not used to cycling on mountain roads that often, don't be scared by the distance of the tour. Because of the guides that will adapt to your own pace, the few breaks taken during the tour and primarily the stunning sights you will discover along the way, I swear the time will pass quickly. It is a great experience to recharge your batteries, surrounded by nature.
Practical information
Several options are available for those of you who want to cycle down Mt. Daisen. You can simply rent a bike and cycle on your own at your pace, or book a guide in advance, choosing from three different tours:
-A tour for beginners, for 3h and 15km, costing 5,900 yen.
-A tour that runs a little longer to reach the seaside, for 4h and 22km, costing 6,900 yen.
-A more adventurous tour, through mountain bike roads, for 3h and 15km, costing 7,900 yen.
Rates include the rental of bikes and helmets as well as accident insurance.
These cycling tours are offered on afternoons, from April to November, and require a reservation in advance. Make sure to wear comfortable and warm clothes depending on the season (especially gloves).
For more information and to book your downhill cycling experience at Mt. Daisen, visit the following website.