Sponsored by Keisei Railways
Tateishi: Artisan and Merchant Quarters During the Edo Period
There are quite a few notable areas in Tokyo for an evening out or a taste of some delicious street food, but most visitors and hardly any locals know of this tucked-away location only 15 minutes from Asakusa. Tateishi flys pretty low on the radar, and upon first glance, it might seem the lack of reputation is well deserved, but Tateishi has held on to some truly unique and tasty shops over the years.
Located in the Shitamachi area, Tateishi literally means "standing stone," a name derived from a stone that protrudes out from the ground at a nearby shrine. The stone has been worshipped for over 600 years and today only a small portion remains above the ground. The Shitamachi area was home to merchants and artisans during the Edo period, although after the economic boom, Shitamachi struggled to hang on to the traditions and culture of Japan. Because of this the area today feels a far cry away from that of the more popular areas of Tokyo, but the residents of Shitamachi like it that way, or so I have been told.
Tateishi Nakamise Shopping Street
Exiting the Keisei Tateishi train station it is quite easy to find the Tateishi Nakamise Shopping Street. A large sign hangs above the covered entrance, and shops line either side of the boulevard. This shopping street was originally opened as a black market in post-war Japan in 1954 and has remained a celebrated location for the local culture since then. The shopping area boasts five different shopping streets, each with its own unique vibe. The largest by far is also the most modern, but right next door you can find a smaller alleyway with standing room-only restaurants and deli-style buffets. Outside the station, a tiny window shop sells croquettes to waiting customers, and next door cuts of fresh meat are displayed in the small smudged windows of a butcher. A line of people waits outside a popular ramen restaurant, while three men sit on stools, the only thing visible through the half curtains are their backs poking out of the dimly lit restaurant while they enjoy their meal.
You can find places like this in central Tokyo, but rarely with so much gruff charm. It is easy to see that the people here have furiously held on to the Shitamachi culture that made this place what it was. Today it may seem somewhat sparse at first glance, but if you are interested in finding the truly hidden gems and forgotten places of Japan, look no further than Tateishi.
Nonbe-Yokocho:  Tateishi's Drinking Alley
Just across the train tracks from Tateishi's Nakamise Shopping area, and somewhat tucked away between the buildings you can find the popular drinking alleys in Tateishi. While they may look somewhat frightening and broken down in the daylight, I have heard that in the evening these tiny bars come alive. There are two main streets comprising Nonbe-Yokocho, each one just as narrow and fascinating as the other. I have heard that the interior of these small drinking holes outstrips the exterior appearance. If you happen to be in the area, or if you decide to make a trip to Shitamachi to see the sights, make sure to stop by Tateishi in the evening for a quick meal and a drink.
Keisei Train Pass
Tateishi Station is only served by the Keisei train lines. While getting there is quite easy, it is worth taking a look at some of the train passes the company offers.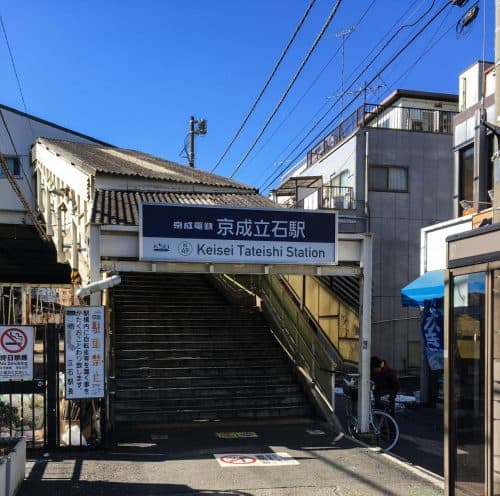 Shitamachi Biyori Pass
The Shitamachi Biyori Pass is a one-day train pass that allows guests to ride on any Keisei train line in Tokyo unlimitedly, including Tateishi Station as well as Oshiage Station where the Tokyo Skytree stands. The pass also offers discounts and benefits along the way at specific retail locations. You can visit their website here for more information.
Keisei Train Passes
Keisei Railways also offers you various kinds of useful trains passes. If you are interested in other options through Keisei, check out their website here.
Getting to Tateishi
From Oshiage Station SKYTREE, get on the Keisei – Oshiage Line. Take the train to Keisei Tateishi Station. 16 minutes. 160 yen.
| | |
| --- | --- |
| Name | Tateishi Nakamise Shopping Arcade |
| Category | Chopping Arcade |
| Address | 1-20-4 Tateishi | Nakamise Shotengaidori, Katsushika 124-0012, Tokyo |
| Access | [map]1-20-4 Tateishi | Nakamise Shotengaidori, Katsushika 124-0012, Tokyo[/map] |
| Opening Hours | - |
| Price Range | - |
| Payment options | |