Visiting Shikoku, specifically Tokushima Prefecture's remote Iya Valley, is a commitment. Hundreds of miles from the big metropolises of Japan, you came to Eastern Shikoku to be immersed in its untamed natural beauty and experience a side of Japan that ultra-modern Tokyo and Osaka cannot match. It makes perfect sense then that you would want to spend a night or two here, giving yourself extra time to absorb the beauty of the valley and sleep under the twinkling lights of innumerable stars. We invite you to discover three different types of accommodations available in the Iya Valley area, each offering a completely different experience from the next. Try one or try them all, the choice is yours.
Iya Onsen, a hotel nestled in the heart of the Iya Valley
If your priority is staying right in the heart of the Iya Valley, then your choice should be the Iya Onsen Hotel. Perched right on the steep slopes above the valley, it is hard to find a better location than this one! There is no other building in sight, only the vast, endless forest and the Iya River, running peacefully below. From the inside, this beautiful scenery is visible in nearly every room, creating a feeling that there is no separation between you and rugged nature.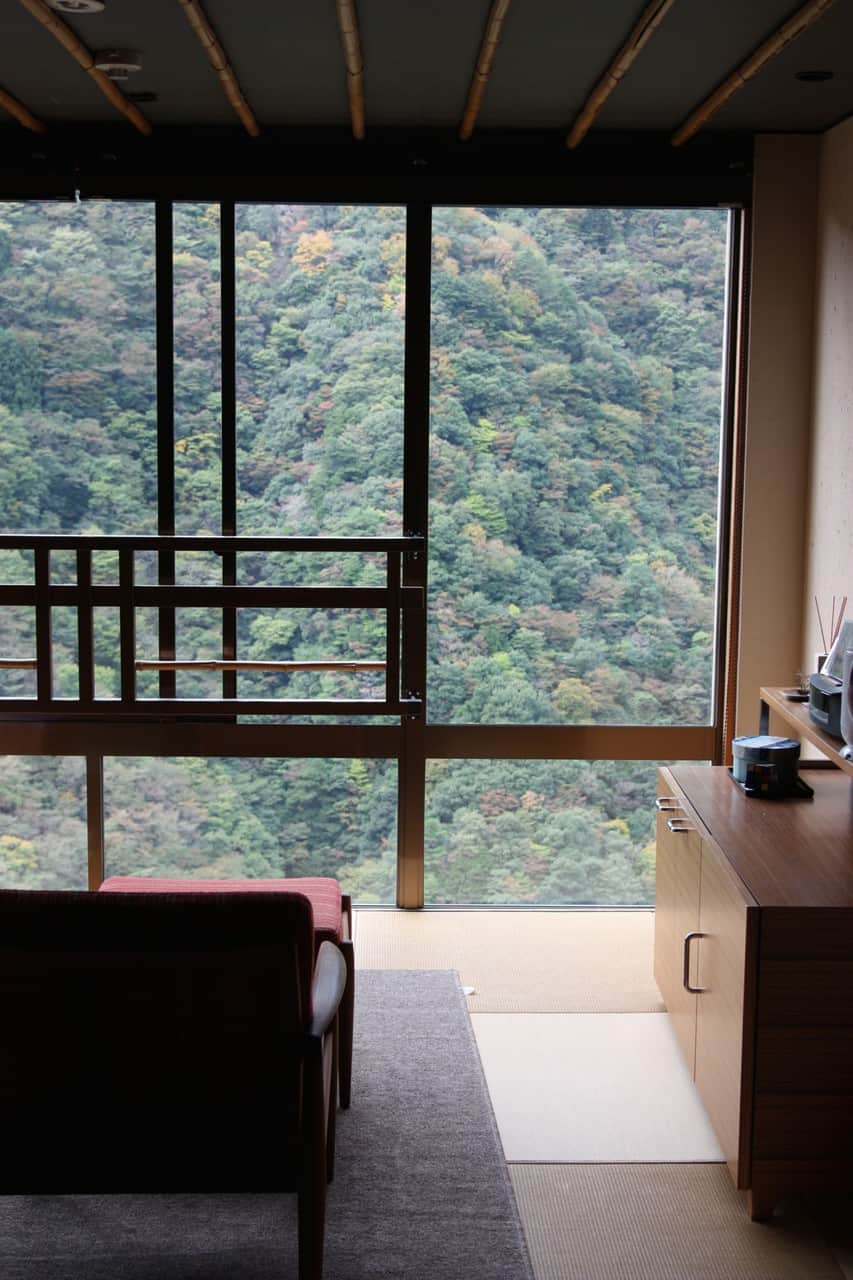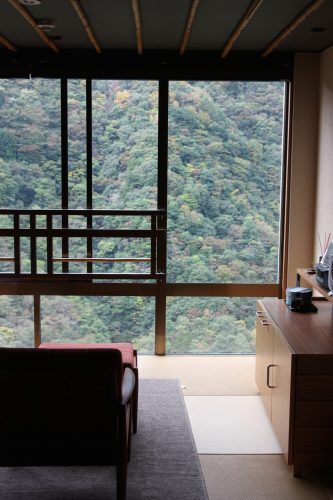 Depending on your budget, you can choose to book a standard room (note that some of them do not offer a view of the valley), all the way up to a suite with its own terrace and an outdoor bath.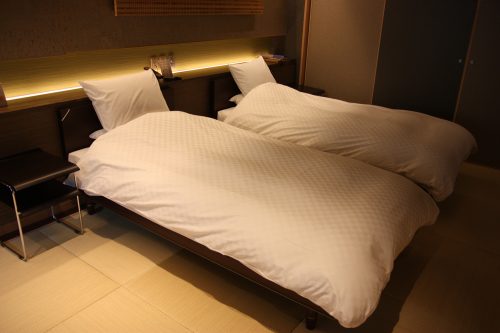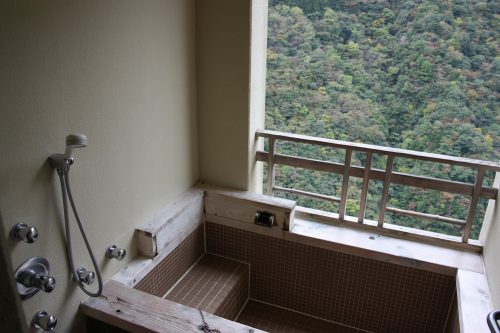 With a Japanese inspired decor, the rooms all come with modern amenities: WiFi, sound system, and massage chairs. An experience here can be like retreating into a little cocoon where you truly feel like you are the only one in the world.
But the relaxation of Iya Onsen Hotel doesn't end when you leave your room. As its name suggests, the hotel also includes several hot spring baths or onsen. And visiting the onsen is an adventure in itself; to get there, you will need to ride a cable car 170 meters down the steep slopes of the valley to the banks of the Iya River.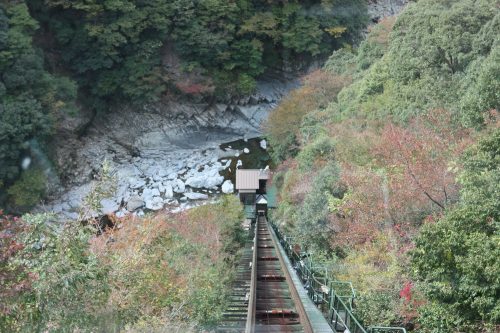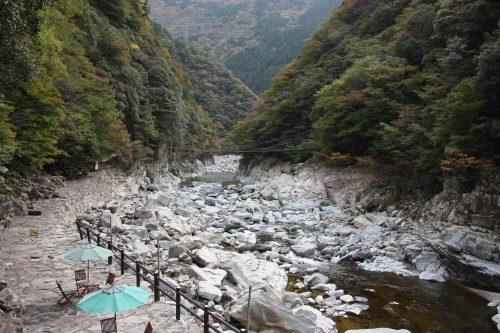 Right here, nestled in the valley, are three open air hot spring baths awaiting you (one for men, one for women and a private one which can be booked for up to an hour). Soaking your cares away in a hot springs bath separated by only a low stone wall from the river is a unique way to enjoy the Iya Valley.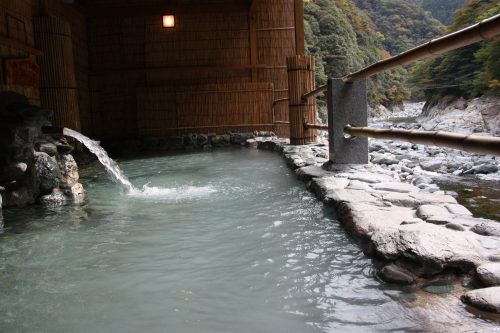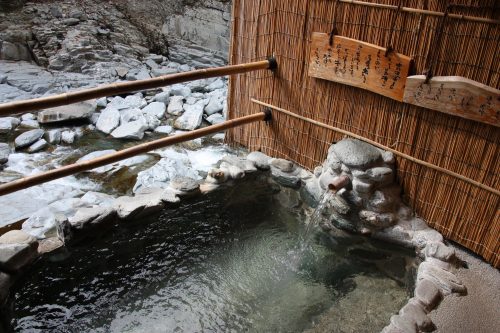 Though I personally did not try it myself, you can enjoy a multi-course kaiseki menu or order an Omiki-nabe, a local hot pot with a sake and soy miso broth at the hotel's outstanding restaurant. For breakfast, you will have a choice between Japanese or Western style, all the while savoring the breathtaking view through floor-to-ceiling windows.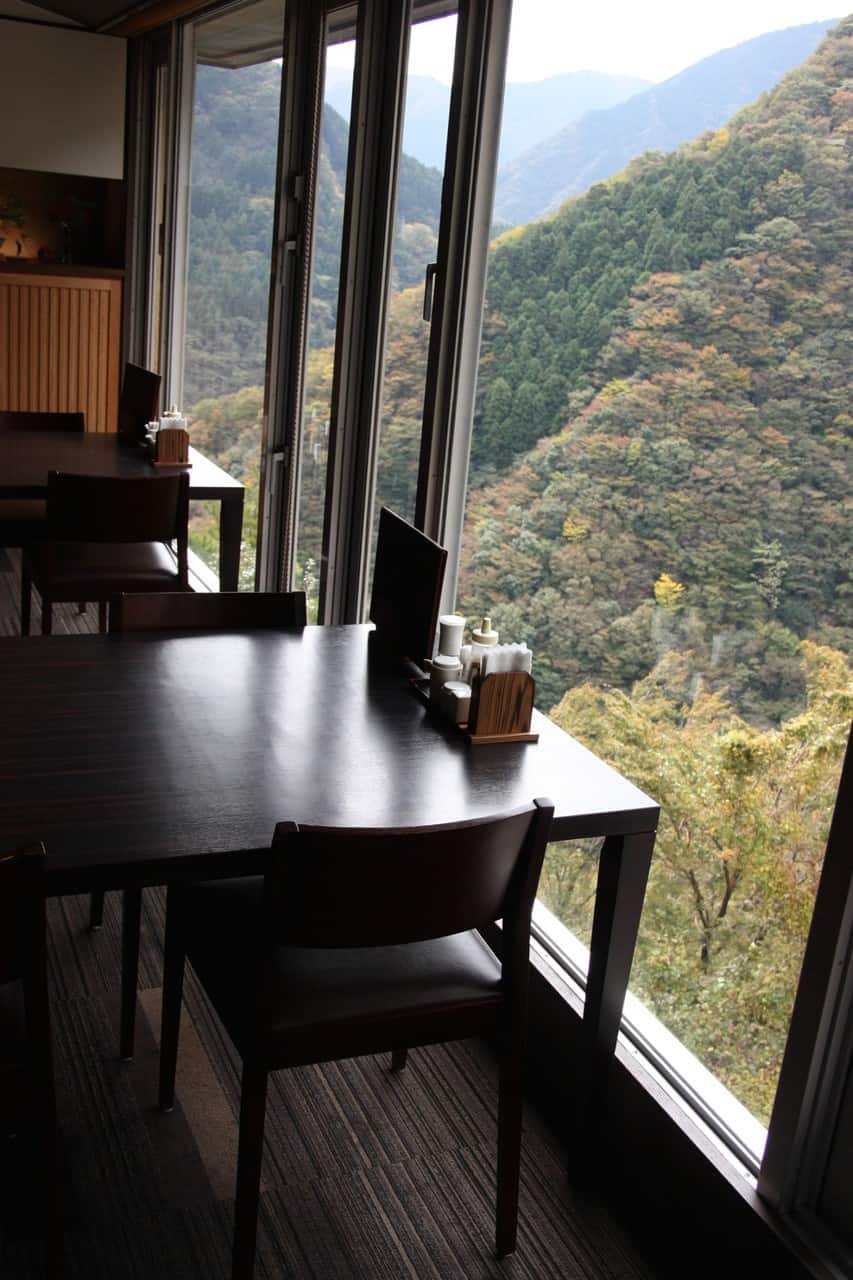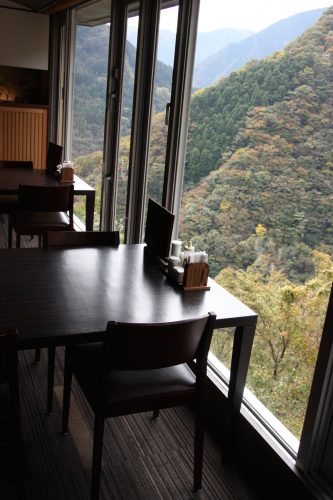 Spending the night in a traditional house in a mountain hamlet
Your second accommodation option lies at the end of a drive up into the heights of Iya Valley, along winding mountain roads in the hamlet of Ochiai. This rural community has been here for centuries and the passage of time doesn't seem to have had much of an effect here. The people of Ochiai are hearty farmers, using techniques developed for the harsh environment of steep mountainous terrain.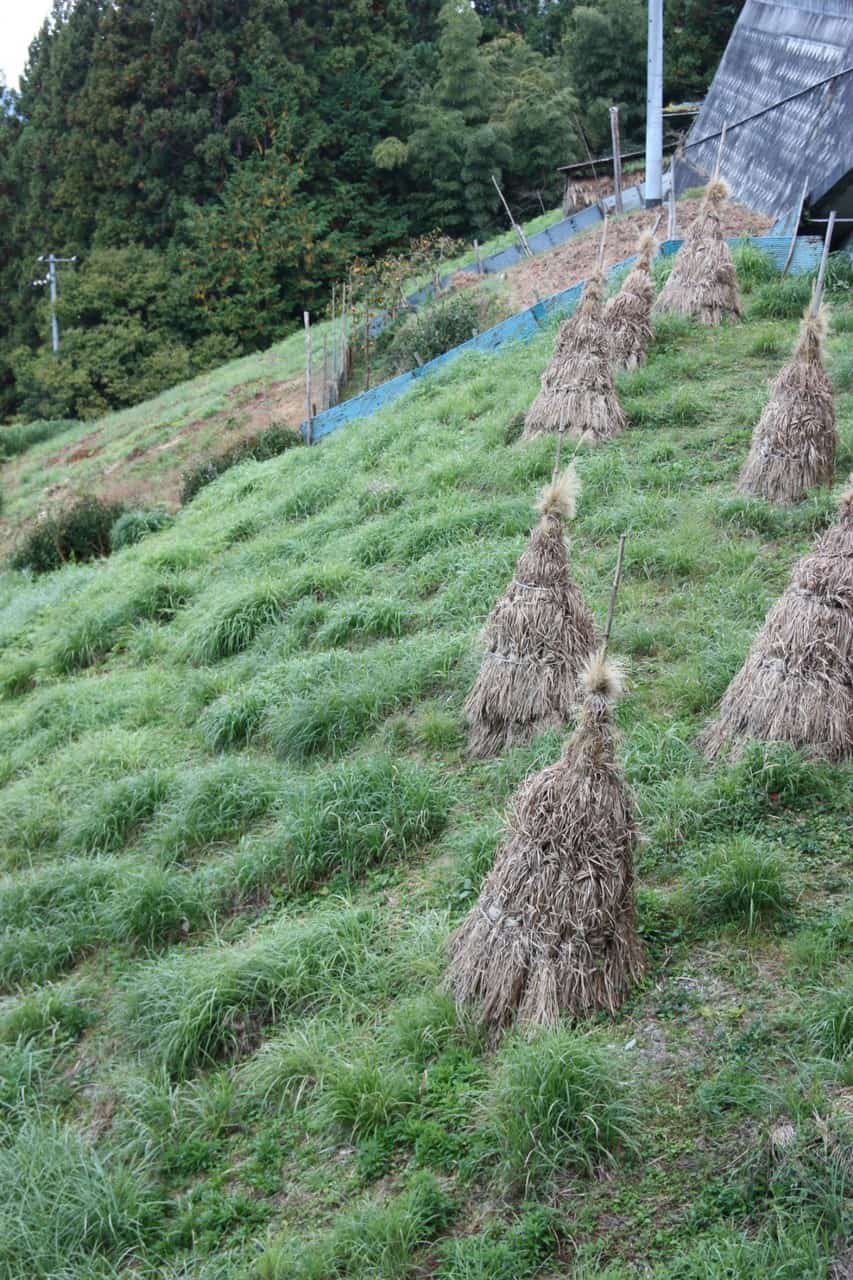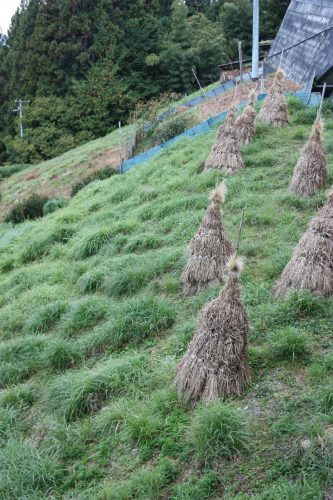 One of the most remote villages in Japan, Ochiai  was registered in 2005 as an Important Preservation District for Groups of Traditional Buildings. And in one of these traditional style homes, recently renovated for modern comfort, is where you can spend one of the most peaceful nights of your life.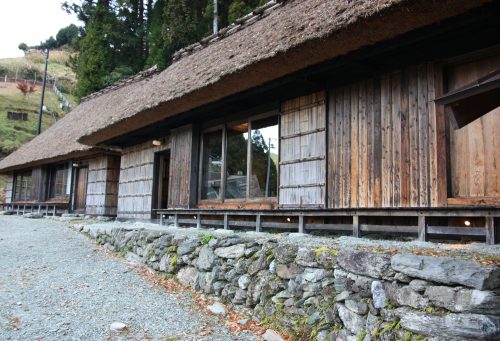 In order for you to best immerse yourself in this unusual community for a night, you can rent an entire house for yourself and your family.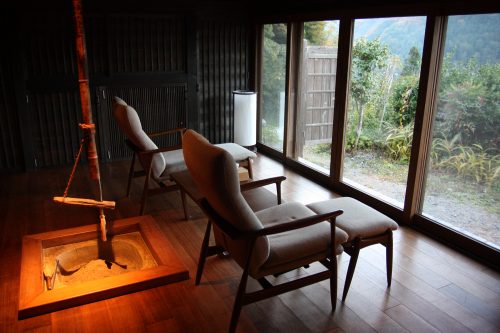 Although the houses maintain a traditional look, they come with all the modern comforts and conveniences you might need: an fully equipped kitchen, a floor heating system, and Internet connectivity.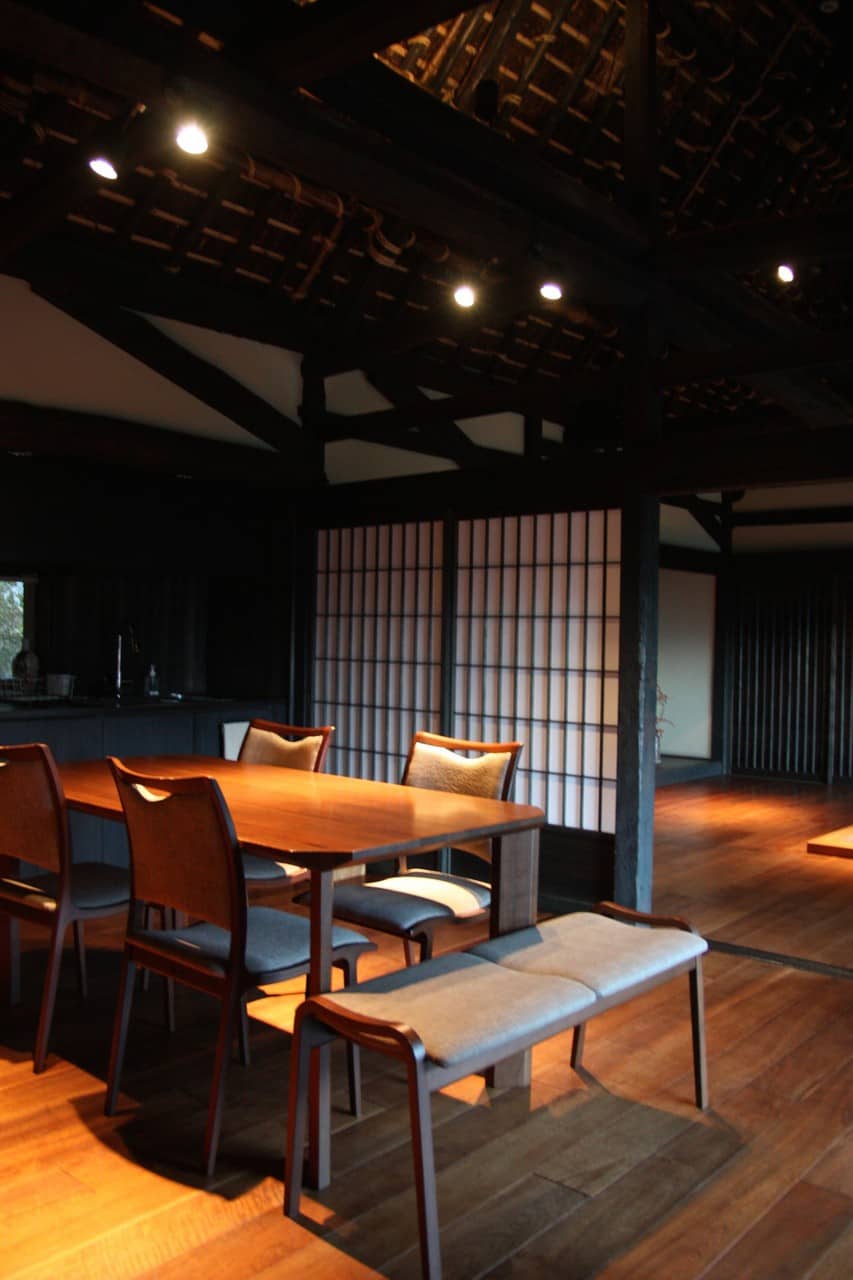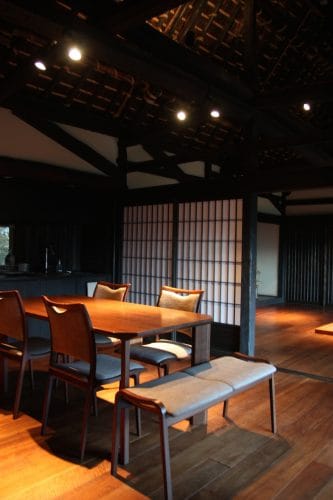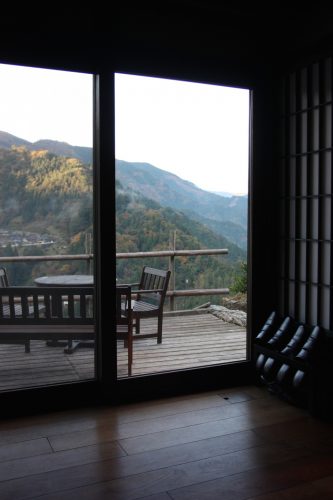 These homes are impressively modern yet faithful to their historic roots. You can imagine the walls could tell the stories of generations of families who lived here before, filled with memories and moments of their lives.
You will have the option to cook for yourself (just be sure to shop for groceries before reaching the hamlet because there are no supermarkets there) or to have a dinner prepared by a local cook delivered to your house. You can also have a local cook come over to prepare dinner at your house, with loads of local delicacies: tempura with seasonal vegetables, potatoes from  local crops, oden (a sort of hot pot) with a local firm tofu.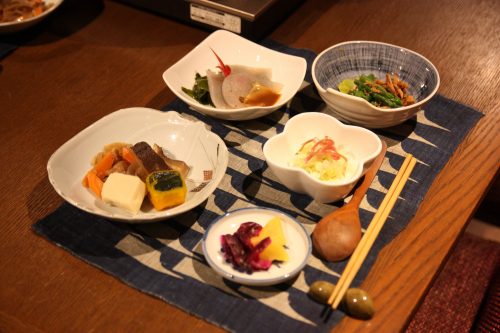 After a wonderful night's sleep on a comfortable futon, you will be able to enjoy the view of the surrounding mountains as first rays of the rising sun illuminates them. A truly magical way to wake up…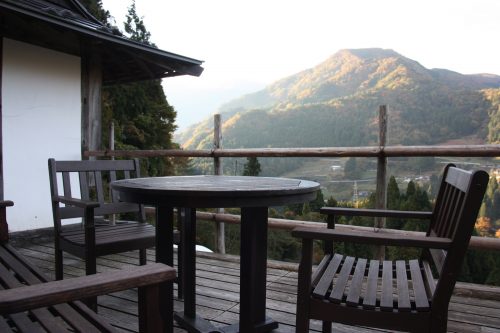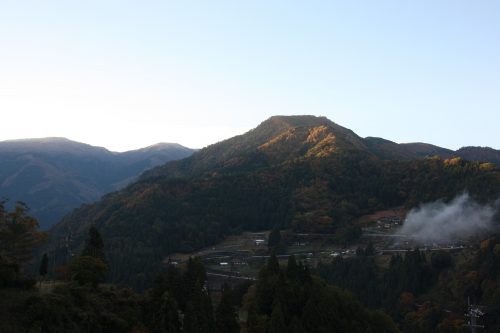 Staying at a minshuku on the heights of Mima
Our last suggestion, and probably our favorite, is a home-stay accommodation with a wonderful host! It is a little further north of the Iya Valley in Mima, where you can spend the night at Shizuko-San's guest house – or minshuku – called Yuzu no Sato.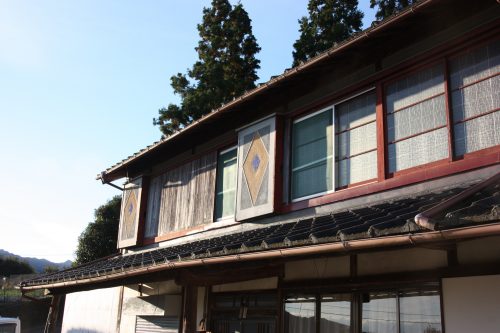 While most guest houses give you access to a bedroom, bathroom and living room, Shizuko-san opens the doors of her entire house to you (note that you will get your own bedroom here but will have to share the bathroom)!
You will immediately feel at home here and invited to take part in a few interesting activities. Starting with yuzu harvesting (depending on the season), head behind the house to the orchard, with pruning shears in one hand, and a bag ready to be filled in the other.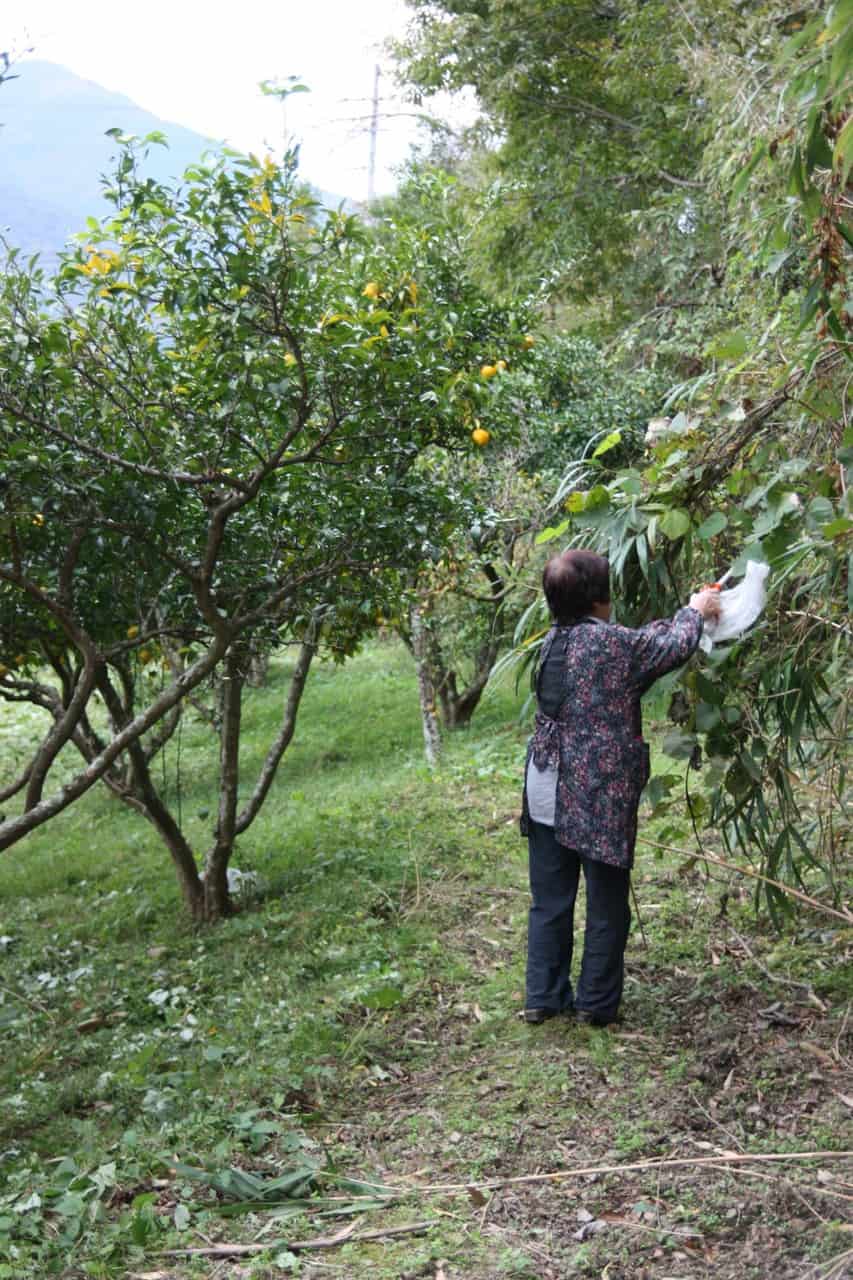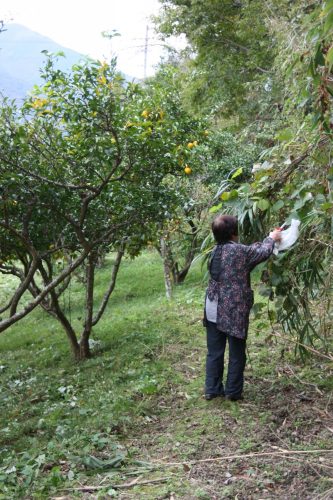 As I visited the minshuku late in October, I was just in time for yuzu harvesting season and found dozens of trees with their branches heavy with the big, yellow citrus fruit.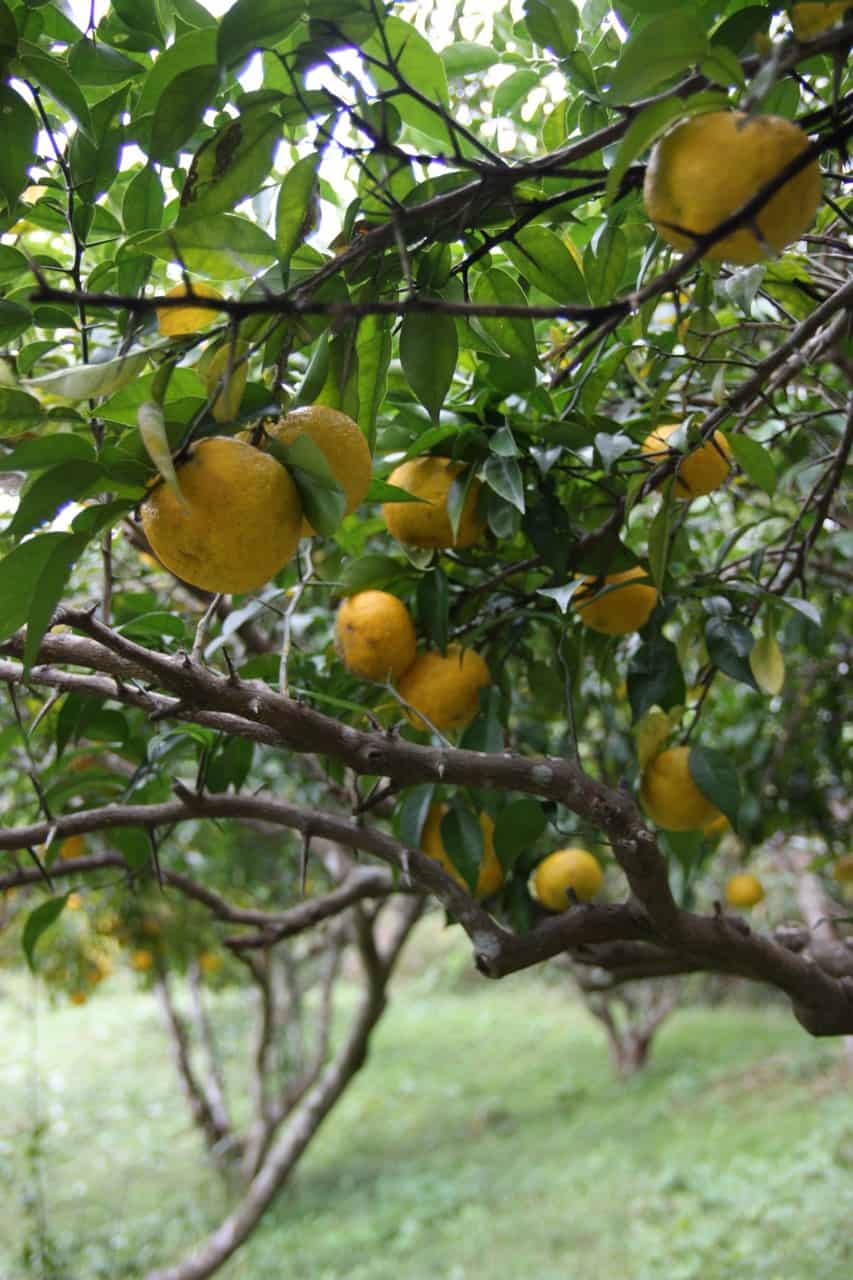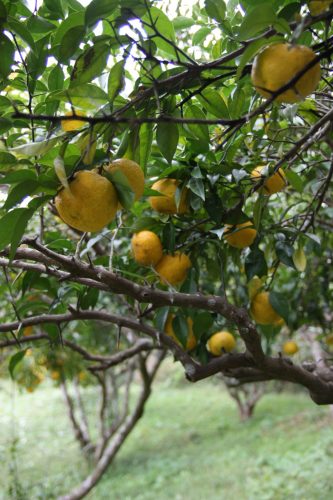 Shizuko-San might also guide you to her vegetable garden, where daikon radish and edamame grow in abundance.
Even though there is a language barrier, you will feel just like at home here. Whether it is in the kitchen, cooking with your host, sitting down at the table around the hearth or enjoying a steaming bath (with yuzu here too!).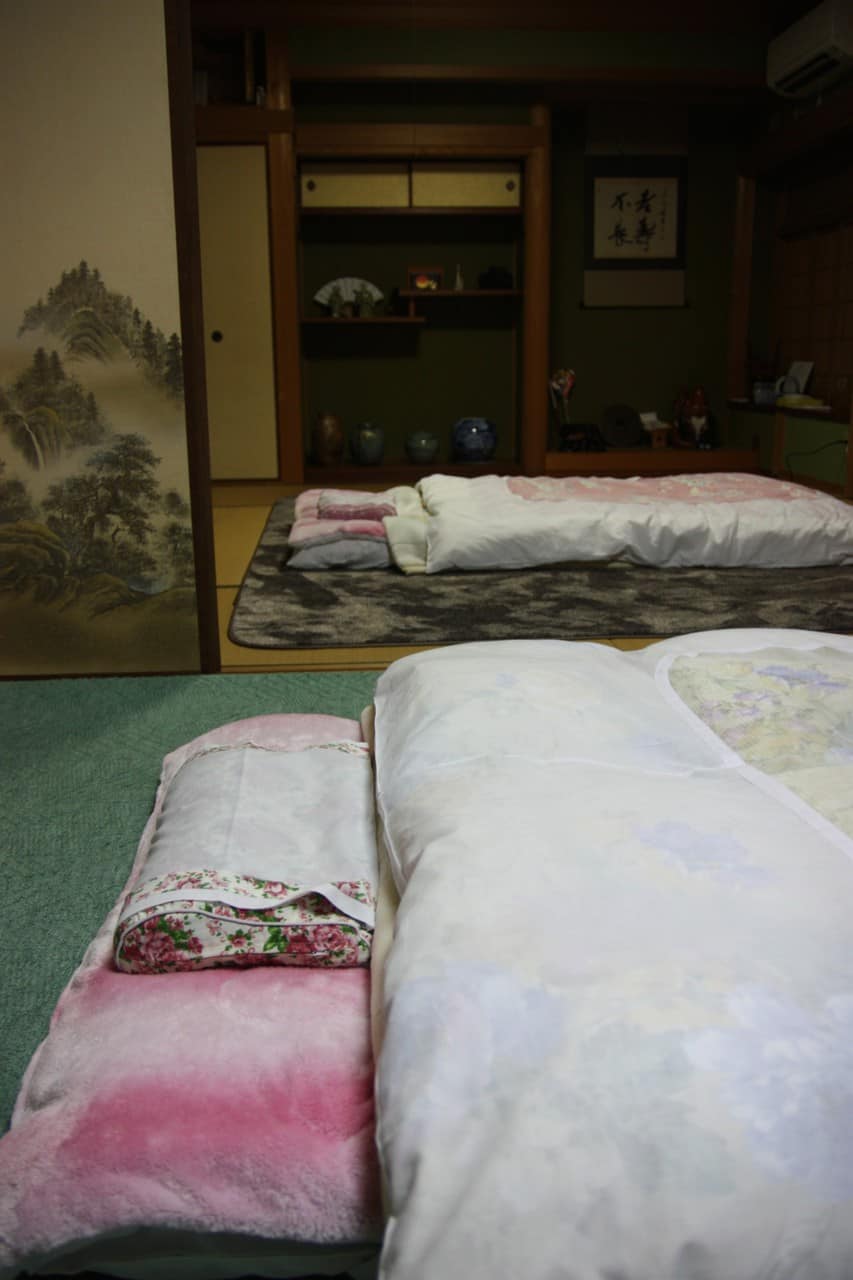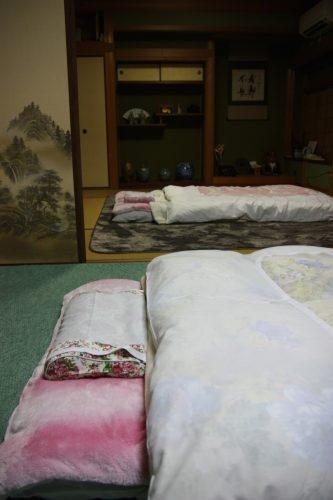 Come dinner time, you will be able to enjoy a small feast of homemade dishes prepared with vegetables from the garden shared with the other guests of the minshuku: a pork and vegetable nabe, some potatoes, konyaku and tofu skewers that were cooked in the hearth fire, and some edamame.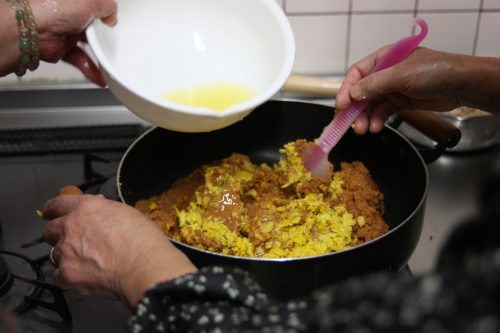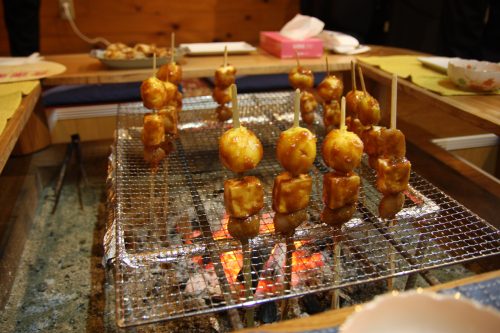 The following day, make sure to wake up at dawn to watch the sun rise over the mountains of Mima before filling the entire house and garden with warm light.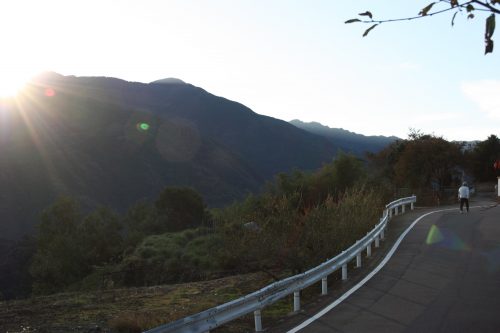 As you take a moment to soak in the scenery, the mouth-watering smell coming from the kitchen will invite you to the dining room for a hearty and delicious Japanese style breakfast.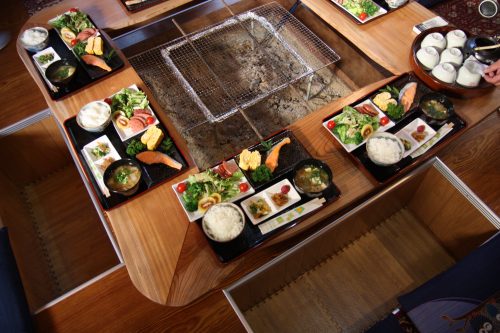 Yuzu no Sato is the sort of place where you wouldn't mind losing yourself for quite a while.
Reaching the Iya Valley and the Surrounding Area
Here are estimates of the travel times needed to reach the Iya Valley and the nearby town of Mima from a few of Japan's main cities:
From Tokyo: About 5 hours by train to Awa-Ikeda station or 1 hour 20 minutes by plane from Haneda to Takamatsu airport, plus a 1 hour 15 minuts drive to Awa-Ikeda station or 40 minutes to Wakimachi station (Mima)
From Osaka: 2.5 hours by train from de Shin-Osaka station to Awa-Ikeda station or 3.5 hours by bus, 3 hour 50 minutes by train to Anabuki station (Mima)
From Kobe: 2.5 hours by car, 3 hours by bus to Awa-Ikeda station, 4 hours by train to to Anabuki station (Mima)
Please note that if the most convenient way to get around the region is by car (especially to reach the remote Ochiai hamlet or the heights of Mima), you will mainly need to drive on small mountain roads that require a bit of experience.