"Itadakimasu!" With my stomach already dangerously at capacity, I dove into my last order of soba (buckwheat) noodles in the Japanese castle town of Izushi (出石). As my favourite go-to cold noodle dish during the summer months in Japan, I'm normally a bottomless pit when it comes to eating those noodles. I can't seem to get enough of its chewy texture, the taste of the cold dipping broth, and the intensity of wasabi as it hits my nasal cavity.
In the coastal city of Toyooka (豊岡) in Hyogo prefecture (兵庫県), I arrived in Izushi as the rain showers took a break, revealing warm puddles of light that reflected on the wet cement. As if striking a pose, the Izushi Castle Ruins on the mountain face is as generously photogenic as I find the rest of the old town to be.
Traditional Japanese Architecture of Izushi Castle Town
As a castle town that flourished during the Edo era 400 years ago, Izushi's main draws include Izushi Castle Ruins, a wooden Shinkoro Clock Tower (辰鼓櫓) and Eirakukan, the oldest Kabuki theatre playhouse in Kansai. Dubbed the "Little Kyoto of Tajima", Izushi's fine collection of wooden structures and buildings gave it its honored distinction of being a National Preservation District of Important Buildings. Many of these buildings serve the soba buckwheat noodles the town is so famous for.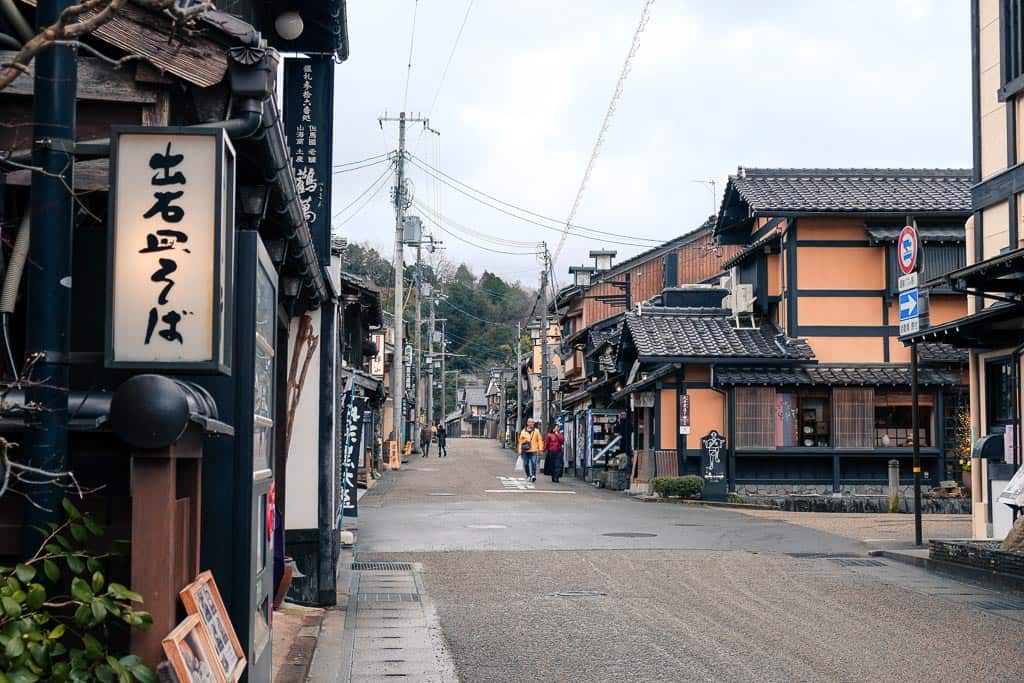 Considering Izushi's small size, its robust resume of activities and tourist draws is a welcome surprise. Visitors can try painting on Izushi ware porcelain, maintain zen composure at Sukyoji temple, and even hire a photographer for their very own kimono photoshoot.
But on this day, I was here for the soba.
With that, I headed to the Izushi Travel Service office located next to the Izushi gift shop to buy my set of tokens for the Izushi Soba Eating Tour. For 1,800 yen, I got three Eiraku-tsuho (old coins) in a pouch. Each coin entitled me to one portion of soba noodles at any participating restaurant. With a map featuring a full list of soba restaurants, I set off. Not all restaurants are open during the week, though it's easy enough to wander and pop into the first soba shop that you come across, which is exactly what I did.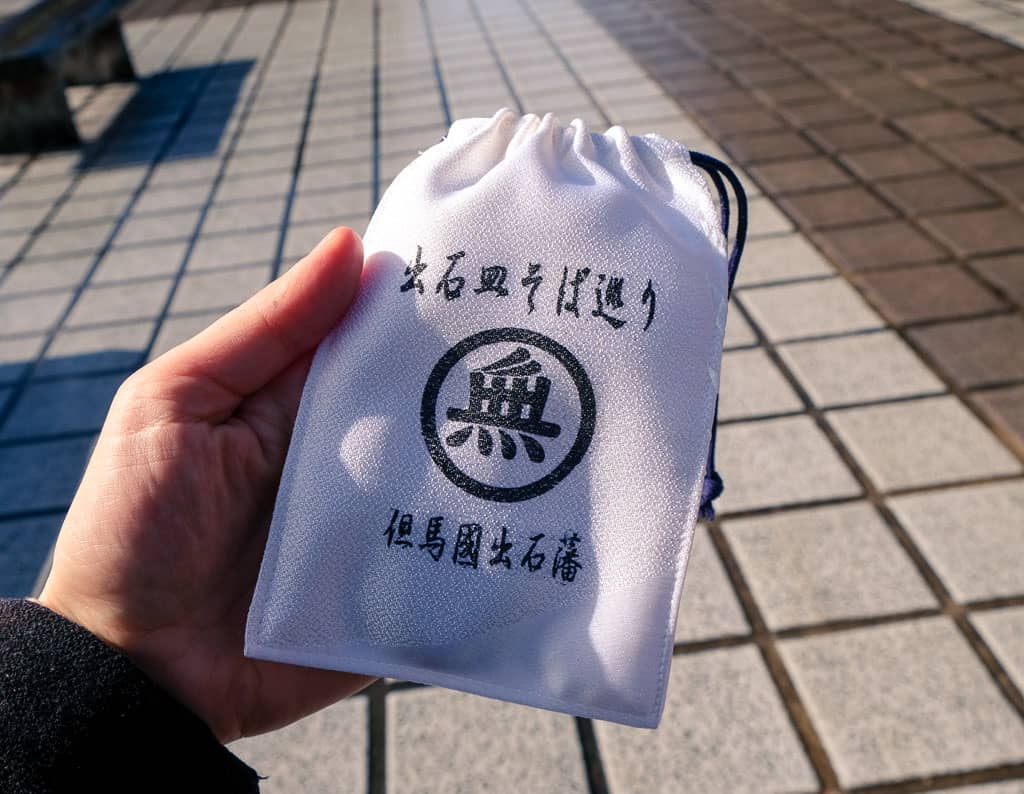 Soba Noodle Eating Tour at Izushi Castle Town
My first soba stop was at Kizan (輝山) just off the main road. I traded one of my tokens for my first order of their darker buckwheat noodles served in small dishes. Each order comes with dashi dipping sauce, tororo imo grated yam, wasabi, green onion and raw egg. After ordering, I got a stamp on the back of my cloth bag displaying the restaurant's name. Every restaurant has its own unique recipe for its soba noodles and dipping sauces, which makes the tour so much fun to try!
I followed the recommended order of eating, starting with soba dipped in plain soup broth, before adding my wasabi and green onion. Then, I added grated yam and egg at the end. I'm not the biggest fan of raw egg but gave it a go on my last mouthful. If you're not keen, don't worry. Just leave the egg to the side. Try the soba yu (hot water used to boil the soba) that's brought out at the end of the meal.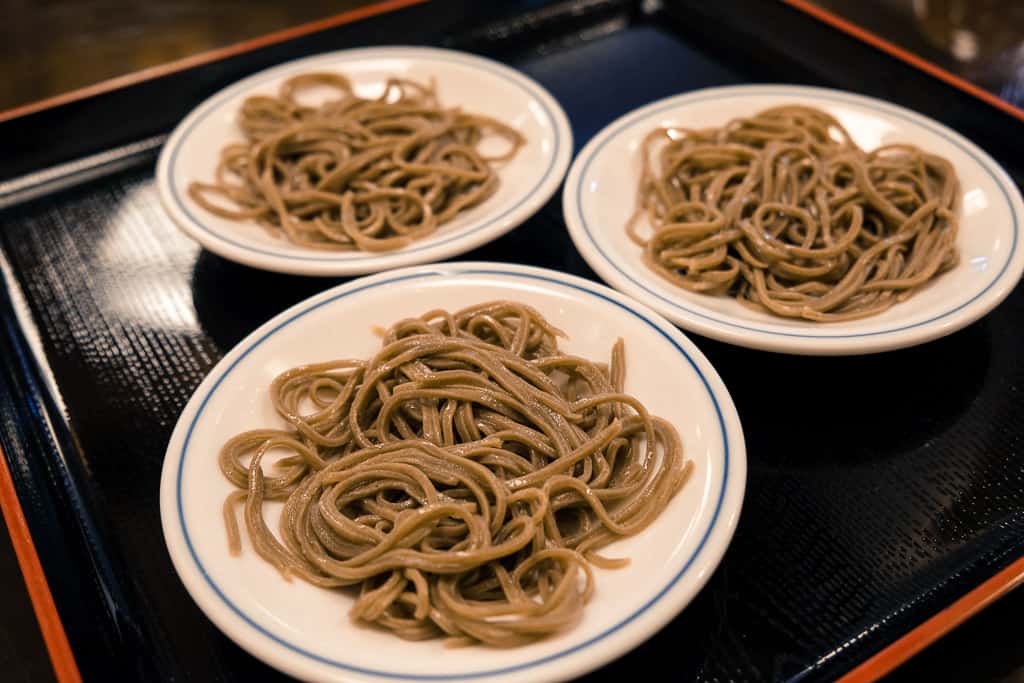 After my first meal, I moved onto the next restaurant. My second token went to Kanbe Soba (官兵衛), and their lighter variety of soba noodles and the standard set of veggie fixings on the side.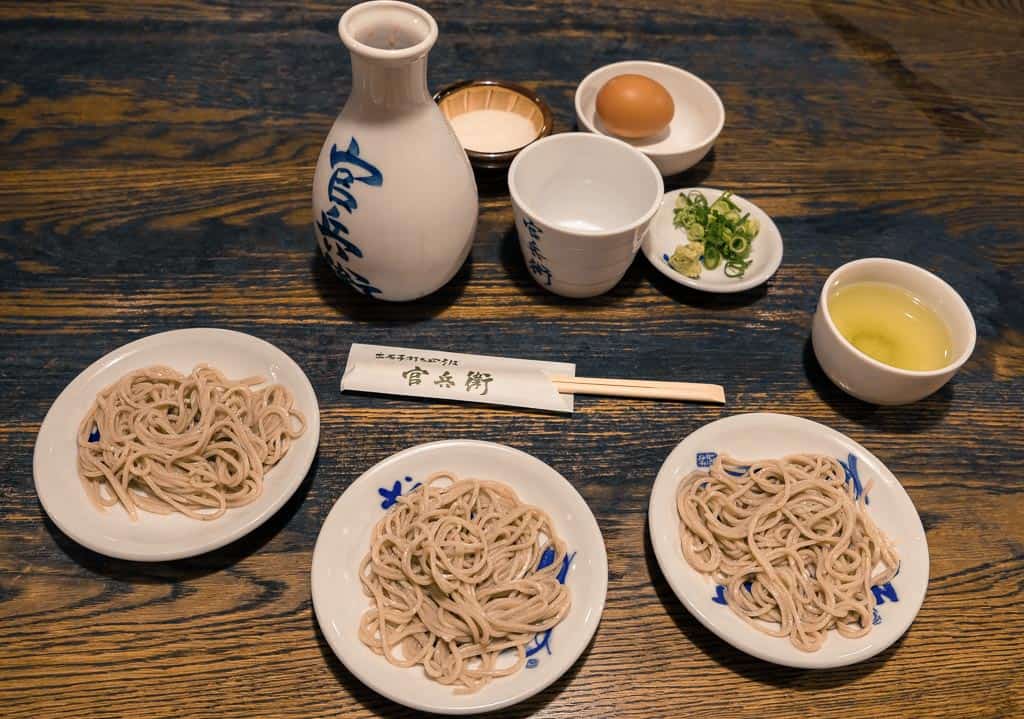 Finally, Sakyo (左京) claimed my final token. At Sakyo, people who have eaten a large number of soba plates get their names proudly displayed on a wooden plaque. At this point, I'm far from breaking any records and just managed to gulp down the last few bites of my meal.
Perhaps it's the combination of the noodles, egg and yam, but three tokens filled me up just perfectly. If you're still hungry, you can order additional plates of soba. With a full stomach, I move onto my next destination — the Izushi Castle Ruins.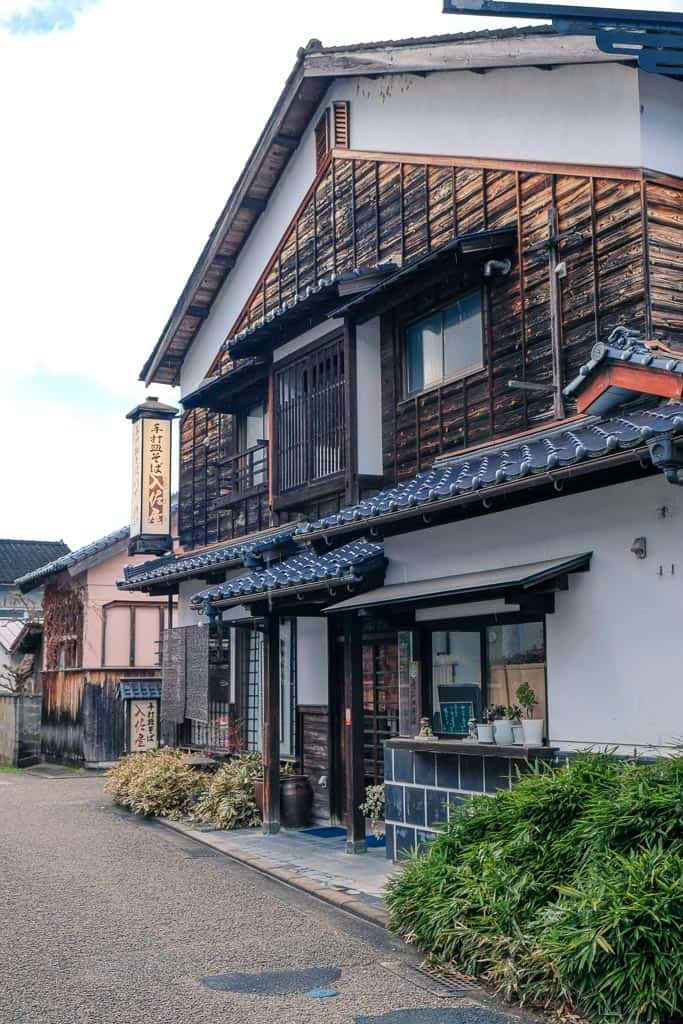 Izushi Castle Ruins
Originally built in 1604, the Izushi Castle Ruins provides a refreshing view of the city and is a relatively easy walk up for even the most unmotivated walker. Though the original castle is no longer there, you can still visit the white Nishisumi yagura (outer tower) rebuilt in 1979. Thirty-seven vermillion torii gates run along the side of the ruins up to the Arikoyama-inari shrine. With cherry trees surrounding the area, it's sure to be extra lovely during their spring bloom.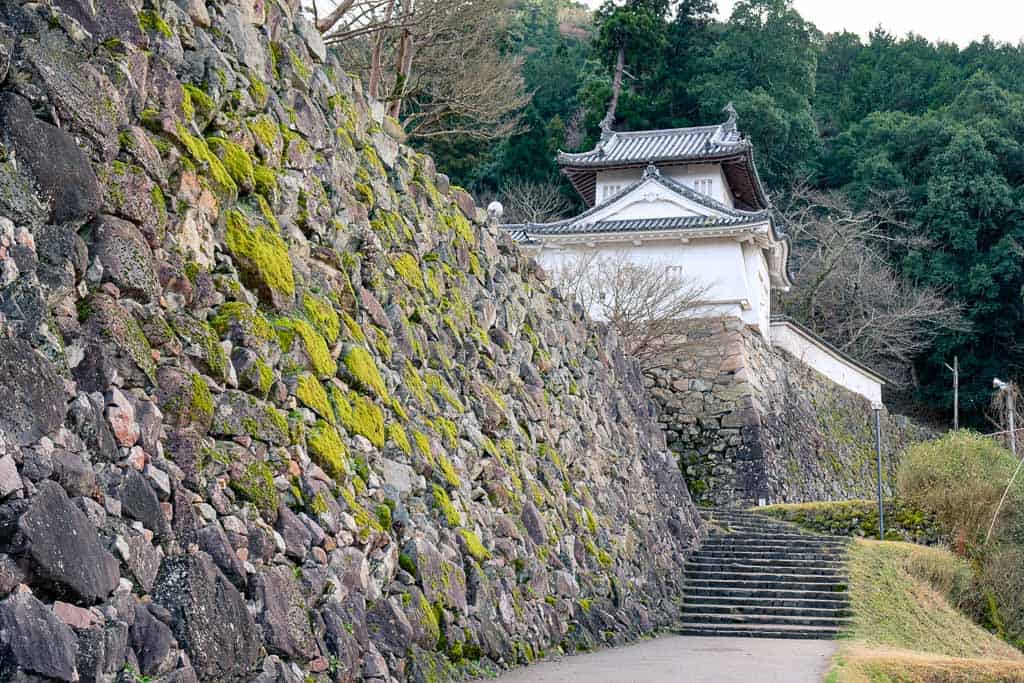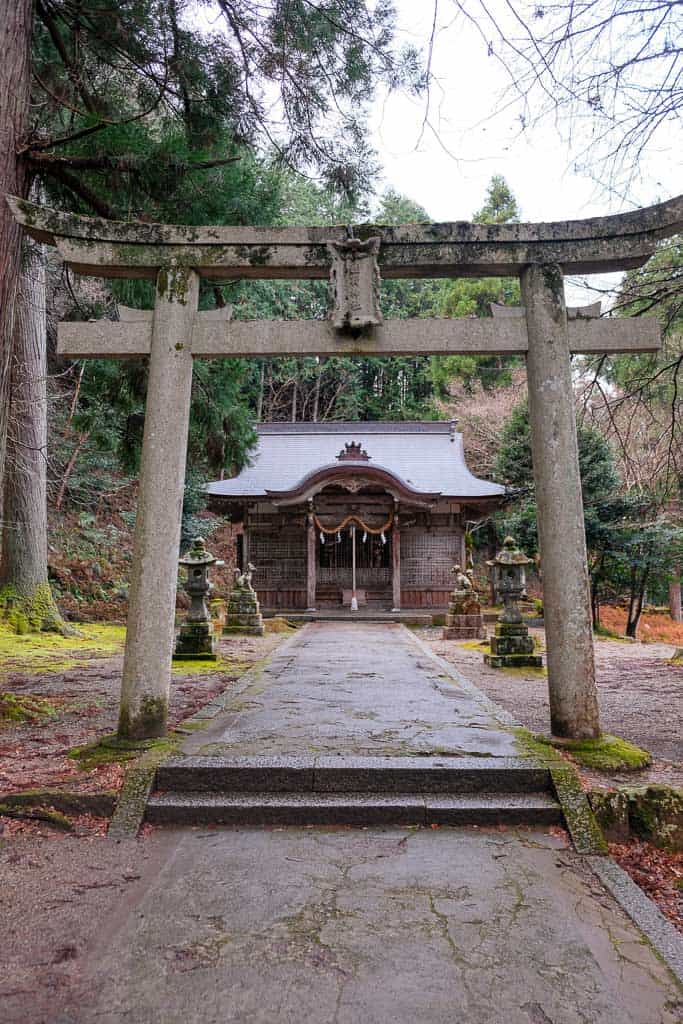 Most of the major attractions in Izushi are within walking distance of each other, making it a manageable day trip if you're coming from elsewhere. Electric cars are available for rent if you want to dig deeper into exploring the area. For a list of things to see and do in Izushi, visit the Izushi website.
As for myself, I'll be heading to the famous onsen town of Kinosaki Onsen (城崎温泉) for the night, for a luxurious stay at one of their finest hotels!
Getting to Izushi Castle Town
From Kyoto to Toyooka: It takes approximately 2 hours 15 minutes by limited express Kinosaki. Get off at Toyooka station. Then take a Zentan Bus bound for Izushi. It takes approximately 30 minutes. There are approximately 20 buses per day.
From Osaka to Toyooka: It takes approximately 2 hours 30 minutes by limited express Konotori or Hamakaze. Get off at Toyooka station. Then take a Zentan Bus bound for Izushi. It takes approximately 30 minutes.
| | |
| --- | --- |
| Address: | Izushi Tourist Association 104-7 Uchimachi Izushi-cho, Toyooka-shi, Hyogo, 668-0214 |
| Phone: | +81-796-52-4806 (Japanese Only) |
---
Exploring the Tajima Province of Hyogo
If you're in the area, a 45-minute drive will get you to Ritsuun-kyo, where you can hike up to catch sight of Takeda Castle Ruins, also popularly known as the "Castle in the Sky". An hour away is the Ikuno Silver Mine, where you can get a glimpse into the fascinating history of mining in Japan while walking through its underground tunnels. The nearby mining town of Kuchiganaya is known for its unique red roof tiles and preserved inns. For a dip into a hot spring, the nearby Kinosaki Onsen with its several ryokan (traditional-style inn) is well worth the stopover.
Article sponsored by North Kansai Tourism Association.