Train travel is one of the most scenic ways to experience Japan's varied, mountainous terrain, and Fukushima Prefecture's landscape is no slouch in its endlessly stunning natural sceneries. The Tadami Line (只見線), often referred to as the "most romantic countryside train ride in Japan," is a beautiful way to navigate Fukushima's Oku Aizu (奥会津) region, where you'll have front-row views of its picturesque rural landscapes, elegant bridges across sparkling green valleys, and spectacular four seasons in Tohoku.
The Tadami Line is also operated by JR East, meaning you can use the Japan Rail Pass to hop on and off along Fukushima's Oku Aizu destinations, including a temple perched on a cliff, a serene mountain retreat, and its elegant bridge spanning the Tadami River. So, take the laid-back mode of travel and follow the Tadami Line through some of Fukushima's most breathtaking sights.
Tadami Line: One of the Most Romantic Countryside Train Rides in Japan
The Tadami Line is a 135-kilometre-long train line from Fukushima's Aizuwakamatsu Station to Niigata Prefecture's Koide Station. The train crosses through the region's spectacular sceneries, attracting a legion of photographers and nature-lovers who want to capture its photogenic seasonal transformations throughout the year. 
In July 2011, torrential rain and flooding in Niigata and Fukushima caused portions of the Tadami Line to close after sections of the railway were destroyed or washed away in landslides. Finally, after 11 years of restoration work and much local community support, the Tadami Line was fully restored, resuming operation of all sections on October 1, 2022.
Photogenic Bridges, a Cliffside Temple, and Other Famous Stops along the Tadami Line
The Tadami River Bridge is one of the most photogenic spots along the Tadami Line, where you'll regularly see photographers at the Tadami River Bridge viewpoint waiting to catch the train as it crosses the arched iron bridge. While it's ranked within the "Best Ten Railway Lines with Beautiful Autumn Leaves," the views are equally beautiful all year round: winter's snow-capped mountains, summer's lush riverside greenery, spring's wild cherry blossoms.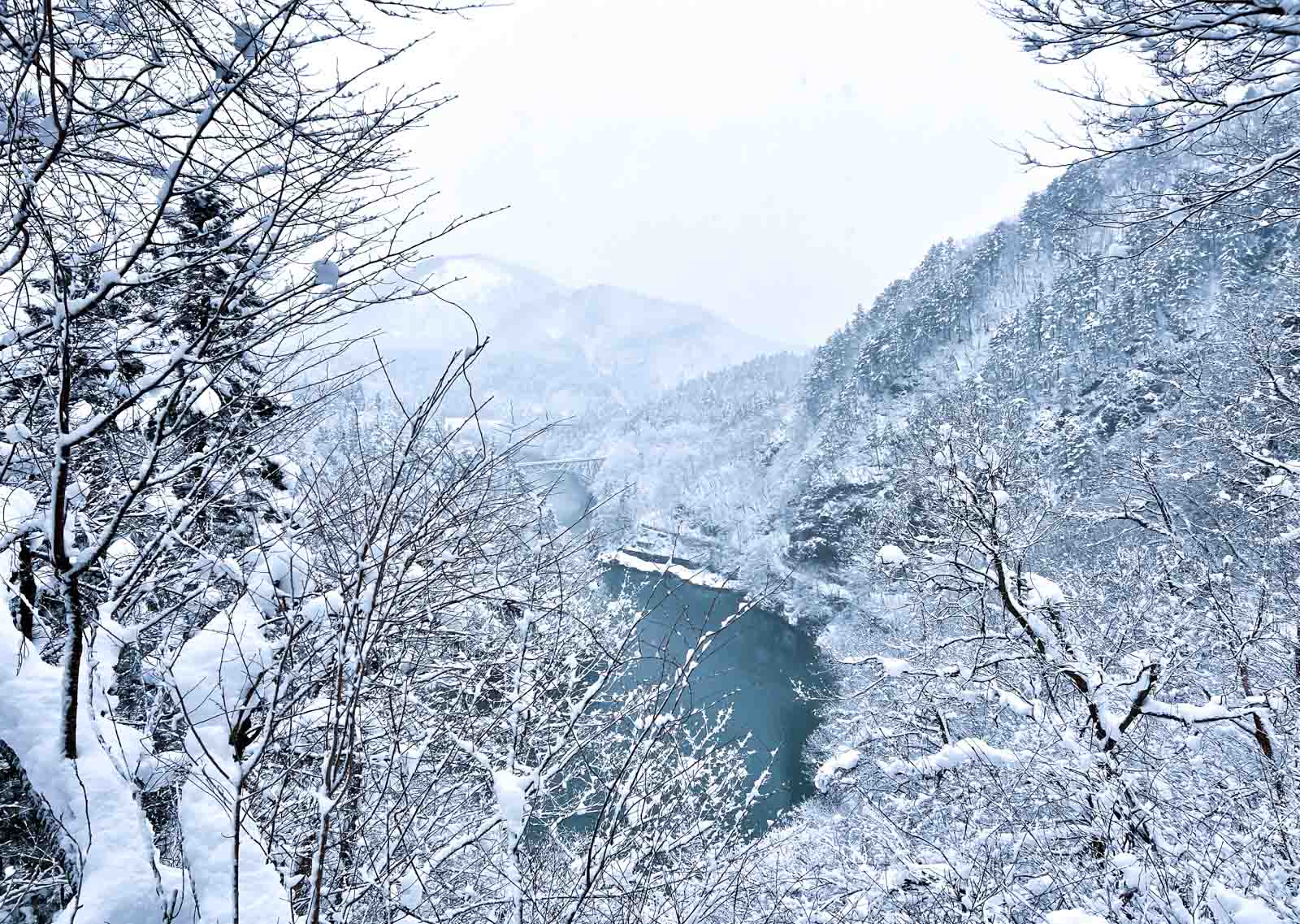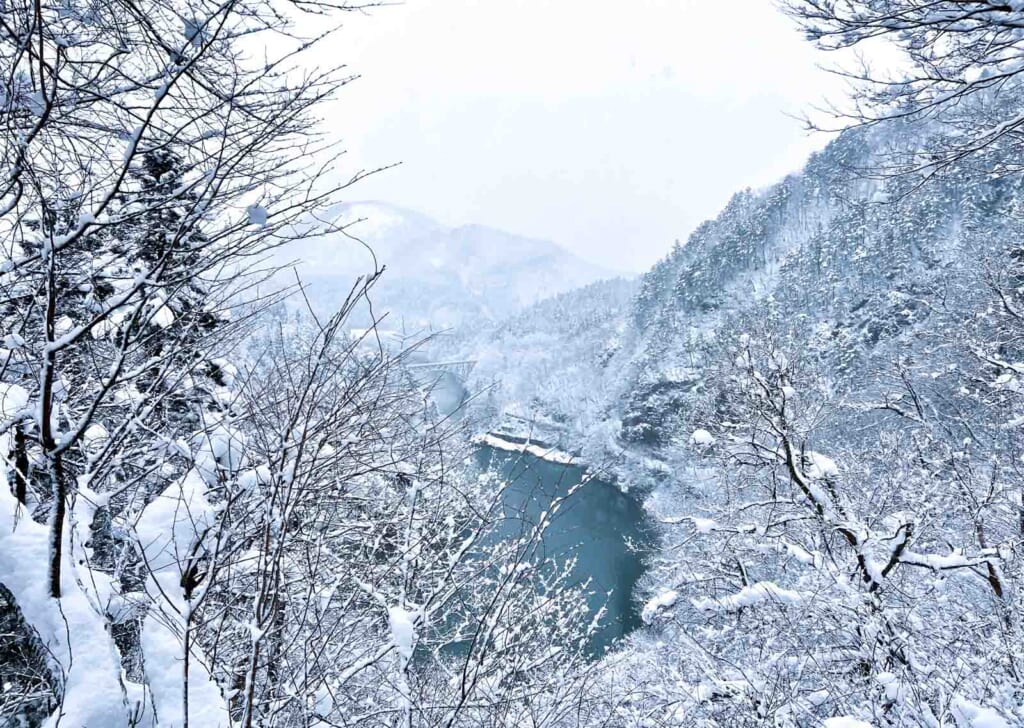 Aizuwakamatsu, home to Tadami Line's Fukushima terminus station, is particularly known as the last samurai stronghold of the Edo period. From here, check out some other places to add along your Tadami Line journey:  
Enzoji Temple: The Buddhist Temple on a Cliff
Enzoji Temple (圓蔵寺) is a Buddhist temple with a 1,200-year history. Located in Yanaizu town, Enzoji Temple is considered one of the three main temples dedicated to Fukuman Kokuzo Bosatsu, the Bodhisattva of wisdom.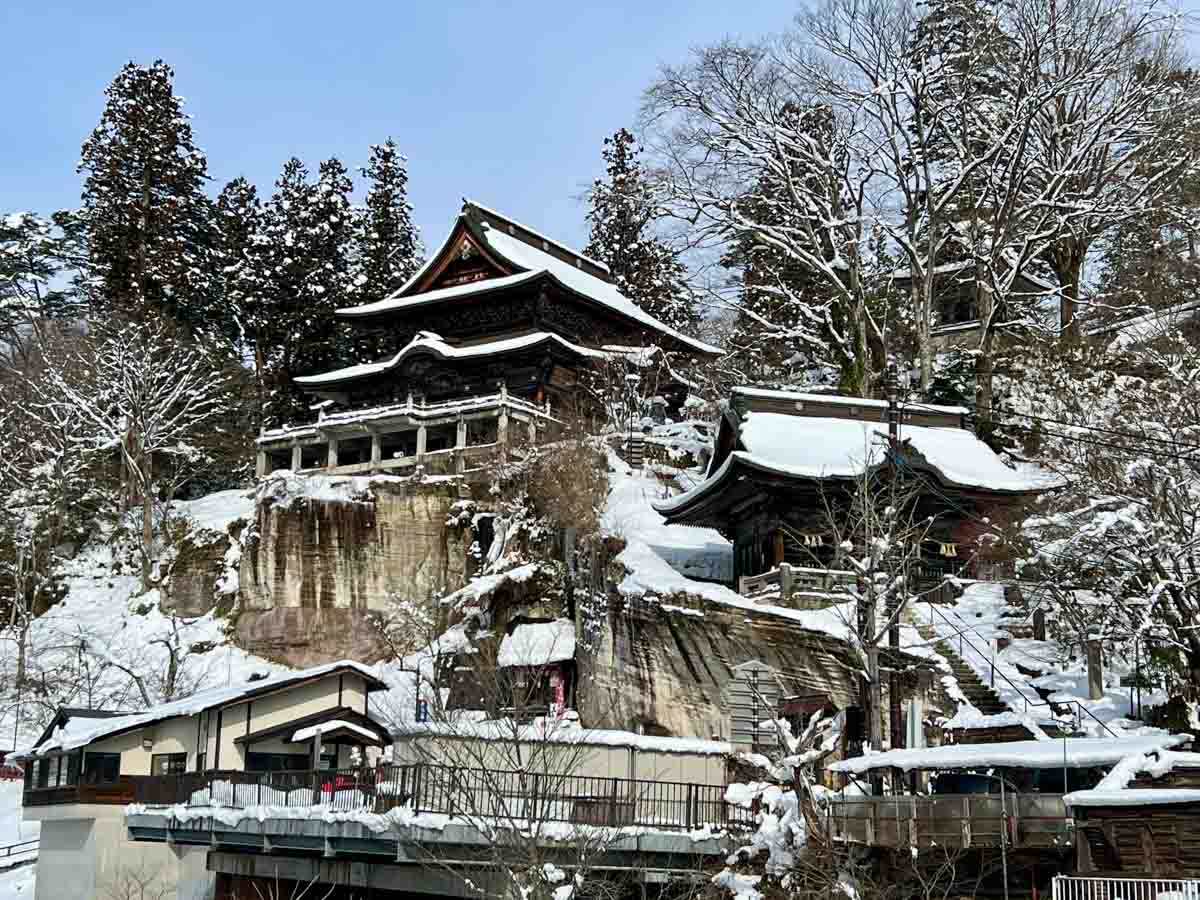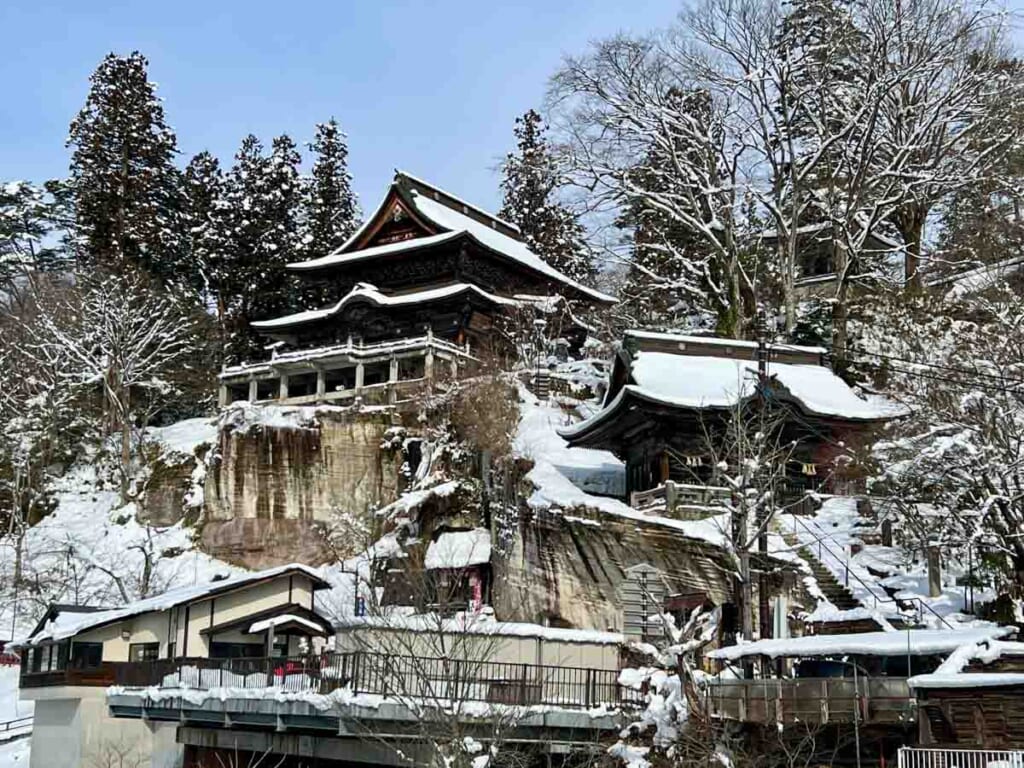 While its history is impressive, the temple's rocky bluff views overlooking the Tadami River are equally outstanding, especially as the maple and ginkgo trees turn to gold and red during autumn, and spring's cherry blossoms burst into the season.
Start your ascent from the bottom of the hill, where you'll climb up about a hundred steps before reaching the main hall.
Akabeko Workshop: Make Your Own Handmade Souvenir of Oku Aizu's Famous Red Cow
Enzoji Temple is also the birthplace of the akabeko red cow. Local folklore suggests that in the 1600s, these mystical red cows unexpectedly arrived at Enzoji Temple after an earthquake destroyed the complex to help carry heavy timber from the Tadami River to the cliffs. The priests, thankful for the cows' assistance, memorialized the red cow within the temple complex. Visitors often stop at one of two large akabeko statues, whose red bodies are worn down in areas where visitors have rubbed in hopes of improving themselves.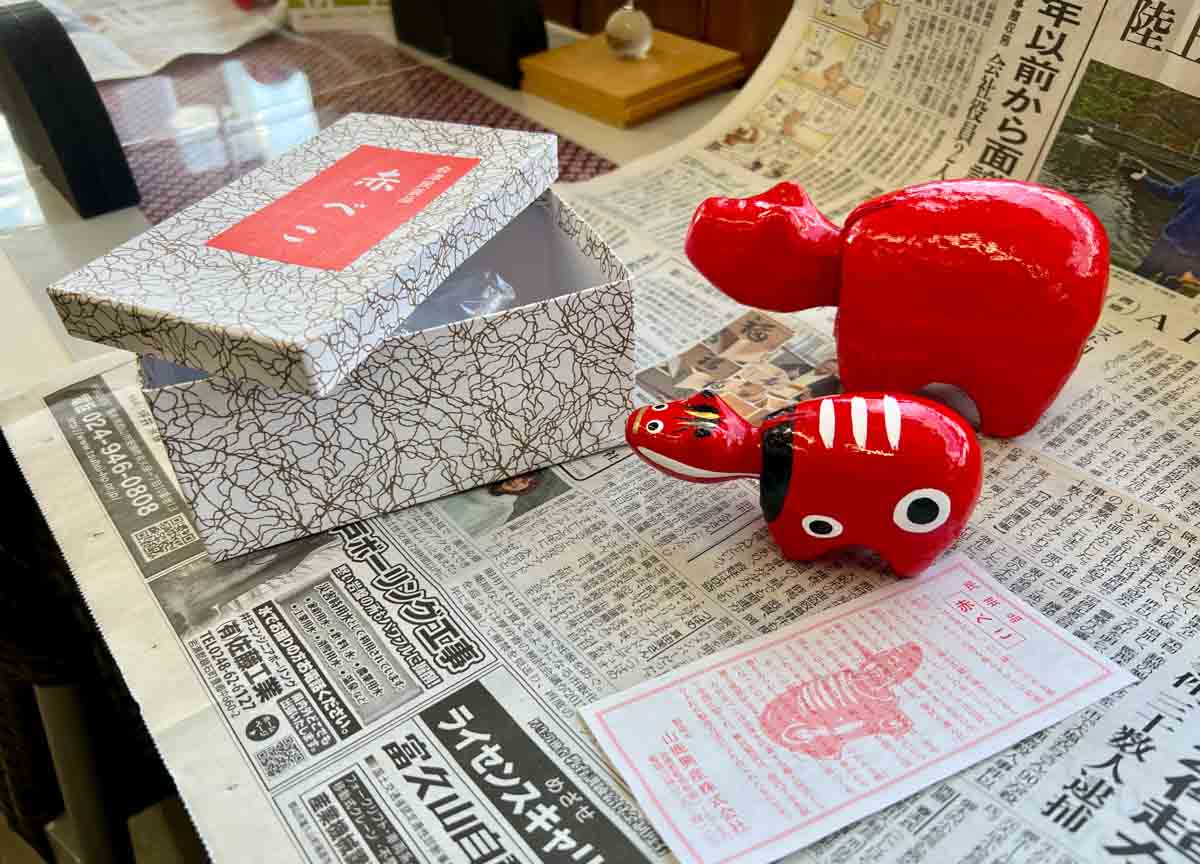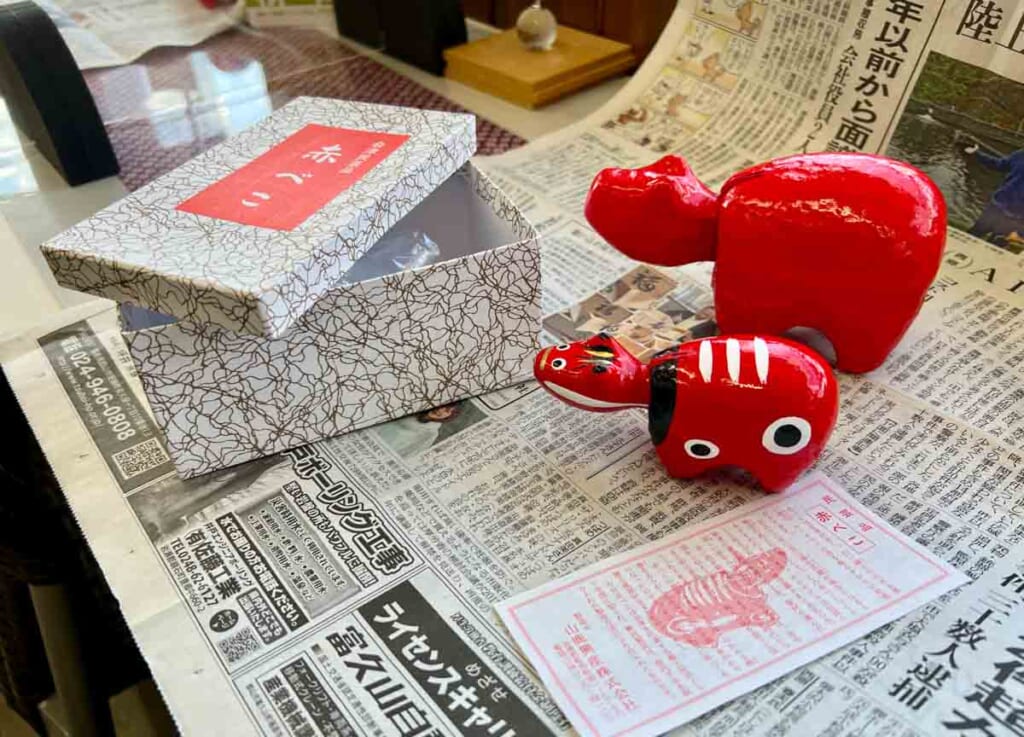 Since then, the red cow figurines have become a popular souvenir for visitors, hoping to ward off disaster and back luck. While you could buy a pre-made akabeko, your own handmade akabeko would be a more memorable souvenir from your trip. The Yanaizu Tourist Association (柳津観光協会) offers an akabeko painting workshop (赤べこ絵付け体験) where you can paint your own red cow figurine with its iconic bobbing head, so your good luck charm can accompany you on the rest of your Tadami Line journey.
The workshop fee is 1800 yen per person. Visit the Aizu Yanaizu Travel Guide website for information to reserve an akabeko painting session. 
Ittogashi Village: The Serene Mountain Cottage in Fukushima's Oku Aizu
To embrace your foray into Oku Aizu's natural wonders, consider an overstay at Ittogashi Village (一棟貸しヴィレッヂ). Located in Mishima Town, Ittogashi Village's cottages bring out the best of the peaceful rural life during your stay in private wood buildings, doors leading directly out to Oku Aizu's forest scenery, and views of the Tadami River.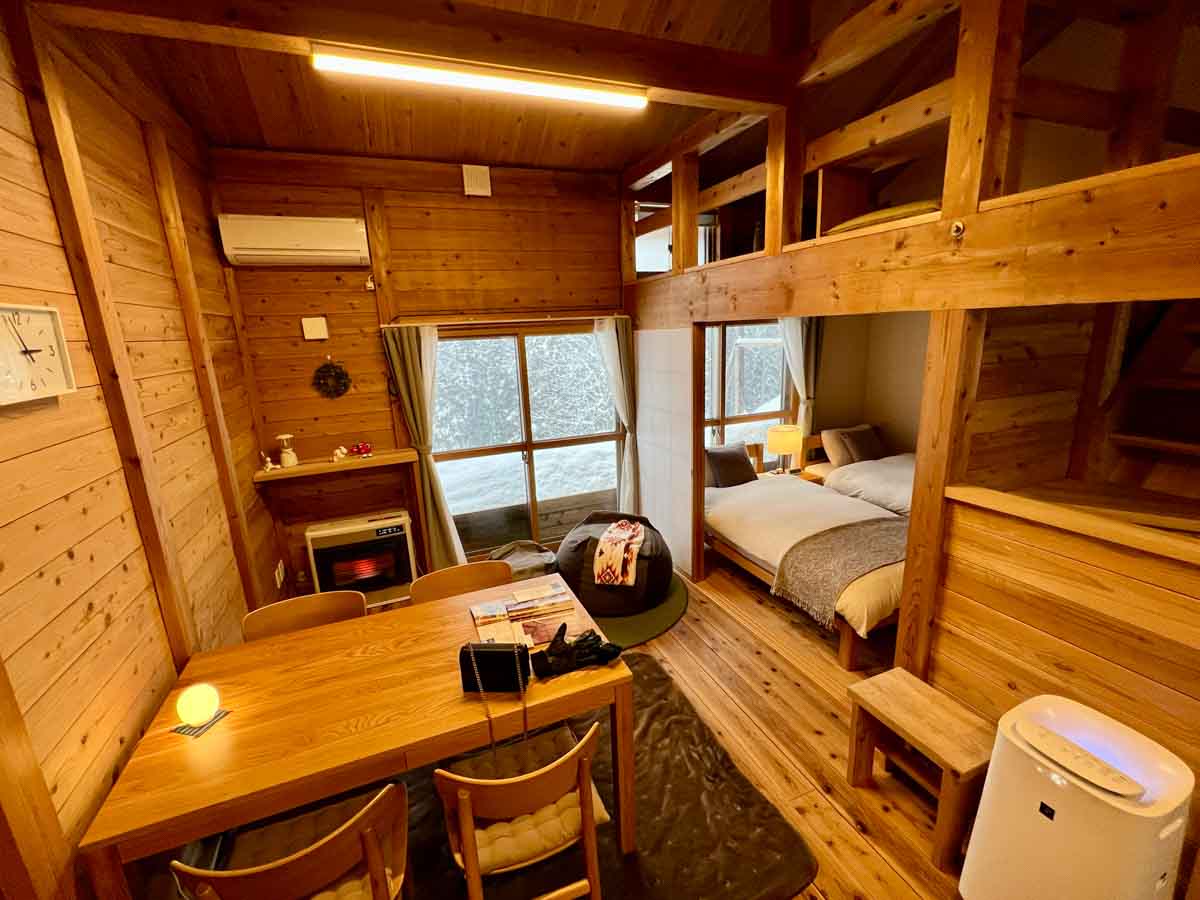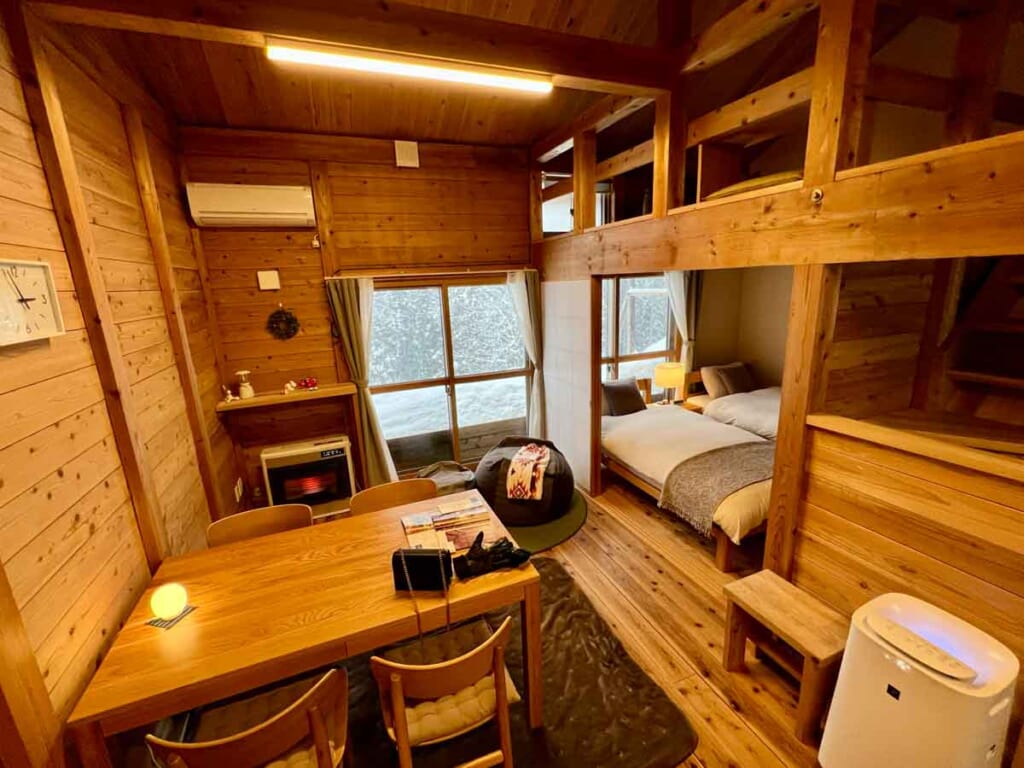 Here, you can sit quietly, breathing in the clean mountain air as you prepare for a day of simply relaxing, going on walks through the nearby village, or soaking in the 1,200-year-old hot spring, Hayato Onsen Tsurunoyu.
There are two buildings to choose from — the Honson building has a paulownia bath and wood stove that visitors can stoke with firewood during the winter, with a living area, bedroom, kitchen, and balcony. The Kawaberi building is located along the bank of the Tadami River, with a loft space and garden, a two-minute walk from Hayato Onsen Tsurunoyu. In the early morning and evenings of summer, a dreamy mist blankets the river, perfect to admire from lawn chairs as you sip on your morning coffee or wine in the evening.
How to Get to Oku Aizu in Fukushima
Aizuwakamatsu Station is Fukushima's terminus station for the Tadami Line, where many begin their travels through the Oku Aizu region. Those travelling on the Japan Rail Pass can catch the Tohoku-Hokkaido Shinkansen bullet train from Tokyo Station to Koriyama Station, then transfer on the local JR Ban-Etsusai Line to Aizuwakamatsu station (about 3 hours). The JR East Pass also offers unlimited rides on JR-operated trains for five consecutive days within the Tohoku region. 
The newly re-opened Tadami Line makes Fukushima's Oku Aizu region a spectacular start to your romantic train journey across Japan, with countryside accommodations, cliffside temple views, and lofty bridges in the mountains, for a memorable experience in any season of the year.
Photography by: @traveldaveuk 
Sponsored by: Fukushima Prefectural Government