Just south of Tokyo on the Shonan coast facing Sagami Bay, is the island of Enoshima (江の島), Fujisawa City. It is one of the most popular trip destinations from Tokyo and surrounding areas. Most people will recognize Enoshima for the beautiful ocean that embraces this small island and the award-winning illumination of the Enoshima Sea Candle. It's also kid and pet-friendly, so you can bring the entire family out for a trip to learn about the history and nature of Enoshima.
On a sunny Thursday morning, my 3-year-old son and I arrived at Shonan Enoshima Station via the Shonan Monorail. It is easily accessible from Ofuna Station, a major hub for train lines from Tokyo city center and the rest of Kanagawa Prefecture. Riding the Shonan Monorail is an experience in itself, suspended three floors above ground with a beautiful view of Mt. Fuji from Shonan-Enoshima Station. Here are some of the top family-friendly things to do in Enoshima.
Visit the "Dragon" Temple of Ryukoji and Enoden Viewing Spot
Greeting us at the entrance gate of Ryukoji Temple (龍口寺) is a detailed painting of a dragon on the ceiling. The temple name directly translates to "dragon mouth," a motif my son enjoyed searching for all types of dragon statues and carvings, especially the ones sticking out of the building pillars.
Further up the back on a hilltop is an impressive 5-story pagoda and a large white stupa, a Buddhist memorial ground where relics are kept. Visitors can meditate while surrounded by trees or admire the large golden ginkgo tree in front of the pagoda in its peak season in early December.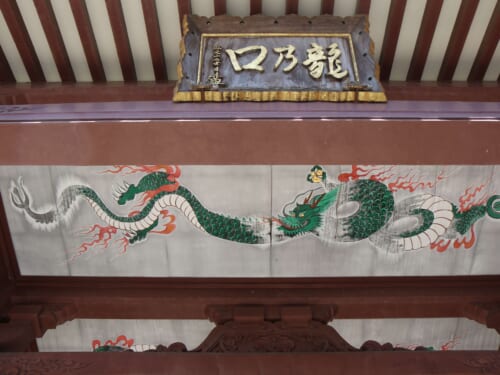 Just outside Ryukoji Temple is a railway line for Enoden, short for Enoshima Dentetsu (江ノ島電鉄) or the Enoshima Electric Railway line. It runs east and west along the coast, connecting Kamakura with Fujisawa Station. The iconic green trains have become a sensation itself and are featured in films and anime, so much so that you ask any kid in the area, and they'll be able to point out the right train for you. At Enoshima Station, you can also find a little shop full of Enoden merchandise of all kinds. My toddler had a lot of fun with the miniature model of Enoden running around on some toy train tracks.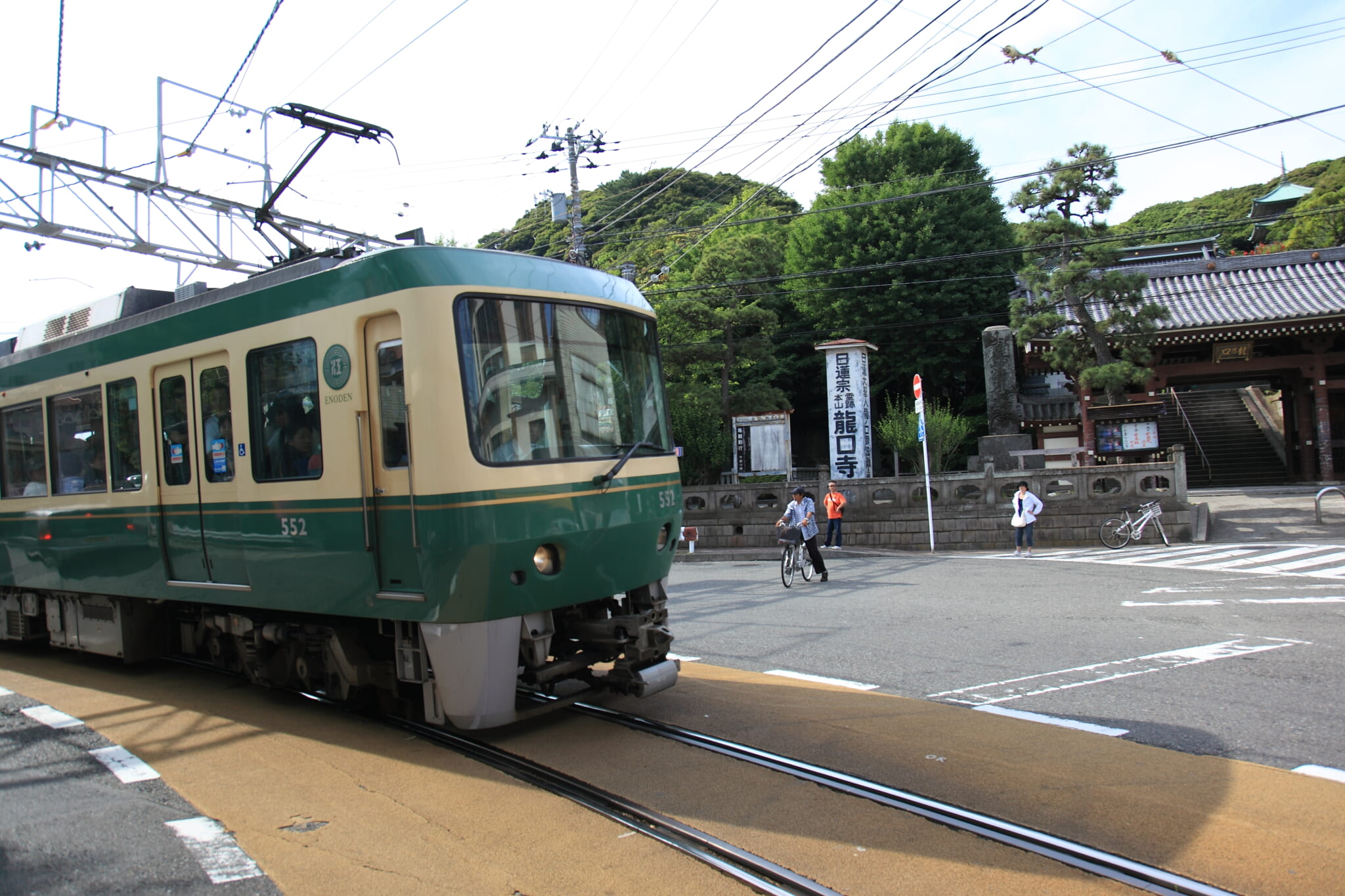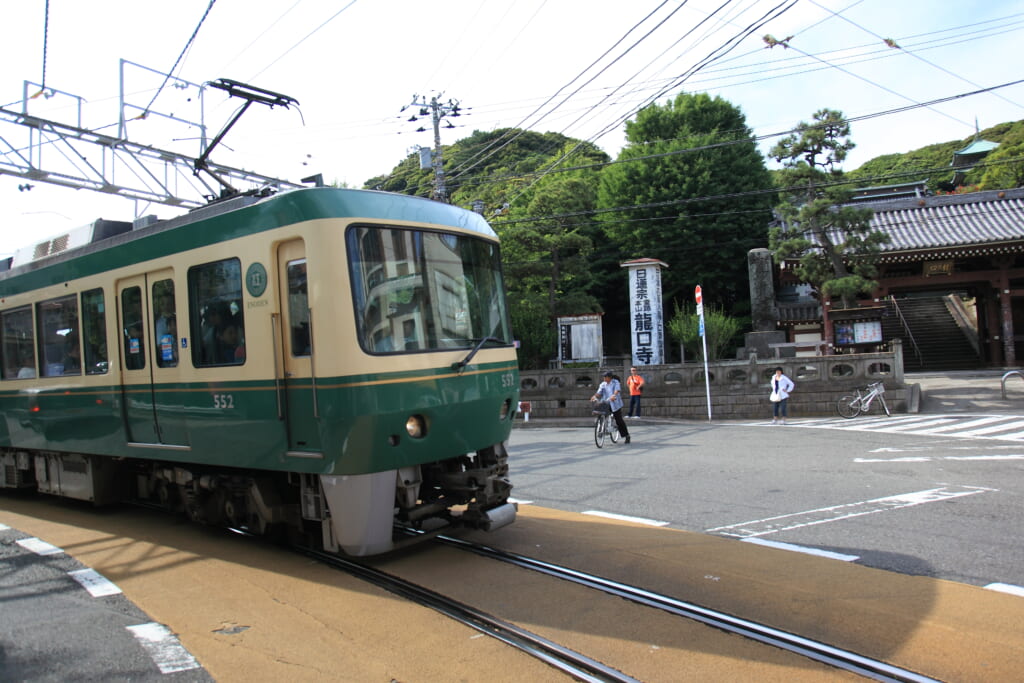 One of the Best Views of Mount Fuji at Koshigoe Fisherman's Port
Being right by the ocean, it is no surprise that fishing is expected in this area. But if you head to Koshigoe Fisherman's Port, you'll be greeted by a fantastic view of Mount Fuji. We had a lot of fun spotting all the different sizes and colors of boats docked at the port.
Another spot where you'll see Mount Fuji is down the long bridge headed towards Enoshima Island. Even though I've seen Mount Fuji many times and even up close, it is still stunning every time I see it.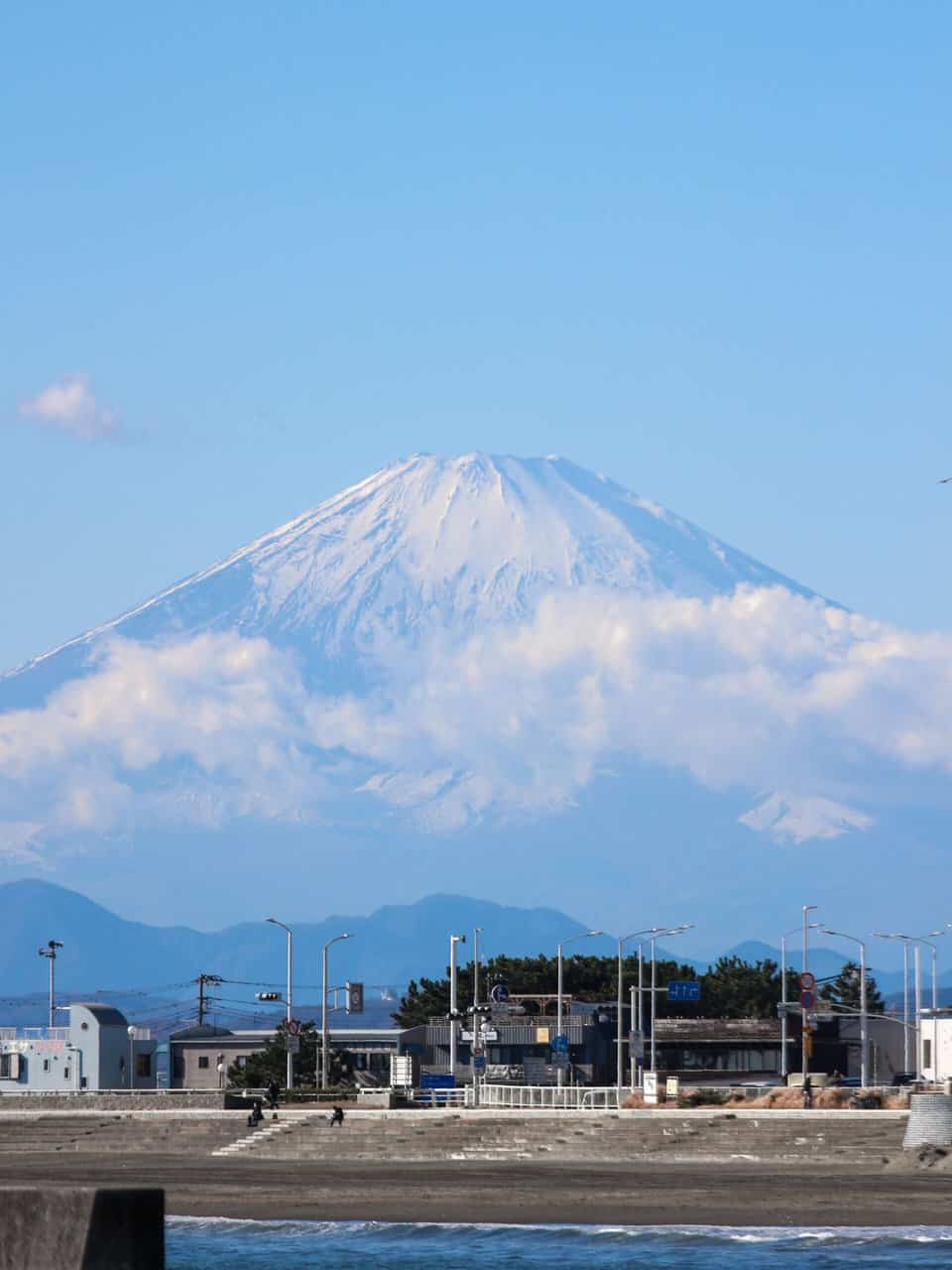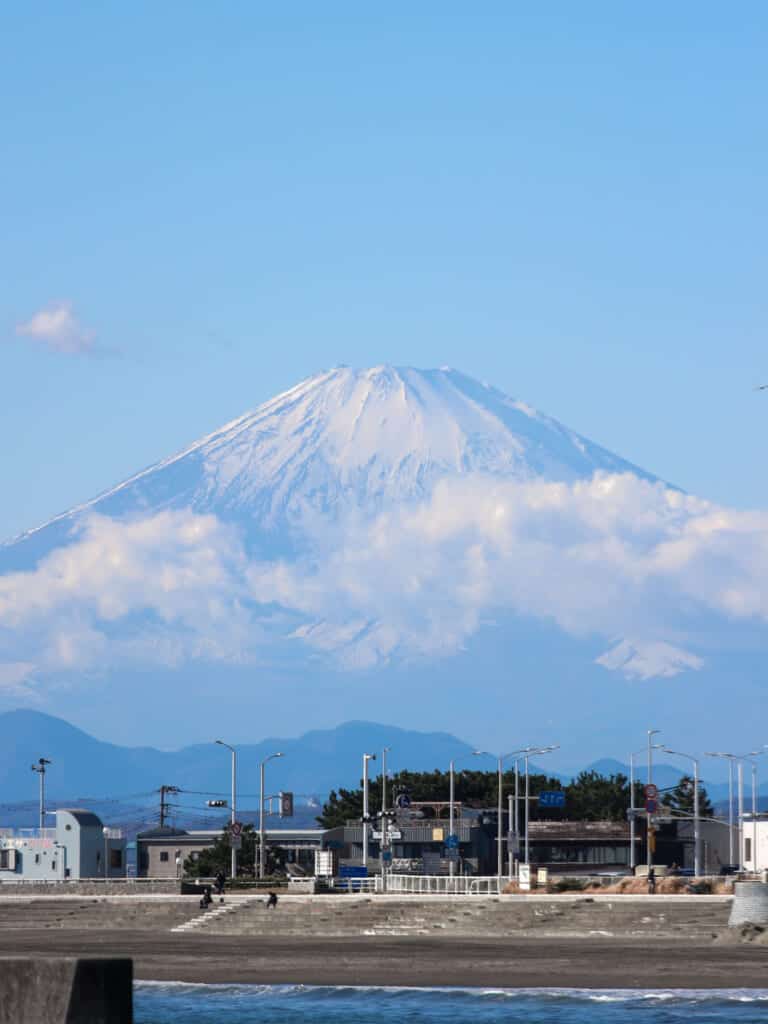 Pick Up Your Enoshima 1 Day + Night Pass and Go Shopping at Subana Street
As we exited Enoden on Enoshima Station, we soon arrived on Subana Street. This charming little shopping street stretching 500 meters long links all the stations to Enoshima Island and is full of cafes, restaurants, and stores selling souvenirs and trinkets with a beachside feeling. It'll feel like you've been teleported to Hawaii on a beach vacation.
Right at the end of Subana Street, before you cross the tunnel bridge to Enoshima Island, is the Katase Enoshima Tourist Center. Make sure you stop there and get an Enoshima 1 Day + Night pass since it will cover all the escalators built along the island, as well as entrance to multiple tourist spots such as the Enoshima Samuel Cocking Garden, the Enoshima Sea Candle lighthouse observation tower, and Enoshima Iwaya caves.
For adults, it's 1,500 JPY per person, 700 JPY for elementary school students, and free for kids not yet in elementary school. You can also get this pass at Fujisawa Tourist Center or Enoshima Escar (an outdoor escalator). The pass can be used as often as needed for the entire day. Also, look for the Guidoor guides, where you can scan the QR code for digital guides of Enoshima in 8 languages.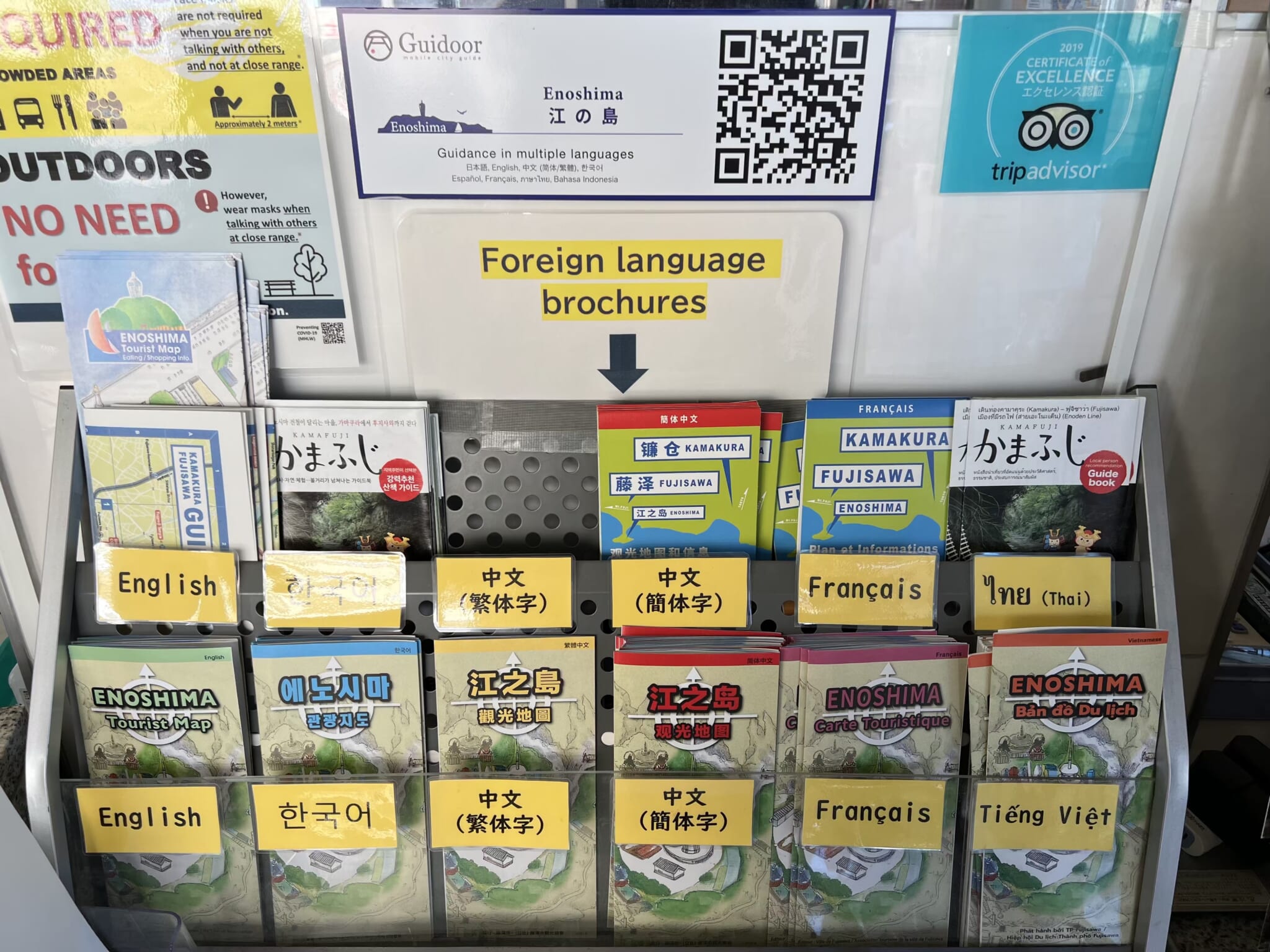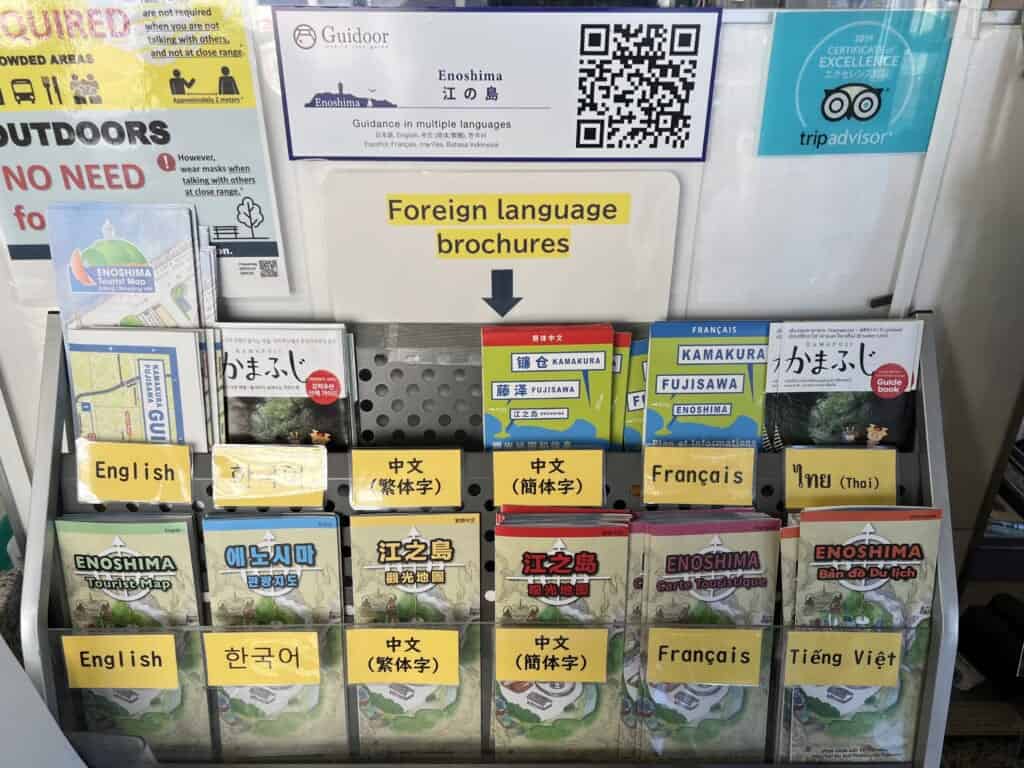 Walk Through Benzaiten Nakamise Street and the Bronze Torii Gate
After picking up our Enoshima 1 Day + Night pass, we crossed the Enoshima Benten bridge and arrived at the lively street of Enoshima Benzaiten Nakamise Street and bronze torii gate. From here, it is the start of the walk up towards Enoshima Shrine, lined with many restaurants, food stalls, and souvenir shops.
Our favorite was the Kinokuniya flagship store (紀の国屋本店) which sells traditional Japanese sweets such as dango (rice balls on a stick) and dorayaki (sweet filled pancakes). It's a perfect place to sit down and grab a quick bite, whether for breakfast or snack time. My son had spotted it before me since they had his favorite type of dango, which is the hanami dango coming in 3 colors: pink, white, and green.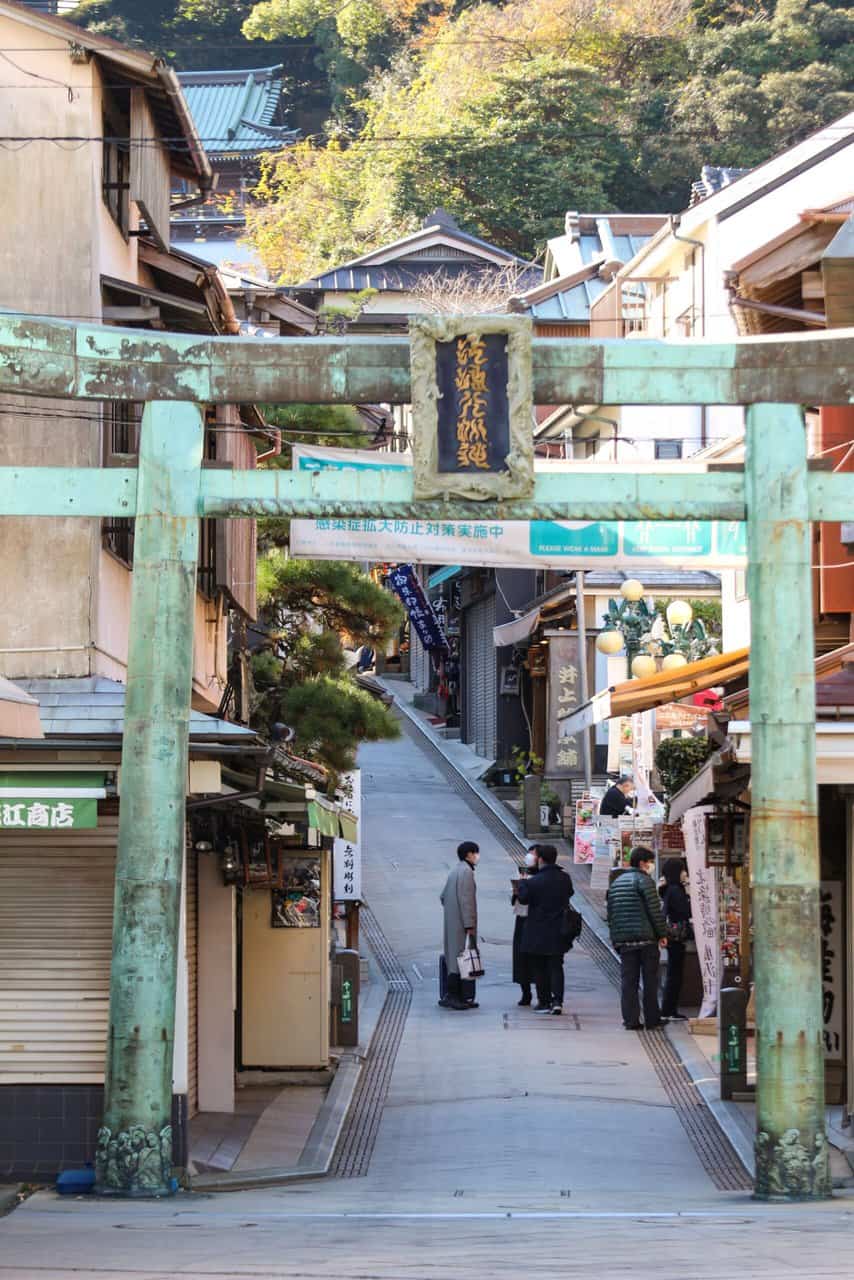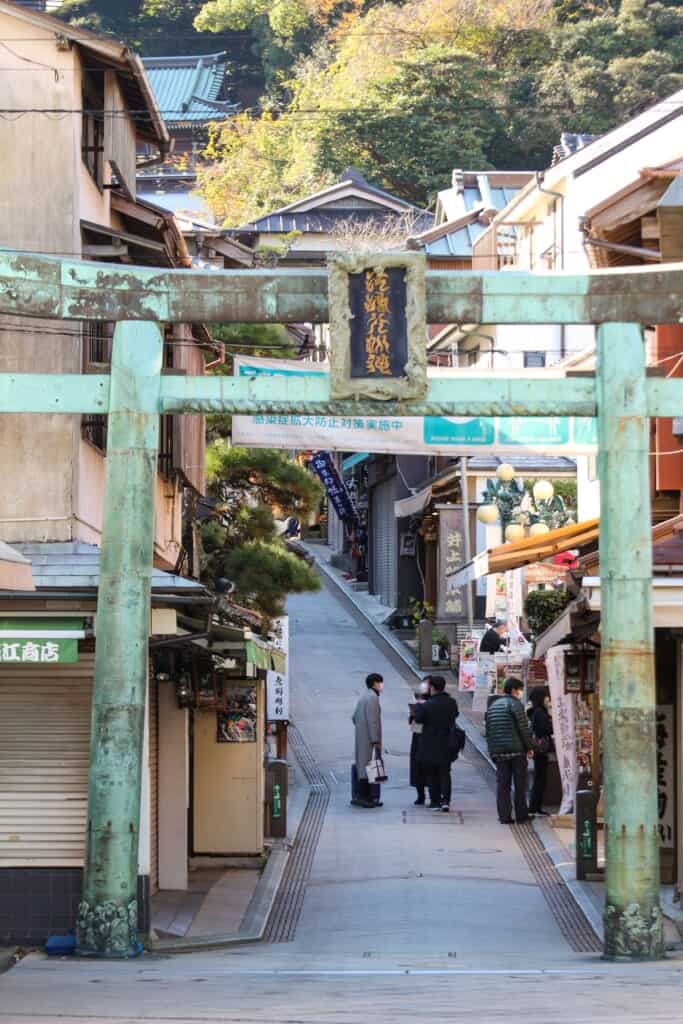 Travel via the illuminated "Escar" Escalator
Enoshima is about 60 meters above sea level, meaning that many sights require climbing stairs or riding on Japan's first outdoor escalators – the Escar. Three separate sections of escalators, which only go up, run from the foot of the Enoshima Shrine up to the botanical garden of the Enoshima Samuel Cocking Garden. While it is optional to take these escalators, you'd be looking at a 4-minute escalator ride versus a 20-minute uphill climb of stairs. In addition, if you are traveling with kids like I was, I'd recommend taking Escar not just for its convenience but for the LUMINOUS WAY, the giant screens on either side of the first section of escalator's walls, featuring sea creatures like dolphins and jellyfish.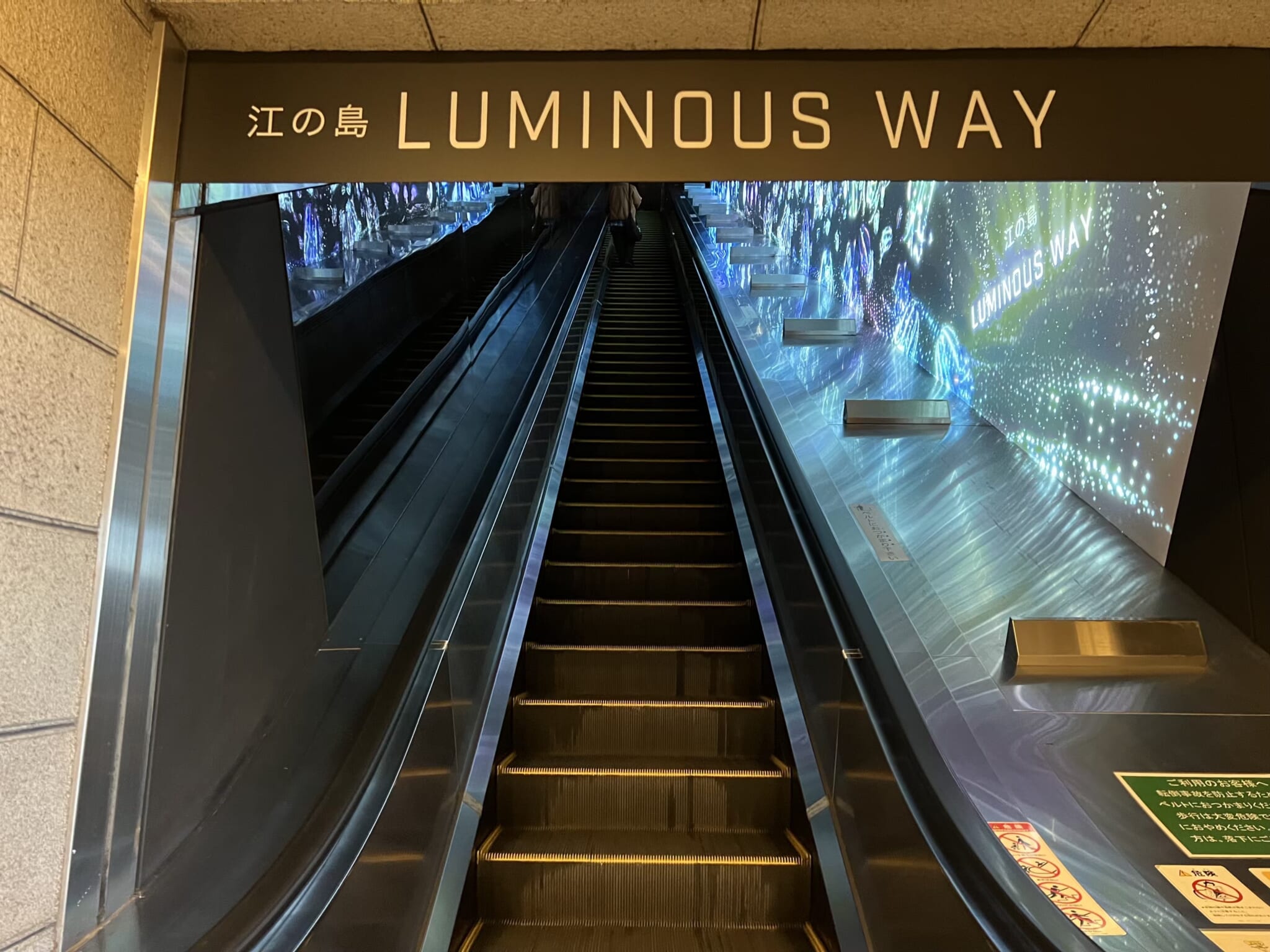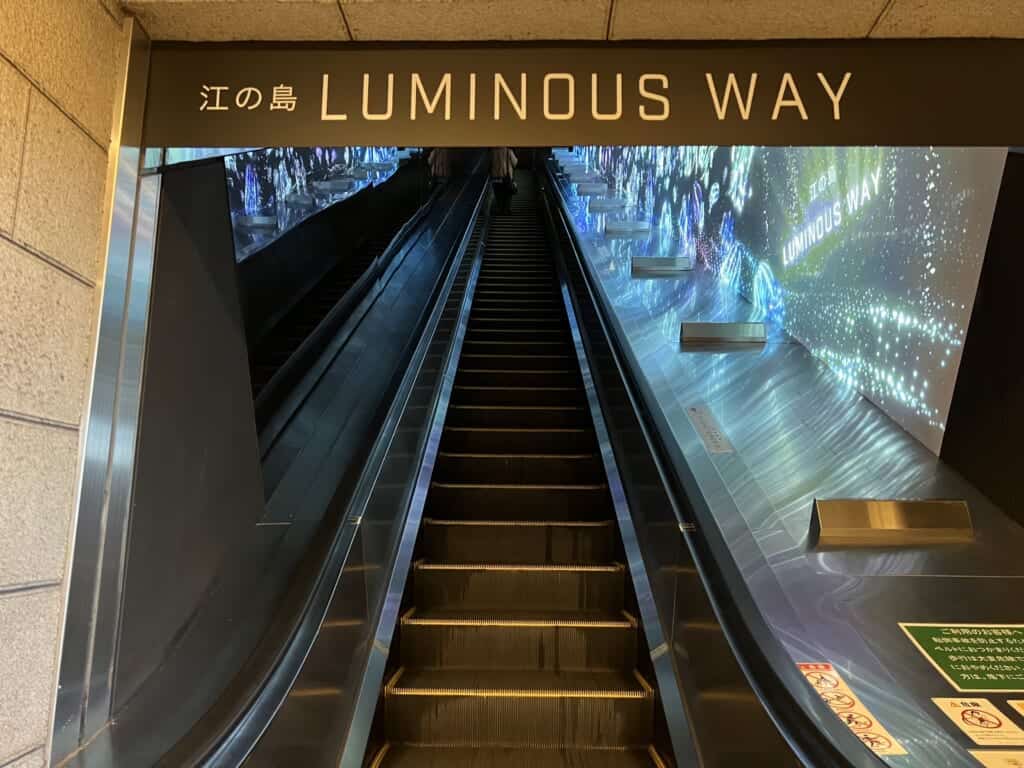 Collect Your Goshuin Official Seal from Enoshima Shrine
This sacred shrine, founded in 552, is dedicated to the worship of Kami Benten and is considered one of Japan's three great Benzaiten shrines. Benzaiten is a goddess worshiped for arts, music, and monetary fortune. Enoshima shrine is split into three sub-shrines: Hetsumiya (辺津宮), Nakatsumiya (中津宮), and Okutsumiya (奥津宮), which are spread throughout the island itself and accessible at the top of the first of the three escalators.
There's no shortage of all the fun things you can do at a shrine when visiting, such as drawing your omikuji or fortune, writing your wish on an ema wooden plaque, and collecting goshuin. A Goshuin is an official seal from the shrine, which is either written in a special collecting notebook or handed over on a piece of paper and dated as your proof of visit. If you visit in December, you'll see the special design, which features the Enoshima Sea Candle and the winter illumination.
Throughout the shrine, you'll also see the official crest of the shrine — an icon with three triangles — which comes from the Hojo family. It represents three scales, likely from a dragon.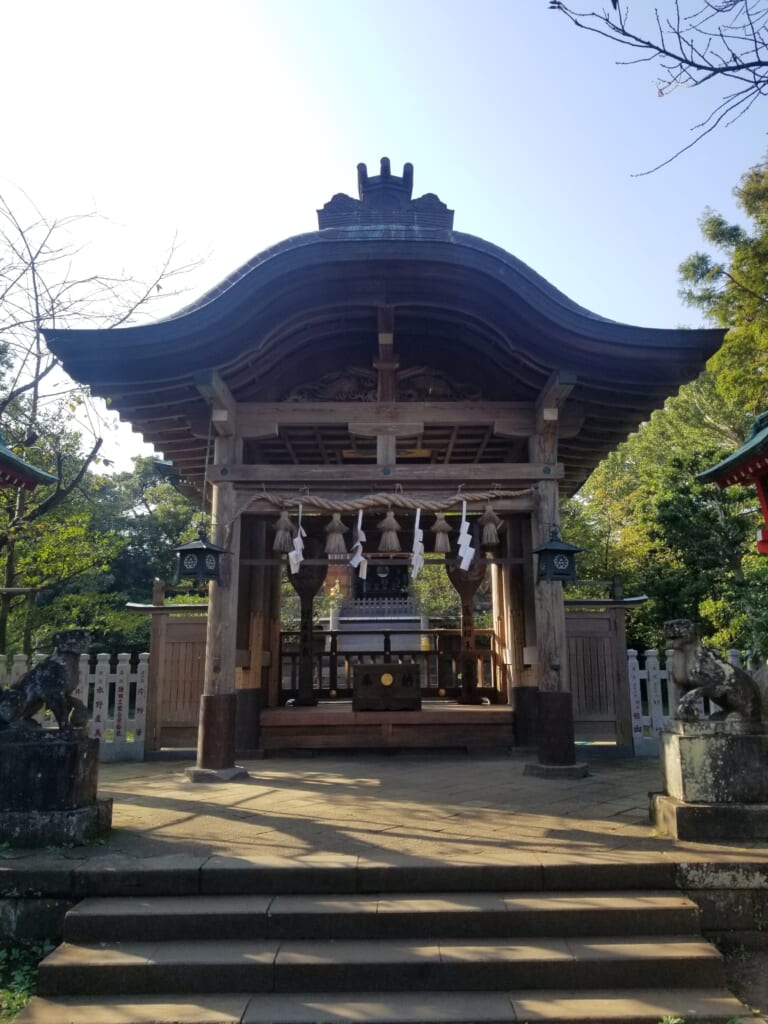 Take a Break with Views of Enoshima Yacht Harbor
After the exit of the first sub-shrine of Enoshima Shrine (also called Hetsumiya) and near the second set of escalators, you'll see a wooden platform that gives you a spectacular view of Enoshima Yacht Harbor. The harbor made its world debut as a yachting event location for international competitions in the summer of 1964 and was again the venue for international competitions in 2021. Before 1964, Enoshima was mostly unknown to international visitors, and now around 1,000 yachts are moored at the harbor.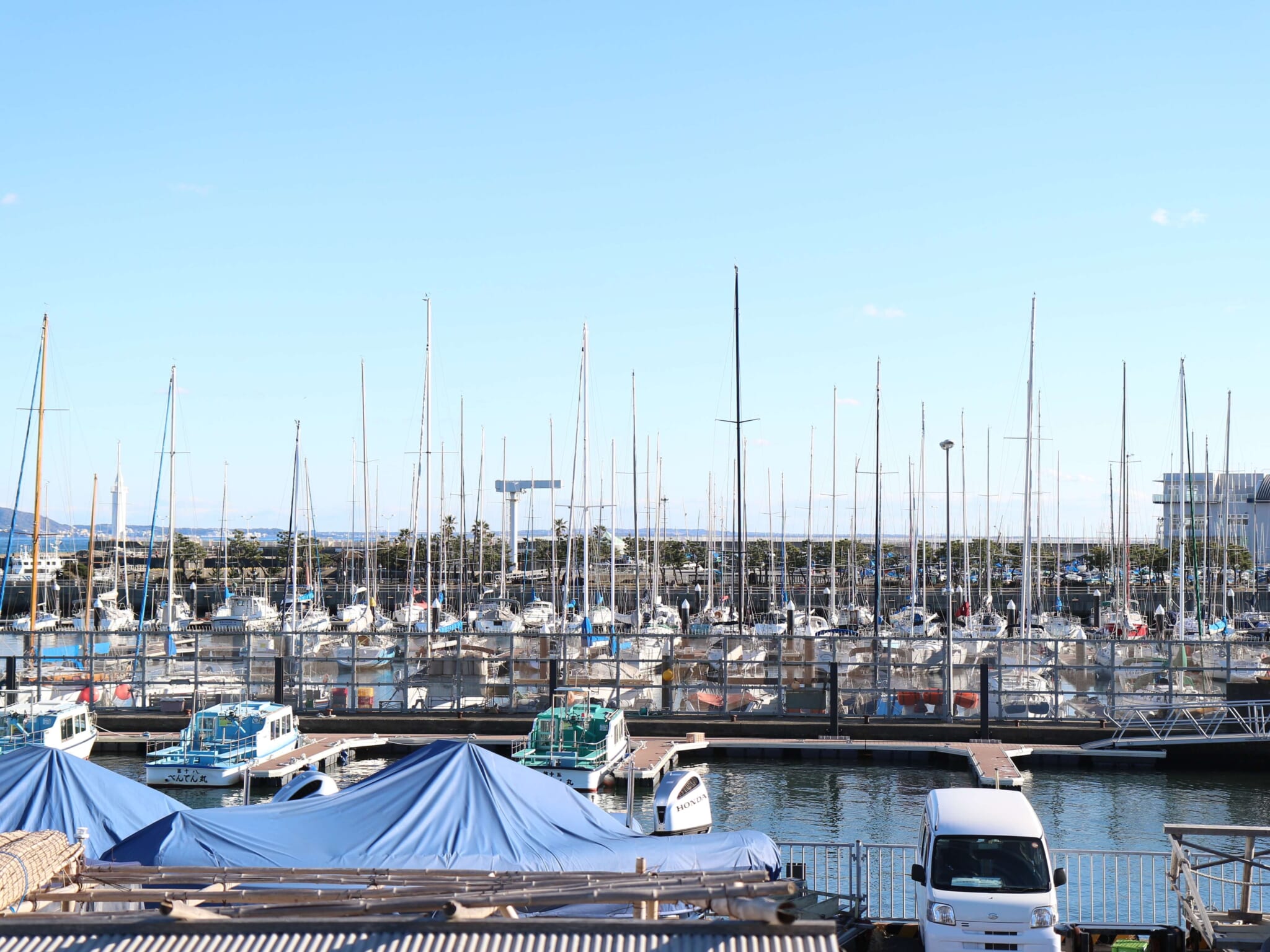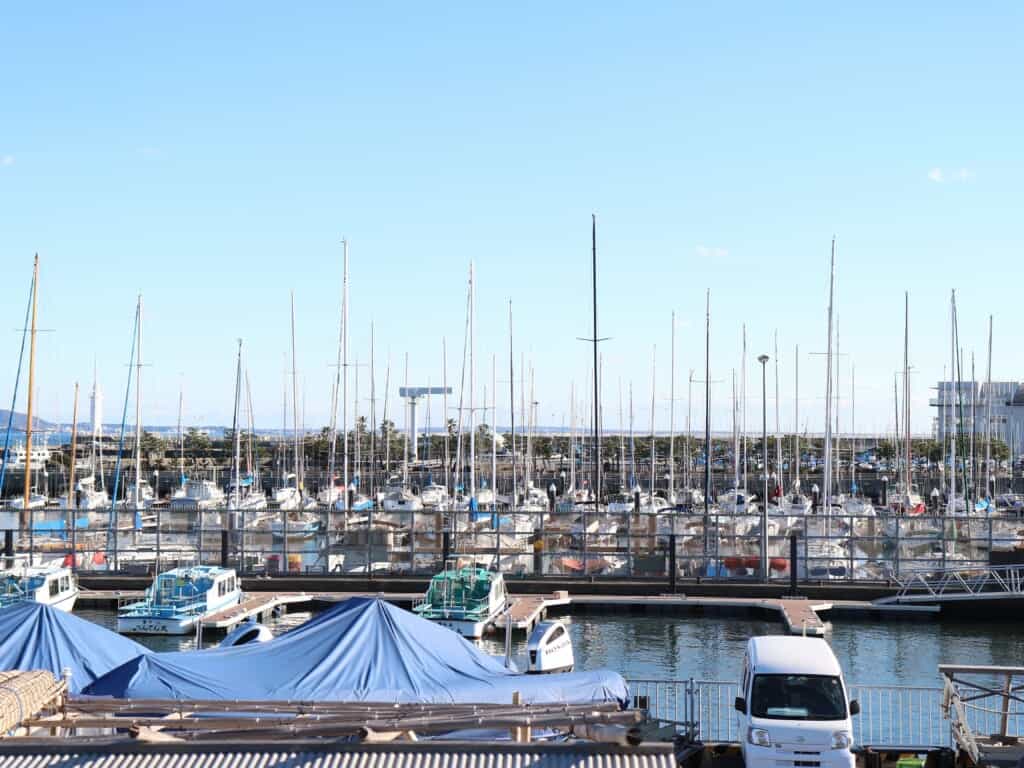 Enoshima Samuel Cocking Garden and Enoshima Sea Candle
Enoshima Samuel Cocking Garden is a tropical garden established in 1862 by British merchant Samuel Cocking before Fujisawa city took over in 1949. Besides being an oasis for plants, it is also famous for the award-winning large-scale illumination called "The Jewel of Shonan." With the Enoshima Sea Candle as the centerpiece, this illumination runs each year from the end of November to February from 5 pm onwards.
While I was most in awe with the winter tulips and the tunnel of Swarovski® crystals, my 3-year-old spent all of his time on the soft, bouncy Fuwa Fuwa Dome play structure beside the Sea Candle lighthouse observation tower. There are also many seats and even hammocks, so it is a perfect location for adults to lounge around will kids run around and let their energy out.
Lastly, you can't visit here without going up the Sea Candle. At the top is an outdoor viewing deck with a spectacular view of Mount Fuji. It's especially dreamy during sunset as rows of mountain ranges stack just in front of Fuji, forming a spectacular view.
Read more: The Jewel of Shonan: Winter Illumination Paradise of Enoshima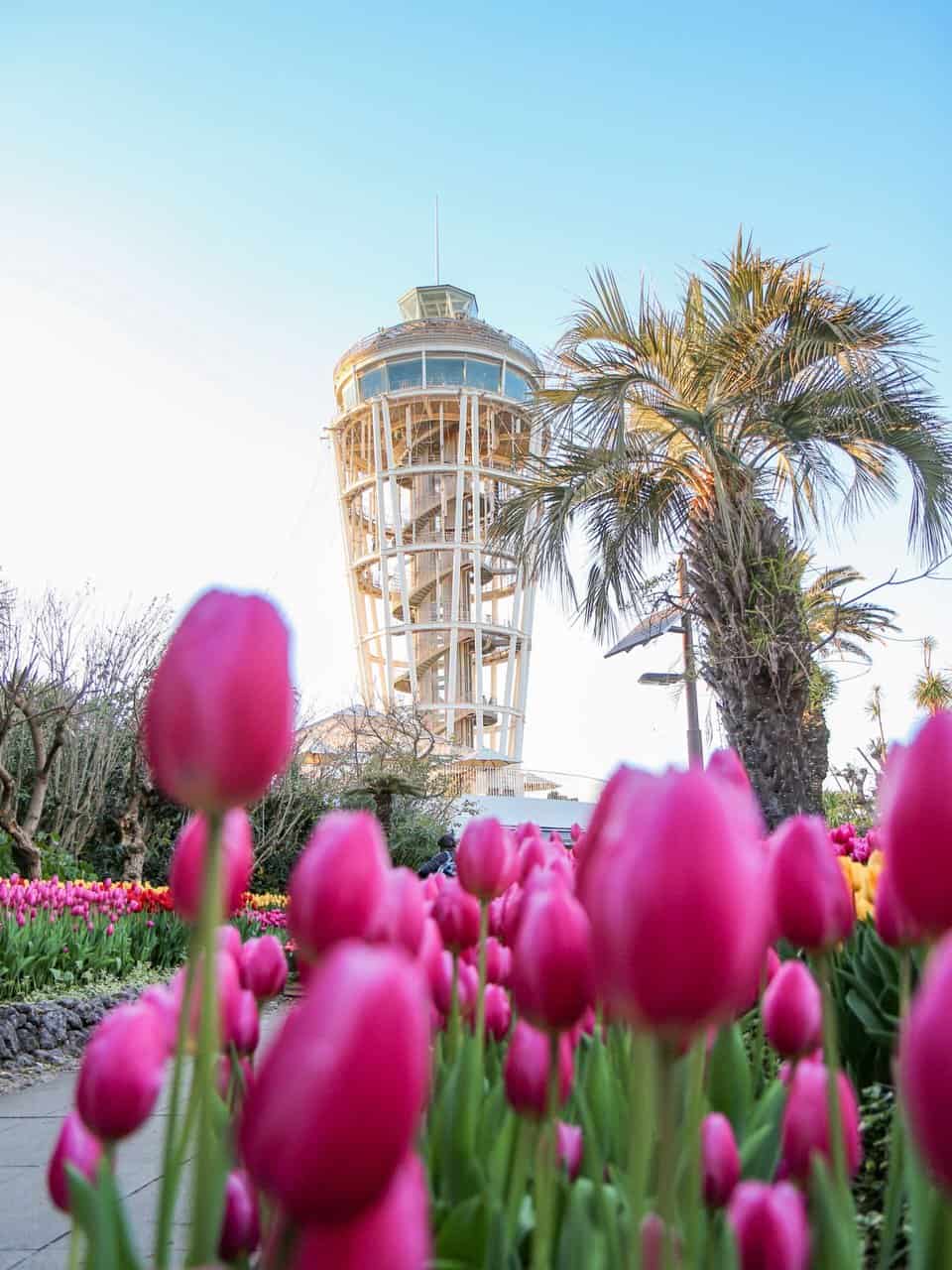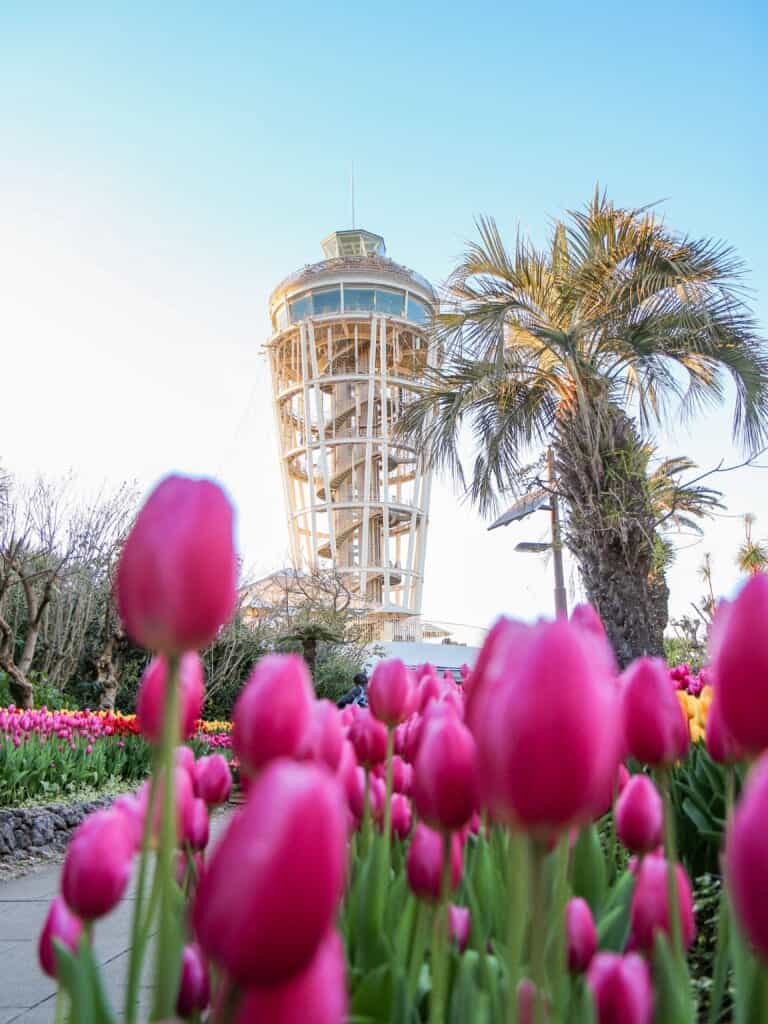 A Real-Life Hokusai at Chigogafuchi Abyss
Further west along the narrow stone-paved road is the Chigogafuchi Abyss (稚児ヶ淵), a group of rocky formations in the ocean with strong currents, so the sea water splashes up and forms a frame around Mount Fuji in the distance. I've long admired master ukiyo-e artist Hokusai's work, especially the iconic piece "The Great Wave off Kanagawa," and I finally felt like I saw that exact scenery here. It's considered one of the best 50 views of Kanagawa, and for me, it is up there as one of the best views of Mount Fuji I've seen.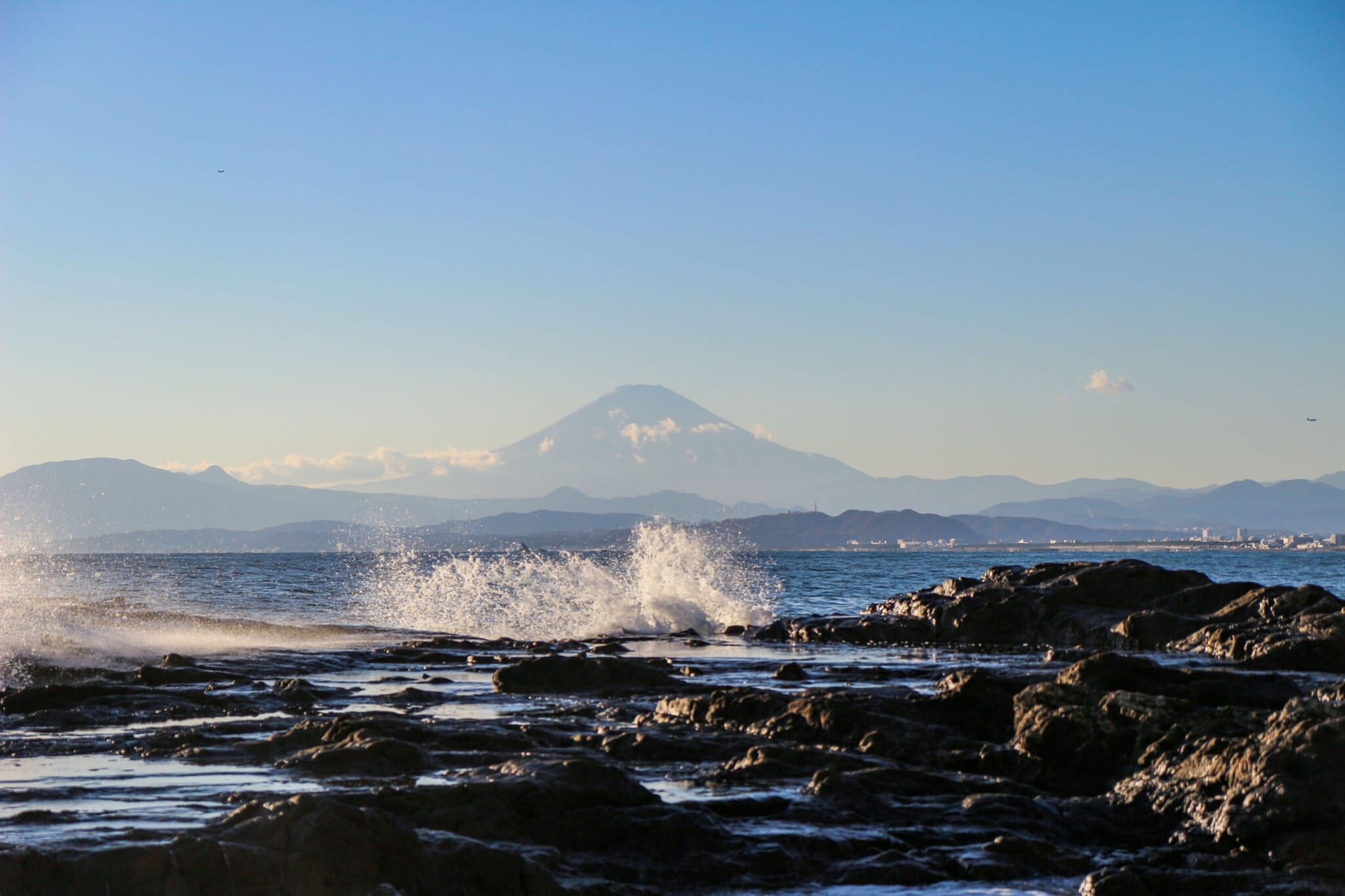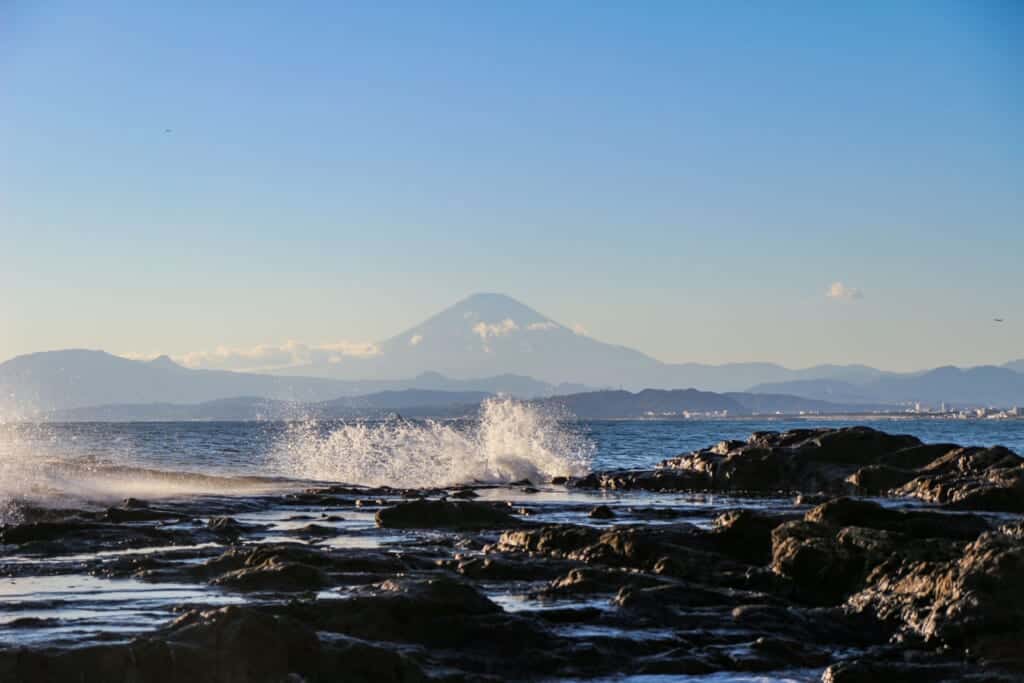 Lunch with Views of Mount Fuji at Uomi-tei
Another spot you can enjoy Mount Fuji views more leisurely is the seafood restaurant Uomi-tei (魚見亭). It has indoor and outdoor balcony seating and unobstructed Mount Fuji views. Their indoor seating even includes rooms with large tatami floors. I always love tatami seating since the table is low, and my son can move around freely without falling off a chair. They serve one of the specialties of Enoshima, which is Shirasu ( juvenile white fish). You can also get fresh clam, sashimi, grilled scallops, and deep-fried prawn. If your family is not so fond of seafood, there are also rice bowls and soba noodles to pick from.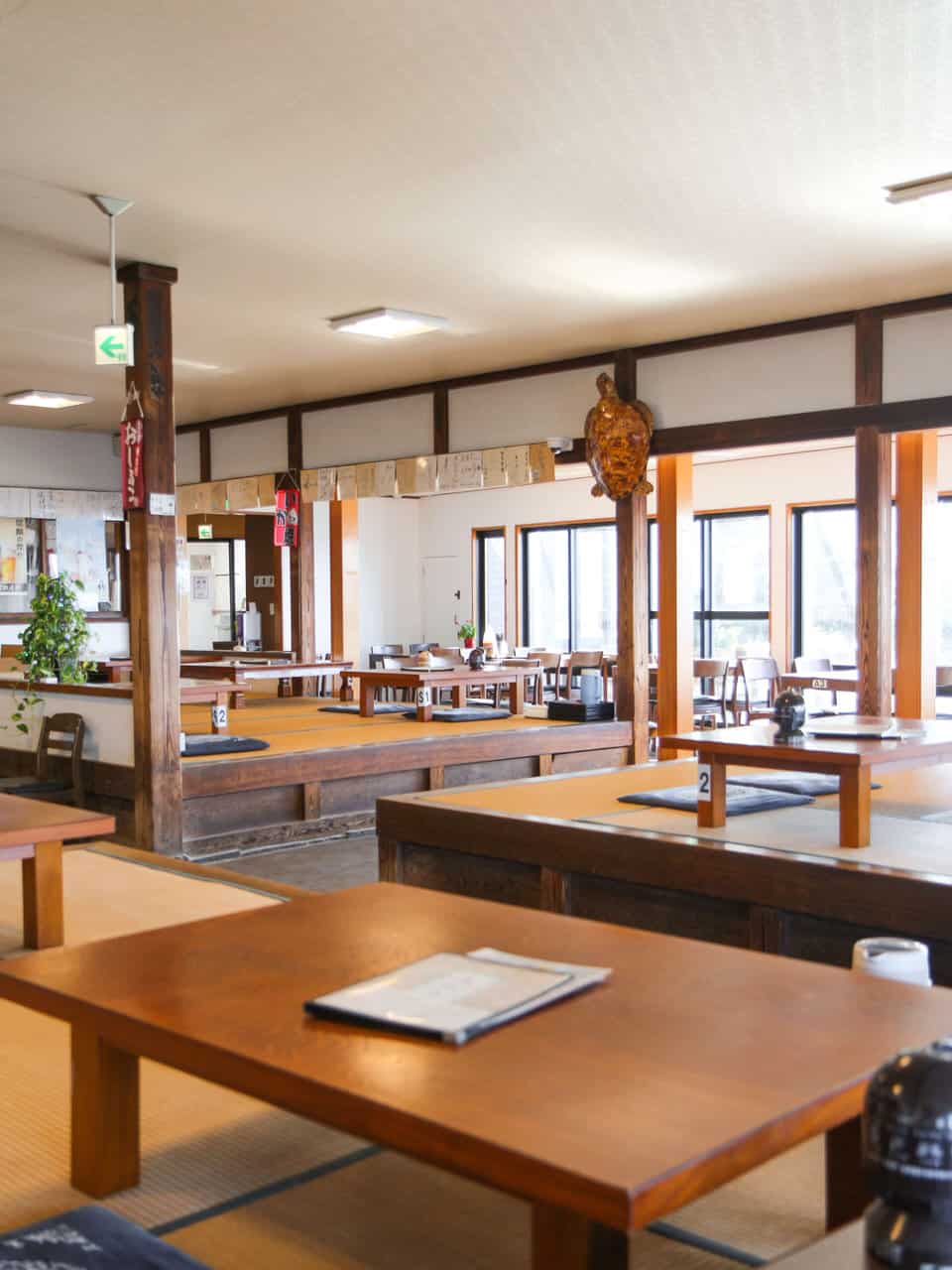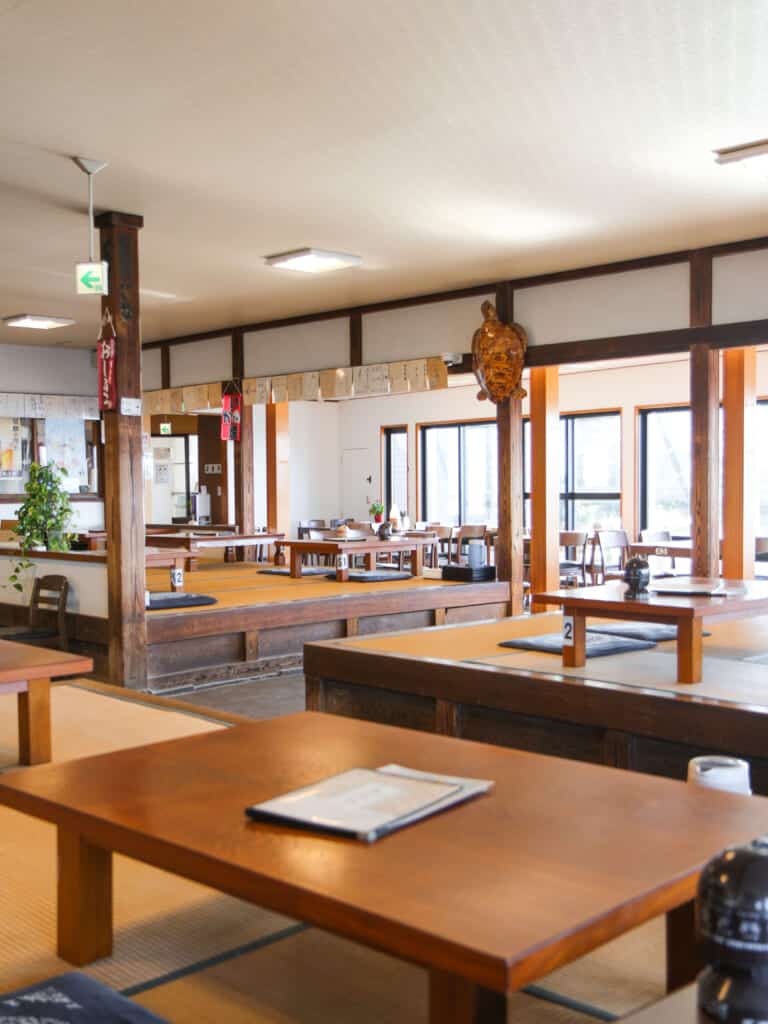 A Kid-Friendly Cave Dive at Enoshima Iwaya Caves
Finally, at the end of this exploration of Enoshima are the Enoshima Iwaya Caves. It consists of two separate caves 152 meters and 56 meters deep. There are many stone statues including a large dragon statue within the caves. Because the caves are pretty dark, the staff will hand you a candle inside for you to carry as you walk through. I loved that they also had LED candles for kids to hold so they could be part of the process while staying safe.
Read More: The Perfect Two-Day Getaway On Enoshima Island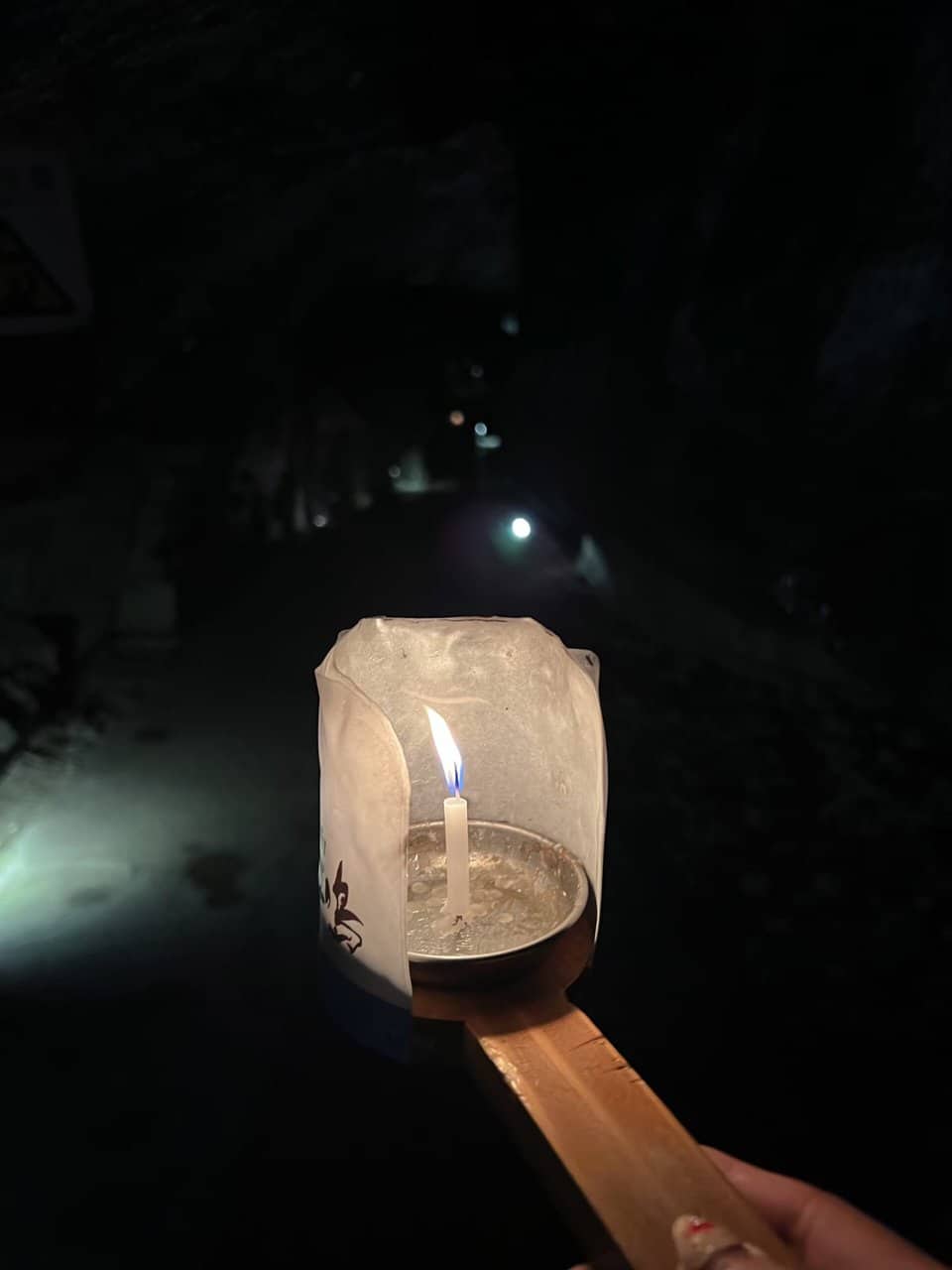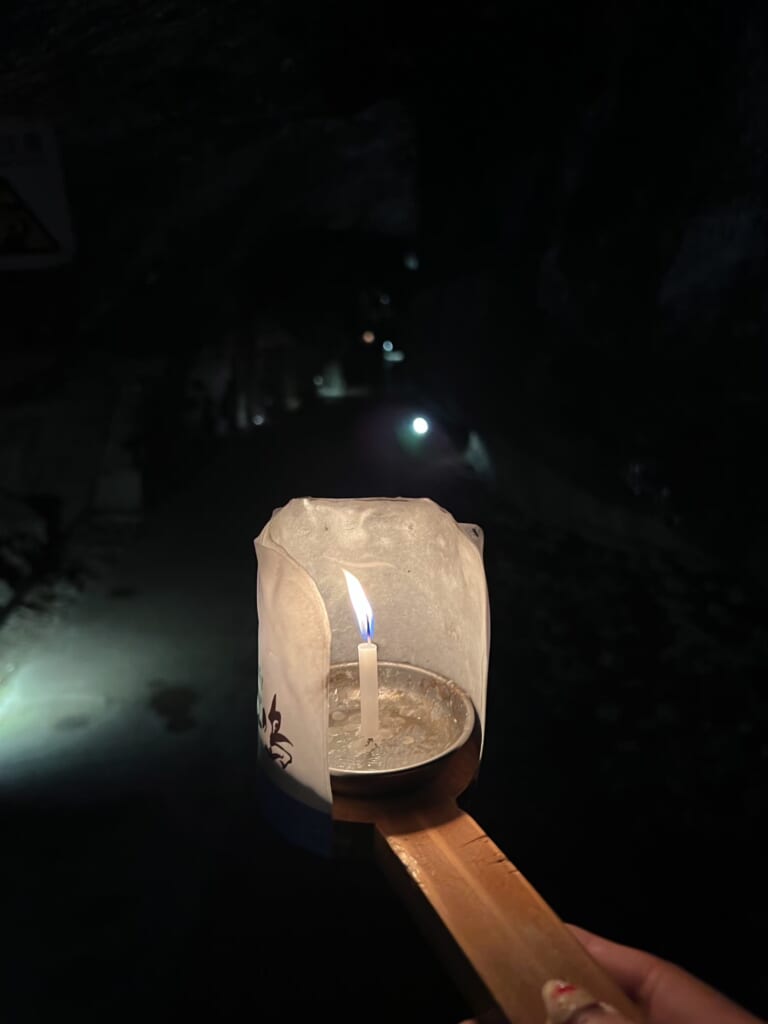 Interact with Sea Life at Enoshima Aquarium
Now that we've learned all about Enoshima's history, we can't leave without learning about the marine life of Enoshima. We visited Enoshima Aquarium on our second day there and spent a good three hours there. The most impressive is the giant tank with a capacity of 10,000 cubic meters showcasing sea creatures from Sagami bay. Giant stingrays, eels, and 8,000 Japanese sardines interact in the same tank. At specific times they will also have a diver in the tank to interact with the fish.
One day I hope to bring my son snorkeling or diving to see these creatures in their natural habitat. For now, this aquarium is a wonderful way for him to learn all about the sea dwellers while getting up close to these sea creatures. He especially loved the sting rays and their cute smiley faces.
Besides the large tank, you can also expect to see penguins, seals, jellyfish, capybaras, sea turtles, and even dolphins. There's also a deep sea zone where you can see a deep-sea submarine and the inside of the cockpit.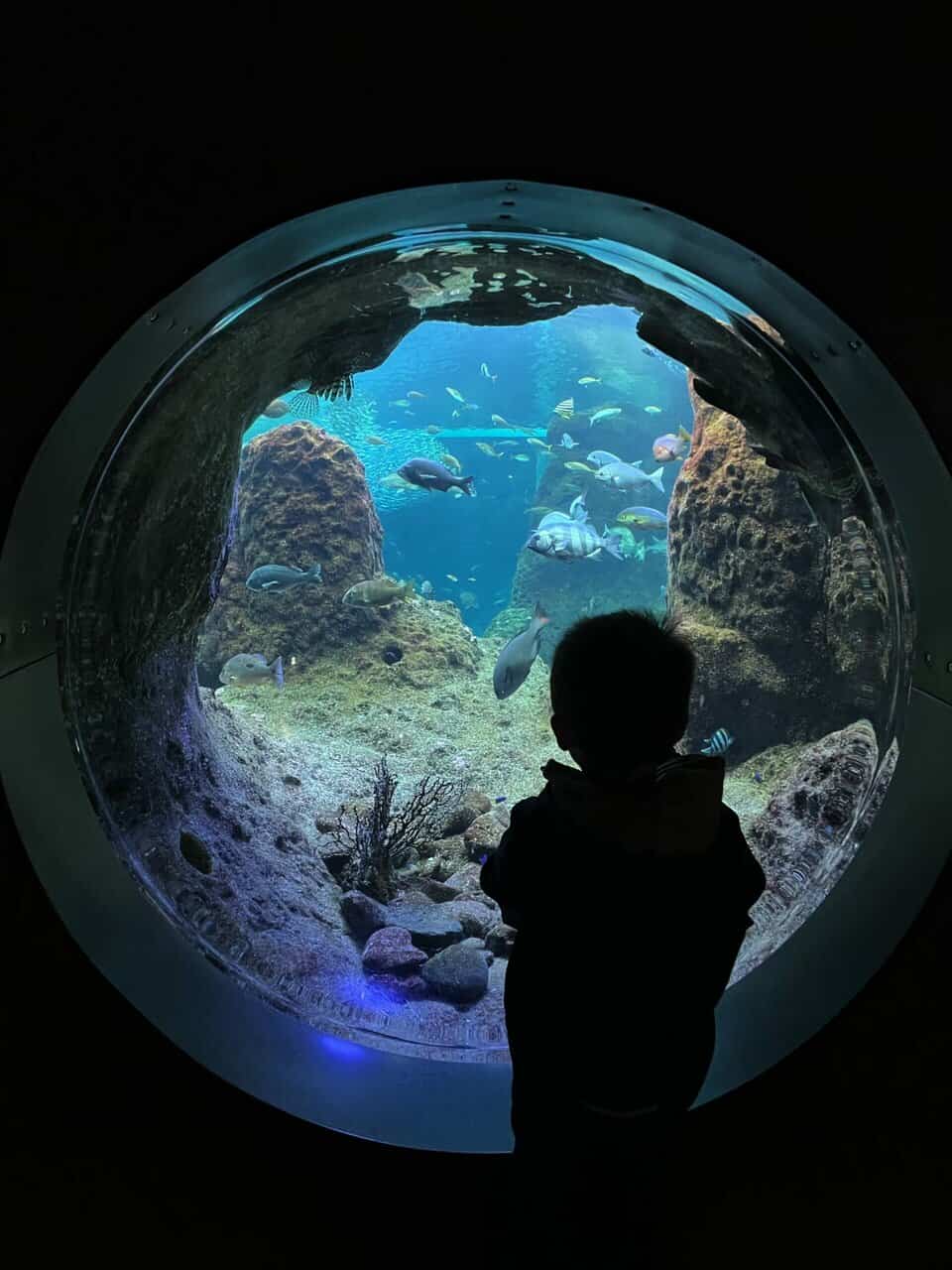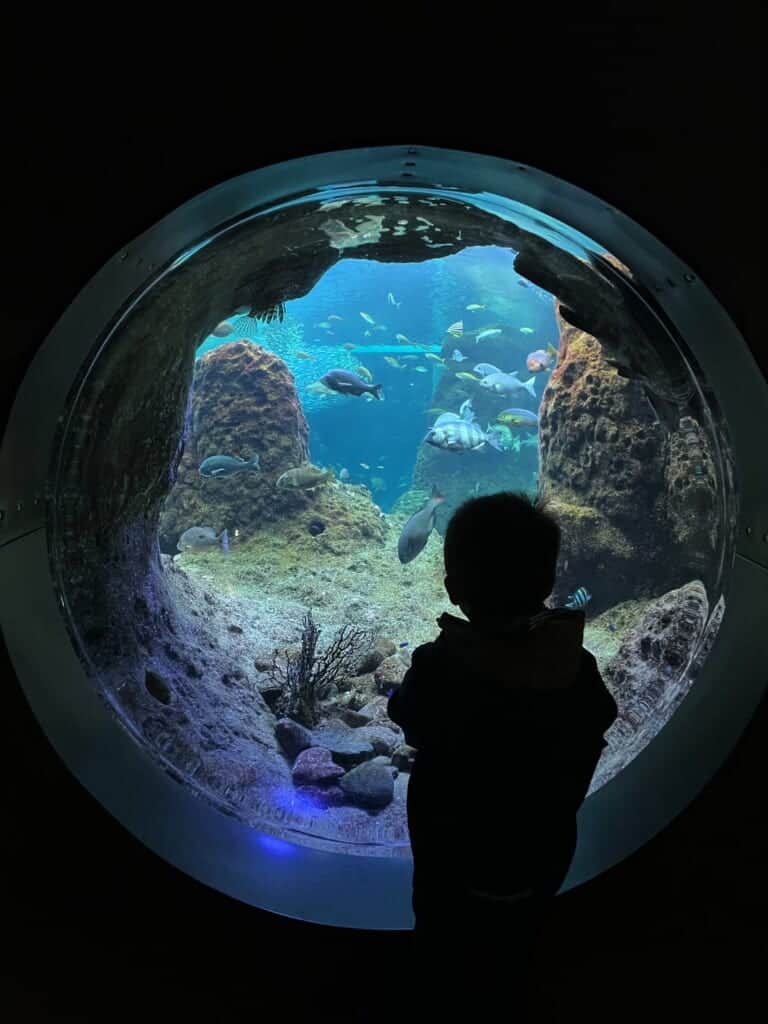 Getting to Enoshima
You can take three different trains to get to Enoshima. The Odakyu Romance Car is a special express train that takes you from Shinjuku Station to Katase-Enoshima Station (1 hour 30 min). You can also transfer from JR Ofuna Station to take the Shonan Monorail (14 minutes), which gives you a great view of Mount Fuji. Lastly, you can transfer from JR Fujisawa Station to the Enoden train to Enoshima Station (11 minutes).
Whether you are traveling as a solo traveler or as a family with kids, Enoshima has plenty for everyone to enjoy. Take your time to learn about the wonders of nature and history from a fulfilling getaway in Enoshima. Visit Discover Fujisawa to learn more about how to enjoy Enoshima and Fujisawa city.
Article sponsored by Fujisawa City Tourist Association