Sponsored by Izumi City
The balance of traditional with the modern is one of the things visitors love most about Japan, but it is difficult to experience this balance if you only visit the large urban areas like Tokyo. Yet just 3 hours away from the largest metropolitan area in the world you can stay on a farm with a real family of farmers and have a totally different experience from staying at a modern urban hotel.
Nouhaku: "Stay on a Farm"
The Japanese word nouhaku means a stay on a traditional Japanese farm. This "Bed & Breakfast" type of accommodation includes lodging overnight with dinner and breakfast prepared by the hosts using local produce. During your stay, you will also be involved in participating in the daily farm activities of the host family.
Izumi, southwest of Kyushu Island, offers several types of nouhaku experiences. About 20 families open the doors of their farm and offer a variety of activities such as produce gardening, rice harvesting, mushroom cultivation, firefly observation, and honey production. Each family offers a different program. Depending on your preferences (activities, number of guests, etc.), you will choose a family to stay with.
My Stay with Mr. & Mrs. Ohira
I had the chance to stay at the Ohira home in their traditional farm house. When I arrived, Mr. Ohira picked me up at Izumi Station to introduce me to his farm, "Yuyuan", which is about twenty minutes away by car.
Discover the Rural Japan
Upon our arrival, Mr. Ohira was quick to show me around his beautiful garden. He grows ten kinds of citrus fruits in all sorts of shapes, colors and tastes. Mr. Ohira also grows vegetables: several types of cabbages and potatoes, carrots, and local vegetables such as daikon (Chinese white radish). Mr. Ohira was helpful in explaining to me in perfect English how each fruit and vegetable is cultivated, harvested and used in cuisine.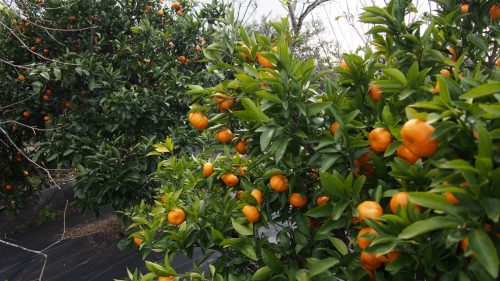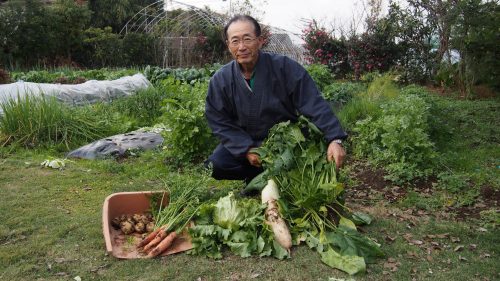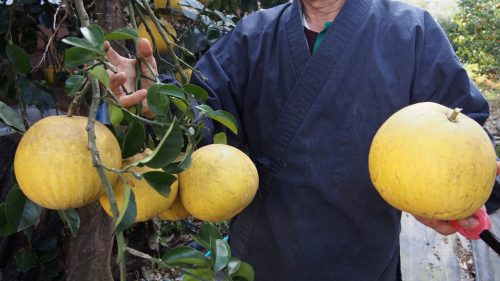 After picking produce, Mr. Ohira introduced me to the Buddhist temple and Shinto shrine just next door to the family farm. Upon our return, I was able to tour the property; the traditional house, dating back to the samurai era, has been carefully preserved. It is in the main room where there are tatami floors, shoji (sliding doors made of paper) and an irori (a sunken hearth), that I go to sleep. We were able to enjoy an excellent green tea and a small pastry together.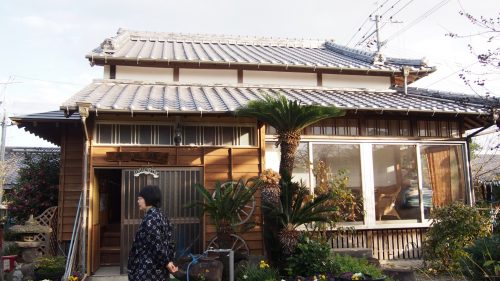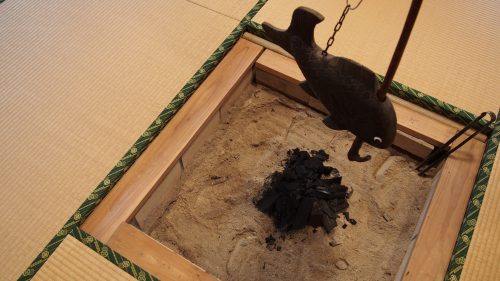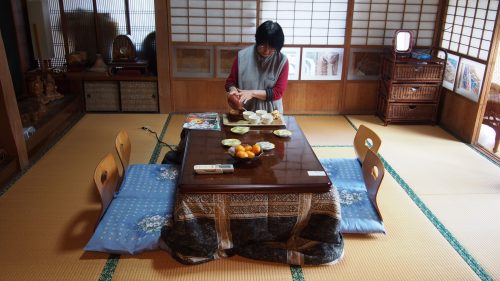 A Feast Cooked with Local Ingredients
Come dinner time, we enjoyed oden (a hot pot consisting of vegetables, tofu, eggs, meat kebabs and fish) around the irori.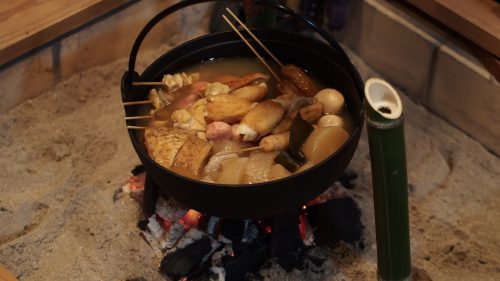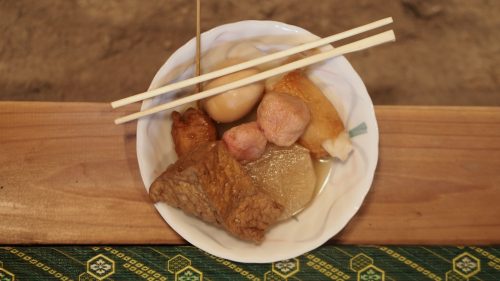 Mrs. Ohira prepared a feast, using garden vegetables and local produce. Gyoza (pork dumplings), steamed vegetables, sweet potato, Izumi chicken with thyme and lemon, miso soup, rice and ume (plum), small shrimp fritters, everything was delicious. During the meal, Mr. Ohira let me taste shochu (sweet potato liqueur) as well as umeshu (plum brandy) that he made himself from the plums of the garden.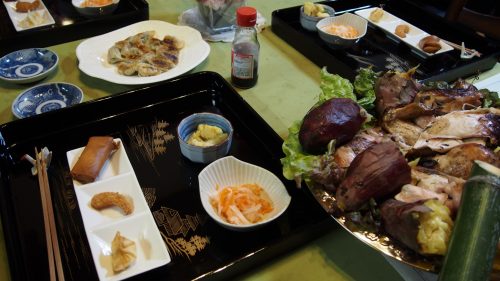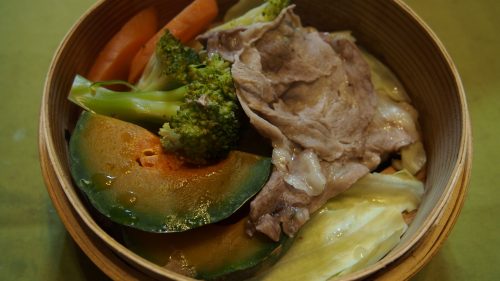 Sleep on the Futon
After dinner, Mrs. Ohira showed me how to lay out the futon. First, we put down a futon mattress and buckwheat pillow, then covered it with a thick blanket.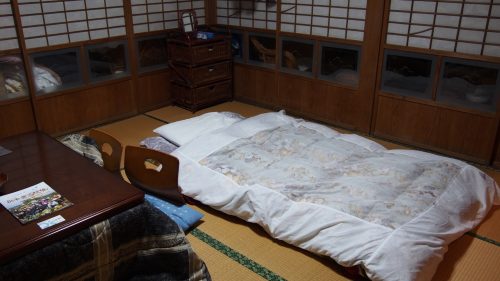 Early Morning Crane Watching
At dawn, Mr. Ohira took me to see the cranes. These magnificent migratory birds meet in Izumi during the winter before heading back to Siberia.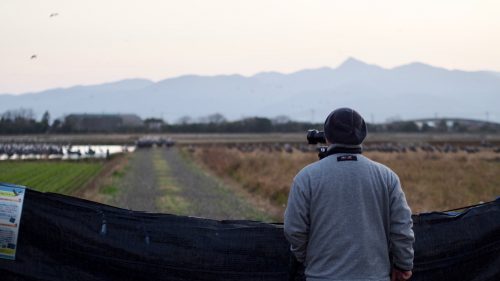 Upon our return, Mrs. Ohira served us a king's breakfast: daikon donut, oden, miso soup, rice and salmon, sesame spinach, almond-dried fish, ume, candied shallots … all served with shiso juice (an aromatic plant close to mint) and green tea. It was fresh and excellent.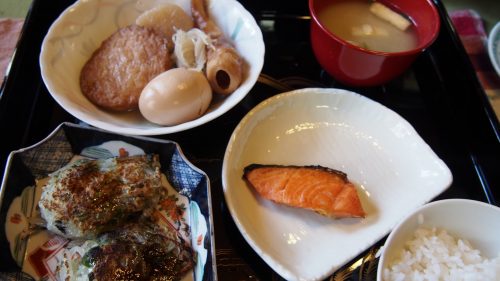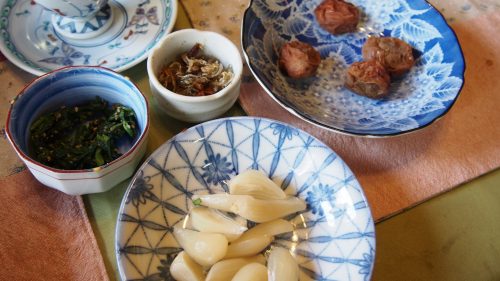 This stay on the farm allowed me to understand Japan differently. It is an interesting experience that I recommend to anyone who wants to discover the country in all its authenticity. Kyushu Island will host the Rugby World Cup in autumn 2019. Only 32 minutes from the big city of Kumamoto, it would be a shame not to enjoy one of the many farm holidays offered by the city of Izumi.
Useful Information
How to Get to Izumi, Kagoshima Prefecture
Izumi is served by the Shinkansen Kyushu Line (Hakata to Kagoshima Chuo), Izumi Station, which makes it easily accessible. A JR Pass is also valid.
From Tokyo: About 2 hour flight to Kagoshima, then 1h20 by bus from the airport to Izumi.
From Fukuoka: About 3 hour by car / 1 hour 11 minutes by Shinkansen.
From Kagoshima: About 2 hour by car / 24 minutes by Shinkansen.
From Kumamoto: About 2 hour by car / 36 minutes by Shinkansen.
Kagoshima Airport is also serviced by international flights:
From Seoul and Shanghai: Approximately 1 hour 35 minutes flight.
From Hong Kong: About 3 hour flight.
From Taipei: About 2 hour flight.
How to Make a Reservation for the Farm stay?
Online Booking through: http://www.izumi-navi.jp/en/feature/minpaku
Click on "Inquiry Form of Farm Stay" to fill in the form (name, date, number of participants, preferences, etc.) and confirm it.
For the details, please refer to "Information About Farm Stay".
If you wish, please make a reservation no later than 14 days prior to your stay.
Price
For up to 2 people: ¥9,900 per person.
For 3 or more people: ¥8,800 per person.
Ages 12 and Over: ¥6,600 per person.
The price includes 1 night stay as well as dinner and breakfast, and the farming activities with each family offers you.
Contact
Tourism Division, Izumi City
1-3 midori-mati, Izumi City, Kagoshima, 899-0201 Japan
Email: kanko_c@city.izumi.kagoshima.jp
Tel: +81-0996-63-4059
Web: http://www.izumi-navi.jp/en/
| | |
| --- | --- |
| Name | |
| Category | |
| Address | |
| Access | [map][/map] |
| Opening Hours | |
| Price Range | |
| Payment options | |