We are the latest victims of Mr. Choppy, a voracious monster obsessed with swallowing the latest and craziest aesthetic trends. His stomach houses the eccentric Kawaii Monster Cafe in Harajuku. It's an unforgettable explosion of flavor and color located in Tokyo's most fashionable neighborhood. This is a world-famous district known for its unique street fashion. Coming here means entering a world that concentrates in a hyperbolic way, everything that we expect to find in Harajuku.
*On January 31, 2021, Kawaii Monster Cafe permanently closed its doors.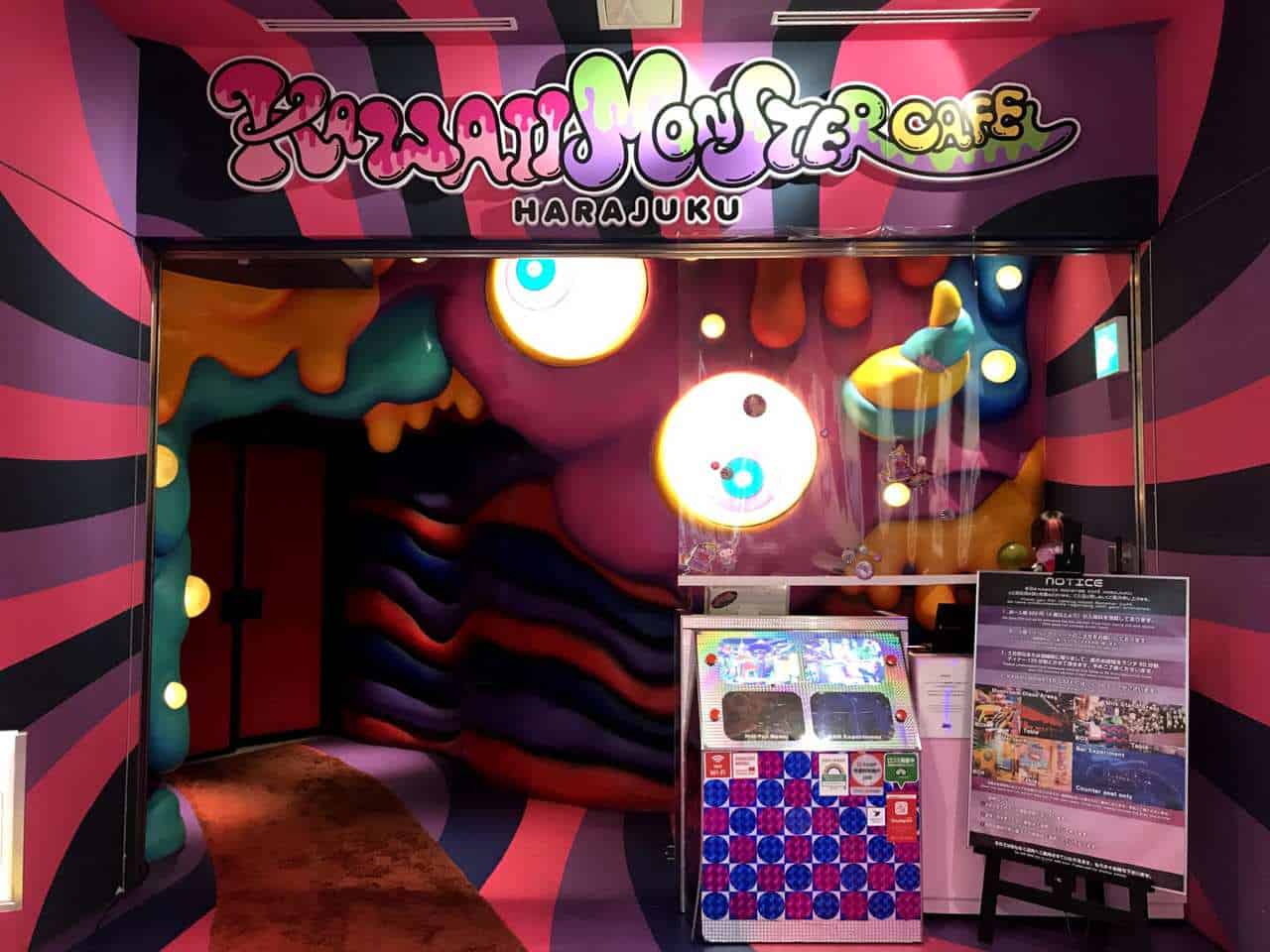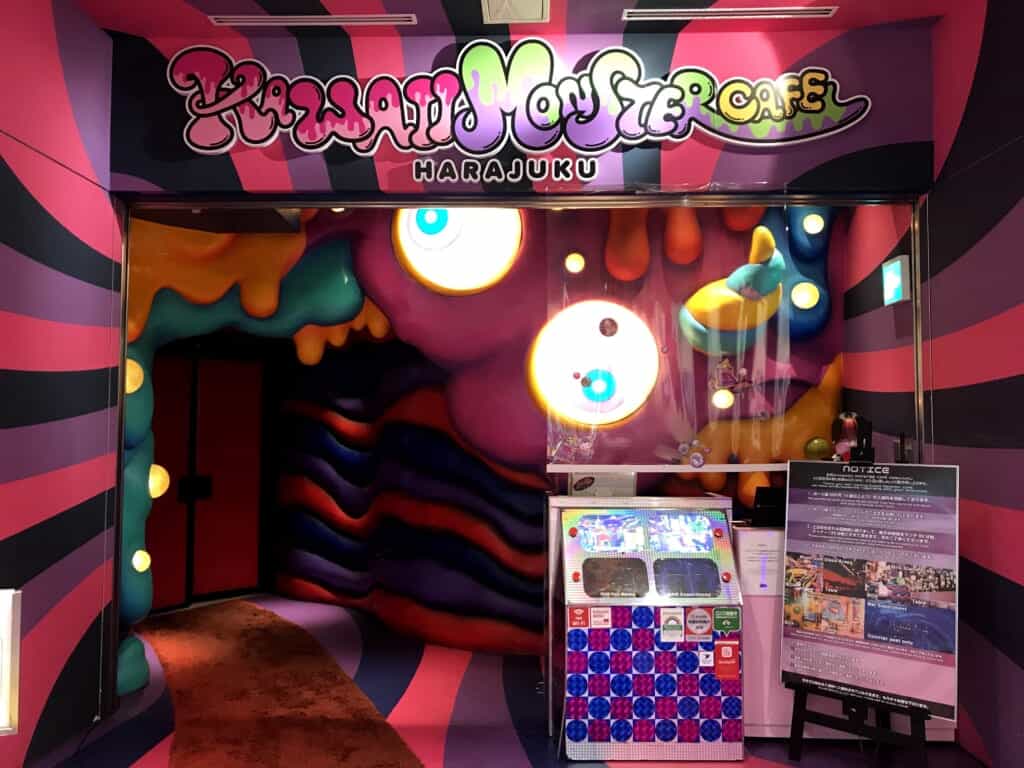 The cafe was born in 2015 as a result of artist Sebastian Masuda's bustling and effervescent mind. He is one of the most influential figures in current Japanese pop culture. His imagination lies behind the characteristic visual style of pop singer Kyary Pamyu Pamyu (きゃりーぱみゅぱみゅ). Masuda produced her first music video in 2011. It launched her to international stardom thanks to her surprising and original style—something between sweet and mischievous childish innocence and irreverent, absurd humor.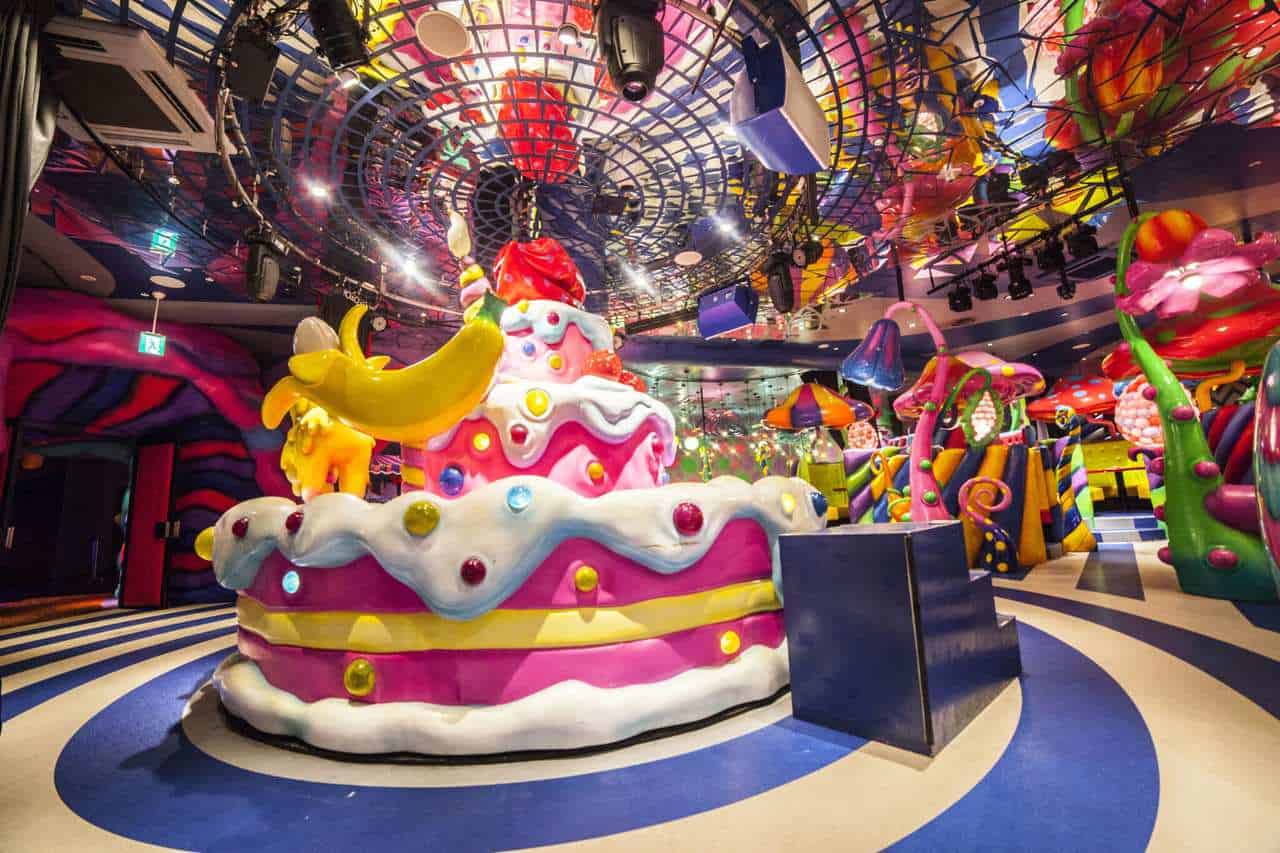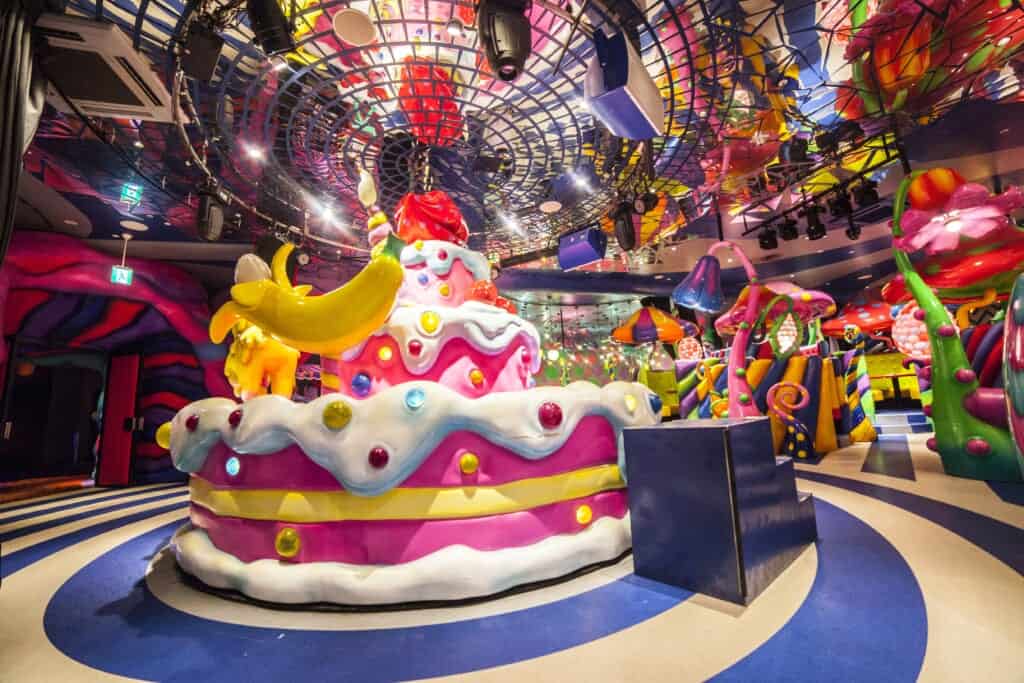 Welcome to Another World
In the first place, a psychedelic carousel welcomes us to an acid trip that, at times, seems to pay homage to the works of Salvador Dalí and Lewis Carroll (author of Alice in Wonderland). The central area of the Kawaii Monster Cafe in Harajuku, aptly named Mushroom Disco, consists of a giant rotating cake called Sweets-Go-Round, under a roof inspired by the iconic mirror spheres of the disco era. Tables with semi-private seating for small groups surround it under the shelter of huge, colorful poisonous mushrooms intertwined with candy canes.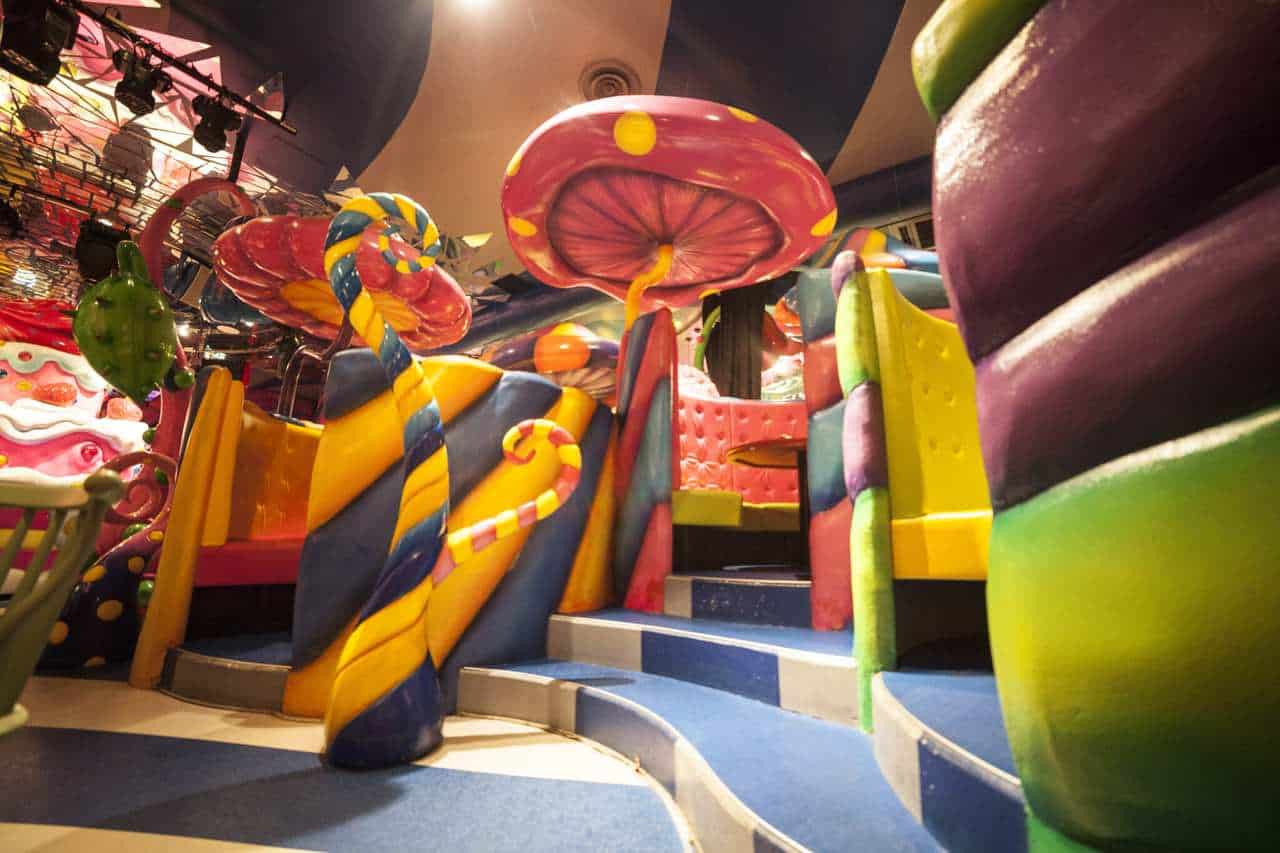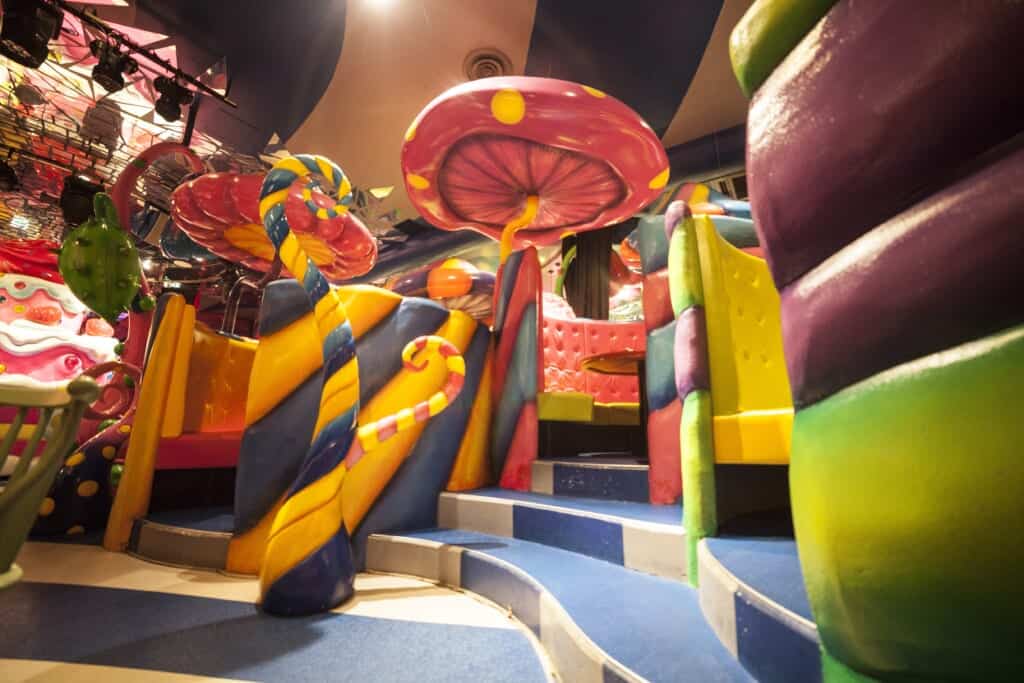 The Milk Stand is pure surrealism. Large sheep, unicorns, and rabbit heads drink from giant baby bottles suspended from the ceiling through flexible tubes. The bar at Bar Experiment plunges us into the depths of the ocean among the giant, glowing tentacles of a jellyfish. Finally, Mel-Tea Room is a corner that provides us with a pleasant and cozy space between pastel colors and a retro-sixties style.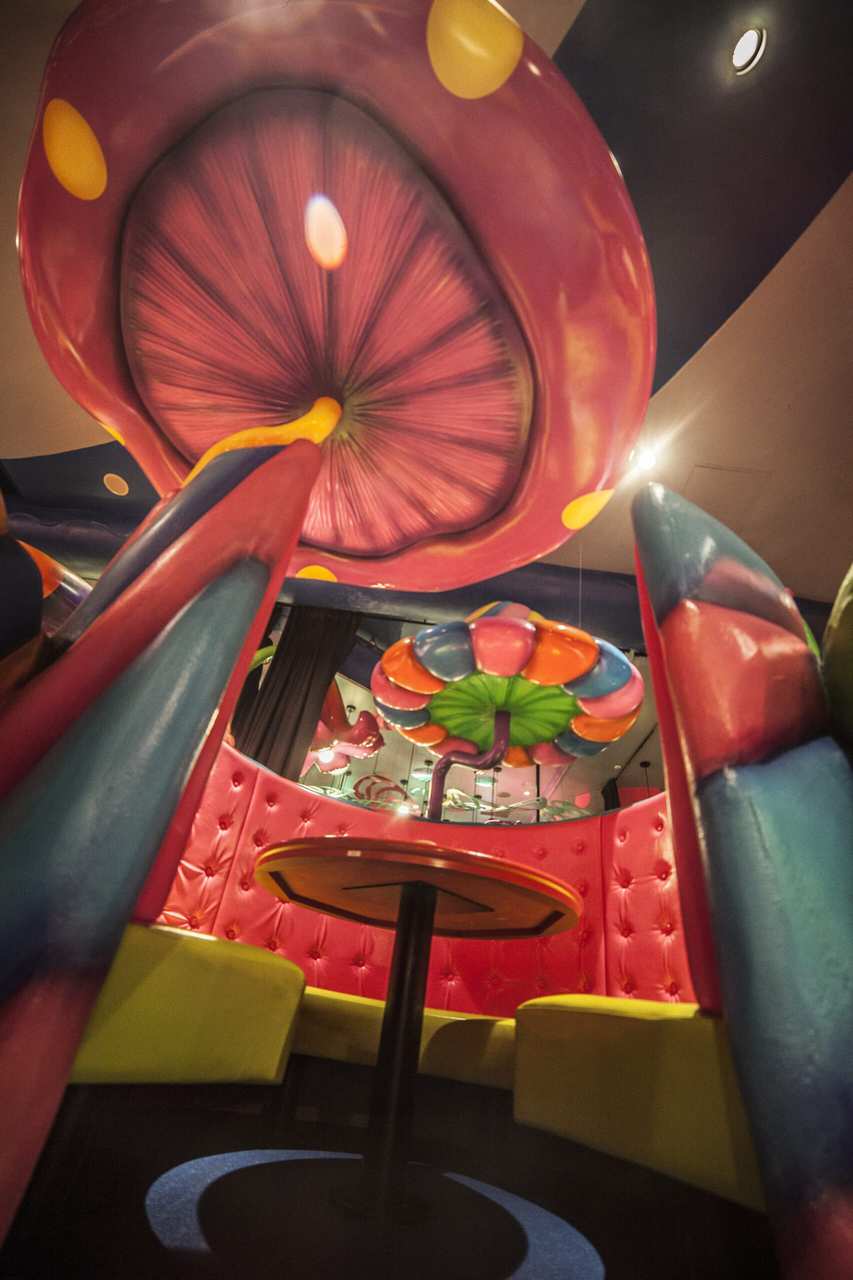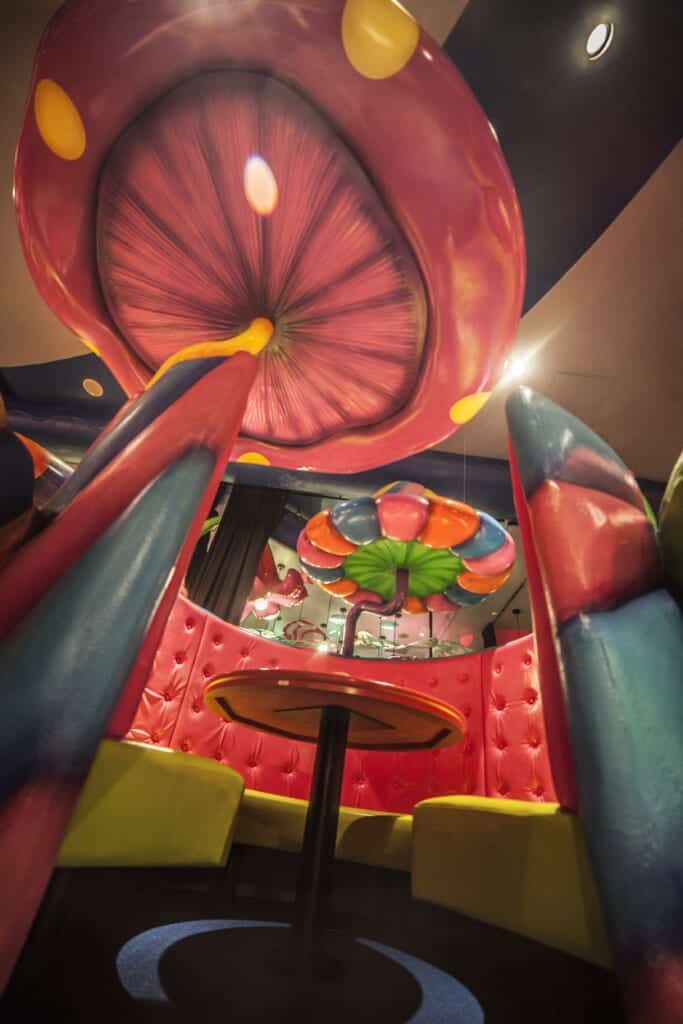 Subsequently, no matter where we look, every corner of the Kawaii Monster Cafe in Harajuku is unique and has an equal measure of eye candy. It is impossible to assess which one will surprise you the most: chaos and madness are evenly distributed.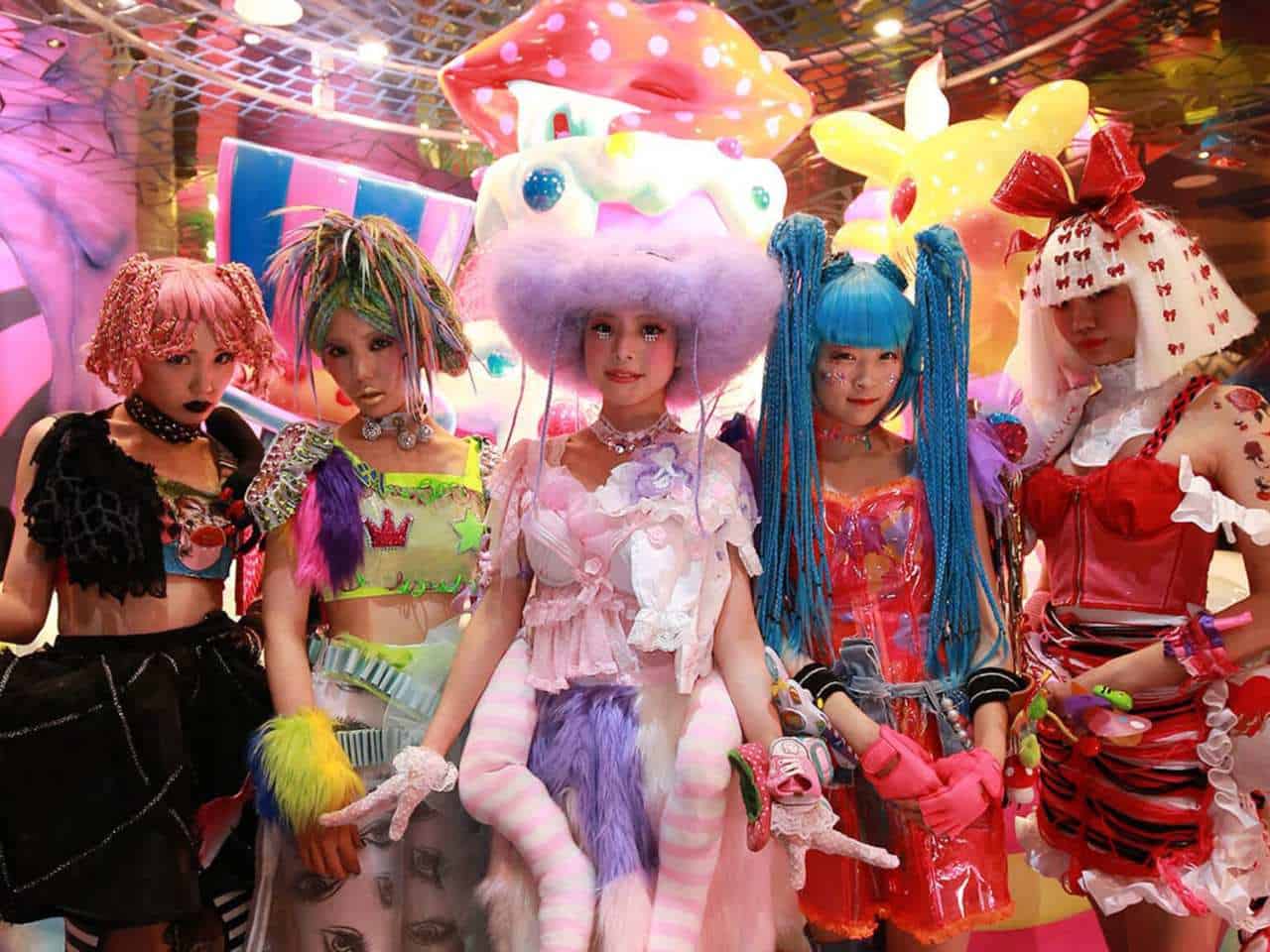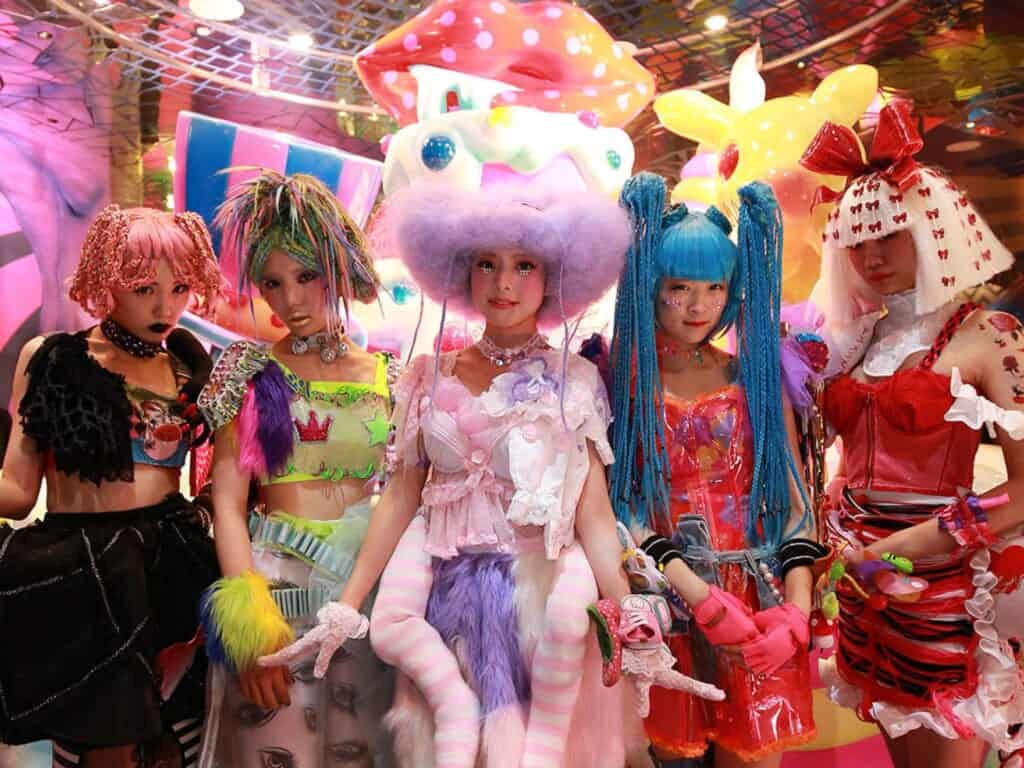 Who are the Monster Girls?
Come for the drinks, stay for the girls. We wouldn't be talking about Kawaii Monster Café if it weren't for its ambassadors. The adorable Monster Girls perfectly embody the crazy aesthetics and Kawaii values of Harajuku. Five different personalities are represented through quirky outfits designed by stylist and blogger Misha Janette. Through the shows, the Monster Girls make the collective madness come alive rather than being limited only to interior design. We can also interact with them during our stay, and they will be our guides inside a space that is literally out of this world.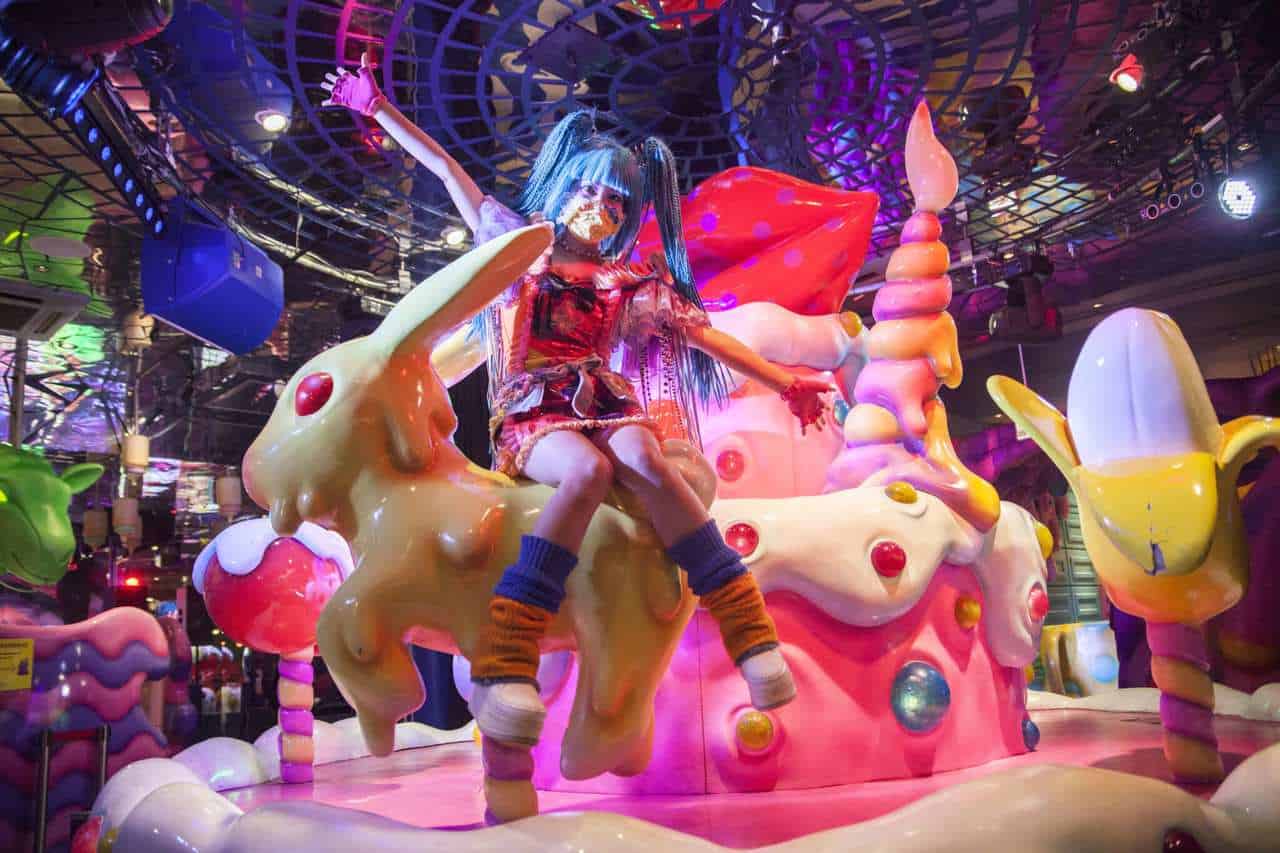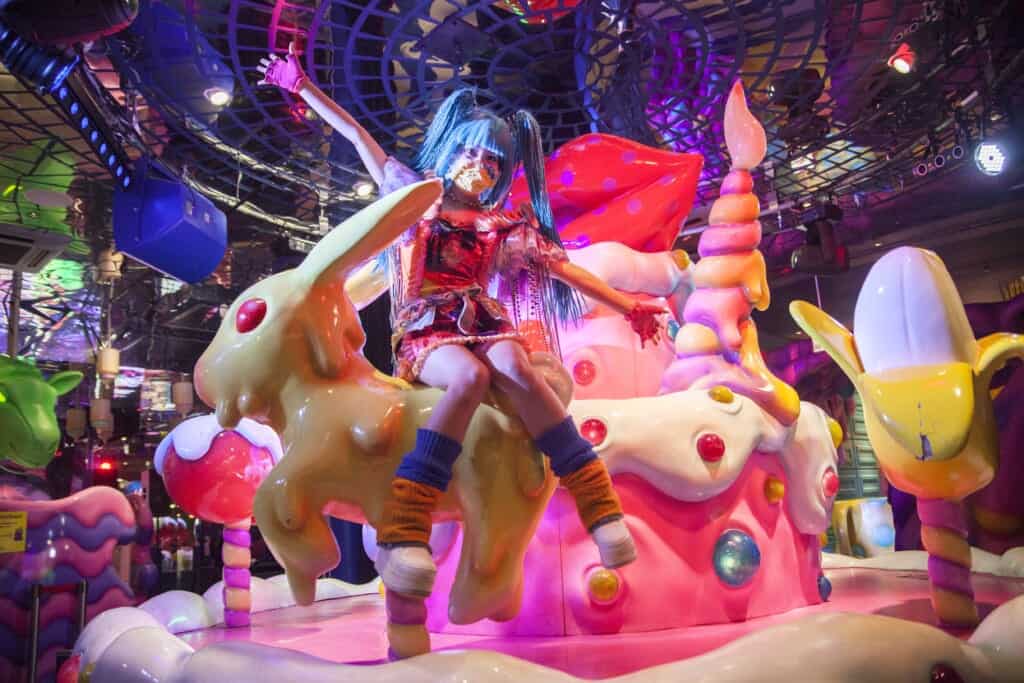 For example, during our visit, we were honored to be guided by fun and energetic Candy. Her mission is to represent the concept of vivacity and vitamin power, brimming with pure joy and full of talent as a singer and model.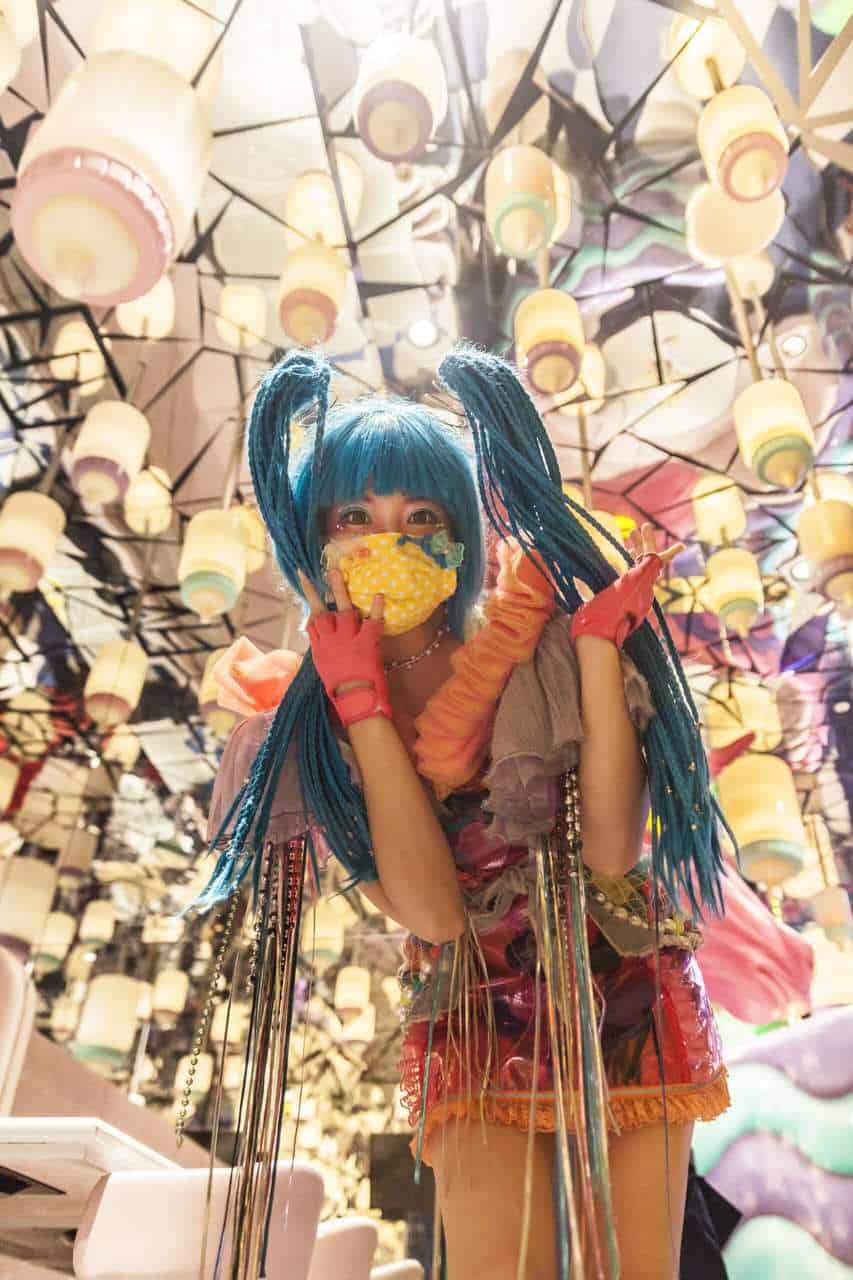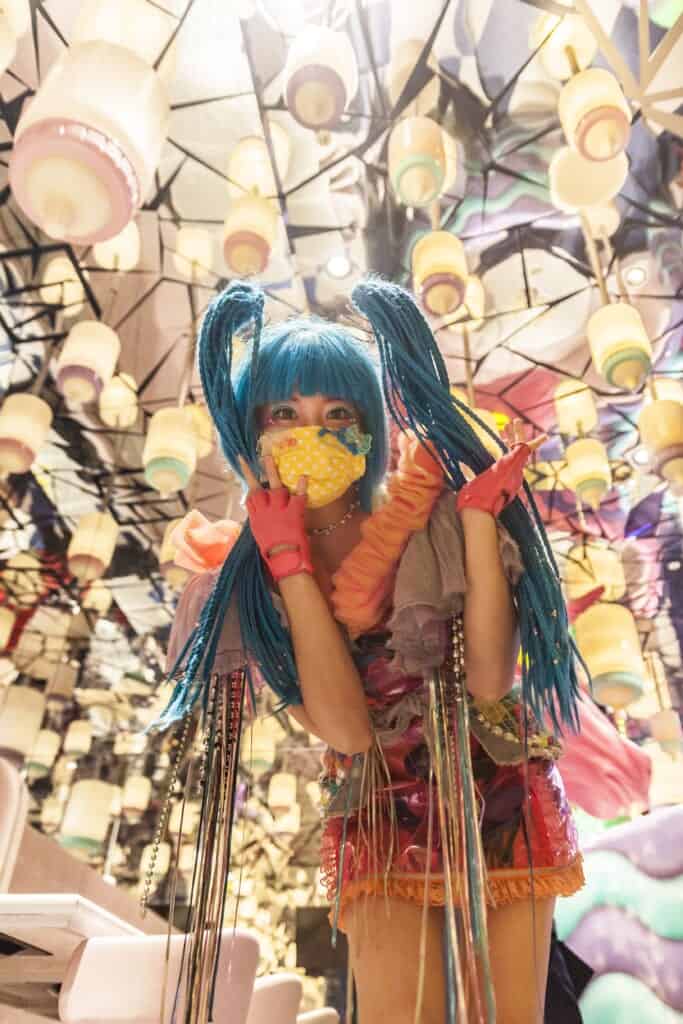 The Food at the Kawaii Monster Cafe: A Menu as Delicious as it is Eye-catching
It's not exactly an affordable menu, but we wouldn't be here either if the goal were only to eat a simple dish. In the midst of the visual whirlwind, it's easy to forget that Mr. Choppy's stomach houses a café where "eating with the eyes" takes on a new meaning. With this in mind, the menu's creations do not disappoint anyone in terms of color and allure. A simple spaghetti dish goes through the magic of being presented as a painter's palette with different and creative sauces representing the pigments.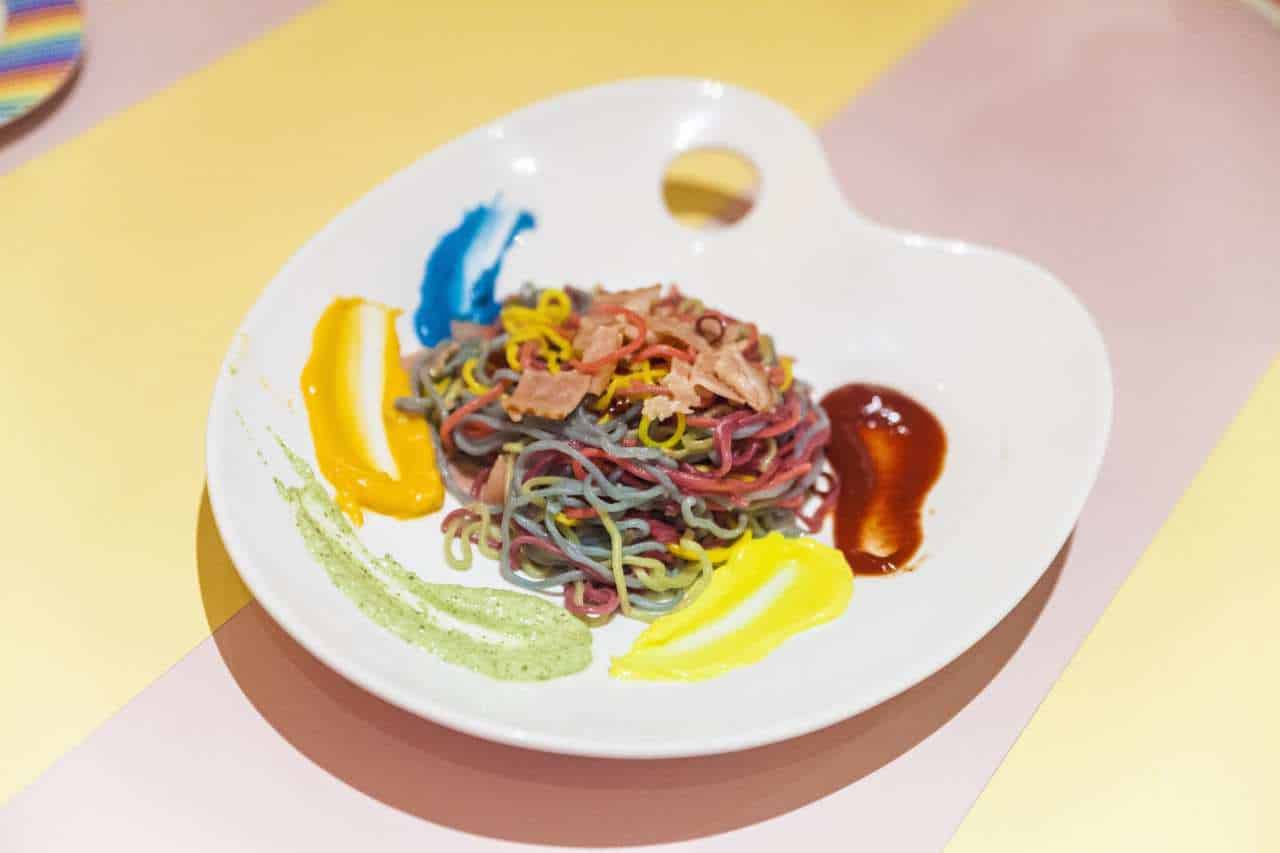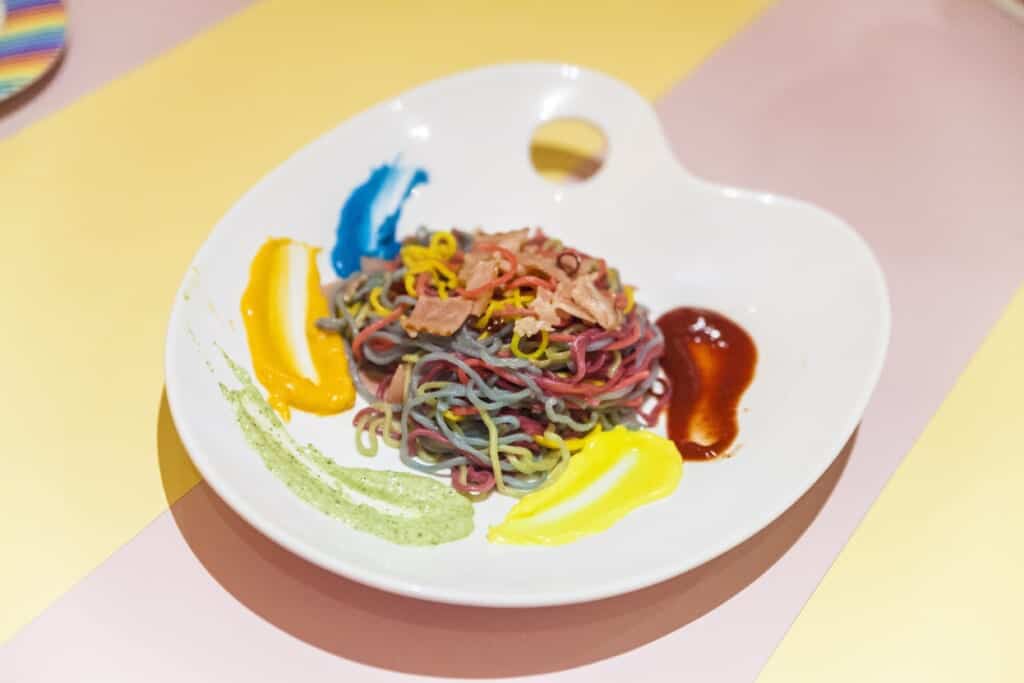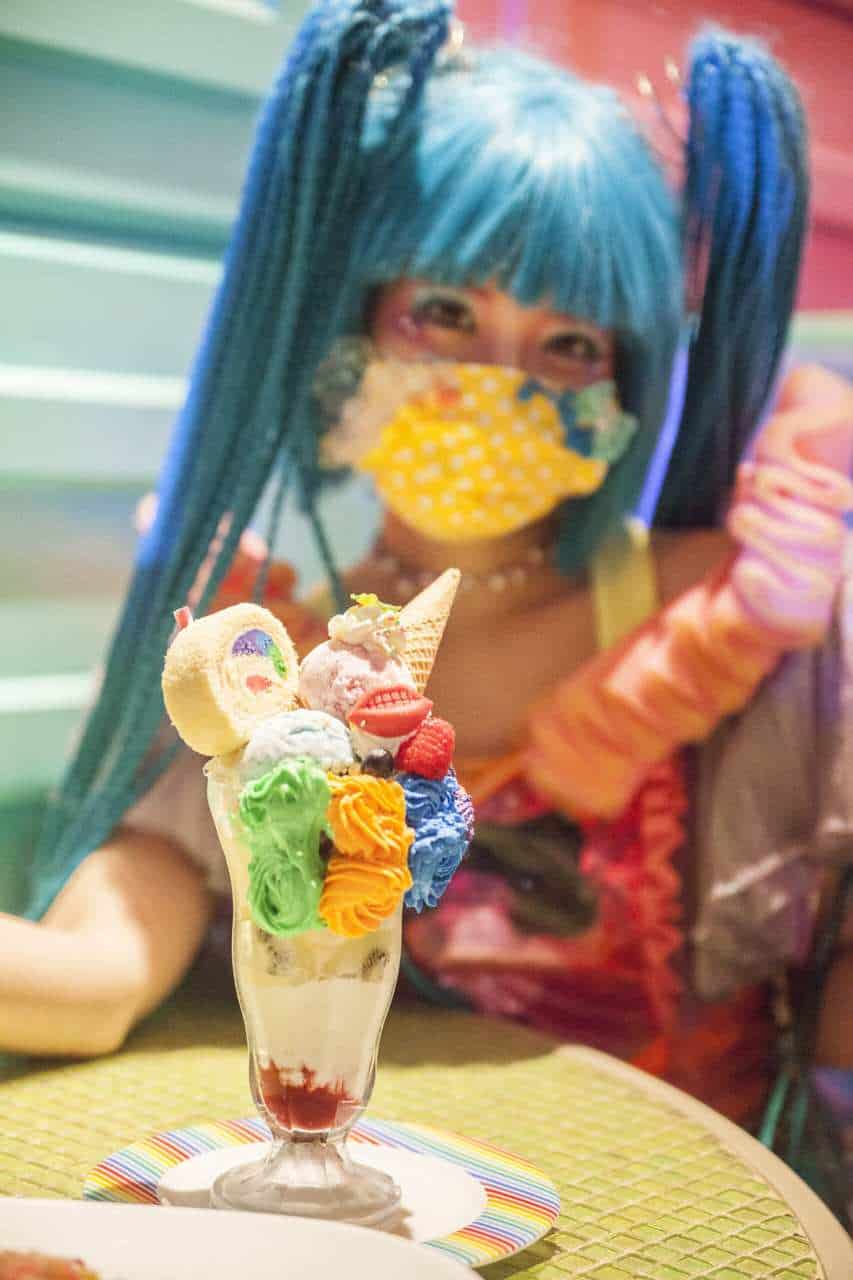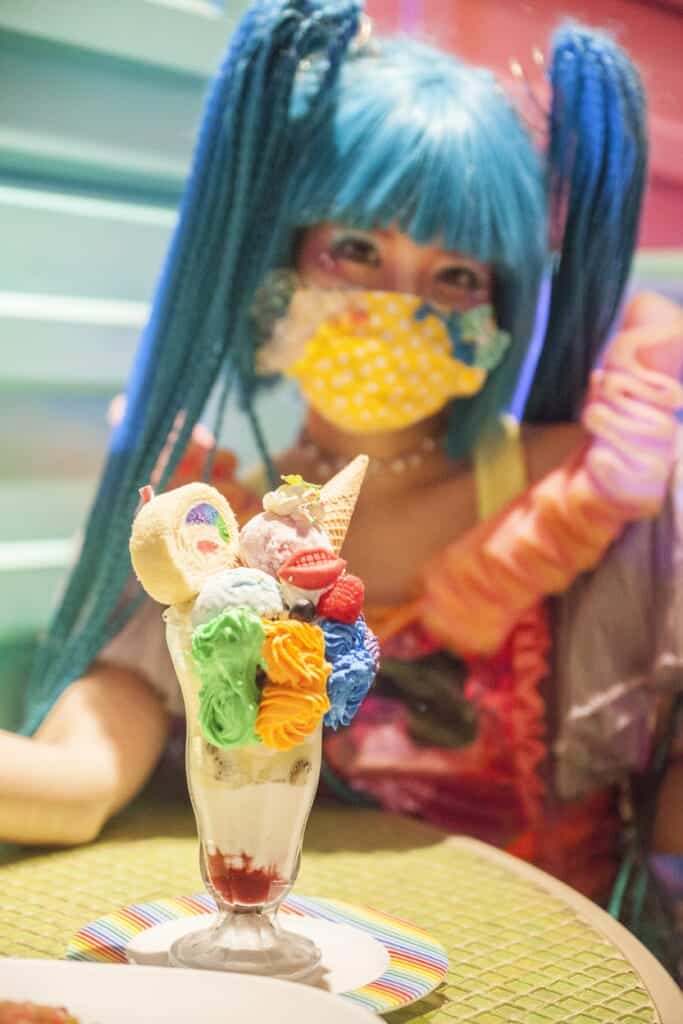 As a result, we can see that we are not eating plastic just for the sake of sparking jealousy on social networks. These are carefully crafted and genuinely delicious dishes. The cafe renews its menu with each season, though its most popular classics remain on the menu throughout the year.
Is it Necessary to Book at Kawaii Monster Cafe?
It is not an obligatory requirement, but it is the recommended option to avoid unpleasant surprises on the day of the visit due to its great popularity. Through GoVoyagin, it's possible to book easily and choose among different options according to your preferences. If you only want to enjoy the cafe and its facilities, the price of the individual entrance is 550 yen. In case you want to attend one of its different shows, there are several options available with prices starting at 2,200 yen. It is also possible to confirm the times of the different types of shows available.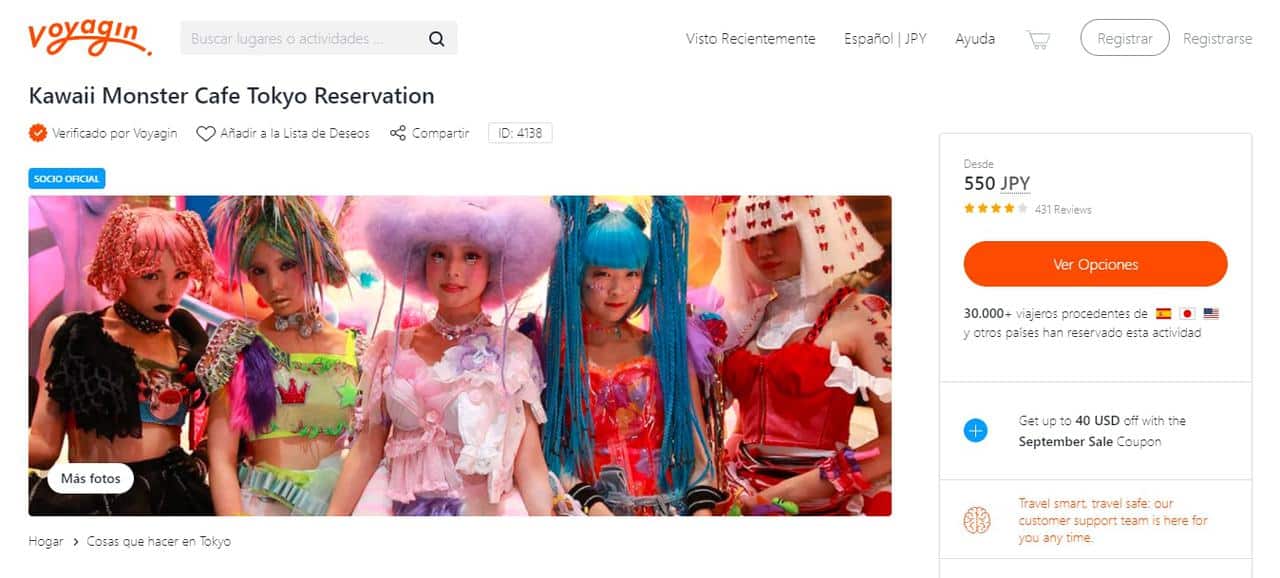 It should be noted that it is possible to request a loyalty card for those who wish a repeated visit. With this card, it will not be necessary to pay the individual entrance fee on the following occasions, and additional advantages increase as the number of visits increases.

If you want to take a piece of the cafe with you, the Kawaii Monster Cafe in Harajuku has a clothing and accessories store with exclusive designs for all those who haven't had enough just by visiting the place.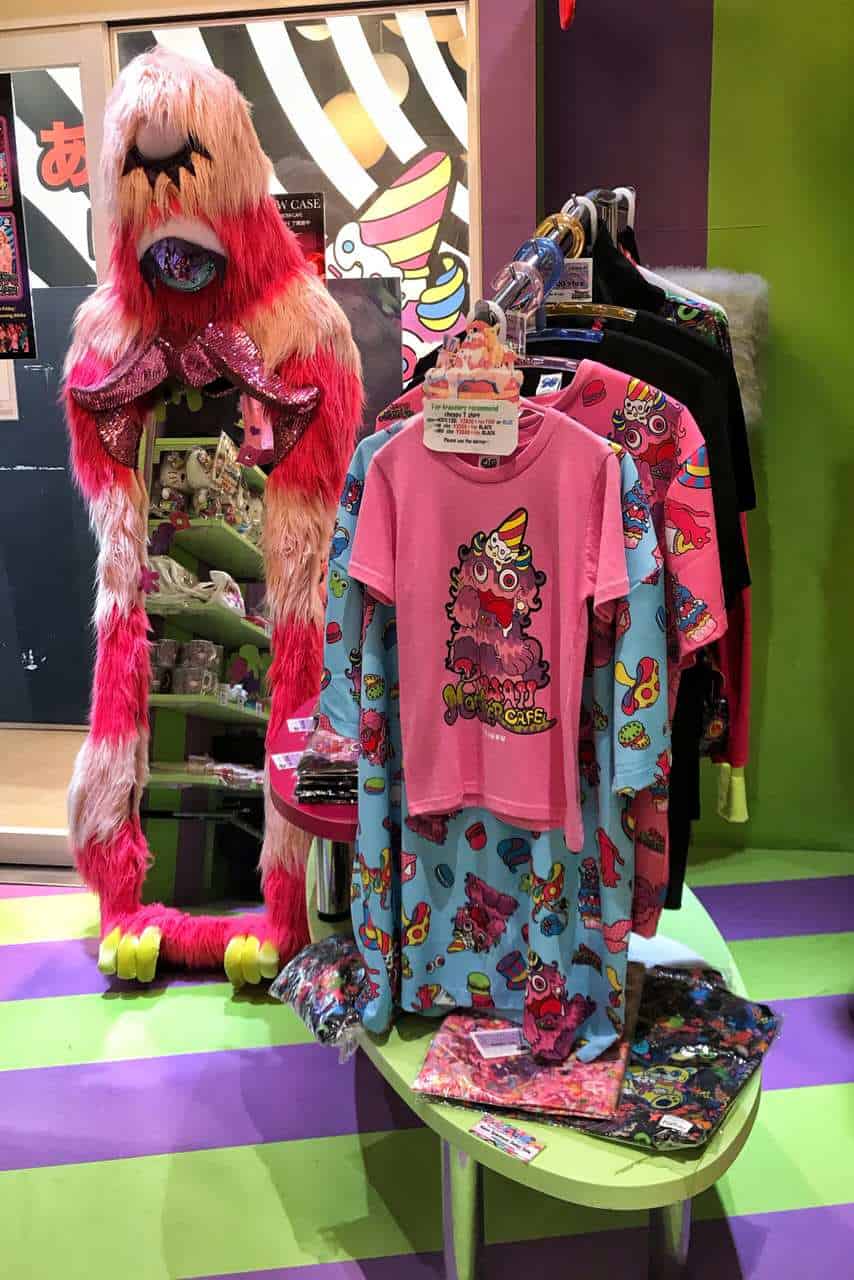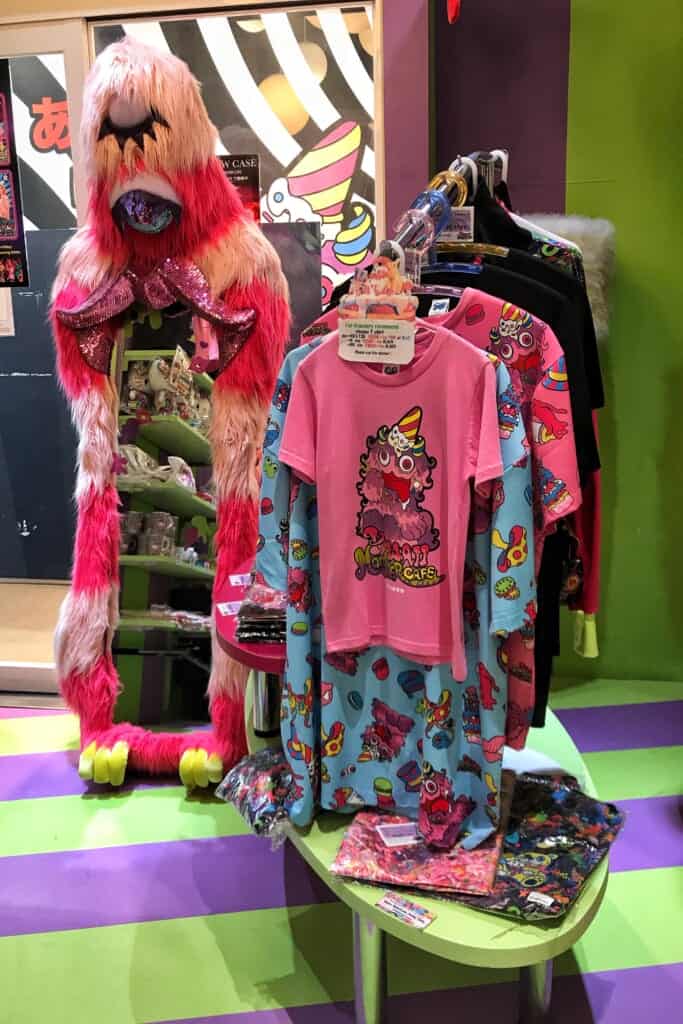 Is it Worth Going to the Kawaii Monster Cafe in Harajuku?
In my honest opinion: A resounding yes, because of all the above described. It is not necessary to be an admirer of the Kawaii aesthetics or its culture, but it's the kind of place and experience that only exists here. We could find numerous lists suiting all kinds of tastes for your visit to Tokyo, from the best sushi bars and recommended izakayas, to where to try the most authentic okonomiyaki. But Kawaii Monster Cafe is something unique in the world.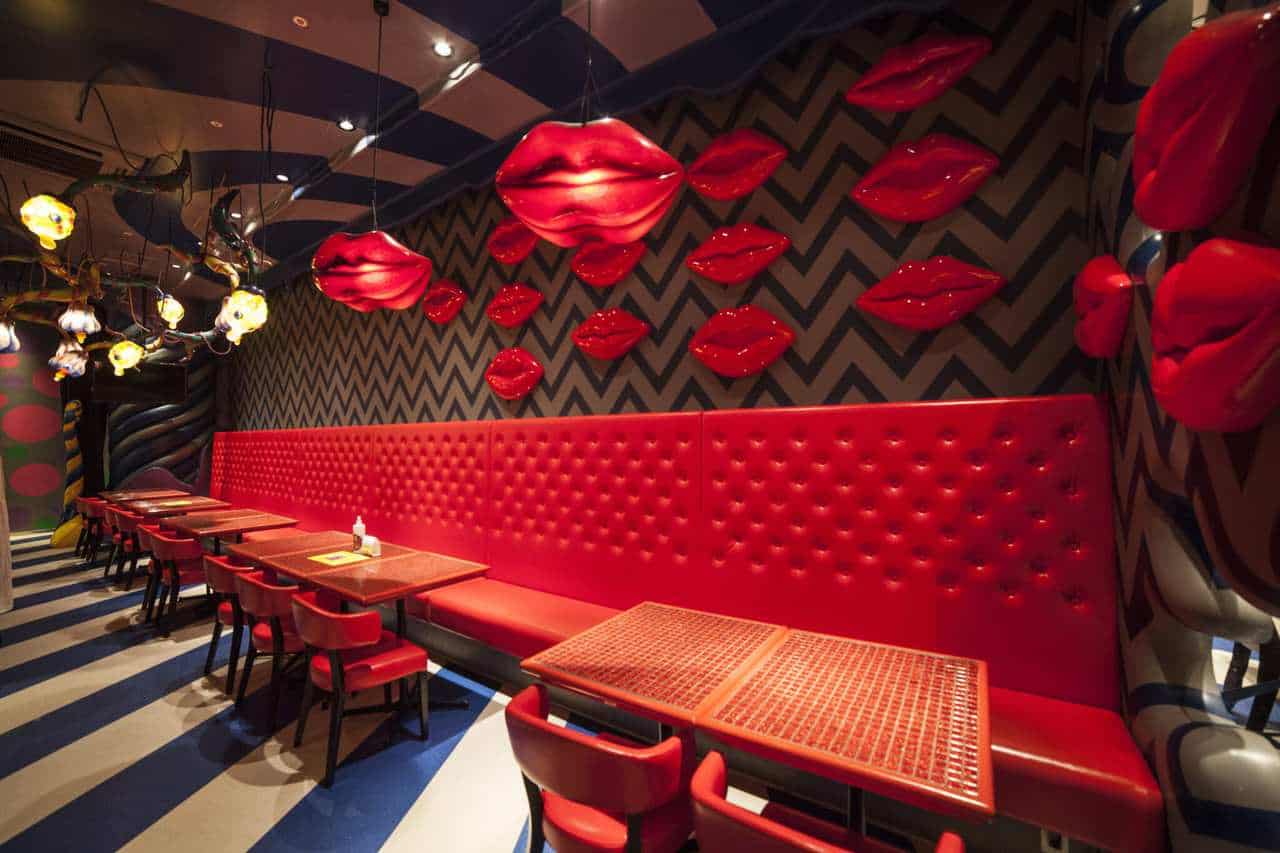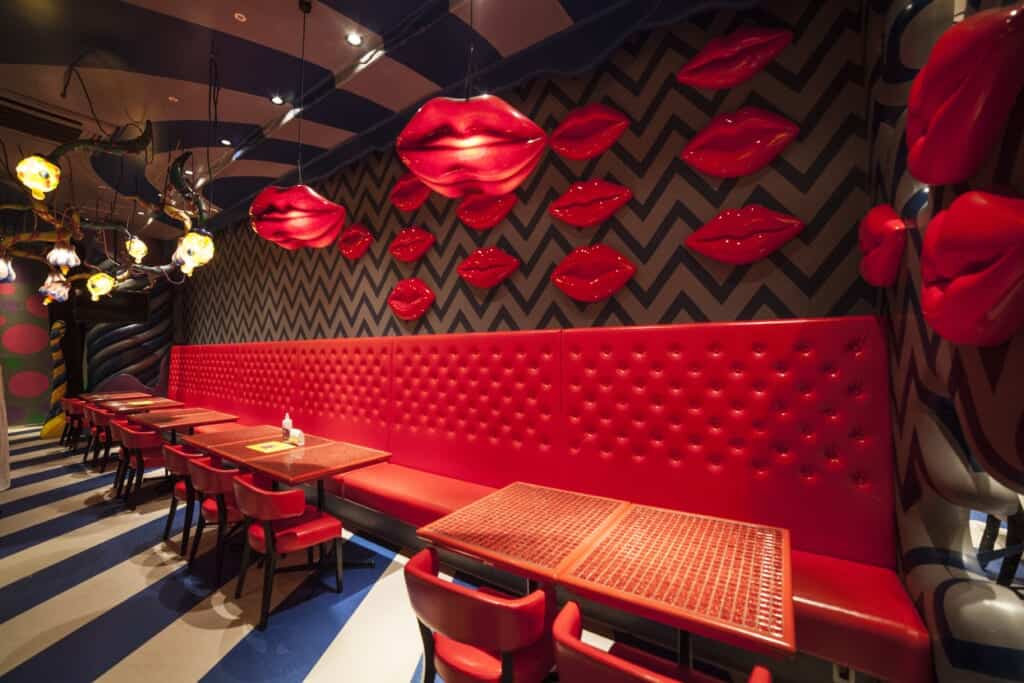 How to Get to Kawaii Monster Cafe
The easiest way to get there is through the Harajuku train station (原宿駅) on the JR East Yamanote line or from the Meiji-Jingumae stop (明治神宮前駅 ) on the Tokyo Metro Fukutoshin/Chiyoda lines. The cafe is a few minutes walk from either of these two stations, on the 4th floor of the YM Square building.
Adjectives such as funny, strange, or dreamy don't quite explain it. If you are not interested in this aesthetic, at least you have to see it with your eyes instead of just being told about it. And if you like this world, Kawaii Monster Cafe is a window into a unique part of Tokyo's urban culture that is as famous as it is misunderstood. It is a dimensional hole through which this aesthetic flows into the real world.