Japan offers foreign visitors a countless number of attractions, one of which being the iconic figure of a Geisha: a mysteriously beautiful Japanese woman. This well-known part of traditional Japanese culture inspired the popular novel-turned-film "Memoirs of a Geisha", which has no doubt attracted many people to learn about and visit Japan.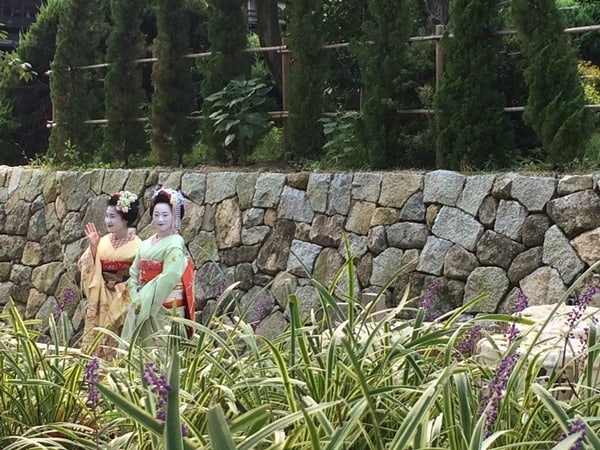 A Geisha is often seen as a symbol of a traditional Japanese woman, with the beautiful robe known as a Kimono and the unique makeup and hairstyle. This iconic look makes Geisha appear very elegant and eye-catching when walking on the street. Even native Japanese can be heard screaming out "Kawaii, ne!" (so cute!), when they spot a Geisha. Speaking of the Kimono and makeup, Geisha and Maiko often spend more than 2 hours applying their extremely detailed makeup. If you have the chance, try to focus your attention on their back, as they have a beautiful Obi (The Kimono's belt) and they will put the Kimono collar low in order to accentuate the neckline.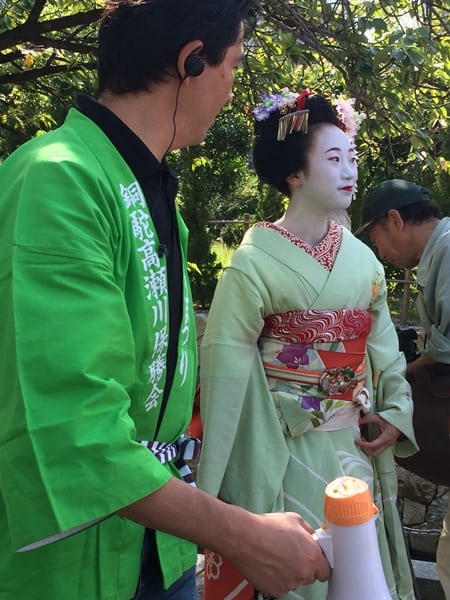 If you are lucky you might see a Geisha or Maiko during your time in Japan, specifically in Kyoto. Have you heard about Maiko? Many people are familiar with Geisha, but only few can differentiate between Maiko and Geisha. Maiko are the apprentices of Geisha, who begin their training between 15 and 20 years old. You can see both of them throughout Japan, but the practice originated in Kyoto. Gion in Kyoto is a well-known place where many Geisha and Maiko can be spotted. In Gion, some restaurants put their menu outside with a sign that offers customers the chance to enjoy their dinner with Maiko which will definitely enhance your visit to Kyoto . There are usually many different items on the menu, often with affordable prices that can start from just 2000 yen.
What about some entertainment? If you're prepared to pay a little more, they will entertain you as well. Maiko are more often seen entertaining people, as they are trained to entertain guests with activities such as singing, dancing, even talking with the unique Kyoto dialect. You can even enjoy a whole day spent with Maiko, but their passion and quality of service means you'll likely pay a lot more for this service. However, you will have a gorgeous close up view of a Maiko, and feel a unique experience seeing while they show you the interesting culture of Japan.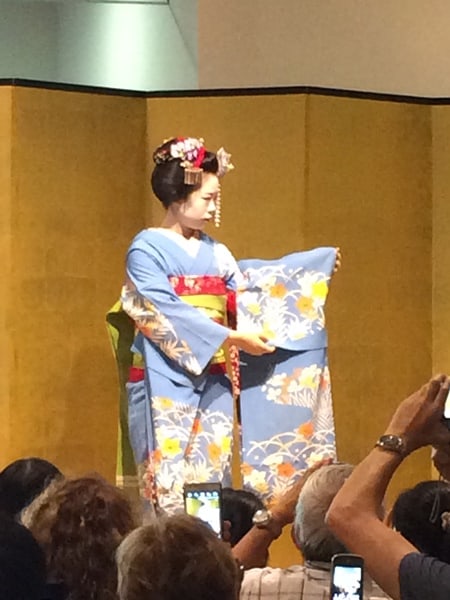 While enjoying a Maiko performance is highly recommended, it can become expensive. Not many people know that you can enjoy a Maiko performance for free. All you need to do is get in touch with Kyoto Miyako Messe, a traditional arts and crafts museum that also functions as an exhibition hall, located on the East side of Kyoto. They will show you traditional Japanese style dance by a real Maiko every third Sunday of every month, start from 14.00, 14.30, and 15.00. You can also learn about her Kimono and luxurious accessories.
How to get there? Here are some suggestions:
1. By bus from Kyoto Station, take bus number 5 or 100, and get off at Okazaki Koen/Bijutsukan or Heian Jingu-Mae bus stop, and walk about 10 minutes.
2. By bus from Kawaramachi station (Hankyu Railway), take bus number 5, 32 or 46, and get off at Okazaki Koen, Heian Jingu-Mae and walk about 10 minutes
3. By subway from Kyoto station, take the Tozai line and stop at Higashiyama station, then walk about 10 minutes.
4. By Taxi, the closest and most well-known spot near Miyako Messe is Heian Jingu Shrine.
The Maiko performance lasts about 15 minutes, after which they usually hold a short interview. They will give you detailed information about Kimono, the accessories, and furthermore, they will tell you the reasons why they want to be a Maiko. It's an amazing opportunity to interview Maiko where we can interact and actually ask them questions!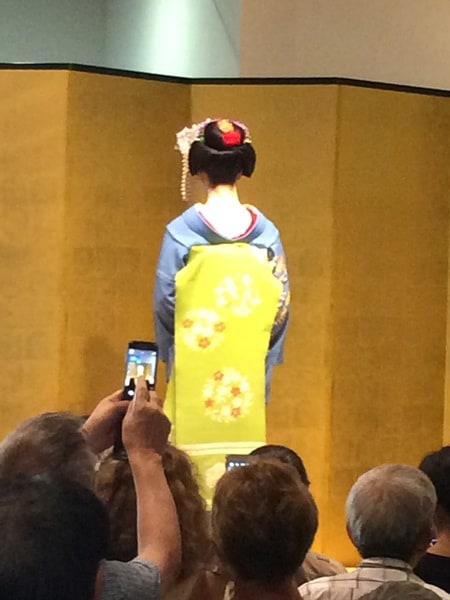 It's a must to spot and take a photo of a Maiko or Geisha while you're visiting Japan. There's no reason to miss the rare chance to view the Japanese traditional dance of a Maiko and get up close and personal with them. Not only that, but it's free! You will never regret watching their excellent performance!
| | |
| --- | --- |
| Name | Kyoto Miyako Messe |
| Category | |
| Address | 9-1, Okazaki Seisyoji-cho, Sakyo-ku, Kyoto-shi, 606-8343 |
| Access | [map]9-1, Okazaki Seisyoji-cho, Sakyo-ku, Kyoto-shi, 606-8343[/map] |
| Opening Hours | 09:00~17:00 |
| Price Range | |
| Payment options | |