Sponsored by Setouchi City
Ushimado is a village town near the Setouchi Inland Sea, the area is also known as the Mediterranean of Japan. This southern part of Japan has a similar climate to that of the Mediterranean Sea which makes for a premier location to grow olives. At the Setouchi Ushimado International Villa, guests get to feel like they are in a whole different world, right here in Japan. The Setouchi Ushimado International Villa itself is perched on top of a hill overlooking the Ushimado Village and its surrounding islands nearby. A villa with only five guest rooms, this place makes for a great getaway from the bustling cities and landscapes nearby in Okayama prefecture.
On Top of a Hill Overlooking the Ushimado Village
The Villa is located at the foot entrance of the Olive Park. Greeted by a Mediterranean style gelato shop and a pet goat, the premise is very quiet and refreshing. In the off-season of November, I was the only guest staying at the villa guest homes. But in the summers, the area comes to life. For only ¥4,320 a night, the guest villa includes a cozy yet grand living room with a fireplace and a bar perfect for even a wedding ceremony. My room included a bathroom, closet, two beds that were fluffy and warm, a TV, and ceiling to floor windows that faced a grove of lemon trees and the sunrise. Everything was very clean and the manager was hospitable to all my needs.
In the bathroom, you also get a chance to try out some of Nippon Olive's products such as shampoo, conditioner, and body wash. The staff at the entire park and gelato shop were all so welcoming and kind to my needs, helping me by calling a taxi or even giving me a ride to and from the villa if needed.
There are a nice Italian restaurant or cozy cafe which we can admire the nice views around this villa, plus the villa has a fully equipped kitchen for guests. This includes a full sized refrigerator, stove, rice cooker, a kettle, microwave, sink, cooking utensils and bowls. If you want to spend a relaxing evening here without the hassle of going out to eat, be sure to bring cooking ingredients or easy conbini food that can be heated up or made with hot water.
A ten minute walk up the hill brings guests to the official Olive Park, where the guest services building stands. Inside the building there is an olive gift shop and café where guests can enjoy tea and baked goods which use the local olive oil.
There are many beauty products and food ingredients available at the shop for all the olive lovers in your life, too. I also highly recommend trying the olive oil ice cream! If you can't bear to leave the delicious scent of fresh olives behind when you part, the shop also sells small and medium sized olive trees in pots for purchase. But be sure to ask how to take care of an olive tree, as it needs a certain climate to grow in.
The top of the building is also a beautiful lookout spot, but similar scenery can be enjoyed from the grassy hilltops where benches sit next to hundreds of olive trees all across the park. I tried eating an olive off of one of the trees but it didn't taste as great as the harvested ones! I took an early morning hike up here from the villa at the crack of dawn to get a glimpse of the sunrise.
As I waited for the sun to greet the day, I was joined by others from the area who use the park as a daily or weekly hiking spot. The friendly locals helped me identify nearby islands that began to pop out at sea as the sun rose higher. This hilltop is also popular with couples, as it's a romantic spot that even has a "bell for lovers." The pictures I took of the sunrise truly do it no justice, so I would recommend visiting and seeing it for yourself!
After the chilly early morning, I went back to my room to take a hot bath and slather on some new local olive lotion I purchased. It's exciting to know that the health and beauty products I used were right from this park itself; a truly local and organic experience. I packed up and hiked back to the olive shop where I had a sweet olive oil cake and olive oil infused tea for breakfast while overlooking the gorgeous morning view before saying goodbye to the hospitable Setouchi Ushimado International Villa.
Explore its Neighbor, Shiomachi Karakoto Street
By the sea, Ushimado has more sites that we cannot miss, especially a historical street called Shiomachi Karakoto Street. Housing preserved buildings that span from the Edo Period to the Showa Period, this 800-meter-long street still stands in a corner of the town, and continues to look as it did in days of old when this port town had grown as a port of call for ships.
On this street are located various entities and structures, including long-established sake breweries, a temple, and the lodgings used by envoys on Korean missions to Japan. Look at this peaceful and historical port town when you stop by.
Setouchi Ushimado International Villa – How to get there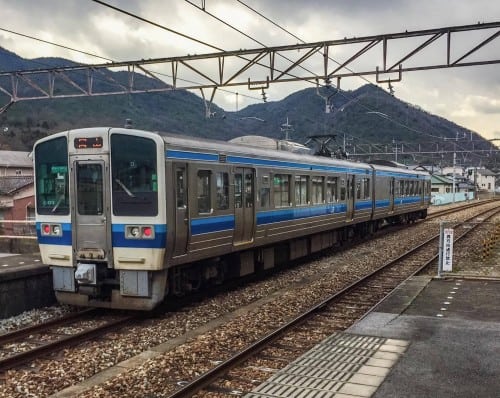 Take the bullet train (Shikansen) to Okayama : From Tokyo, about 3hours / From Osaka, about 50 mins
Then take the local train (JR Ako Line) to Oku station (20mins, ¥320)
From Oku station take a taxi or you can take a bus from the Oku station which is available 8 or 9 times a day. The fee from the Oku station to the Final stop Ushimado is 450 yen. It takes 20 minutes to get there by bus and 25 minutes on foot from the bus stop Ushimado to the Ushimado Olive Garden. Another great option is to drive a car. There is a large parking lot available for guests.
Ushimado Olive Villa information:
〒701-4302 412-1 Ushimado, Setouchi-shi, Okayama-ken
Phone: 0869-34-2370
Services open 9:00am – 17:00pm (park grounds open 24/7)
Check-in at the shop by 17:00pm
Click on the website here.
[cft format=0]