Sponsored by Nakaumi Shinjiko Daisen DMO
The San'in Chuo Region which includes Tottori and Shimane prefectures, is easily accessible from Kyoto or Hiroshima, which means the region is an ideal stopover between these two major destinations. If you dare to leave the path most traveled, you can discover a lesser known area of Japan, which is rich in many natural, historical and cultural sites as well as delicious culinary specialties.
Because there are many major attractions to visit in San'in such as Matsue Castle, the Izumo Taisha Grand Shrine and the Adachi Museum of Art, the area is worth visiting for a few days. This begs the question: "Where is the best place to stay in San'in?" The answer depends on your own personal preferences but just for fun, I reviewed two very different accommodation experiences that are among your choices there.
Lap of Luxury: Kaiseki cuisine and Hot Springs Relaxation at a Kaike Onsen Ryokan
Kaike Onsen (皆生温泉) is located in Yonago, between Mount Daisen and the Sea of Japan. About a hundred years ago, a source of underwater thermal water was discovered there, transforming a modest fishing village into a spa resort town. Several hotels and ryokan benefit from this onsen as well as the ideal location of Yonago which is close to many of the major attractions of Tottori Prefecture.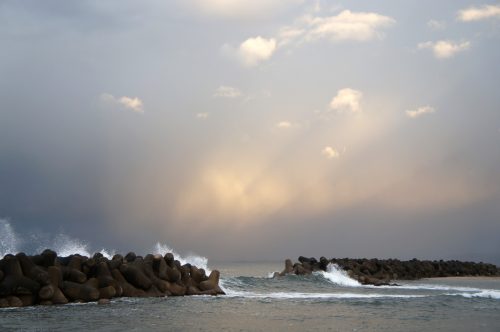 Because of the powerful waves of the Sea of Japan that pound the coastline, breakwaters have been constructed, protecting the beaches from erosion and making the beaches quite safe. Openings in the breakwater have been left, creating several small pools around which many tourists gather during the warm summers.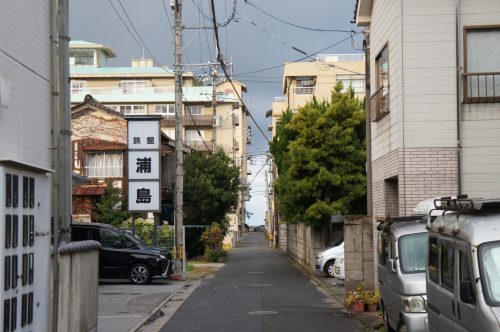 A stroll through the city also reveals what travelers often have little opportunity to see: the typical urban landscape of Japanese towns, a mishmash of modern and historic buildings, interesting architecture and colorful signs. There is also a small Inari shrine with its photogenic path of bright red torii gates.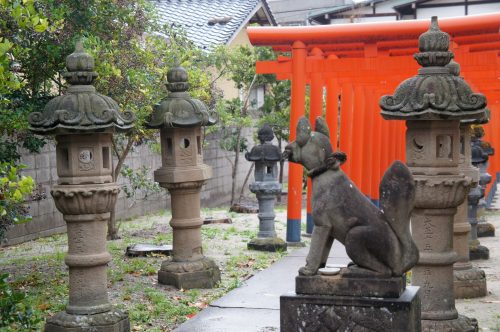 Finally, you can admire majestic Mount Daisen from the beach. I wanted to go photograph the mountain at sunset, but like Mount Fuji on the other side of Honshu Island, Mount Daisen is often shrouded by clouds, as was the case the day I visited.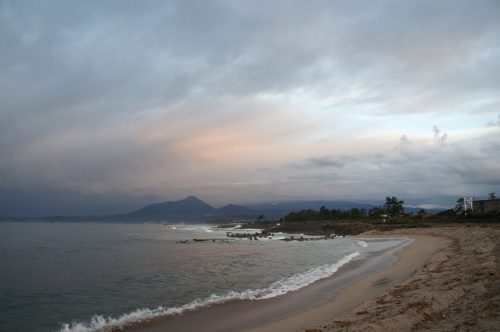 Finally, I arrived at my ryokan, Tokouen (東光園), an impressive building built in 1964 by a famous Japanese architect Kiyonori Kikutake. Kikutake was best known as a member of the Metabolist Architecture movement, which fused ideas from biology with architecture and produced several famous, if not sometimes controversial, buildings.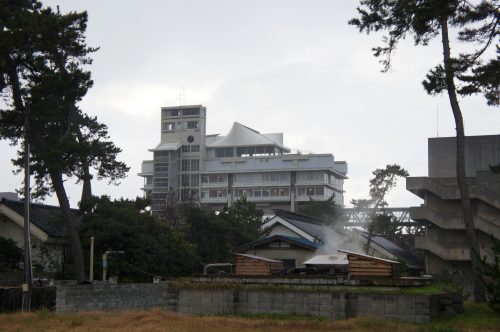 The appearance of this particular building may seem cold from the exterior, but this hotel houses comfortable traditional rooms lit in warm golden hues at night.
After being caught in a few downpours during my walk on the beach, I had only one wish: to soak myself in a toasty-warm onsen hot springs bath. The onsen of Tokouen is vast, with both an indoor bath and a rotenburo, an open air bath. The water is not only hot but also rich in sodium and calcium chloride; it is said that the water gives long life to those who bathe in it. That remains to be seen, but I can tell you that soaking in it softened my skin and gave me a warm feeling that lasted long after I emerged from the water.
After the bath, I enjoyed a Japanese gastronomic dinner arranged around a local Tottori specialty: the Matsuba crab. This kaiseki ryori type meal is served as a number of elaborately prepared dishes created with local and seasonal ingredients. The meal was so huge it was a blur to me, but it included sashimi, crab nabe (hot pot), tempura, chawanmushi (savory egg custard) and a whole crab!





You can find more information about Kaike Onsen on the spa website (in English) and Tokouen on the ryokan website (only in Japanese). It is possible to book online on booking.com.
Inconvenient but Cozy: Fuben-ya Airbnb with Hajime-san
After a night at luxurious Tokouen, almost anywhere else would feel like a step down in refinement, but I specifically sought out a place that would stand in stark contrast for my second review, Fuben-ya. The Airbnb ad hinted at an unconventional place for an unusual experience: "Ethical House 不便や! – Inconvenience fun House" (literally: "Ethical House – fun and inconvenient house"!). My interest was piqued and I was eager to try out this place which literally has neither electricity nor running water.
From the street, I saw a futon prepared for me in a traditional room lit only by candles and storm lamps; I knew immediately that I had arrived. With a sense of excitement and apprehension I entered the house. There is a certain level of expectation one has when checking into a regular hotel, but Fuben-ya offered a sense of adventure.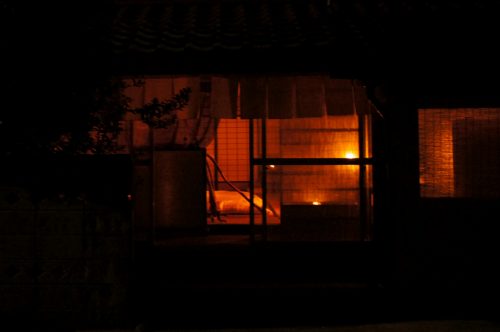 Hajime-san was a welcoming and caring host. All of his family joined us around the fire of the irori (a traditional sunken hearth that is traditionally in the center of Japanese homes) to have dinner and chat.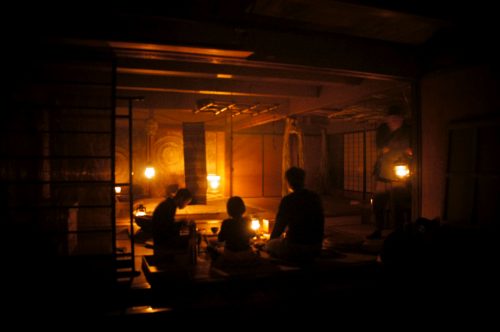 I spent hours talking with Hajime-san in a mixture of English and Japanese. Time and space take on a different reality in the glow of fire, which lends something mysterious and precious to the atmosphere. The hours spent with Hajime-san and his family, discussing theater, cinema and a thousand other things while listening to Aznavour's "La Bohème" on an old "K7" will undoubtedly remain among my best memories of my trip to Japan.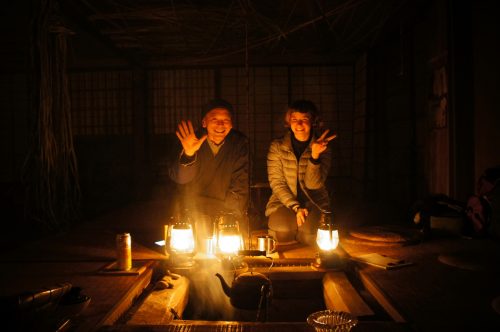 As for comfort, the house is not nearly as inconvenient as you might think. Although the night was cool, I was not cold sleeping on a snug futon close to a wood burning stove. While there is no running water, you may not even notice because water is brought into the house by Hajime-san for daily use; we were just a lot more careful not to be wasteful! As for the bath, Hajime-san took care of heating the water. It was ideally hot, and I must say that taking a bath in the half-light of the fire is very relaxing.
Wandering around an old house with just a lantern might evoke thoughts of B-grade horror films, but Hajime-san assured me there are no ghosts at the Fuben-ya.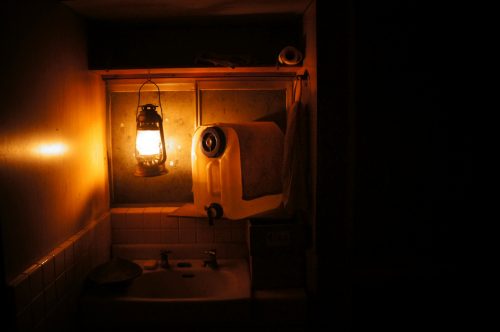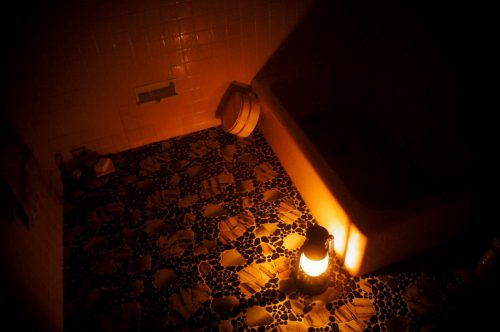 Because I arrived in the evening and left early in the morning, I did not have the opportunity to walk around the area, but Fuben-ya is located in Izumo near Kirara Taki Beach, where you can swim in summer, and do some shopping in a Michi-no-Eki (literally "train station on the way", it is a rest area where you can buy local products) in buildings inspired by the traditional architecture of Northern Europe.
Information and reservations on the Airbnb website.
Go to the San'in Chuo region
For more information and to plan your trip to the San'in Chuo region, visit this website. Here you'll find information on places to visit, sample itineraries, and transportation information.
You can also download the En-musubi Smart Navigator system app (縁ナビ) from the App Store and Google play (available in English).
You can find practical information about transportation on the San'in Official Tourism Guide in English too.
To get to Matsue from Hiroshima, discount bus tickets are available for foreign visitors. Upon presentation of your passport, the ticket will cost you only ¥ 500, so it would be a shame to miss out on a visit to the San'in Chuo region during a stay in Hiroshima / Miyajima! They are sold on the spot, and you can buy on the day of the trip or the day before. You will find practical information on this document.