Sponsored by Kakegawa City
No single Japanese word brings more tingling warmth to my heart and soul than "onsen". Match not one, but three private onsens, as well as a public bath and rotenburo (outdoor bath) with gorgeous countryside views, exquisite tasting experiences and unbelievable Japanese service, and you've got Ryokan Masagokan.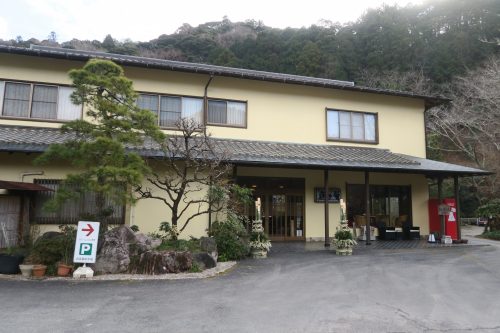 My Experience
When I arrived, I was greeted by a delicately elegant lobby, filled with rich red carpets, ornaments and traditional Japanese artifacts. This is far from one of those more historic ryokans (Japanese style hotel) I have frequented before. This one had a completely different feel to it: sophisticated, refined and absolutely luxurious. This was something special.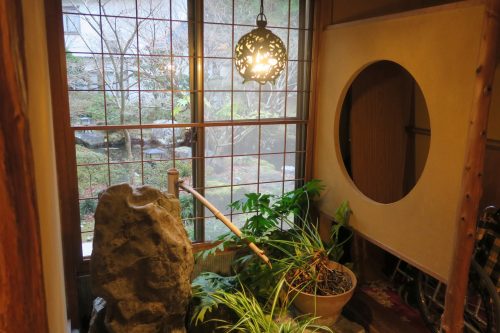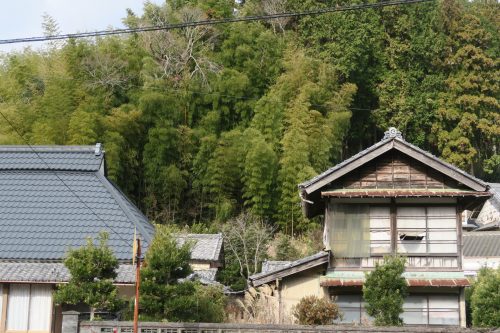 Before I knew it, I was greeted by a delightful woman dressed in an elegant kimono matching the season. Her English was limited but she did her best to accommodate me and happily gave me a tour of the hotel before she showed me to my room. Signs around the hotel are written in both English and Japanese, with maps appearing regularly as you walk around each corridor.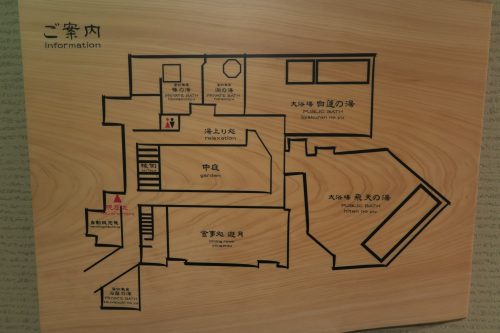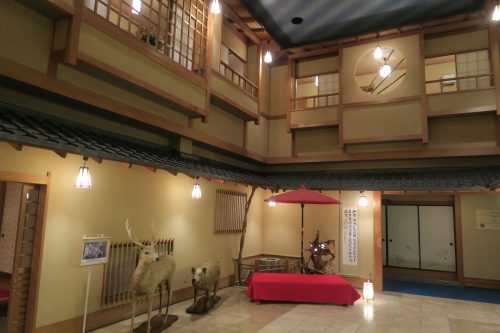 The Room
Nothing could have prepared me for the impeccable, stylish design and layout of my room.  I was staying in the "circle" room, indicated by the large circle on the sliding entrance doors and the large cut out circle design in the main room. The room contained a small fridge, sink, fold out mirror and wardrobe containing my traditional yukata and a range of towels. Next to the sink was all the conveniences you could ask for; combs, hair clips, cotton buds and even a disposable toothbrush. The toilet was in a small room next to the entrance area and is one of those intelligent toilets with all the washing facilities you could want, and then some!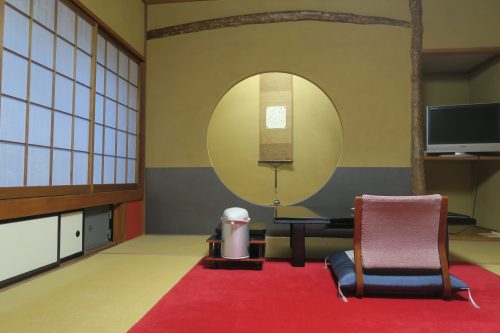 The main room was heated to perfection when I entered and contained a TV, mirror and small Japanese table and chairs next to which was the box with all the green tea in it! They'd kindly left a snack on the table for me and I settled in to a relaxing afternoon with tea and cake.
If you thought my room was glamorous, you should check out the ones featuring outdoor onsens, gardens and indoor onsens! These few exclusive rooms are the height of luxury and should be booked well in advance to avoid disappointment.
Onsens and pure relaxation
I was told there were three private onsens and one public bath for me to choose from, which in my mind automatically raised this ryokan sky high above the others I have previously stayed in. A private onsen? This is the stuff dreams are made of! And it's even more of a blessing for those of us with tattoos who ordinarily would not be permitted in a public bath. Not only do you not have to worry about covering up those tattoos, but also, with each private onsen having two cleaning stations, it's possible to bathe with your friends. So, if you're a bit too shy to reveal all to complete strangers in a public bath, you can at least enjoy an onsen alone, or with your family and friends. Either way, it's a win-win and definitely one of the selling points of this ryokan for me.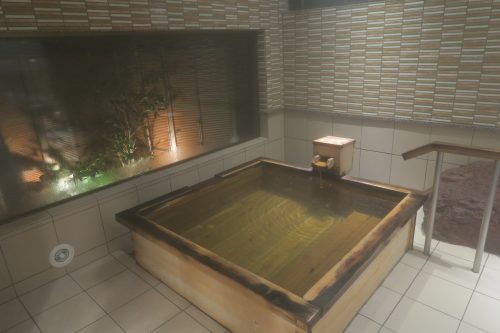 If you're not already relaxed enough, you can try one of the many massage chairs just outside of the onsen area. Settle down and relax while the chair makes a series of movements and vibrations which will fully relax you to the core. The machines are entirely in Japanese; however, it's quite easy to navigate with of course the bigger button (入れる) being 'ON' and the big red button to turn it off immediately. The chairs can be rather thorough but trust me; it's worth that melty feeling afterwards.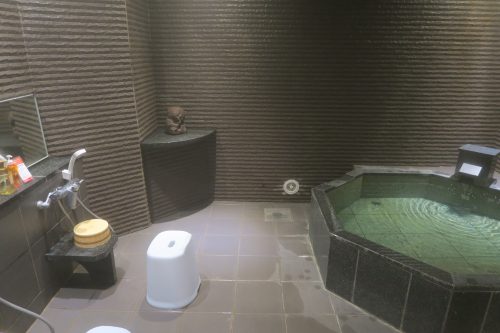 A taste adventure you won't find anywhere else
Kaiseki ryori dinner
It's not often you come by a meal so unique, traditional and divinely luxurious as the meals served at Masagokan Ryokan. If you're after a true gourmet adventure, look no further than the wide array of culinary delights offered at this hotel.
You will first be called on the phone in your room to let you know that your dining experience has been fully prepared. In true Japanese fashion, the meal will be prepared around ten minutes before the time you requested in the lobby when you arrived. When you arrive at your table in the dining area, you'll be greeted by a sea of small to medium plates and bowls, sporting an array of colours and gourmet foods the likes of which you may never have seen before. I was also given a pot of boiling, local green tea which I could put vegetables in and dip meat into to cook and eat with two different dipping sauces to choose from. This technique is known as shabushabu in Japanese, and is something I have never done with boiled Japanese green tea. It was a really nice twist on the plain boiling water I have become accustomed to.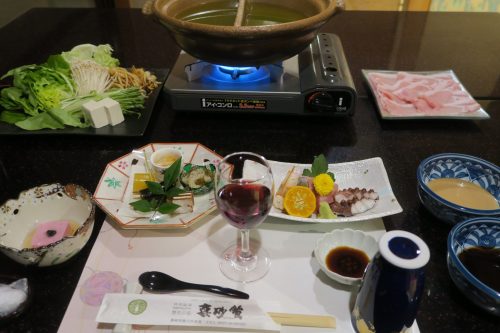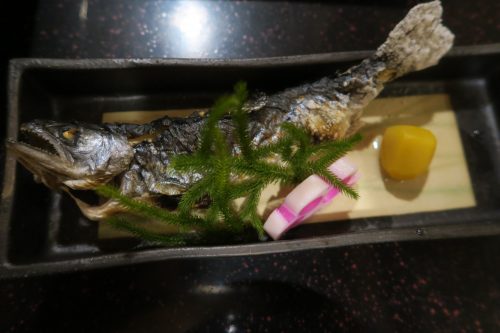 Within your dining area, there will be a phone that you can use to call through to the front desk to request miso soup and rice when you are ready for them. And, when you think you've finished, simply call through to get your dessert.
Naturally, there will be more food than your stomach can handle but I urge you to take the opportunity to try as much as you can, as it is such a unique chance to explore this country's fine dining and culinary delights, as well as the region's famous green tea that is grown at local tea plantations.
A Traditional Japanese Breakfast
You'll get another call in the morning, just ten minutes before the time you agreed to take breakfast. This time, you'll go to a different dining room, and be presented with another selection of bowls and plates centered around rice and miso soup. You may also be faced with a single egg in a bowl, called Onsen tamago in Japanese. If, like me, you were a little confused with what to do with it or how to eat it, you can try adding it to your rice or simply eat it with a spoon. I was also given fresh fish on cooking apparatus, which was a new experience for me. I was told to cook the fish on both sides and then eat it when it was done. Try not to forget about the fish as you're tucking in to the rest of your breakfast delights.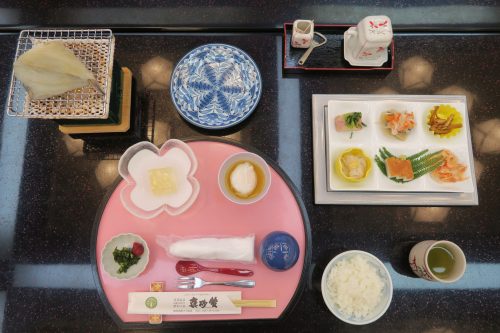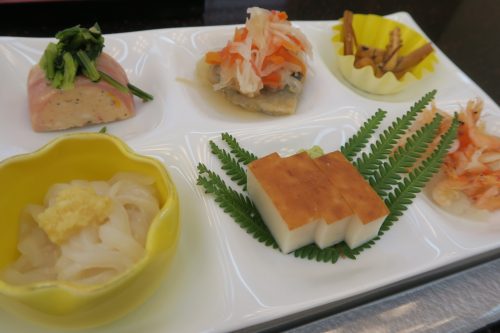 Experience the delights for yourself during the Rugby World Cup 2019!
If you're in town for the Rugby World Cup 2019, I cannot recommend enough a wildly unique, relaxing and elegant stay at Ryokan Masagokan. The ryokan is just a 20 minute bus ride from Kakegawa station, only 4 minutes train ride from Ecopa stadium. The buses are rather sparse in that area but, if you time your journeys well, there should be no reason why you couldn't enjoy this incredible experience during your stay. Access from Tokyo is also a breeze by taking a single Shinkansen from Tokyo station all the way to Kakegawa station in just an hour and 40 minutes.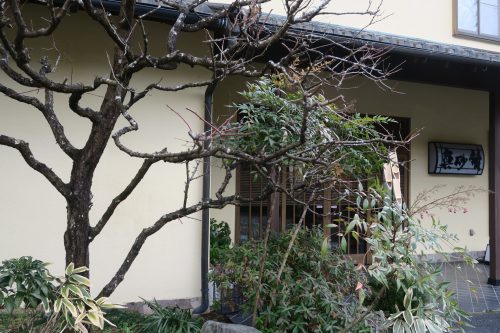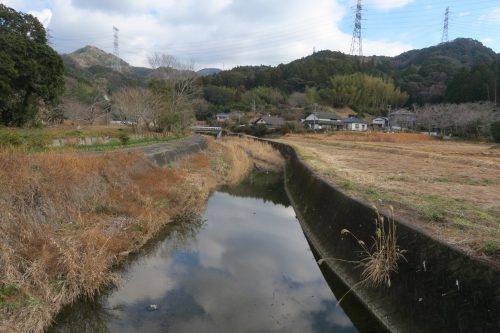 Masagokan Ryokan is drenched in authentic Japanese tradition, divine elegance and peaceful tranquility. What more could you want after a riling, exhilarating Rugby World Cup match at the Ecopa stadium? Make this a RWC to remember with a stay in one of the most comfortable ryokans Japan has to offer.
Find more information on their English website at http://www.masagokan.com/english/