When you're traveling with family, it's not always easy to find activities in the big city that appeals to everyone. But venture just a few kilometers outside the urban centers, and you will find a number of attractions to please all ages. In the south of Kansai, the Senshu (泉州) region offers plenty of activities that the whole family can enjoy. Here are some of my favorites.
Discover a vibrant festival at Kishiwada Danjiri Kaikan
Just a few minutes' walk from the majestic Kishiwada Castle (岸和田城) is Kishiwada Danjiri Kaikan (岸和田だんじり会館). This museum is dedicated to telling the complete story of the region's most famous festival. After experiencing the live event firsthand in September 2019, I can confirm that the Kaikan very faithfully recreates the vibrant atmosphere of this annual celebration.
Kishiwada Danjiri Matsuri (岸和田だんじり祭) is one of Japan's most exuberant festivals, where large teams of men swiftly pull elaborate danjiri (carts in the form of a shrine) through narrow alleys and around sharp curves. But even more impressive are the men who perform acrobatic feats on top of the shrines. Once you get swept up in all the action, your head will be spinning in awe.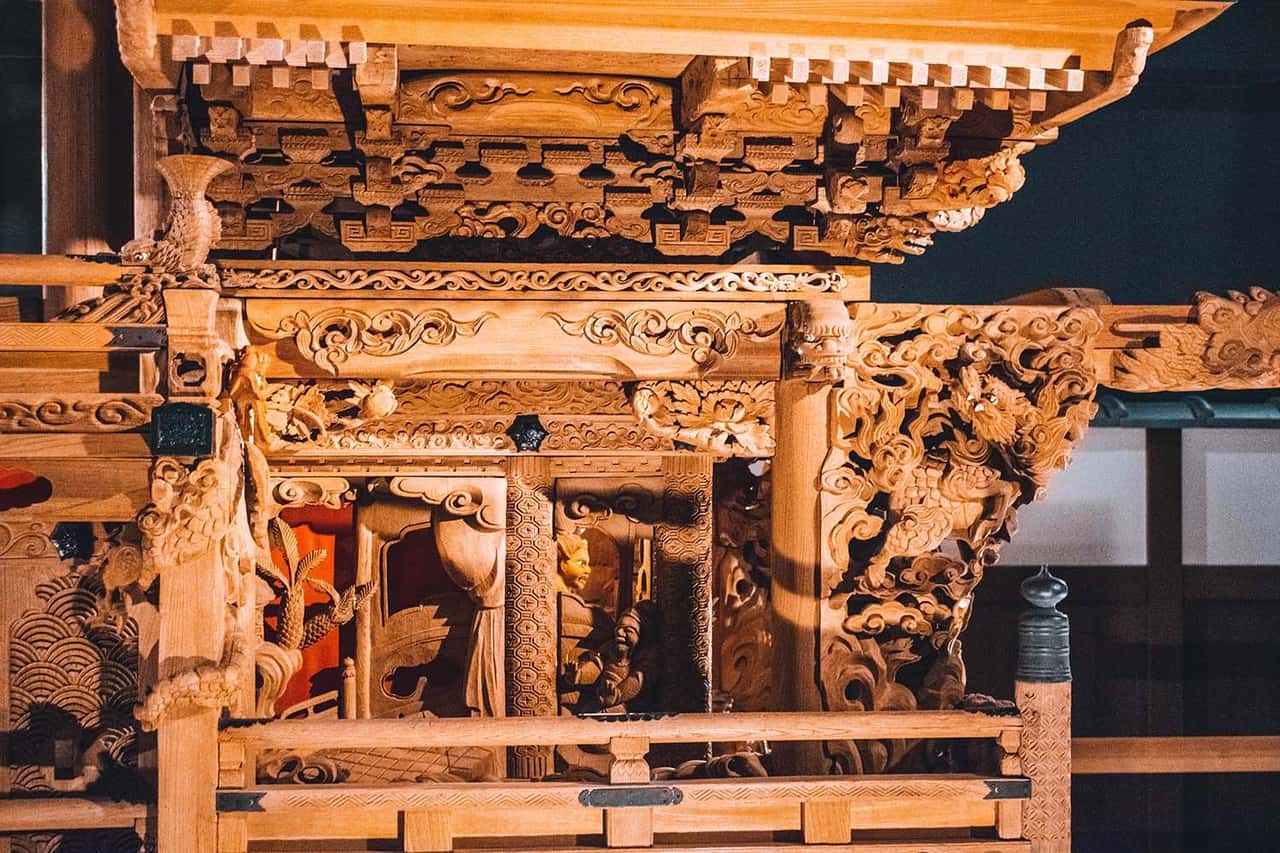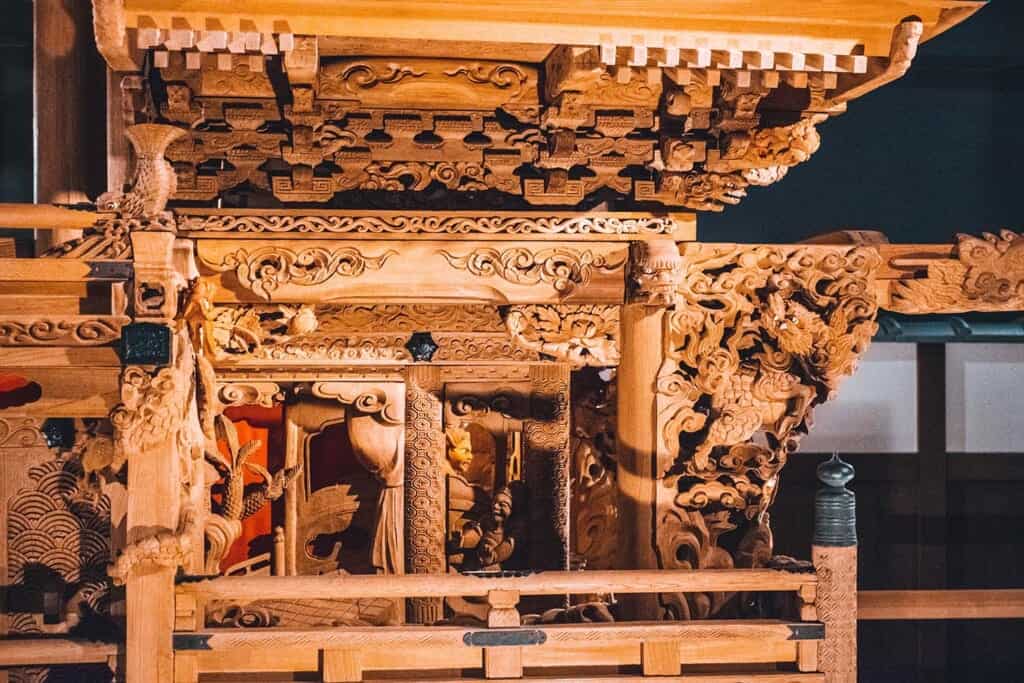 Inside the museum, not only can you see real danjiri carts up close, you will learn all about the long process of creating these hand-carved masterpieces. And their quality is unmatched—a danjiri can be used for decades! Some carts that are still in use today were built more than a hundred years ago. In yet another twist to the Kishiwada festival, danjiri brought out from several different regions confront each other in a spectacular duel. Each year, around 34 danjiri are pulled through the streets.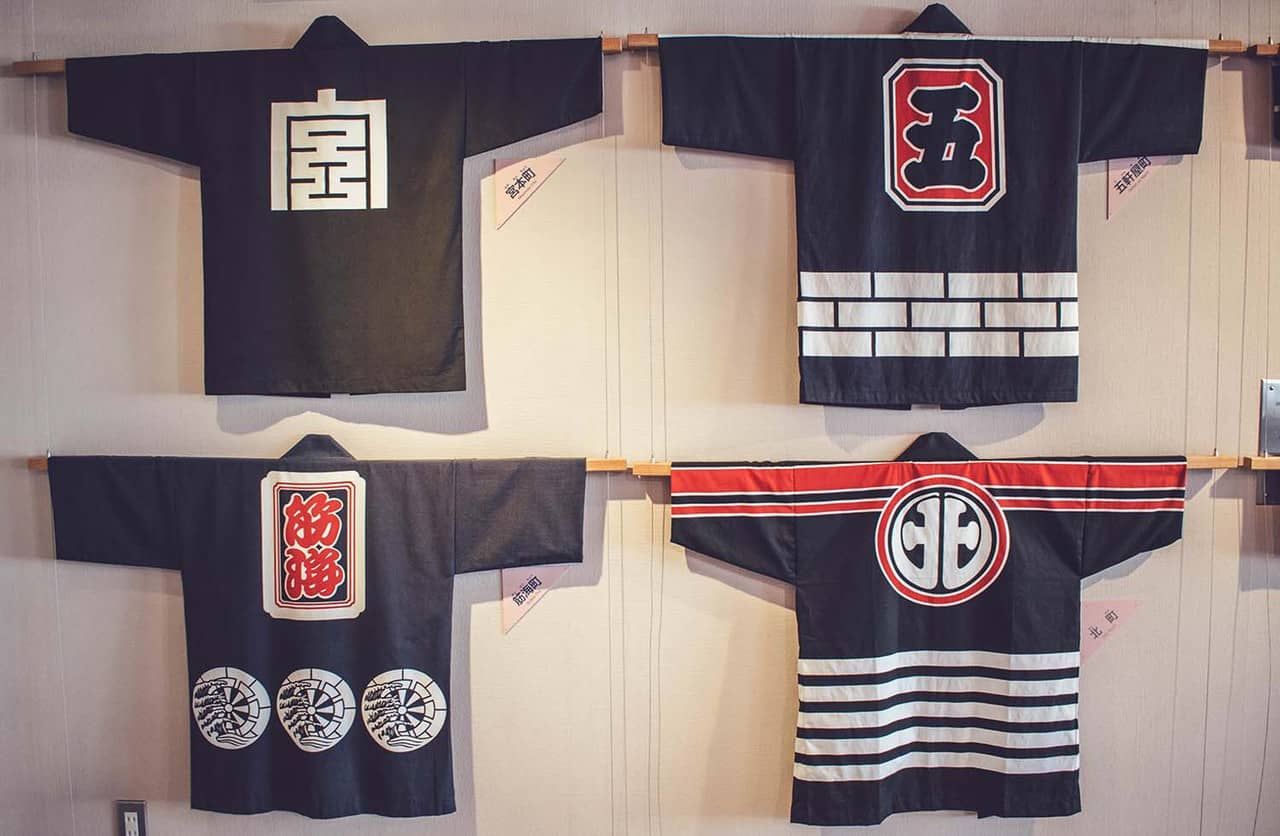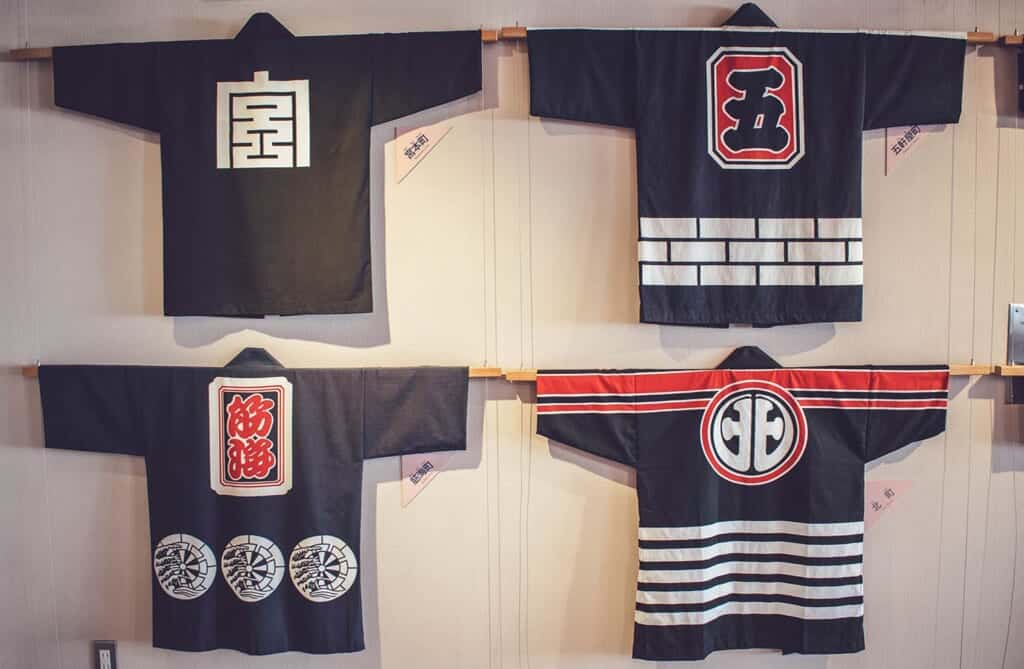 The museum's visual presentations will captivate children and adults alike. The many attractions include two films: one that introduces the festival and another in 3D that fully immerses you in its lively atmosphere. Items on display include happi coats bearing the symbols of the various participating guilds, and of course, several lavishly ornate danjiri.
Kishiwada Danjiri Kaikan Museum 岸和田だんじり会館
Hours: Open daily except Monday, 10:00–17:00
Admission: ¥600 for adults and ¥300 for children
Access: 10-minute walk from Kishiwada Station (岸和田駅) (Nankai line) or 4-minute walk from Kishiwada Castle.
Website (in Japanese)
Tour a local Japanese textile factory in Senshu: Fukaki Keori
Another interesting place to visit in the region is Fukaki Keori (深喜毛織), a textile factory that produces woolen fabrics such as cashmere and others using camel and alpaca hair. Here, you can follow the entire manufacturing process, from receiving the raw materials to the finished product.
Factory tours are available for groups of at least five people and must be reserved in advance. For now, the guided tour is only in Japanese, so be prepared to come with a translator if necessary. Also please note that Fukaki Keori has temporarily suspended its tours due to the Covid-19 situation.
During the tour, your guide will explain each step of the textile fabrication process in detail as you observe employees at work on specialized machines. Who knew that making yarn for clothing involved so many different tasks?
You can even purchase finished items straight from the factory at the on-site shop. Fukaki brand garments are reputed to last a long time due to their exceptional quality. The two staff members who guided me on the tour said that they have been wearing their Fukaki sweaters for more than ten years—and they're still just like new.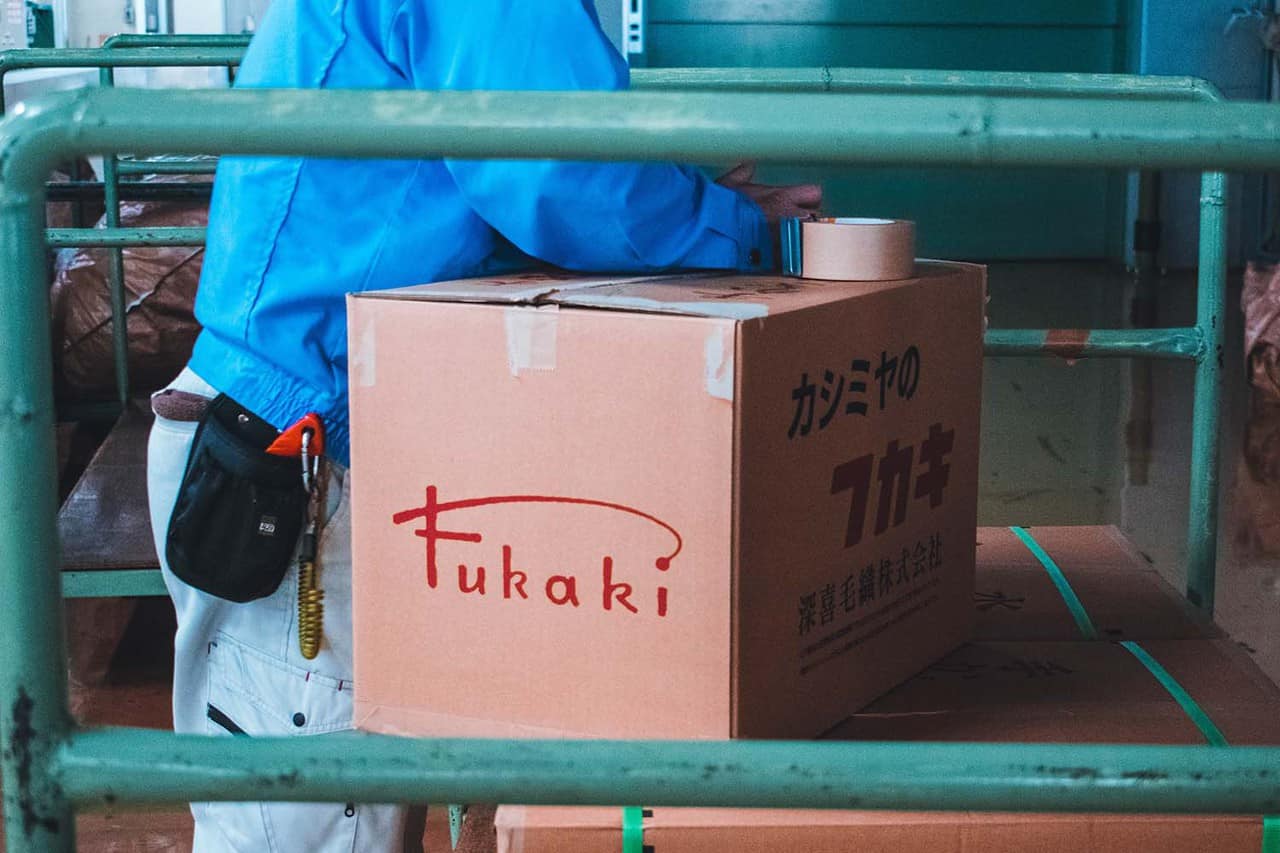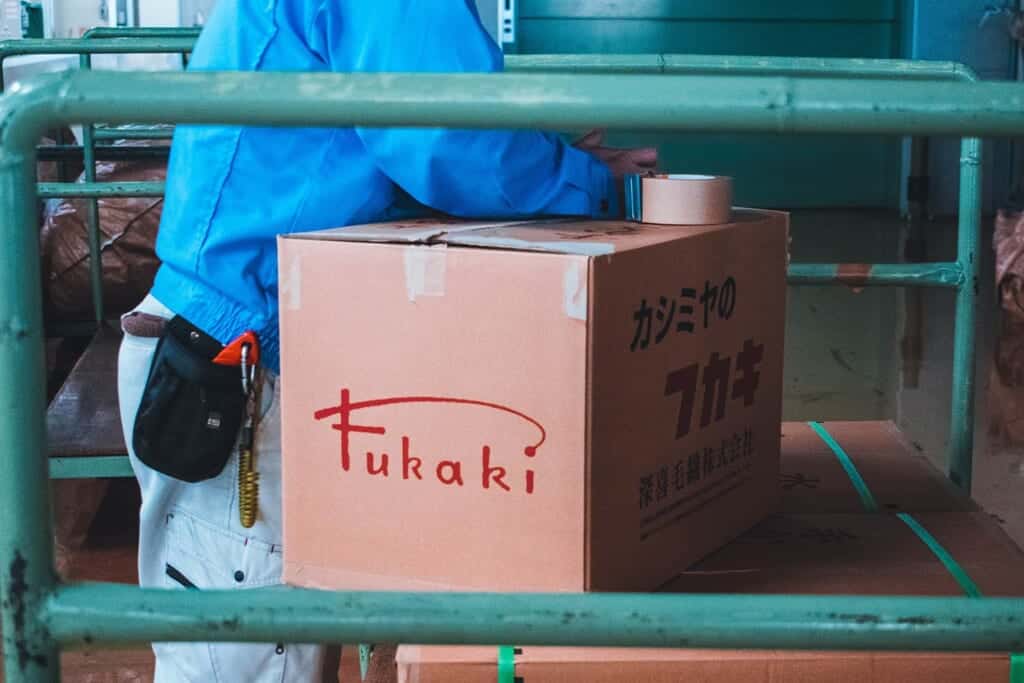 The factory offers a fascinating insight behind the scenes of woolen textile manufacturing that children can also follow, although older teenagers are more likely to appreciate the details.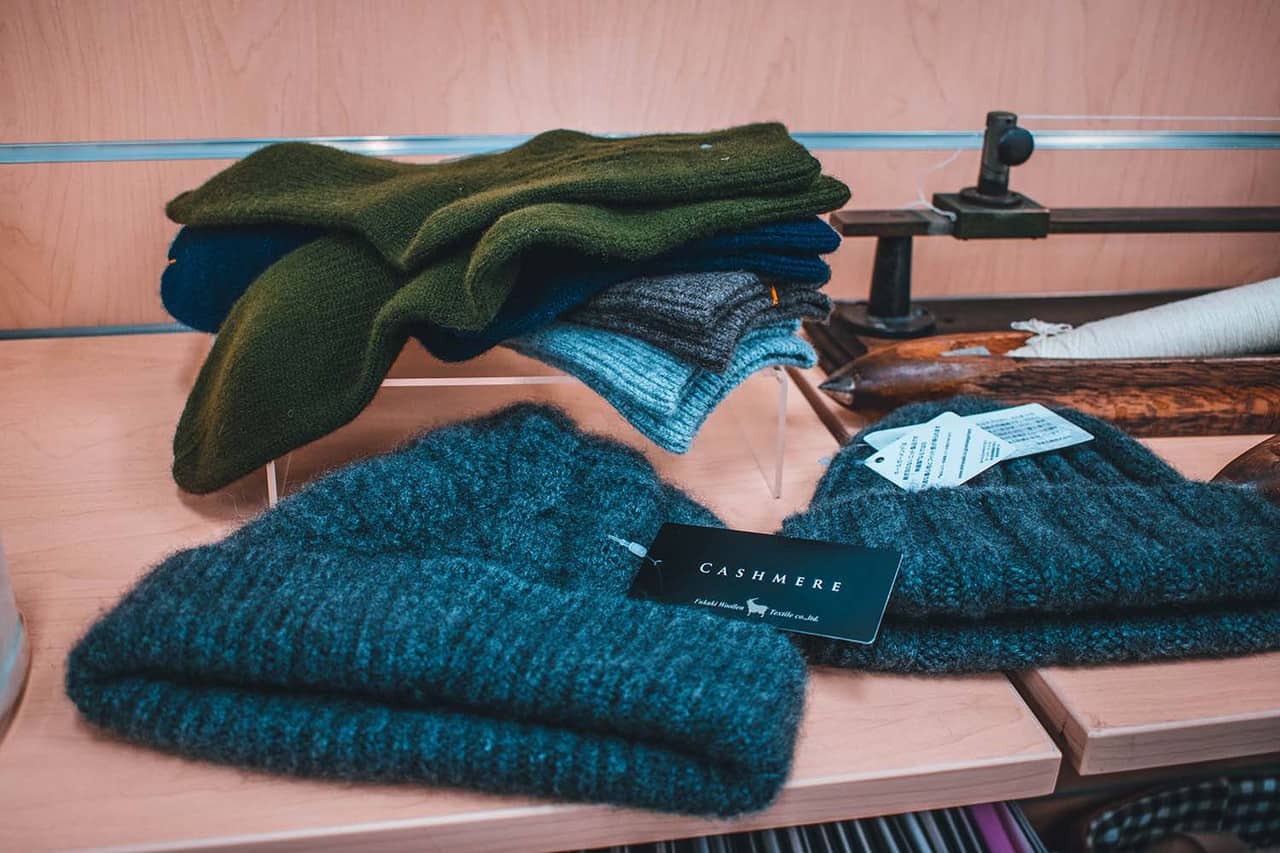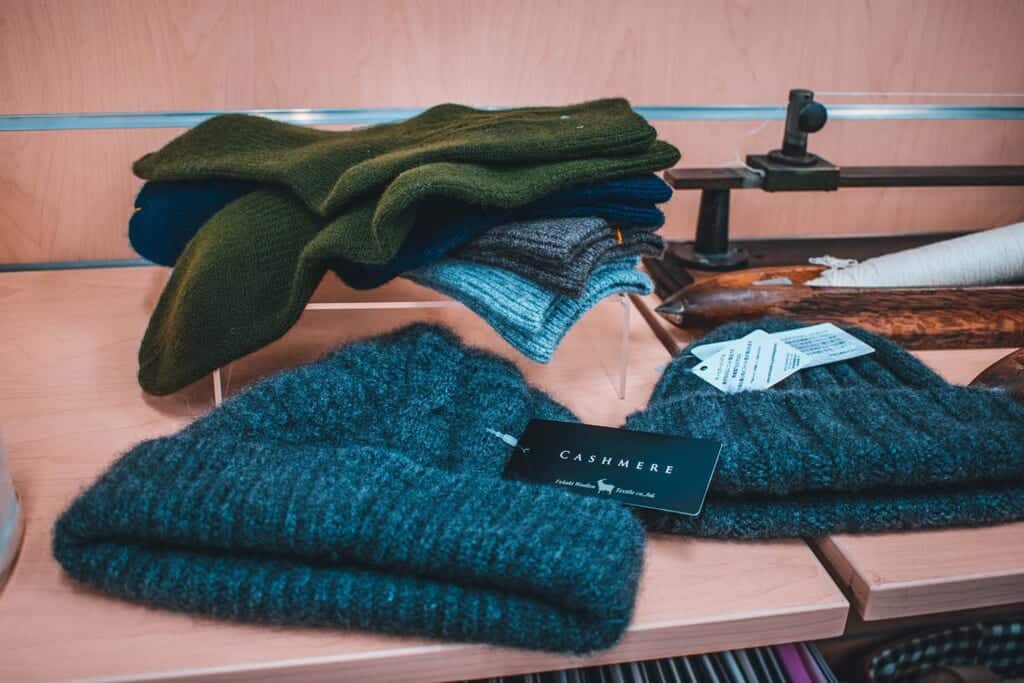 Fukaki Keori textile museum 深喜毛織工場
Hours: Hours vary depending on production, so be sure to call first to reserve your tour (minimum 5 people).
Admission: Free
Reservation: By telephone +81 725-22-1151
Access: 26-minute walk from Izumiōtsu Station (泉大津駅) (Nankai line) or 12-minute walk from Ikeura bus stop 池浦 (バス).
Fukaki Website (in English and Japanese)
Visit a Japanese Fish Market: Izumisano Fishermen's Cooperative Association Open-air Market
The large harbor in Osaka Bay plays an important role in the Senshu region, where fishermen bring in their catches every morning. It's a great opportunity for both professionals and residents to buy ultra-fresh seafood directly from the source. For this reason, there is a major fish market in Izumisano (泉佐野市) that is open every day (except Wednesdays) to the public.
Here you can buy fresh fish to bring back and cook later or simply admire the impressive variety of specimens on display. The majority of the day's catch is laid out by late morning, so that's the best time to come. Alternatively, every day except Wednesday and Sunday, at 14:30 sharp, you can watch a live auction to see bidders competing for the top-grade pieces.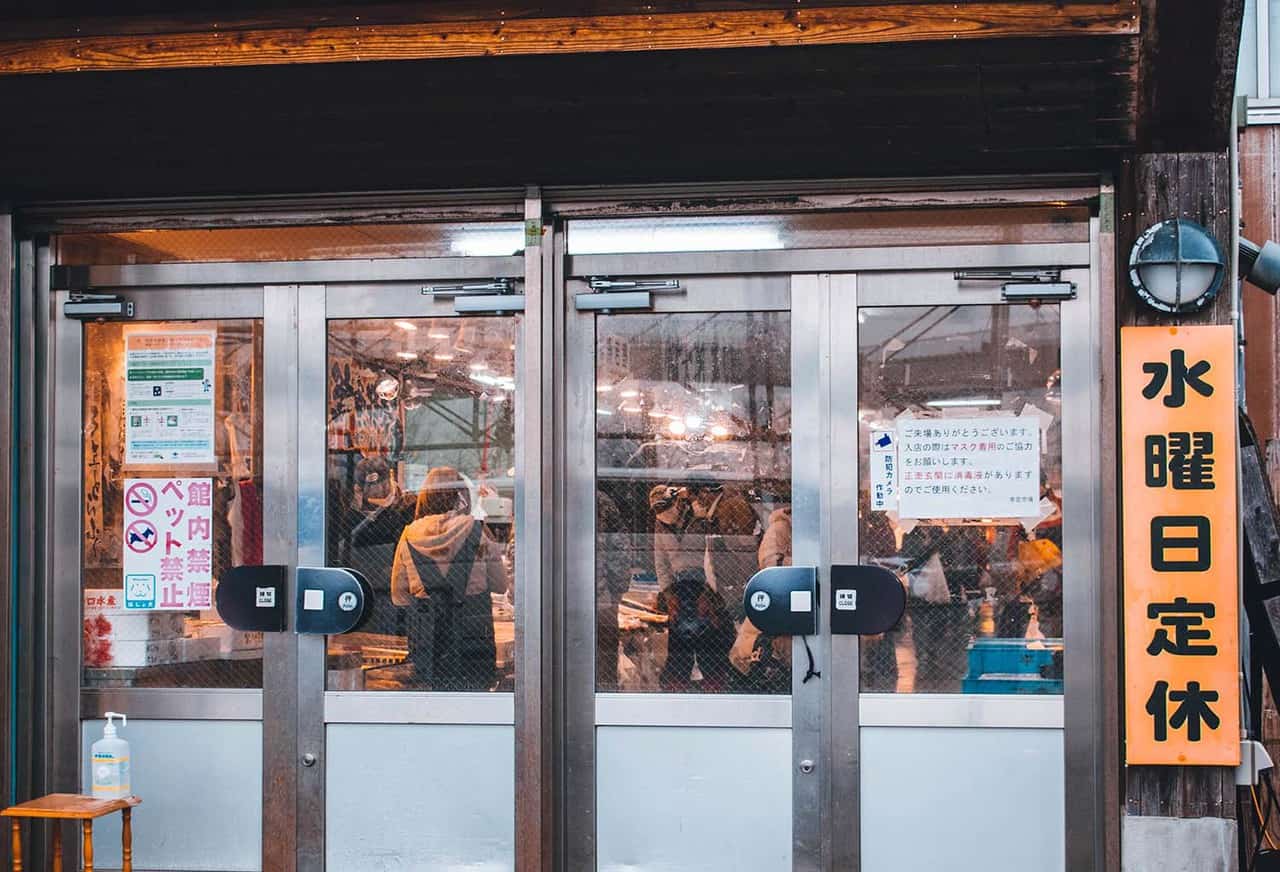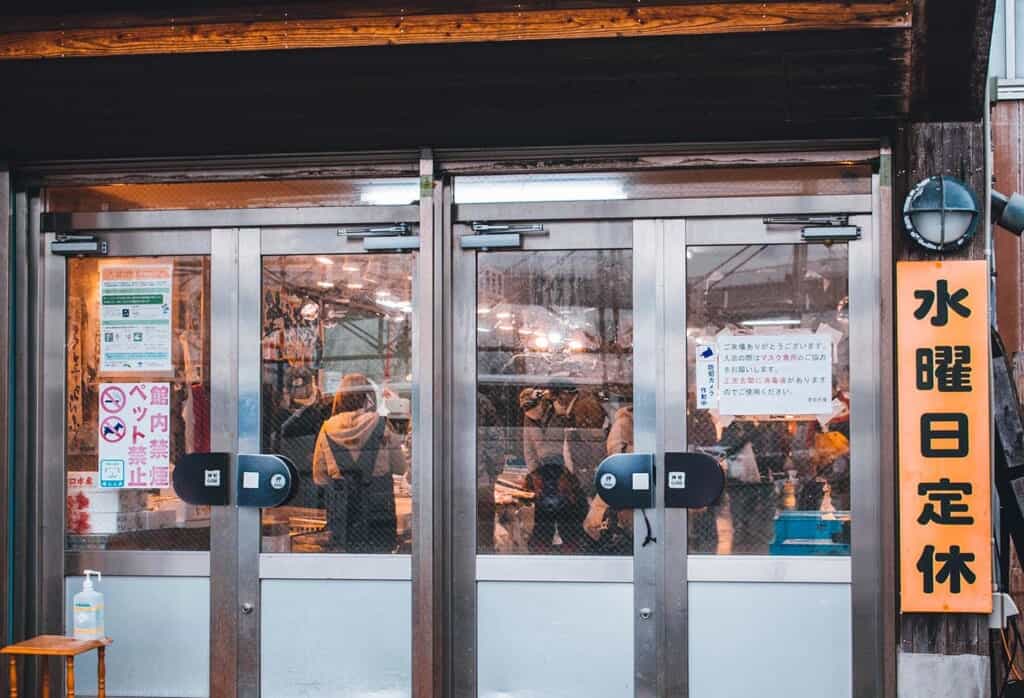 If you want to know more about the wonderful variety of seafood spread before you, the open market is also a rare chance to chat (in Japanese) directly with the local producers about their specialties.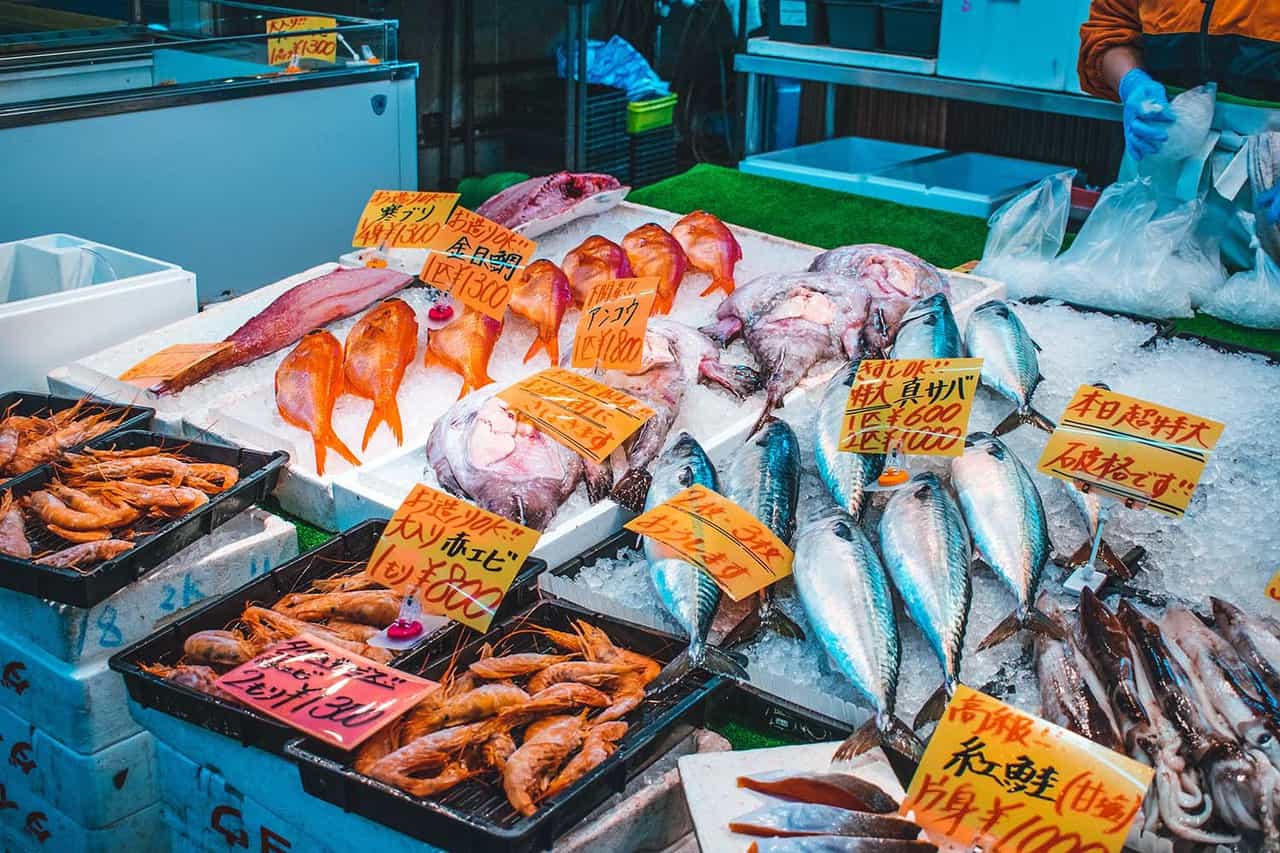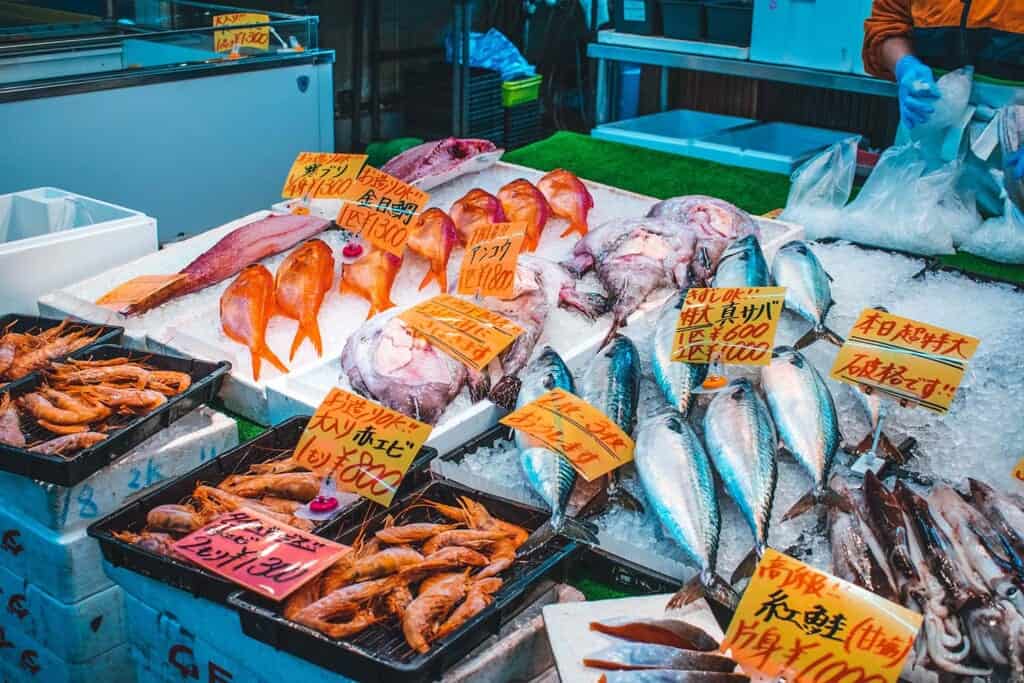 Just upstairs inside the market, you can taste the fresh-caught fish and other crustaceans, skillfully prepared and served to you ready-to-eat, at several restaurants and barbecue stands. You won't find a fresher meal on your plate!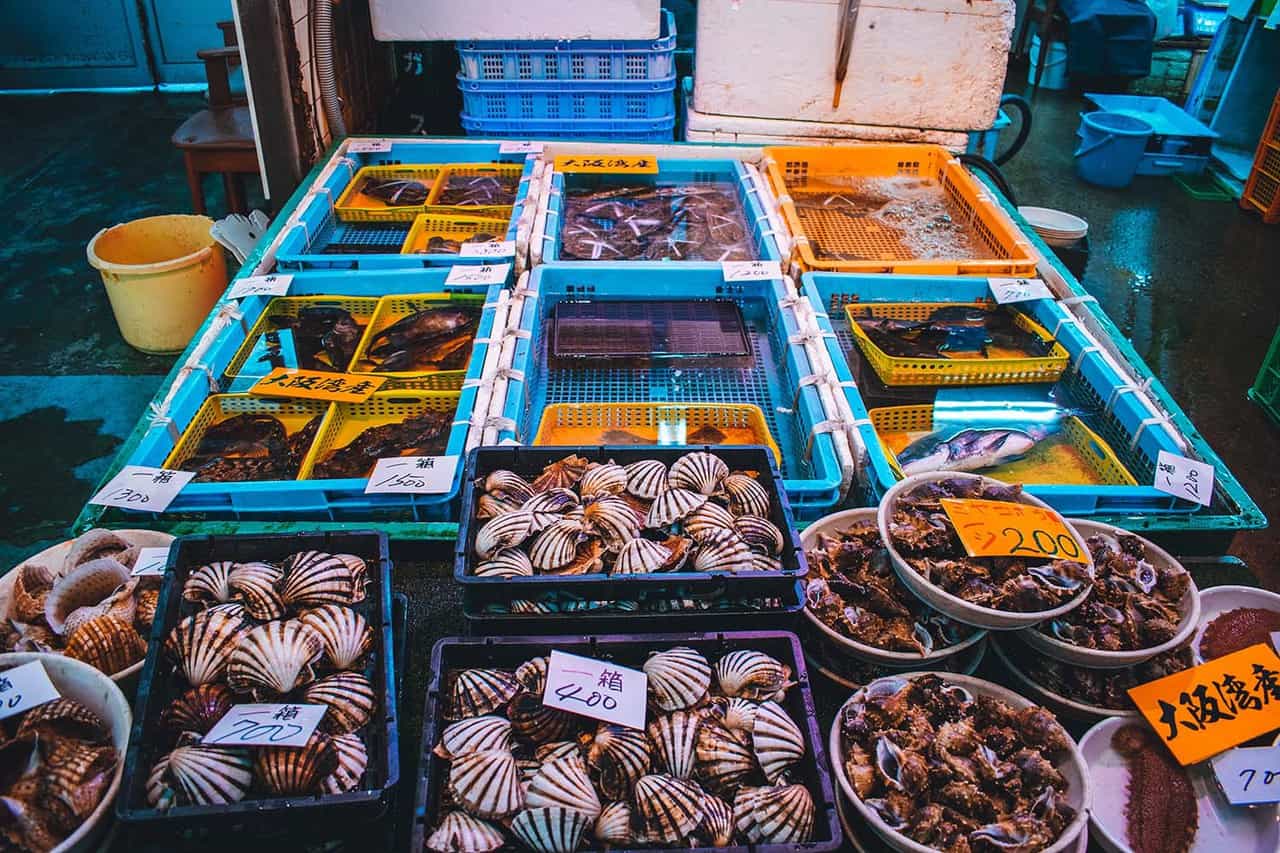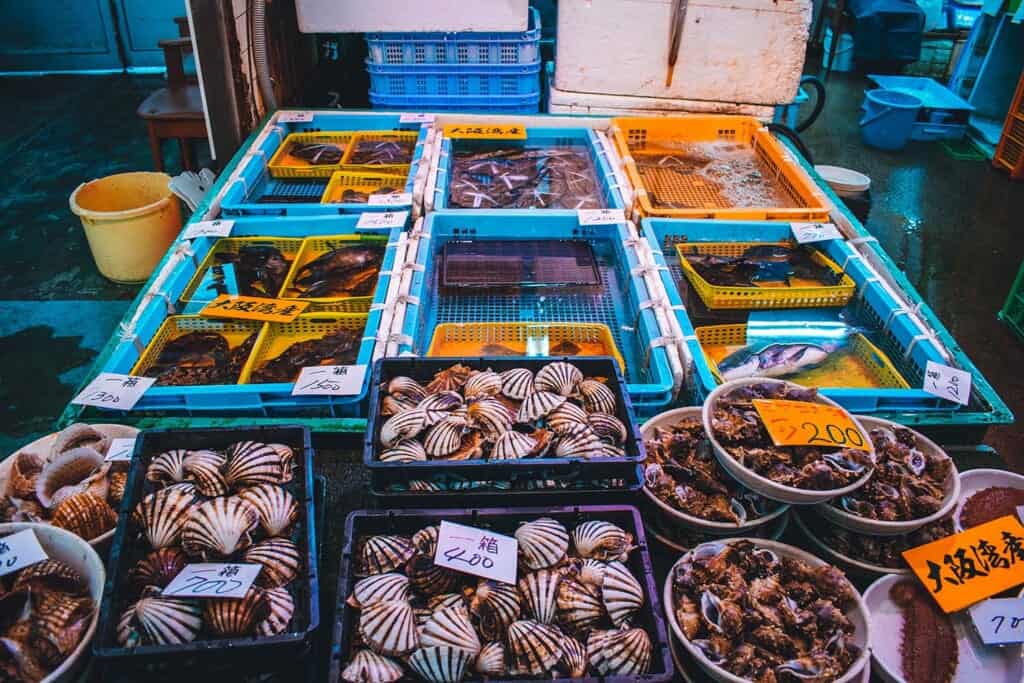 Izumisano Fish Market 泉佐野漁協青空市場
Hours: Open daily except Wednesday, 10:00-17:00
Auction: Every day except Wednesday and Sunday at 14:30
Access: 6-minute walk from Kaizuka Station (貝塚駅) (Nankai line)
Website (in Japanese)
Taste Murasame, a Senshu sweet made by a local shop
While you're in the region, be sure to taste Murasame (村雨, literally "village rain"), a Japanese confectionery that is native to Senshu (and named after one of the eight views of Izumi). It's a steamed cake made from red beans, sugar, and rice flour, giving it a distinctively soft and fluffy texture—just imagine biting into a cloud! Murasame is sold in long bars of pre-cut squares for the perfect tea-time treat.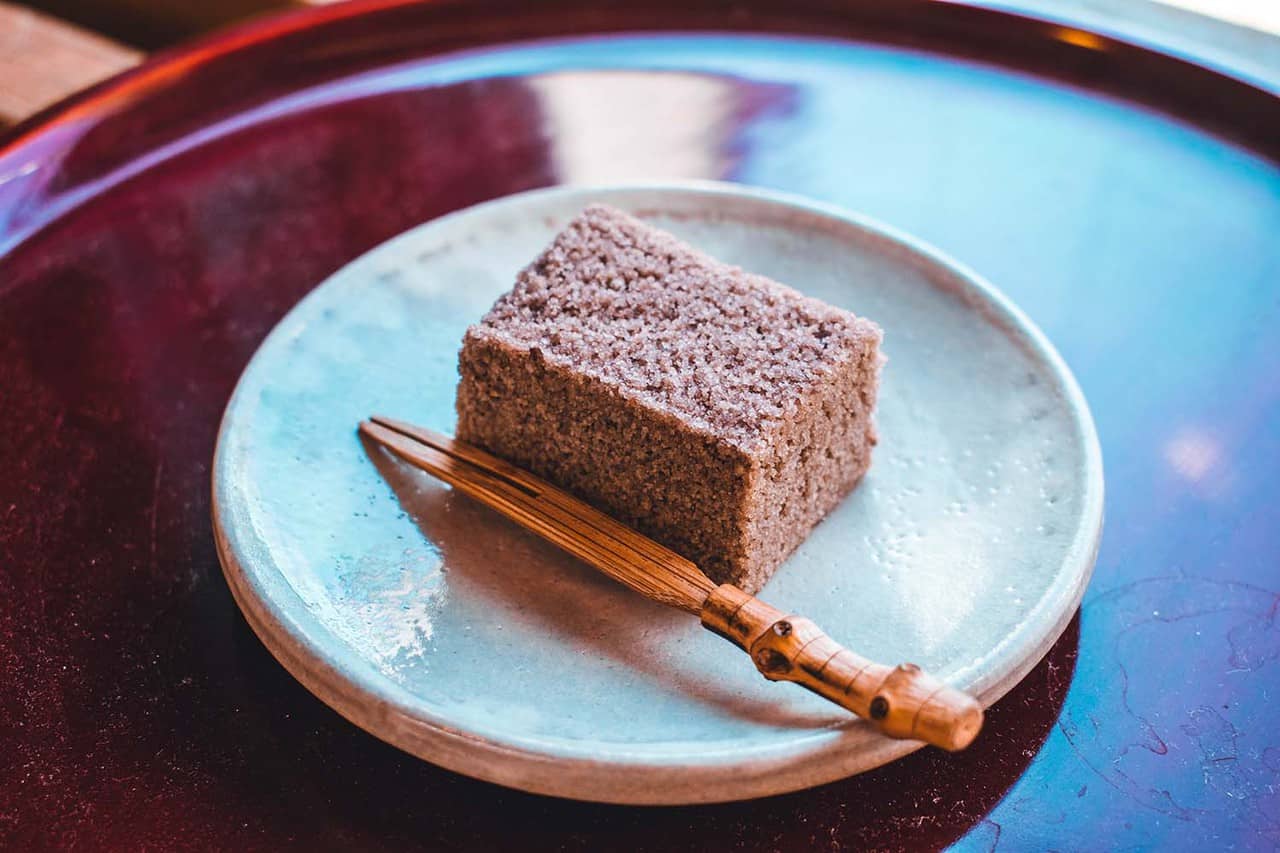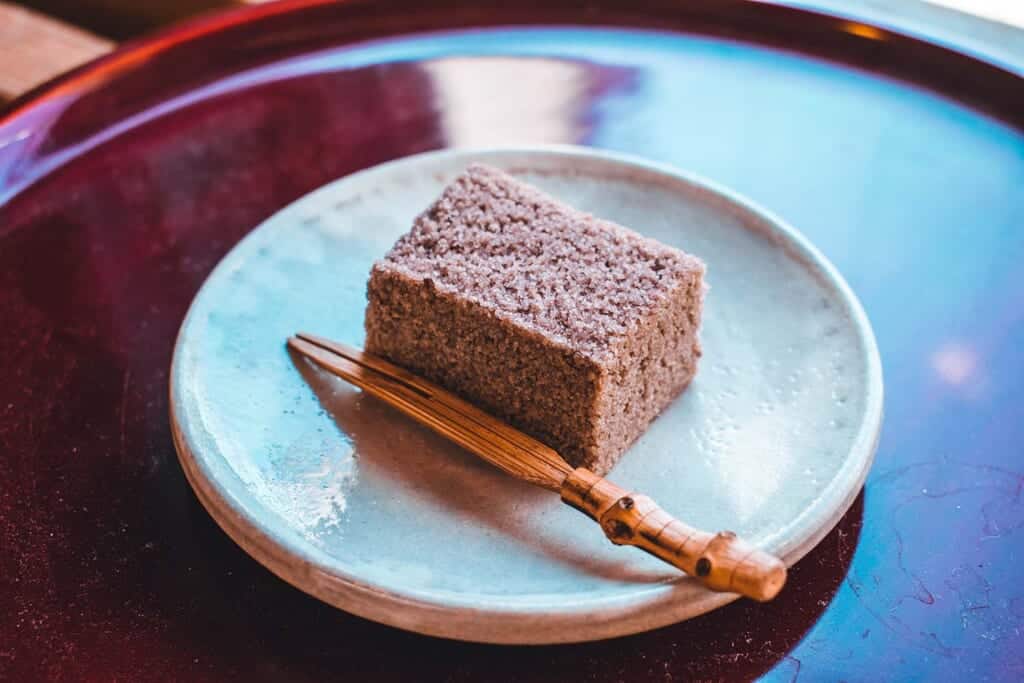 For an authentic sample of this traditional Senshu sweet, I recommend the shop Okashishi Shiogo (御菓子司 塩五) in Kaizuka (貝塚). The staff of this Japanese confectionery is passionate about their products; we discussed what goes into making these famous sweets, and they even served me a small cup of green tea. Surprisingly, the manager understands English and speaks fluent Spanish! So if you don't speak Japanese but happen to know a bit of Spanish and English, she will be more than happy to chat with you.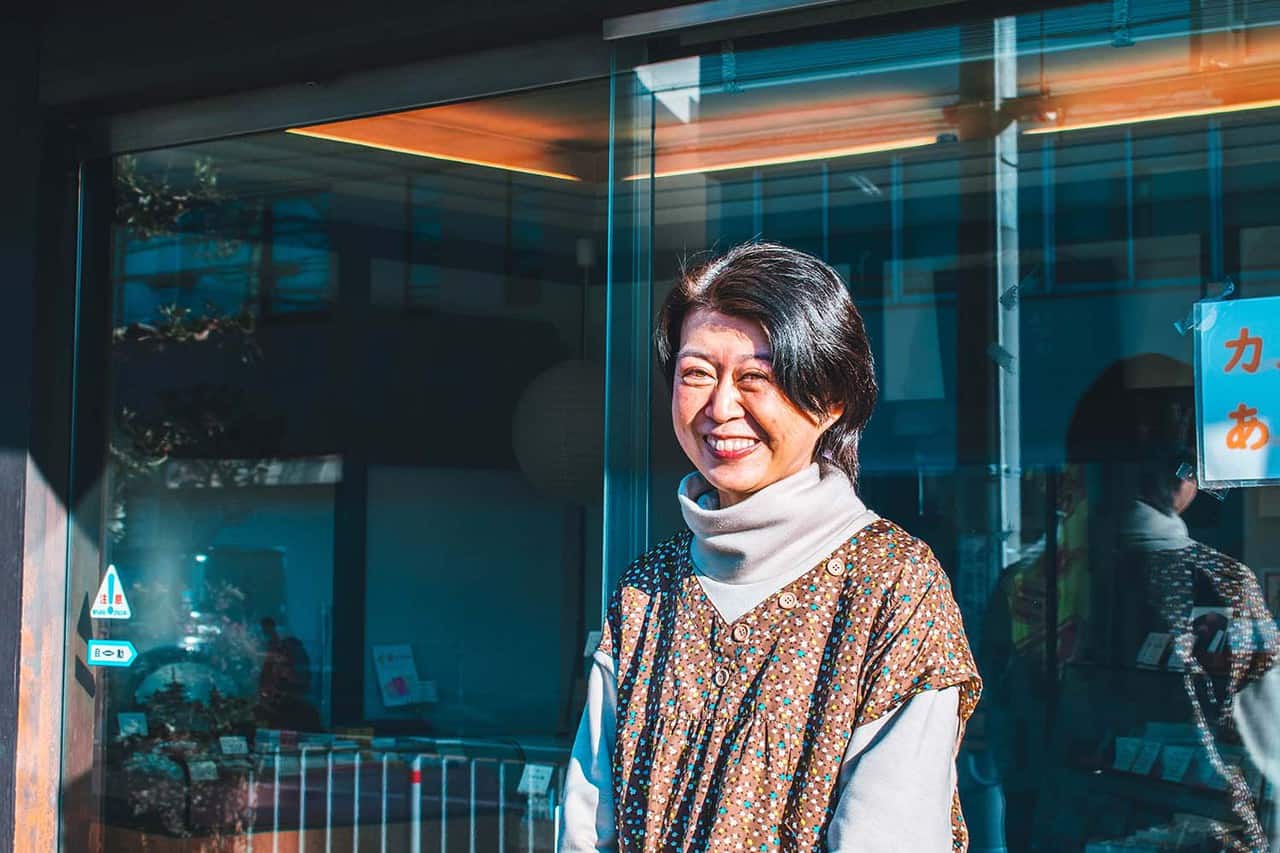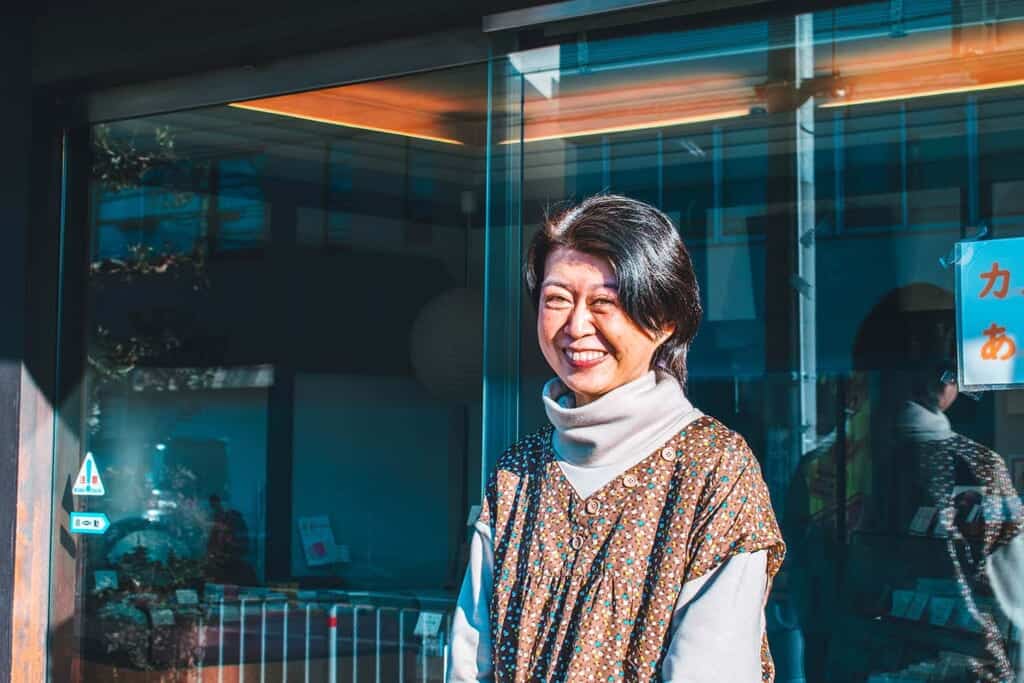 Okashishi Shiogo 御菓子司 塩五
Hours: Open daily except Tuesday and 2nd and 4th Wednesdays, 9:00–18:00
Access: 6-minute walk from Kaizuka Station (貝塚駅) (Nankai line)
Website (in Japanese)
Wanpaku Okoku Park: a children's park in the Senshu region
This last recommended stop is especially for the kids. It's a little park nestled in the mountains full of activities for children and features a giant dinosaur slide! Of course, adults are also welcomed to test out the installations… I had a great time sliding down myself!
Wanpaku Okoku Park (わんぱく王国) is open and free to the public, so you can plan a picnic, even barbecue, and spend half a day here. If the family is game for a 15-minute walk up to the very top of the park, you will be rewarded with a splendid view of the surroundings on a clear day.
You can also take a scenic walk through the forest for an ambitious hike and more than a few breaths of fresh air. Wanpaku Okoku Park has everything you need to please the entire family on a pleasant afternoon together without breaking the bank. Another advantage is that the park is easily accessible by train on the JR Hanwa Line (also covered by the JR Pass).
Wanpaku Okoku Park わんぱく王国
Hours: Open daily, 9:30–16:30 (closed on 3rd Wednesday of each month)
Admission: Free
Access: 3-minute walk from Yamanakadani Station (山中渓駅) (JR Hanwa line)
Parking: ¥500 for a compact car or ¥1500 for a large family vehicle
Website (in Japanese)
Practical Information on the Region
Take the Nankai train line to travel through the Senshu region from Kansai International Airport (関西国際空港) or Namba Station (なんば駅) in Osaka. Trains stop at many of the stations mentioned in this article.
From Kansai International Airport, the ride to Kishiwada Station (岸和田駅) takes about 15 minutes and costs ¥610. From Namba, it takes 25 minutes and costs ¥400. For more information, visit the official website of Senshu.
The region offers many more family activities, such as visiting the Sakai Knife Museum (堺刃物ミュージアム) or going out to Marble Beach to watch the sunset. However you choose to spend your time together, just remember that there are many activities to entertain people of all ages once you venture off the beaten tourist track of the big cities!
Article sponsored by KIXSenshu tourism bureau
Translation by Cherise