The Kii Peninsula (紀伊半島) is a vast region that extends across the prefectures of Nara (奈良), Wakayama (和歌山) and Mie (三重), occupying most of southern Kansai. Its riches are manifold: pilgrimage routes across grandiose landscapes, a distinctive spiritual culture that combines Buddhism, Shintoism, and sacred nature, ancestral crafts, and deliciously healthy gastronomy, among many more wonders.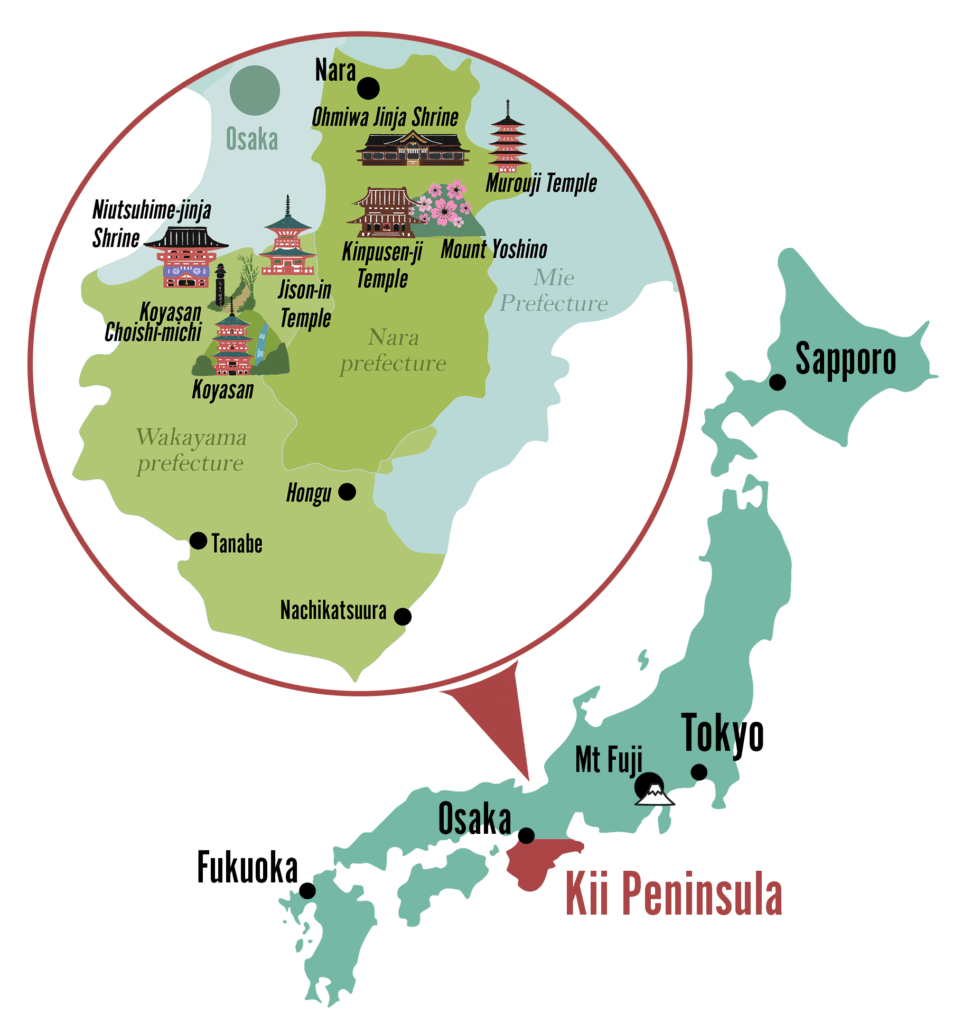 Sometimes referred to as the "birthplace of Japan," this region is one of the nation's oldest cultural and religious centers, which gave rise to Japan's first capitals: Asuka (明日香村), now a charming countryside village, and the city of Nara (奈良市), famous for its numerous temples, shrines, and sacred shika deer. The Kii Mountain Range is crisscrossed by the historical Kumano Kodo (熊野古道) pilgrimage trails, a World Heritage Site whose Kohechi (小辺路) and Omine Okugakemichi (大峯奥駈道) routes link the three Grand Shrines of Kumano Sanzan (熊野三山) respectively to the sacred sites of Koyasan (高野山) and Mount Yoshino (吉野山, Yoshinoyama).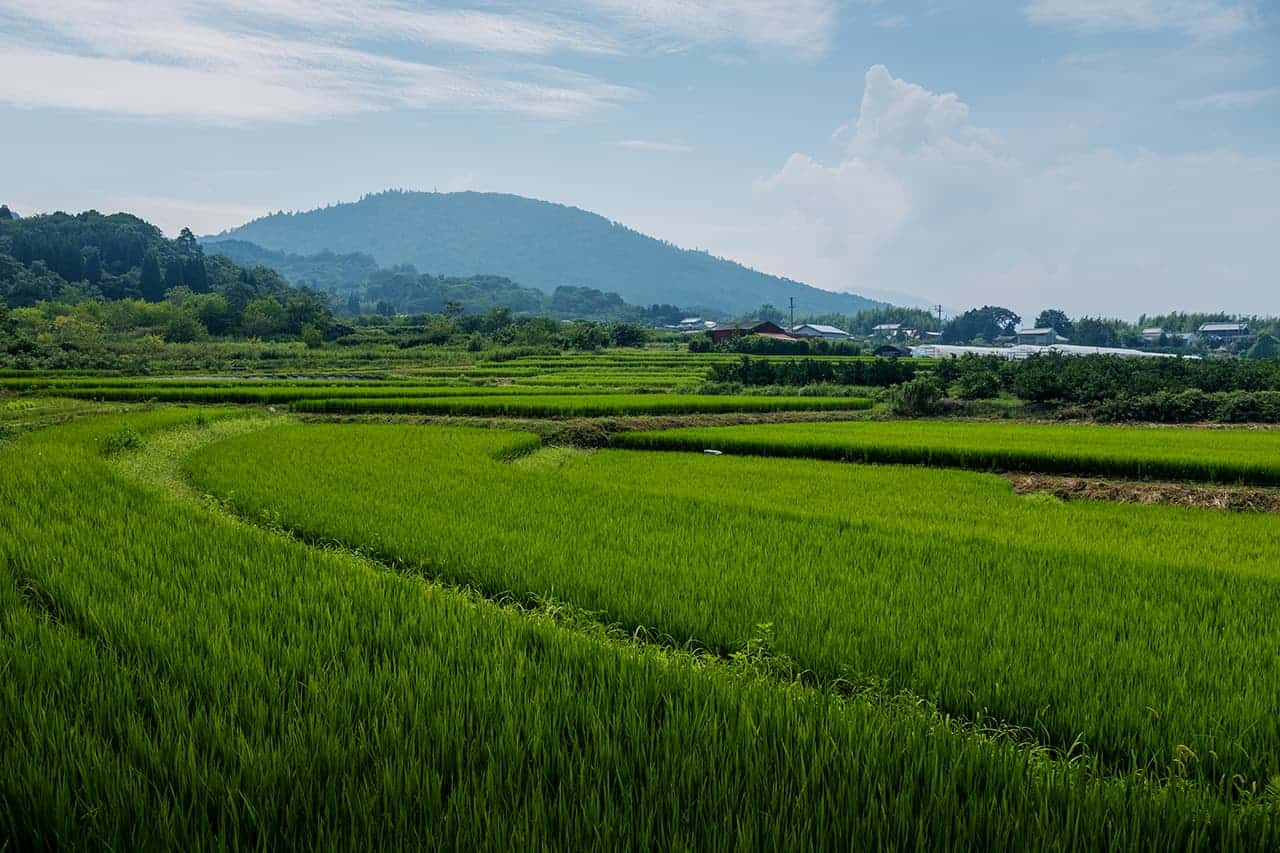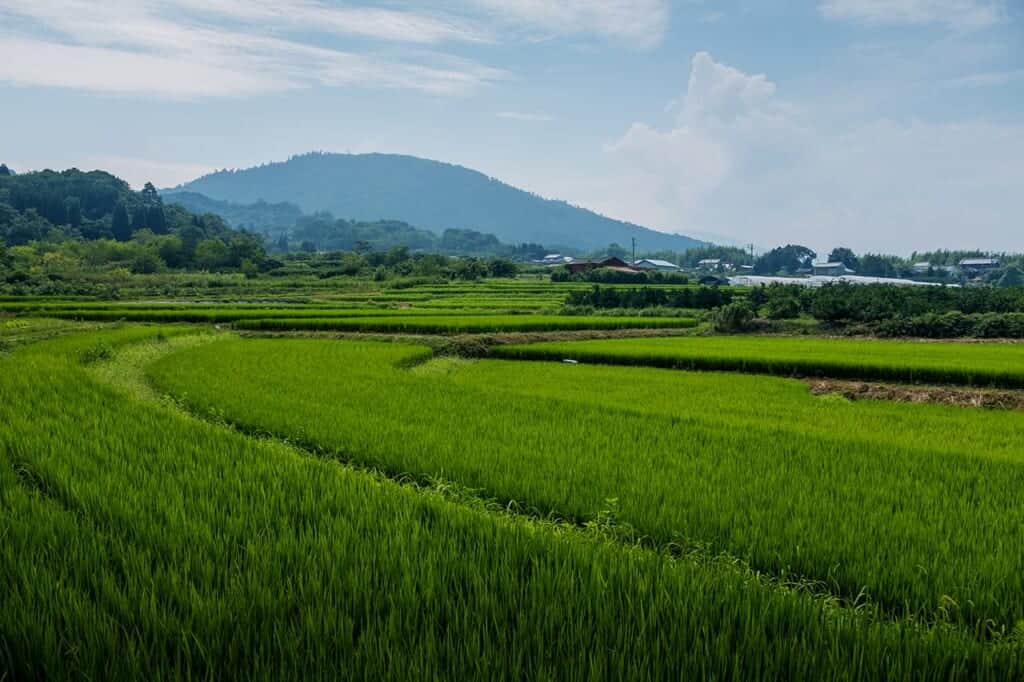 It would take months, if not a lifetime, to explore all the riches of the Kii Peninsula. But if you have 4 days, here is an itinerary through Nara and Wakayama prefectures, from Mount Yoshino to Koyasan, along historical pilgrimage routes.
Day 1: Culinary, cultural and spiritual pleasures in Nara prefecture
Our Kii Peninsula itinerary begins at lunchtime, in the city of Sakurai (桜井市) in Nara prefecture. Sakurai is located about a 40-minute train ride south of central Nara, so don't hesitate to visit Nara Park or some of the other famous attractions before starting your journey off the beaten tourist path.
If you're coming to Sakurai by train from elsewhere, it takes about 1 hour from Kyoto or Osaka, about 2 hours from Kansai International Airport (関西国際空港), or a little over 4 hours from Tokyo. In any case, this starting point is easily accessible by public transportation.
Eat Miwa somen noodle in Sakurai
One of Nara's most famous regional culinary specialties is somen (そうめん). These extremely thin, white wheat noodles are particularly popular in the summer months when they are served chilled as a light and refreshing meal, although they are just as tasty when eaten hot in winter.
While somen are also produced in other prefectures, Nara's Miwa somen (三輪そうめん) are the oldest noodles in Japan! The recipe was reputedly imported from China at the same time as Buddhism, which makes Nara the birthplace of these two fundamental elements of modern Japanese culture.
In Sakurai, you can taste these ancient noodles at a dedicated restaurant: Ikerimiwa Somenjaya Senjutei (池利三輪素麺茶屋 千寿亭).
The menu includes items for all seasons: Miwa somen served hot or cold, cooked into a refined course or prepared as a simple dish, or along with other cooked dishes using local seasonal ingredients. Kaiseki (会席, a gourmet multi-course meal) is also available at a very reasonable price.
Ikerimiwa Somenjaya Senjutei somen noodle restaurant
Hours: 11:00-16:00, closed Friday
Price: ¥820 – ¥2,310
Reservation: By phone +81 0744-45-0626
Access: 15-minute walk from JR Miwa Station (JR三輪駅)
Ikerimiwa Website (in Japanese)
Visit Muro-ji temple, the "Women's Koyasan"
The next stop on our itinerary is Muro-ji (室生寺), a temple nestled in the mountains of Uda (宇陀) to the east. It takes about 1 hour to get there by bus, but be sure to check the schedule beforehand because the only bus that goes there doesn't run often.
Muro-ji is nicknamed the "Women's Koyasan" (女人高野, Nyonin-Koya), due to its historical connections with the Koyasan religious center, which we will visit later on. Women were prohibited from entering Koyasan before 1872, but as early as the 7th century, they were welcomed by Muro-ji temple, which also had close ties to Koyasan's Shingon Buddhism (真言宗).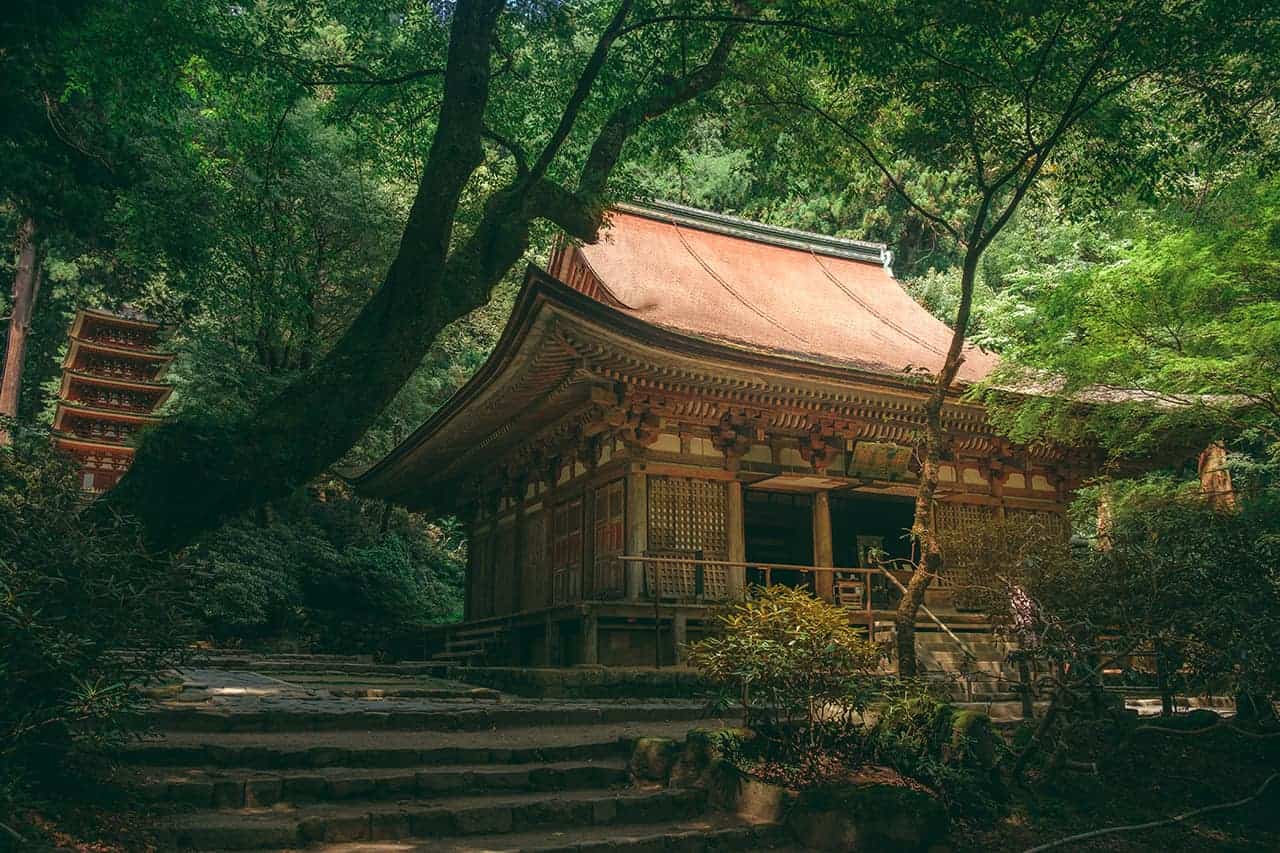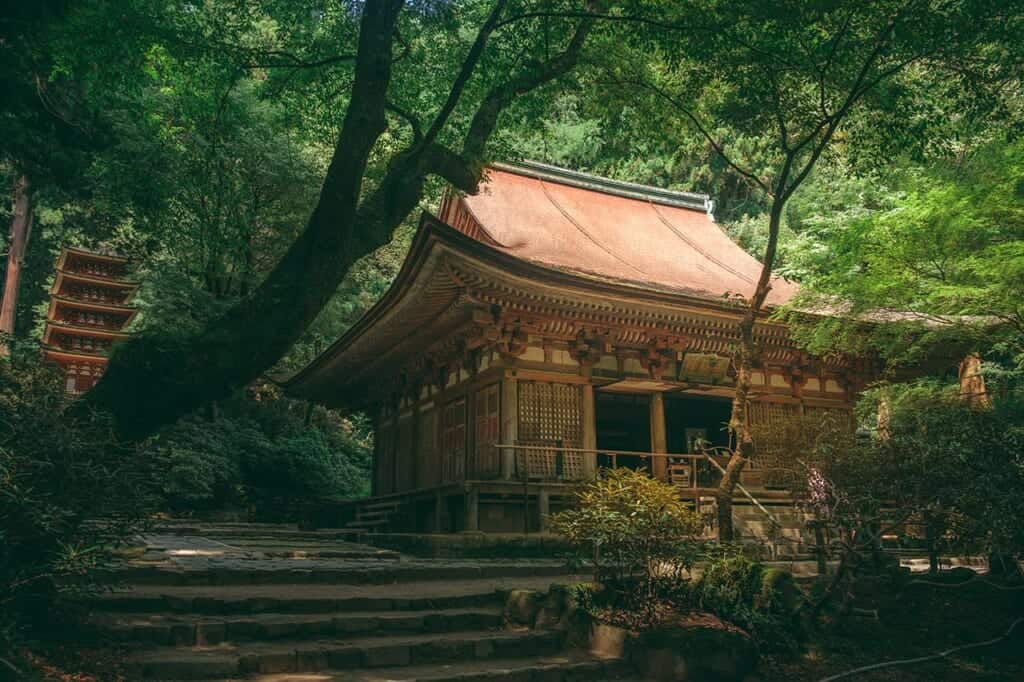 The main building dates back to 1308 and contains fascinating old Buddha statues. The dense surrounding forest creates a tranquil atmosphere that encourages meditation; if you've spent the past days visiting more touristy temples, you'll appreciate the contrast.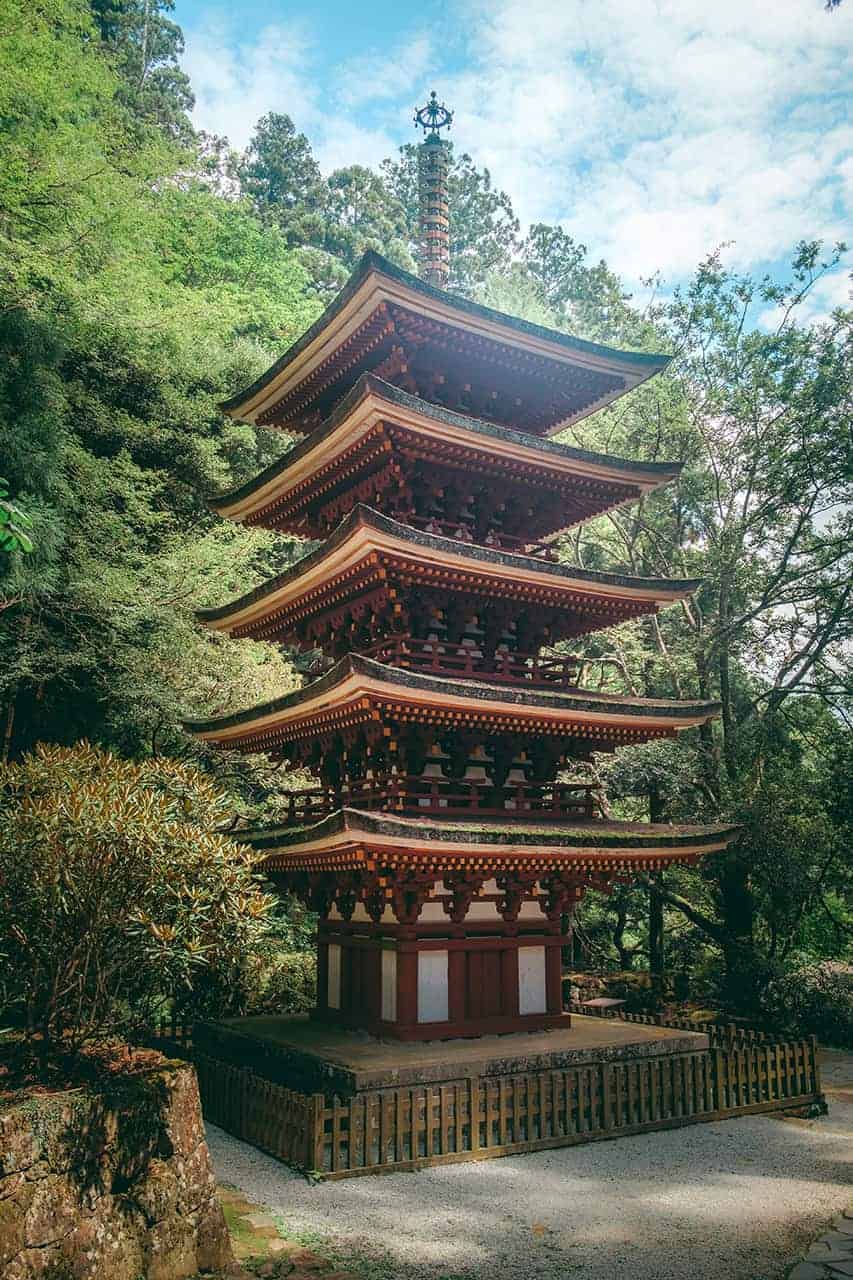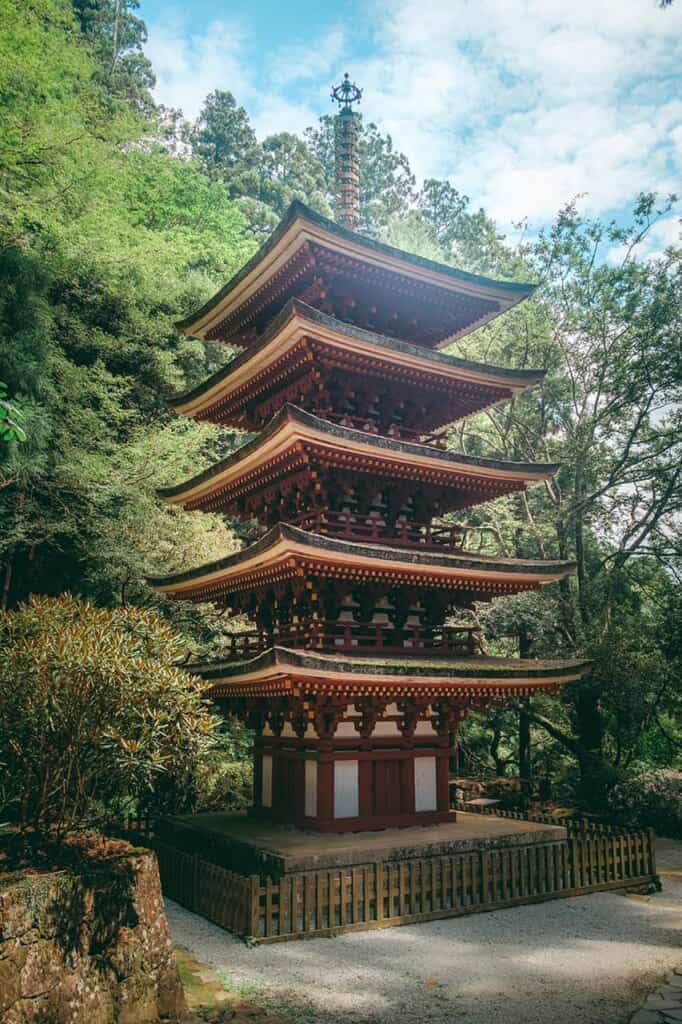 Muro-ji is especially famous for its elegant five-story pagoda perched atop a steep flight of stone steps. As many patches of rhododendrons and Japanese maples populate the temple grounds, the best times to see its blooming flora or fiery foliage is autumn and late April to early May.
Muro-ji temple
Hours: 8:30-17:00 (April to November) ⎪ 9:00-16:00 (December to March)
Admission: ¥600 (adult) ⎪ ¥400 (child)
Access: From Kintetsu Muroguchiono Station (室生口大野駅) take bus 43 all the way to Muroujimae (室生寺前) at the end of the line
Murou-ji Website
Wander through the historical district of Imaicho in Kashihara
Head back west to spend the evening in Imaicho (今井町), the historical merchant district of the city of Kashihara (橿原市). It's surprising how few people visit or even know about Imaicho, given the unmistakable charm of its many narrow alleys full of tiled-roof houses, typical Japanese architecture of the Edo period (1603-1867).
Imaicho is remarkably well preserved, with 500 old buildings concentrated in an area of about 2 square kilometers. As it remains relatively undiscovered by tourists (for now), you can enjoy a peaceful, leisurely stroll through the alleys, watching the façades of the houses glow in the setting sun, before their lights turn on inside one by one… By then, it will be the perfect time for dinner, as many fine restaurants hide behind the neighborhood noren.
Dine on French cuisine in Kashihara
While there are many typical Japanese restaurants in Imaicho, we recommend Tama, a gourmet French restaurant, for a memorable dinner.
Once past the discreet white noren and the wood-covered entrance of a traditional building, Tama's dining room evokes a blend of Japanese minimalism and Scandinavian efficiency. The restaurant opens out onto a small garden, which can also be appreciated from inside through large sliding glass doors.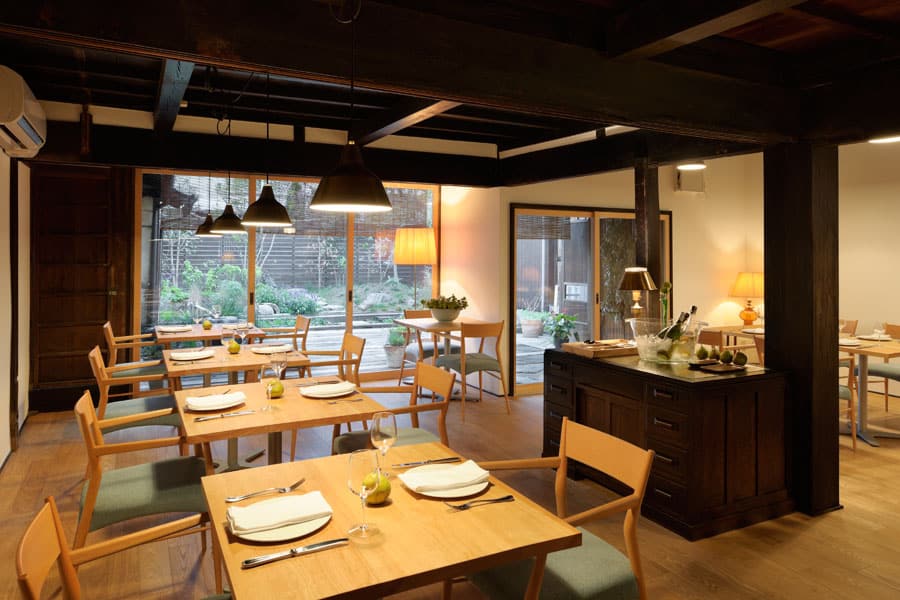 The chef prepares a unique French-inspired menu, using exclusively premium local ingredients.
Tama gourmet restaurant
Hours: Lunch 12:00-14:30 ⎪ Dinner 18:00-22:00, closed Wednesday
Reservation: By phone +81 744-24-886
Price: Set menu ¥4,500 (lunch), ¥6,000 (dinner)
Access: 10-minute walk from Kintetsu Yagi-nishiguchi Station (八木西口駅)
Imaicho Tama Website (in Japanese)
After dinner, you can retire for the night in any one of a wide selection of hotels in Kashihara.
Day 2: Exploring Yoshino, in Nara prefecture
After a final walk through the alleys of Imaicho, take an hour-long train ride to Yoshino (吉野町). But before climbing past a majestic temple and thousands of cherry blossoms on your way to the peak, consider making a short detour to the paper-making workshop Fukunishi Washi Honpo.
Make Yoshino washi paper at Fukunishi Washi Honpo
Washi (和紙, literally "Japanese paper") is artisanal paper made from the bark fiber of a hybrid paper mulberry tree (楮, kouzo). Besides the plant fiber, another crucial element that determines the quality of washi is the water. The Yoshino region is blessed with particularly pure water, which is behind the reputation of Yoshino washi (吉野和紙), produced here for more than 1,300 years.
Nara prefecture is actually known for its craftsmanship related to calligraphy (ink, brushes) due to its ancient and profound links to Buddhism—imported from China, along with the artisanal techniques—and the practice of copying sutras developed in the temples.
You can buy Yoshino washi in Nara or elsewhere, but we suggest participating in a hands-on workshop, where you can learn to make it yourself and fully appreciate its various qualities. Fukunishi Washi Honpo (福西和紙本舗) offers precisely this type of experience, guided by recognized masters of their craft: the Fukunishi family also supplies the Japanese Imperial Agency.
During this workshop, you can make your own custom washi paper using dyes or plants. The shop also sells professional paper and other items, so you can buy gifts and souvenirs while helping to preserve this centuries-old craft.
Fukunishi Washi Honpo paper workshop
Hours: 8:00-12:00, 13:00-17:00, closed at irregular times
Price: ¥1,500 per person
Reservation: By e-mail or phone +81 746-36-6513
Access: About 15 minutes by taxi from Kintetsu Yamato-Kamiichi Station (大和上市駅)
Fukunishi Washi Honpo Website (in Japanese)
Hike Mount Yoshino
Once you return to Kintetsu Yamato-Kamiichi Station (大和上市駅), it's only a 5-minute ride to Yoshino Station (吉野駅). From here to the peak, you can either take the ropeway or venture on a short 20-minute hike.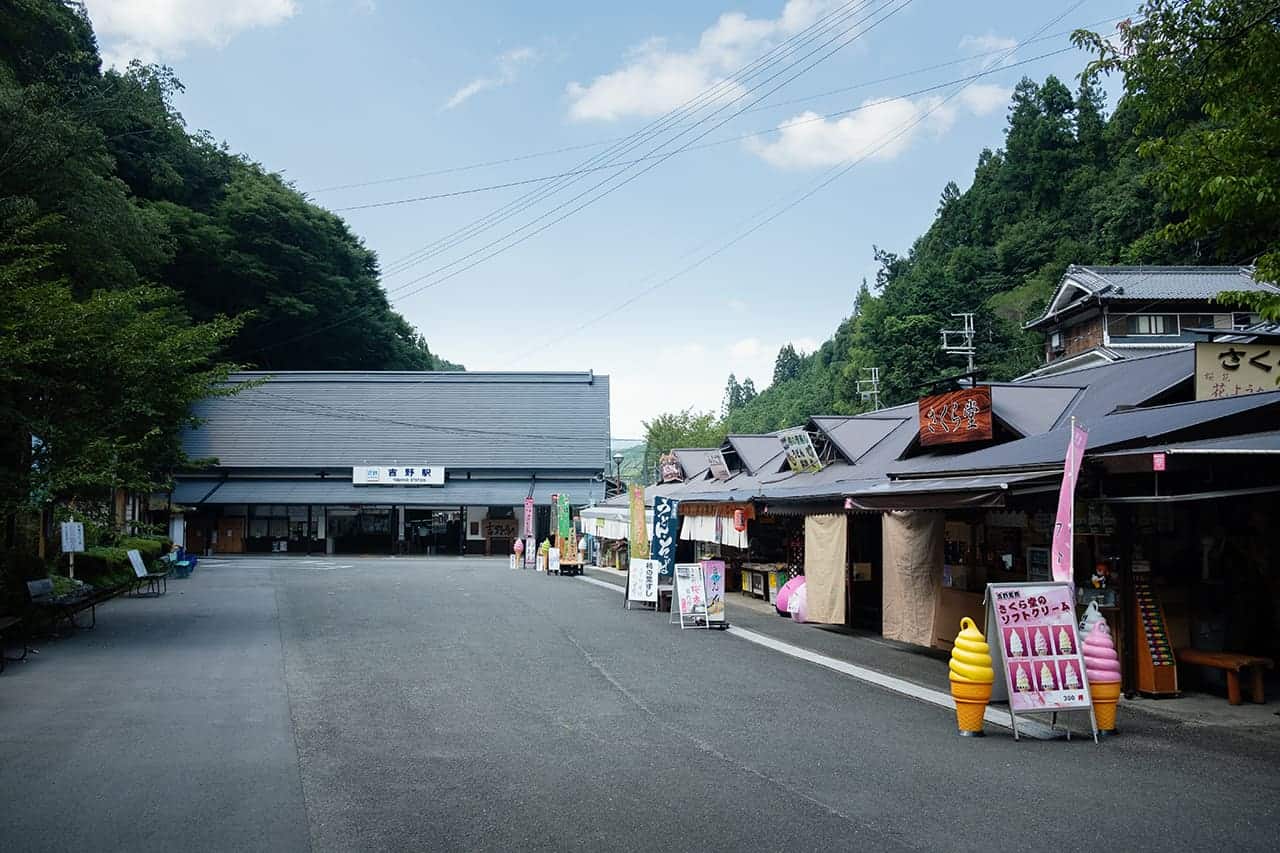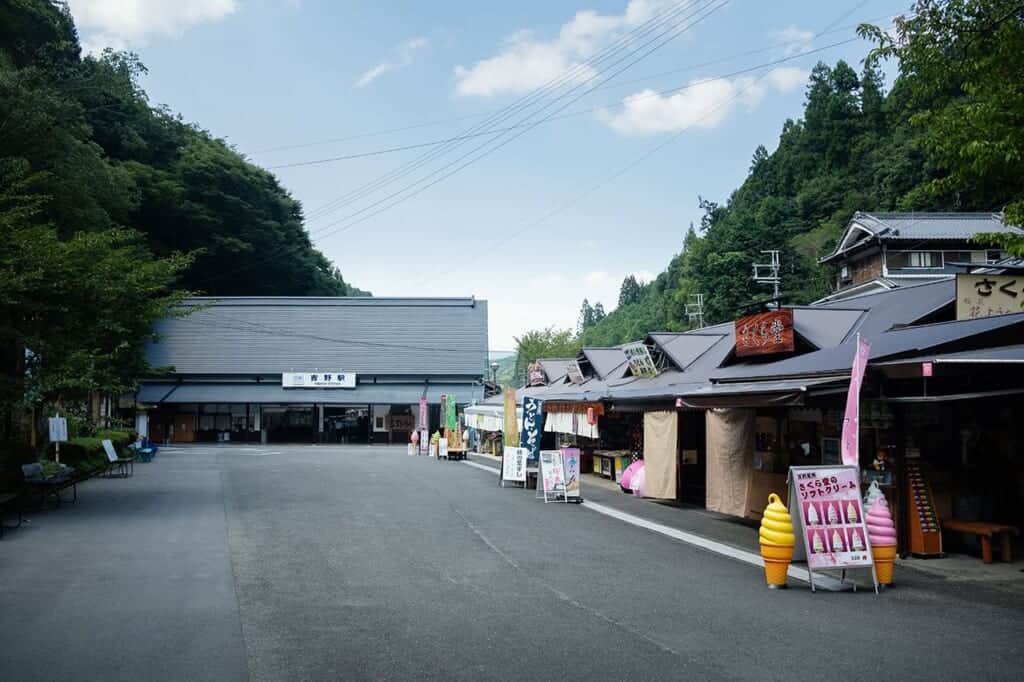 Mount Yoshino is the starting point of the Omine-Okugakemichi (大峯奥駈道). This mountainous pilgrimage route is especially used by yamabushi (山伏), ascetic hermits who follow the Shugendo (修験道) doctrine, which integrates esoteric Shingon Buddhism, mountain worship, as well as Taoist and Shinto elements. Even without the rigorous training of a yamabushi, walking along this mountain path is a good way to appreciate the intimate relationship between nature and spirituality throughout the Kii Peninsula.
Lunch on kakinoha sushi, Nara's famous sushi
But first, now might be a good time to break for lunch. There are many restaurants on Mount Yoshino, but it's worth finding one that specializes in the regional specialty of kakinoha sushi (柿の葉寿司).
"Kakinoha" literally refers to the persimmon leaf that is used to wrap the sushi made up of a slice of marinated fish over vinegared rice. Like vinegar, persimmon leaves have anti-bacterial qualities that preserve the kakinoha sushi at ambient temperature. For this reason, they are often found in ekiben (駅弁, boxed meals sold in train stations)—and a personal favorite, as much for their vinegary taste as for their eco-friendly traditional wrapping!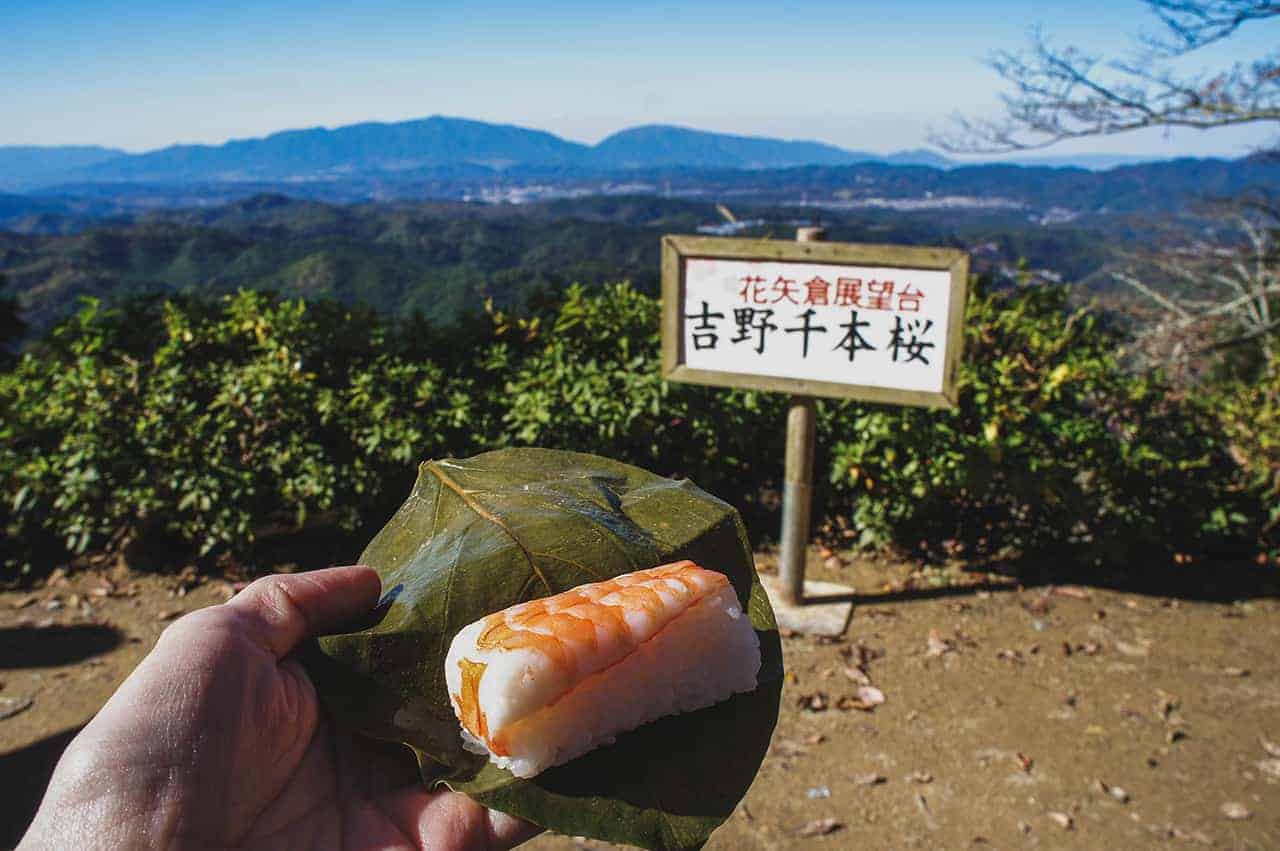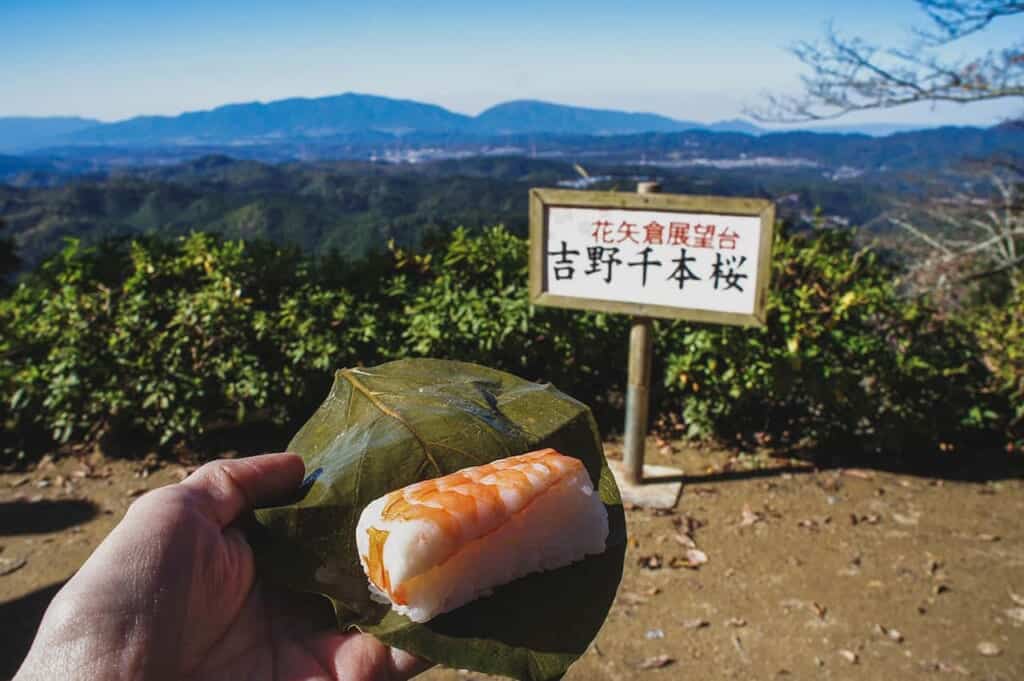 You can either purchase a box of kakinoha sushi to eat later in a setting of your choice or taste them in the context of a more elaborate menu at a specialized restaurant such as Hiraso (平宗).
Hiraso restaurant and shop
Hours: 8:30-18:30, closed Monday
Price: Eat in ¥860 – ¥5,400 ⎪ Box of 8 kakinoha sushi to go ¥1,183 – ¥1,423
Access: 20-minute walk from Yoshino-jingu Station (吉野神宮駅)
*Other shops and restaurants also sell kakinoha sushi on Mount Yoshino
Hiraso Website (in Japanese)
Visit Kinpusen-ji temple, sacred site of Shugendo
Once you've had your fill of sushi, head off to Mount Yoshino (吉野山, Yoshinoyama), which is especially famous for its 30,000 cherry trees that transform the mountain landscape into a billowy carpet of pink blossoms and evergreen in spring. For centuries, it has been known as the most beautiful spot for hanami. But Mount Yoshino is worth visiting all year round because these cherry trees are here for a reason. Sakura blossoms have been considered sacred since ancient times, and they play a central role in some of the rituals practiced at Kinpusen-ji temple.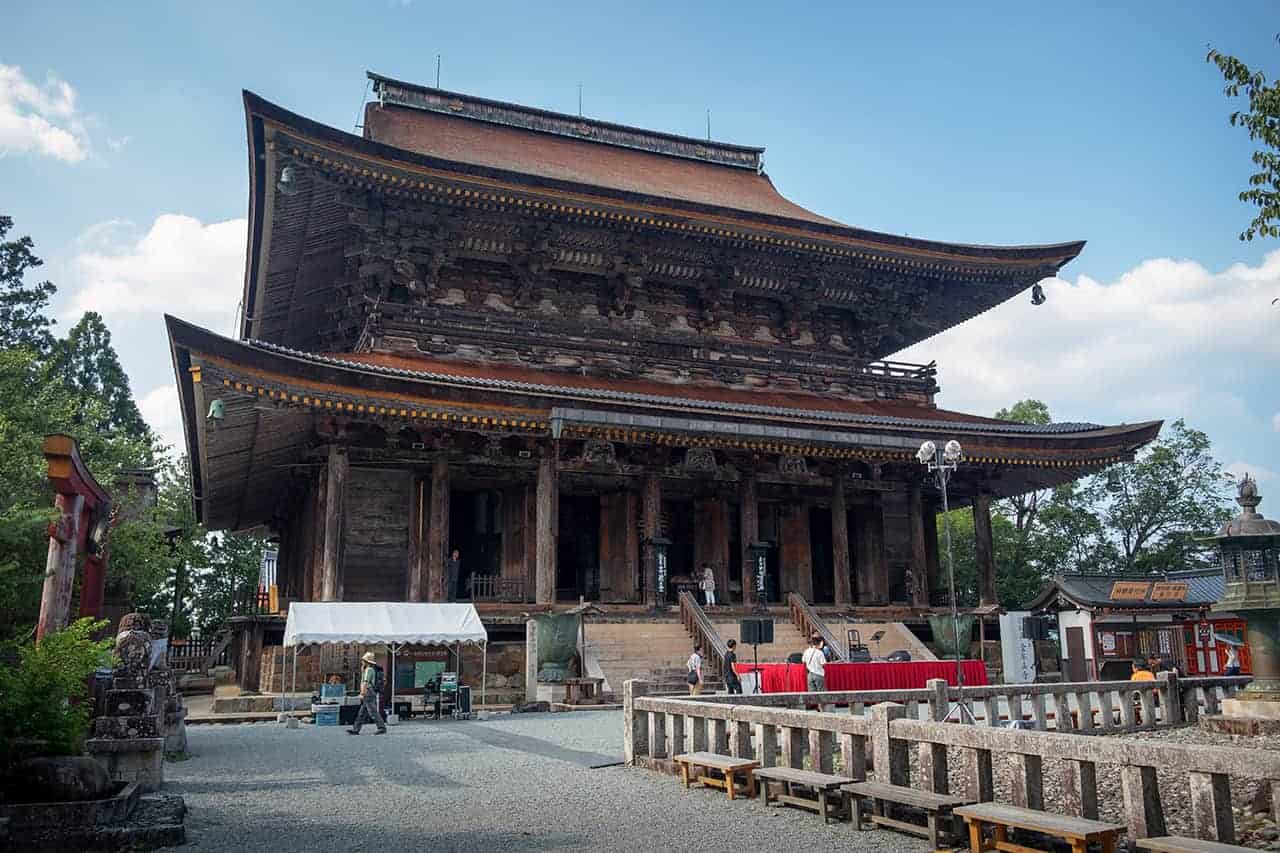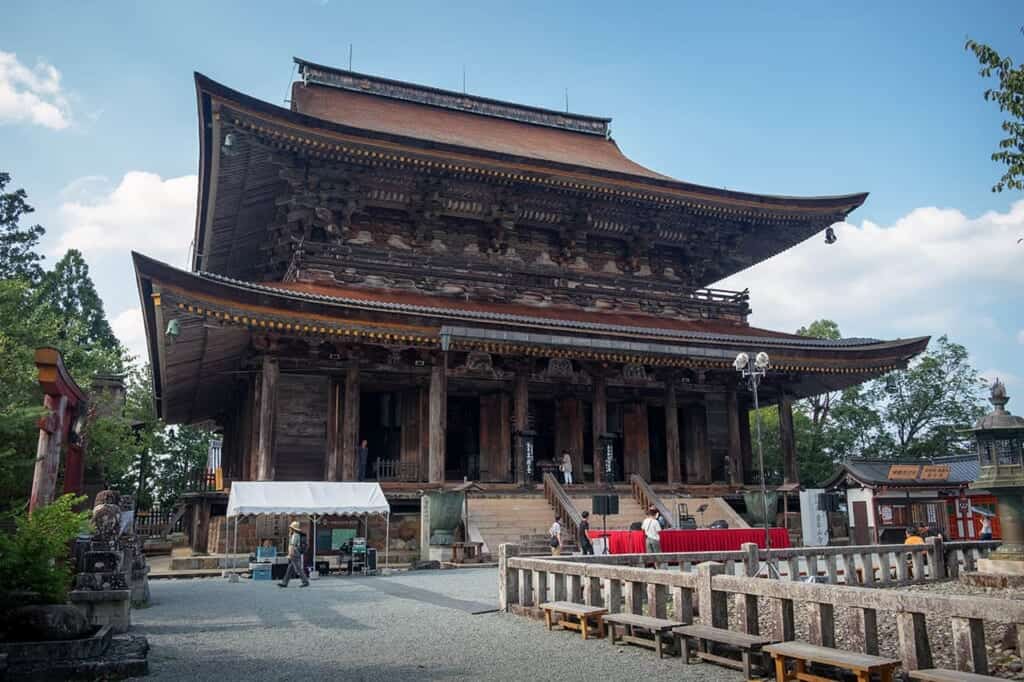 Kinpusen-ji (金峯山寺), which marks the exact starting point of the Omine Okugakemichi pilgrimage route, is the largest Shugendo temple. Its colossal main building is situated about a 10-minute walk away from the ropeway terminal.
This imposing wooden temple structure is the second-largest in Japan, after the main hall of Todai-ji in Nara, which houses the famous Great Buddha. Kinpusen-ji is home to three 7-meter-tall, 1,300-year-old statues of Zao Gongen (divinity worshipped by followers of Shugendo), whose skin is painted a deep blue that contrasts with the gold and other warm hues of their surroundings. These statues are only visible in spring and autumn.
In line with the religious syncretism that characterizes the history and culture of Japan, a few modest Shinto shrines also intermingled with the temples around Kinpusen-ji.
Kinpusen-ji temple
Hours: 8:30-16:00
Admission: ¥800 (adults)⎪ ¥600 (secondary school students)⎪¥400 (primary school students)
Access: 10-minute walk from the at Yoshinoyama Ropeway Station (吉野山駅)
Kinpusen-ji Website (in Japanese)
Take in the view from Hanayagura Observatory on Mount Yoshino
All the iconic photographs you might have seen of the sweeping views from Mount Yoshino, with white buildings tracing a sinewy crest through hills of billowy flora, were taken from Hanayagura Observatory (花矢倉展望台).
While some famous photogenic views risk disappointing when viewed in person, this was not at all the case when I arrived at Mount Yoshino in autumn, even without the 30,000 cherry blossoms. For me, the reason was not only the spectacular panorama itself but the sense of achievement in reaching it. The hike to the observatory takes about an hour on a paved path, and the rewarding view of the area, with the tiny Kinpusen-ji in the distance, gives a good idea of the mountain's topography. Ever since I encouraged my parents to join me on this adventure, they still talk about how fulfilled they felt to reach the summit, exhausted but elated to admire this exceptional landscape.
Mysterious Yoshino Mikumari-jinja shrine
Once you've made it up to Hanayagura Observatory, it's just a short walk to Yoshino Mikumari-jinja (吉野水分神社) about 200 meters away. This Shinto shrine was transferred to its present location in the 9th century and dedicated to the goddess Ame-no-Mikumari-no-Kami. It may not be grandiose, but the singular architecture of its 17th-century buildings envelop it in a mysterious aura.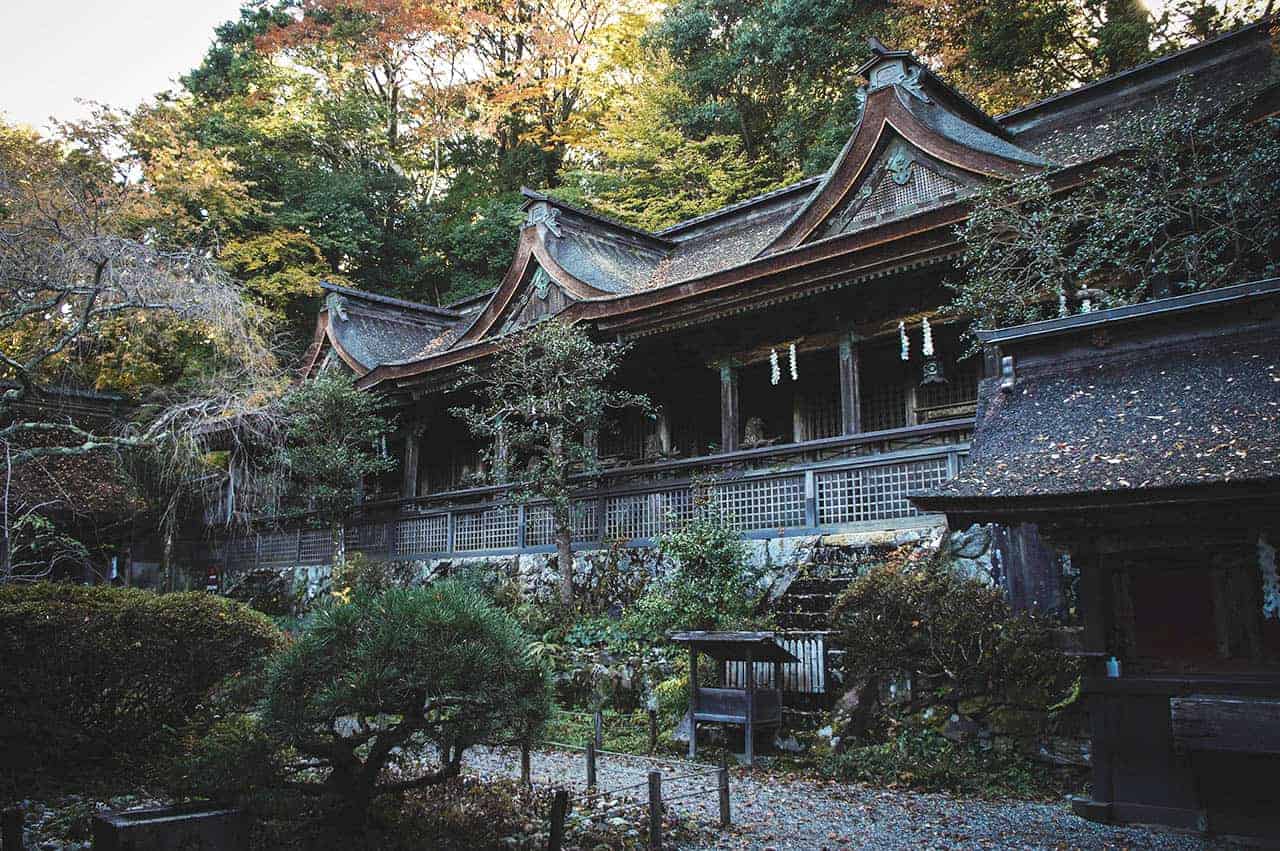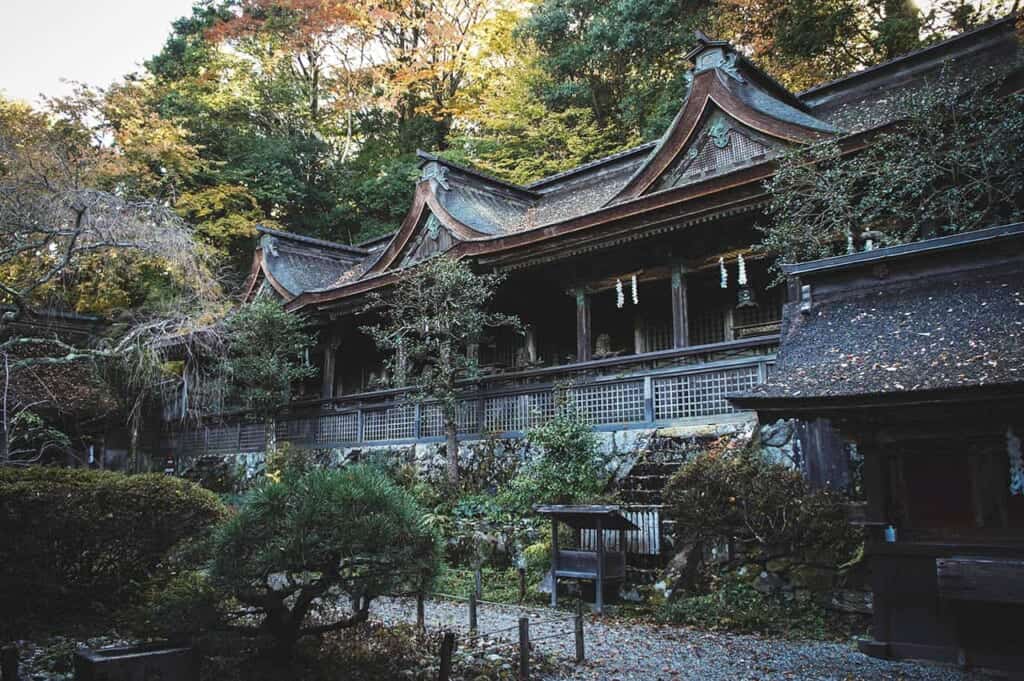 The shrine's austere and elegantly elongated buildings surround a narrow inner courtyard centered around a weeping cherry tree. It only takes a few minutes to walk around the grounds, but you can easily lose track of time within this captivating site.
Yoshino Mikumari-jinja shrine
Hours: 8:00-16:00 ⎪ 8:00-17:00 in April
Admission: Free
Access: 1-hour walk from Yoshinoyama Ropeway Station (吉野山駅)
After a day of hiking, relax and spend the night in the heights of Mount Yoshino in a ryokan (旅館, traditional Japanese lodge). In addition to tatami rooms and gourmet meals, most offer rejuvenating hot baths and a clear view of the mountains.
Day 3: Walking the pilgrimage route to Koyasan
On the third day of our itinerary, we leave Nara and cross over to Wakayama prefecture in the direction of Koyasan. Take the train from Yoshino (吉野) to Hashimoto (橋本) (1-1.5 hours). From there, you can either take a local train or the Tenku (天空) tourist train to Kudoyama Station (九度山駅) (10 minutes).
The Tenku train treats its passengers to luscious views of the surrounding mountain landscape through large windows. Note that reservations are required, but it also runs all the way to Koyasan if you choose to go there directly.
Tenku tourist train
Hours: 2-3 round-trips per day. Days and hours of operation vary according to season
Price: Hashimoto to Koyasan: ¥950 (adult)⎪¥480 (child)⎪+¥520/¥260 for a reserved seat
Reservation: By phone only +81 120-151519, 1-10 days in advance
Nankai Website – detailed information (in Japanese)
Walk the Choishi-michi pilgrimage route to Koyasan
Instead of taking the ropeway directly up to Koyasan, we suggest beginning your journey in Kudoyama, at the foot of the mountain, in order to hike the historical Koyasan Choishi-michi (高野山町石道) pilgrimage route. Remember to start early because it's an approximately 20-kilometer, 7-hour trek to the peak.
This route was often taken by Kōbō Daishi (弘法大師), the founder of Shingon Buddhism, which he established on the peak of Koyasan. He also regularly descended the same path to visit his mother at Jison-in temple.
If hiking is not your strong point, you can still visit Jison-in temple, situated just a 20-minute walk away from Kudoyama station, then take a taxi (40 minutes) to Niutsuhime-jinja shrine. Alternatively, you can walk back to the station, hitch a ride on the ropeway, and spend the rest of your day in Koyasan.
The path is marked by (and named after) stupa-shaped stone distance indicators called choishi (町石). The Nankai Koya website provides more detailed information on the entire Choishi-michi route. Here are a few of the sites we passed along the way.
Pray for women at Jison-in temple
Like Muro-ji temple from Day 1, Jison-in (慈尊院) has always welcomed women who were turned away from Koyasan until 1872. But as Jison-in is also situated nearer to Koyasan, it has long served as a place of refuge for women. This history has left its mark on the temple, where people pray mainly for women's good health, safe childbirth, safe nursing, or the health of children. Don't miss the temple's distinctively thematic ema votive wooden plaques!
A more recent story is the tale of Gon the dog, who regularly guided pilgrims on the route to Koyasan in the late 20th century—much like a dog who might have guided Kōbō Daishi more than 1,200 years ago! Similar to the famous statue of Hachiko in Shibuya, Tokyo, a statue commemorating Gon stands at Jison-in.
Jison-in temple
Hours: 24 hours, reception 8:00-17:00
Admission: Free
Access: 20-minute walk from Kudoyama Station (九度山駅)
Jison Website (in Japanese)
Another 10-minute walk away is the Takanoyama-cho Ishido Observatory (高野山町石道展望台), which offers a panoramic view over the cities of Kudoyama and Hashimoto, as well as Koyasan.
Niutsuhime-jinja shrine, where divinities watch over Koyasan
Take a slight detour off the main Koyasan Choishi-michi route to go to Niutsuhime-jinja (丹生都比売神社). This 1,700-year-old Shinto shrine is worth the visit, not only as a good example of kasuga-zukuri (春日造) architectural style but for its historical and religious significance. According to legend, two local Shinto kami (divinities), Niutsuhime-no-Okami and Takanomiko-no-Okami, guided Kōbō Daishi to Koyasan, where they gifted him this territory on which to build his school of Shingon Buddhism. Thus, these two Shinto kami are the divine protectors of one of the most important Buddhist sites in Japan.
Niutsuhime-jinja shrine
Hours: 24h/24, reception 8:30-16:30
Admission: Free
Access: To reach the shrine directly without taking the pilgrimage route, take the local Katsuragicho (かつらぎ町) bus from JR Kaseda Station (笠田駅) to the end of the line at Niutsuhime-jinja-mae (丹生都比売神社前) (30 minutes, ¥150)
Niutsuhime Website
Near Niutsuhime-jinja, Café Kyuden (Café 客殿) is a good place to stop for lunch, set inside an old Japanese-style house​ (古民家, kominka).
Enter Koyasan through the large front gate Daimon
But don't get too comfortable, as the hike has only just begun! After walking along the main pilgrimage route for about 4 more hours, you will see Daimon, the large front gate that leads into Koyasan.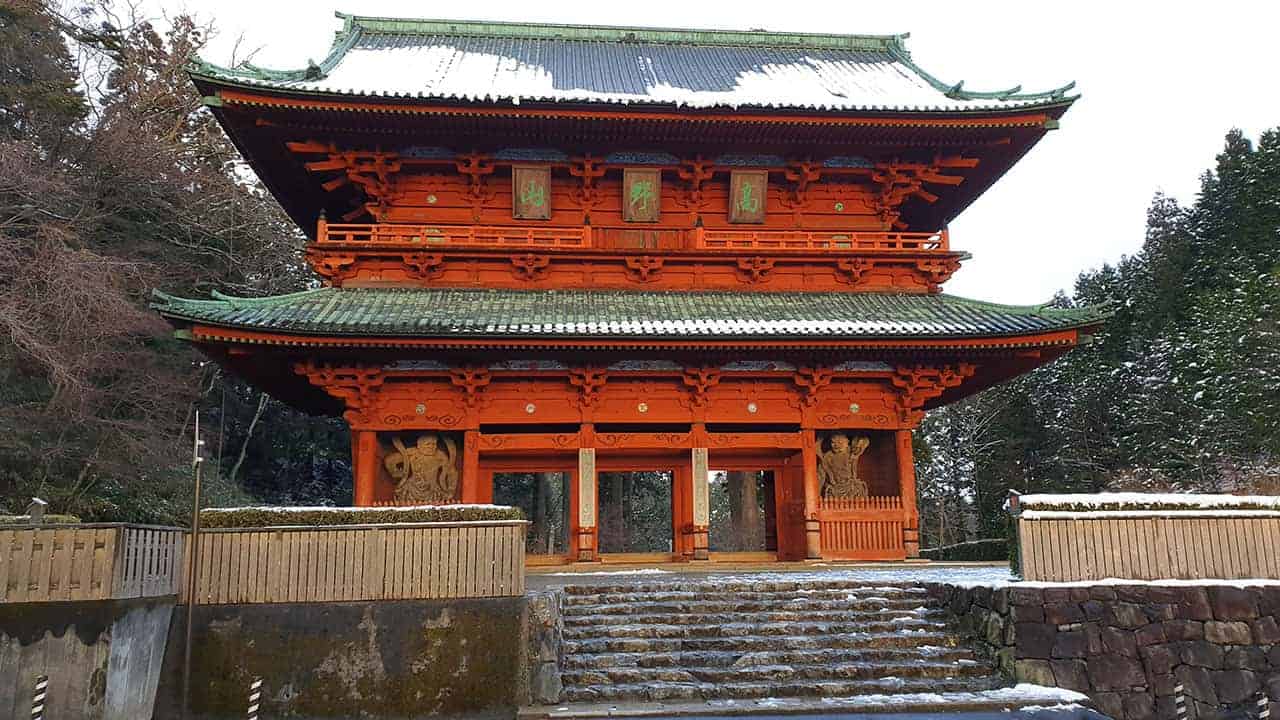 Indeed, this imposing 25-meter-high vermillion gate standing guard at the entrance to Koyasan says it all: You have arrived. Daimon (大門) literally means "large gate", and this one houses equally impressive Nio (仁王), the Buddhist guardian king statues who protect the sacred site from evil forces entering.
Spend the night in a Buddhist temple in Koyasan
Finally, time for a well-deserved rest. There are 51 shukubo (宿坊) temple accommodations in Koyasan. As you might have guessed, these are not tourist hotels but religious centers, where bonzes host monks in training and pilgrims, as well as visitors who are curious to experience Japanese Buddhist culture.
Spending the night in a temple is an immersive experience bound to leave you with lasting memories. Each temple hosts guests in its own way, ranging from comfortable to relatively spartan accommodation. Generally, you will be invited to participate in activities such as meditation sessions, copying sutras, or morning prayers.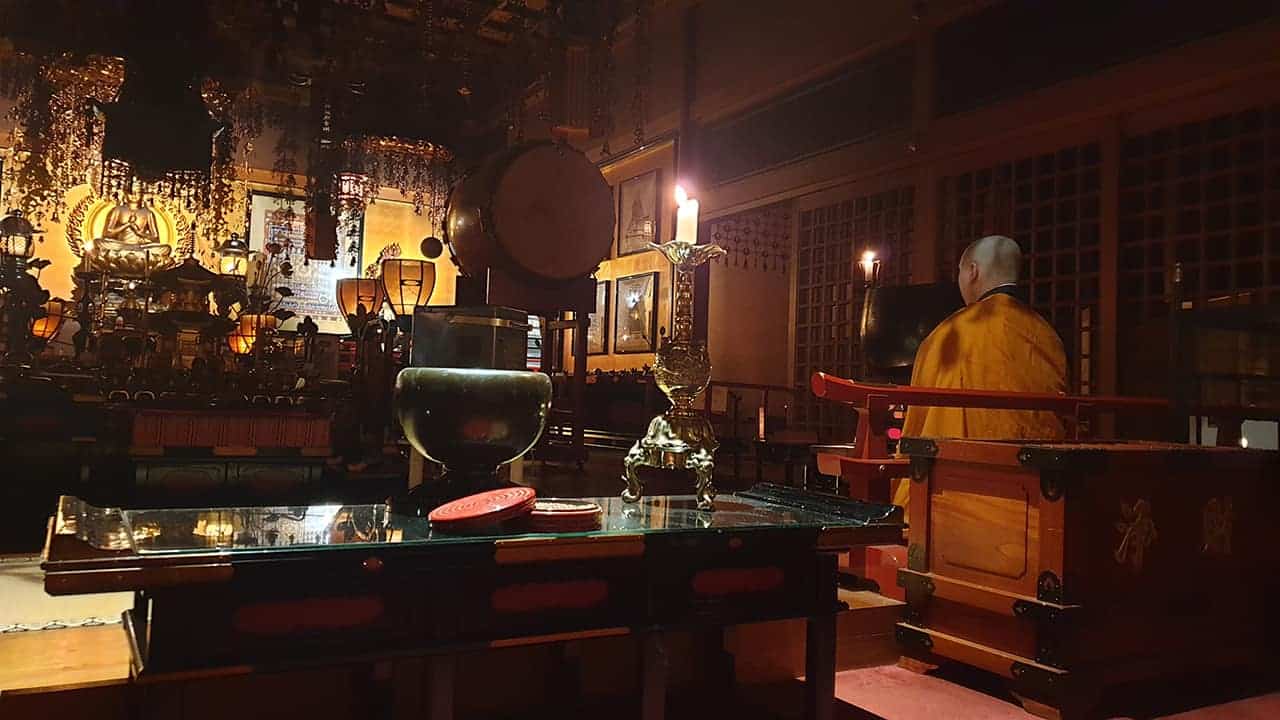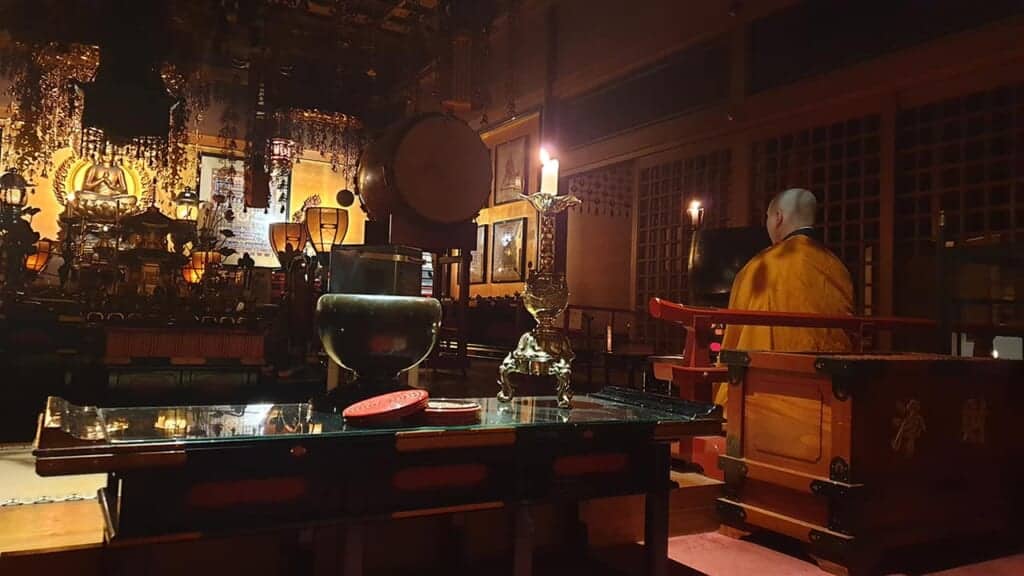 A stay includes dinner and breakfast of shojin ryori (精進料理)—traditional Buddhist vegetarian cuisine that is not nearly as austere as it sounds. Over the years, the monks have developed complex culinary techniques to create surprising flavors and textures, sometimes even creating meat substitutes using seitan.
More information is available on the official website of the association of shukubo in Koyasan.
Day 4: Exploring Koyasan
At a temple, it's generally early to bed and early to rise for the morning service. Participating in this ritual is not mandatory, but it would be a shame to miss this unique experience. I still have strong memories of this moment from my first trip to Japan 10 years ago. We were the only guests in a small temple of just as many monks, and even without understanding the words, I was enraptured by the chanting of the sutras.
After the morning service and the shojin breakfast, it's time to set off on your final day exploring Koyasan. As all the sites are in the same general area, you can visit them all on foot.
Kongobu-ji, the head temple of Koyasan
Now that you're actually on site, let's review a bit of history: What is Koyasan (高野山)? To summarize, it's one of the main Buddhist centers in Japan, founded in 816 by Kōbō Daishi (Kukai) as a training center for monks of his own esoteric Shingon Buddhism sect.
Today there are 117 temples in Koyasan, including the head temple Kongobu-ji (金剛峯寺), which is also the Shingon Koyasan school.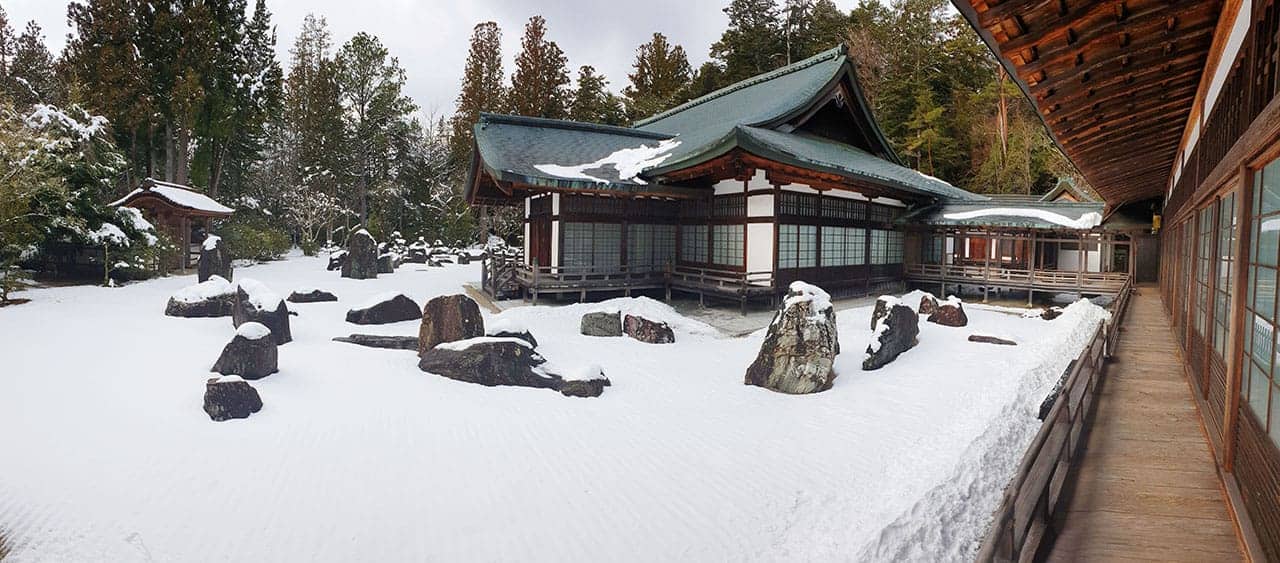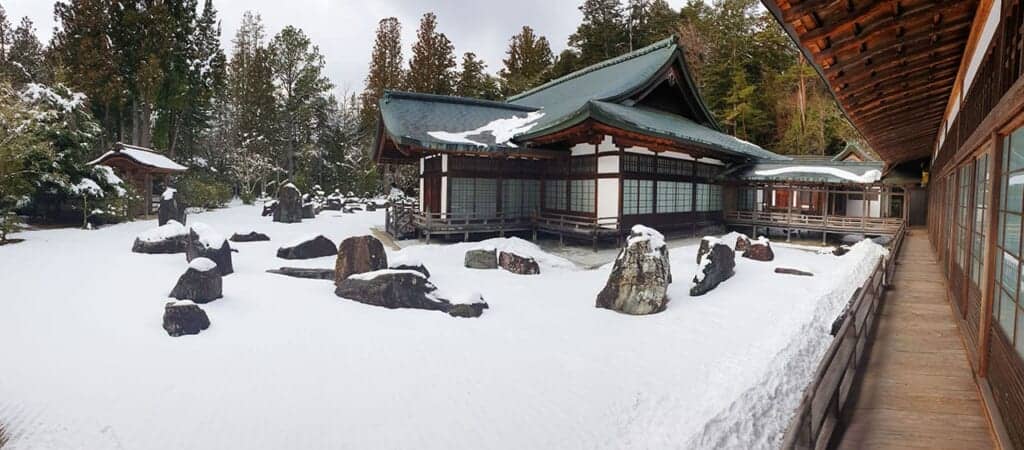 Kongobu-ji is open to the public, with much to please visitors: its elegant architecture, its famous Banryutei (蟠龍庭) rock garden, its many fusuma (襖) sliding doors painted with delicate natural motifs, as well as religious artworks on display. Even its old kitchen is accessible for those interested in imagining how monks lived in past centuries.
Kongobu-ji temple
Hours: 8:30-17:00
Admission: ¥1,000 (adults)⎪ ¥300 (children age 7-12)
Koyasan Website
Danjō Garan, the heart of Koyasan
A 5-minute walk away from Kongobu-ji is Danjō Garan (壇上伽藍), a complex of 19 buildings. Among them, the most iconic is Konpon Daito (根本大塔), a huge pagoda painted in vibrant hues of vermillion, green and white, standing at 49 meters tall. Danjō Garan was another one of the original sites built by Kōbō Daishi as a training center for monks when he founded Koyasan.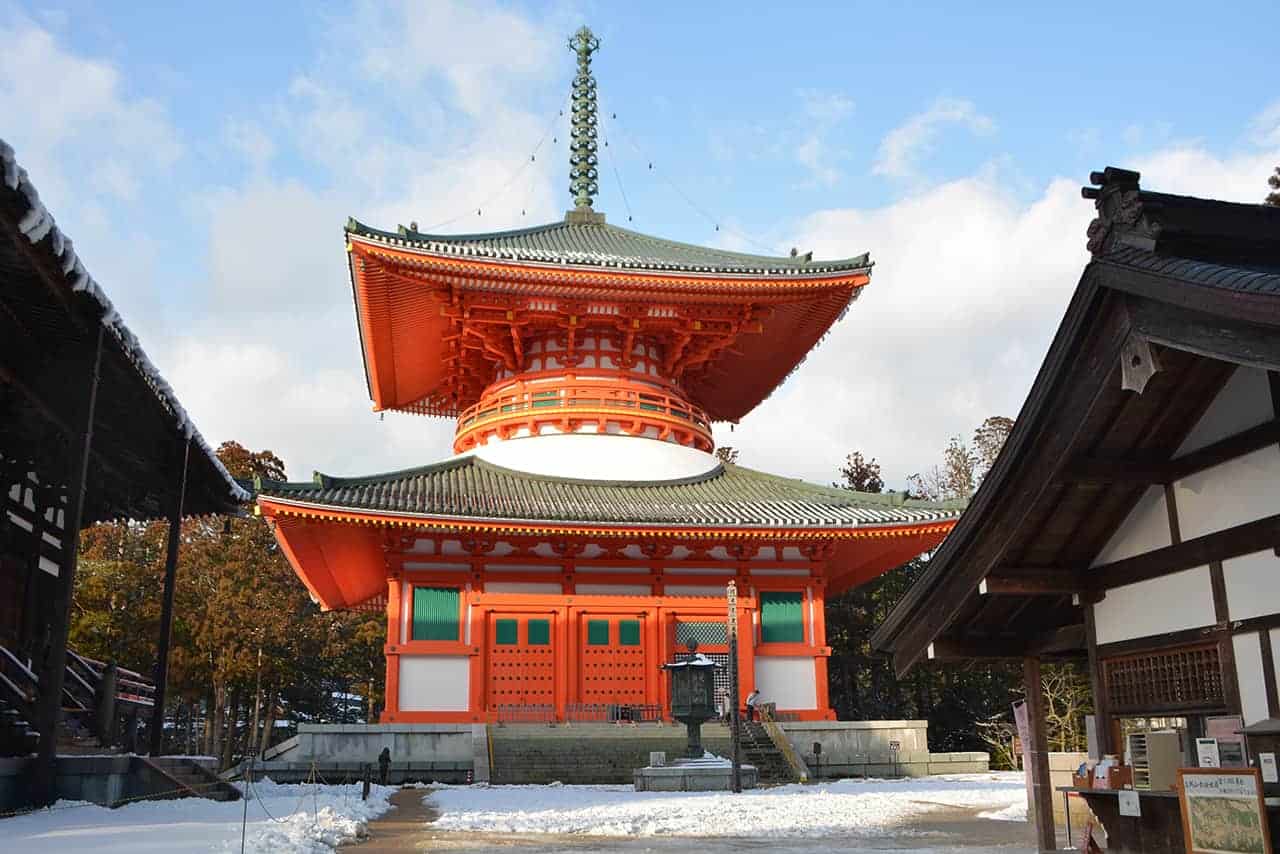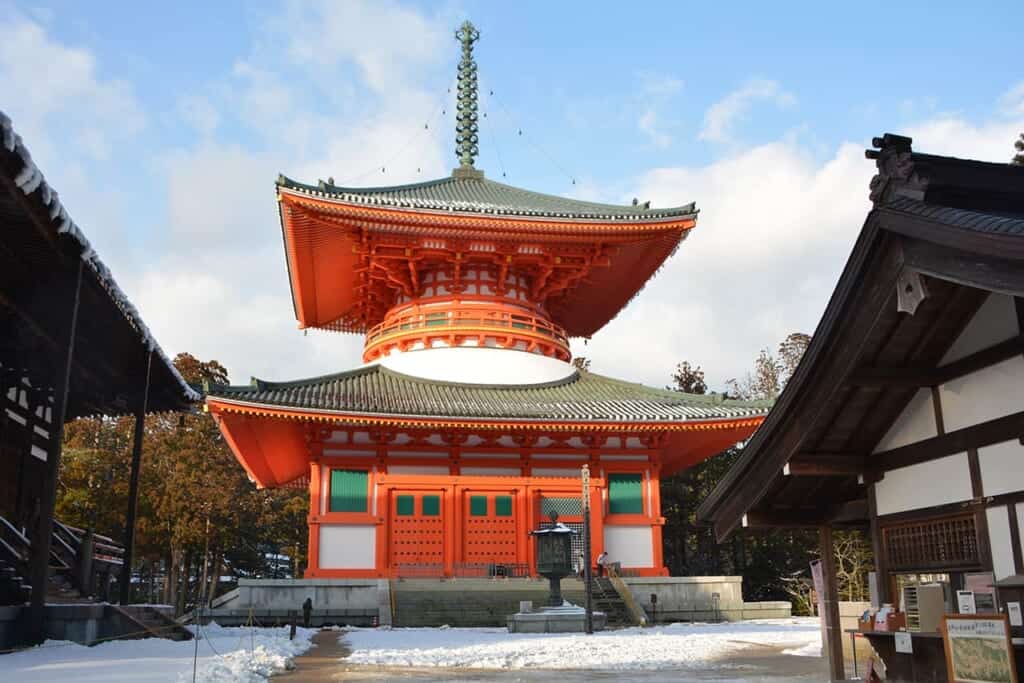 This pagoda houses a number of statues and painted columns that together form a marvelous three-dimensional mandala.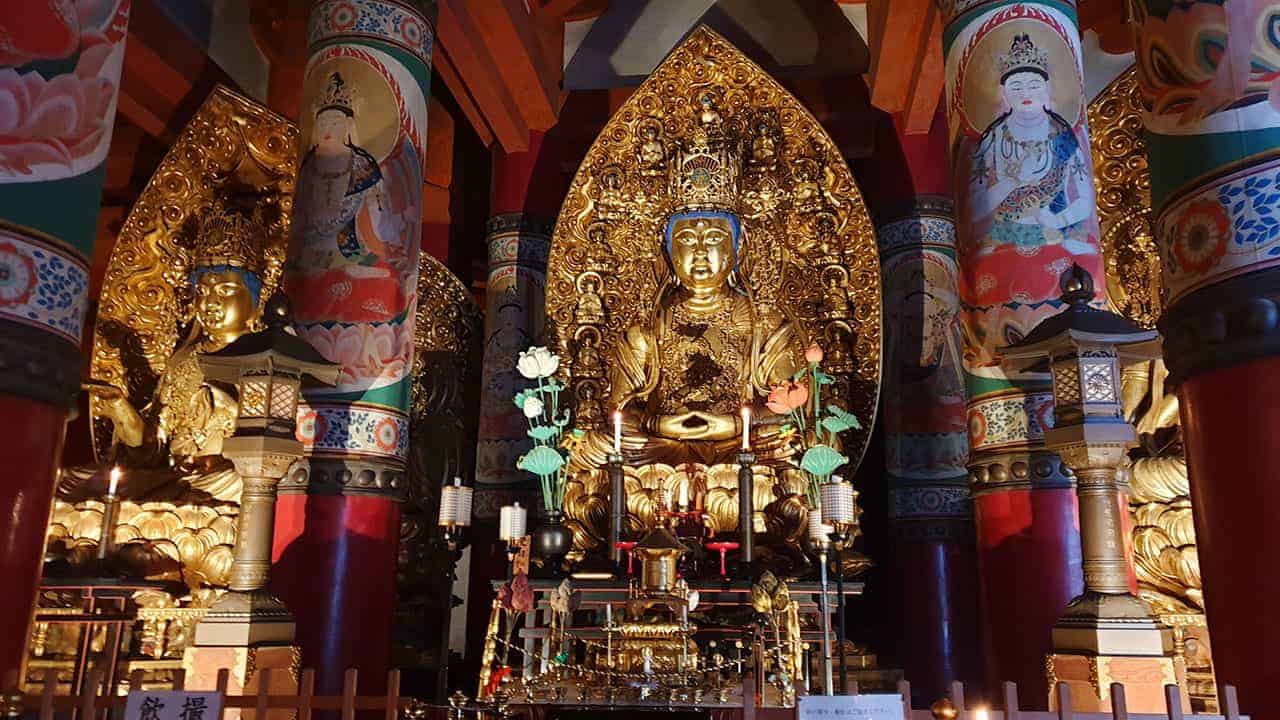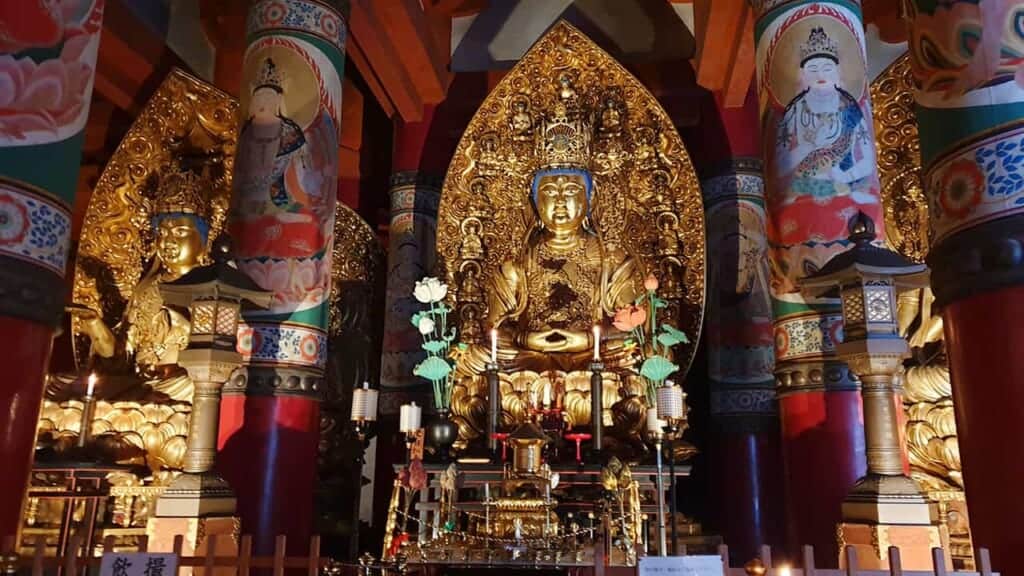 Konpon Daito
Hours: 8:30-16:30
Admission: ¥500
Visit Okuno-in cemetery
While it might be counterintuitive to visit a cemetery, Okuno-in (奥の院) is bound to be the highlight of your excursion to Koyasan. Of course, showing respect and discretion is advised, as this cemetery is hardly a tourist attraction. But with the right state of mind, you may find yourself easily enchanted.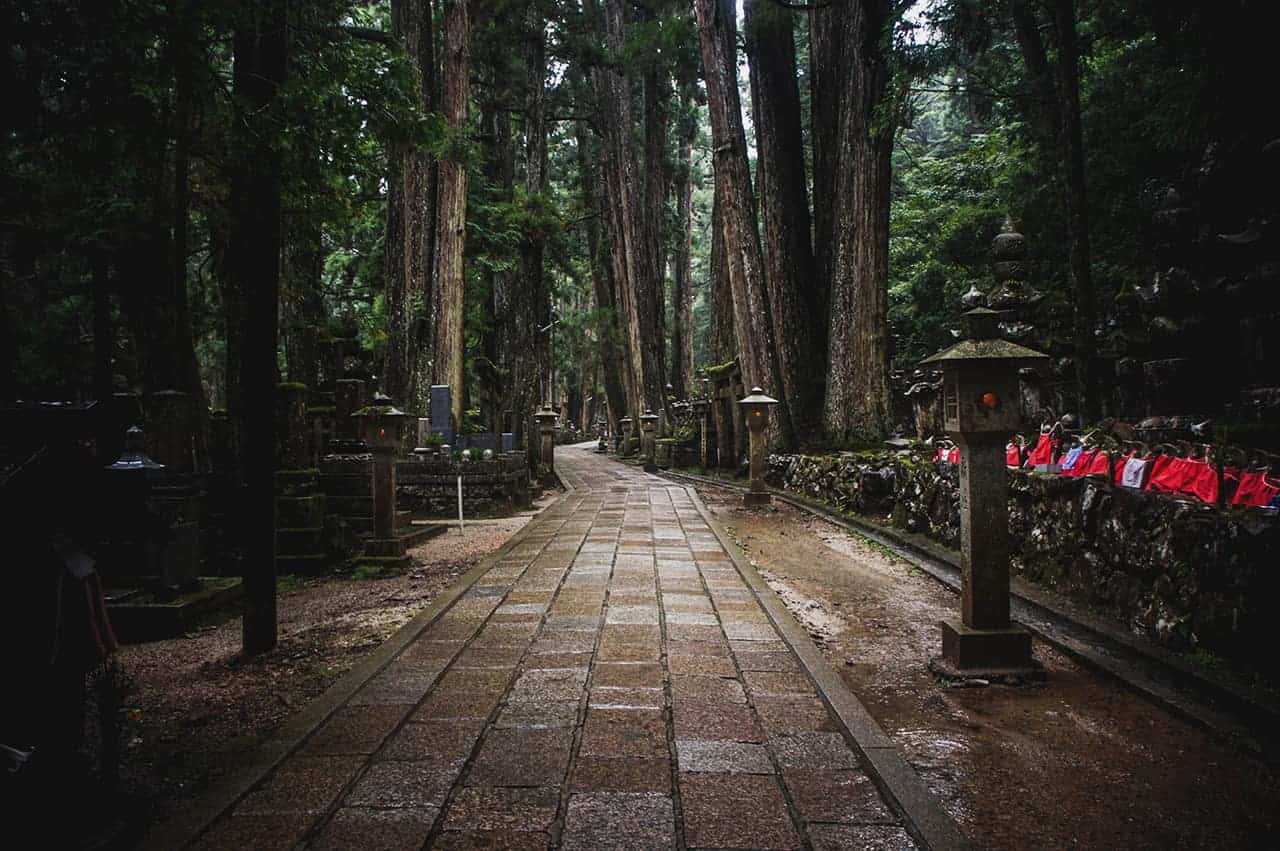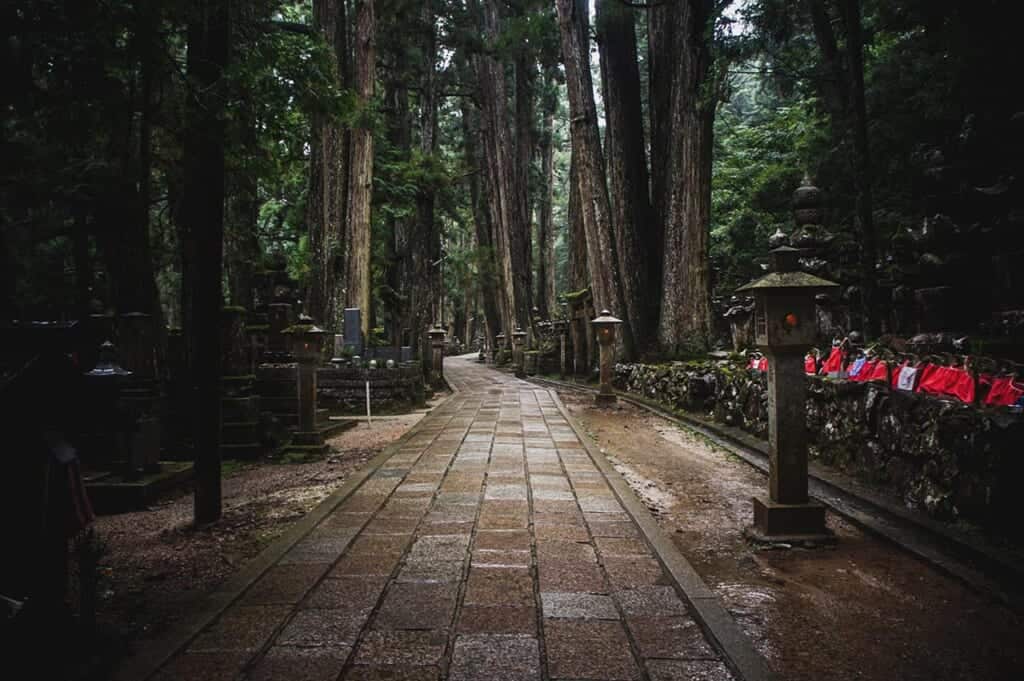 This cemetery is the largest in Japan, extending over a vast area and inhabited by some 200,000 souls, both famous and anonymous. It also contains mausoleums built by companies for their employees, and even one erected by an insecticide company… in memory of the insects killed by its products. One can either chuckle at this seeming incongruity or seize the opportunity to reflect upon it as a koan, paradoxical anecdote of Zen Buddhism.
To get to the mausoleum in the inner sanctuary dedicated to Kōbō Daishi (Kukai), walk across the cemetery along a 2-kilometer paved path bordered by great cedars and a multitude of monuments erected over the centuries: mausoleums, tombstones mounted with a gorintō (五輪塔, "five-ring tower"), statues of Jizo or other divinities, torii, and lantern.
It goes without saying that Okuno-in holds great spiritual power, which visitors can feel independently of their personal beliefs. Weather conditions can also transfigure the site and amplify its mystery—our contributor Claudia visited in the snow while I discovered the cemetery under the pouring rain of a typhoon, leaving me with an indelible impression.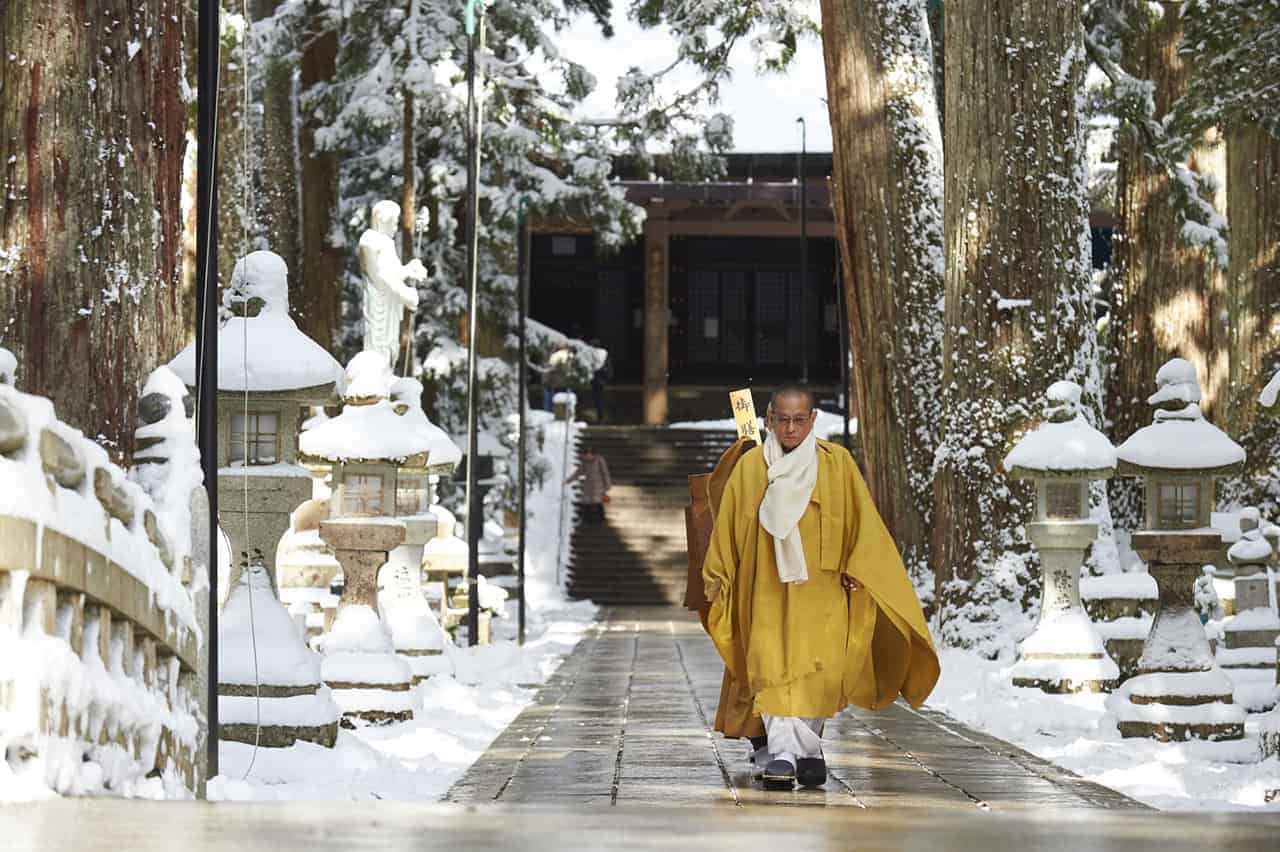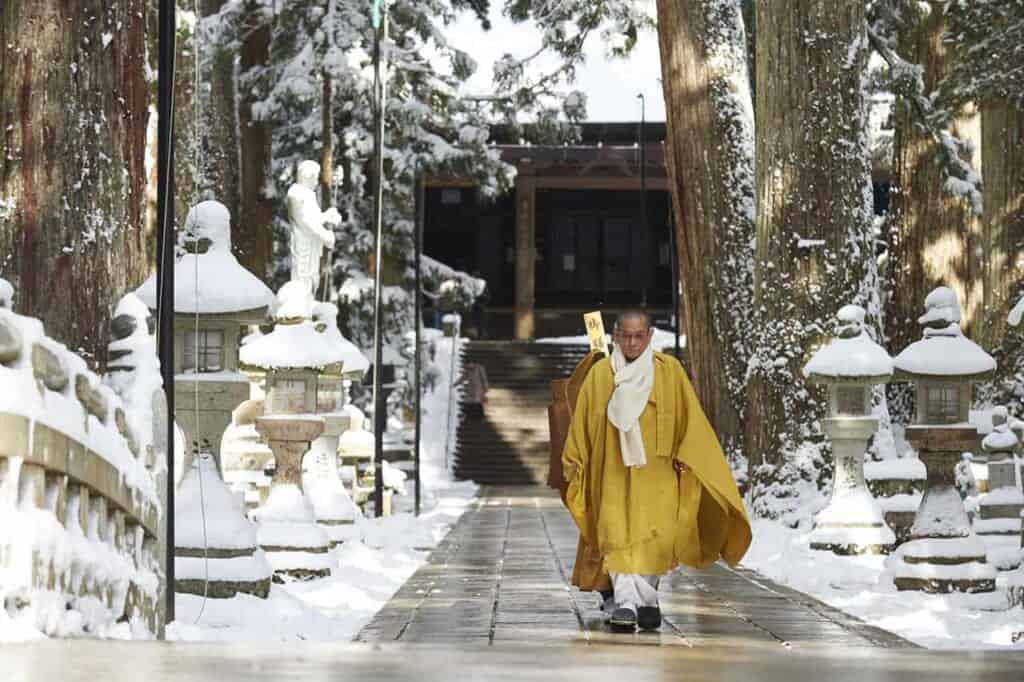 Two kilometers later, you will arrive at the mausoleum of Kōbō Daishi and Toro-do (灯籠堂, "hall of lanterns"). According to the legend, Kukai is not dead but remains in a state of meditation for almost 1,200 years.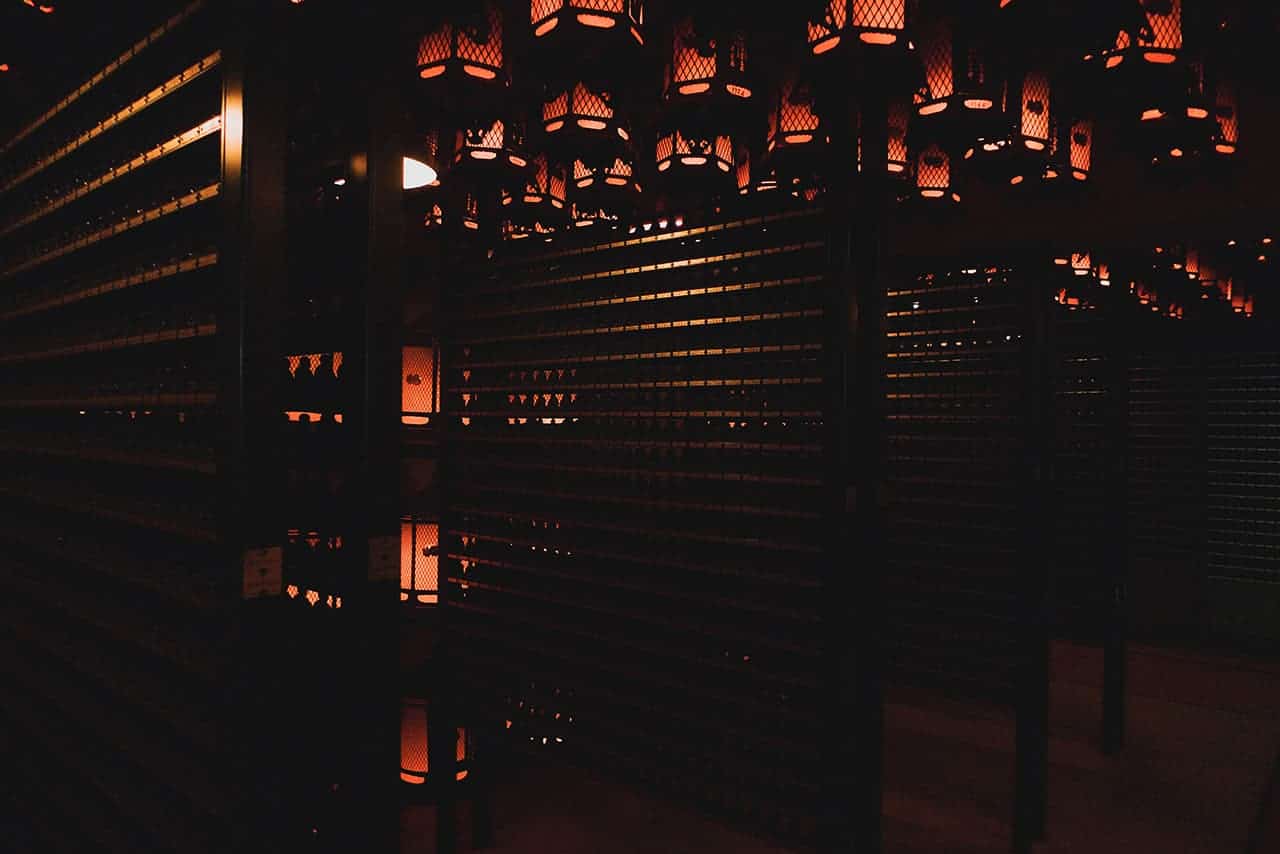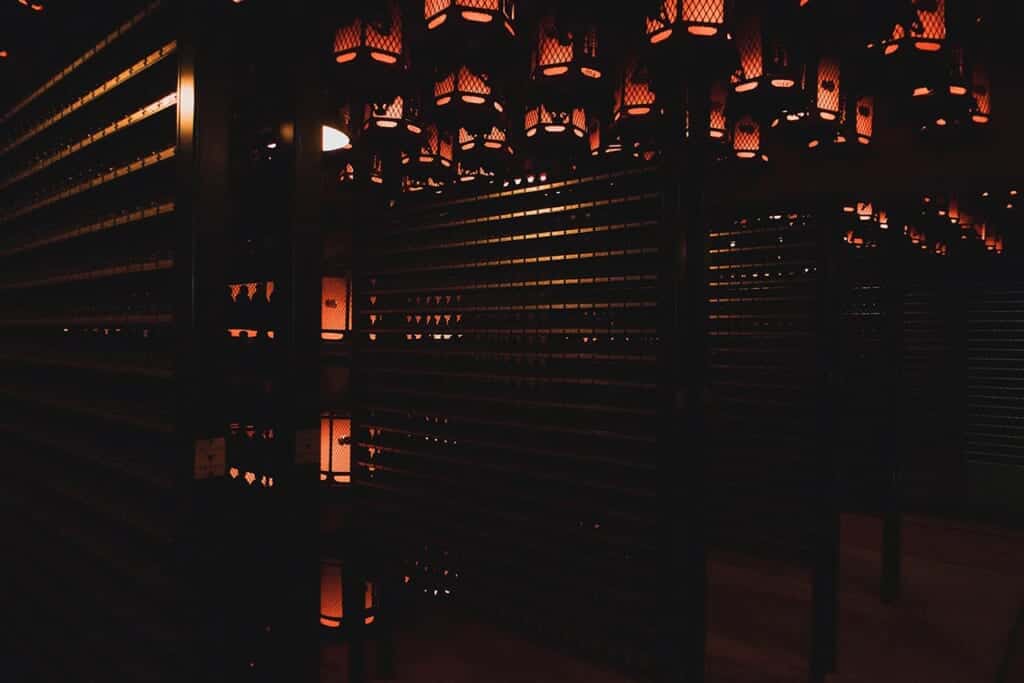 Okuno-in temple
Hours: 8:00-17:00 (May to October) ⎪ 8:30-16:30 (November to April)
Admission: Free
Lunch in a restaurant specialized in goma (sesame) tofu
Before ending your journey, it might be worth enjoying one last shojin ryori meal, as restaurants offering this Buddhist vegetarian cuisine are few and far between outside religious sites such as Koyasan.
One element of shojin ryori that is also a local specialty of Koyasan is goma tofu (sesame tofu). This so-called "tofu" actually contains no soja; rather, its similarly smooth texture is created by white sesame.
Various restaurants in Koyasan serve goma tofu, which was said be a favorite dish of Kōbō Daishi himself. We recommend Kadohama Goma Tofu (角濱ごまどうふ総本舗), which makes the specialty using no additives according to an ancestral recipe.
Kadohama Goma Tofu restaurant
Hours: 9:30-17:00, irregular closing days
Price: Meal ¥1680 – ¥1860 ⎪ desserts ¥250 – ¥480
Reservation: Online or by phone +81 736-26-8700
Gomatohu Website (in Japanese)
This 4-day itinerary concludes here, at the heart of a sacred mountain, on a full stomach, and hopefully, with a peaceful soul enlightened by Japanese nature and spirituality. Now you're ready to hop back on the train and head back to the big cities or embark on new adventures.
Practical information
Except in certain cases mentioned in this article, all the sites on this itinerary are accessible by public transportation, using the Kintetsu, Nankai, and JR train lines.
Yoshino is directly accessible from Osaka and Kyoto on Kintetsu Railways. The train ride takes around 75 minutes from Osaka or 100 minutes from Kyoto with a transfer at Kashiharajingu-mae Station (橿原神宮前駅).
Koyasan is directly accessible from Namba (Osaka) on Nankai train lines, which link central Osaka to the Koyasan ropeway in 90 minutes.
COVID-19 Information
Officially recommended sanitary prevention measures are practiced by all the sites mentioned in this article so that visitors can enjoy a safe trip. These measures vary according to the nature of each site and include wearing masks, social distancing, providing hand sanitizer, monitoring body temperatures, limiting the number of visitors, and ventilating closed spaces.
For more about Nara and Wakayama prefectures, the official websites of their respective tourist boards provide a wealth of information to help you plan your trip:
• Visit Nara
• Visit Wakayama
The Kii Peninsula's ancient history and exceptional natural sites make it a prime destination to discover the cultural and spiritual riches of Japan. We hope that this suggested 4-day itinerary, walking on Kumano Kodo pilgrimage trails from Mount Yoshino to Koyasan, will inspire you to experience your own personal journeys through this enchanting region.
Article sponsored by KANSAI DISTRICT TRANSPORT BUREAU, Wakayama and Nara prefectures
Translated by Cherise