The term otaku (オタク) is used in Japan to describe a person who is obsessively devoted to a particular interest or hobby of whatever nature: there are train otaku, TV series otaku, idol otaku… In the West, on the other hand, the term is mainly used to refer to a specific area of nerd culture, the one revolving mainly around Japanese anime, manga, cosplay, and video games.
In recent decades, fairs and conventions dedicated to otaku culture have expanded from Japan to the rest of the world, but fans of Japanese pop culture have indeed wondered what these events look like in the place where it all started.
If you're curious to learn the most anticipated otaku events in Japan, where they're held, and when (to plan your trip accordingly, of course), read on!
N.B. The information below may change, and some events may be canceled or postponed due to Covid-19. Make sure always to consult the official website of each event.
Comiket: The King of Otaku Events
Comiket (コミケ), or Comic Market, is the largest otaku fair in Japan and has been held twice a year since 1975. Now past its 100th event edition, this event focuses on the world of doujinshi or dōjinshi (self-published magazines featuring both original and derivative work), so don't expect to walk into the venue and find the latest issue of One Piece or Tokyo Revengers. However, some companies still display official merchandise in the anime area.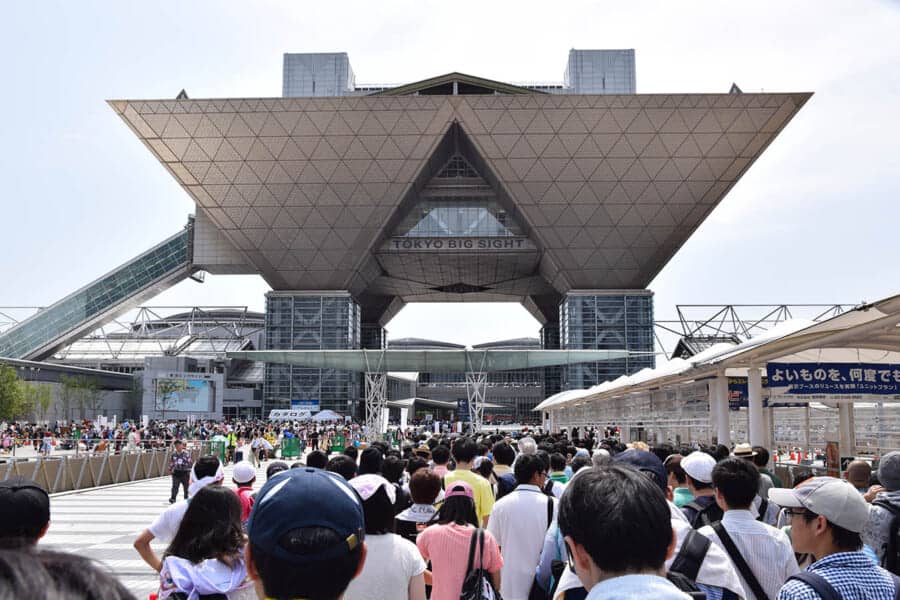 Over the three days of the event, a flood of people flock to Odaiba to get their shopping on: in addition to printed media, fans can find DVDs, music CDs, cosplay materials, and merchandise of all kinds.
At Japanese comic fairs, a catalog is usually available a few weeks before the event at all otaku and doujinshi bookstores (such as Animate, Toranoana, and MelonBooks) or directly at the event site. This catalog, which in some cases also doubles as an entry ticket, is essential for getting an idea of who's selling what and, more importantly, where. If you already know of an artist you love who will be attending the fair, you might want to check their booth code (ブース番号) to know where to find them and to plan the quickest and most painless way to get there. And I'm not overdramatizing.
Merchandise from popular authors sells out quickly, so it definitely pays to prepare an action plan and save the aimless wandering until after you're done with the most vital purchases. After all, Comiket is famous for gathering one of the fiercest crowds in the entire otaku universe.
If, on the other hand, you're just curious to look around, I recommend getting to Tokyo Big Sight a few hours after opening: by then, most people will be already inside, and you won't even have to wait in line.
In addition to the doujinshi and anime areas, you'll find the third one for cosplayers. Unlike in other parts of the world, in Japan, it's rare for cosplayers to be allowed to roam freely around the convention, which is why each event sets up a particular area for photographing and being photographed. Can you imagine trying to stop in the middle of the mosh pit to take a picture of the very cute Nezuko cosplayer across the hall?
The next edition (Comiket 101) is scheduled for December 30 and 31, 2022.
Event type: manga, anime, doujinshi, cosplay, merchandise
Time of the year: August and December
Location: Tokyo (at the Tokyo Big Sight)
Attendance: approx. 200,000 visitors per day*
Ticket price: tickers range from 1,000 yen per day for afternoon admission and 5,000 yen for early access in the morning. See the official Comiket event website (Japanese only) for more detailed information.
*2019 stats
Comitia: A Doujinshi Heaven
If Comiket intrigues you, but crowds make you sick (welcome to Tokyo, by the way), I recommend a different event that's more people-friendly. Inaugurated in 1984 and now approaching its 140th edition, Comitia (コミティア) focuses entirely on doujinshi. Unlike Comiket, however, authors exhibit only original work (sousaku, 創作), so you will not find fan fiction or fan art.
The smaller number of visitors makes Comitia a perfect opportunity to stroll among the exhibitors' booths and discover new artists. Almost all of the manga you'll find will be in Japanese, but you can always follow your heart and take home a few independent self-published works in ultra-limited runs (many of the artists who attend these conventions are amateurs who draw in their spare time and rarely reprint their doujinshi).
Manga publishers also attend Comitia: aspiring mangaka (manga artists) can meet editors from Shueisha, Kadokawa, and many others, receive valuable advice or even are recruited as new talent.
Event type: Manga, doujinshi, merchandise
Time of the year: Usually February, May, August, and November in Tokyo; twice a year in Osaka, Nagoya, and Niigata
Location: Tokyo ( at the Tokyo Big Sight), Osaka, Nagoya, Niigata, Hokkaido, Fukushima, Fukuoka
Attendance: Approx. 20,000–30,000 visitors
Ticket price: Admission is based on purchasing and showing the event's official catalog, Tia Magazine, available in bookstores for 1,300 yen and on-site on the day of the event at 1,500 yen.
AnimeJapan: Japan's Largest Anime Event
AnimeJapan was first held in 2014 and is one of the largest anime events in the world. Hundreds of Japanese and foreign TV and film production companies, toy, video game, and software developers participate. The exhibition spaces mainly host booths of leading anime companies, including giants such as Toei Animation, Bandai Namco, and Kadokawa. You will also find stages presenting live events (which often require reservations) and interviews with prominent figures in the Japanese entertainment industry, including mangaka, producers, and anime voice actors. There is, of course, no shortage of merchandise dedicated to current shows and a cosplay area.
Due to the pandemic, the 2021 edition was held online and featured a lineup with streaming events dedicated to Japanese pop culture fans and businesses.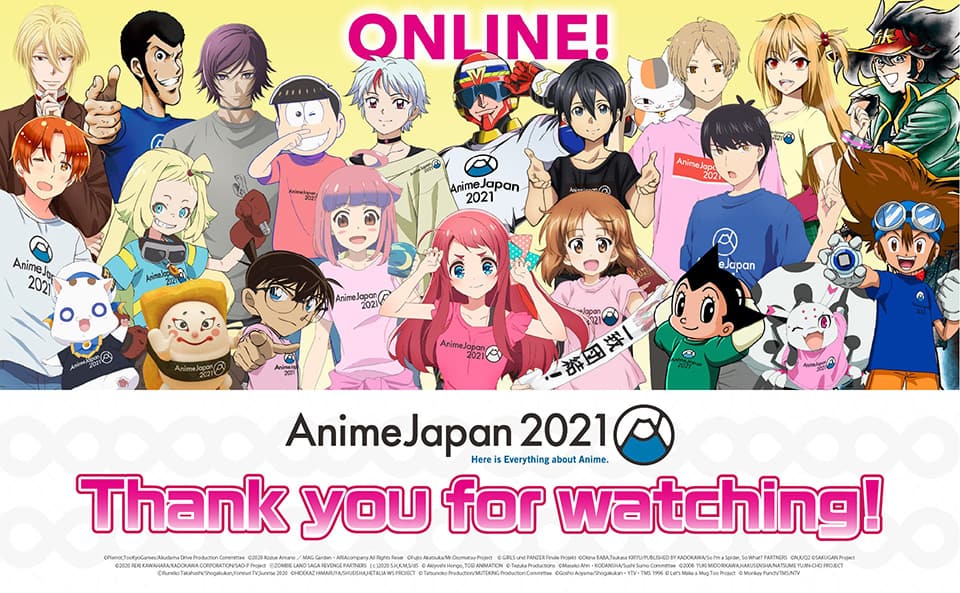 This event is closer to Western anime fairs than the aforementioned ones focusing on doujinshi, so if you're looking for an event where you can swoon over your favorite anime and buy some otaku souvenirs of the most popular titles, AnimeJapan is the place to be. Not to mention that usually, the dates coincide with the cherry blossom season: two birds with one stone!
Event type: Anime, video games, cosplay, merchandise
Time of the year: March
Location: Tokyo (at the Tokyo Big Sight). The 2021 edition was held online.
Attendance: Approx. 150,000 visitors over 3 to 4 days*
Ticket price: 2,300 yen per day for the fair; in the 2021 edition, online streaming tickets were available at 3,200 yen per day.
*2019 stats
Jump Festa: For Everything Shonen Jump
Inaugurated in 1999, Jump Festa is a convention sponsored by Shueisha, publisher of the Shonen Jump manga magazines, where Japanese kids and adults likely had the first taste of many manga that would later become global hits (to name but a few: Dragon Ball, One Piece, Naruto, My Hero Academia, Demon Slayer, and Jujutsu Kaisen). The fair focuses on news about the magazine's titles, and main events include interviews with popular mangaka, Q&A sessions with fans, and presentations of new movies, video games, and merchandise. Jump Festa is also attended by video game companies such as Square Enix, Bandai Namco, and Capcom, who often present trailers of new upcoming titles, gameplays, and demos.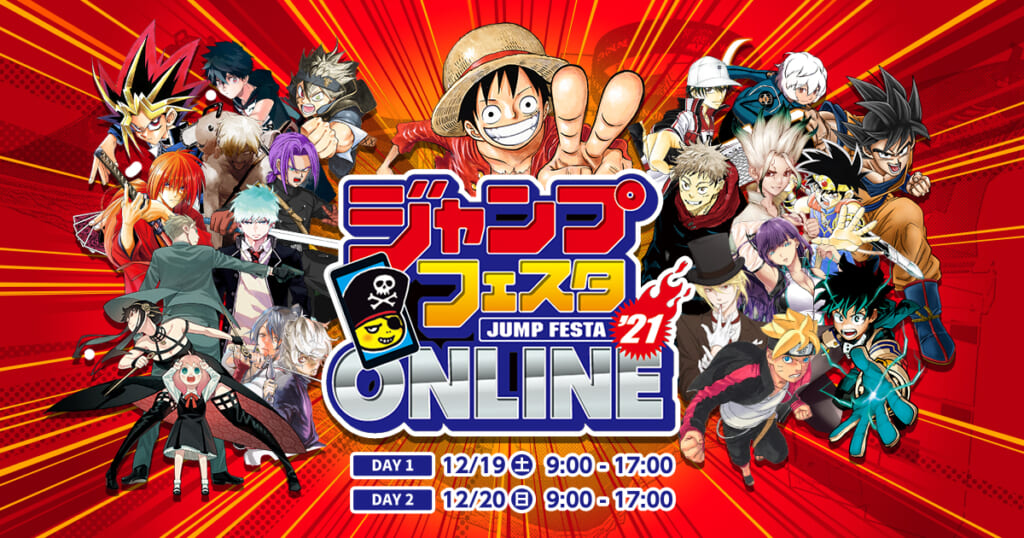 This all-around otaku event is the perfect opportunity to keep yourself posted about your favorite anime and manga and, of course, to snatch some exclusive gadgets sold only at the event venue and in the Jump Festa online store on the days of the convention.
Event type: Manga, anime, video games, merchandise
Time of the year: December
Location: Tokyo (at the Makuhari Messe)
Attendance: Approx. 150,000 visitors over two days
Ticket price: Free admission. Fast Tickets, which provide priority access to the event, cost 1,500 yen.
Tokyo Game Show: For Video Game Lovers
The Tokyo Game Show (東京ゲームショウ) has been held annually since 1996 and is one of the major video game events in the world. The convention lasts four days, the first two dedicated to the industry and press and the second two open to the public. If you're a fan of Japanese and Western video games, you can't miss this event: every year, countless video game developers gather here to reveal their upcoming games and hardware.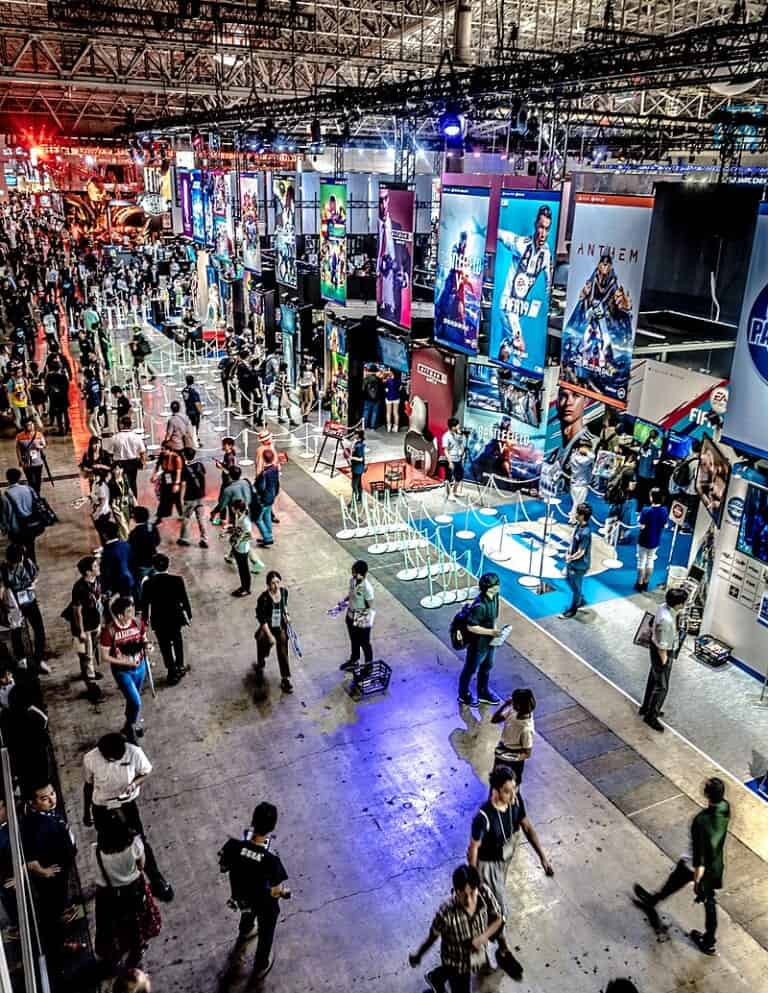 The expo is divided into thematic areas: the main one, which hosts major video game companies such as Capcom, Square Enix, Sony, and Nintendo, as well as some overseas exhibitors; one dedicated to mobile video games; a children's area; one dedicated to Japanese video game schools; and, even a food court and, of course, some booths with all kinds of merchandise.
At TGS, you can also try out video games before release, but to do so, you must show up at the developer's booth well in advance and obtain a (free) ticket indicating a time for you to come back and test the game. These tickets sell out particularly fast for the most anticipated games, so put the map you'll receive at the entrance to good use and make a beeline for the hottest booths first.
As with Comiket, cosplayers are welcome, but they're not allowed to parade in the areas dedicated to video games. A designated area is set up outside the Makuhari Messe.
Event type: Video games, cosplay, merchandise
Time of the year: September
Location: Tokyo (at the Makuhari Messe). 2020 and 2021 editions were held online.
Attendance: Over 250,000 visitors over four days
Ticket price: 1,500 yen per day in a presale or 2,000 yen on the day of the event.
World Cosplay Summit: Cosplayers From All Over the World
The World Cosplay Summit is an annual cosplay convention held since 2003 to promote international exchange through Japanese pop culture. The main event is the finals of the World Cosplay Championship, the major international cosplay contest, whose preliminaries and semifinals are held in each participating country.
In addition to the event, WCS welcomes various guests in the sphere of Japanese pop culture, including cosplayers, musicians, and entertainment personalities.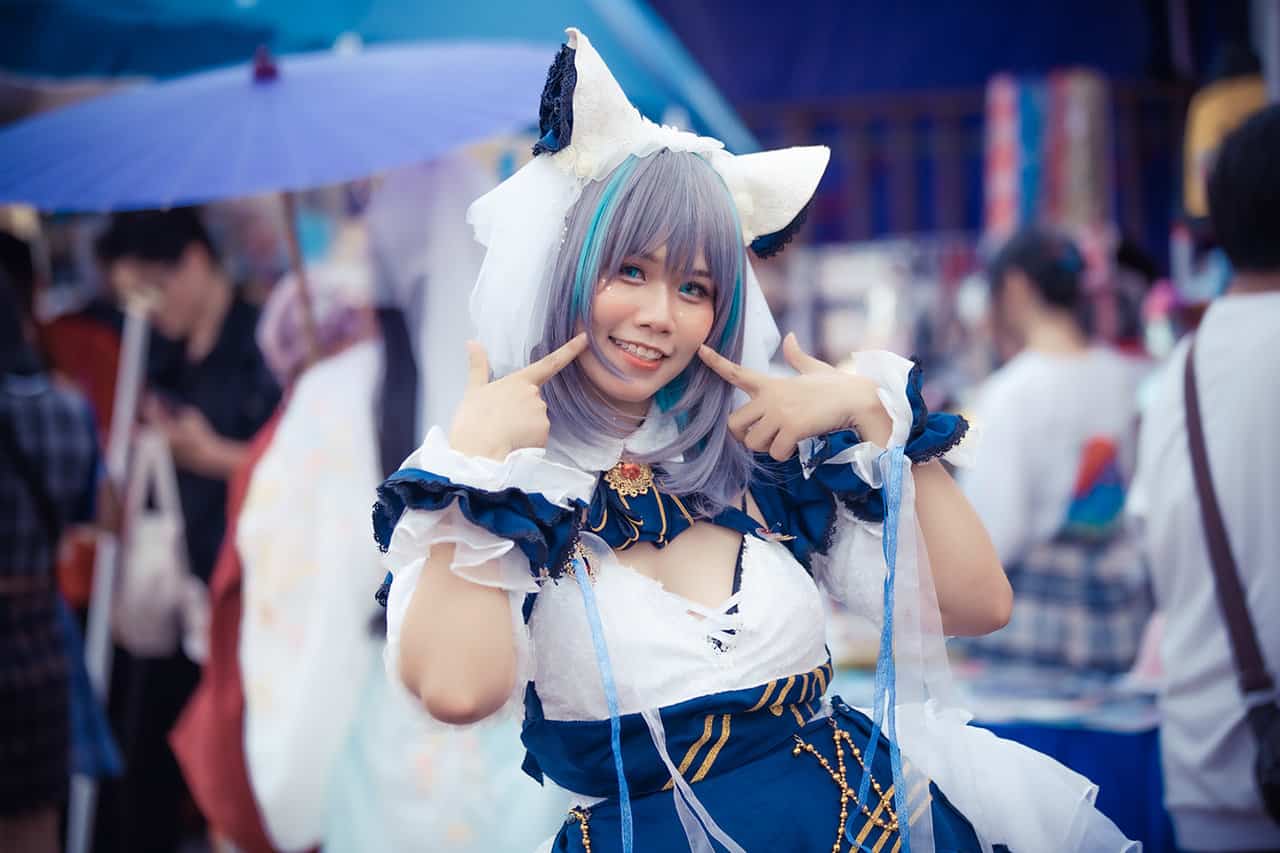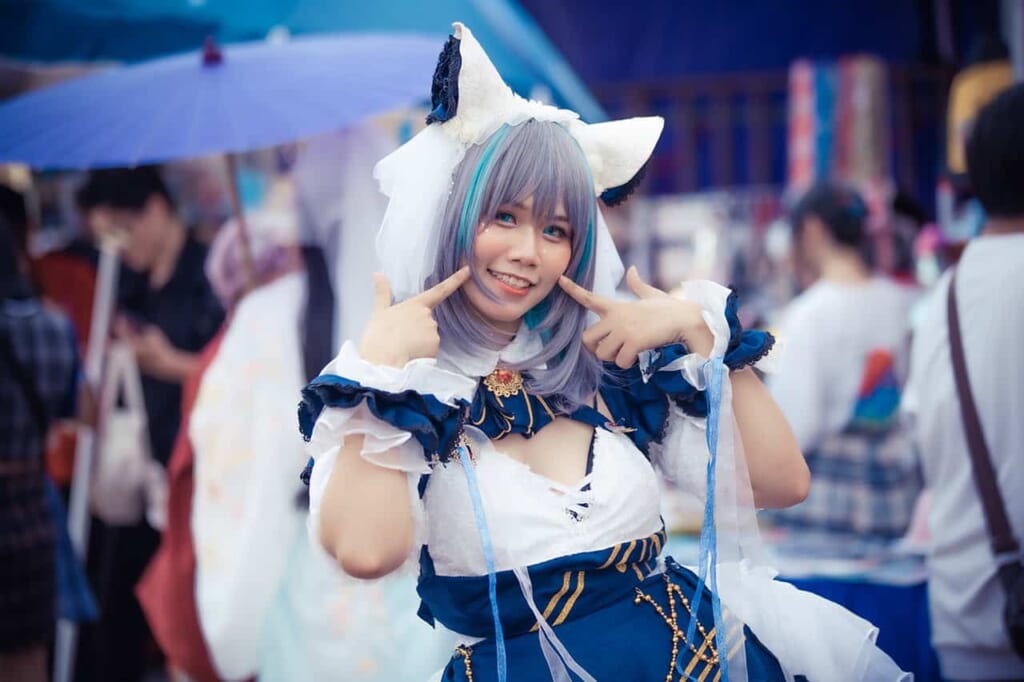 The convention looks like a giant gathering of cosplayers, photographers, and onlookers. While a specific area is exclusively accessible to photographers, if you just want to look around and take a few photos with your smartphone, you can just show up at the event site: the WCS always takes place in public places, so you can take in the atmosphere even without buying a ticket.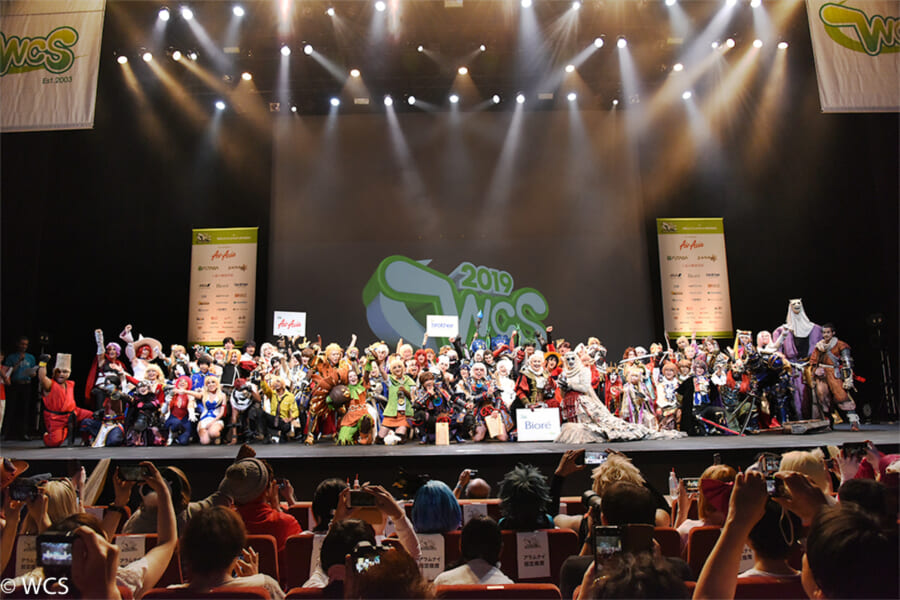 If, on the other hand, you decide to participate as a cosplayer or as a photographer, you'll have to adhere to a fairly strict set of rules. Don't show up in costumes that are too skimpy; don't carry weapons and accessories that are too bulky or could be dangerous; if you're a photographer, avoid using a tripod or photographing cosplayers without permission. The Japanese take cosplay very seriously (and rightly so)!
Unlike other conventions, cosplayers are allowed to change before getting to the venue. On event days, it's not rare to see characters from your favorite anime taking the subway or having lunch at a family restaurant.
Event type: Cosplay
Time of the year: August
Location: Nagoya
Attendance: Approx. 300,000 visitors over two days
Ticket price: Free admission for visitors not in cosplay; 2,500 yen per day for cosplayers (3,000 with access to dressing rooms); 2,500 yen per day for photographers.