There's hardly a traveler to Japan who hasn't thought about, read, or traveled to Kyoto's cultural capital or Hyogo's Himeji Castle. But anyone looking for an excursion outside of these hotspots will find an alluring assortment of food, history, and accommodation awaiting in northern Kyoto and Hyogo prefectures. From the enchanting resort town of Kinosaki Onsen, cozy yurt accommodations, or Kyoto Prefecture's largest round burial mound to miso cuisine roasting on a giant leaf, these are just a handful of the highlights to experience all within reach of the JR Rail Pass. 
Kinosaki Onsen: What to Do in the 1,300-Year-Old Hot Spring Town
If you're drawn to 1,300-year-old hot springs, charming traditional-style inns, and exquisite regional kaiseki cuisine, Kinosaki Onsen (城崎温泉) should be high on your list of places to visit in northern Hyogo. What makes Kinosaki Onsen so accessible is its main gateway of Kinosaki Onsen Station, which the JR San-in Main Line connects to central Kyoto in roughly 2.5 hours.
From Kinosaki Onsen Station, walk down the main street, where massive crab statues dangle above local seafood shops showcasing beds of Matsuba snow crab, past restaurants and boutiques, to Kinosaki's picturesque willow-lined canals. Don a pair of wooden geta and yukata from your traditional ryokan inn or hotel and hop down to Kinosaki's Soto-yu Meguri seven public baths. Overnight visitors will receive a Soto-yu Meguri pass allowing free access to any of the seven public hot springs in town. Day visitors can also purchase the pass or pay an individual admission fee to any one of the seven baths.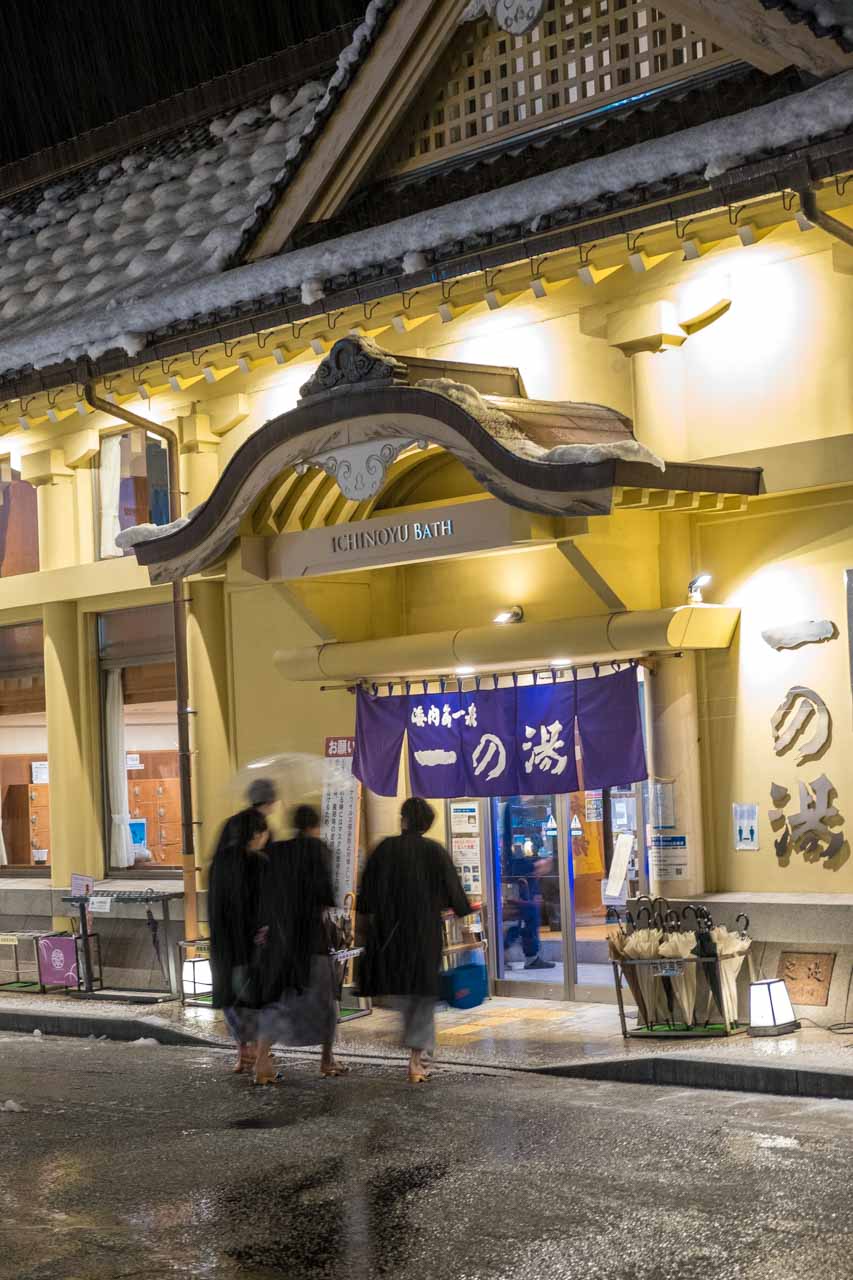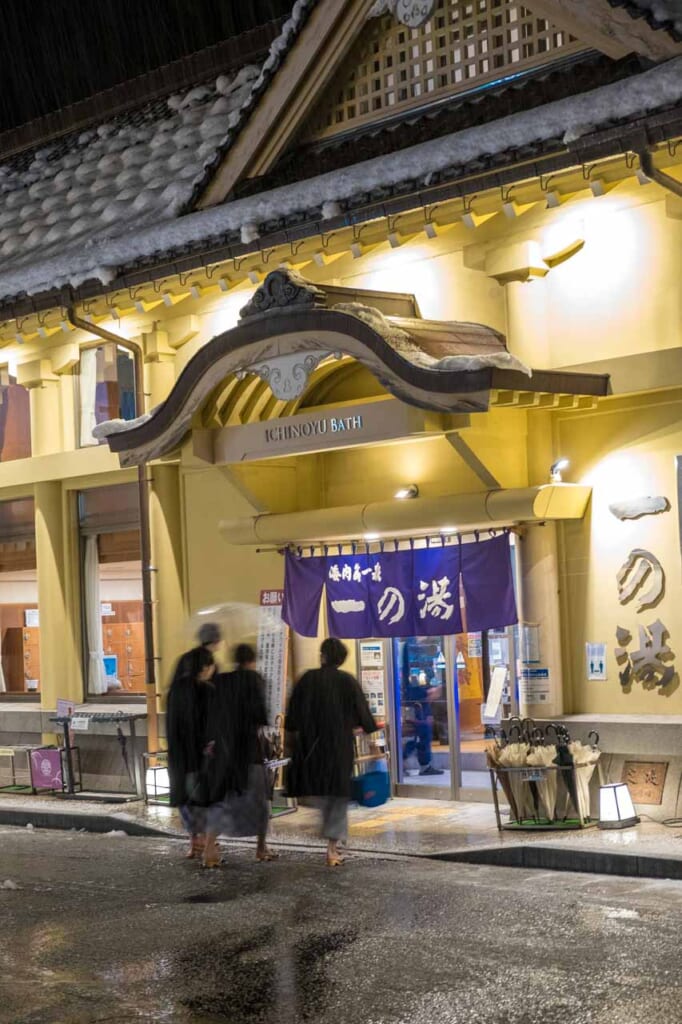 For a more scenic vantage point, take the Kinosaki Onsen Ropeway (城崎温泉ロープウェイ) to view its Michelin star rated scenery from Mt. Daishi (大師山). On the way down, stop at Onsenji, Kinosaki's guardian temple at the foot of the mountain, which is exceptionally majestic when capped with snow.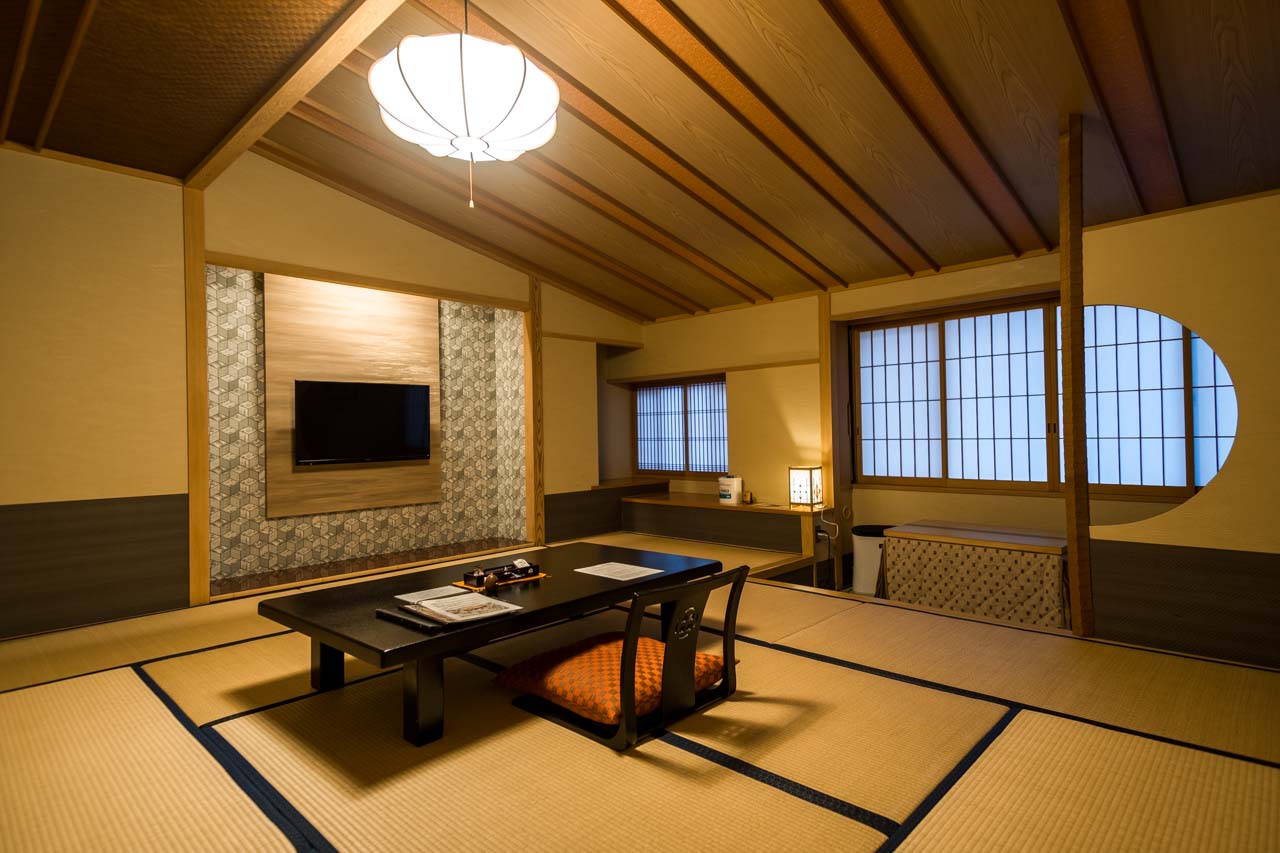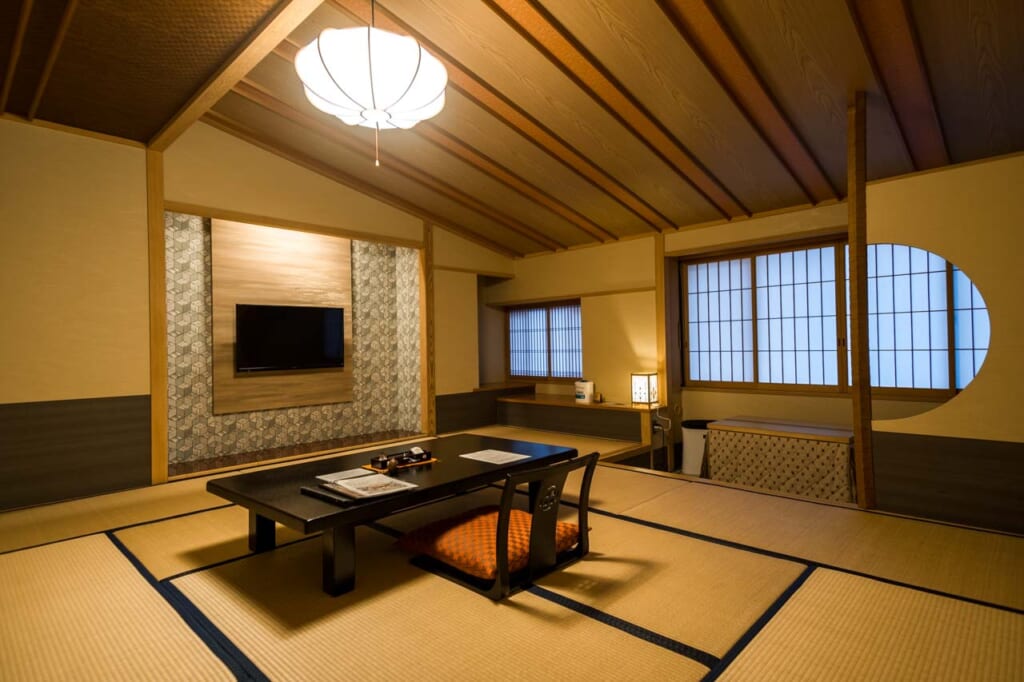 Vegan and Gluten-Free Cuisine at Sanpou Nishimuraya Honten
Sanpou Nishimuraya Honten (さんぽう西村屋本店) is one of the newest and noteworthy culinary additions to Kinosaki Onsen. Since opening in 2019, this restaurant and gift boutique has been wearing its heart for local Tajima (referring to Northern Hyogo prefecture) and sustainability on its sleeve, with fresh GMO-free ingredients directly sourced from local producers, naturally pollinated crops, and impeccably curated seasonal menus.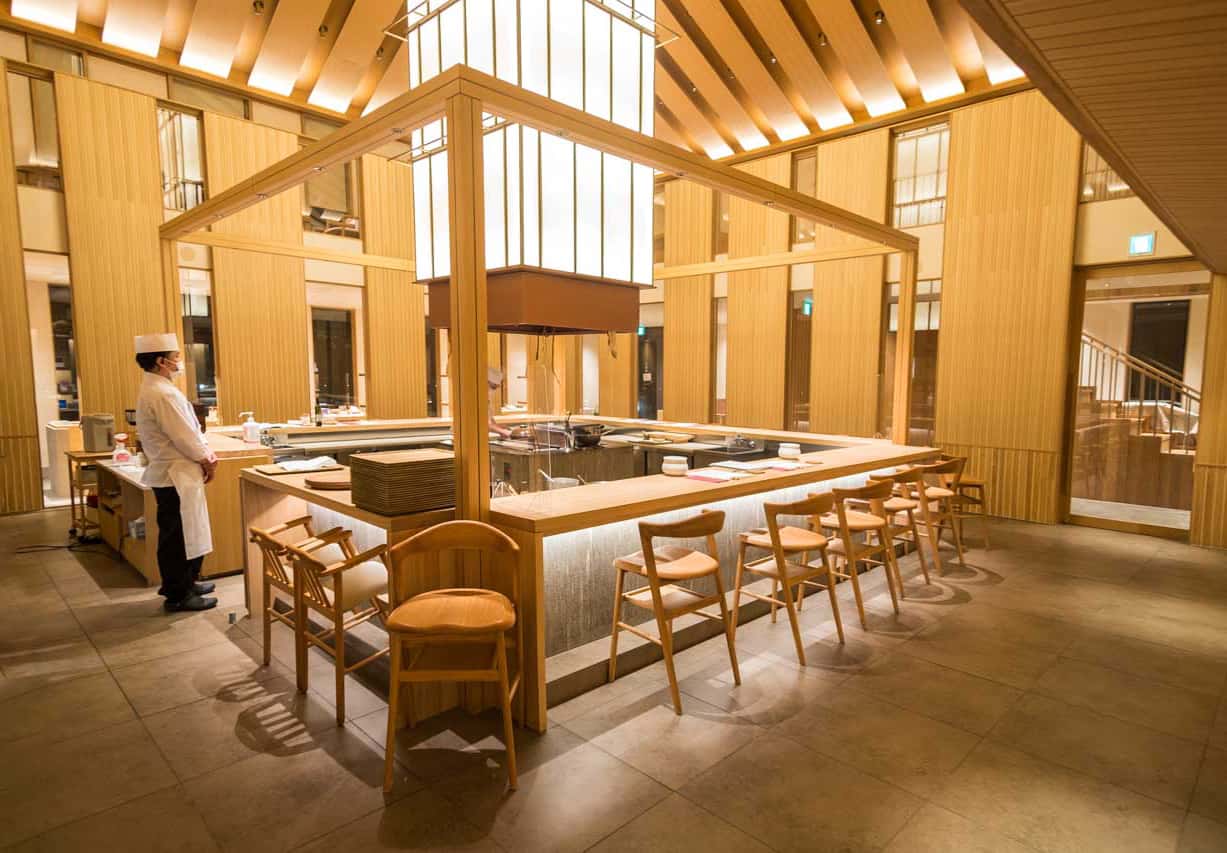 Head chef Nobukazu Nakayasu is at the forefront of the restaurant's "slow food" philosophy to actively prevent the disappearance of Tajima's native food cultures. He himself comes from a line of local producers who have raised Tajima cattle and harvested rice in the area. At the center of Sanpou is a sizeable Japanese irori cooking hearth, where guests can watch the chef cook locally sourced Matsuba snow crab, grill Tajima wagyu beef, and cook local vegetables over smoldering charcoals.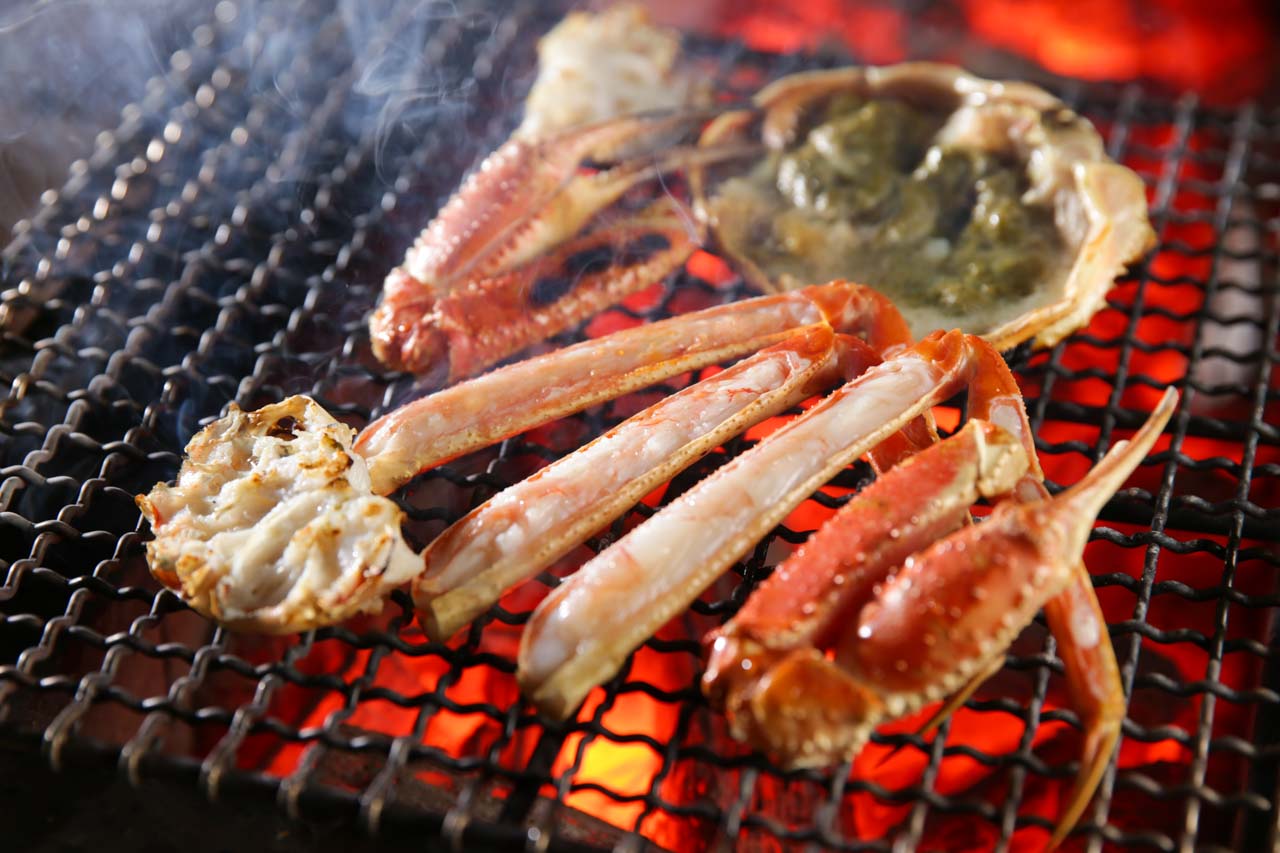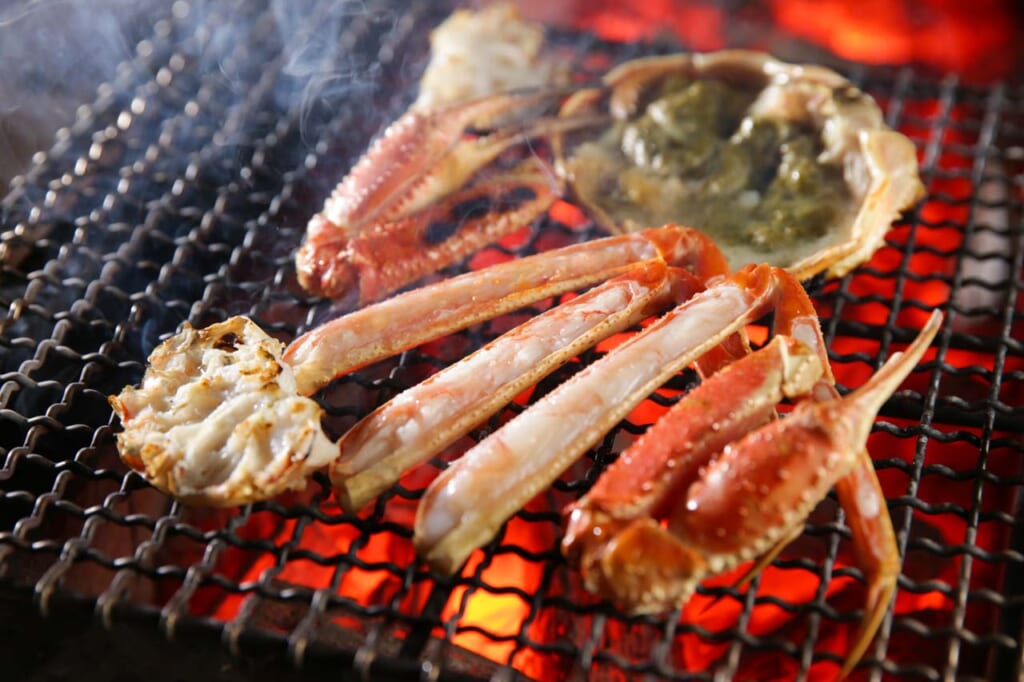 While Matsuba snow crab and Tajima beef are among the most popular course options, Sanpou also offers a vegan and gluten-free "Japanese Vegetarian Course" that caters to gluten-intolerant and animal-free diets. Feeling a little overwhelmed with the menu's 40 local sake options, I went omakase-style and let the knowledgeable restaurant staff select three local sakes to accompany my hearty vegan meal.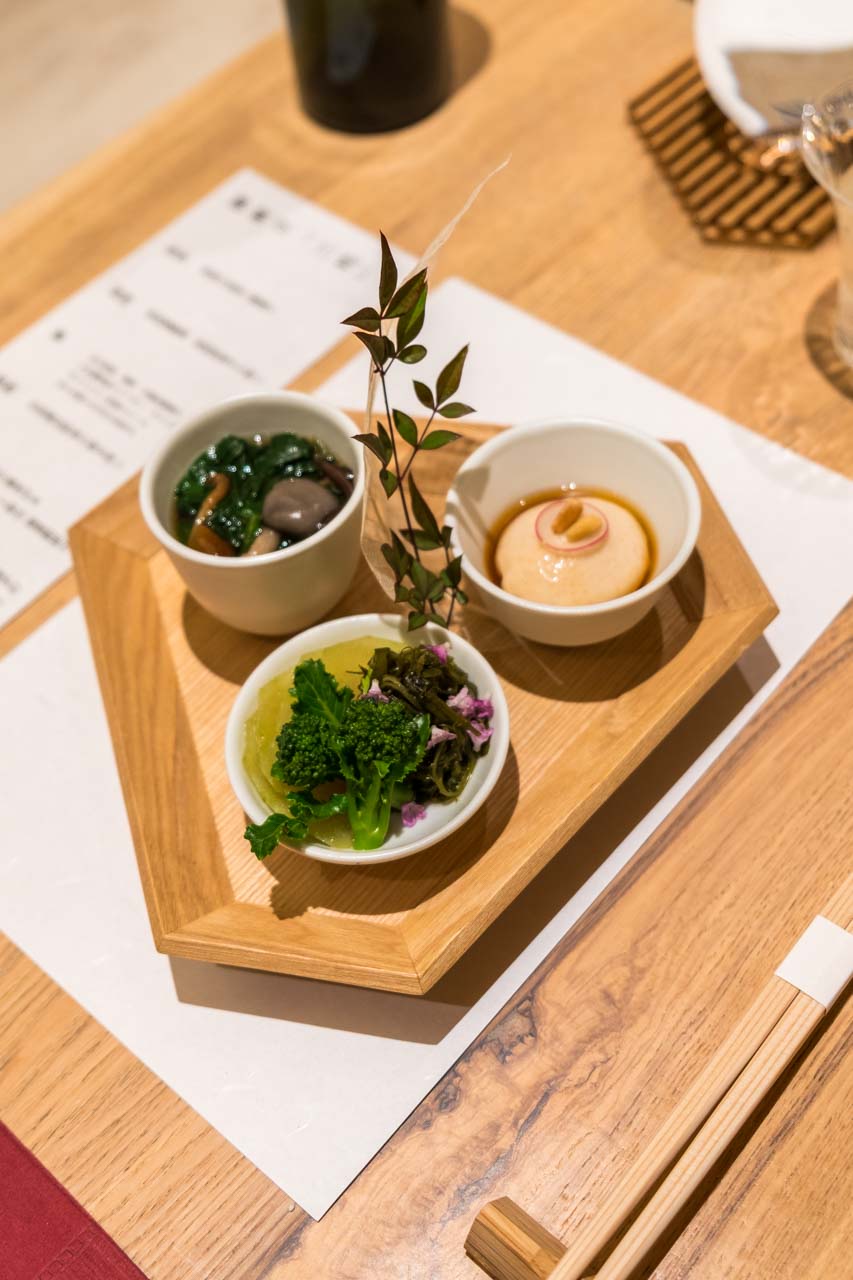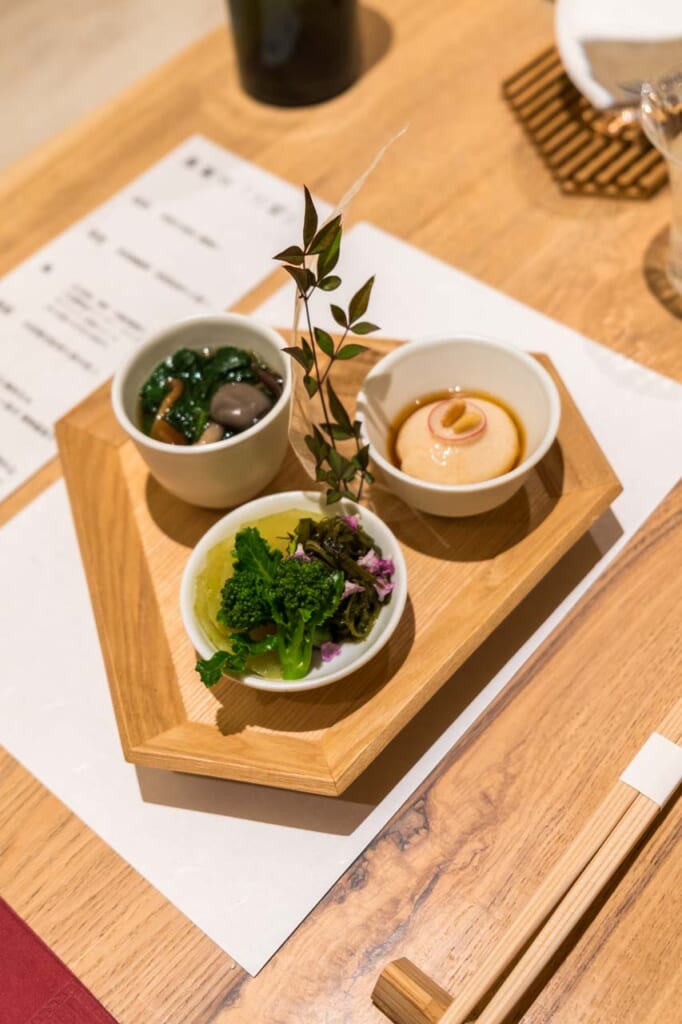 Peanut tofu and vegetables paired with local sake in a flute glass came first. Next was a plate of tofu yuba (skin taken off during the tofu-making process) with mushroom sushi, deep-fried carrots, konyaku, tofu topped with tangy sake lees (sake no kasu), and charcoal-grilled winter vegetables. Iroiromai "mixed rice" is an ancient rice variety from Akabane village, one of Tajima's native species, known for its colorful grains and small yields, making each harvest a precious bounty.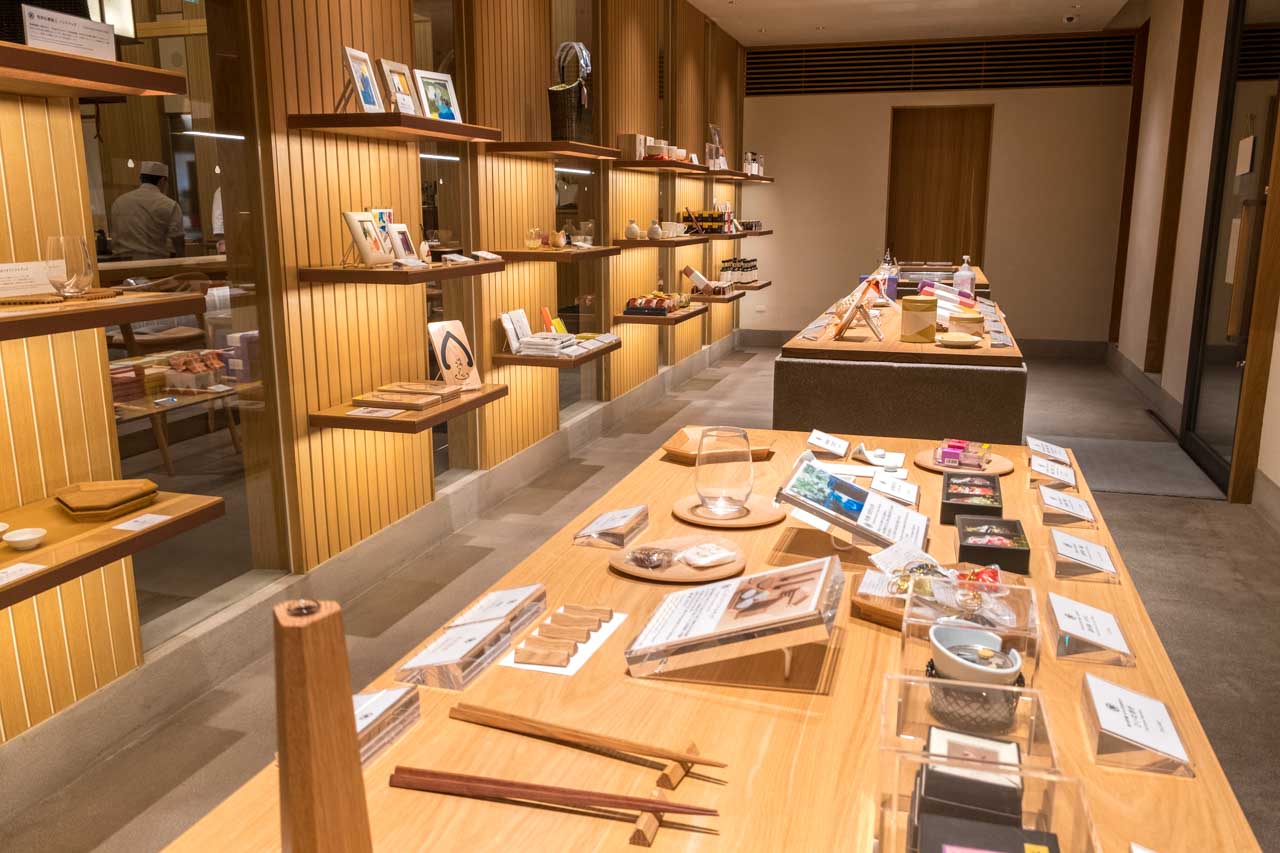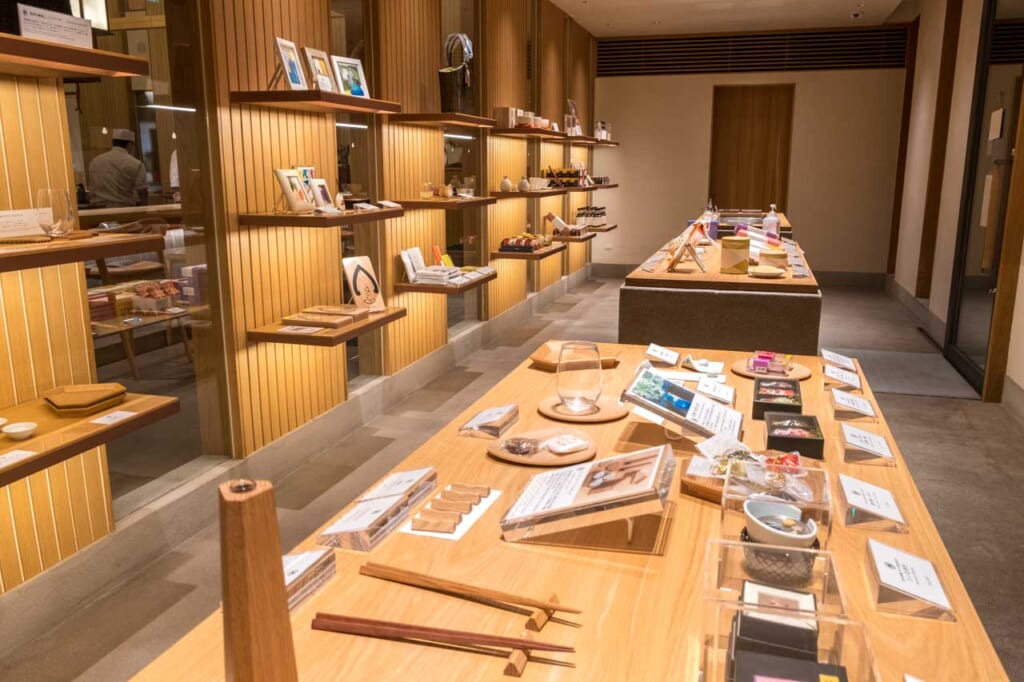 After your meal, be sure to check out the gift shop, which sells foods, sweets and culinary ware from Tajima makers for the perfect souvenir of Kinosaki onsen.
Glamping in Japan: Stargazing, Sunsets, and Yurts at Glamprouge Yuhigaura
For a slightly different take on the classic Japanese onsen experience, head about 75 minutes east on local and JR trains to Glamprouge Yuhigaura (グランルージュ夕日ヶ浦). If you're not a fan of camping, this glamping-style sea resort is a perfect introduction to outdoor accommodations with all the convenience of a hotel stay, including comfortable rooms, private cooking amenities, and the Hanayuumi hot spring facilities.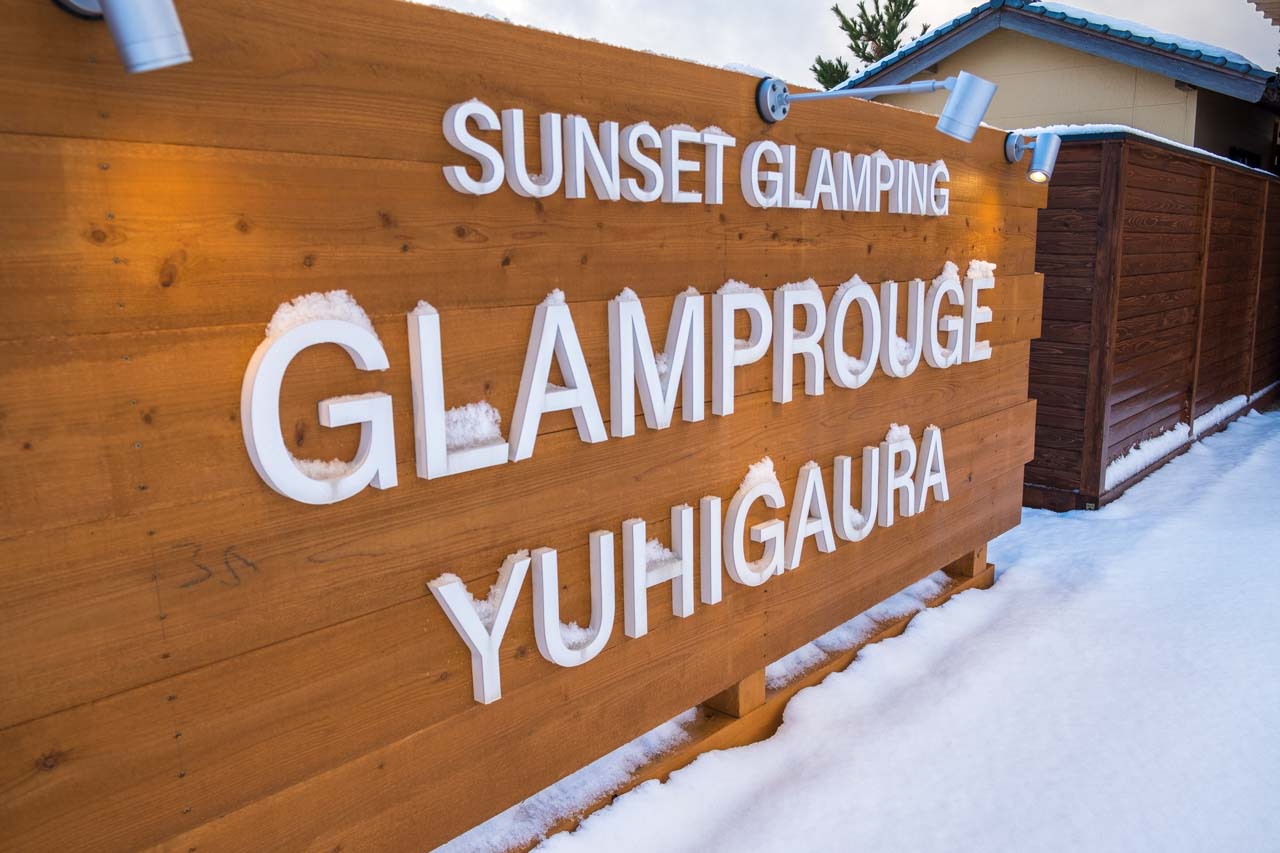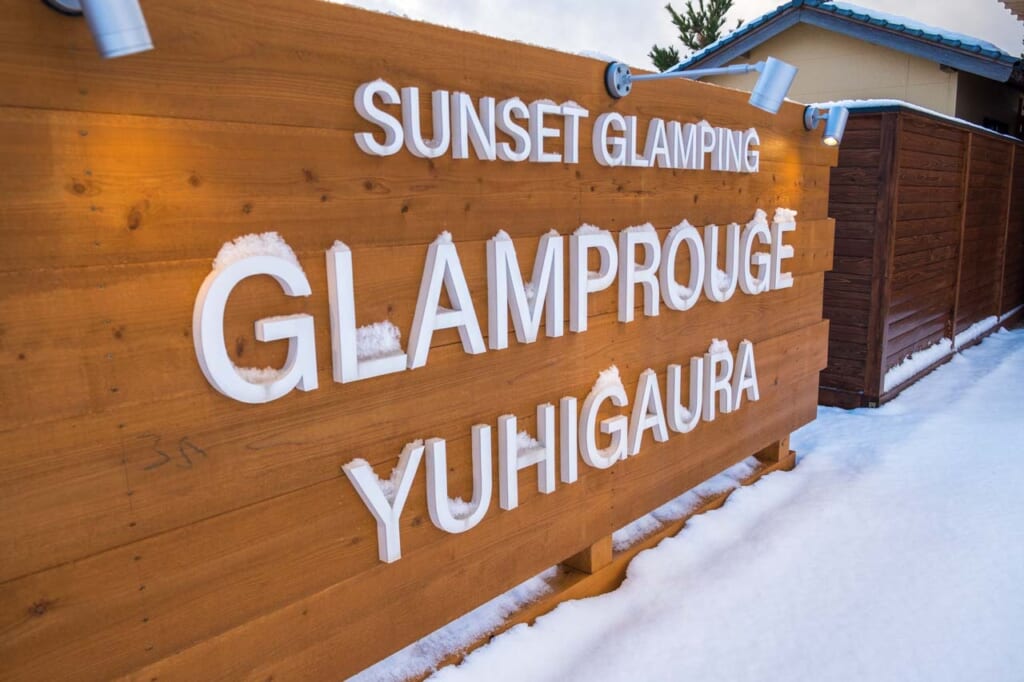 Each of the ten yurt-style accommodations comes with single beds, extra bedding for additional traveling members, and a large window ideal for indoor stargazing at night. For dinner, you can either bring your own food or select the Glamping BBQ plan, an assortment of local ingredients such as fresh oysters, Kuroge Wagyu sirloin steak, shrimp ratatouille, cheese fondue, and more (according to the season). Then, as night falls, sit by a fire pit and enjoy a private viewing of the stars.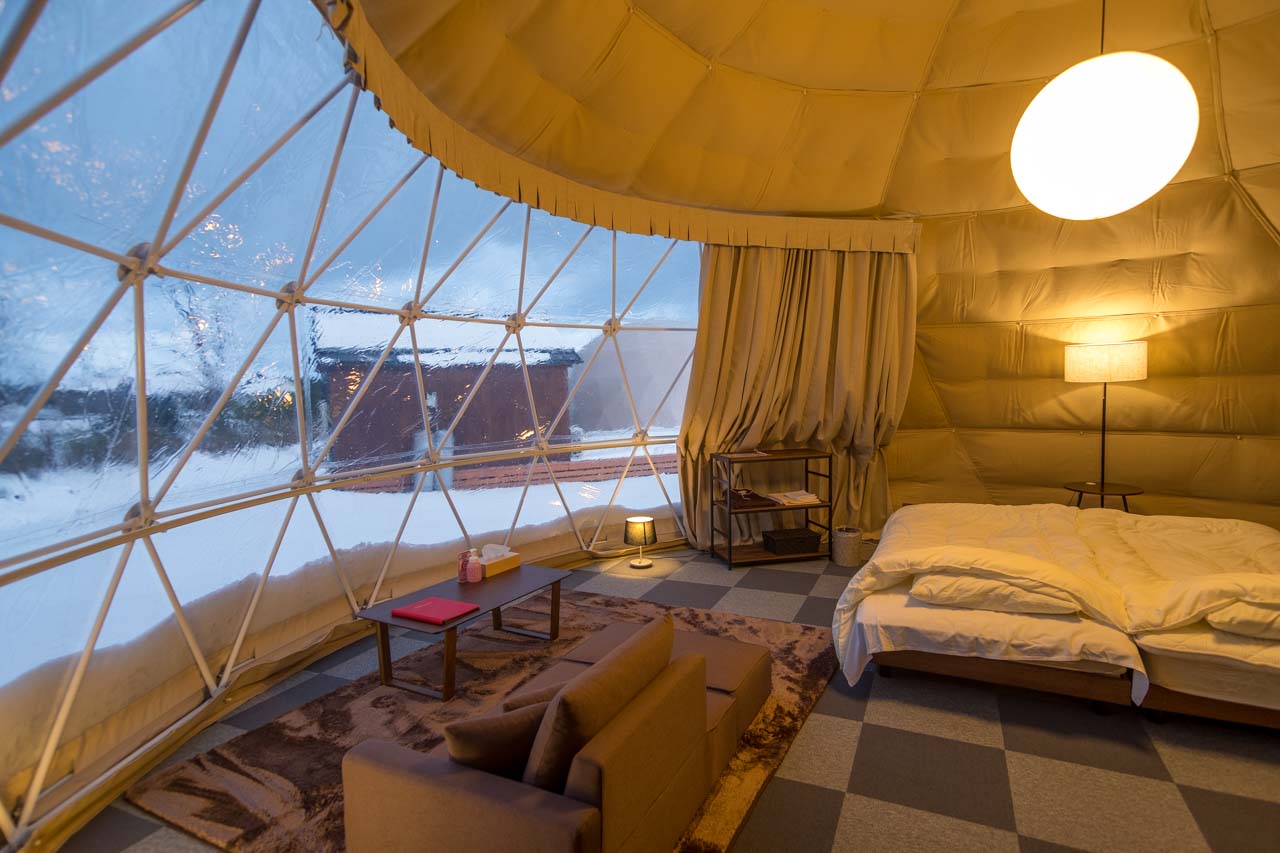 If you arrive at the coast on a calm day, walk ten minutes from Glamprouge Yuhigaura to Hamazume Yuhigaura Beach. The tide is as smooth as glass during gentle weather, creating a near mirror-image of the sky as the sun sets.
As snowy skies marked my visit, I opted for a soak in the adjacent Hanayuumi onsen. These hot springs are free for guests and the best way to rid your body of any winter chills. Here, I luxuriated in the indoor and outdoor beautifying baths, before falling asleep in my yurt's comfortable beds listening to the snow fall against the large window.
History of Kofun in Japan and Kisaichi Maruyama Ancient Tomb
For some historical sightseeing, Ayabe City's Kisaichi Maruyama Ancient Tomb (私市円山古墳公園) is over two-hour train rides away from Kinosaki Onsen. It offers a fascinating glimpse into Japan's Kofun period and the wealth of ancient rulers during this era. These Kofun (古墳) built during the 3rd to early 7th centuries were constructed as massive tombs for ruling-class members, with distinctive keyhole, square, or circular mound shapes. Kisaichi Maruyama Ancient Tomb, along with the grassy-knolled Yosano Choritsu Kofun Park and the white wasabi flower-clad Onaru Ancient Burial Mound, are among the many massive tombs in this region.
Even with its massive size, Kisaichi Maruyama was left undiscovered until 1987, when construction plans for the Maizuru-Wakasa Expressway unearthed the ancient Kofun site. Since then, significant excavations have unearthed two graves of rulers of an ancient agricultural civilization, along with armor, swords, mirrors, beads, gold-decorated belt buckles, and other burial goods from the tomb, which are currently displayed at the Ayabe City Museum.
Today, Kisaichi Maruyama Ancient Tomb is a public park where visitors can walk up to the top of the mound. While the top city views are impressive, don't miss the view from the bottom, with hundreds of replica cylindrical haniwa, terracotta funerary objects lining the mound edges.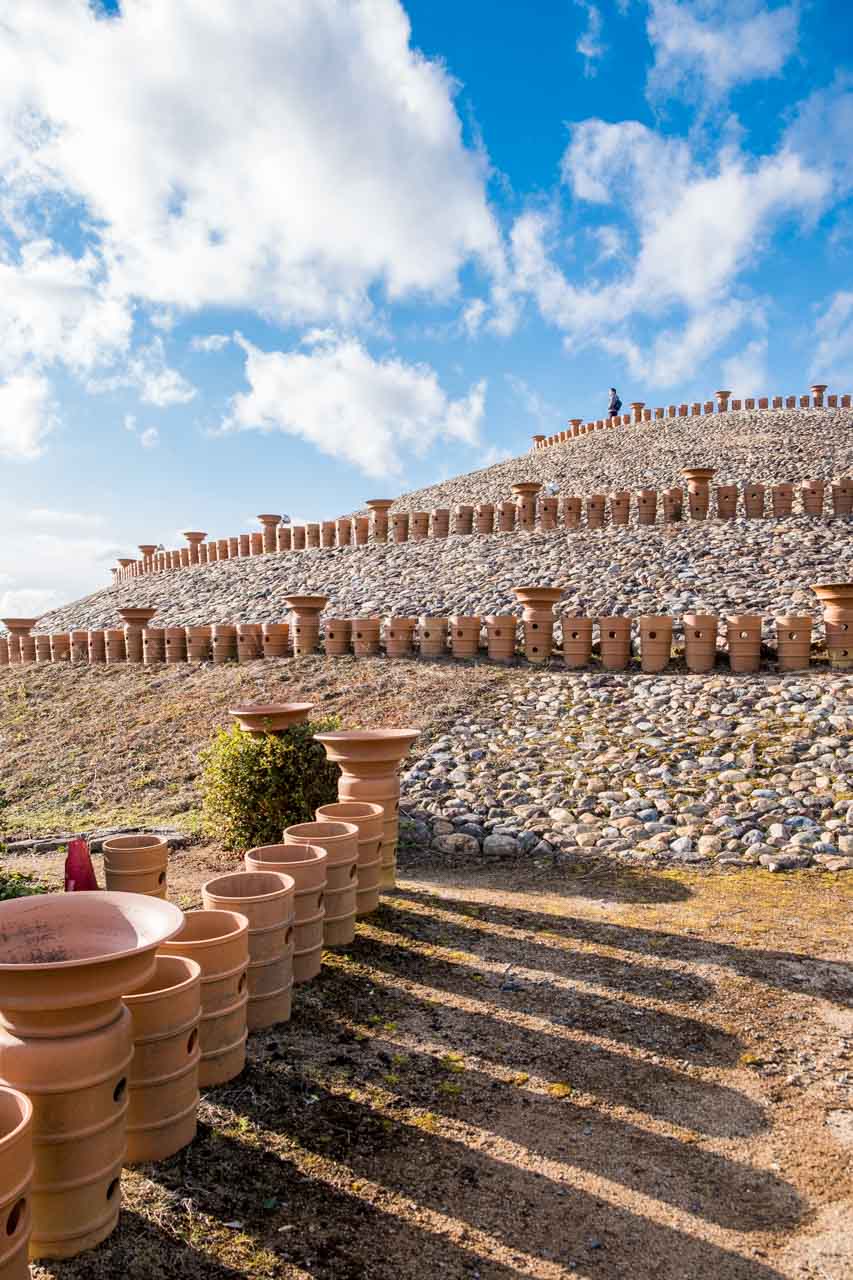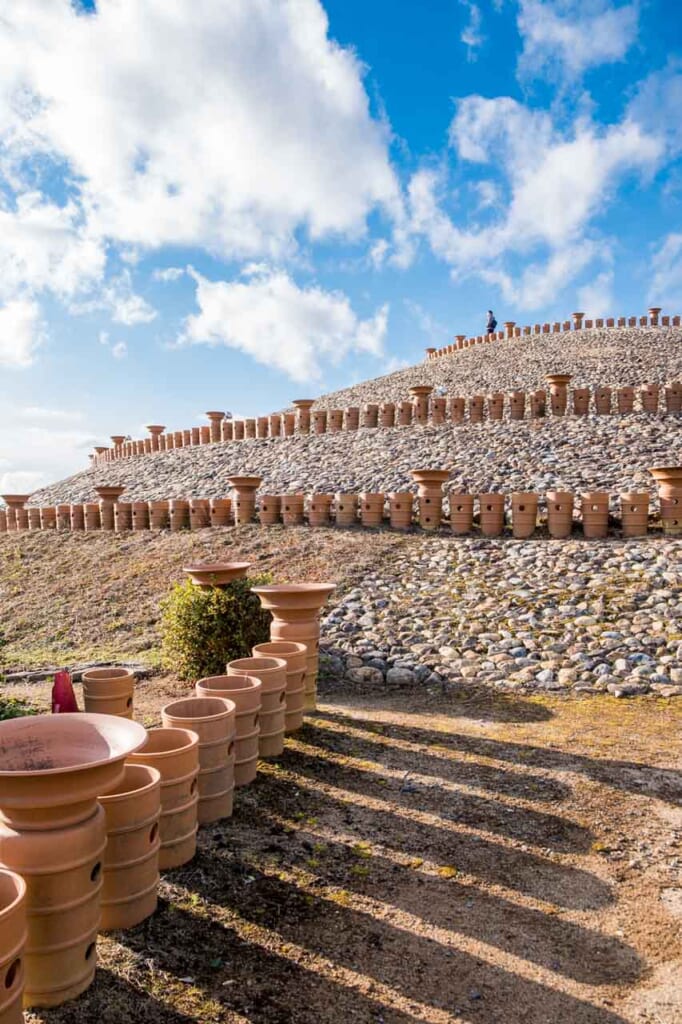 Omisoan Oriya: Japanese Miso Cuisine in a Renovated Japanese House
After your tomb visit, take a half-hour walk to work up an appetite for a filling miso meal at the renovated Japanese kominka folk house of Omisoan Oriya (お味噌庵 織りや). This restaurant is a one-woman-operated shop by proprietress Mayumi Haruyama, who makes the miso-centric meals in-house. I ordered the Hoba Miso set, which included a healthy, umami-rich red miso with ground chicken and shiitake simmering over a broad-leafed hoba magnolia leaf, complemented by subtle flavors of seasonal vegetables, such as enoki mushrooms and green beans, with a side of local tofu.
Interestingly, while the house dates from the Edo period (1603–1867), it has been renovated in the style of a folk house from the Muromachi period (1336–1573) — one of the proprietress's favorite historical periods — where rustic simplicity was the general rule, with earthen walls and blackened beams. This is what makes a wintertime visit to Omisoan Oriya so inviting, especially with a blanket on your lap and a thick ceramic pot with burning embers under the foot of your table. One of the rooms also displays raw silk and obi-making tools, a nod to the proprietress's family lineage of Oriya obi belt weavers.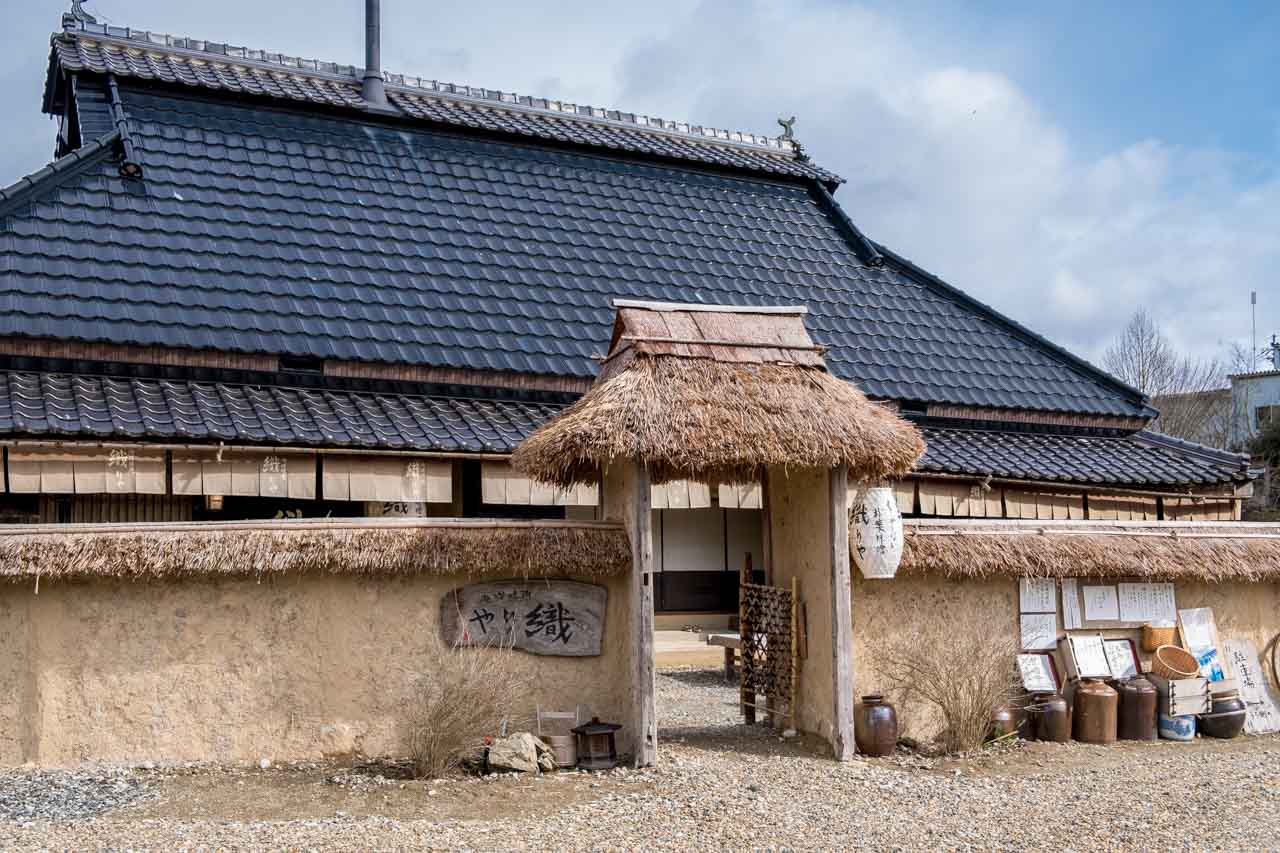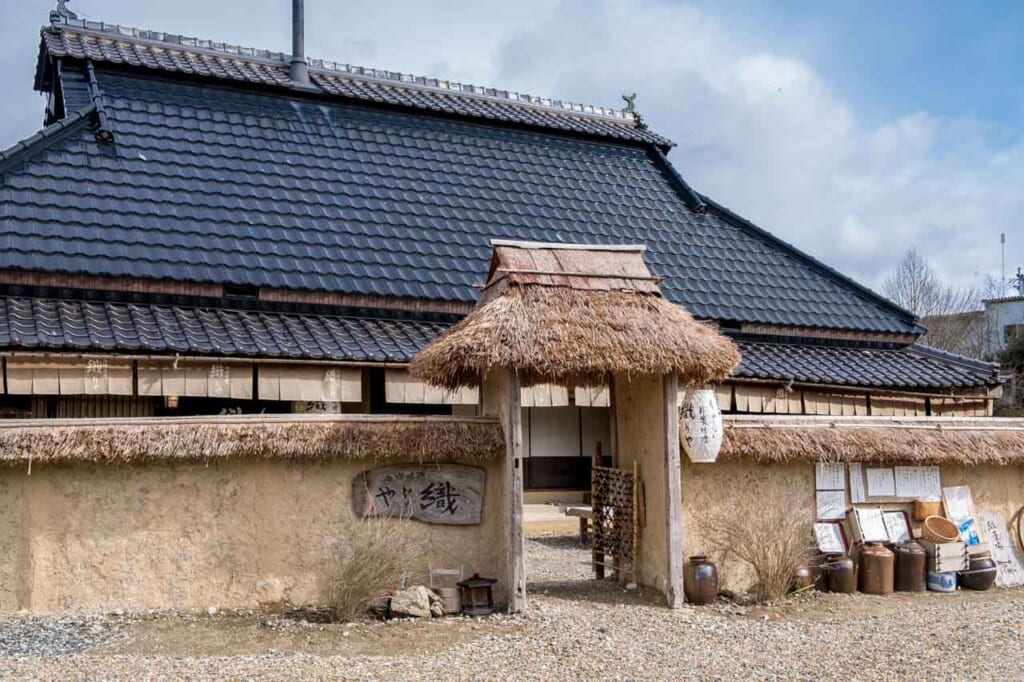 For those looking for a pared-down meal version, the Mushiyanai set puts Ayabe's famed Koshihikari sushi-grade rice in the spotlight, with two rice balls, hoba miso rice, and dashi soup stock tea. Add a palate-cleansing sakura tea and white miso zenzai (ぜんざい) soup for dessert for a lasting culinary memory of your wintertime visit.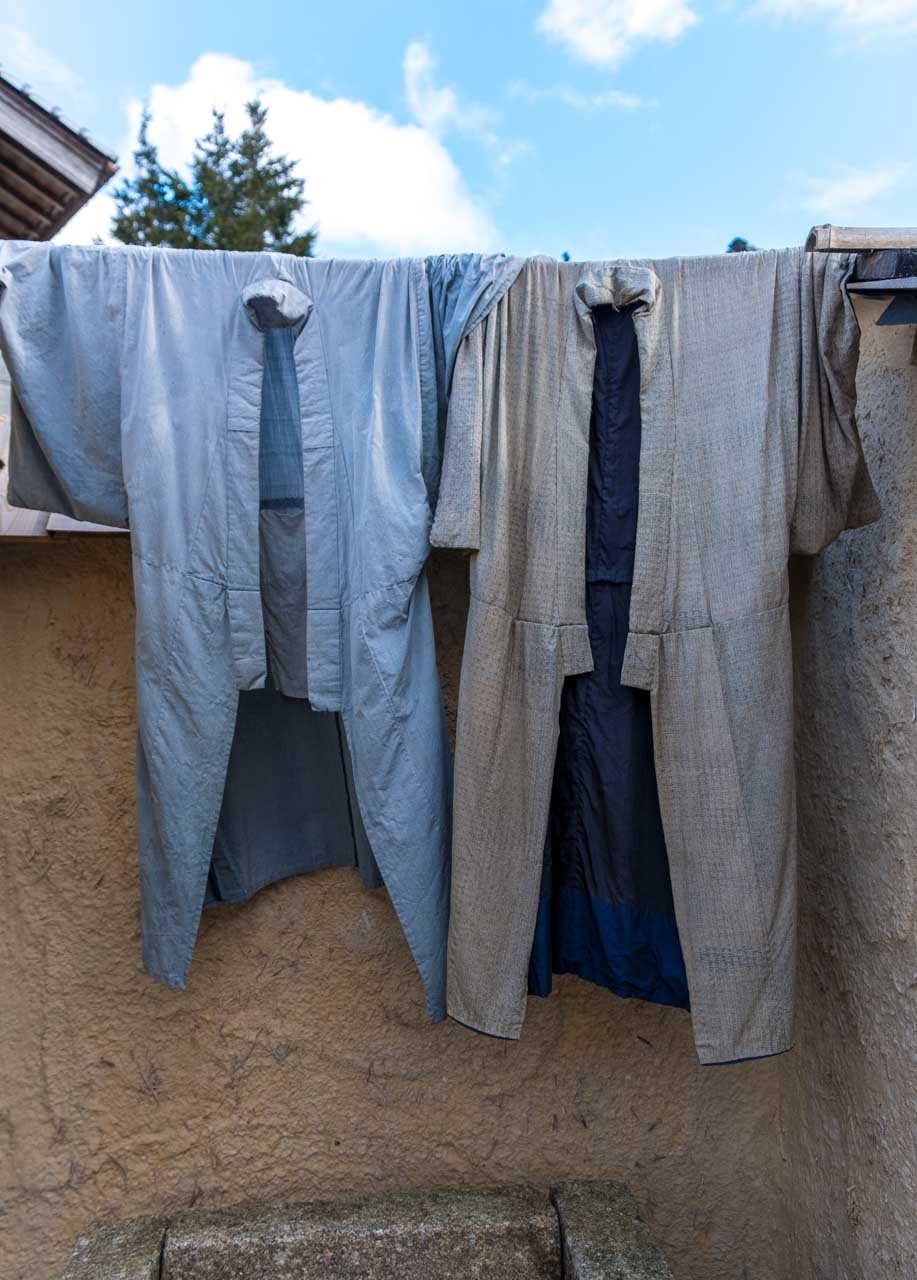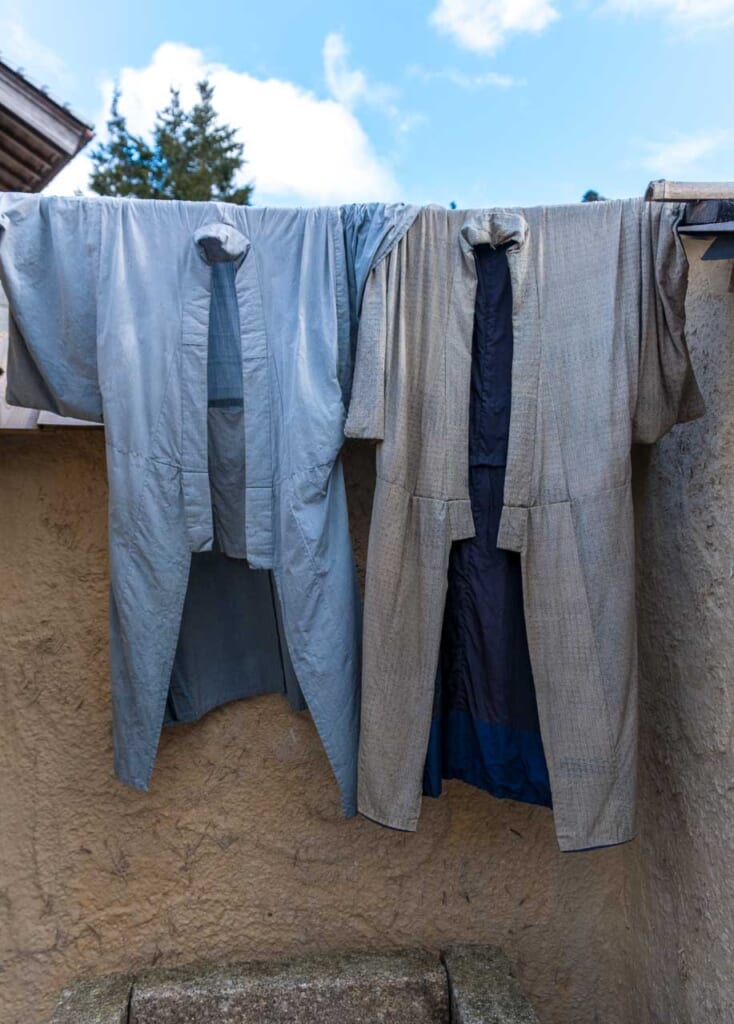 Japan's Oldest Festival to Ward Off Evil at Kaibara Hachiman Shrine
For your final destination, head back into Hyogo prefecture to Kaibara Hachiman Shrine (柏原八幡宮) approximately one and a half hours from Kisaichi Maruyama Ancient Tomb or 40 minutes from Ayabe station. Also known as Kashiwabara Hachimangu, this National Important Cultural Property in Kaibara town is the oldest shrine in the region, originally founded in 1024, before the current shrine was rebuilt in 1585.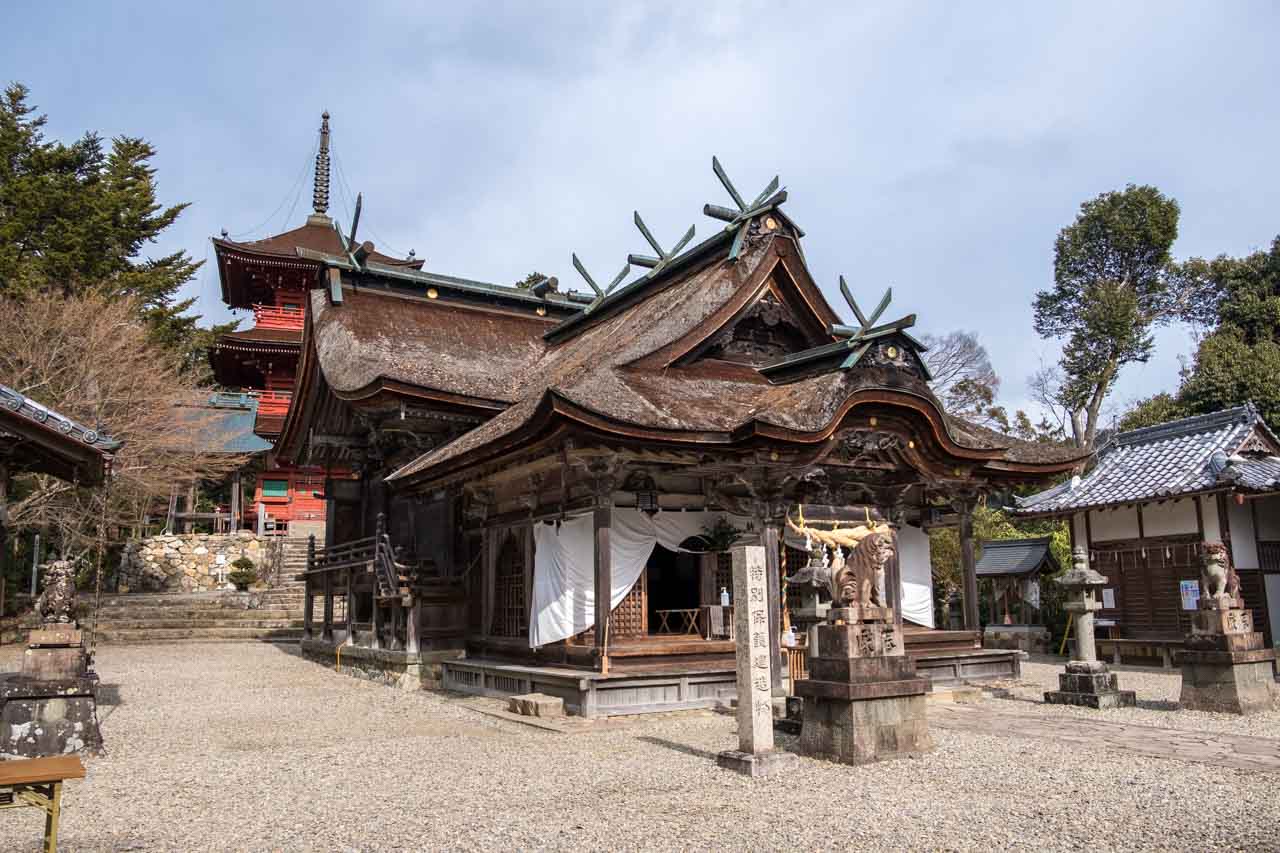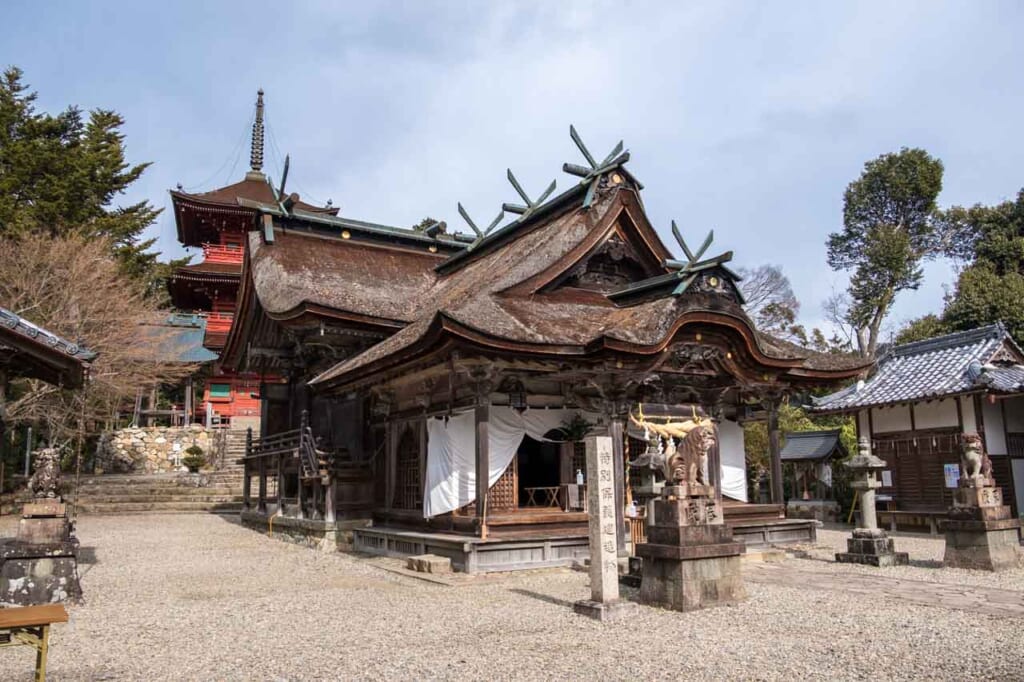 Kaibara Hachiman Shrine is also home to Japan's oldest ritual of dispelling evil, the Aoyama Saidan no Gigi ceremony. Every year in February, worshippers flock to the shrine for the ceremony to exterminate evil and ward off bad luck from midnight on the 17th into the early morning of the 18th. Additionally, visitors also come to pray for good luck, family safety, and healing of illness throughout the year, with private rituals led by the shrine's priests (upon prior reservation).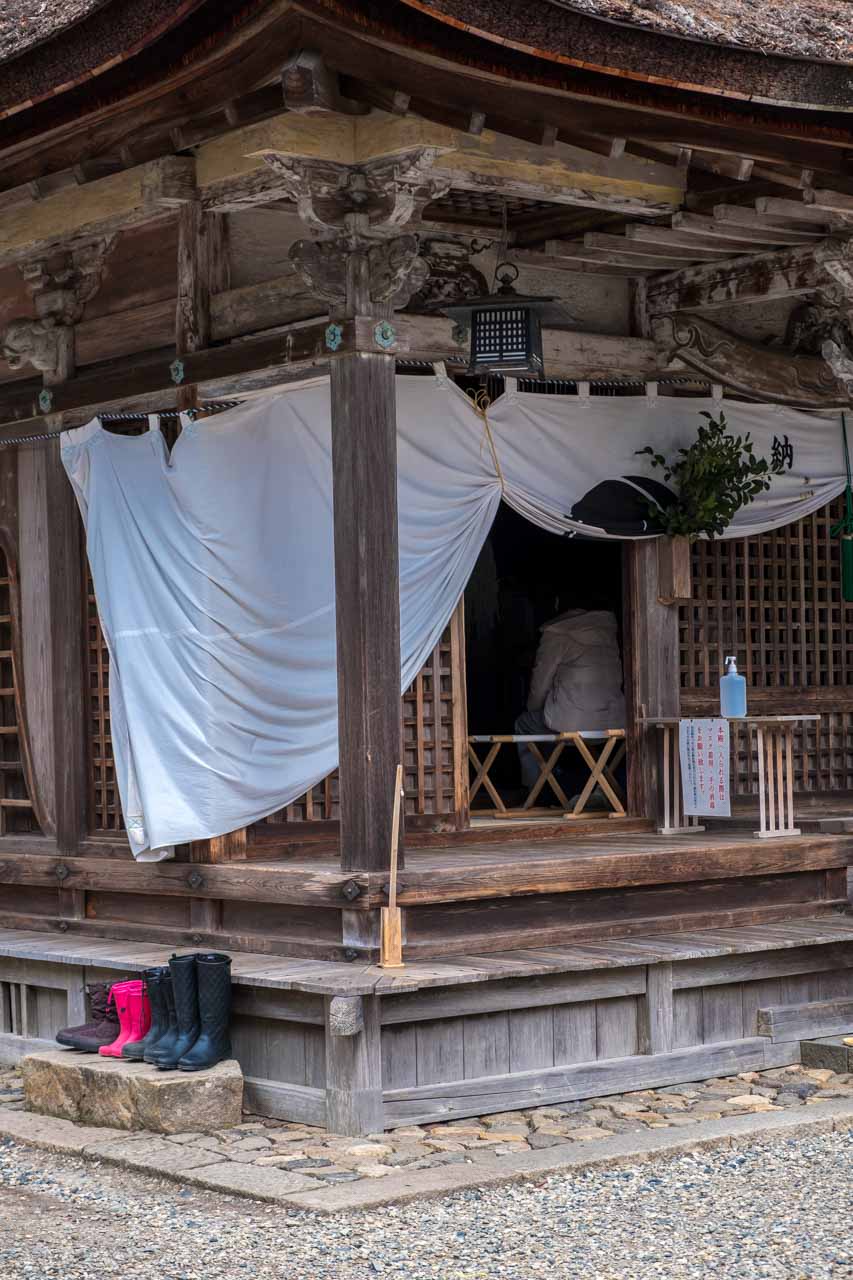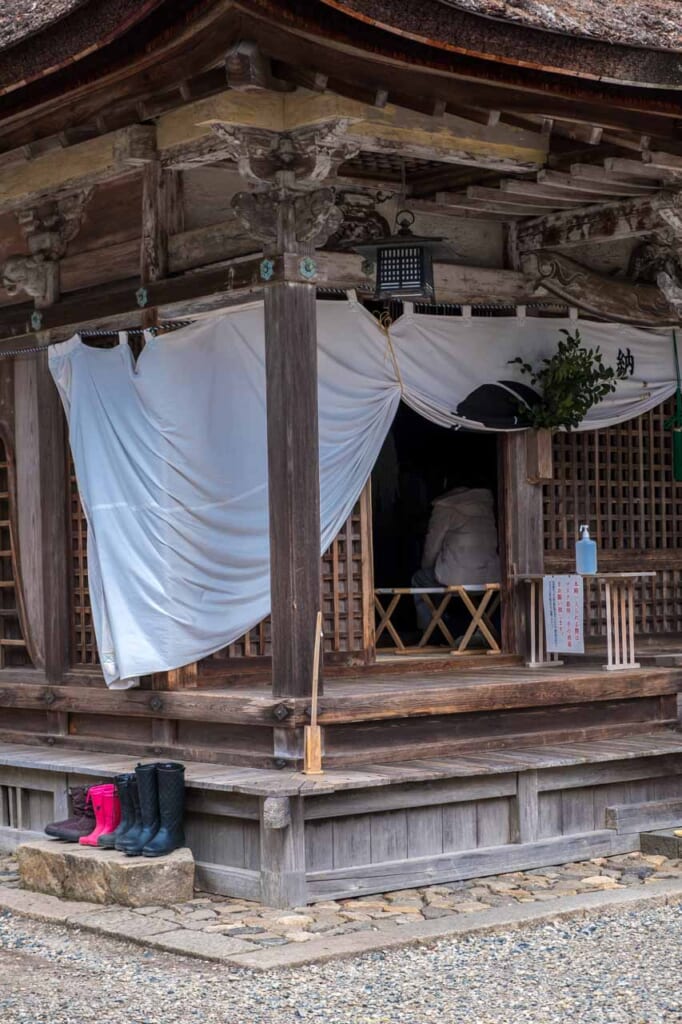 On the shrine's complex is the three-storied pagoda and hanging bell, designated as Important Cultural Property of Hyogo Prefecture. Even if you're not visiting during the February ritual, ringing the bell may be just as efficient a substitute to eliminate evil luck as it reverberates through town.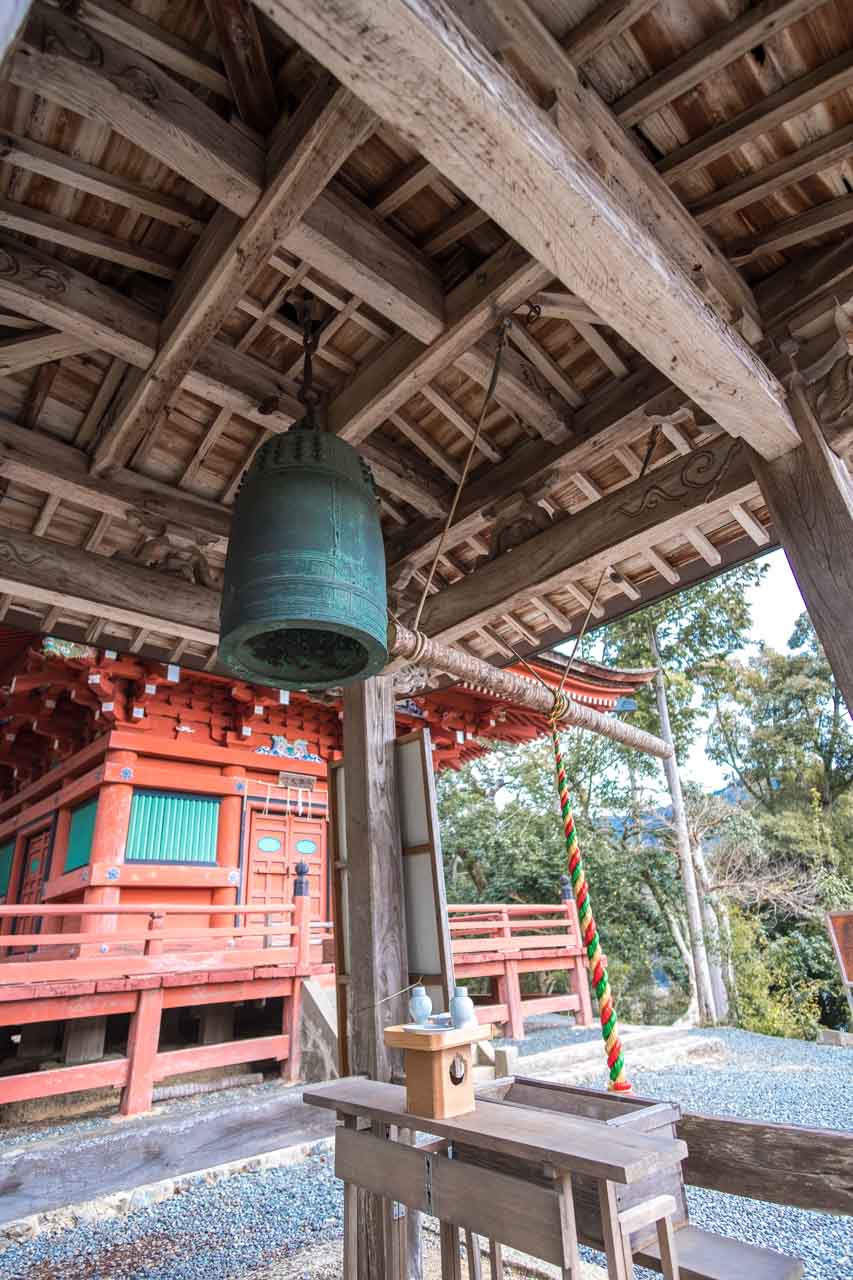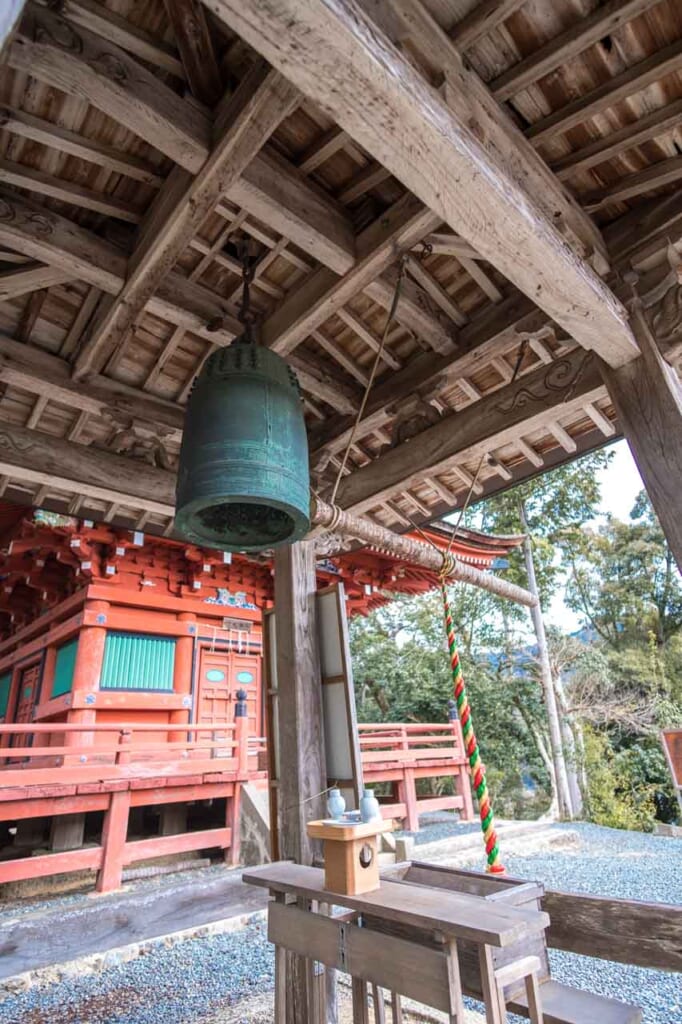 How to Get Around Northern Kyoto and Hyogo
All locations are accessible via JR and local train lines from Kyoto and Osaka stations and covered by the Japan Rail Pass. Kinosaki Onsen is less than 3 hours from Osaka Station and approximately 3.5 hours from Kyoto Station. Several JR and local train lines connect travelers to the other destinations with only Omisoan Oriya and Kisaichi Maruyama Ancient Tomb requiring 30 minutes or less of walking.
These destinations only scrape the surface of the northern Kansai region. For more things to see and do, consider a deeper exploration of north Hyogo and Kyoto prefectures, head east from Kinosaki Onsen on a retro train ride to Amanohashidate's famous pine-tree sandbar, or go on a winter-curated seafood journey along the Sea of Japan coastline.
Sponsored by North Kansai Tourism Association