Joge (上下 町, Joge-cho) is a small town in Hiroshima Prefecture (広島県). In feudal times, the "Ginzan Kaido" (銀山街道), the Silver Road, passed through it. This road served as a path for transporting silver between the Iwami Ginzan mines, in Shimane prefecture (島根県), and the port of Kasaoka, in Okayama prefecture (岡山県).
Nowadays, many vestiges of this glorious past remain in Joge. The main street, lined with white-walled houses, seems to prepare visitors for a trip back in time.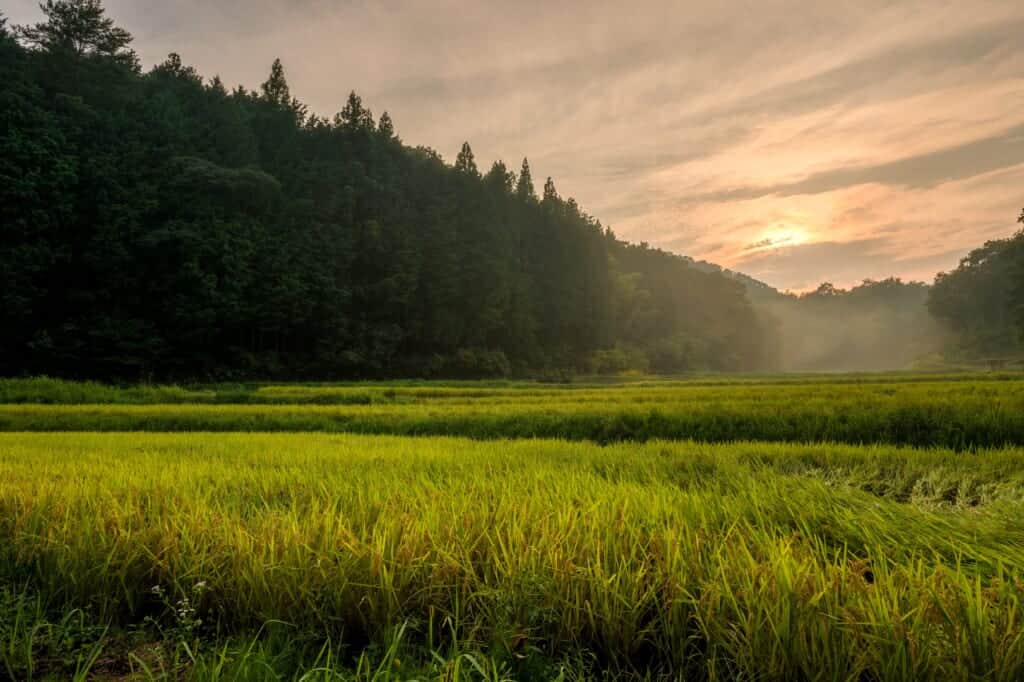 The surroundings of the city are also beautiful, perfect for a drive. You can go through the rice fields or have lunch in the middle of the mountains with the sound of a stream nearby as your only distraction. By staying at Joge, one can reconnect with yourself while enjoying the tranquillity of the Japanese countryside.
Joge, Rural Post Town on the Silver Road
As part of a trip to prepare for our next Peko Peko Box, I traveled to Joge to curate the best souvenirs to put in the box. Most tourists visiting Hiroshima Prefecture tend to head to Hiroshima City and Miyajima Island, or even the small port town of Onomichi for a more adventurous trip outside of the main tourist spots. There are few to go inland in the heart of the prefecture.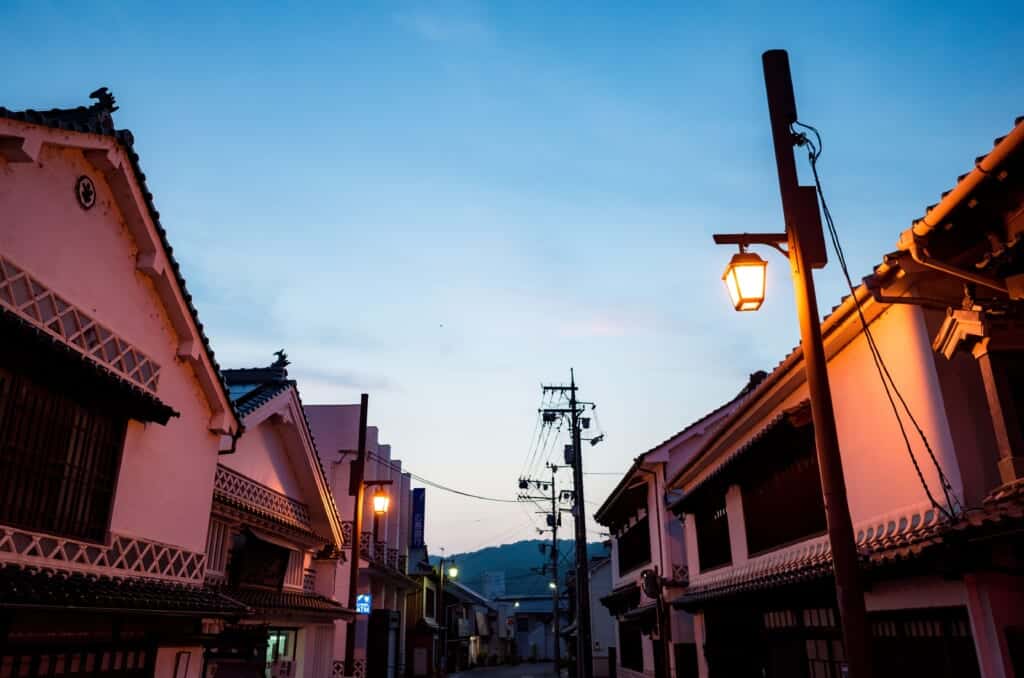 Today, Joge looks like a small dot on the map. But the city had some glorious days. It is said that in the 16th century, the Iwami Ginzan mines (石見銀山) in Shimane Prefecture (島根県) produced nearly a third of the world's silver. Silver was transported on the Ginzan Kaido to Kasaoka Port (笠岡), in Okayama Prefecture, as well as to Kyoto (京都) and Osaka (大阪). From the 17th to the 19th century, an administrative office of the Iwami Ginzan mine opened in the town of Joge. As a stopover town on the Silver Route, the town became quite prosperous until the Meiji era.
A Getaway in the Japanese Countryside, Near Hiroshima and Kyoto
After a short trip by Shinkansen to Fukuyama, I choose to rent a car and drove to Joge to make the most of the magnificent landscapes of the Japanese countryside.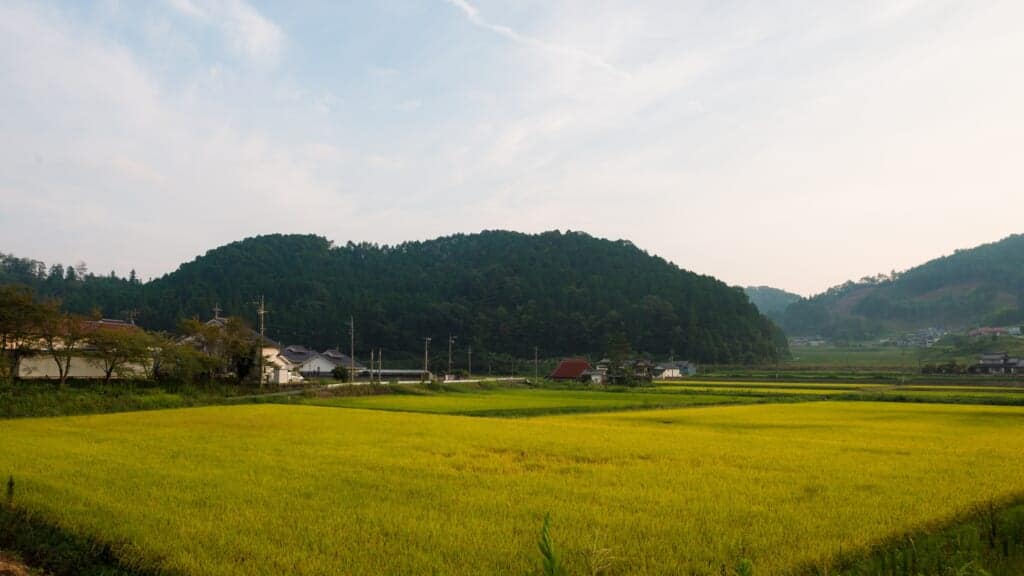 After passing through beautiful rice fields, I arrived in the main street of the city and its white-walled houses.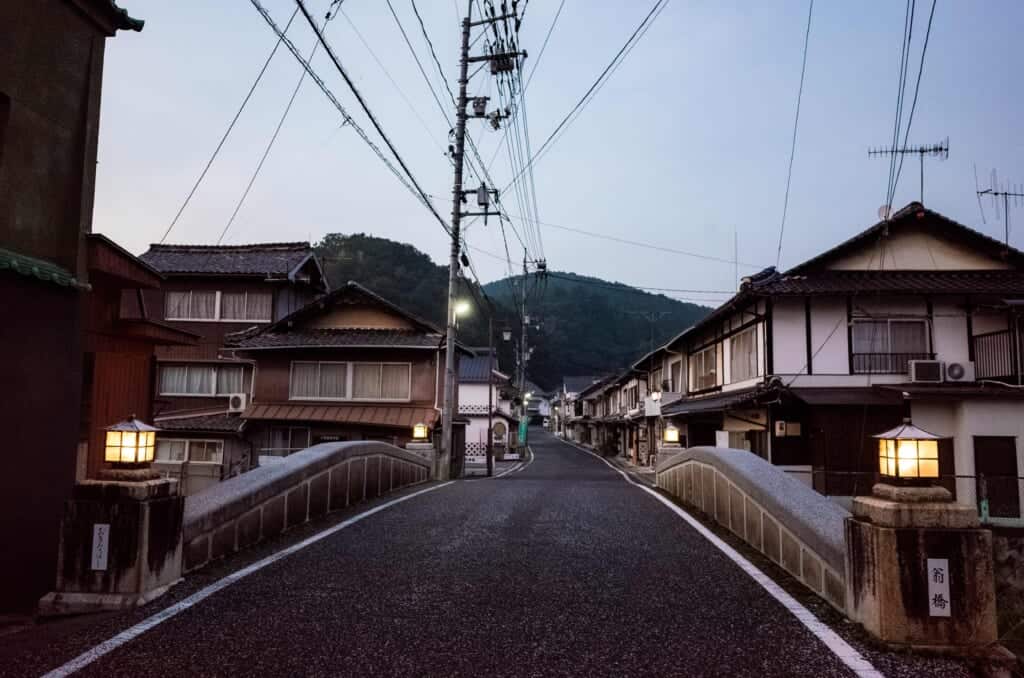 Charmed by this very photogenic setting, I decided to rent a kimono for the afternoon. And not just any kimono. Here, the kimonos and yukata (summer kimonos) for rent are "vintage". I am surprised to see lace at the collar, which is unusual. I also have to put on white cuffs, also in lace, to hide my long arms. Indeed, the kimono looks a bit short on my figure. Therefore, these cuffs served as an extension of the sleeves of the kimono –an addition I had never seen before. After putting on my wooden geta and grabbing my washi paper umbrella, I went for a walk in the city.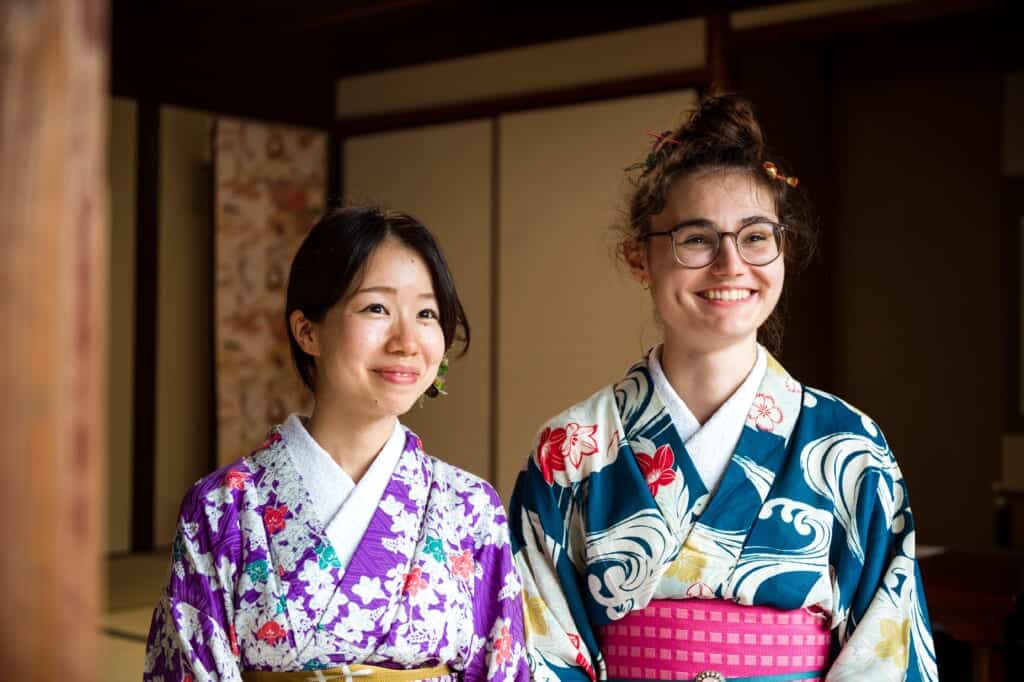 The Traditional Wooden Japanese Theater
Right away, a building caught my eye. This is the Okinaza (翁 座), the old wooden theater. It is one of the last wood theaters still standing in Japan, with many been destroyed over the years. As a stopover town on the Silver Road, Joge had to provide entertainment for its visitors. In addition to hosting theatrical performances, a projector was installed inside for when cinema became popular!
With a bit of luck, you might be able to catch a kagura show. "Kagura" (神 楽) literally means "the entertainment of the gods." It is said that Amaterasu (天照大神), the sun goddess, went into hiding in a cave after an argument with her brother, plunging the earth into complete darkness. To get her out, the gods organized a performance. Attracted by the dance and music, Amaterasu finally came out of her hiding place, giving back to the world its light. It is said that kagura dances come from the performances carried out by the gods during this episode of Japanese mythology.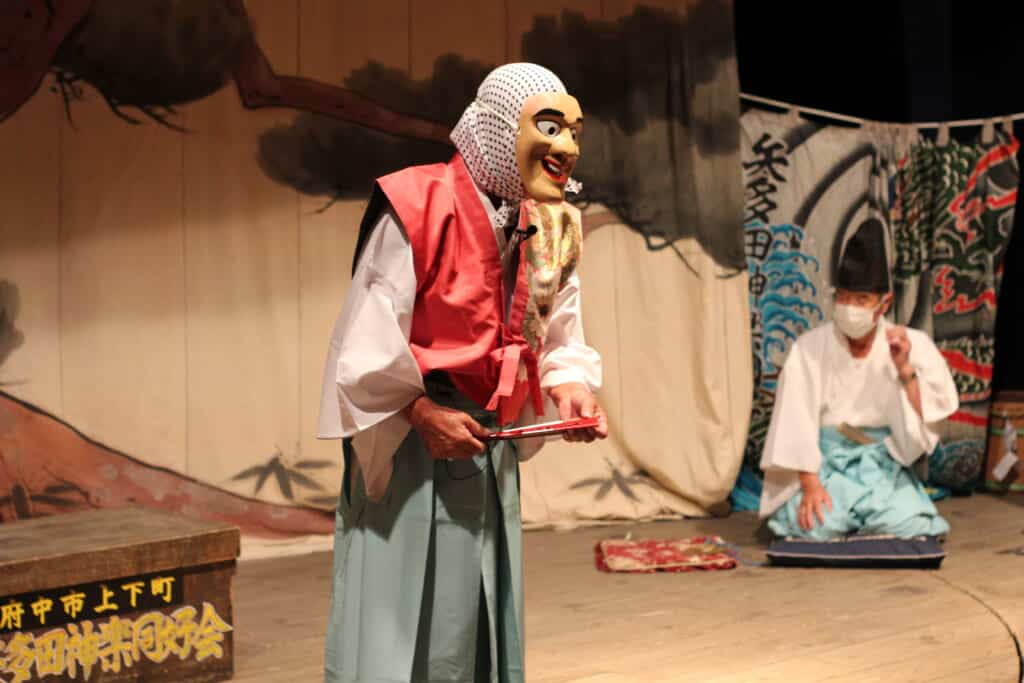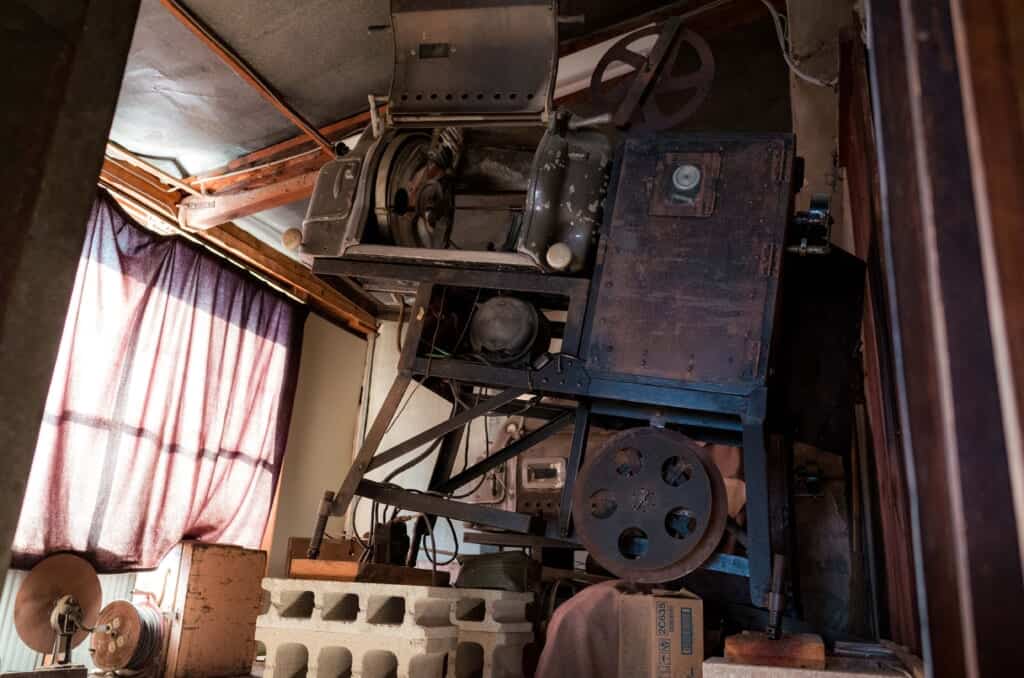 I continued my walk and stopped at an antique store— mountains of plates, bowls, and other dishes were on display. In the adjoining room, I found a very special diorama of an Olympic stadium. In this stadium, tennis, boxing, football, and other sports are played by traditional Japanese dolls. The stadium stands are also full of dolls of all sizes that watch the games.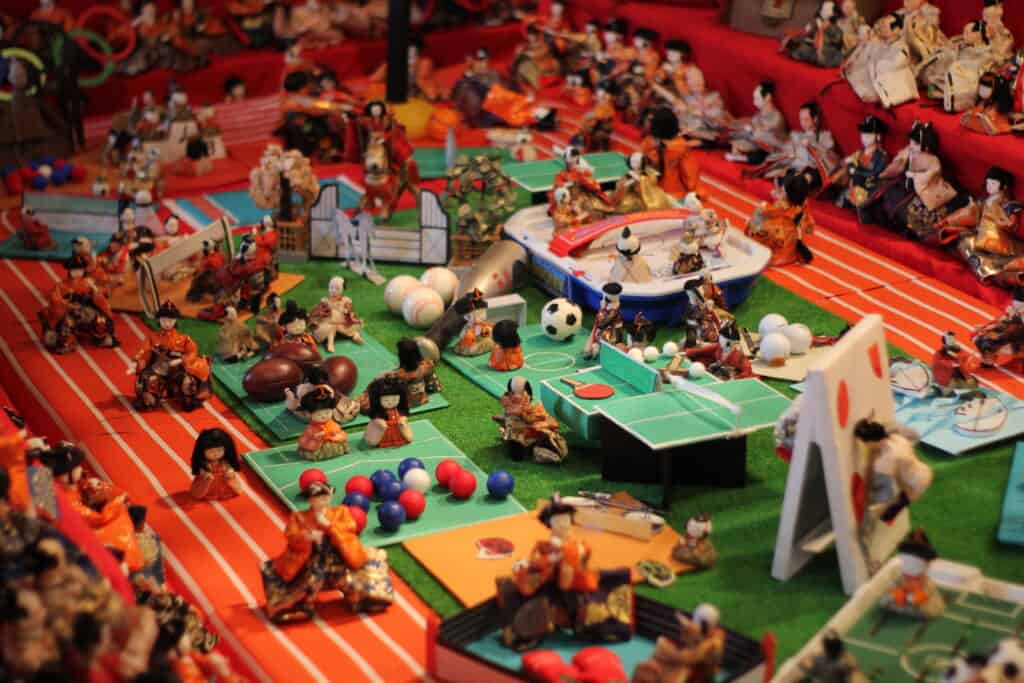 The owner explained that she created these mini-games for the Hina Matsuri (雛祭り), also called Girls' Day. During the March 3rd festivities, dolls representing the emperor, wife, and courtiers are exhibited.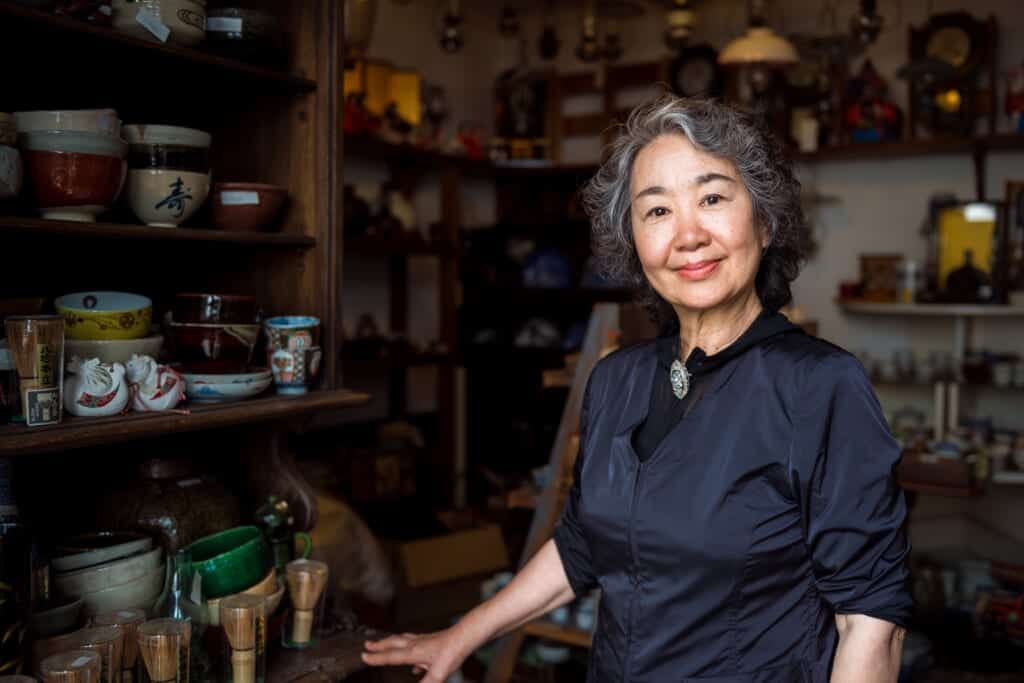 The antique shop owner had initially planned to take down the miniature stadium but with the 2020 Tokyo Olympics canceled due to COVID-19, she decided to keep it up in hopes that the games would still take place in 2021. The dolls were all beautiful, true pieces of art, with some of them a century old.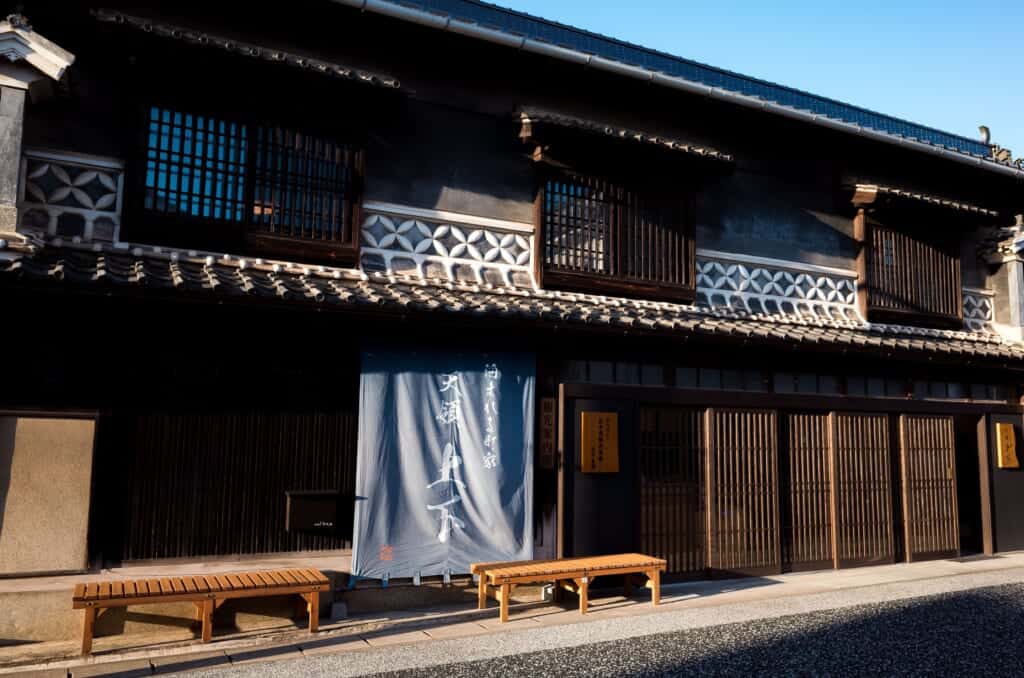 After my walk, I took off my kimono to check-in to my accommodation. I stayed at a machiya (町家), a traditional Japanese house, located right in the main street.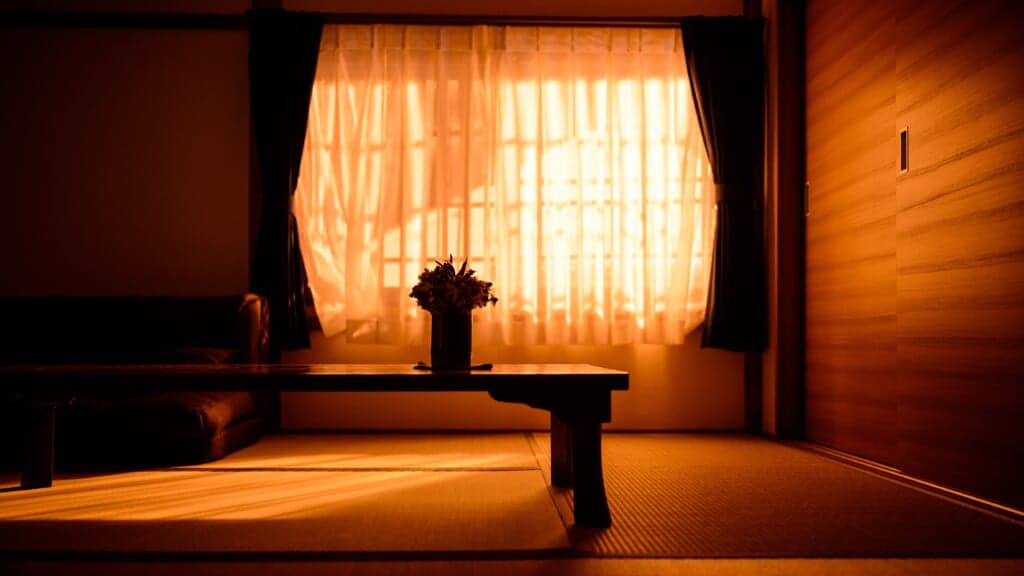 The beautiful wooden house is warm and functional. I spent the night on a futon, on a tatami mat floor, and it was more than comfortable. In the morning, I used the fully furnished kitchen to prepare breakfast and enjoyed it quietly while admiring the inside garden.
Joge's Local Specialties
On the second day of my stay, I headed to Bingo Yano station (備後矢野駅), about ten minutes by car from Joge. There, only 6 trains go by every day. This bucolic little train station looks like it came straight out of a film by Ghibli Studios. There is a small restaurant, run by the wife of the station master. Their specialty is the fukuensen udon (福縁阡うどん).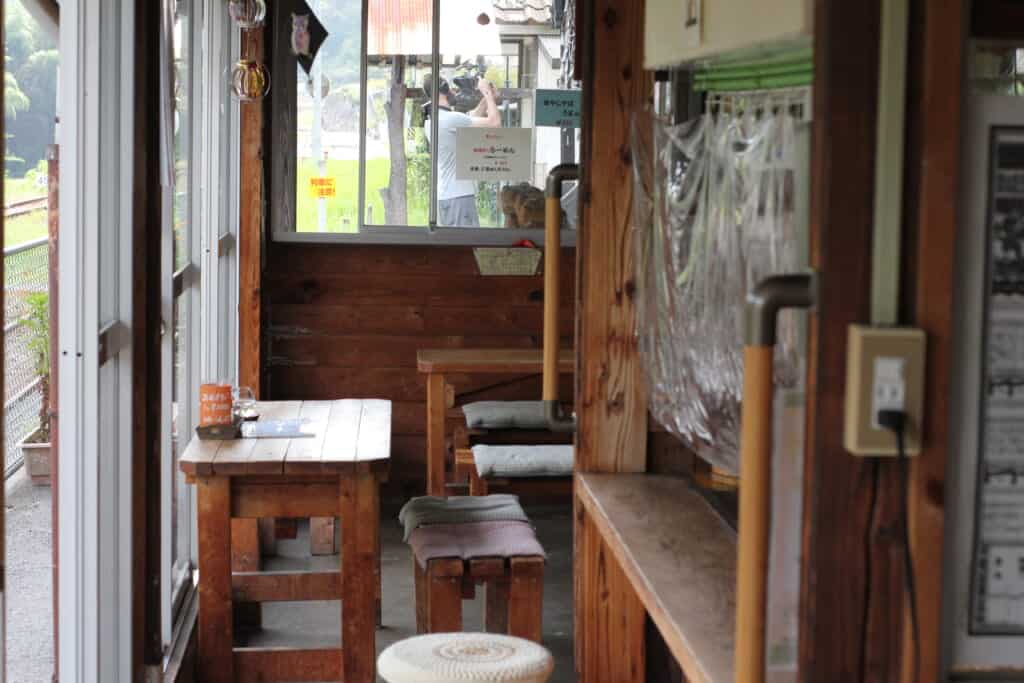 This udon specialty here is a topping of three mochi glutinous rice cakes flavored with ume (Japanese plum), millet, and mugwort. The mochi, round, is a symbol of luck and a reminder of the name of the train line, "fukuen," whose kanjis (Chinese characters) mean "good fortune."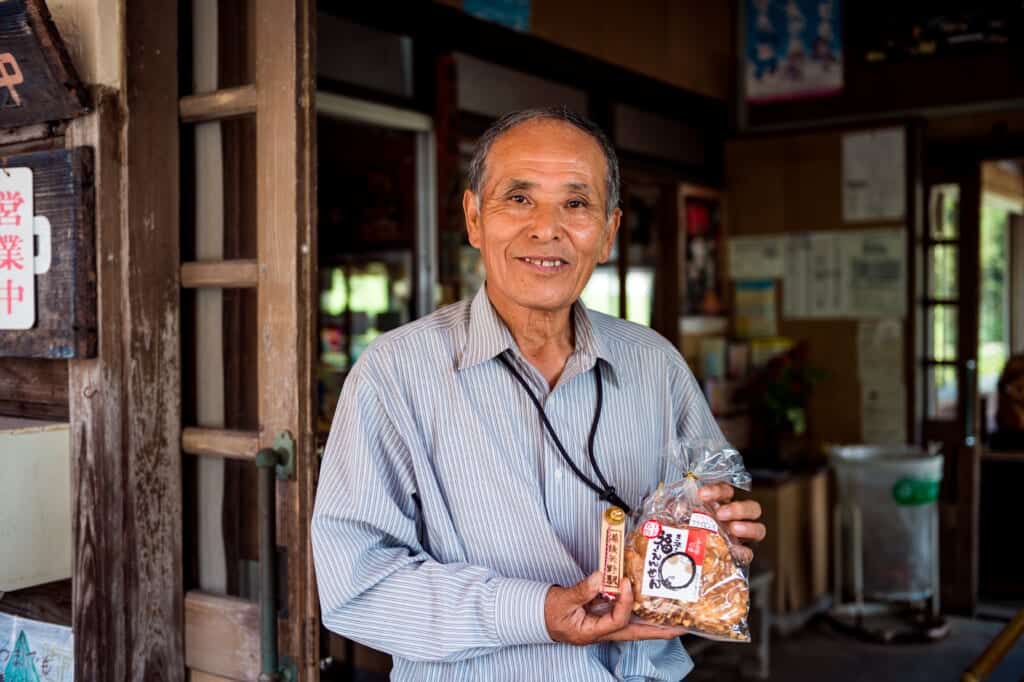 In addition to the udon, the station master may also offer you to taste his delicious senbei richer crackers. These circular-shaped crackers keep inline with the good fortune theme. The station is full of all kinds of trinkets, and on the platform, a small shrine hosts a statue of Hotei-sama, the deity of contentment and joy.
Before leaving town, I decided to get some local specialties to take home. Two delicacies got my attention. First, the yoshu cake (洋酒ケーキ), or "western liqueur cake." When it was created in 1961, Western pastries were not common in Japan. The taste of this cake was a real discovery for the inhabitants of this small rural town. Yoshu cake is a sponge cake soaked in a syrup made from rum and brandy. Nowadays, yoshu cake holds a special place in the locals' hearts, and I quickly understood the reasons for this craze after tasting this dessert myself.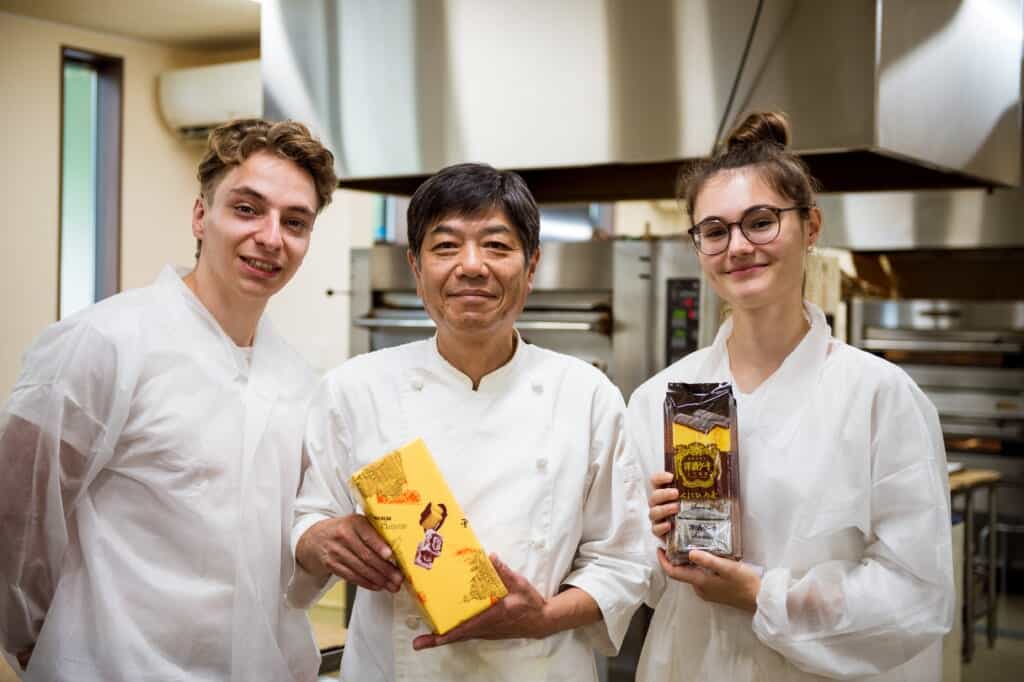 The second must-try specialty when staying at Joge is tsuchinoko manju (つちのこ饅頭). Manju is a traditional Japanese pastry consisting of a small bun, steamed and filled with sweet red bean paste or fruit paste. Once again, I was surprised by the creativity of this local specialty. Indeed, the usual bun is replaced by a delicious shortcrust pastry, filled with sweet white beans paste and half a chestnut – a real delight that goes perfectly with a cup of tea.
It was on this sweet note that I ended my visit to Joge, a relaxing town in the Japanese countryside.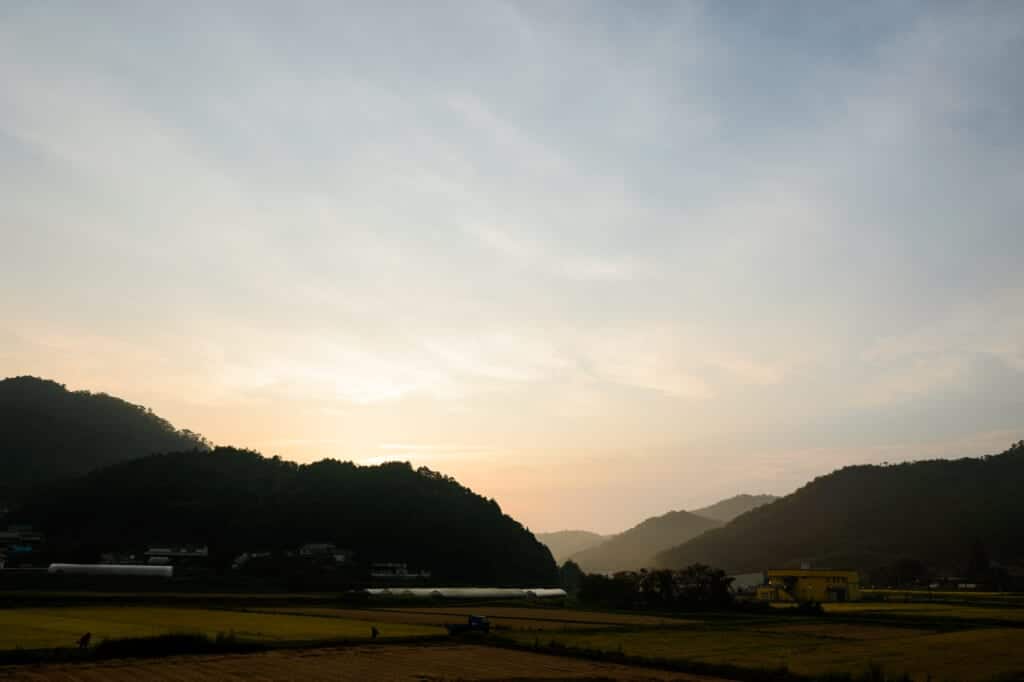 How to Get to Joge?
Joge is a perfect destination for a nature getaway from Hiroshima or Kyoto.
From Hiroshima:
By car: Around 1 hour and 45-minute drive.
By train: Take the shinkansen for a 20-minute drive to Fukuyama (福山) before renting a car. It will take about 45 minutes to get to Joge from Fukuyama.
From Kyoto or Osaka:
Take the shinkansen to Fukuyama (1 hour and 15 minutes) from Shin-Osaka Station (新大阪駅) and 1 hour and 25 minutes from Kyoto Station 京都駅) before renting a car. It takes around 45 minutes to drive from Fukuyama to Joge.
Pictures: ©Peko Peko Box
Joge is a wonderful destination to enjoy daily life in the Japanese countryside. A one or two day excursion from Hiroshima, Kyoto, or Osaka, will allow you to relax in a small town with a rich history and delicious delicacies.