Sponsored by  MIYAJIMA ROPEWAY
Southwest of Hiroshima City lies Itsukushima, a sparsely-populated island home to many shrines, wild deer and a lot of beautiful maple trees. It is actually because of these many shrines that Itsukushima is more commonly known as Miyajima, or "Shrine Island" in Japanese. Because Miyajima is just a short ferry-ride away from Hiroshima City and accessible using the JR Rail Pass, many foreign visitors to this part of Japan include the island as a half or full-day trip. But don't be mistaken – this is not some tourist trap only visited by overseas visitors, Miyajima is incredibly popular with the locals too.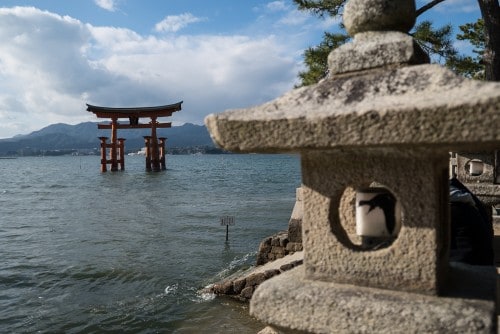 The special charm of Miyajima
The island is rich with culture, local snacks and of course, the adorable deer which roam freely, which makes it a must-see destination when visiting the Chugoku region of Japan. During the autumn months, the island becomes a beautiful collage of reds, greens, yellows and browns as the leaves change their colours, making it a perfect time to visit Miyajima.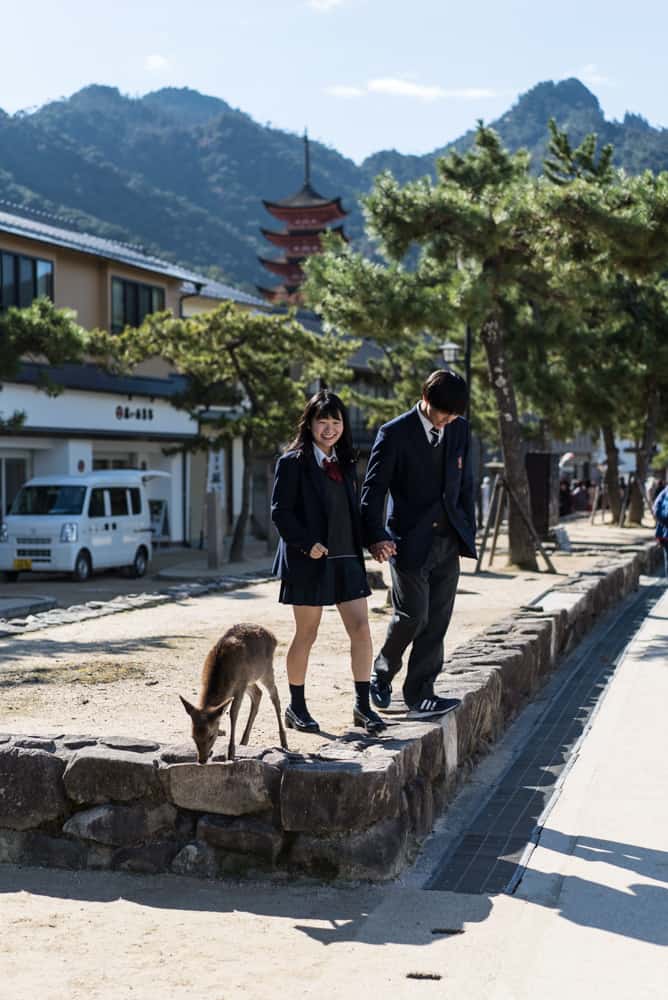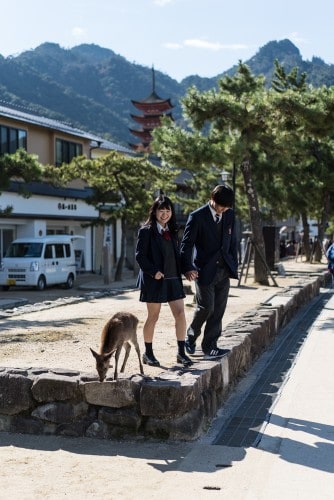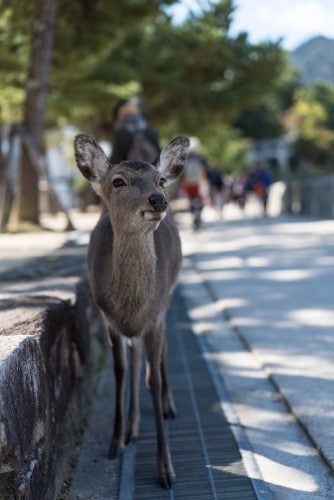 A World Heritage View
Upon arriving at Miyajima port, via any of the number of ferries available to visitors, you can make your way along the path that parallels the ocean, where you will see a number of cafes, gift shops, roaming deer. After a short walk, Itsukushima Shrine, which features perhaps the most famous image of Miyajima, the floating torii gate, will appear before you. Entry is 300 yen and allows you to enter and walk through the shrine, from where you will have one of the best views of the famed torii gate. The shrine is a UNESCO World Heritage Site, and the design itself was established almost 900 years ago!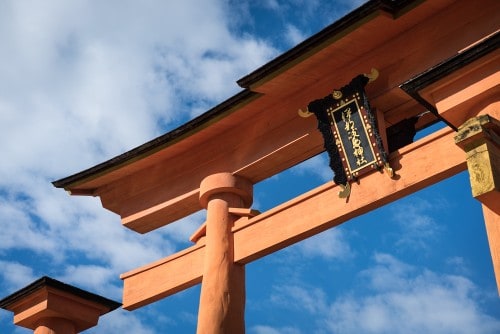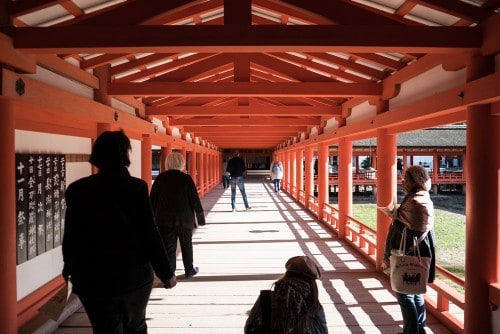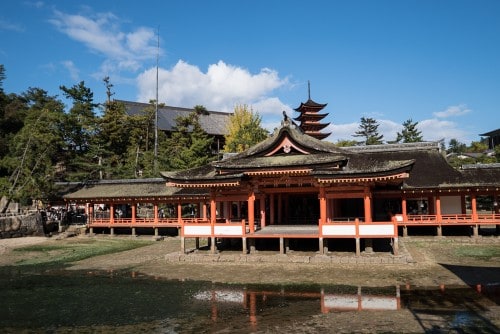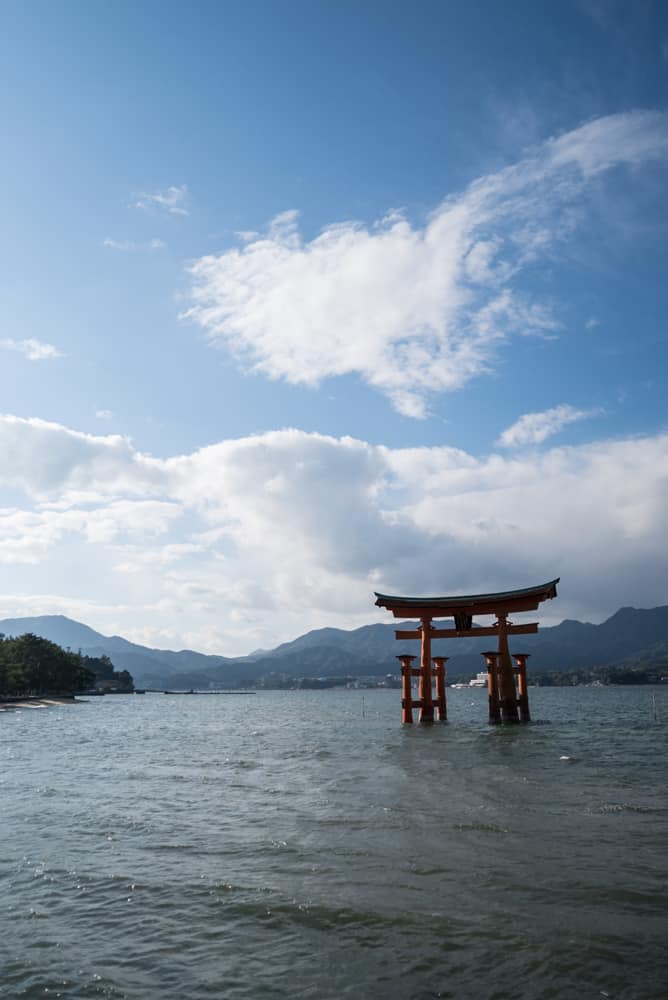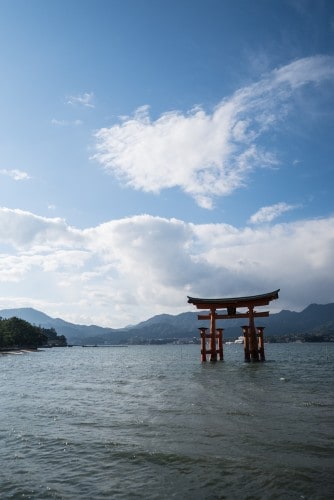 Ancient Culture
After making your way through the shrine, turn left and make your way back to the tall Five-storied Pagoda, a construction made in 1407 that is said to have real significance in Japanese Buddhist history. The design of the structure is magnificently crafted, which from a distance seems to be subtle, yet dignified, but when viewed from directly below becomes much more striking as its vivid red paint becomes visible.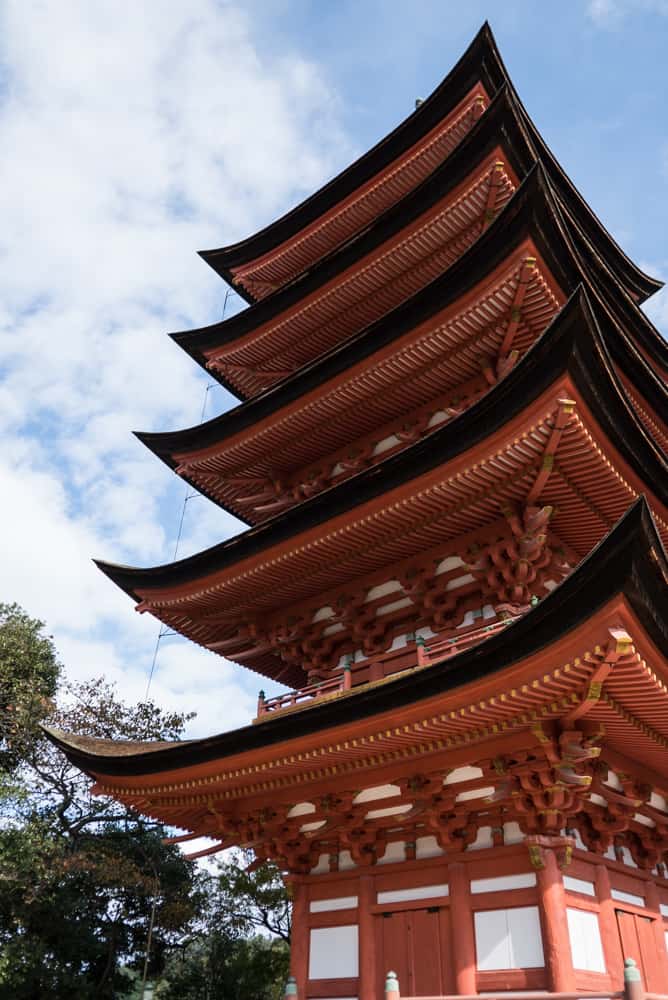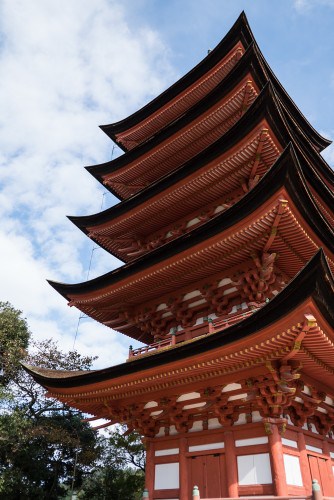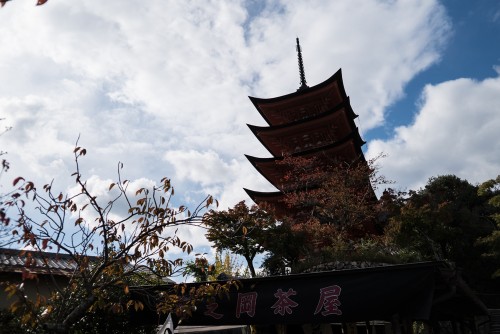 Stunning Autumn Leaves
From there, to take advantage of the "Koyo", or autumn leaves in Japanese, head to Momijidani Park, which is just a short walk uphill from the Five-storied Pagoda. Momijidani Park is a small area which is home to a plethora of beautiful foliage, which during these autumn months becomes absolutely stunning. Relax amongst the swaying branches and cool mountain air, and feel all your stresses blow away with the wind. Simply beautiful!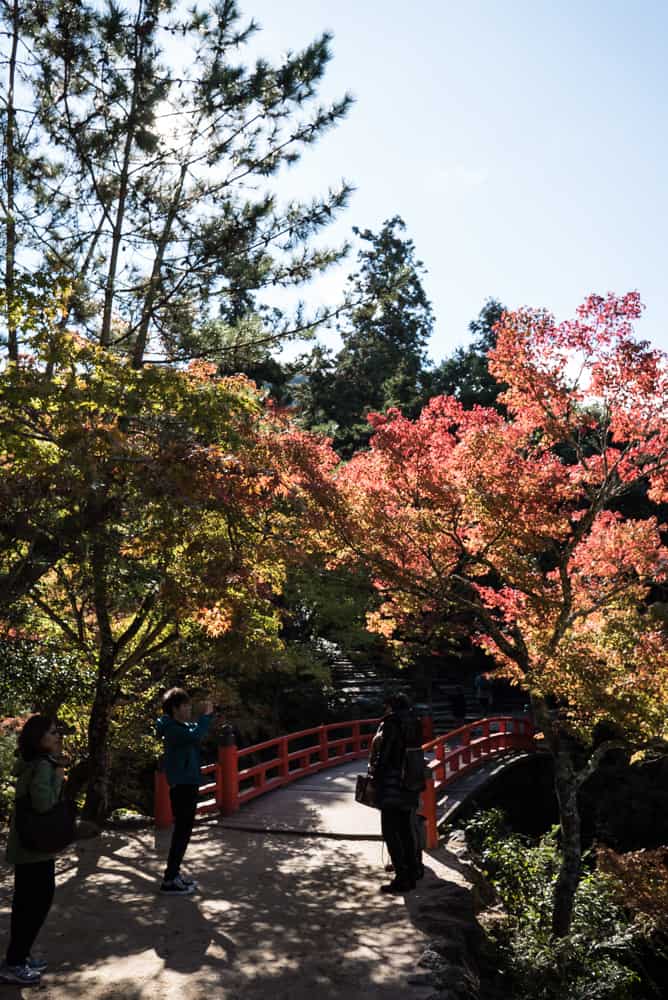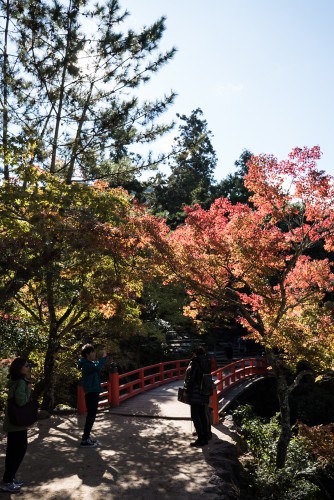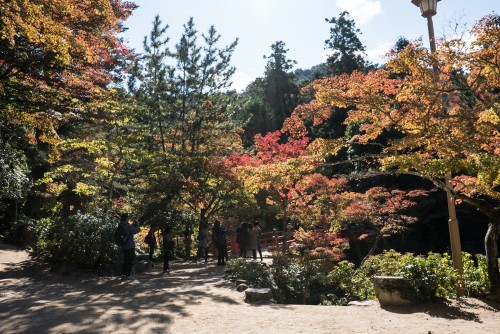 Shopping in Miyajima
Making your way back in the direction of Itsukushima Shrine will bring you through a small outdoor shopping strip, which are commonly known in Japanese as "Omotesando". Along this short street you will find a variety of stores selling gifts including statues, children's toys, local snacks and more. These kind of places are always the best opportunity for visitors to buy some "omiyage" or travel gifts, to bring back home for family, friends and coworkers. In Japan, edible omiyage is typically the favoured type of gift to bring back home.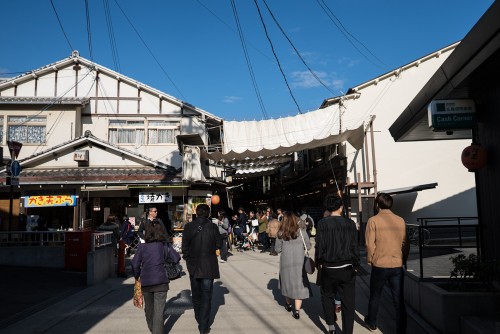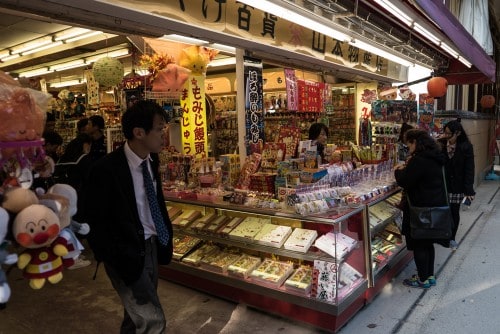 If you find yourself looking to eat more of a local delicassy, look no further than Miyajima's favourite dessert snack, "Agemomiji" or fried autumn leaf. Don't let the name fool you, this is not actually a leaf, but a deep-fried sweet pancake-type batter with your choice of filling. For only 180 yen, you can choose from a cheese, cream or anko filling for your fried momiji. If in doubt, you can ask the staff for their "osusume" or recommendation. I was recommended to try the cheese-flavoured momiji, and it was delicious! The balance of the sweet batter along with the saltiness of the cheese was very enjoyable. I quickly devoured the momiji and even more quickly found myself wanting more.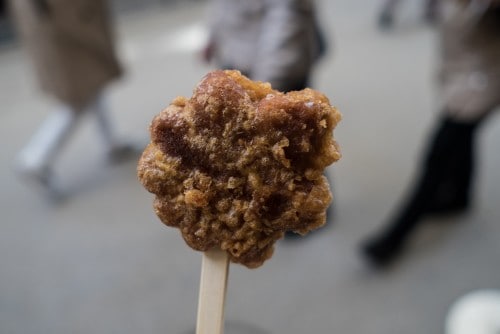 Take a break with a view!
After all the walking I had done around Miyajima, I was in need of a coffee and a short break to sit down and catch my breath. In an alley that curves around behind the Five-storied Pagoda lies Kakiwai (http://kakiwai.jp), a simple and stylish café that serves drinks, small meals as well as jarred preserves. Within the café customers can sit and take in an amazing view from behind the Five-storied Pagoda, where you can see almost as far as Hiroshima City itself. I ordered myself an iced-coffee and relaxed for a little while before moving on to my final destination.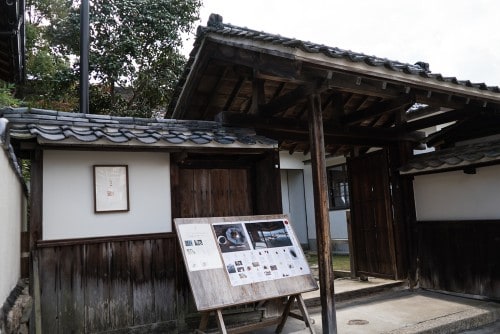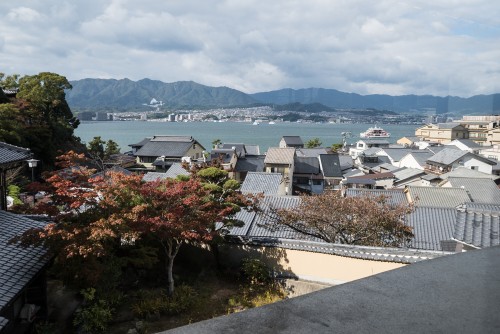 Cultural history more than a thousand years' old
My final destination for the day was Daisho-in, a Shingon Buddhist temple complex located at the base of Mt Misen, which is home to great number of beautiful and intricate structures, including a large traditional gate, temple halls and a variety of statues. Daisho-in was founded more than 1200 years ago, in 806, which makes this possibly the oldest historical site I have ever visited. While over the centuries it has no doubt seen various weather events damage the structures, it is still wholly impressive that the temple grounds continue to be rebuilt and maintained regardless of what it has thrown at it. Daisho-in, along with Mt Misen, is actually considered to be within Itsukushima Shrine's World Heritage Area, and with good reason.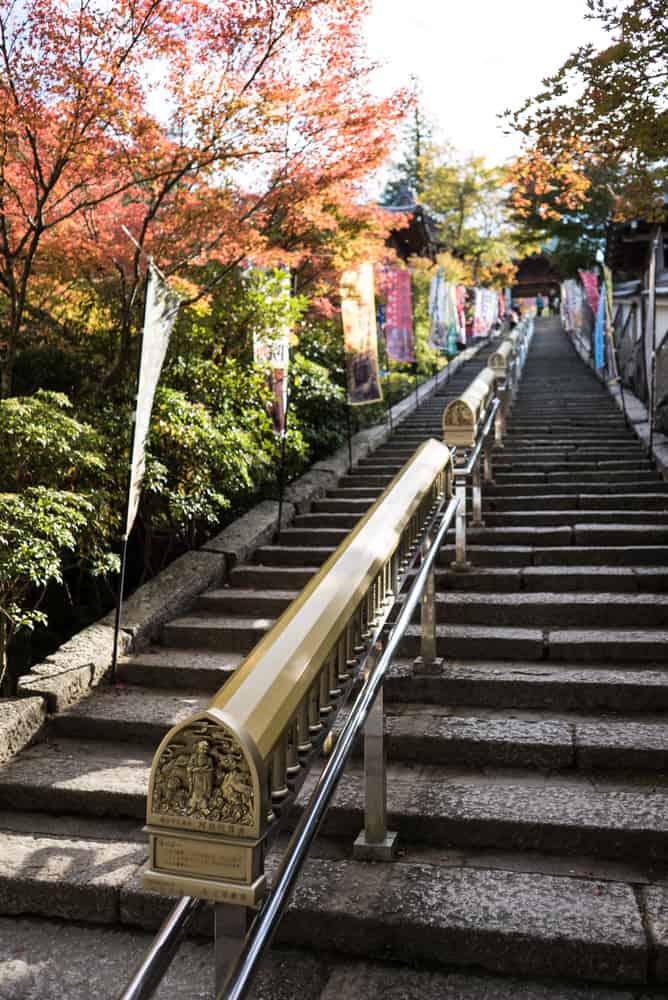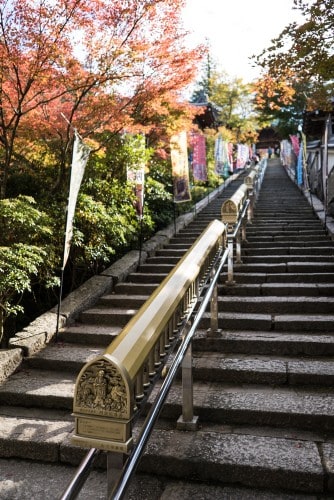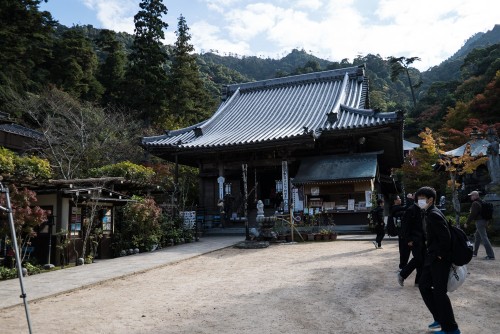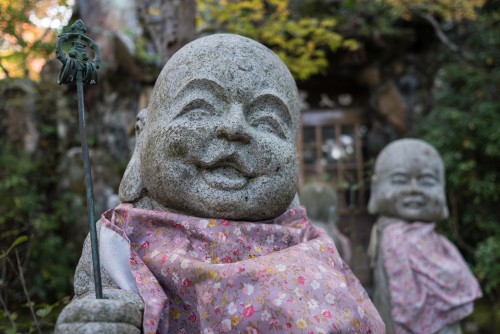 Miyajima remains an incredibly popular destination for foreign visitors and Japanese people alike, as a result of the wide variety of attractions available to them. From the roaming deer to the centuries old Buddhist temples, the fried autumn leaf snacks to the floating torii gate, Miyajima has something to offer just about every open mind. To truly experience this place, you must open your heart and take your time, but you will not be disappointed.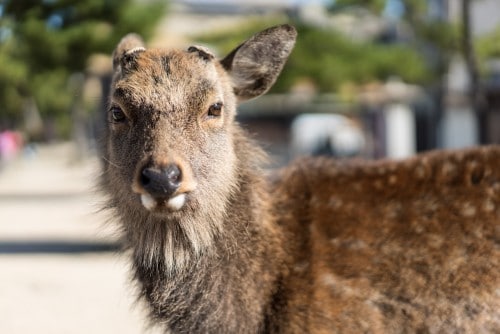 | | |
| --- | --- |
| Name | Itsukushima Shrine |
| Category | Shrine |
| Address | 〒739-0588 Hiroshima-ken, Hatsukaichi-shi, Miyajimachō, 1−1 |
| Access | [map]〒739-0588 Hiroshima-ken, Hatsukaichi-shi, Miyajimachō, 1−1[/map] |
| Opening Hours | 6:30~18:00 |
| Price Range | 300 yen |
| Payment options | Cash |