Sponsored by Tourism Oita
Mick Jagger famously lamented in song, "You can't always get what you want." I wonder if he penned those lyrics with travel photographers in mind. We are constantly constrained by schedules and packed itineraries and when we reach a destination, we are often at the mercy of Mother Nature's whims. So it was the day I went to photograph the majestic Mt. Yufu, which, like an upside-down ostrich, poked its head into the clouds and refused to come out.
Upon hearing about my trip to Oita Prefecture, one of my friends proclaimed it was the most beautiful places he had seen in Japan. Japan is a country of immense beauty, but somehow there is an air of majesty in Oita, where even a simple drive down a country road can suddenly reveal views of splendor as you round a curve. It was, however, early February, when the lush greens that normally characterize Oita were mostly muted gold, the normally full trees were still bare of their warm season leaves. And when the usually brash Mt. Yufu sometimes remained in the clouds all day long.
My guide for the day, Ono-san, maneuvered his van through crowds of tourists along the busiest street in Yufuin. Once a quaint and quiet hot springs area, Yufuin has achieved resort status, with upscale hotels and ryokan, trendy restaurants, and many tourists, primarily from East Asia, visiting year round. Even on this rather cold and dreary looking day, cheerful tourists posed for selfies along the streets, lining up for delicious regional snacks and chatting loudly.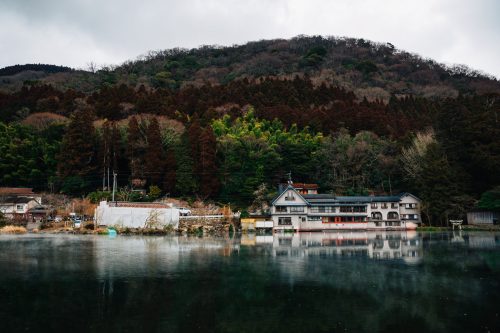 We arrived at Kinrin Lake, a photo destination for tourists and one of the origin of the Oita River that winds its way through the prefecture from here. The lake is actually fed by spring waters, both hot and cold, the former creating a beautiful mist on the water in colder weather. Beyond the lake, pillars of steam from hot spring baths can be seen rising around the city, quite spectacular when viewed from the hills above Yufuin at night.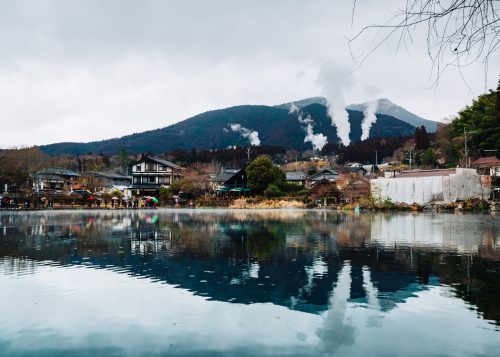 On the far side of the lake, Tenso Shrine marks one of the locations of a spring that feeds the lake (the cold water source). On the opposite side, warm water flows down a small man-made stream behind a tiny mixed gender onsen on the edge of the lake. Slightly farther up the stream, Ono-san shows me the location where a tiny shellfish was discovered that in only found in the wild in this very small section of water flowing into the lake. The city was going to add signage to the location for the sake of tourists, but it was a bad idea that was reconsidered, and now the only sign in the area is just a reminder that the stream is not a toilet.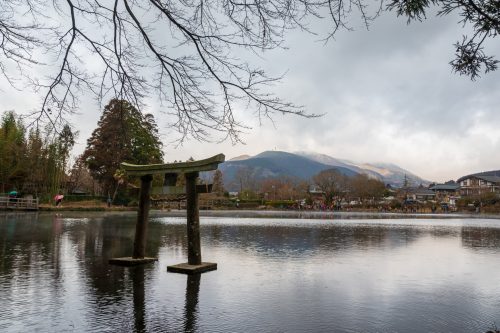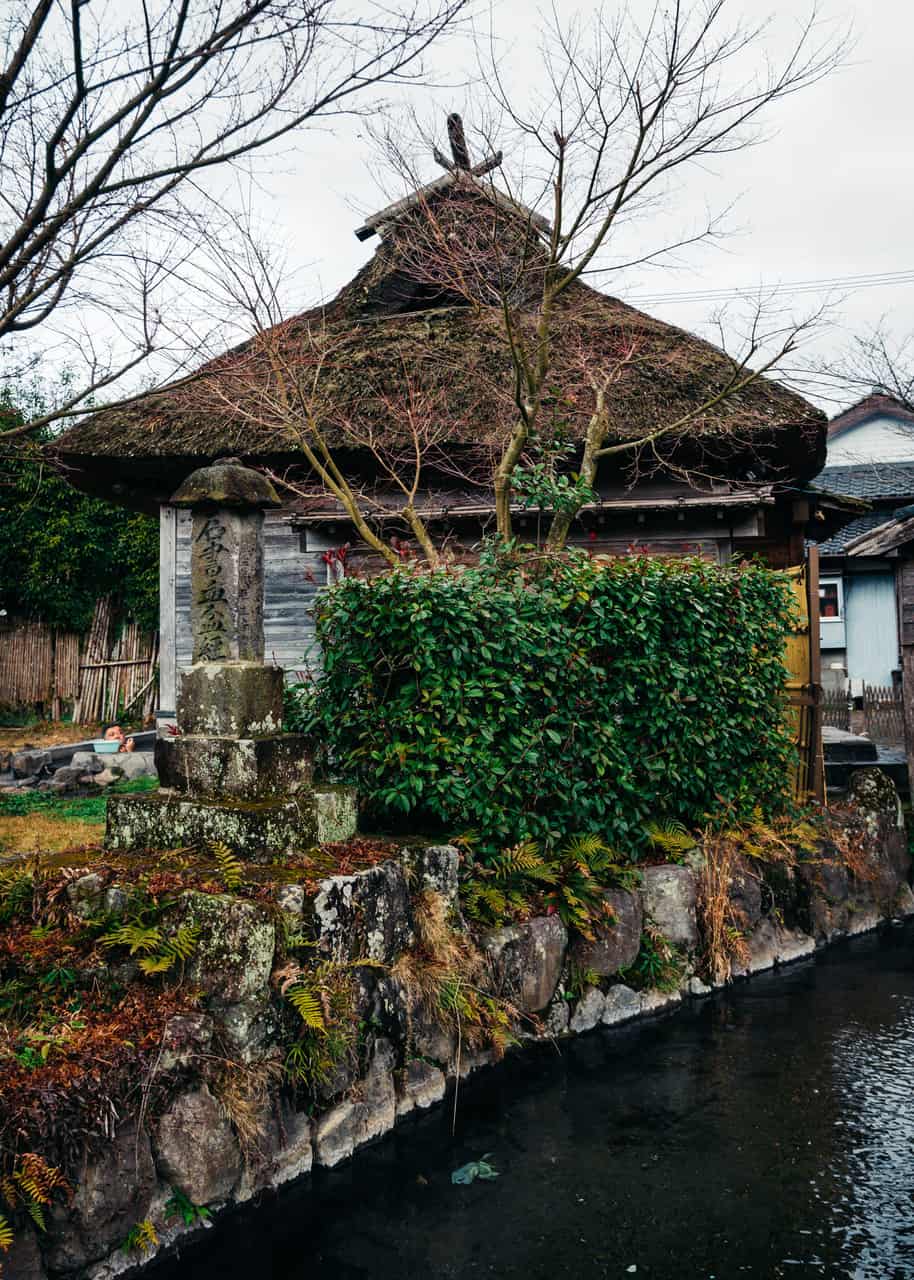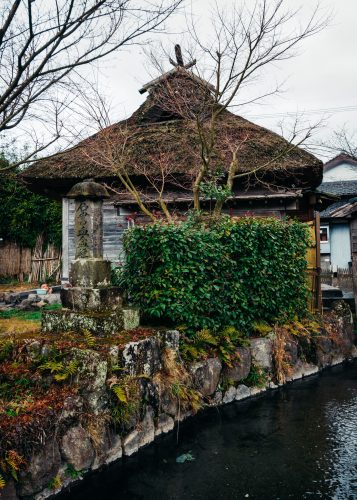 The rain and low clouds didn't completely spoil the scenery at Kinrin Lake, but I'm certain it looks very different during different seasons and times of the day.
Though central Yufuin has been built up to accommodate tourists, there is still plenty of unspoiled beauty and history on the outskirts of the town which are easily accessible by foot. Walk along the roads in the foothills of Yufuin and you may be surprised by what you can discover.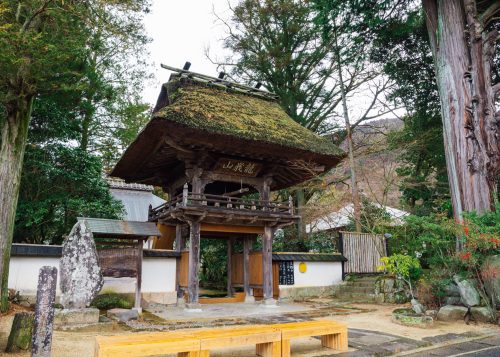 Mt. Yufu – The Gentle Giant
Mt. Yufu rises high above the Oita plains at 1,583.3 meters (5,195 feet) and is easily visible from multiple sides, making it an important landmark in central Oita. Though it is technically a volcano, it has been dormant for at least 2,000 years, unlike several other volcanoes in Kyushu that are still quite active. Its dormant status and relatively easy climb makes it a popular mountain for casual climbers in most seasons. If you wish to try it, allow 3.5 to 5 hours round trip, depending on your physical condition. Pack a lunch to eat at the top while you enjoy the view, and of course plenty of water.
Even driving around the Yufu city area yields some breaktaking views of Mt. Yufu in the right weather conditions. Like Mt. Fuji, it is possible to find locations where you can photograph Mt. Yufu with cherry blossoms in the Spring or autumn leaves in the Fall. Summer brings the brilliant green that Kyushu is famous for, so almost anywhere is going to be spectacular against the clear blue skies.
Ono-san drove us up a narrow road on a hillside opposite Mt. Yufu, popular for photographs with both the mountain and the town below. Looking down, the town was lovely, but looking up…no Yufu. Ono-san apologized for the coyness of the mountain. I just shook my head and laughed to myself, remembering Jagger's words: "You can't always get what you want." But if you try Yufu city, with so much to see and do, you'll find you get what you need.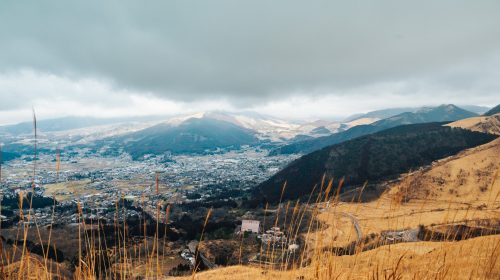 | | |
| --- | --- |
| Name | |
| Category | |
| Address | |
| Access | [map][/map] |
| Opening Hours | |
| Price Range | |
| Payment options | |