Sponsored by Higashisonogi Town.
With views of the deep blue sea of Omura bay and the lush green of the terraced tea plantations, Higashisonogi offers one the most beautiful and unique natural landscapes in Kyushu island. But there is more if you keep looking! Take a drive away from the seaside and into the forested mountains and you will discover another side of Higashisonogi, made of hidden waterfalls and traditional ryokans turned into museums.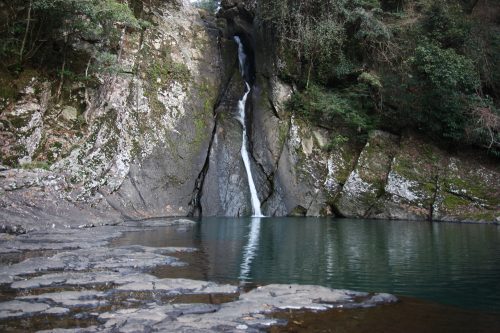 The hidden waterfalls of Higashisonogi
As you drive up the heights of Higashisonogi, the road becomes narrower and the air fresher. Surrounded by immense trees which sunlight barely manages to pierce through, you soon start to hear the soothing sounds of waterfalls in the distance. 48 of them in total can be found around the area, each of them with their own name and meaning behind it.
Although some of them can be seen from the road, the best way to appreciate their beauty is to stop the car and continue exploring by foot. Many family-friendly hiking trails have been installed to easily reach them. And even before reaching the waterfalls, the landscape already feels magical, just like walking in an enchanted forest where rocks are covered in moss and birds watch over you.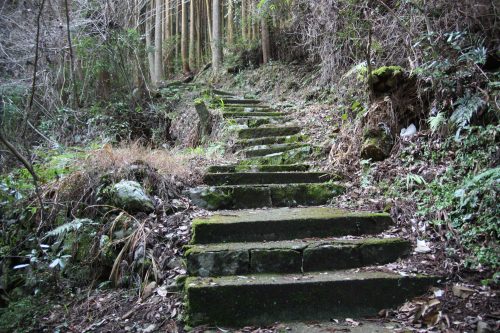 Suddenly, the waterfall you have been hearing all along appears before you! I could only visit 2 of the 48 of them, but each one was an incredible sight: turquoise water surrounded by random rock formations and wrapped in a thick coat of trees.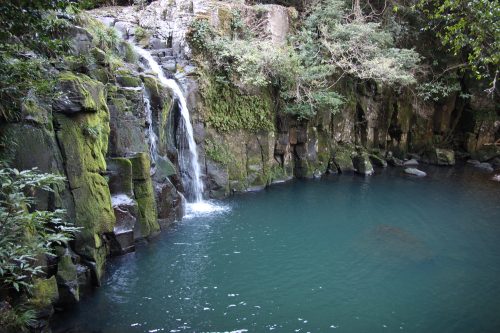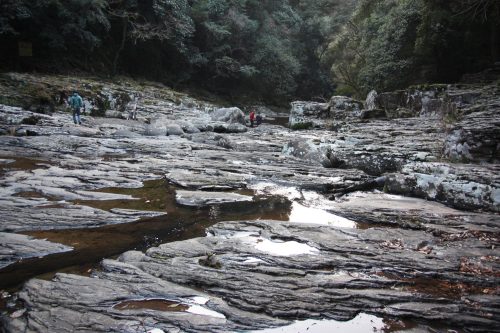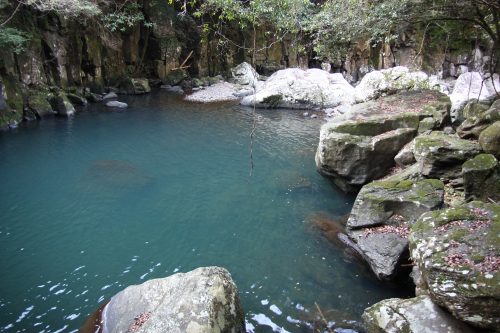 As I was there in the winter, I had the place all to myself, making it seem even more isolated and magical. The ideal spot to soothe your soul immersed in nature.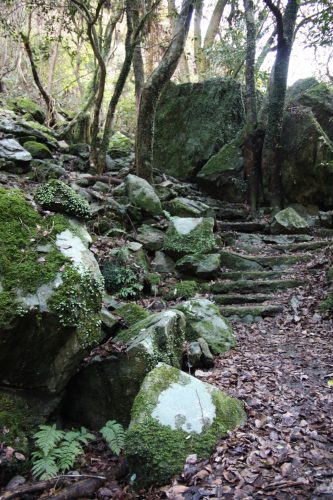 Discovering the Taki No Ue Art Museum
It's no wonder why local artist, Rieko Matsushima, chose this precise location to renovate an old ryokan into an art museum. Perched on top of a hill just above a waterfall, the house truly makes you feel one with nature.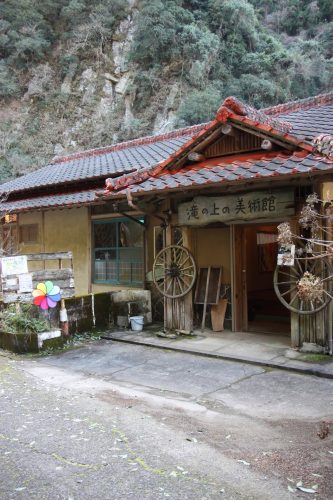 Taki no Ue is lovely place where you will be given a friendly welcome by Rieko who exhibits her artwork there. Pieces of art created with colored pencils that seek to convey the feeling of nature, which is Rieko's main source of inspiration. Her organic and colorful creations can be found all over the house, brightening each one of the rooms.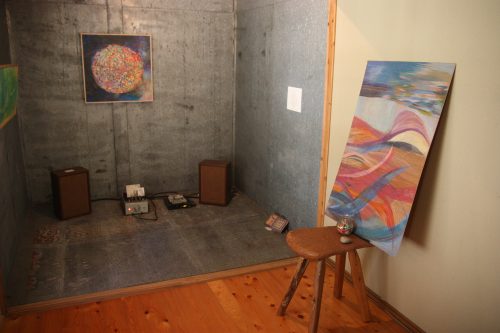 When I visited the museum in January, it was bathed in warm morning sunlight, the best time of the day to visit it according to Rieko.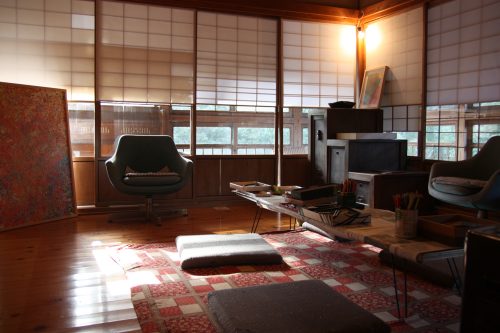 Two sides of the house consist mainly of windows, inviting lots of light and greenery in and creating a breathtaking setting.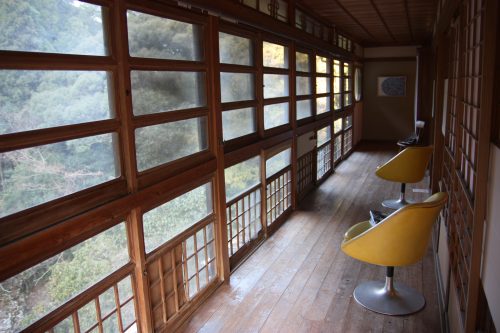 You can simply walk around the house and have a chat with Rieko or, if you are in a creative mood, you can take part in one of her coloring workshops (which you need to book in advance).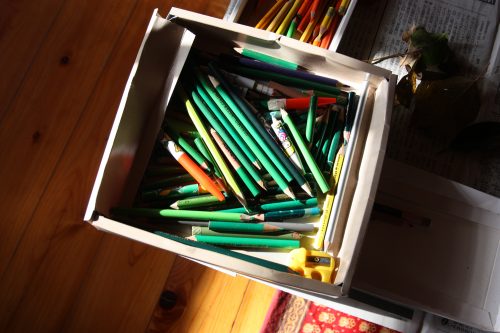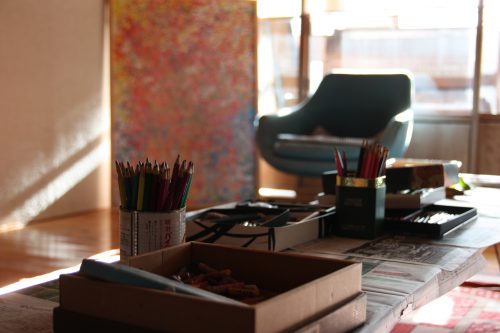 Take a moment to unwind, awake all your senses and get inspired by the nature around you. With a cup of green tea in one hand (we are still in Higashisonogi after all!) and a pencil in the other, you will be able to (re)connect to the child and the artist within.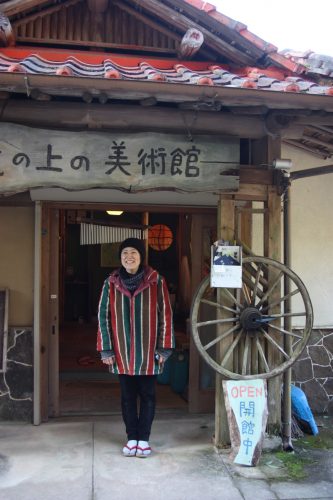 Don't forget to check the museum's Facebook page when visiting the region as some live music events also take place there from time to time.
Going for lunch and coffee into the woods
After hiking around the waterfalls and getting creative at the museum, chances are your belly will be starting to rumble. If you didn't prepare a picnic to enjoy outdoors but don't feel like going back to town just yet, we have two rather atypical places to recommend.
The first one, Ryutosen so, is a family restaurant hidden in the forest (even though it is along the road, you kind of have to know a restaurant is there to stop by) with lots of delicious local food items on the menu.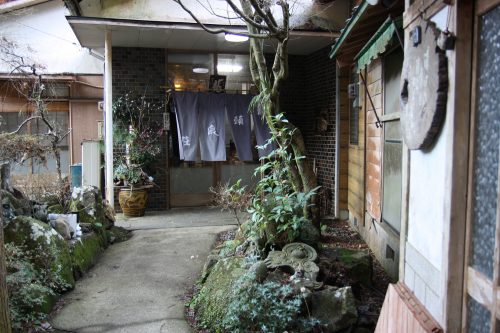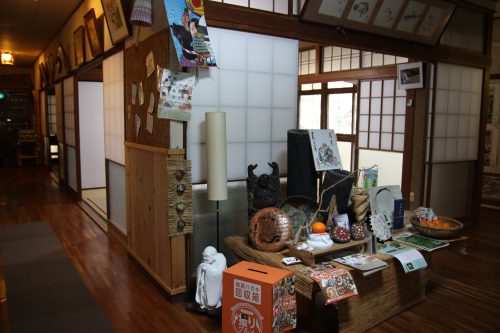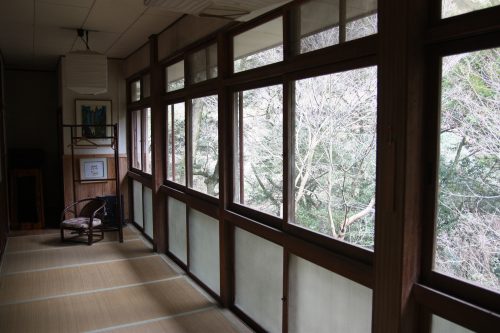 If you go there in the winter like I did, you will be comfortably seated under a kotatsu (a table with a heated blanket to cover your legs). Grilled eel (unagi), fried chicken (karaage), carp, seasonal vegetables tempura… everything is homemade here and everything is delicious.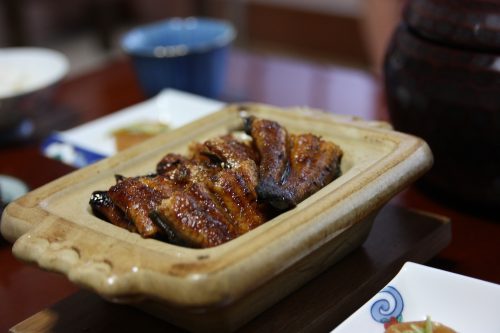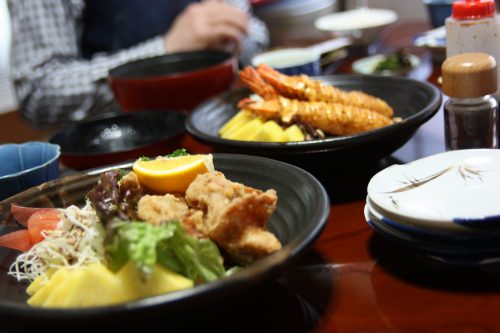 The second hidden spot we recommend you to stop by, Fusui-an café, is the perfect place to cosy up with a warm cup of tea.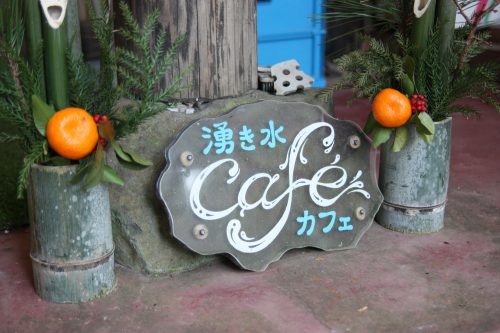 This old house, owned by Akemi Shimakawa, a local lady in her seventies, is absolutely unique and definitely worth visiting!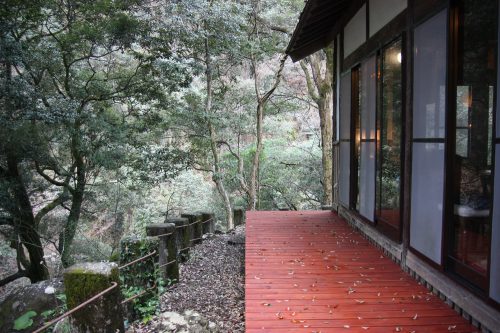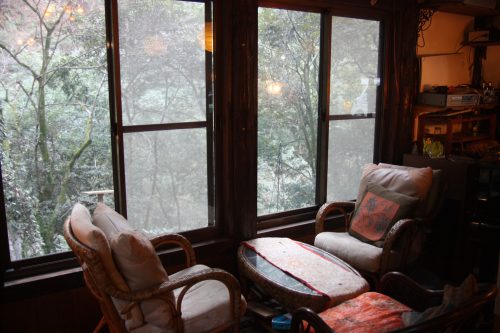 Depending on the season, you can choose to relax in a comfy sofa by the fire indoors, or at one of the tables outside accompanied by the sounds of a nearby waterfall. Akemi takes care of everything here, from getting the wood for the stove to making sure there's always a snack ready for her guests, all the while entertaining her customers. The kind of place where you feel at home more than in any regular café.
Practical information
To find out all the details regarding prices, business hours or booking information about the places mentioned just above, we invite you to check out the clickable map down below. For more information on tourism in Higashisonogi, feel free to browse through their dedicated website.
Higashisonogi might feel like deep rural Japan and yet it is very easily accessible. It will only take 2h30 by train or 1h30 by car to get there from Fukuoka, 30min by train or 1h by car from Sasebo, and 1h by train or 40min by car from Nagasaki. With Nagasaki airport being only 20min away by car, you can easily travel there with a domestic flight (frequent direct flights from Tokyo in just 1h30). Please note however that you will need a rental car to get around the area and explore it fully (available at Nagasaki airport for example).