Greenpia Makinohara (グリンピア牧之原):
Pick your own Matcha in Shizuoka
Shizuoka is widely known as the green tea capital of Japan, responsible for over 40% of Japan's tea. The almost magical beverage boasts many benefits, and it is often touted as a contributor to the longevity and health of the people of Shizuoka.
If you love drinking green tea, why not try picking your own? And what better place to do so than in Shizuoka, the epicenter of green tea? You can experience tea picking in a luscious countryside setting for only 800 yen between the months of April and October at Greenpia, the green tea utopia.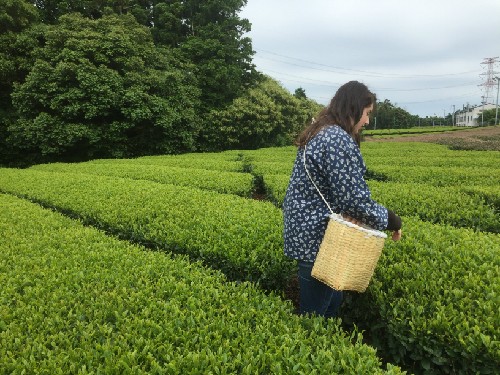 Instructions and Clothing Provided at Greenpia
Greenpia is situated amongst rolling green hills, in the town of Makinohara, east of Hamamatsu. The slower pace of life here is a welcome treat if you've been touring the more tourist-dense areas around Kanto and Kansai.
At Greenpia, traditional tea picking outfits, consisting of cotton hapi coats, bandanas, wicker baskets, and picking gloves are provided free of charge, so you can really get into character! Before you are sent off on your picking adventure, a guide will instruct you on how to properly pick the leaves. The best quality tea is made from the smaller, upper leaves of the green tea bushes. Larger leaves have a stronger and less pleasant taste, so steer clear of them.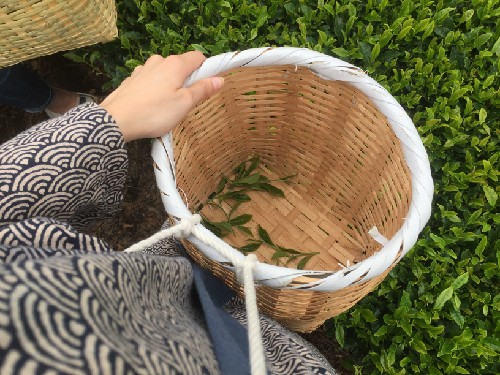 Shizuoka's Greenpia: Take a Tour of the Factory
The picking excursion lasts approximately 20-30 minutes, so pick as much as you can within this time frame. You may find that you can't pick enough to fill your rather large basket, but even a small amount can supply a few cups.
After tea picking, you can also take a brief factory tour to watch how the leaves are dried and prepared for tea-making.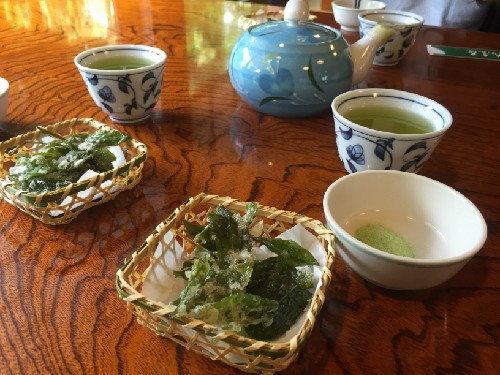 Try the Unique Green Tea Maruobara Restaurant
The on-site restaurant, Maruobara, serves up one-of-a-kind menu items inspired by the beverage. Fare includes a refreshing green tea soba salad, green tea tempura that you can dip in green tea salt, and a variety of green tea desserts amongst other things. Everything is paired with a lovely pot of freshly brewed local tea, of course, and the taste is not too overpowering even for the most sensitive pallets.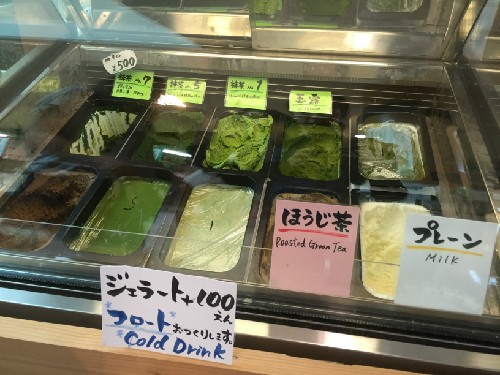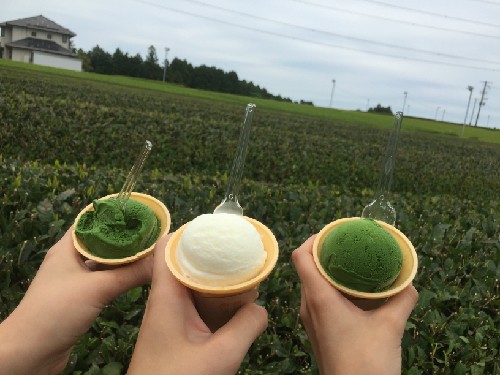 And Of Course. . . The Gift Shop
The expansive gift shop, Ippinkan, is an excellent place to purchase souvenirs, from green tea cola to traditional tea sweets. You can also purchase a scoop or two of matcha, or powdered green tea, ice cream. Enjoy your ice cream in the nearby The House, a beautiful greenhouse turned terrace garden.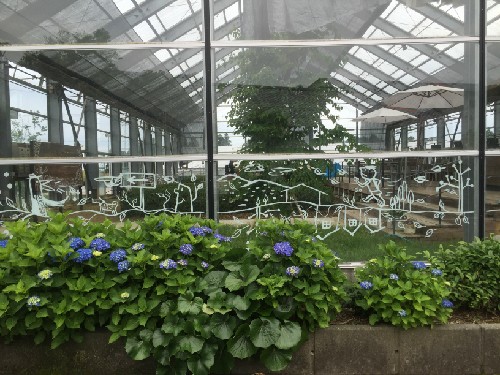 Though a tad out of the way for most, the experience is truly worthwhile if you are looking for something unique to try out. You can reach Greenpia from the Shinkansen accessible Hamamatsu or Kakegawa stations, by taking the JR local train to Kanaya Station. From there, Greenpia is a 20 minute taxi ride away.
Savor your green tea experience!
| | |
| --- | --- |
| Name | Greenpia Makinohara (グリンピア牧之原) |
| Category | factory, restaurant, agritourism |
| Address | 1151 Nishihagima, Makinohara, Shizuoka Prefecture 421-0508 |
| Access | [map]1151 Nishihagima, Makinohara, Shizuoka Prefecture 421-0508[/map] |
| Opening Hours | 10:00~17:00, Restaurant: 11:00~14:30 |
| Price Range | Entry: free, Tea picking (April-Oct only): 800 yen |
| Payment options | Both |