Sponsored by Kyushu Tourism Board.
Kyushu Island, the third largest island in Japan located at the southernmost tip of the four main islands, isn't the closest one to the country's main sightseeing spots, yet, it is definitely worth a visit. With its wild and omnipresent nature, its rich history and culture, friendly and welcoming inhabitants and of course delicious local specialties, Kyushu Island has plenty of treasures to be discovered.
Here is an overview of the top things to see and to do there, followed by all the practical information you may need to get to Kyushu and travel around.
Side note: to find all the practical information related to addresses and attractions below, please go check the clickable map at the end of the article.
Immersing yourself in nature
If I had to talk about just one thing from my trip to Kyushu, it would have to be the beauty of its natural landscapes, which feel both wild and preserved.
Starting your trip from Goto Islands, located off the coast of Nagasaki. With their dense and untouched vegetation, a steep coastline and isolated creeks, it almost feels like they are abandoned. Islands keeping a mystical atmosphere on hazy rainy days, and a paradisiac feel on a hot summer days.
And I cannot mention Kyushu's incredible nature without talking about Aso-Kuju National Park! Mostly famous for the impressive Mt. Aso, the largest active volcano in Japan, the Kuju mountain range is also worth the trip. It is the ideal destination for hiking, nature and even wine enthusiasts!
To take a break in nature closer to Fukuoka City, you can experiment the olle hiking concept in the small town of Kawara or discover the surprising and fascinating forest of centuries old pine trees facing the sea in Karatsu.
Experiencing an authentic Japan
A trip to Kyushu is also a wonderful opportunity to get a taste of what Japan was like in olden times, with quite a few remnants of the past to be discovered throughout the island.
To discover a small town which is still organized in the way of the Edo Period, keeping its traditional charm, go to Kitsuki in Oita Prefecture. There, you will get to visit former samurai residences and take a stroll in the very well-preserved streets all the while wearing kimono!
If arts and crafts is your thing, then take a trip to Arita, the birthplace of Japanese porcelain. A town with a unique history that you will be able to feel at every street corner, pushing on the doors of the many shops and potters' workshops.
In Nagasaki, take the time to discover Dejima, where the former houses and warehouses of Dutch merchants – the only ones who were allowed to trade with Japan until the end of the 19th century – are being renovated.
As for the former mining town of Iizuka, you will discover a theater dating back to the 1920's, with a unique architecture, inspired by the kabuki theaters and with backstage rooms that are filled with treasures from another time.
Discovering unique spiritual and religious places
In Fukuoka Prefecture, it isn't only the shrine on top of Mt. Hiko considered as a sacred place, but the mountain as a whole. Once you have reached its summit, by foot or monorail cable car, you will discover a beautiful shrine, slightly mysterious atmosphere, among centenary trees and a few peaceful carps.
And if after spending some time in Japan you will not be surprised to come across so many beautiful temples and shrines, it is rather remarkable to spot so many churches as well! Head to Nagasaki and Goto Islands to see for yourself the hidden Christian sites of the region, some of which have recently been designated as Unesco's World Heritage Sites. Made of wood, red bricks, hidden in a dense vegetation… the churches of Nagasaki and Goto and their history are unique and absolutely worth visiting.
Tasting the local specialties
Every time I am about to visit a new region of Japan, one of the first things that I have to mention is the local food! It is true that Japan abounds with delicious local specialties, no matter the prefecture, Kyushu definitely has what it takes to satisfy gourmands and gourmets.
Starting with the famous Saga Beef. Well, I say "famous," but chances are you have mostly heard of its cousin, Kobe Beef, to which it has nothing to envy! Head over to one of the many teppanyaki-style restaurants in the prefecture to taste this tender and melting meat, cooked to perfection right before your astonished eyes.
As for seafood specialties (we are on an island after all!), you will be able to enjoy a delicious local dish made with fresh sea bream and green tea – a dish that was already enjoyed by the lords of Kitsuki, in Oita Prefecture, several centuries ago: tai chazuke Ureshino.
For a quick and filling option, let yourself be tempted by tonkotsu ramen and its rich broth in Fukuoka, or by a bowl of soft udon noodles, a specialty of the Goto Islands.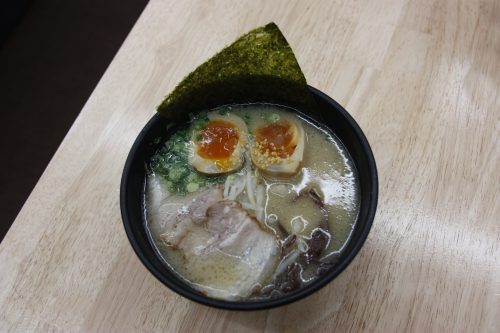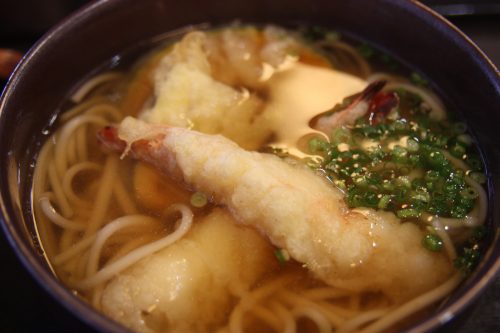 To pair with all that, you will get to try local sake, or more surprisingly, some wine produced in the Aso-Kuju National Park!
In a nutshell
And finally, one of the last things that will make your trip to Kyushu a memorable one is definitely the welcoming and kind locals who, despite the language barrier, will be thrilled to help you discover their region.
English is not widely spoken here in comparison to cities such as Tokyo or Osaka, but you will always find brochures in English (sometimes in other languages too) in most of the sightseeing spots.
In a nutshell, there is so much to discover on Kyushu island (I only cover a fraction of it here and I already have so much to talk about!) and it is 100% worth taking the time to travel there.
Getting to Kyushu
Let us now talk about transportation! Kyushu is not usually picked as a destination for a first trip to Japan, mainly because of its geographic location. The travel needs to be prepared and can take some time depending on where you are coming from. Fukuoka remains the best served city of the island, as well as the best hub starting your trip in Kyushu. Here is an overview of the several ways to reach the city from three of the main touristic cities in Japan: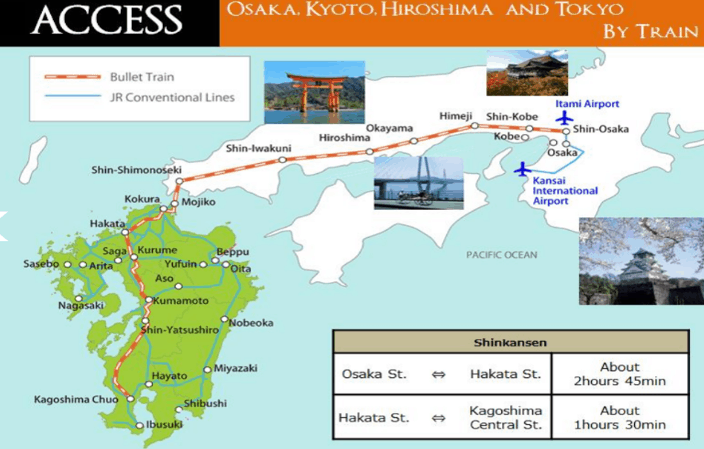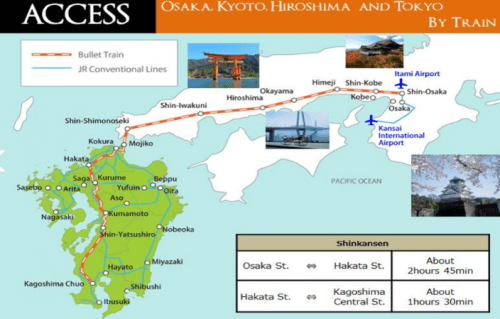 From Tokyo: 5 hours by Shinkansen and 1 hour 55 minutes by plane
From Osaka: 2 hours 45 minutes by Shinkansen and 1 hour 20 minutes by plane
From Hiroshima: Fukuoka and Hiroshima are practically neighbors and you will only need about an hour by Shinkansen
Once in Fukuoka, traveling by train to the various cities of the neighboring prefectures will be relatively quick and easy.
Fukuoka/Saga: 40 minutes by train from Hakata Station
Fukuoka/Nagasaki: 2 hours by train from Hakata Station
Fukuoka/Oita: 1 hour 18 minutes by train from Kokura Station
Please note that all seven prefectures in Kyushu hold an international airport and each city can be reached by plane from Japan's main touristic cities, and each airport offers international flights to Asian airports such as Seoul, Shanghai, Taiwan and Hong Kong:
Saga: 2 hours by plane from Tokyo
Nagasaki: 1 hour 50 minutes by plane from Tokyo, 1 hour 15 minutes from Osaka
Oita: 1 hour 35 minutes by plane from Tokyo, 1 hour from Osaka
Traveling with Finnair and the Japan Explorer Pass
Domestic flights are not the only ones to serve Kyushu, with an international airline company such as Finnair offering direct flights from Helsinki to Fukuoka. A travel route available from late spring to early fall (from April 26th to October 26th in 2018) which connects Europe to Kyushu in 10 hours 25 minutes.
More information and bookings at the following link.
Please note that for all visitors traveling to Japan with an airline company that is a member of One World Alliance (such as Finnair), you will benefit from Japan Airlines' Japan Explorer Pass. This pass will allow you to travel within Japan thanks to the company's many domestic flights, at an attractive rate (ranging from 5,400 yen to 10,800 yen depending on the destination).
You can find all information on the Japan Explorer pass at the following link.
Traveling with the JR Kyushu Rail Pass
If you plan to travel a lot by train within the island, know that there is a specific JR Pass dedicated to this part of Japan: the JR Kyushu Rail Pass. Available for all travelers (not a residential one in Japan), it can be purchased in different formats, depending on your itinerary:
All Kyushu: 3 day pass = 15,000 yen, 5 day pass = 18,000 yen
North of Kyushu: 3 day pass = 8,500 yen, 5 day pass = 10,000 yen
South of Kyushu: 3 day pass = 7,000 yen (no 5 day pass)
A 3 day pass will allow you to take the train 10 times, instead of 16 times with the 5 day pass. It can be booked online and then picked up in one of Kyushu's main stations, or you can get it via a travel agency.
The little extra? Depending on the trip and the train line chosen, you will get to travel aboard unique local trains, such as the A-Train and its vintage bar, connecting Kumamoto to Misumi, or the Aso Boy to travel to, you guessed it, Mt Aso.
All practical information can be found right here.
Between the Japan Explorer Pass offered by JAL and the JR Kyushu Rail Pass, several options are made available for you to explore Kyushu at attractive prices and best match your travel itinerary compared to the more traditional JR Pass.
Rent a car
And finally, a few words on renting a car which can be one of the most convenient ways to explore Kyushu Island at your own pace. If the island's main cities are very well accessible by public transportation, those of you who would like to go deep into the countryside or mountain ranges might prefer to rent a car.
You can find all the information about driving in Kyushu (where to rent a car, the driving rules, the administrative procedures…) at the following link.