There is a lot to discover in the Kanto region around Japan's capital Tokyo, and it can be hard to decide where to go with so many possible destinations in mind, especially when your time is limited. If you take the train every day, traveling can get quite expensive, particularly if you want to go on day trips a little further away. Here it is worthwhile to use one of the numerous train passes. This article will give you travel tips for day trips from Tokyo with the JR Tokyo Wide Pass.
How does the JR Tokyo Wide Pass work?
The JR Tokyo Wide Pass is a train ticket valid for three consecutive days and can be purchased by anyone with a non-Japanese passport. It can be used by foreign tourists as well as foreign residents in Japan. For 10,180 yen, you can travel around a large area surrounding Tokyo using special express trains. Especially if you want to cover longer distances, the pass is valuable to save money. Plus, traveling by train in Japan is much more fun!
You can purchase the pass either online in advance or after you arrive in Japan at the Japan Railway Travel Service Center. If you're looking to travel further into the Kanto region, here is further information about where you can go on the JR Tokyo Wide Pass.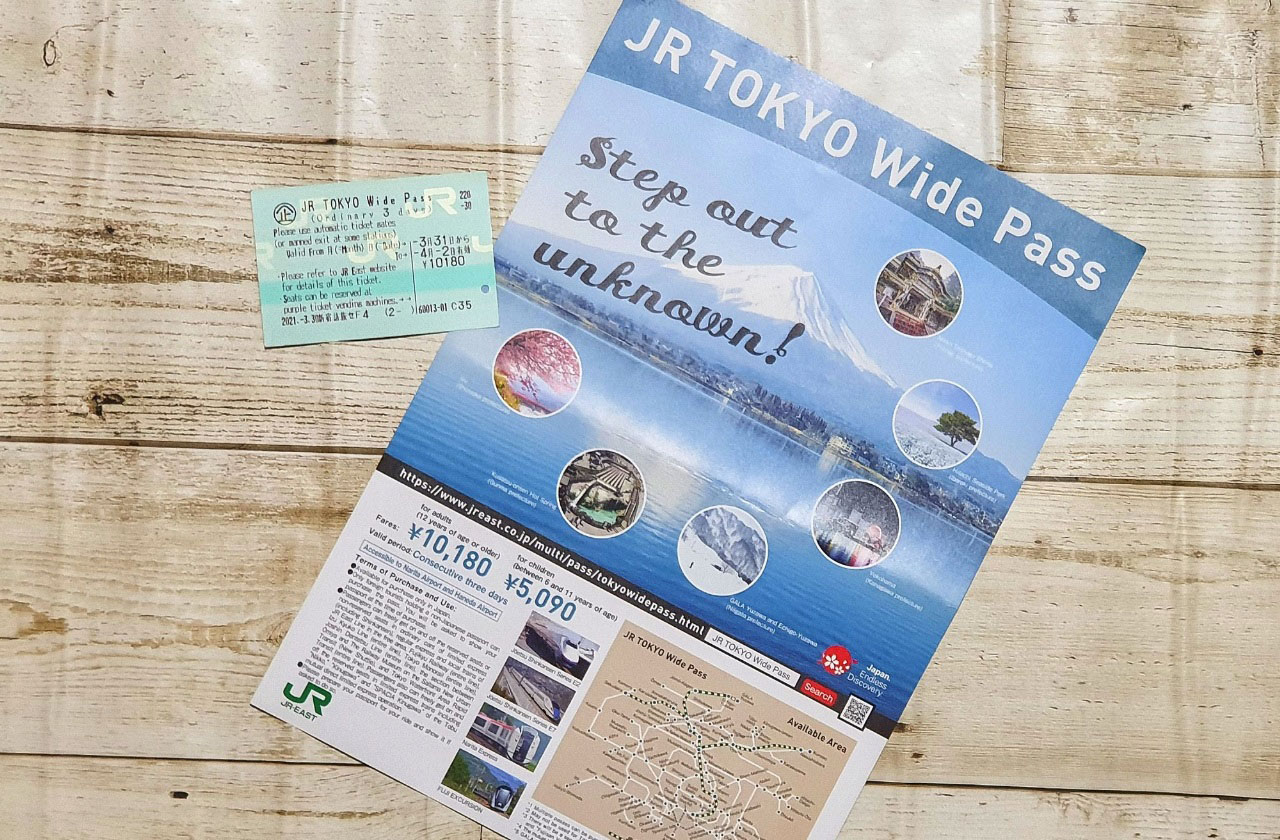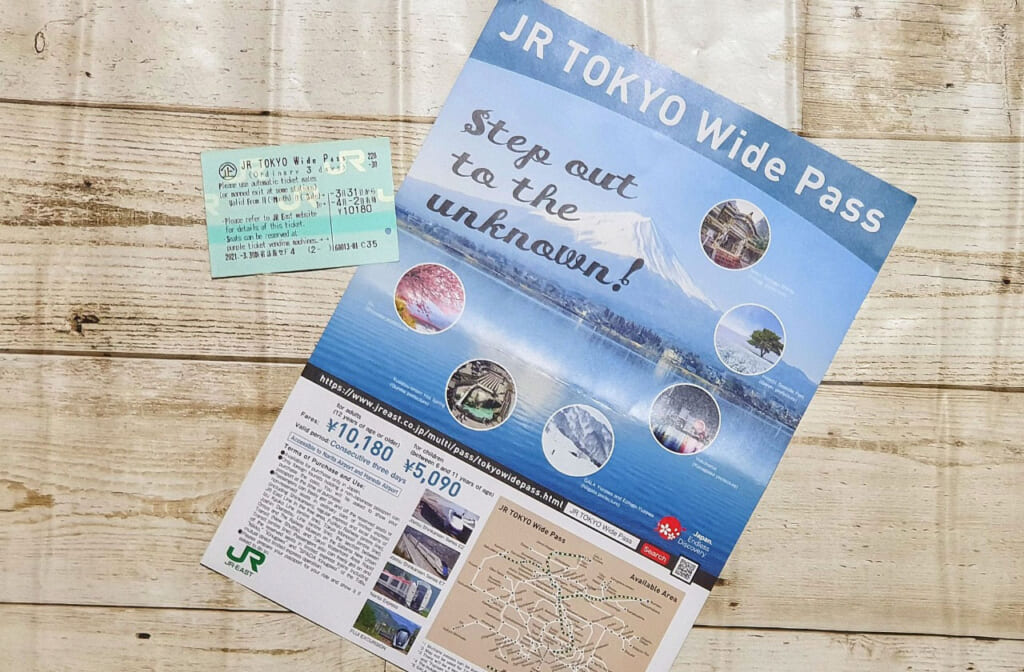 Day Trips from Tokyo on the JR Tokyo Wide Pass
There are tons of places you can travel to with the JR Tokyo Wide Pass in the Kanto region. We make Tokyo our starting point, as Japan's capital is mostly chosen as accommodation by tourists. Even if the train pass is only valid for three days, if you want to visit even more places, you can buy another pass with a new validity period.

In addition to the traveling times to each location, I'll share the regular costs for the individual train journeys without the JR Tokyo Wide Pass (or another train pass) to decide whether the pass is worthwhile for your planned travel route.
Top Destinations Around Mount Fuji
A popular destination is Japan's highest mountain, Mount Fuji. With the JR Tokyo Wide Pass, you can travel to Lake Kawaguchiko (河口湖), from where you have a wonderful view of Mount Fuji on a clear day. But also a stop at the Arakura Fuji Sengen Shrine (新倉富士浅間神社) — get off at Shimoyoshida station — won't be difficult either. There you can see Mount Fuji together with the famous Chureito Pagoda (忠霊塔). For fans of roller coasters, the pass is ideal for a visit to the FujiQ Highland, an amusement park with many attractions. In addition, Kawaguchiko and Mt. Fuji Station are good starting points for exploring the wider area by bus or rental car.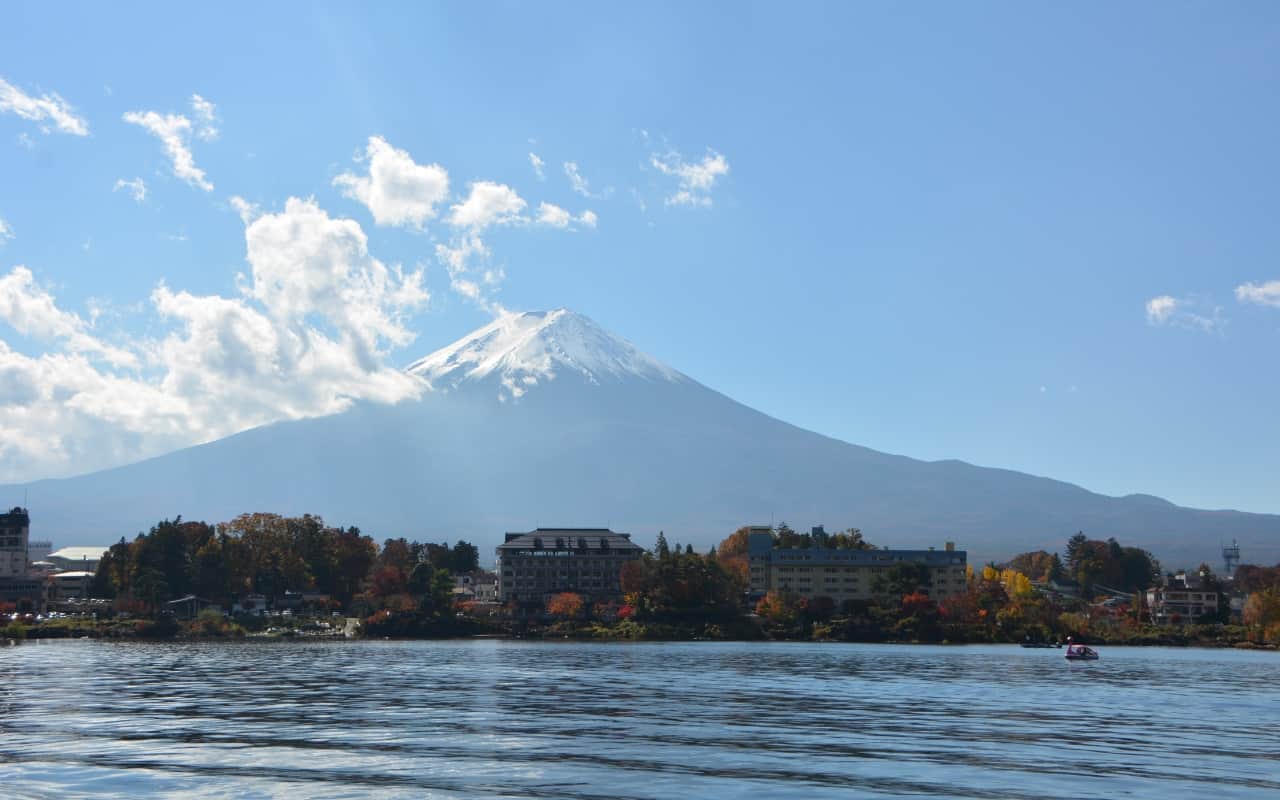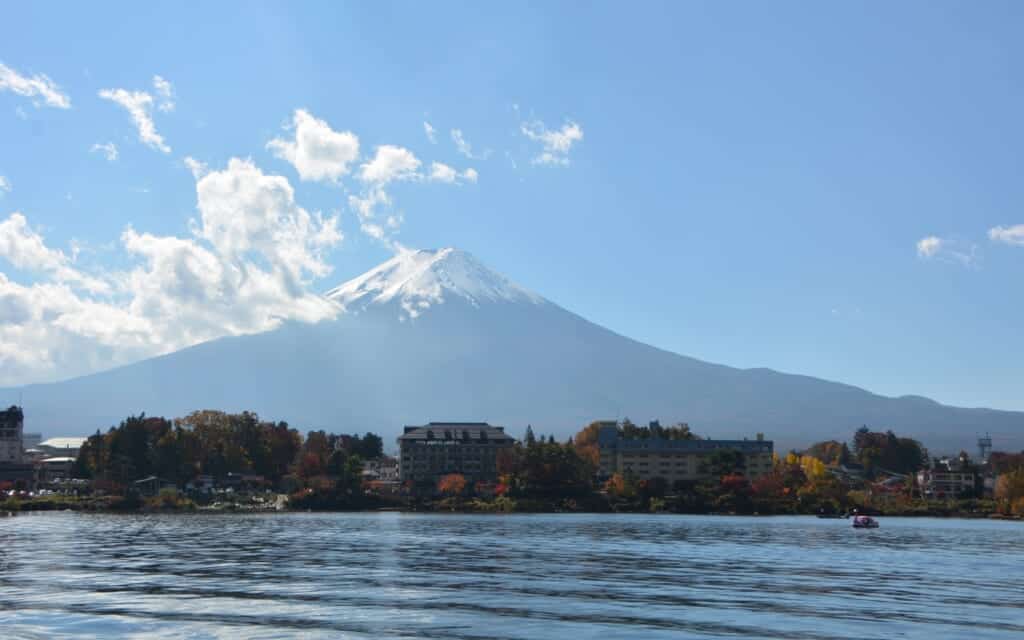 The train ride from Shinjuku to Kawaguchiko Station takes under two hours on the Fuji-Excursion Limited Express and costs 4,130 yen one way. Note that this special train only runs three times a day in each direction and it is better to make a seat reservation (free with the JR Tokyo Wide Pass). Otherwise, you can also use the regular trains, which require a little more time and are usually connected with transfers between trains.
What to Do in Nikko and the Surrounding Area
Nikko is another popular destination from Tokyo. There you will find the famous Toshogu Shrine (東照宮) with the mausoleum of Ieyasu Tokugawa, but also some other beautiful temples and shrines. The area offers great hiking trails with waterfalls and gorges. The JR Tokyo Wide Pass furthermore gives you access to Kinugawa Onsen Station, a hot spring resort. From there you can also visit the miniature theme park Tobu World Square and the Edo Wonderland Nikko Edomura, which allows you to travel back in time to ancient Japan.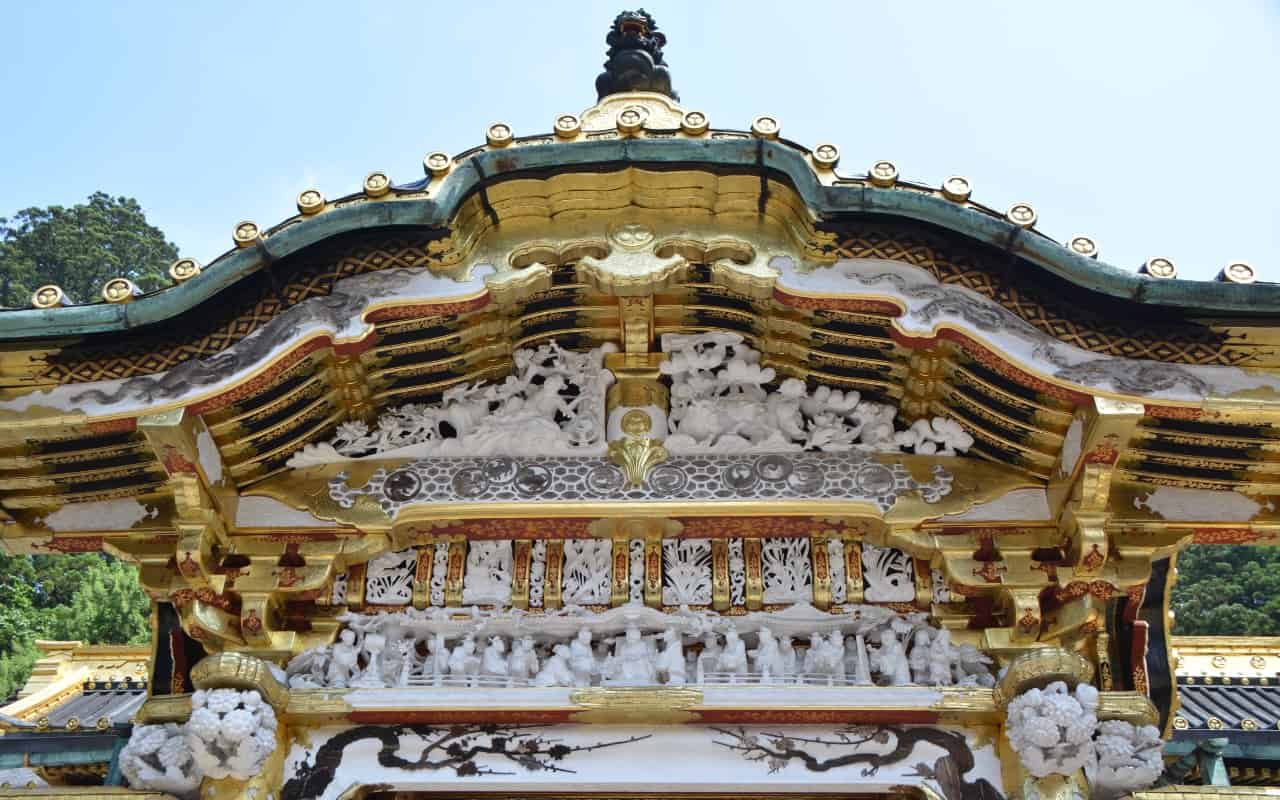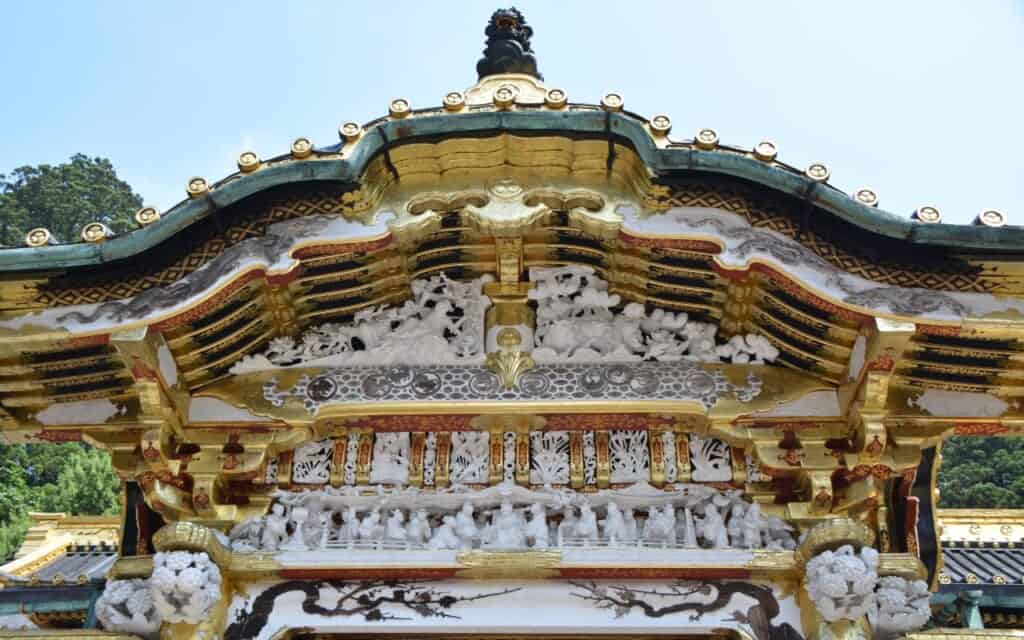 Thanks to a cooperation with the Tobu Railway, you can use the JR Tokyo Wide Pass on the direct limited express that connects Shinjuku Station with Tobu Nikko Station. The single trip takes two hours and costs 4,080 yen. A seat reservation is required here. Alternatively, you can also use the Shinkansen to Utsunomiya and continue from there with the JR Nikko Line. Here the travel costs per route are around 5,000 yen.
Visit Izu Peninsula on the JR Tokyo Wide Pass
The JR Tokyo Wide Pass gives you the opportunity to explore the eastern part of the Izu Peninsula (伊豆半島) in Shizuoka Prefecture because you can use the Izukyu Railway with it. One of the first stops in this area is Atami (熱海), which has an onsen, a beautiful harbor area, and a tourist castle with a cable car connection. Located further along the train route is Ito Onsen (伊東温泉), another place known as a very popular onsen resort. Just a little way down is Jogasaki Kaigan (城ヶ崎海岸), a stony coastal area with bridges and lighthouses that is ideal for hiking.

The southernmost station on the Izukyu Railway is Shimoda (下田). This place is of historical importance because in 1854 Commodore Perry forced Japan to open the port which ended the 200-year isolation policy of Japan. You can still find monuments of it in Shimoda today.

In spring, I recommend a stop in Kawazu (河津) to see the early cherry blossoms. Over 8,000 cherry trees are in bloom there, mostly between the beginning of February and the beginning of March (depending on the weather of the year), and attract countless visitors.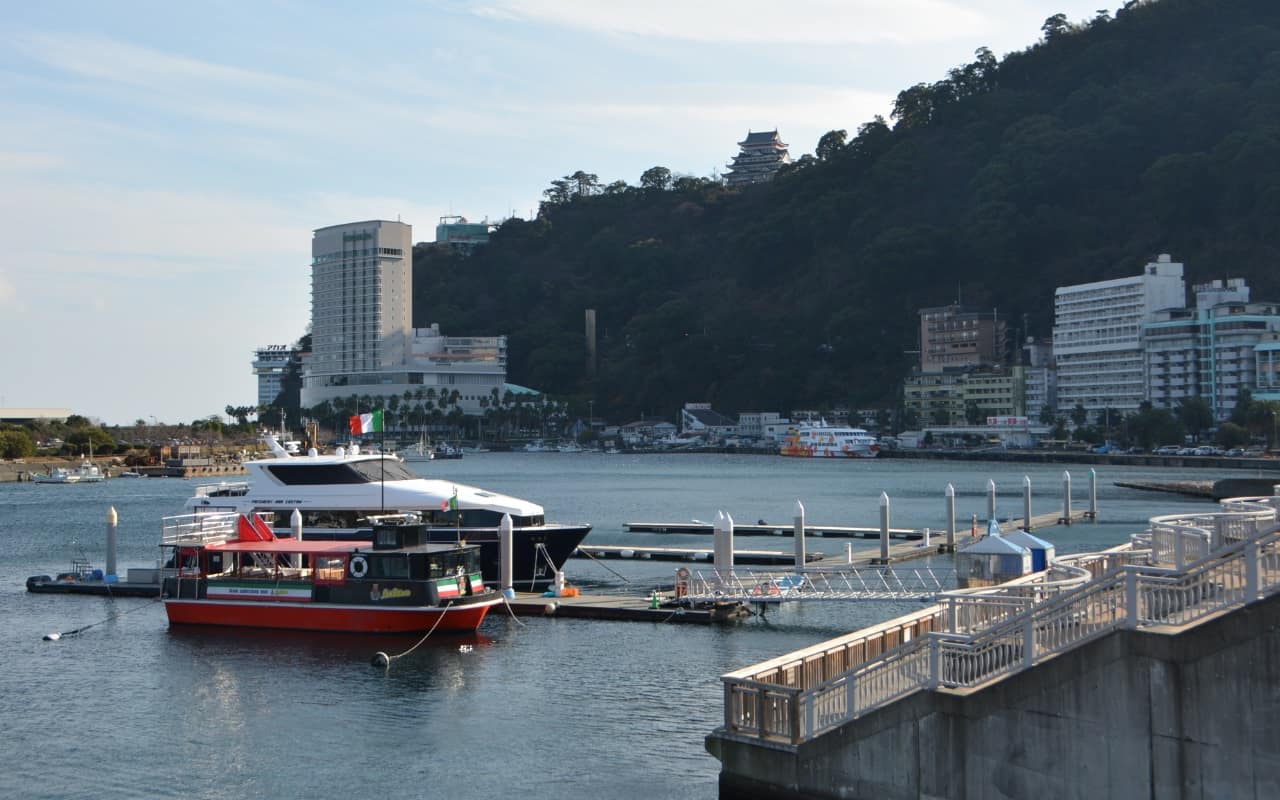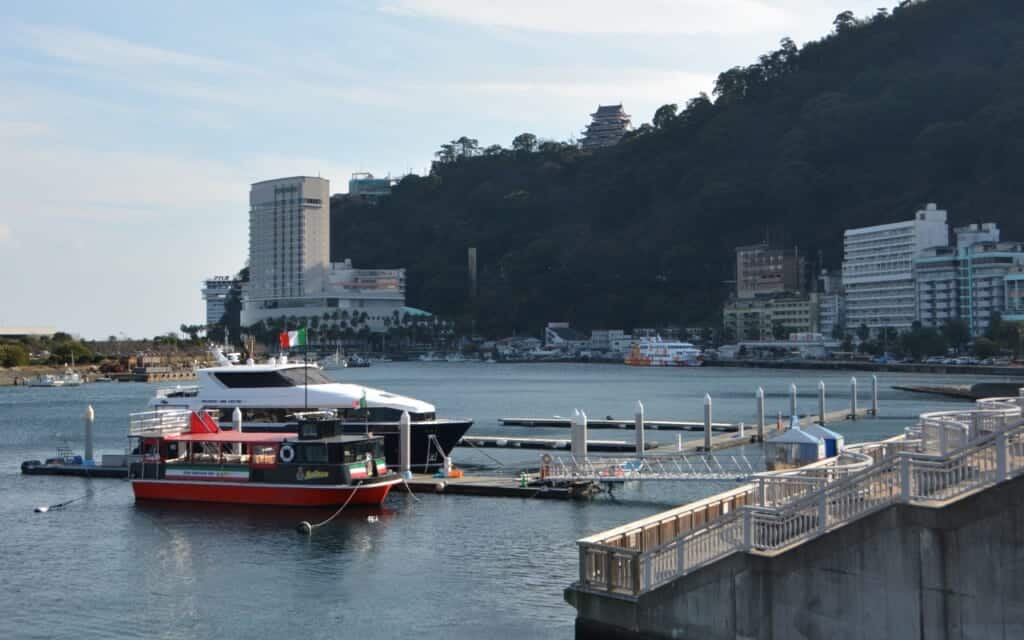 To get to the Izu Peninsula, some JR trains run from the capital region to Atami. You can't use the Shinkansen in this direction with the JR Tokyo Wide Pass. From Atami, you can use the Izukyu Railway, which does not belong to the Japan Railway but is included in the pass.

There is also the Limited Express Odoriko, which runs between Shimoda and Tokyo and can be used with the pass (take care that this does not include the special Saphir Odoriko express train). With the Odoriko train, journeys from Tokyo Station to Atami take around 80 minutes (3,560 yen for the single route), to Ito Onsen around 100 minutes (3,890 yen), and to Izukyu Shimoda around 170 minutes (6,060 yen). So if you're traveling from Tokyo to Shimoda and back, you can take advantage of the value of the JR Tokyo Wide Pass.
Things to See in Ibaraki Prefecture on the JR Tokyo Wide Pass
Ibaraki Prefecture is often neglected by many tourists; there are so many other places to discover in Japan. However, this area is also worth a visit! The Hitachi Seaside Park (国営ひたち海浜公園) in particular is a great experience in different seasons. You can get there by bus from Katsuta train station (approx. 15 minutes). In the city of Mito, you can find the Kairakuen Garden (海楽園), one of the five most beautiful gardens in Japan, which is best known for its plum blossom in spring.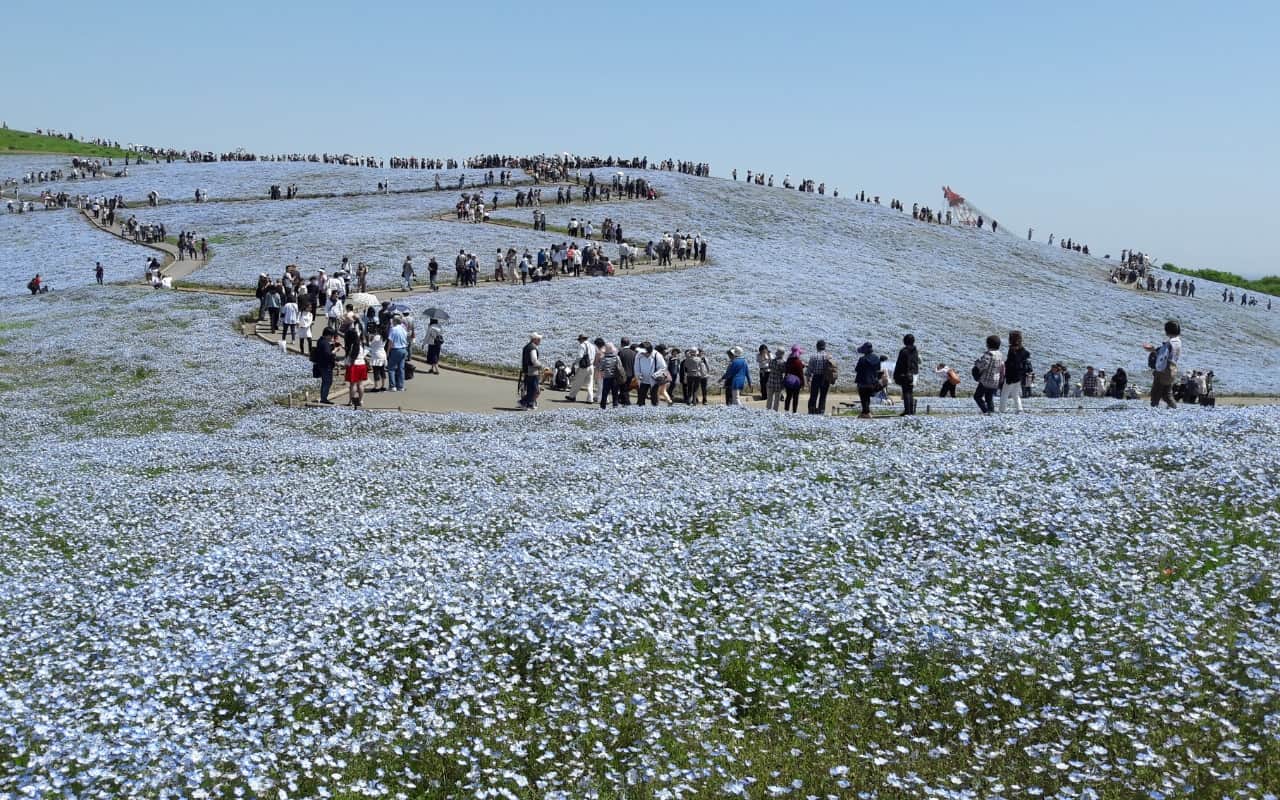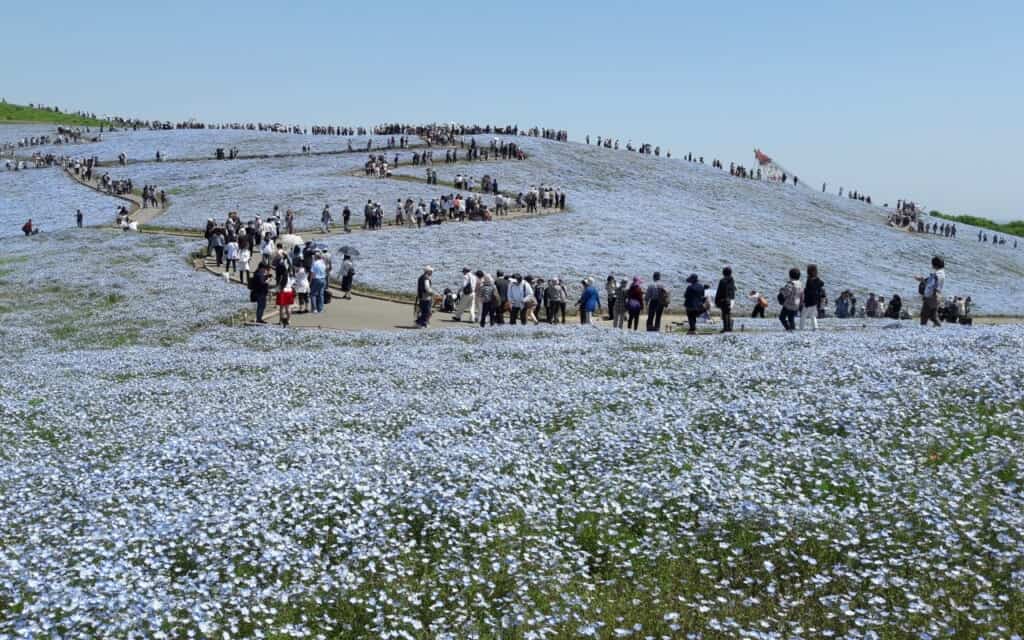 Mito Station is connected to Japan's capital by the Hitachi and Tokiwa Limited Express trains (connected to Tokyo, Ueno, and Shinagawa station). The journey takes about 70 minutes and costs 3,890 yen one way. Katsuta Station is just one station away from Mito on the JR Joban Line.
Boso Peninsula in Chiba Prefecture
The Boso Peninsula (房総半島) is located east of Tokyo in Chiba Prefecture. Above all, it has beautiful beaches, which is why it is very popular as a holiday destination in summer. In good weather, you can even see Mount Fuji on the other side of the sea from some beaches. Aside from swimming, you can also visit Nokogiriyama (鋸山) Mountain, where you can visit the Nihon-ji Temple (日本寺) with large Buddha statues made of stone. The coastal town of Tateyama (館山) also offers some attractions, such as Tateyama Castle and the connection to the Boso Flower Line, a coastal road with flower parks, and more.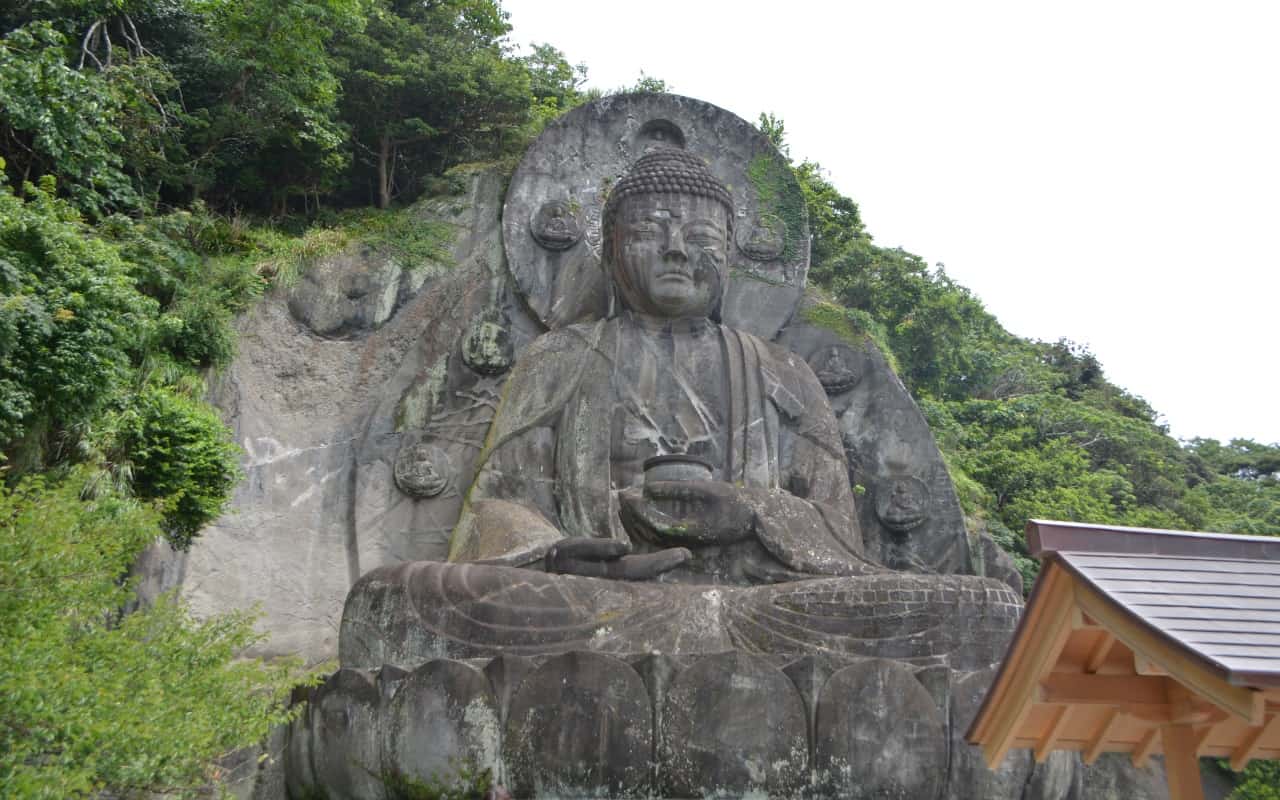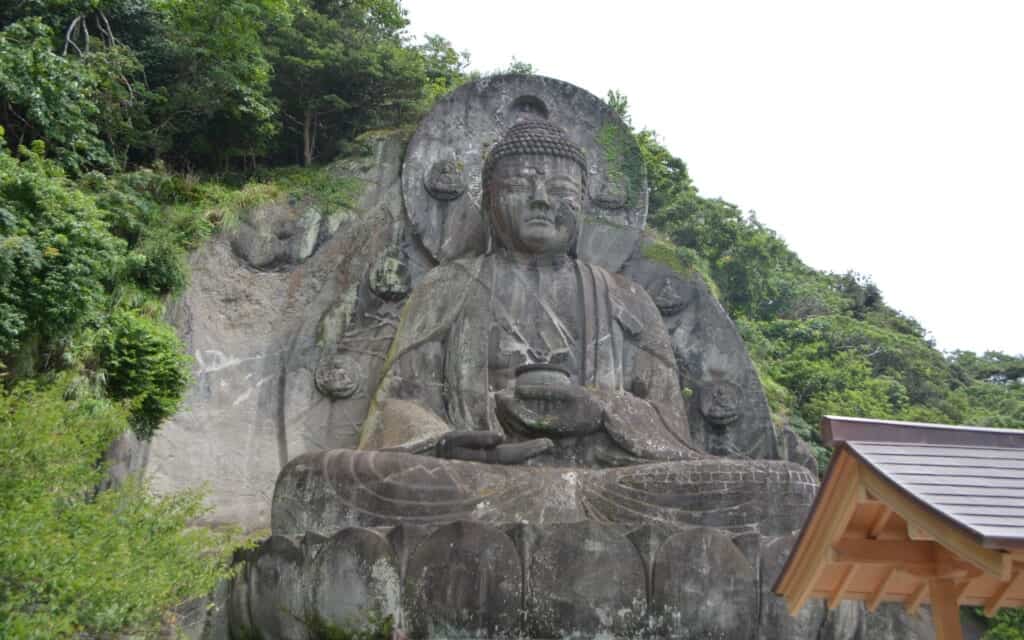 There are several JR trains from Tokyo Station that run along the coast of the Boso Peninsula. For example, for visiting Nihon-ji Temple, it takes about 2 hours to get to Hamakanaya Station and costs 1,980 yen. It's about 2.5 hours to Tateyama and costs between 2,310 yen and 4,400 yen, depending on whether you use special express trains or not.
Day Trips to Narita and Sawara City
When you hear Narita, many people think of the international airport straight away. However, the city of Narita in Chiba Prefecture has a lot more to offer for a great day trip from Tokyo. One of the main attractions in the city is the temple complex Narita-san (成田山新勝寺), which is very extensive and houses many different buildings. You can stroll along the old shopping street and try the eel that is famous there.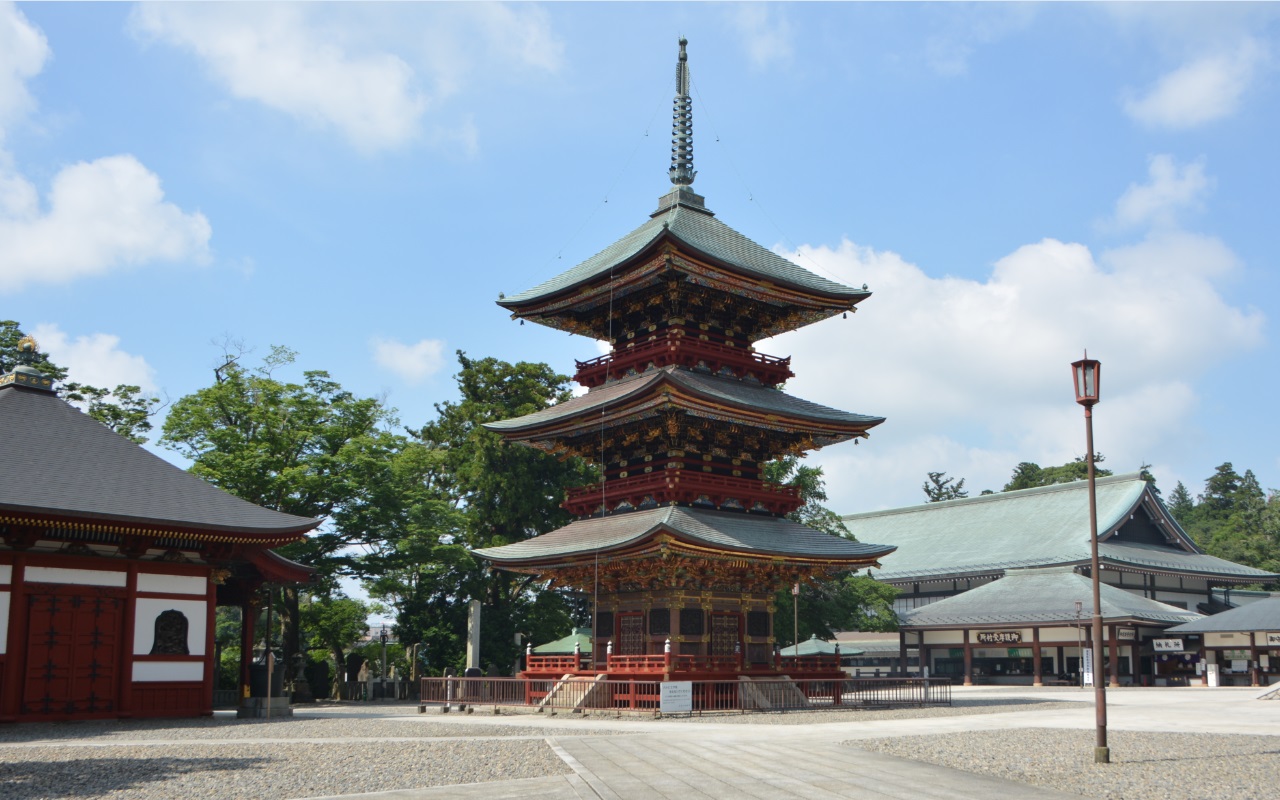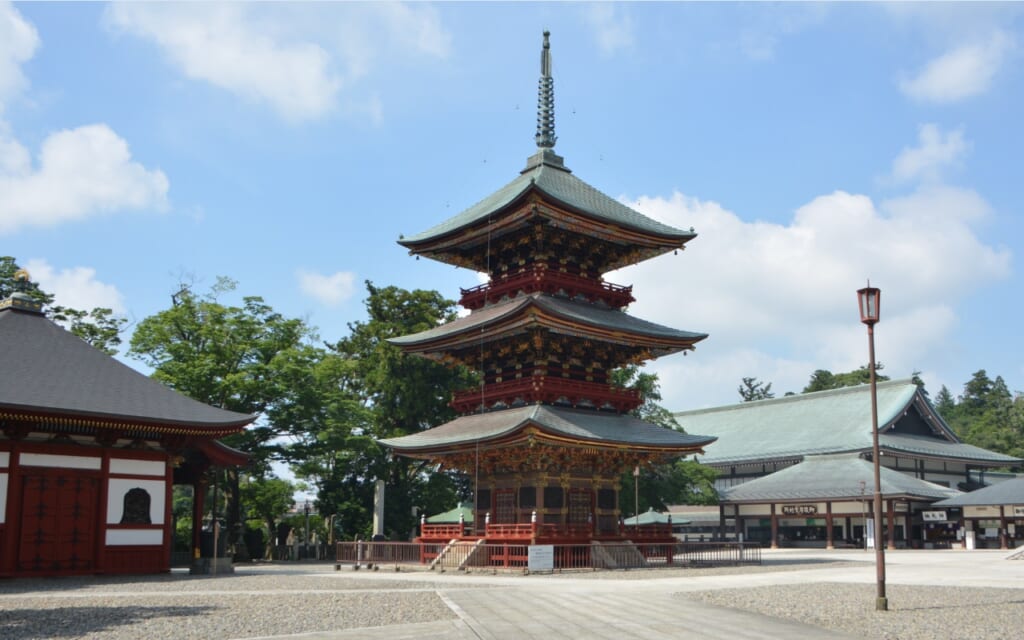 In addition, Sawara (佐原) is only about 30 minutes by train from Narita. The place impresses with its canal roads, on which you can take a boat tour, and admire the architectural style of the Edo era that lines the waterways.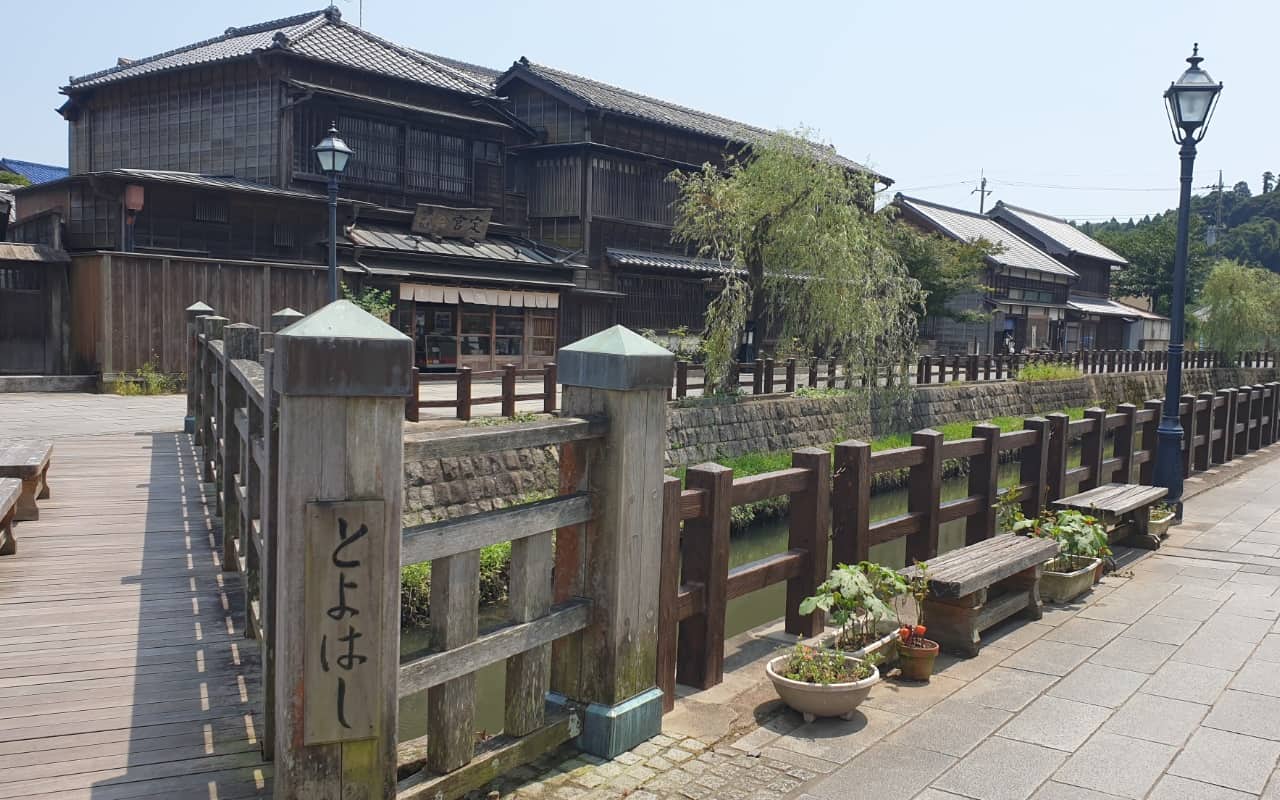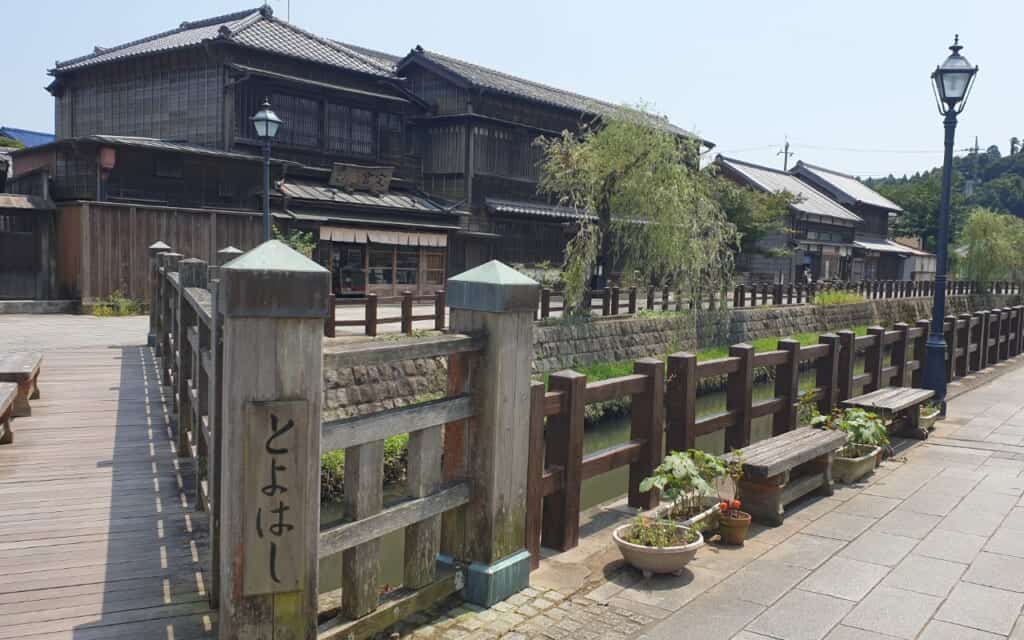 Since the JR Tokyo Wide Pass does not contain any special express trains for the journey to Narita, the costs here are not that expensive. From Shinjuku Station, the one-way ticket to Narita costs only 1,340 yen and takes about an hour and a half. Nevertheless, a day trip is worthwhile and you can cover 2,680 yen with it. The single trip to Sawara costs another 510 yen, which you can save thanks to the JR connection.
Day Trips to Kusatsu Onsen in Gunma Prefecture
Gunma Prefecture is home to many of the onsen resorts in the Kanto region. One of the most famous onsen locations is Kusatsu Onsen (草津温泉). There you will find a large water field called Yubatake, which is also illuminated at night. You can watch Yumomi, a performance in which women in traditional costumes cool off the hot water, and of course, you can relax in one of the hot springs. There are a few places that you can visit as day guests, but it is advisable to spend a night in one of the onsen hotels, also due to the long journey to get to Kusatsu.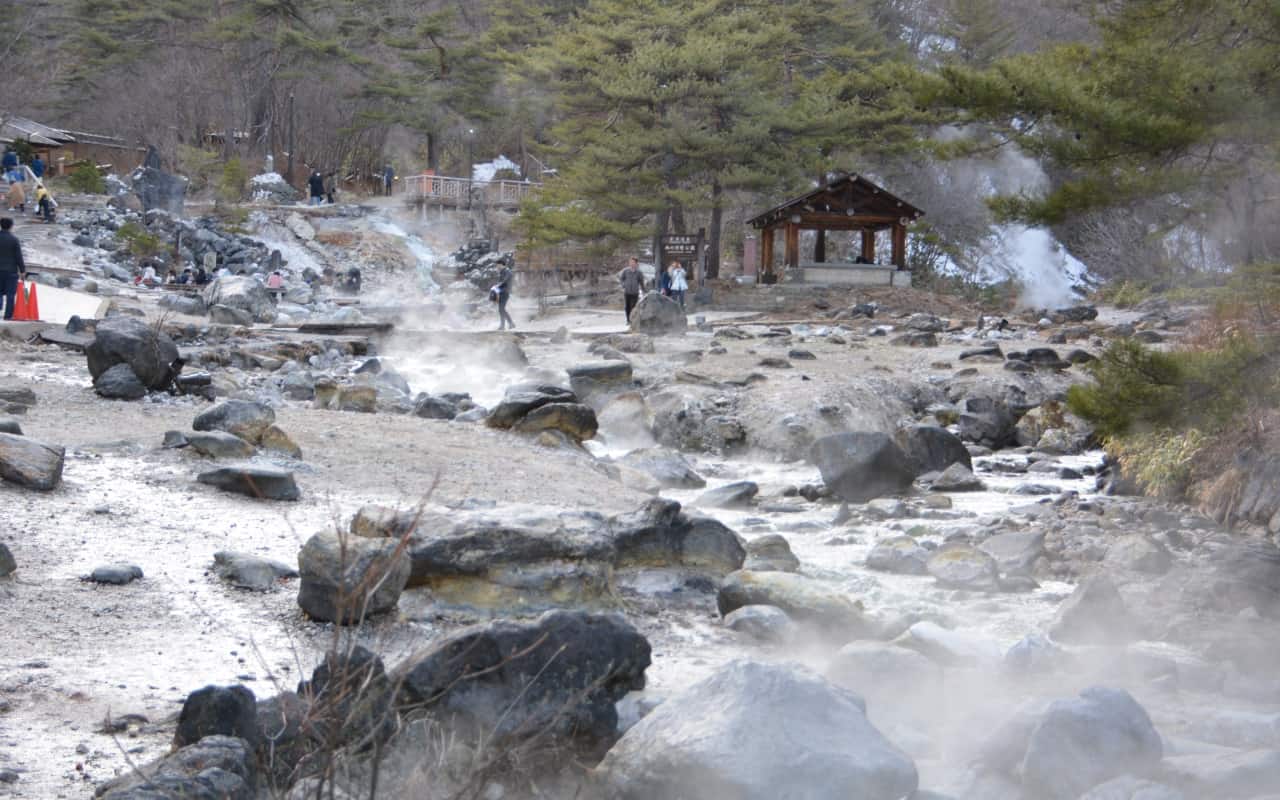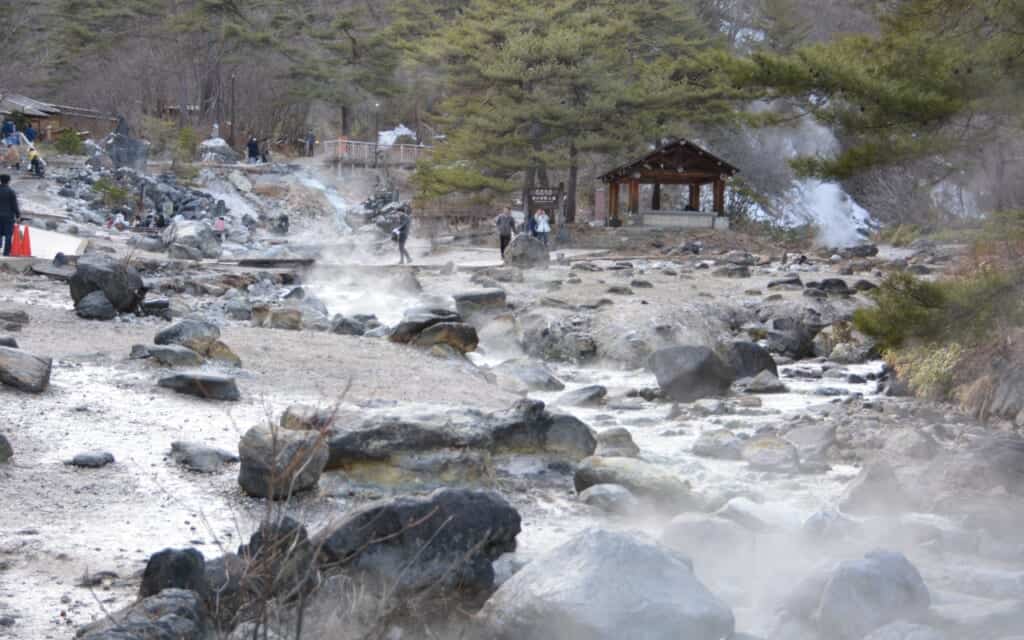 There are several ways to get to Kusatsu Onsen. For example, there is an express train from Ueno Station that goes directly to Naganohara-Kusatsuguchi Station, but only 2-3 times a day. The trip takes about 2.5 hours and costs 5,570 yen. You can also take the Shinkansen to Takasaki from Tokyo Station or Ueno Station, and from there take the JR trains. You only need about 10-15 additional minutes and the single trip costs 6,320 yen. From Naganohara-Kusatsuguchi Station, you can continue by bus to Kusatsu Onsen. Unfortunately, this is not included in the JR Tokyo Wide Pass and you have to pay the 710 yen for the 30-minute bus ride to the onsen location.
More Destinations and Trip Ideas on the JR Tokyo Wide Pass
These are just a few of the day trip destinations from Tokyo that you can visit with the JR Tokyo Wide Pass, and there are many more. Excursions to Karuizawa, Utsunomiya, and Takasaki and, in winter, to the Gala Yuzawa ski resort are also worthwhile to take advantage of the value of the pass.

You can also use the pass in Tokyo itself to take the JR trains to different locations. Keep in mind that train rides inside the city center are not too expensive and the pass for 10,180 yen is only worthwhile if you take longer trips outside the city during the three valid days. If you plan to spend a day within Tokyo's city limits, you may want to combine your visit with further destinations on the remaining two days.
The same goes for day trips to places not too far from Tokyo, such as Yokohama, Kamakura, Odawara, and Kawagoe. The JR Tokyo Wide Pass covers journeys with the JR trains to these places, but since the costs are not too high, you may want to combine these with trips to 1-2 of the destinations listed above to take advantage of the train pass.
As you can see, there are numerous ways to use the JR Tokyo Wide Pass that you can't do all in three days. So you can get the pass again and again and go on new adventure trips. I wish you a lot of fun traveling and exploring the Kanto region with it.