Sponsored by Tourism Oita
Pottery towns dot the entirety of the Japanese archipelago, but Onta, a 300 year-old mountainside village in Kyushu's Oita Prefecture, stands apart from many of its peers. In the 1930s, Onta became an epicenter for Mingei, an influential Japanese arts and crafts movement. Mingei opposed the elevation of art that is ornate and gaudy, instead celebrating everyday art objects. Influenced by Bernard Howell Leach, a British craft potter who expatriated to Japan, the movement argued that artistic beauty lies in the work of ordinary artisans and craftsmen.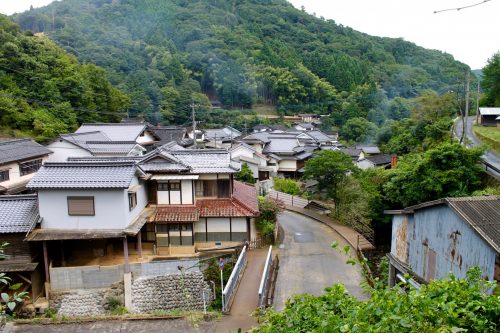 Ontayaki (pottery made in the family-run kilns of the Onta district) was considered an embodiment of this artistic philosophy. For generations, Onta's potters had been making simple household goods, including plates, cups, bowls and platters. After examining the precision and care with which the town's artisans created this everyday dishware, and identifying the village's signature geometric designs, the intellectuals of the Mingei movement labeled Ontayaki an exemplar of Japanese ceramic arts. Today, many of Onta's kilns are still in operation and the village is open to visitors. On a walking tour through town you'll have the opportunity to meet the ten families that operate Ontayaki kilns and observe them at work. You can can even stop at the village's historical museum.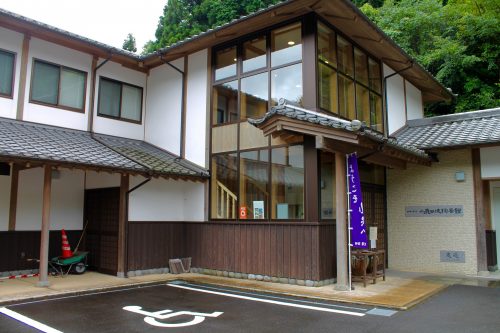 Most accessible by car, Ontayaki is a 20-minute drive from Hita Station in Western Oita Prefecture. There are also public buses that run sporadically from the station. It is best to begin your tour at the town's cultural center and museum. Most displays in the museum on Mingei and the history of Ontayaki are in Japanese. Even if you don't speak the language, a short documentary is screened regularly that communicates Onta's essential history and ceramic methods through visuals.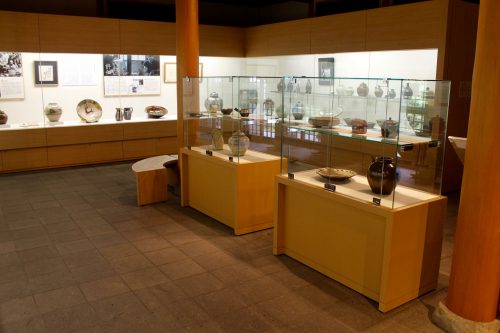 The museum also functions as an exhibition, displaying some of Onta's finest pottery and showcasing its signature glazing and chattering techniques. After establishing an understanding of Ontayaki fundamentals, you'll be ready to fully appreciate the town's kilns and workshops.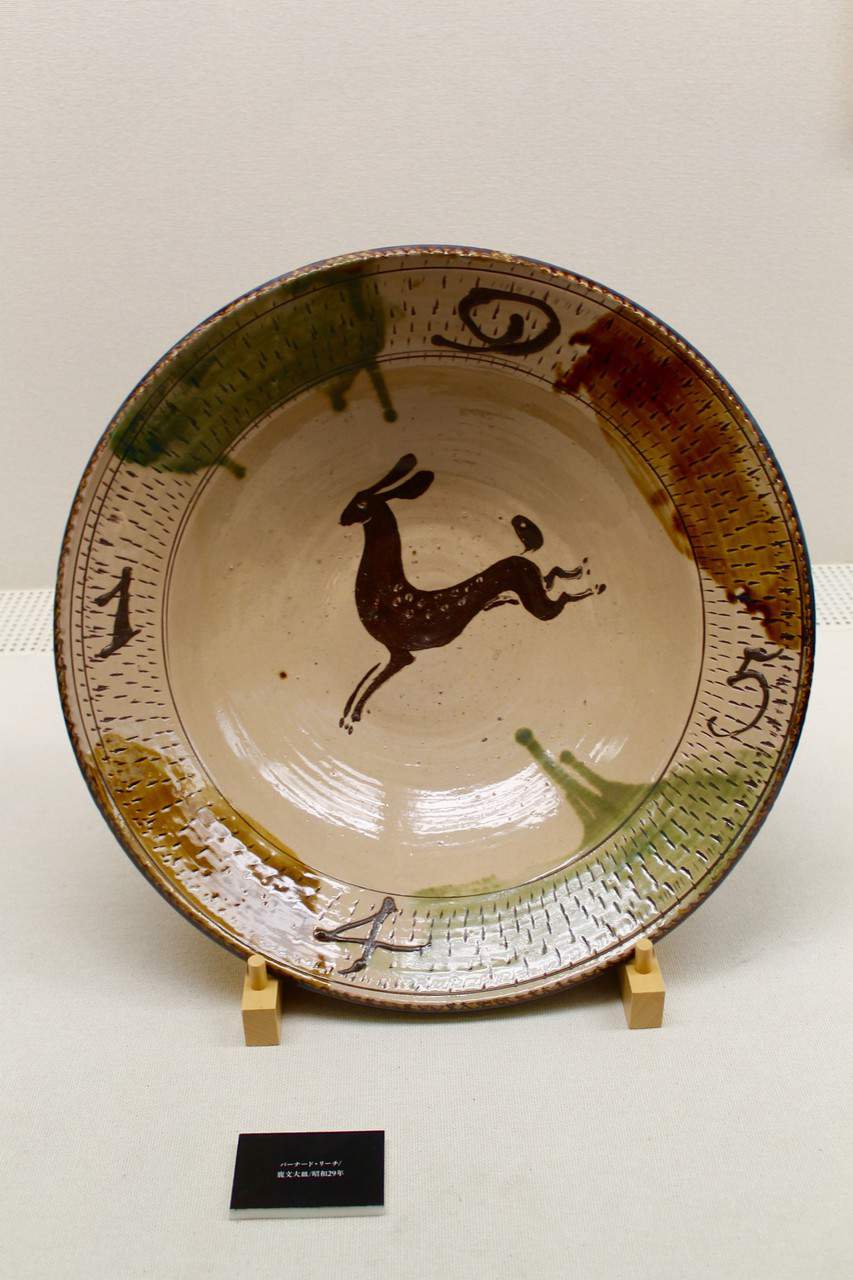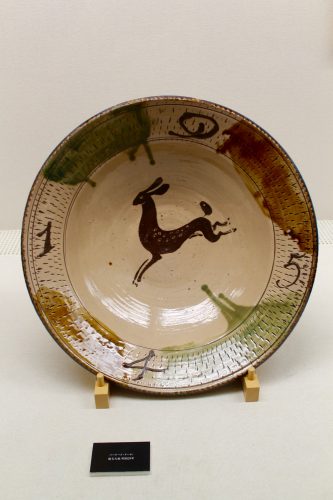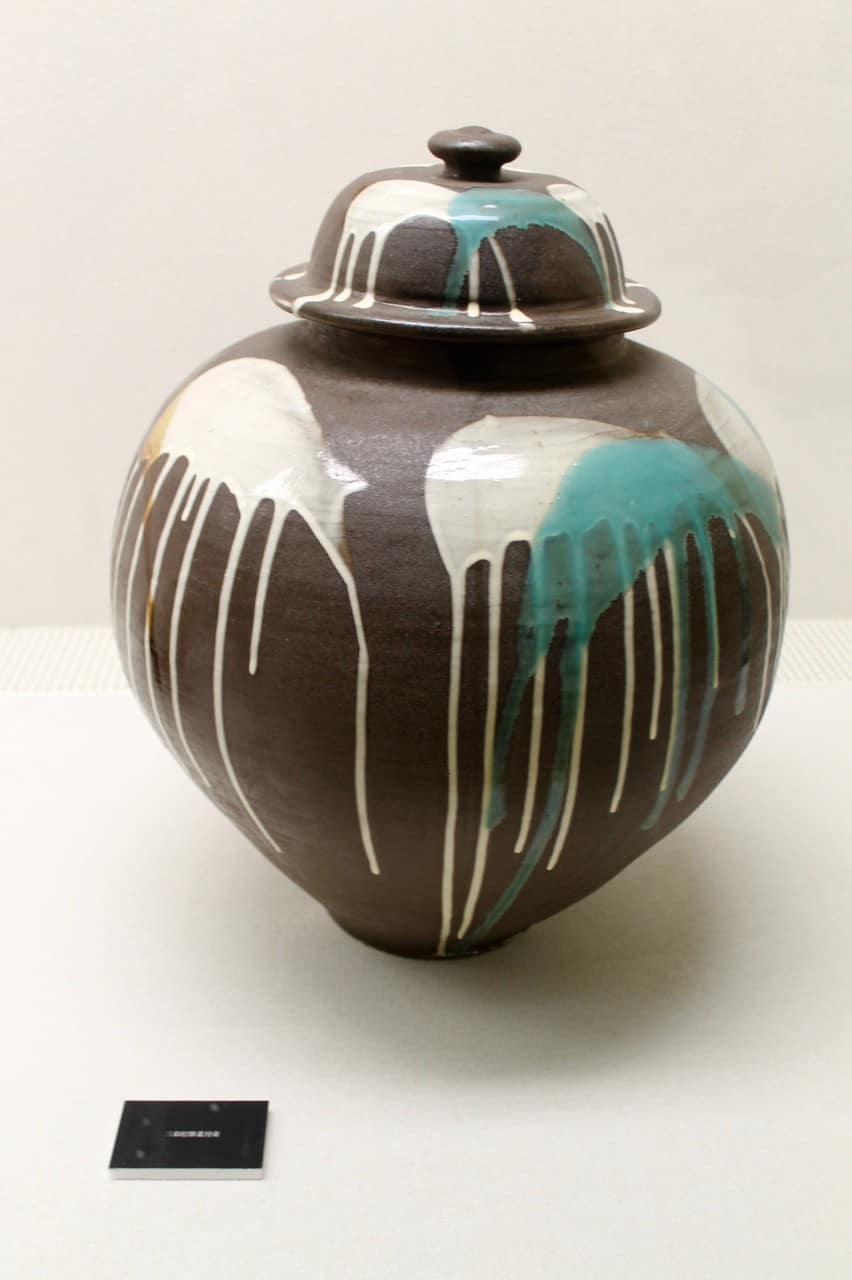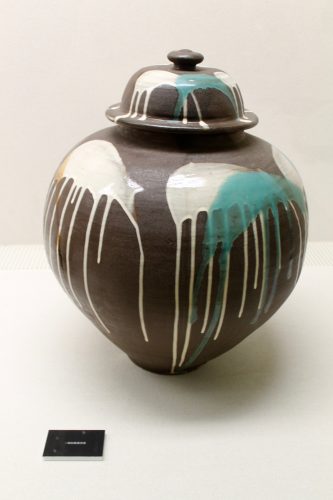 During your walk you'll be sure to pass by the traditional water-operated clay powdering machine, which relies on a creek that flows through the town center. This ancient designs fill up a trough on one end of a long wooden plank. Once the trough reaches capacity it weighs down one side of the plank, like a seesaw, emptying the contents of the trough back into the creek on one side then hammering down onto mounds of potter's clay on the other. This technique prepares the raw claw to be handled within a few hours without any manual labor.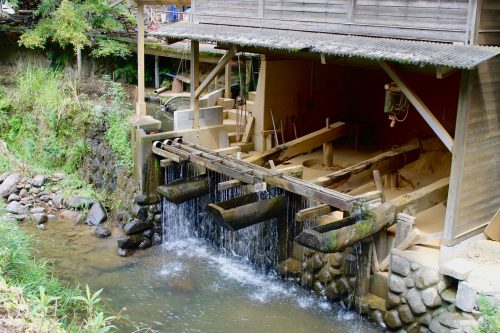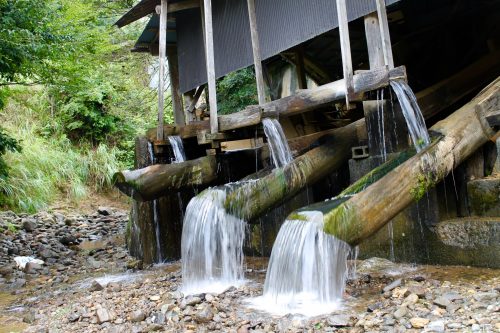 From there the powdered clay is transferred into large vats of water and mixed into wet slabs that the potters will fashion and mold into kiln-ready dishware.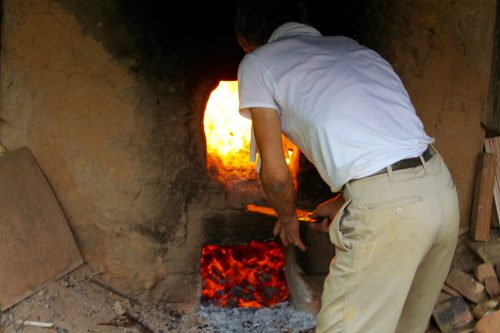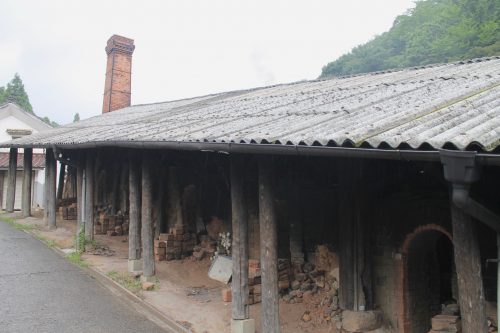 All-in-all there are just 10 multi-generational family kilns that operate in Ontayaki, but together they've managed to preserve the village's ancient methods of ceramic production for centuries. No modern tools or equipment are used to create Ontayaki dishware. You won't find electric machinery in any of the family workshops, but rather wheels powered by foot and wooden combs and brushes used to scar and add texture to the clay. Splattering, dripping and dipping are the signature methods for glazing.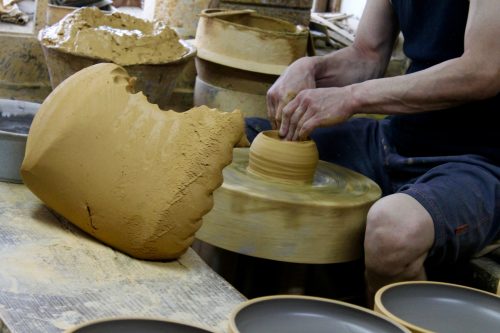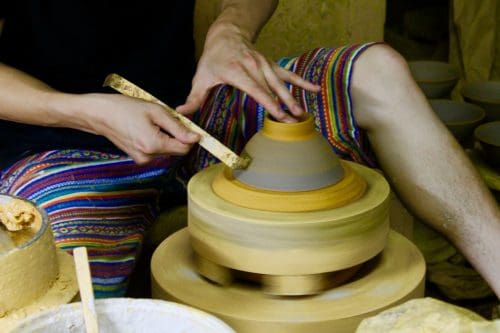 The precision of these potters and their ability to replicate the size, shape and designs of their dishware repeatedly with only the most basic tools is captivating. While there are no formal tours of the potters' studios, the residents of Onta are friendly and it is perfectly acceptable to approach one of them and ask to see inside their workshop or ask them about their work. I was able to hold a friendly conversation with one pottery as she mixed powdered clay with water and another as he sat behind his manually-operated potter's wheel.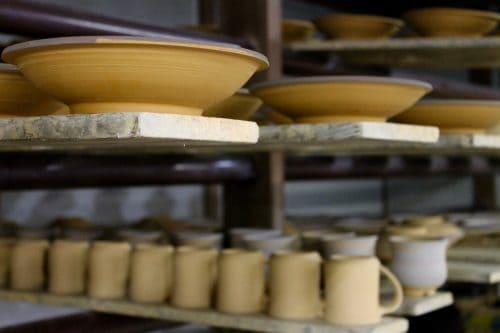 Most Ontayaki pottery is shipped to ceramic stores in Fukuoka and Tokyo, but each family operates a pottery store on site that showcases the signature design of their respective kiln. Ontayaki pottery is affordable, but heavy, so be prepared to lug whatever items you purchase home with you.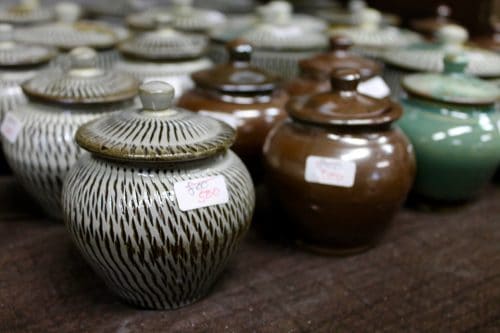 [cft format=0]