As Japan's second-largest city, Yokohama (横浜) is best known for bridging past, present, and future with its historical gardens and forward-looking harborfront, open to the world since 1859. Best of all, it's just thirty minutes away from Tokyo.
Take in Harborfront Views from Yokohama Air Cabin
One morning, I took an express train from Shinjuku that whisked me off to Yokohama's playful, multicultural harborfront of Minato Mirai. From Sakuragi-cho (桜木町), I stepped into the brand-new Yokohama Air Cabin suspended on an urban ropeway that connects the station with Unga Park (運河パーク) across the canal. Like silent bubbles stretched across the water, each naturally air-conditioned transparent cabin offers you a friendly overview of the promenade from just the right height to soak in your surroundings.
The short but tantalizing ride lasts just enough to whet your appetite, as many more attractions await on the other end, from the iconic Cosmo Clock 21 ferris wheel to the early Meiji-period Akarenga Soko (赤レンガ倉庫) Yokohama Red Brick Warehouse bustling with shops and restaurants.
Cheer on Baseball and Craft Beer around Yokohama Stadium
Not too far away, I caught a glimpse of Yokohama Stadium, which is world-famous for hosting international baseball and softball competitions. While I couldn't watch a live game, I was excited to see the flags of this year's competing nations flying above the stands.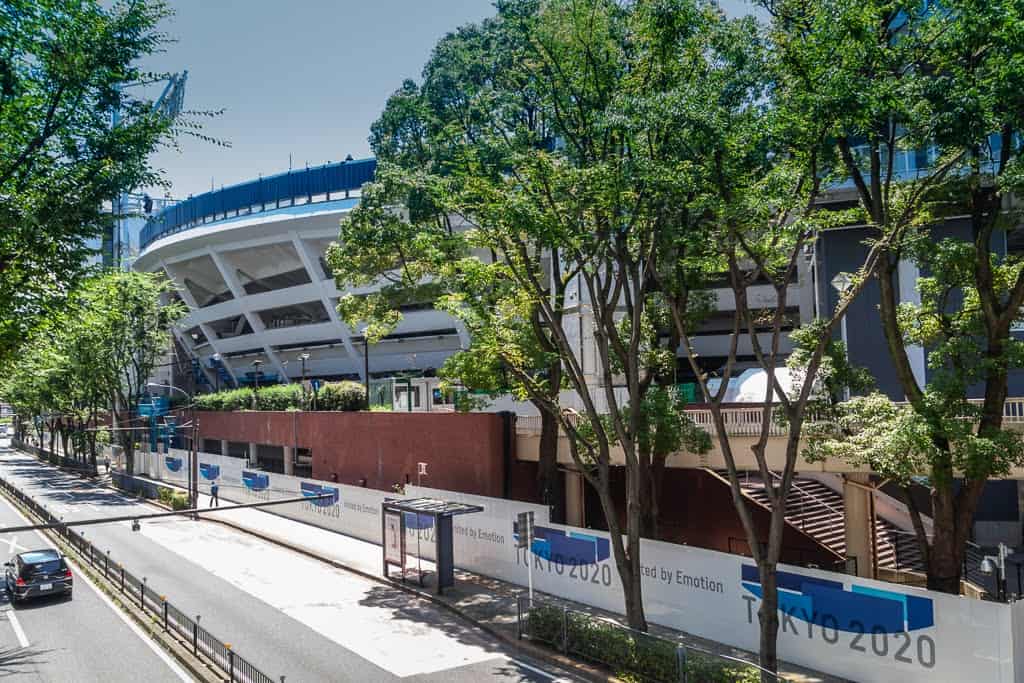 Instead, I ducked out of the hot sun and into Craft Beer Dining &9 (pronounced yakyu, like baseball in Japanese) for taco rice and a cool ale brew. Note to yakyu fans: the beer taps are topped with vintage baseballs and broken bats used by the local Yokohama DeNA Bay Stars team.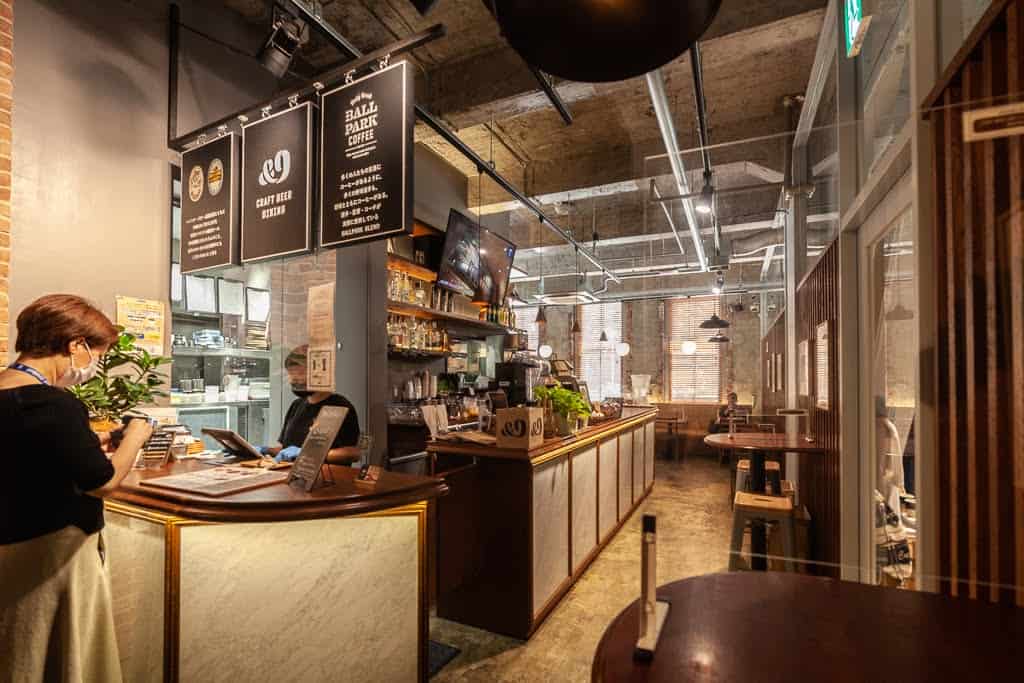 Indulge in Yokohama's Defining Foreign Influences
Right around the corner, I wandered through Yokohama Chinatown (横浜中華街), the largest in Japan, which for many is a (culinary) destination in itself for novelty shops and street food galore. I eventually veered off to take a quiet stroll through the compact America Yama Park (アメリカ山公園), built directly above Motomachi-Chukagai (元町・中華街) station, which also serves as a gateway to the Yamanote area. The park's inauguration in 2009 commemorated the 150th anniversary of the opening of the Port of Yokohama.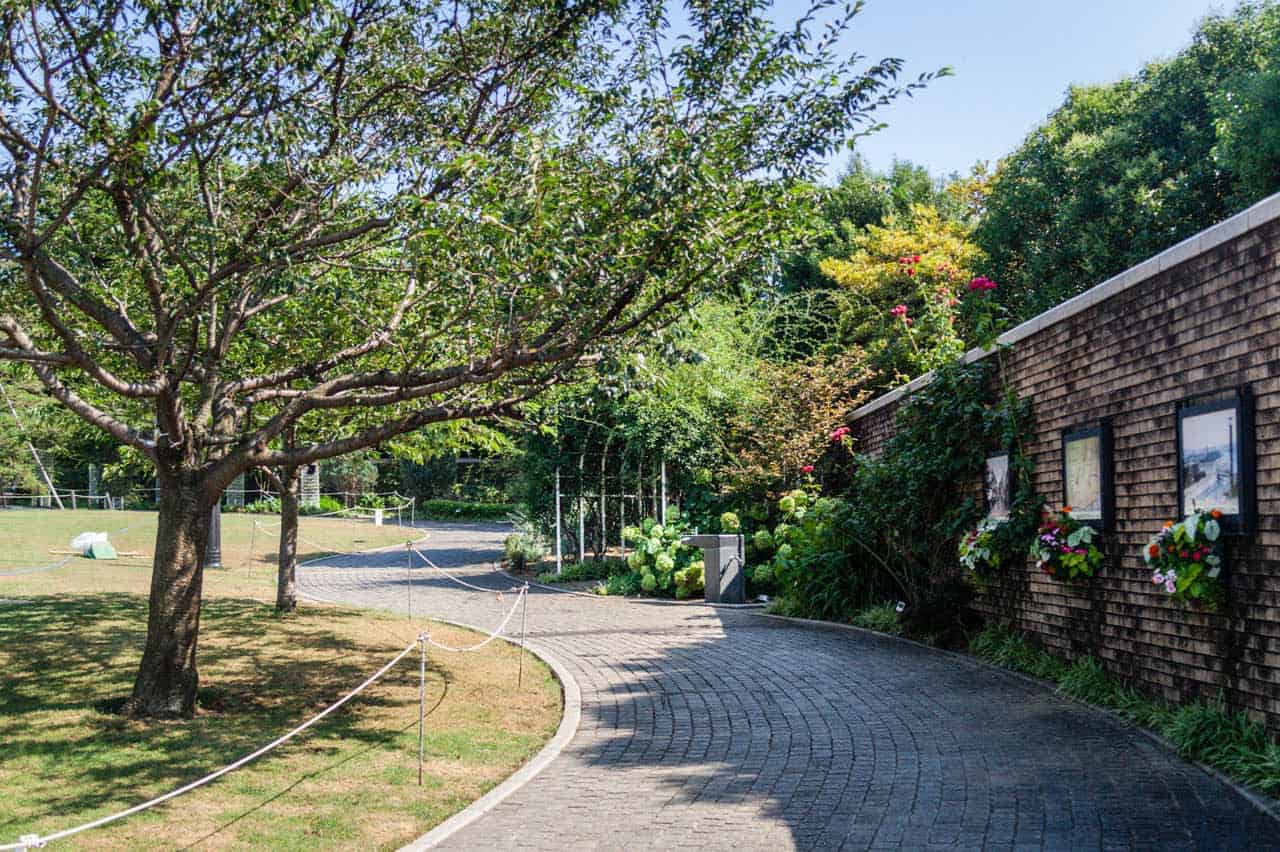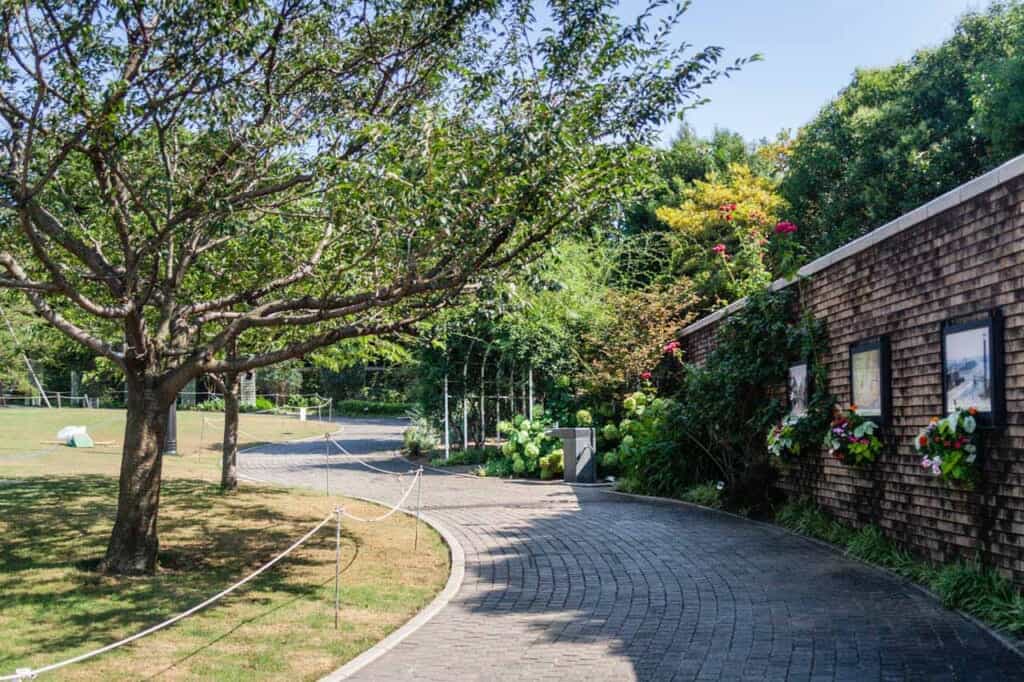 I ended up extending my walk through the neighboring and more intimate Yokohama Foreign General Cemetery (横浜外国人墓地), where I was calmed by the presence of slumbering cats and singing cicadas. This is also the final resting place of Eliza Scidmore (1856-1928), the American travel writer and photographer, author of Jinrikisha Days in Japan, who first initiated the plan to plant Japanese cherry trees in Washington, D.C.
Salute the Giant "Moving Gundam" Robot on Yamashita Pier
After crossing through Yamashita Park, I spied a huge colorful contraption on Yamashita pier. It was a life-sized "Moving Gundam", the giant robot of anime fame standing 18 meters tall! GUNDAM FACTORY YOKOHAMA runs with the dream in their ACADEMY exhibition corner by indulging fans of the Gundam franchise with an immersive Pilot View experience of riding in the robot's cockpit. Inside the ACADEMY, you can learn all about the technology that went into designing the moving mechanisms over several years, read interviews with the scientists, and even program set moves for a virtual Gundam.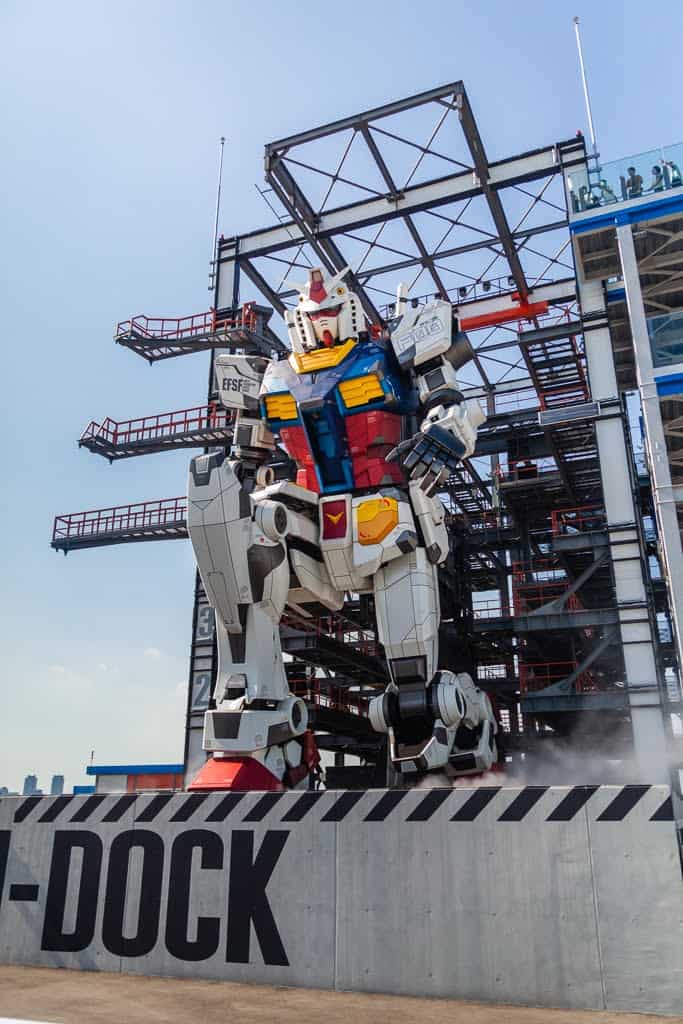 Although I wasn't so familiar with the Gundam series, I was fascinated by the precisely engineered 8-minute spectacle of Gundam stirring from its dock and taking a step forward to kneel before the final shooting pose. You can pay extra to watch the "Moving Gundam" close-up from the top of the dock tower, but I would recommend seeing the robot move either from the ground, to appreciate the sheer scale of the feat, or from the second floor of the Gundam-Lab building, with a contextual view of the harbor in the background. GUNDAM FACTORY YOKOHAMA is a limited-time facility until March 31, 2022.
Explore Sankeien, a Japanese Garden Filled with Historical Architecture
After witnessing that inspiring experiment of bigger-than-life retro-futuristic entertainment, I decided to spend the rest of my afternoon at Sankeien (三溪園), a historical garden nestled away in a more residential neighborhood by Negishi Bay.
Sankeien is named after its creator, curator, and protector, Hara Sankei (原三溪), a philanthropic entrepreneur and tea ceremony lover who was born in 1868, the year of the Meiji Restoration, and who died just before the Second World War. During the last 30 years of his life, Sankei transformed a vast piece of land into a private collection of restored historical buildings (Inner Garden) and a beautiful Outer Garden that has been open to the public since 1906.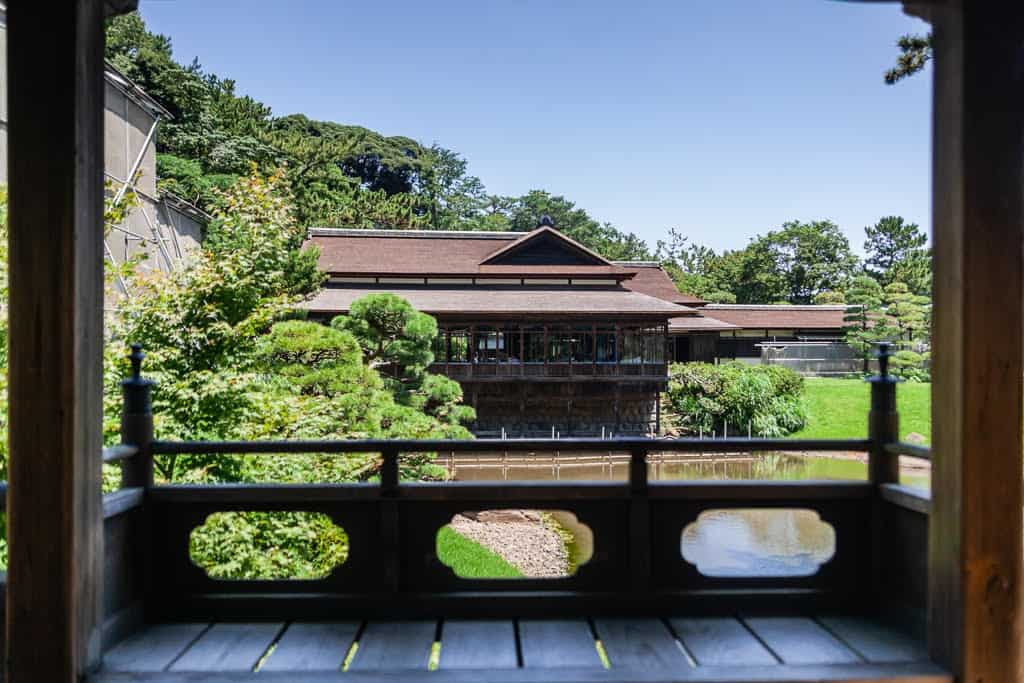 While the landscaped garden stirs gently with butterflies, dragonflies, cicadas, running water, and seasonal flora, it's also an open-air museum of various architectural buildings, from the Edo period and others relocated here from Kyoto, Kamakura, and elsewhere in Japan. Among these, the Yanohara Family Residence is especially intriguing with its smoking irori (sunken hearth) and gassho-style thatched roof typical of the Shirakawa-go village in Hida, where it was originally located. Although it's a relatively recent addition to Sankeien, as it was moved here in 1960, it remains the only building that visitors can enter and explore all year round to get a better feeling of how some people lived in the Edo period.
By then, I had already spent about two hours wandering through the gardens and visiting the indoor Sankei Memorial, appreciating the many different artifacts and perspectives gathered here over the past century. With a little more time, I would have climbed up to Sankeien's iconic Three-Story Pagoda, built in Kyoto prefecture in 1457, to reflect on the rich history of this lovingly maintained cultural site.
Spend the Night at a Hawaiian Resort in Yokohama Harbor
Back in Minato Mirai, I checked in at the newly opened The Kahala Hotel & Resort for a touch of Hawaii. My evening began with a gourmet Japanese dinner accompanied by three different sources of fine green tea at Hama restaurant and ended with a long soak in a bubbling jacuzzi on the outdoor roof deck with a view of the stars.
Just thirty-minutes away from Tokyo, Yokohama is both a treasure trove of history and a futuristic vintage playground. From baseball to robots to ancient pagodas perched on a hill, you're sure to find your pleasure.
Photography by Toshiko Sakurai
Article sponsored by Kanagawa Prefectural Government and Yokohama Convention & Visitors Bureau (official Facebook page)