Sponsored by Nakatsugawa city.
Edo Five Routes,  Gokaidō 
五街道
Do you know of the Nakasendo road? Nakasendō, called also Kisokaidō, was one of Edo Five Routes named Gokaidō during Tokugawa feudal period, linking Tokyo and Kyoto. It had an important role connecting the capital with different provinces. The most important of the routes was Tōkaido road between Edo and Kyoto tracing on the pacific ocean. Tokugawa Ieyasu began construction of the five roads to increase control over the country in 1601, but Tokugawa Ietsuna, the fourth shogun of Tokugawa Shogunate, declared them as nation's major roads. Thus, a number of post towns 'shukuba' were built along the routes so that travelers could rest, eat, buy food and stay in. The routes flourished due to the governmental policy known as 'sankin-kōtai', which required daimyōs, regional rulers, to alternate between years on the route to Edo, sometimes accompanied by processions of thousands of men.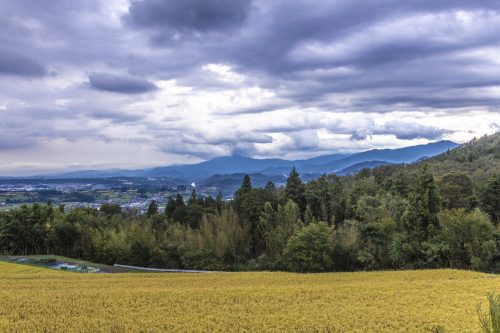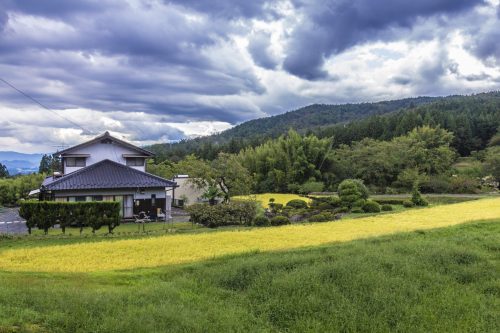 One of the most important roads during Edo era: Nakasendō 中山道
Let's talk about Nakasendō trail. It had 69 stations and crossed through provinces of Musashi, Kōzuke, Shinano, Mino and Ōmi. In addition to Tokyo and Kyoto, Nakasendō passed through the current prefectures of Saitama, Gunma, Nagano, Gifu and Shiga, with a total distance of about 542 kilometer long.
Nakasendō trail, translated as "the route through central mountains", as opposed to Tōkaidō which means "the eastern sea route", was a safe and good quality road, that many famous people as well as many lords borrowed regularly.
In early Edo Period, many political, legal, cultural and intellectual changes took place at the time in Japan, including the renovation of the road network. Before having these official trade routes set up, many shorter routes connect small cities. One such route was Kisoji, which consisted of eleven stations that later was migrated as a part of Nakasendō, from Niekawa-juku to Magome-juku. Before the Edo Period, the route hold two names: Sandō and Tōsandō, as time passed by, the name was changed to Nakasendō in 1716 during the Edo period.
Although there are many modern buildings along Nakasendō, some original plots remain while others have been restored in recent decades. The best-known section is in Kiso Valley between Tsumago-juku and Magome-juku, getting a lot of popularity among travellers nowadays. This area was also related with a writer Tōson Shimazaki who chronicled effects towards the Meiji Restoration in his novel, that is "Before the Dawn, Yoake Mae". This 8 km long path gives us a pleasant walk, while observing many preserved traditional architecture that Tsumago-juku and Magome-juku has to offer. The walk between these historic resorts requires two to three hours of walking through the stoned pavement with stunning views of forests and waterfalls.
In this article, check out the long path starting from Nakatsugawa Post Town (close to JR Nakatsugawa Station) all the way to Tsumago Post Town.
A few shukuba, post towns 

宿場町
Nakatsugawa-juku 中津川宿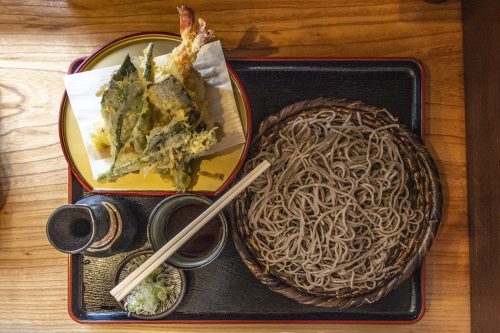 Starting your journey at Nakatsugawa station, where many restaurants on any budget ranges enable you to fill up with energy! For several hours hike, noodles such as soba noodles are a good option.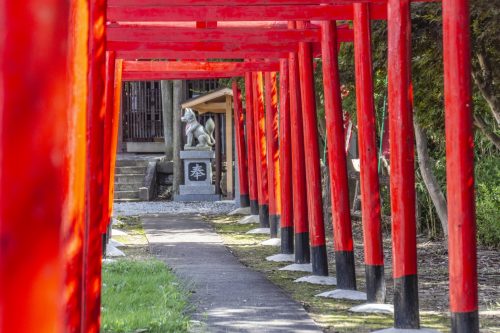 Make a stop at Asahigaoka Park with a few toriis, famous Japanese lacquered red gates that typically mark the entrance to Shinto shrines.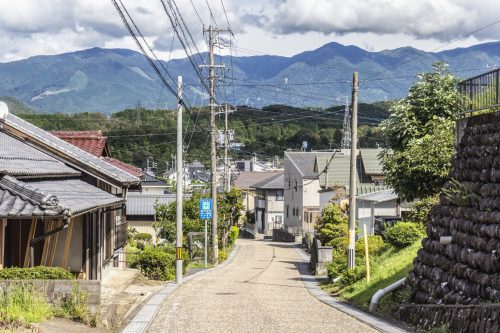 Routes are not so busy with automobiles in clean and maintained condition, however please try to walk through the pedestrian zone.
Every curves offers you a new landscape, you can't help stopping to admire each sceneries.
You may find hiking trail signs quite often on the Nakasendō trail, just follow the specific road surface with this elegant asphalt tinged with yellow pebbles.
You will have an opportunity to glimpse of resident's daily life or their few craft creations on the side road.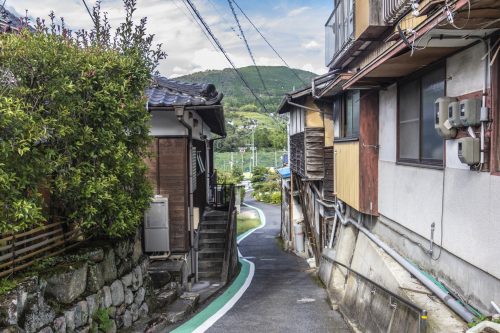 Peaceful landscapes make us a fresh break between great inspirations in rice fields as far as eyes can capture mountainous ranges, as well as small narrow streets, other groves, paths and small temples.
Ochiai-juku 落合宿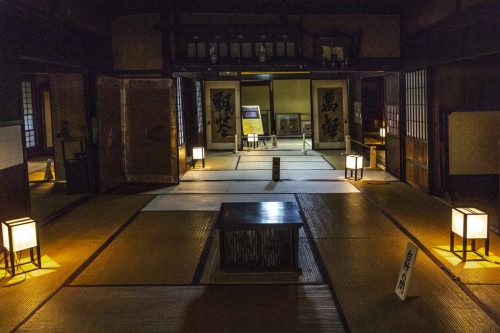 A highlight of Ochihai-juku is Ochihai-juku hon-jin, which used to be an accommodation for lords and castellans who entered through a special entrance, out of respect for their rank and also for security reasons. Always they had to keep themselves safe, ninjas as bodyguards checked out from the roof to observe from afar a potential attack from enemies. An access from the roof led to a room directly near the dining room and enabled them to guard the lord immediately. Even if the defence was not enough, they could attempt escapes because hon-jin were often equipped with tunnels or secret walls.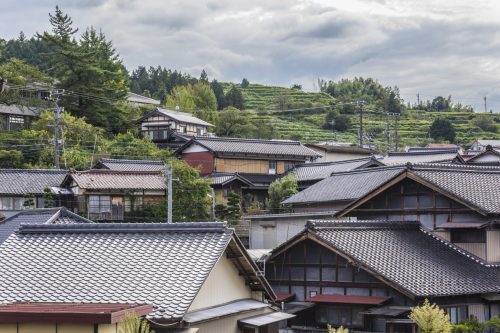 Magome-juku 馬籠宿 and Tsumago-juku 妻籠宿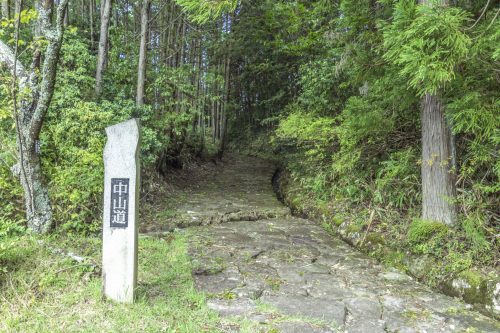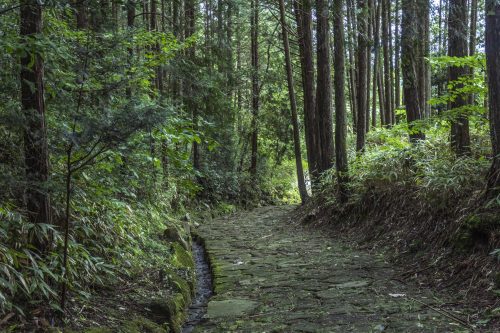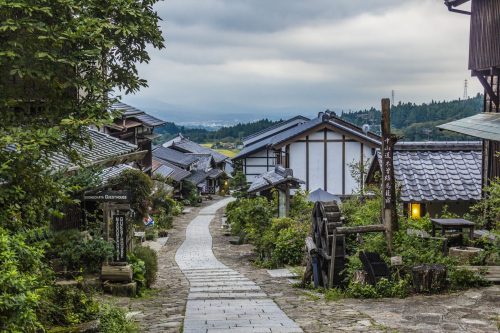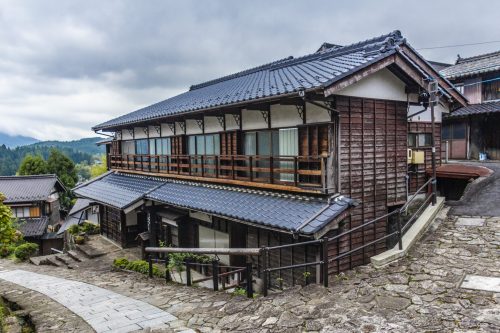 After passing through Ochiai Post Town, then the highlights await for you: Magome Post Town and Tsumago Post Town, which you might already know through here. But if you like a challenge, let's start your hike from Nakatsugawa Post Town as there is a lot to see! The total duration is about 13 km, but it is definitely worth it. After visiting Tsumago Post Town, you can go to JR Nagiso Station, then back to JR Nakatsugawa Station to discover the areas in depth and stay in Nakatsugawa.