There is something about Japan that often goes unnoticed, yet never fails to impress tourists that come from all corners of the world: Japanese stationery.Japan, the promised land of ball-point pens and beautifully designed notebooks, only further supports my ongoing love for all things stationary. Going stationery shopping in my home country is always a disappointing experience. The quality is not horrible, but there is a lack in variety. Store to store, it is common to see the same array of brands and products with very few options of styles, sizes and colors. On the other hand, however, Japan has just about anything and everything you can imagine. Stores are often filled wall to wall with all kinds of goods to fit your particular writing or drawing needs. You can find the most unique and elegant designs!
So why is Japanese stationery superior? I have narrowed it down to four essential factors: innovation, variety, design and easy location.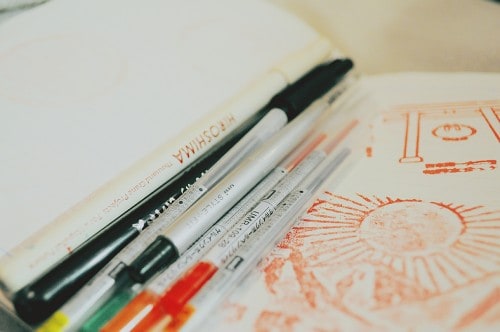 Japanese Stationery: Where Does it Come From?
The Japanese people love their stationery. Pencil manufacturing companies go to great lengths to create state-of-the-art writing implements to keep their customers happy. This emphasis on pens and paper is most likely rooted in the ancient art of paper folding (origami.)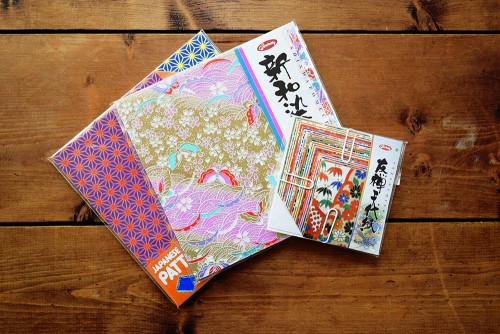 Origami was originally developed in China during the 1st Century, and it was not until the 6th Century that artistic paper folding arrived in Japan. As it often happens in this country, it did not take long for Japan to embrace this new artistic technique and make it its own. Today, origami is a signature aspect of the Japanese culture and a symbol of Japan, much like Mount Fuji and sakura trees. Paper folding lead to the formulation of yet another traditional cultural and artistic Japanese craft equally borrowed from their neighboring country: washi paper. This type of soft, thin, particularly durable paper is often used for calligraphy, drawing and origami.
Washi paper-making is a tedious process that requires specific environmental conditions in order for the sheet to acquire its peculiar texture. This paper is almost always handmade, using bamboo, rice, kozo and wheat, among other ingredients harvested from local plantations. This is not just any paper—it has actually been registered as a UNESCO intangible cultural heritage!
Washi paper can be found in any stationery store in the country, starting at around ¥300 for the most basic paper sheets. Additionally, if you would like to learn how to create your own paper from scratch, you are in luck! There are several shops and museums nation-wide which offer hands-on paper-making workshops in English.
Calligraphy
We must not leave behind a key element in Japanese culture which deeply influences modern Japanese stationery: calligraphy (shodo.) There is intrinsic beauty in Japanese handwriting, which very much differs from the Western style of Roman letters. One cannot deny the artistic value found in Japanese characters, borrowed from the intricate logosyllabic Chinese writing system. Attention to detail is essential in order to correctly write in Japanese. For example, stroke order must be dutifully followed so as to make sure people understand what you are writing. Shodo is a form of artistic writing which is always taught at primary schools and practiced, to some extent, by people of all ages throughout the country.
There are different tools on the market for practicing shodo, though the most common are kits containing ink stones, brushes and ink sticks. Alternatively, the modern fudepen is used more informally for a much lower price. The fudepen is a cartridge-based pen (sort of like a marker) with a brush-like nib which facilitates Japanese calligraphy. Unlike traditional ink, fudepen's ink adheres perfectly to modern cellulose paper you find in typical notebooks. The fudepen is traditionally sold in most stationery shops and some konbinis.
Japanese Pens: Fascinating Small Pieces of Engineering
Pen designing in Japan is not left to chance. There is a dedicated team of physics, designers and engineers behind every small writing device you can purchase for a couple hundred yen at your local grocery store. Mitsubishi, a brand we often associate with engine manufacturing on the other side of the planet, owns a pencil subsidiary with some of the most popular pens on the Asian market.
Restless competitiveness between all different pencil companies in the country results in some of the most sophisticated, ultramodern writing utensils in the world. Whatever type of pen you have in mind—no matter the size, shape, color, nib or thickness—you will find it here. The incredible lightness, functionality and clean design of these pens is very helpful, too.
Popular Brands
If I had to choose the perfect pen, my pick would be Uni Style Fit, one of Mitsubishi's signature ball point pens. Its slim body, the thinnest I have ever laid hands upon, along with its minuscule point size, make it the perfect pen for drawing. It is very light and easy to hold. You sometimes feel like there is nothing in your hand! Uni Style Fit is available in 0.28, 0.38 and 0.5 mm points with different colors to choose from.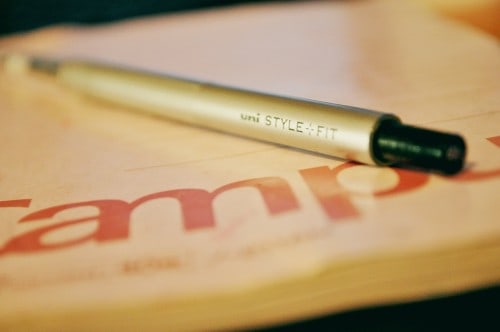 Another model worth mentioning is Pilot's legendary Dr. Grip: wide-bodied, retractable gel pen with a smooth, ergonomic grip. This product is meant to offer the ultimate comfortable writing experience for those who spend many hours scribbling and taking notes. Moreover, Dr. Grip's ink only takes seconds to dry, making it a safe purchase in all scenarios.
Equally noteworthy would be Pilot's FriXion, which never fails to impress first-time customers with its futuristic invisible ink. FriXion has taken erasable ink to a whole new level. While most of Pilot's competitors keep focusing on designing ink which can be completely removed with a special rubber, Pilot decided to formulate and patent their very own exclusive thermo-sensitive ink, which turns transparent upon reaching 60º C. Friction caused by rubbing an eraser against the ink heats it up and makes it invisible to the human eye. This is a small yet sophisticated piece of engineering anyone can afford to purchase. Additionally, this method of erasing leaves the paper unharmed.
Functional with Cute Aesthetic
Of course, since we are in Japan, it would be a mistake not to take the 'kawaii factor' into account. Japanese stationery stores are filled floor to ceiling with mechanical pencils, ball points, markers, stickers, stamps, erasers, notebooks, pencil cases and all sorts of cartoon-patterned studio supplies that will make you scream 'cute!' Adorable prints, unconventional shapes and pastel colors are a must in Japanese schools and offices, so do not miss out on the opportunity to stack up on some of the most eccentric writing products you will ever come across. Magnetic sticky notes, origami-shaped notepads, cut-out shapes craft scissors, staple-less staplers, transparent markers and silicone pencil cases (actually, silicone anything) are some of our favorite items.
Japanese Stationery: Where to Buy
These are some of the most notorious stationery shops in Tokyo:
LOFT: Japan's variety shop par excellente; the store absolutely everyone loves! You will find anything from tableware and electrical supplies to souvenirs and beauty products. There is quite a selection of high-quality, beautifully designed office products. LOFT stores are scattered all over Japan. One of their flagship stores is conveniently located in Shibuya.
TOKYU HANDS: Similarly, Tokyu Hands offers a diverse range of household items, but it is most famous for its DIY supplies and accessories. Tokyu Hands can be found in most major cities in Japan.
MUJI: This one needs no introduction. Muji has found a niche market in both Europe and North America thanks to its clean, minimal design and matchless immaculate aesthetic.
SEKAIDO: Sekaido specializes in drawing and painting tools. If you are an artist in need of new supplies, head to their Shinjuku location. You will find just what you need.
ITOYA: This might be the best and biggest stationery store in Japan (and possibly the world.) Twelve floors filled with paper and pencils will keep you busy all day long.
Japanese stationery is not only high quality and refined—it is also affordable! Most products (such as pens and markers) can be tested in-store before you make your purchase. That way you will make sure to buy precisely what you were looking for. Try it yourself!