As a travel writer, I admit to often focusing too much on the incredible things to see in Japan. It is a visually remarkable country, evident in the countless images of Japan compiled and consumed daily on social media. But to see Japan is to forget your other four senses, each contributing to the complete Japan experience. To truly experience Japan, you must EXPERIENCE Japan with your hands, nose, ears, and mouth as well. And there is no better place to dive headlong into Japan than the array of traditional arts and crafts experiences available while traveling around Shikoku Island.
The Edo Period Appeal of Udatsu
Okubo-san's hands' skin and nails are tinged blue, the telltale sign of her aizome trade. Aizome (natural indigo-dying) artisans often forgo rubber gloves to protect their hands from discoloration, preferring to feel the temperature of the dye and the condition of the cloth more easily. In her studio in Tokushima's Udatsu historical district of Mima city, Okubo-san has taught indigo dyeing to visitors for three years, although she herself has been practicing the art for years longer.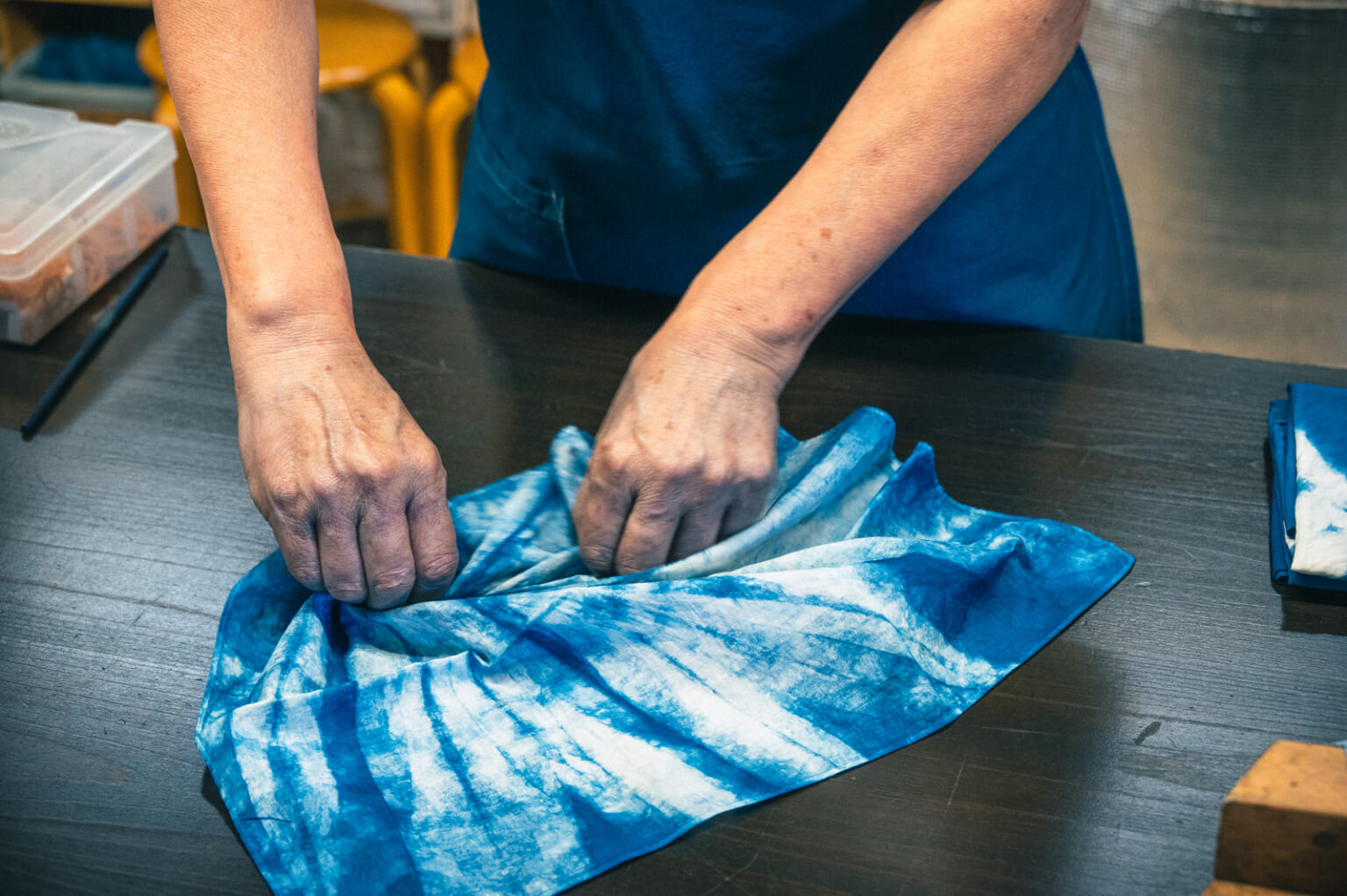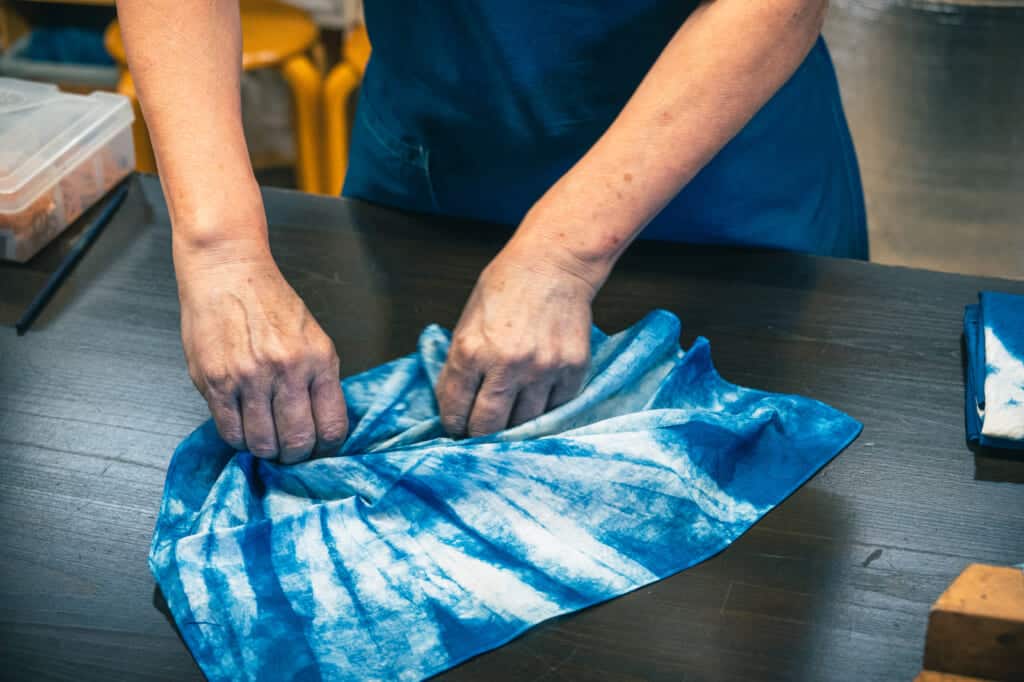 A trip around Shikoku presents visitors with an array of opportunities to experience Japanese traditional arts and crafts, from indigo-dyeing to soba making, geta (traditional wooden sandals), to wagasa (paper umbrellas), and many things in between. Taking part in the production of various Japanese crafts helped me to appreciate the amount of effort given to produce even the simplest of items and made me realize that the survival of these traditions is not something that can be taken for granted here in aging Japan.
We began our tour of Shikoku's arts and crafts here in Mima city (美馬市). Wakimachi Udatsu Street stands relatively unchanged from its development during the Edo Period over 300 years earlier. The whitewashed clay buildings were built with an extra wall known as "udatsu," which acted as both a firewall and a decorative piece of architecture between buildings. In the fire-prone Edo Period, where wooden structures burned down regularly, the udatsu served their purpose admirably, and the oldest structure on the street remains as it was built in 1707.
The ubiquitous power lines in modern Japan have been routed underground here, giving Udatsu Street a nostalgic atmosphere, especially at night, when the streets are lit in the warm light of electric lanterns. During the day, you can tour old merchant homes and peruse shops selling traditional goods. Or you can arrange to experience two of the local crafts of the area, aizome and wagasa making.
The Samurai Blue of Aizome
Although indigo dyeing production in Okayama Prefecture has surpassed Tokushima Prefecture in volume, Tokushima is still a significant location for indigo dyeing. This is because Tokushima uses natural indigo dyes for all of its products, while most Okayama indigo products are now dyed using chemical processes. Tokushima also remains one of the few sources of sukumo in Japan, the raw material used to create natural indigo dye.
The color of indigo-dyed fabric has long held a place of prestige in Japanese society. The antibacterial properties of indigo-dyed cloth led it to be used as a lining for samurai armor and helmets. Okubo-san showed us a color chart of how the blue color progresses from light blue to almost black as it is repeatedly reimmersed in the indigo sukumo, a mixture of fermented indigo leaves, lime, lye, and warm water. Fabric requires 15 soaks in the sukumo to achieve the deep blue hue known as "Samurai Blue," a process that would take us far longer than the time we had to spend on Udatsu Street. I settled for a lesser hue of indigo for my canvas eco bag that required only four soaks, a hue that I was satisfied with given I wasn't planning to take my eco bag into battle.
There are many different techniques to create patterns during the dyeing process. Okubo-san carefully explained and demonstrated them before we started. Some involve knots, while others use sticks and rubber bands, but Okubo-san provides help and advice throughout the process. I created a pair of circular patterns that I hoped would resemble sand dollars, but one ended up looking more like the Death Star. And I'm okay with that.
The whole process took about an hour, leaving us plenty of time to walk down the street to another workshop, wagasa making.
Wagasa Japanese Umbrellas: Every Piece and Process by Hand
Wagasa are traditional Japanese umbrellas made from natural materials like bamboo and washi (thick handmade paper) and coated with an oil that keeps the washi paper resistant to water. Here on Udatsu Street, every piece of the wagasa made in the workshop is done by hand, and each handmade piece is also hand-assembled. About three months and 250 man-hours go into making a single umbrella, and this workshop produces only about 100 pieces per year.
The ribs for the wagasa frame are cut from a single piece of bamboo so that each rib matches the others exactly. Each rib is sanded down to perfection by hand. Tiny holes are drilled at the end of each rib, and they are attached together with a durable piece of thread with an artisan hand-threading each piece. And so the process continues, about 100 steps, each taking an average of 2-3 hours, over about three months with different artisans specializing in specific techniques.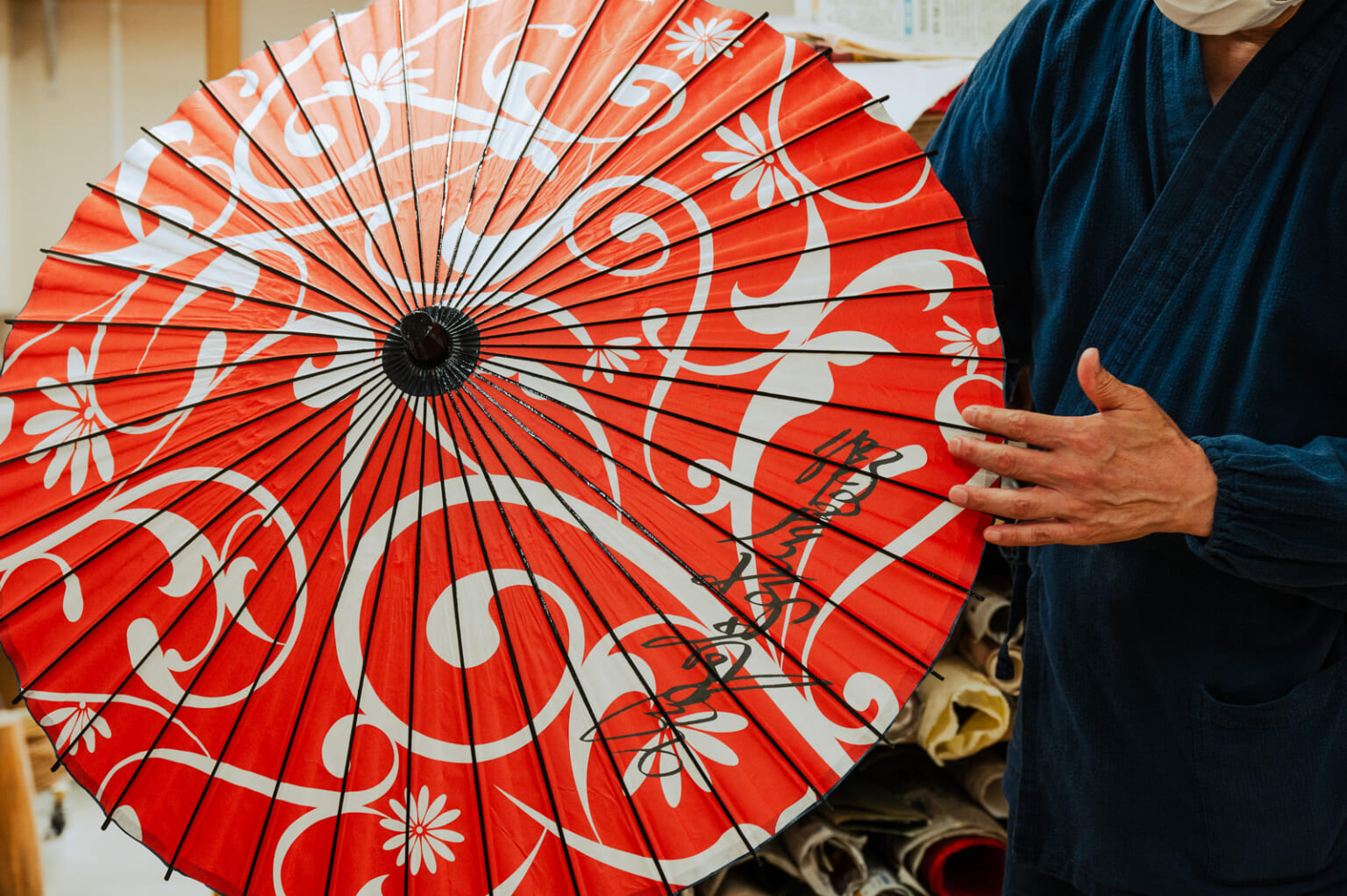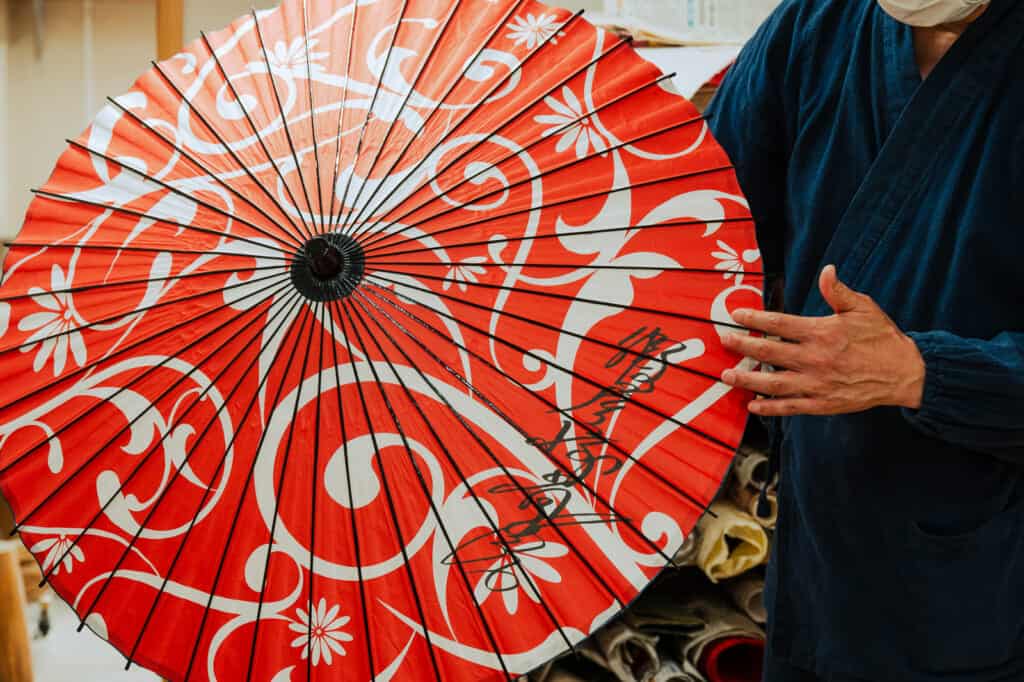 Given the amount of work it takes to make a single wagasa, you can imagine they are not inexpensive works of handmade art to purchase. In fact, the shop is well aware that most tourists are not willing to drop 50,000 yen or more on a paper umbrella whose average lifespan is just ten years. The market for wagasa is distinctly Japanese, with many umbrellas made for the city to give to children who live there on their 1st birthday. The next largest customer base is businesses that use umbrellas as centerpieces for their decor. And finally, there are a few traditional art connoisseurs who order custom-made wagasa for their own pleasure.
Because it would also be impractical for visitors to make their own full-sized wagasa, the workshop offers a mini-wagasa making experience. Many of the steps have been simplified, so the workshop can be completed in 90 minutes. The finished product can be used to make a decorative light to take home. During the COVID-19 pandemic, the workshop sold kits that people could make at home following the instructions on a YouTube video. As the pandemic situation improves, they hope to welcome visitors back to the shop to make them together in person again.
Innovating Geta Design in Miyoshi, Tokushima
Just east of Mima in Miyoshi county (三好郡, Miyoshi-gun), Saito Woodworks has been producing geta, traditional Japanese sandals made from paulownia wood, since 1948. Geta are quite popular footwear during the warm summer months, especially as accessories for summer yukata, the casual cotton form of kimono. The cancellation of most summer festivities in Japan for the past two years has been challenging to Saito Woodworks. Still, they responded by innovating new products and lines to strengthen sales when summer festivals become the norm in Japan again.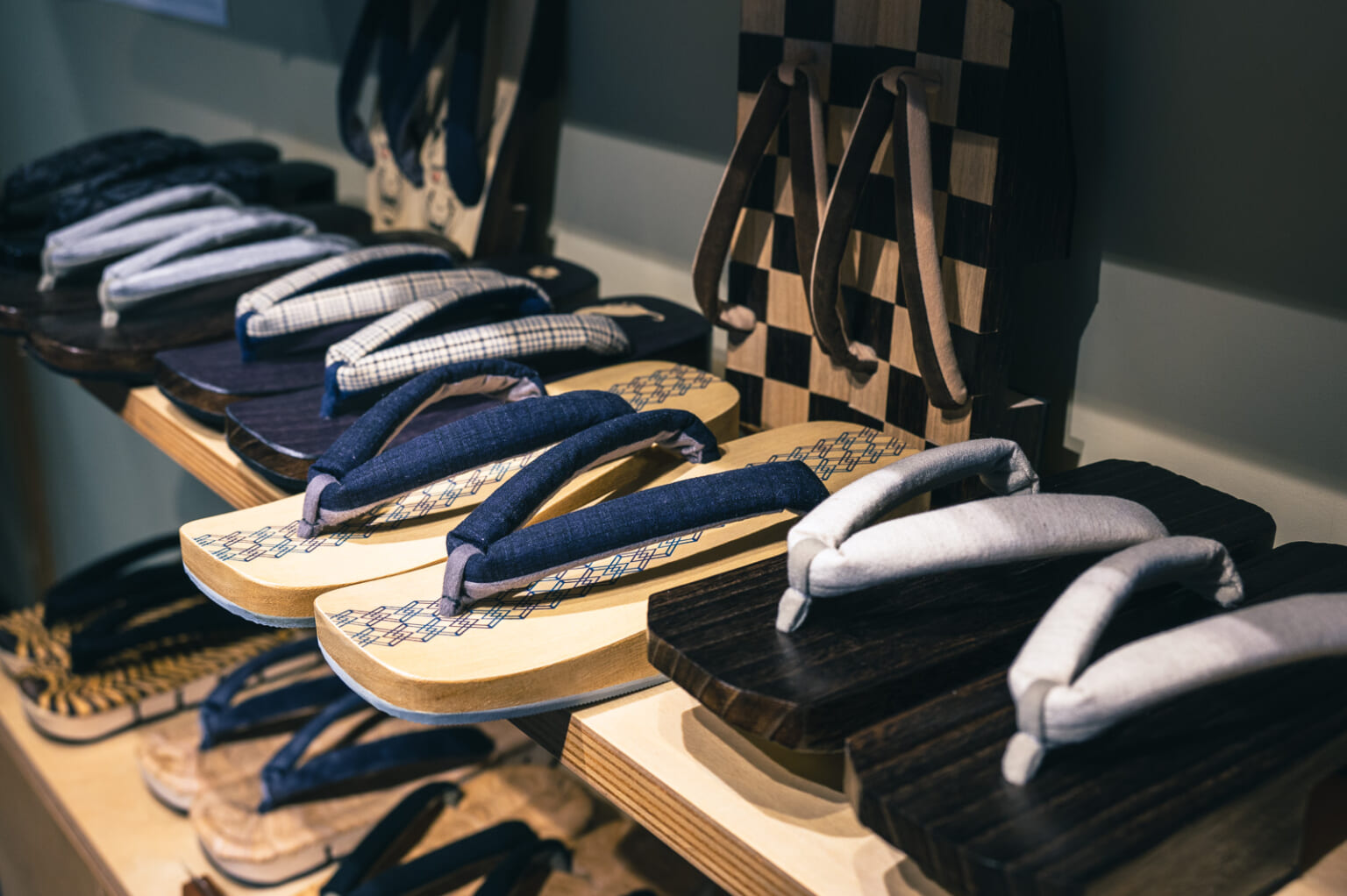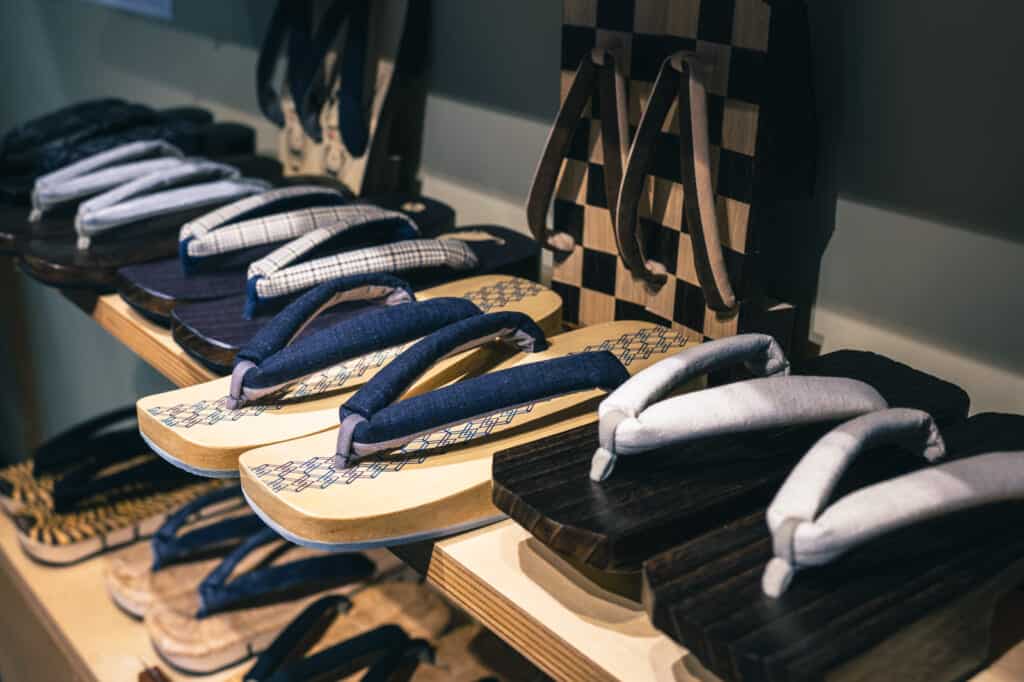 If you've never worn wooden footwear before, you might mistakenly believe they are neither practical nor comfortable. I had the same feeling before I tried a pair of properly fitted geta. However, I purchased my first "high-end" pair of geta six years ago from a shop in Tokyo's Asakusa district. I immediately understood the difference a good quality geta makes in terms of comfort. I've walked more than 10 kilometers in my geta several times, and afterward, my feet felt better than if I had been walking in sneakers all day.
Saito-san showed us mini-geta, decorative forms geta styles that are most often worn by geisha and maiko. The mini-geta are used for a geta-making workshop that his wife puts on for those who want to get a fundamental idea of how to make geta. Making geta from a pre-made kit isn't exactly brain surgery, so what you will end up with is a cute little handmade souvenir that tucks away nicely in your luggage. However, if you really want to experience geta, a cafe run by Saito-san's nephew is next door and serves as a showroom for a nice variety of full-sized geta available for purchase. Try on a pair or two and strut around the cafe like a boss, and I guarantee you'll want your own pair soon enough.
Step-by-Step Soba Making Workshop in the Iya Valley
Soba, not rice, is the primary grain grown in the Iya Valley. The rugged, steep terrain makes constructing rice paddies nearly impossible, but soba is a hardy plant that can be grown almost anywhere, even here, where ancient villages were built nearly vertically along the sides of the valley.
This was the land Tsuzuki-san was born into 76 years ago, in a house that could not be accessed by road. Educational opportunities were available to those who had the fortitude to walk three kilometers to and from school along precipitous mountainous paths.
For the past 17 years, Tsuzuki-san has worked at this small soba shop in the heart of the Iya Valley, teaching visitors the art of making soba noodles. She took us through the entire process, from grinding the soba into a fine powder using the shop's stone grinder to sifting the shells out of the flour before combining it with water to make dough. Then comes the kneading, the rolling, and finally, the cutting before the noodles are ready to be immersed in a pot of boiling water and are ready to be served.
It is surprisingly hard physical labor. All the while, Tsuzuki-san is urging you along with the mannerisms of a no-nonsense grandmother. "Not like that, like this." "Watch me." "Do it over." This is the countryside, mind you, not some teahouse in Kyoto where manners have been polished for millennia.
But in the end, you will reap the rewards for your sore biceps at the dining table, where alongside your handmade soba, the staff delivers unusual and delicious forms of local tempura: deer meat, basil, and my favorite, sliced apple, which reminded me of a healthier version of a McDonald's apple pie.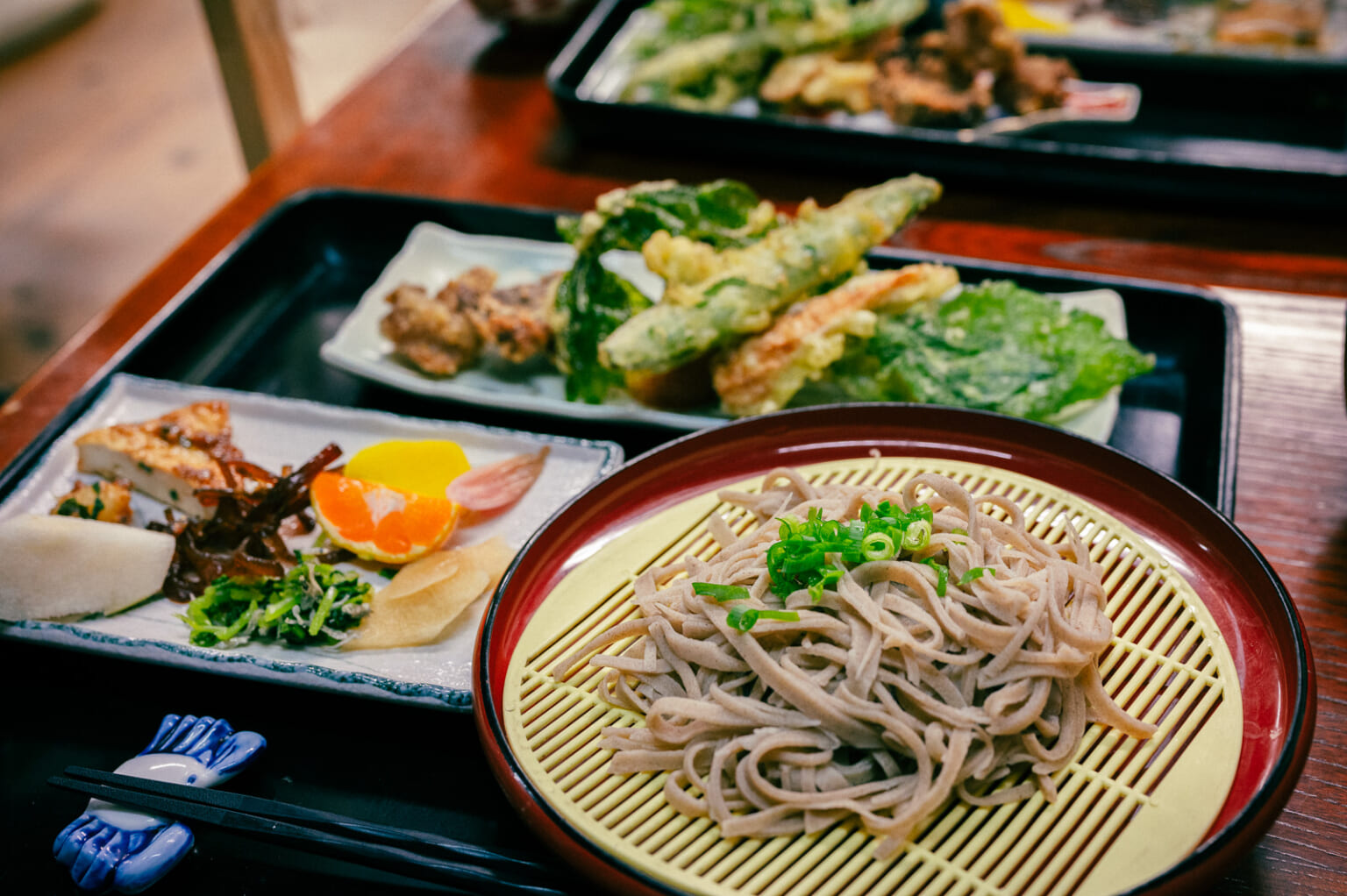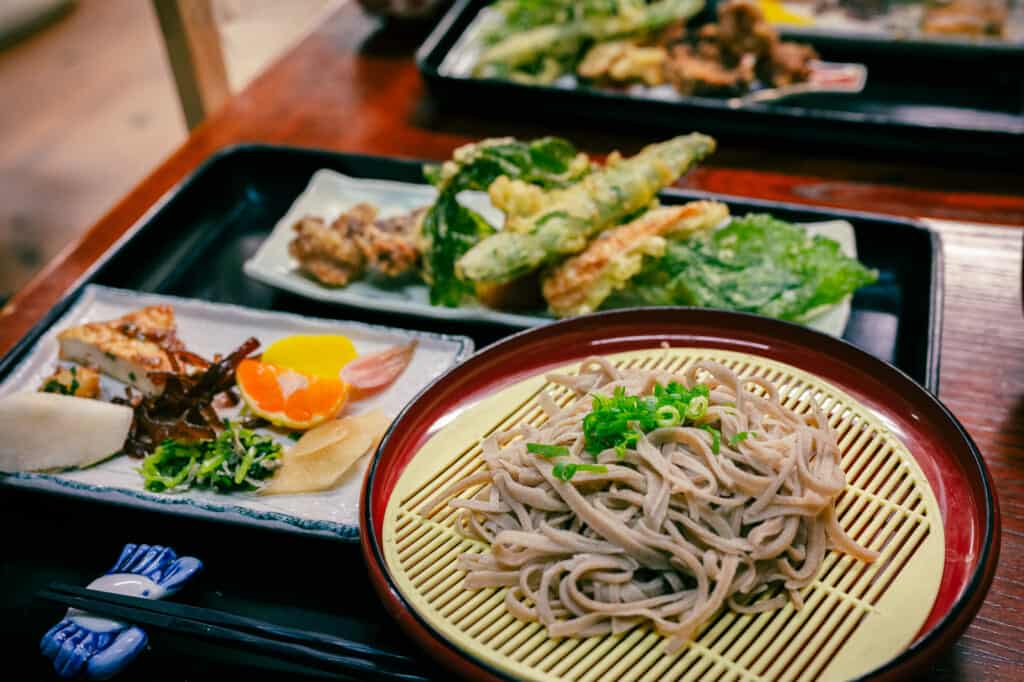 Japanese Washi Paper Making Taught by a Dutch Master in Kochi Prefecture
When Rogier Uitenboogaart first encountered Japanese washi paper in his home country of the Netherlands over 30 years ago, he was hooked. Rogier came to Japan to learn more about how the paper was made and ended up making a home and a career in Japan as a traditional paper artisan. Today, Rogier lives and works with his family at Kamikoya, a workshop hidden deep in the mountains of Kochi, where Japan's purest water yields the highest quality of paper he can produce.
All of this was relayed to us by Rogier's son Yohei, as he gave us a leisurely tour of the workshop and guesthouse and led us through the process of making our own sheet of handmade washi paper. Though Yohei had not originally intended to follow in his father's footsteps, he has come to appreciate the joy and peace people feel when making washi. "Nobody who comes to Kamikoya has ever been disappointed in the experience of making washi," Yohei explains.
Indeed, there is a meditative quality about making washi. The rhythmic pounding of the fibers into pulp. The slow pouring of the water and pulp over the screen in a steady motion. The exploration around the workshop to pick plants to decorate your sheet of paper. Our 90 minutes seemed to pass quickly, but in the end, a tangible work of art was left drying on a board, which Yohei would send to us by post later.
I chose a purple cosmos as the primary decor for my sheet of washi. Arriving at the workshop, the purple cosmos springing up alongside the house was what struck me the most, and including it in my washi paper would keep that memory in my heart forever. Yohei suggested either hanging the paper in a window, where it would be backlit by the sun, or rolling it into a loose cylinder and making it into a lampshade for a low-wattage lightbulb.
For those who want a more immersive washi-making experience, Kamikoya offers longer 6-hour workshops led by the master himself. They also have a guesthouse with two rooms for people to use as a retreat from the city. You can also stay here to take a multi-day workshop with Rogier, an experience tailored for professional artists or those who want to pursue a career in papermaking. Each workshop is about 6 hours long, and you can stay overnight up to five days to get 30-hours of washi-making experience.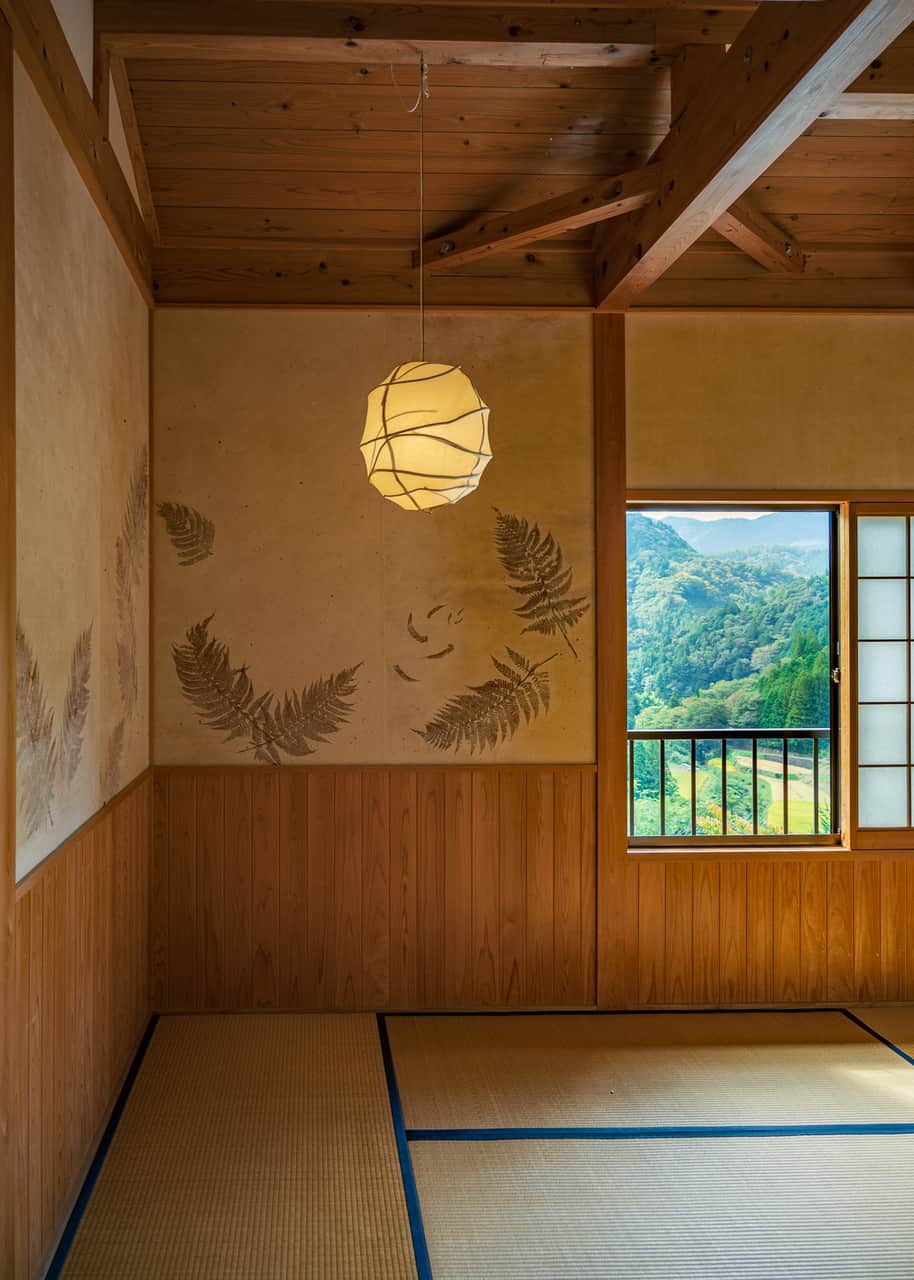 As we were leaving, Rogier returned home from his business away from the workshop, giving us a chance to greet him. But he would be proud to know that his son is already doing a great job leading people into the world and experience of washi making.
How to Experience Shikoku's Traditional Arts and Crafts
In a few short days, I traveled the island of Shikoku, enjoying the experience of making Japanese traditional crafts and food, as well as traversing the wild nature of Japan's least touristed major island. Shikoku remains a mysterious place to most visitors to Japan, but it doesn't need to be. There is easy access by air, train, and car to its major cities, and with the help of smartphone navigation, you can get anywhere on the island you want to go.
There are affordable flights from Haneda Airport to many major cities in Shikoku: Tokushima, Takamatsu (Kagawa), Matsuyama (Ehime), and Kochi. Using your JR Rail Pass, you can transfer from the Shinkansen at Okayama Station to one of several Shikoku-bound trains.
For those who want to participate in their vacation and not just be a spectator, Shikoku's many and varied experiences make it the perfect place to create memories through experience. And perhaps you will bring home some tangible traditional arts and crafts to remind you of Shikoku's many wonders.
Sponsored by Shikoku District Transport Bureau