Have you heard of Aokigahama Forest?
Japan's infamous "suicide forest" is known as Aokigahara Jukai in Japanese, with Jukai meaning "sea of trees". This forest has a dark history.
Looking for advice on how to get there and which trail to go hiking on? Then keep reading!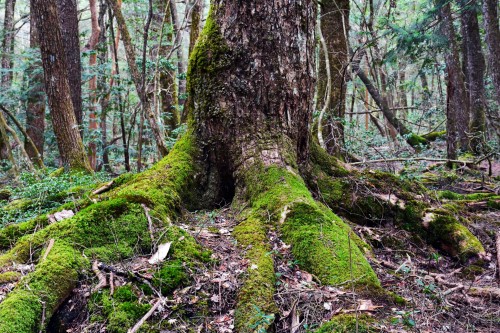 The history of "suicide forest"
It is said that a long time ago, families who could not feed all their children would sacrifice one of the family members to the Aokigahara forest. That person would starve to death so that the rest of the family could survive.
In the late 1990s, the amount of suicides that took place in this forest was so high that police started to do sweeps once or twice a year. Police do not publish the number of dead found in an attempt to draw less attention to this place as a suicide spot.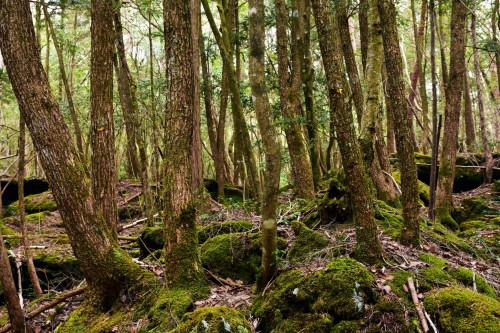 As if the cold facts are not enough, there are also many horror stories about ghosts and spirits roaming the woods. Having said that, I find this forest absolutely beautiful. The trees are tall and create a roof that prevents the sun from heating up the forest and letting in too much light.
It is a silent and tranquil place. If you decide to go hiking here, be careful not to lose the trail as it takes many twists and turns. It is difficult to find your way back in this forest, and many people have got lost here and never found their way out.
I understand the attraction of this mysterious place. Even though I'm not scared or fascinated by these stories, it is still a place that calls to me.
Still want to go hiking?
Aokigahama suicide forest, let's go hiking!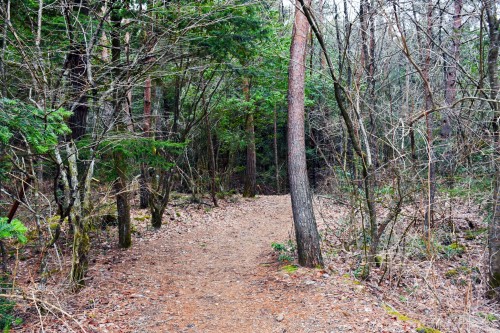 Starting point near Saiko Lake
If you do, you have a couple of choices on how to get there. Aokigahara forest's south end is near Saiko Lake. This is a good start for hiking in the forest, and there is also a great information place where you can get a map and directions in English before getting started.
There are several trails to choose from. Some are a 40-minute walk, and some are several hours; it all depends on what you would like to see.
To get to Saiko Lake, you can take the sightseeing bus from Kawaguchi Lake. See this link for times and costs. It is more convenient to go by car, and there are signs in English all the way to the starting point at Saiko Lake, and free parking once you arrive.
What you can see on your hike through Aokigahara

Saiko Bat Cave (Koumori-ana in Japanese) is located at the starting point of the hike from the south end near Saiko Lake. This cave will be your reference point when looking for signs if you are driving here. This is where you will find your information point with maps, and even audio-guided tours you can listen to while hiking.
From there, my recommended route is to continue toward Narusawa Lava Cave (Narusawa Hyouketsu). The temperature in this cave is always very low, around 3 degrees Celsius. You can see pillars of ice in the two halls of the cave through most of the year.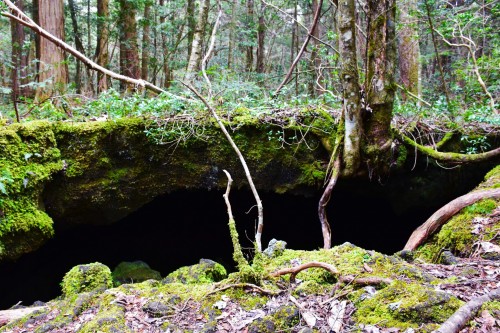 A big cave below ground level named Shelter from the Rain
If you want to see special plants and wildlife, then you don't need to search since you will find it in Aokigahara no matter which trail you choose. However, if you are interested in the dark history of this forest, your best chance to find any remains or tracks from lost souls would be around the Narusawa Lava Cave and the paths that head southwest parallel to Road 71.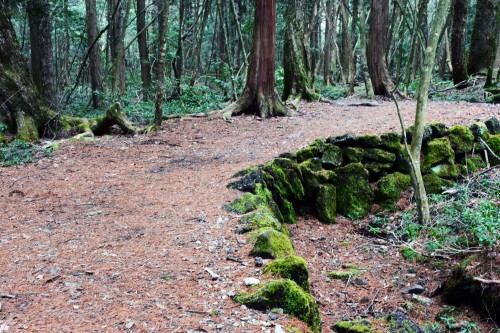 WARNING
If you really want to find remains or tracks, you have to get off the main trail. It is very difficult to find your way back! There is no phone signal in Aokigahara forest, but a compass should work just fine.
| | |
| --- | --- |
| Name | Suicide forest (Aokigahara Jukai) |
| Category | Forest |
| Address | 2068 Saiko, Fujikawaguchiko, Minamitsuru District, Yamanashi Prefecture 400-0334 |
| Access | 2068 Saiko, Fujikawaguchiko, Minamitsuru District, Yamanashi Prefecture 400-0334 |
| Opening Hours | - |
| Price Range | - |
| Payment options | |