Adventure is calling your name, and it's called Kyushu. Japan's westernmost island is a natural paradise of geothermic hot springs, rugged mountains, and azure seascapes beckoning to your spirit of adventure. Kyushu is an area full of uncrowded, open spaces, and the people of Japan are highly conscientious about hygiene and personal space, making it an excellent choice for those worried about coronavirus exposure. In this four-day itinerary, sample the incredible sights and experiences of the cities of Kitakyushu, Beppu, and Kumamoto, and you'll be hooked into returning to Kyushu again and again.
The Stunning Views of Kitakyushu
Depart from Hiroshima on the San-yo Shinkansen bullet train and arrive at Kokura Station in the city of Kitakyushu in less than an hour. The fare cost is covered by a Japan Rail Pass on one of the world's most pleasant and reliable forms of transportation. After arriving in Kokura, use the local JR train to get to Mojiko Station, close to historic Mojiko (Moji Port).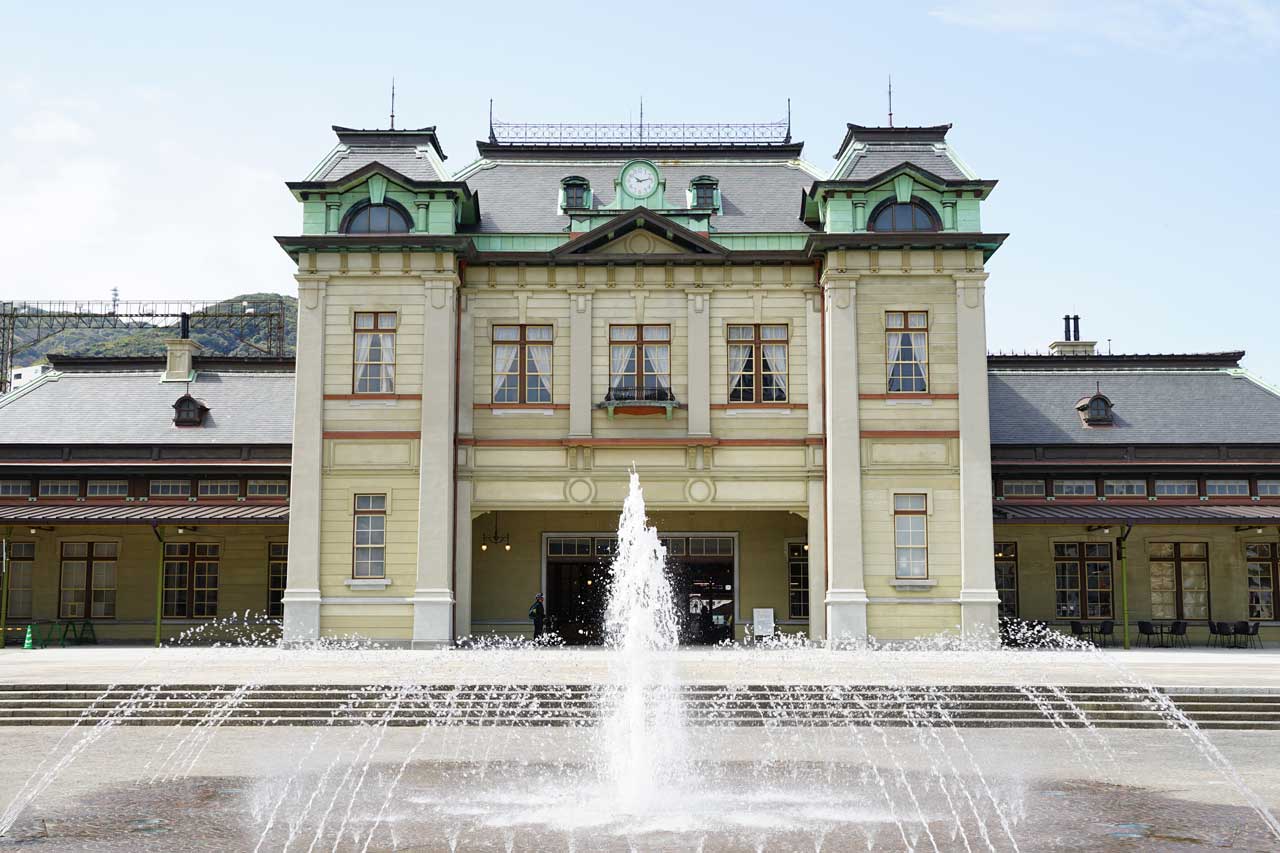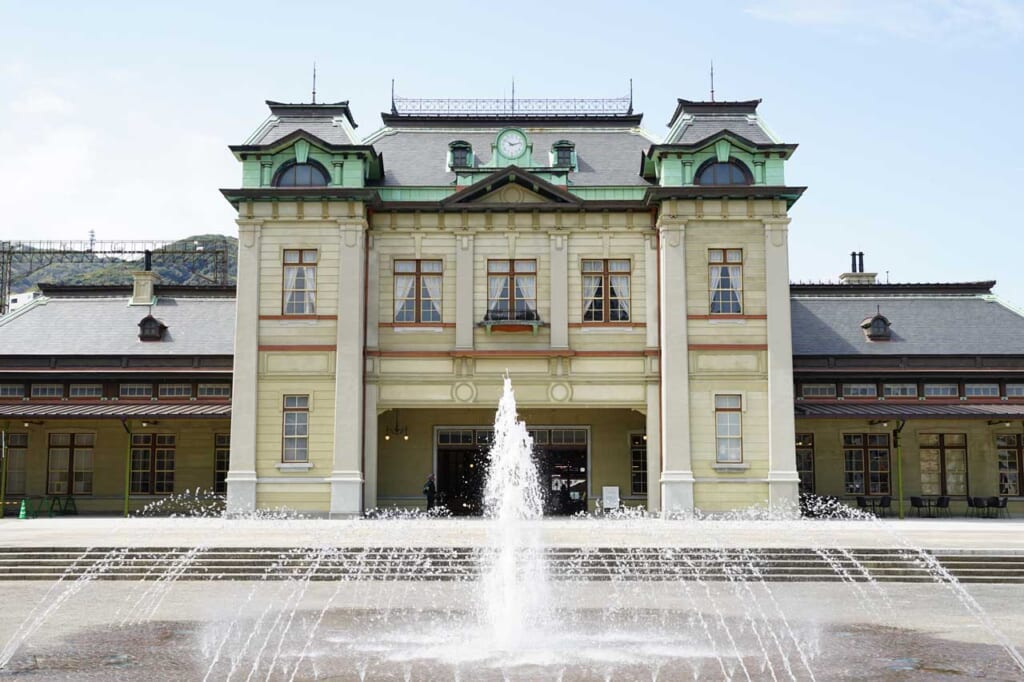 Kitakyushu's location made it a convenient point of trade with the Asian mainland, so the city has a long history of international relations with countries like Korea and China. The area was critical to Japan's industrial advancements of the early 20th century, home to companies producing steel and coal. Mojiko (Moji Port) became an international trading port in the latter 19th century with the Imperial Steel Works, Japan starting operations here in Kitakyushu in 1901.
Here at the port, the Mojiko Retro Highmart offers a 31st-storey observatory to survey the panoramic view of this northern part of Kyushu and the Kanmon Bridge connecting it to Honshu Island. Then, take a five-minute ride on a liaison ship from Mojiko (Moji Port) to the other side of the strait at Shimonoseki's Karato Market, where a bounty of fresh and inexpensive seafood awaits you and your appetite.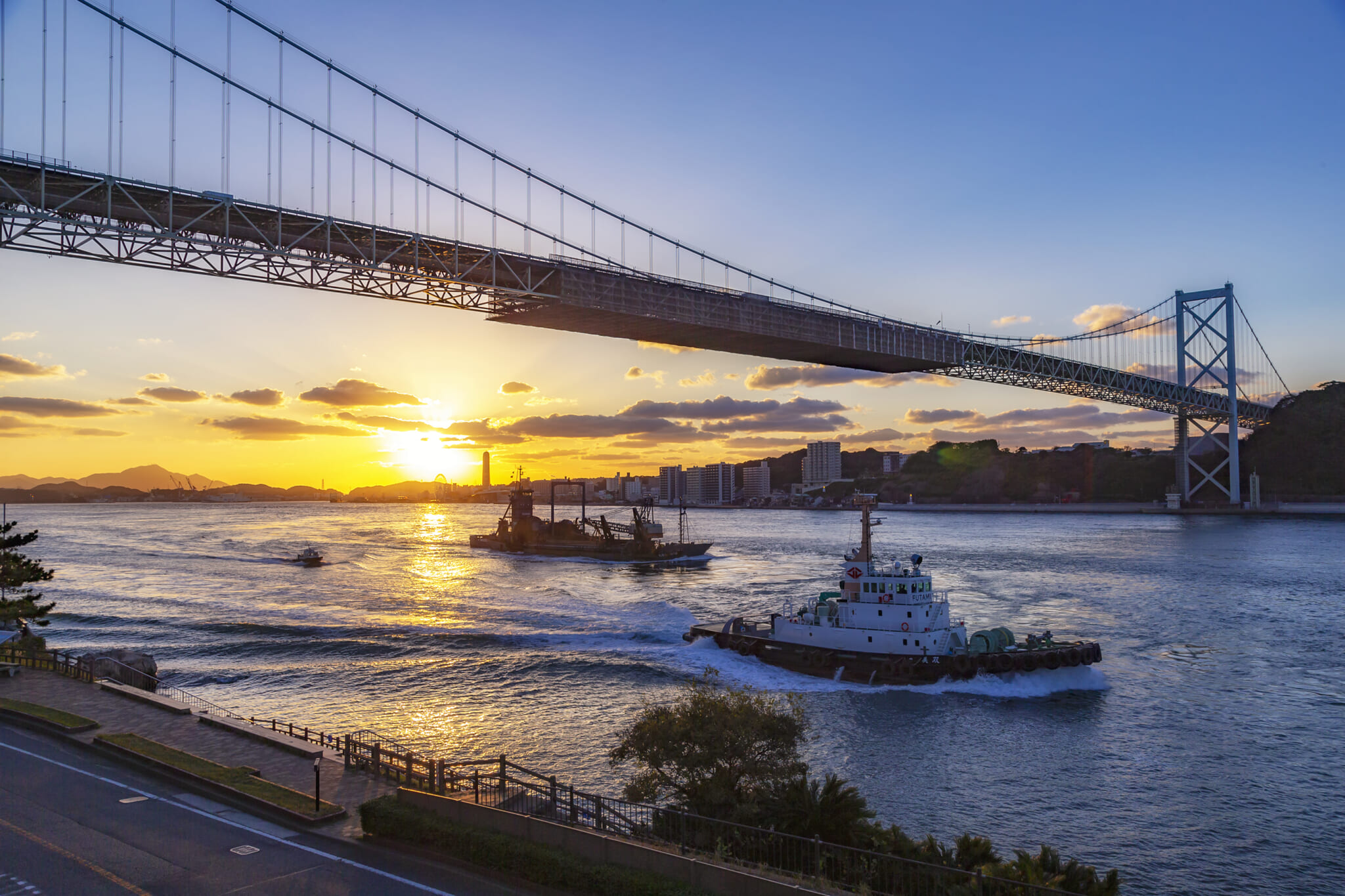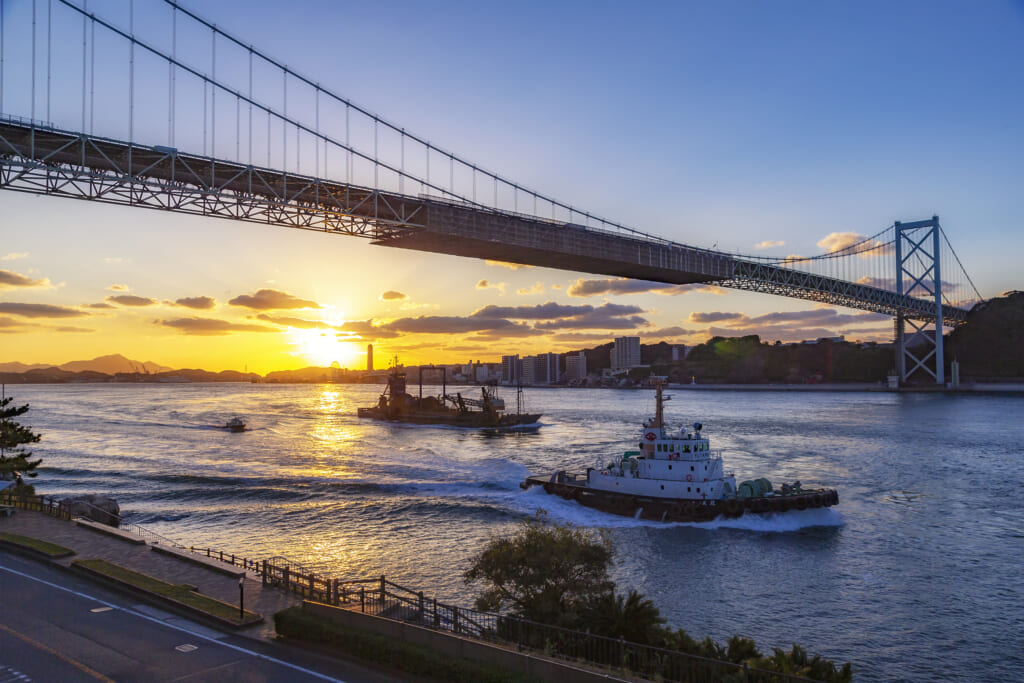 The Most Beautiful Wisteria Tunnel at Kawachi Wisteria Garden
Savor the various catches of the day before departing for one of the highlights of your day back on the other side of the strait: Kawachi Wisteria Garden (河内藤園). This garden was selected by CNN as one of Japan's 31 most beautiful places and is best known for its stunning displays of wisteria from April to May. However, it is also spectacular in autumn for its brilliant red foliage. Twenty-two types of wisteria have been cultivated to create 80 and 110-meter-long dreamlike tunnels of delicate purple and white flowers, while 700 maple trees form a tunnel of fiery leaves every autumn. Kawachi Wisteria Garden attracts visitors from around Japan and internationally and has become an icon of beauty for Kitakyushu.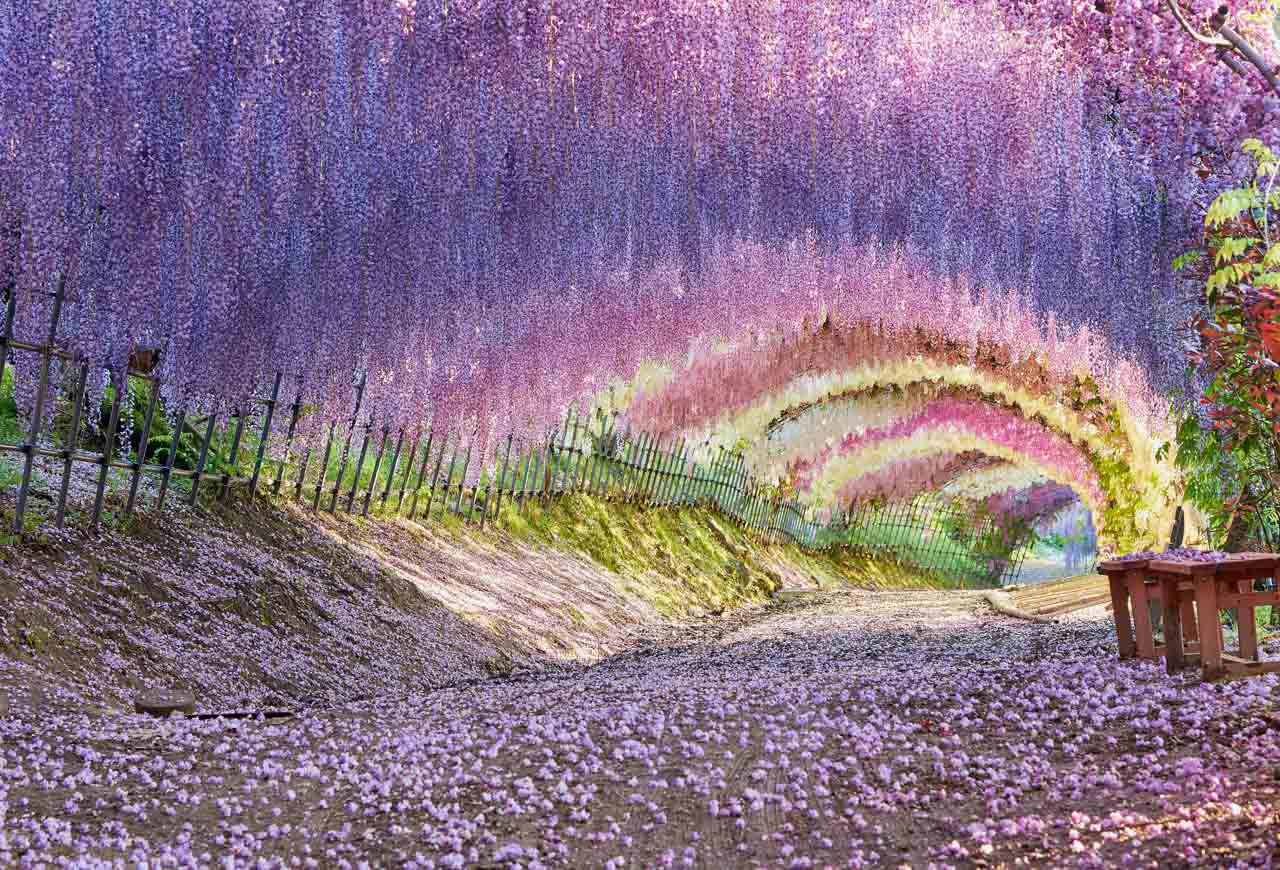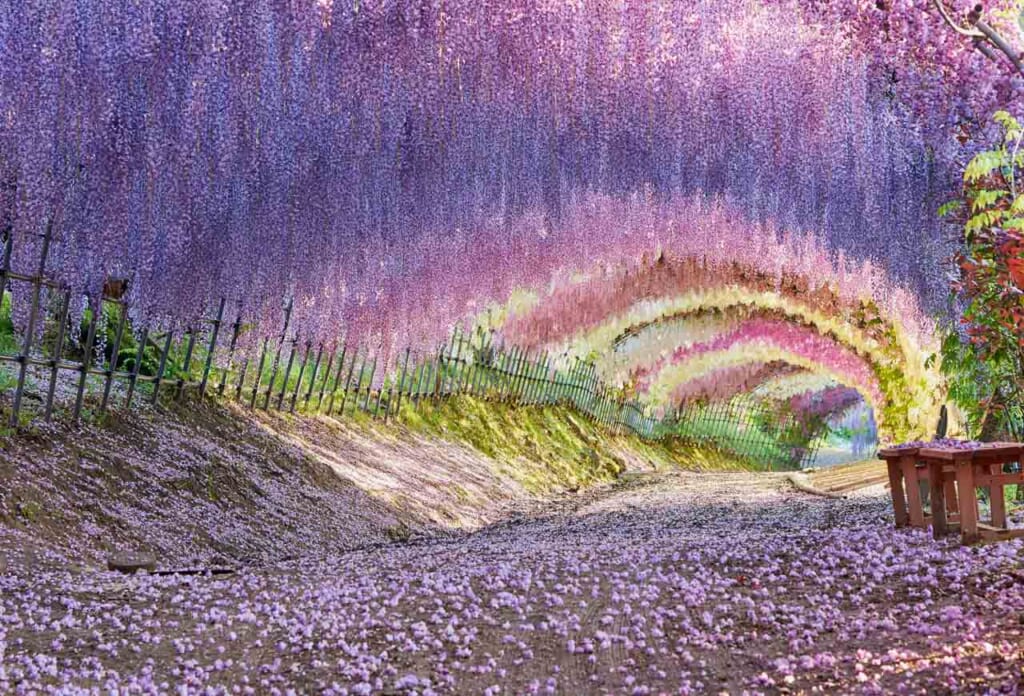 One of Japan's Best Night Views on the Sarakurayama Cable Car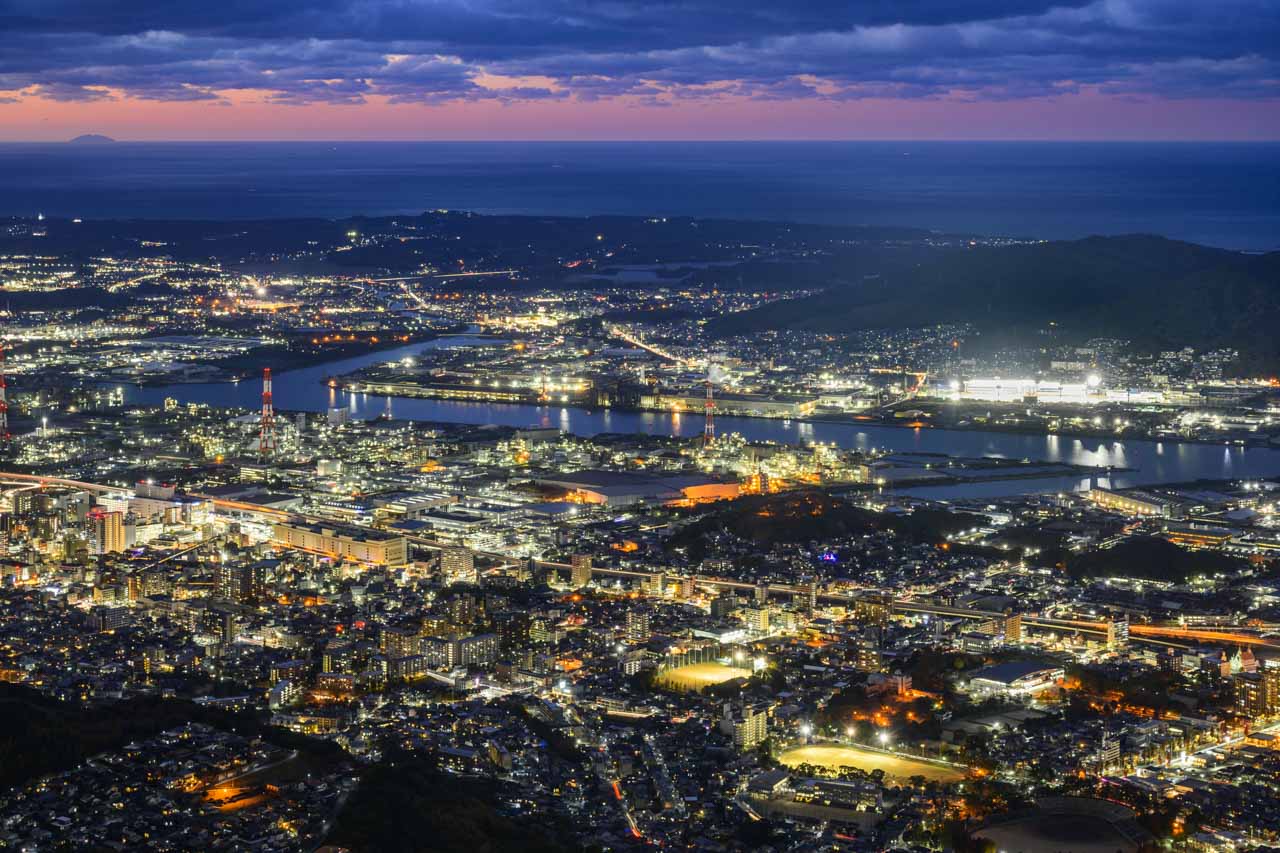 From the lovely natural beauty of the garden, take a short drive to the parking lot of the Sarakurayama Cable Car. From here, board the cable car for a 1.1-kilometer 6-minute journey up Mount Sarakura, ascending 440 vertical meters. Along the way, you might enjoy incredible views of fall foliage through the large cable car windows as well as the scenery of Kitakyushu falling away below you. Finally, at the 622-meter high summit, you might catch the sunset over the mountains, sea, and city lights, and witness why it is known as one of Japan's three major night views.
Fusion Cuisine and Local Fare in Kitakyushu
Descend from the mountain and head back to the city center for a dining experience sure to satiate your appetite. Beef Kitchen Saikogyu overlooks the Murasaki River and features cuisine made with a fusion of local and international ingredients for a one-of-a-kind dining experience. Many meals feature Japanese ingredients such as black wagyu beef and fresh seafood like scallops and sea urchin, served alongside European ingredients such as French truffles and Italian porcini cream sauce. Vegetarian dishes are also available for those who would rather not eat meat.
After a sumptuous meal, turn in for the night at the Rihga Royal Hotel Kokura, an upscale and convenient hotel near Kokura Station.
Kokura Castle and the History of Japan's Master Swordsman
The following morning, visit Kokura Castle, a popular attraction for those familiar with samurai history. The famous master swordsman Miyamoto Musashi fought one of his best-known duels here at the Kokura domain. There is an exhibition about Miyamoto's time in Kokura and a monument of his duel. There is even a dojo here that teaches students his two-sword style.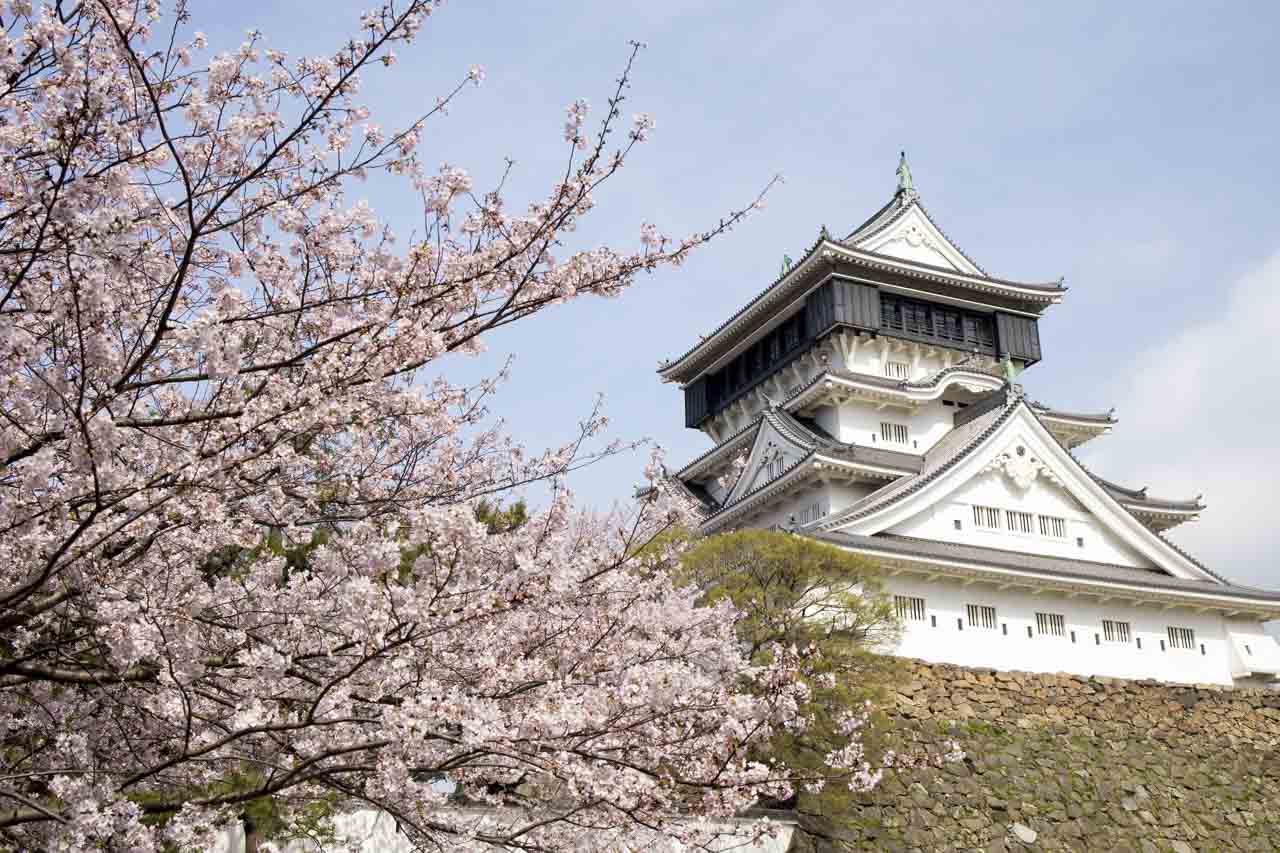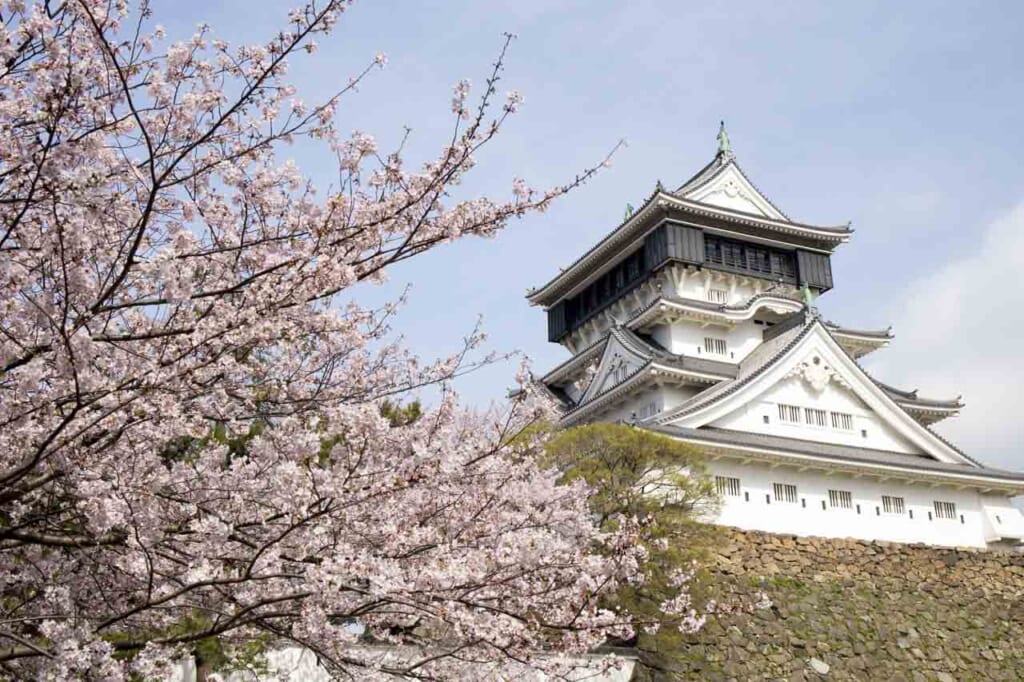 The view from the castle keep provides an overview of the city's mixture of historic and modern, with the castle and lovely Katsuyama Park on the castle grounds and the recently built Riverwalk Kitakyushu just beyond. After touring the castle grounds, enjoy views of the river as you stroll through the complex's shops, restaurants, and entertainment venues.
Not far from the castle and Riverwalk, take a lunch break at Mojiko Retro Beer Restaurant, a microbrewery serving that has won first place in a craft beer contest in Japan. Their menu also features international favorites like sausage, pasta, fish and chips, and Kitakyushu's famous grilled curry.
TOTO Museum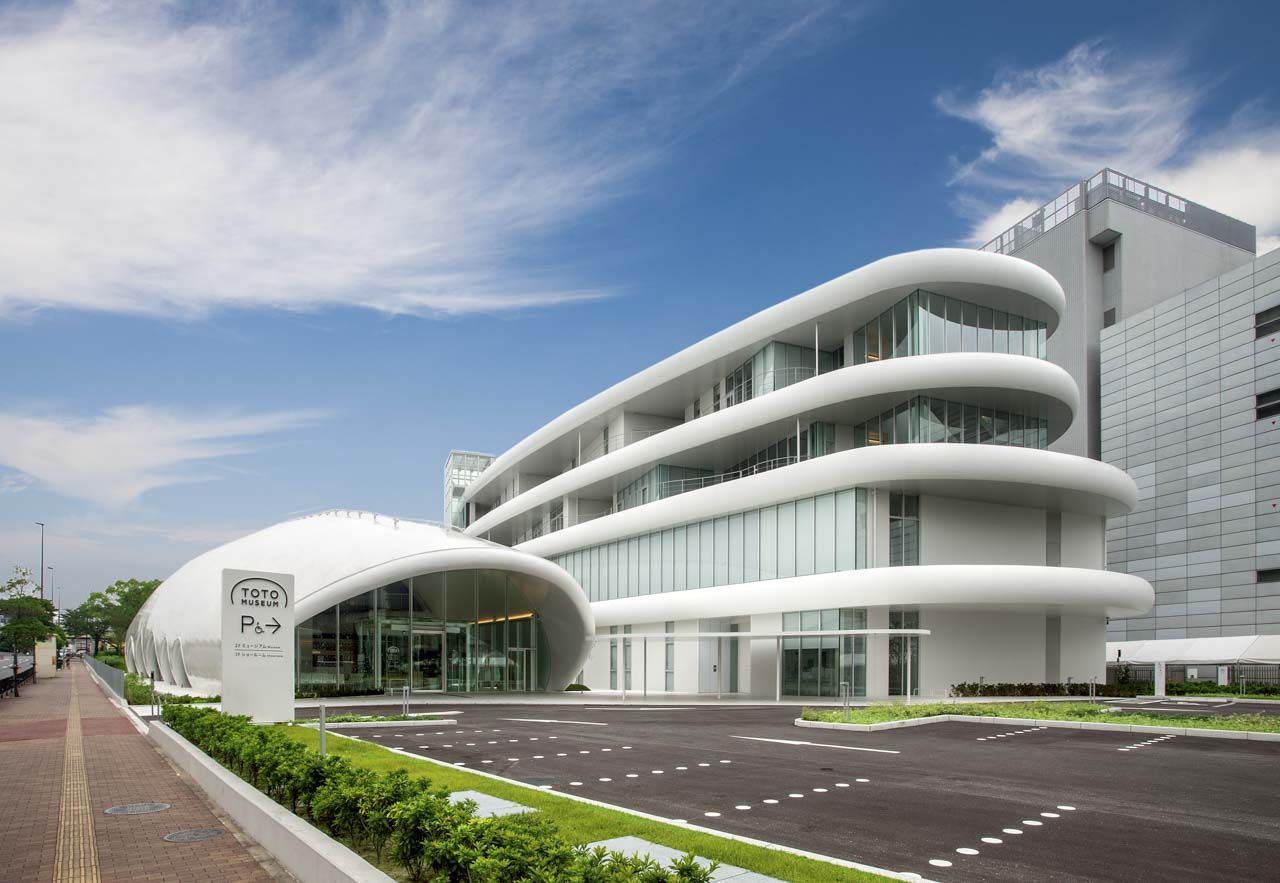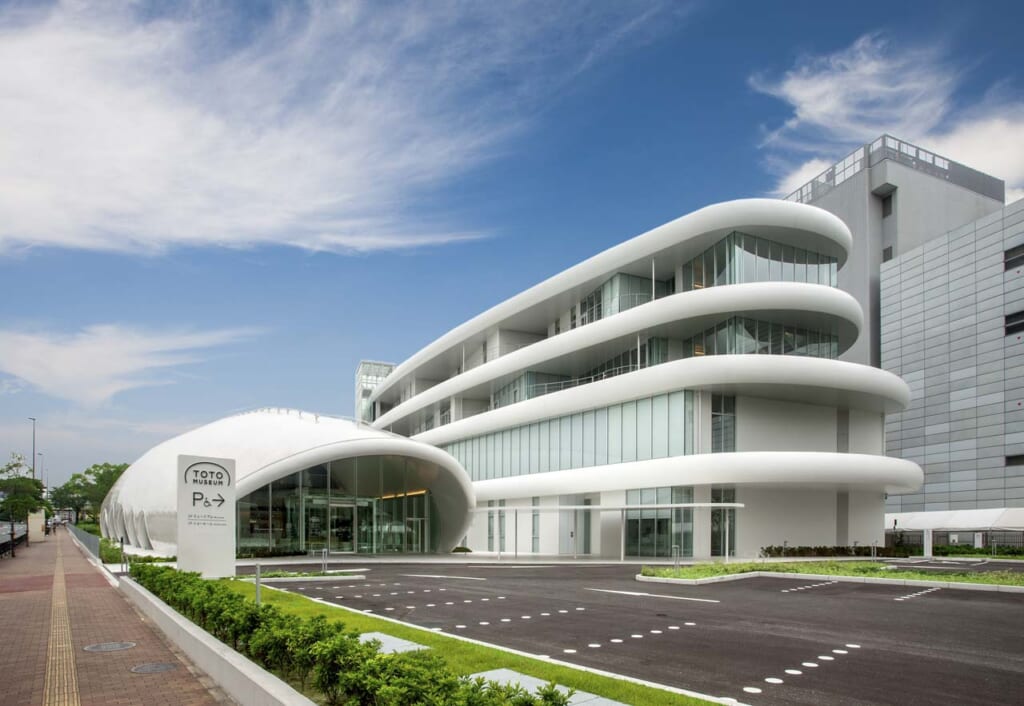 It might sound strange to include a museum of plumbing equipment on your "must-see" list, but with Japanese toilet technology all the rage globally, the TOTO Museum is a fascinating look at the history and evolution of Japanese sanitation. The museum was built to commemorate the 100th anniversary of the company and to help visitors understand the ways TOTO is innovating products and manufacturing processes toward greater environmental sustainability. Housed in a state-of-the-art, environmentally green building, this unique museum is sure to be a highlight of your visit to Kitakyushu city.
Beppu City: A Hot Springs Heaven
After enjoying the museum, head to Kokura Station to transfer to your next destination, Beppu city in neighboring Oita Prefecture, a little over an hour away on the Limited Express Sonic train. Beppu is home to over 2,000 natural onsen hot springs used in Japan for relaxation, physical healing, and socializing. Beppu contains the largest variety of onsen water types in one location, justifying its reputation as "onsen heaven." For those with tattoos, there are many tattoo-friendly establishments in Beppu, making it easy to enjoy the onsen culture without worry.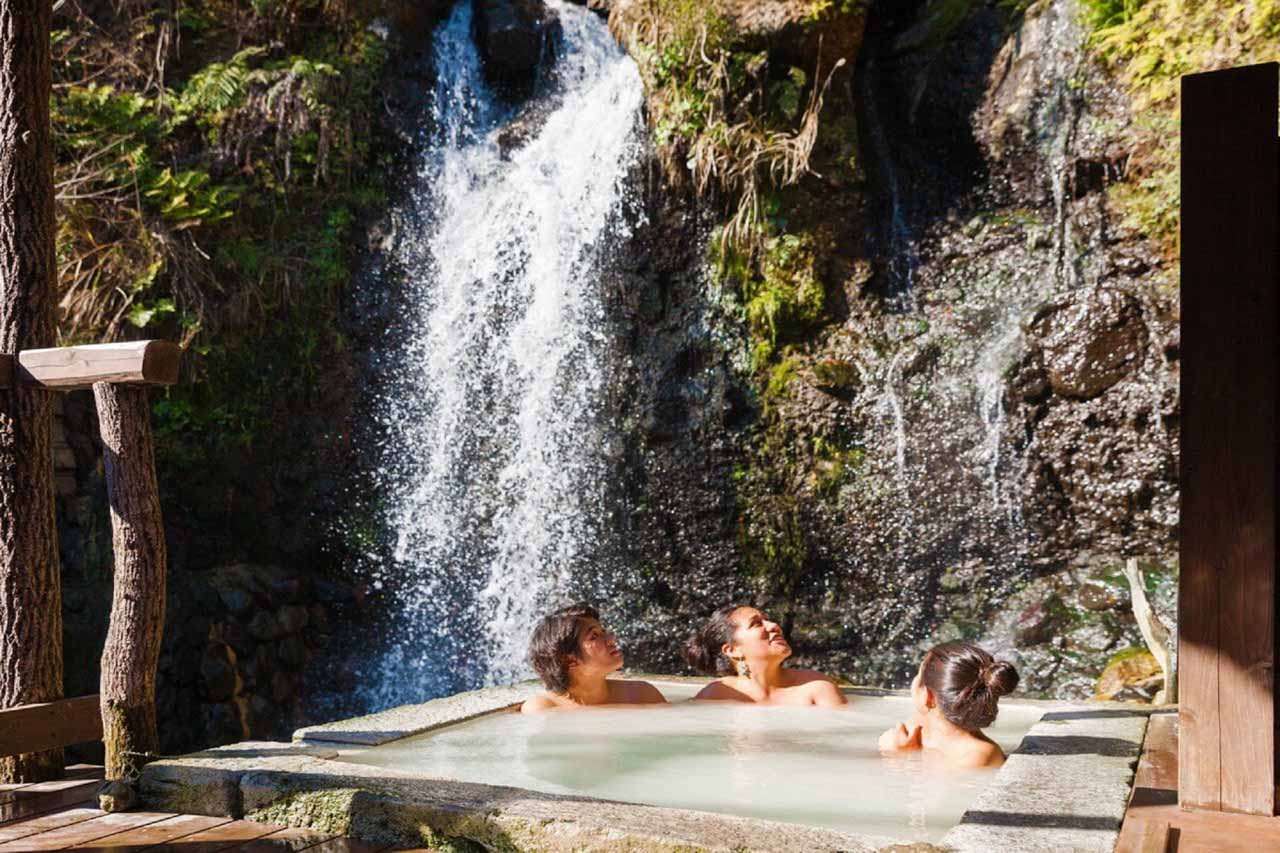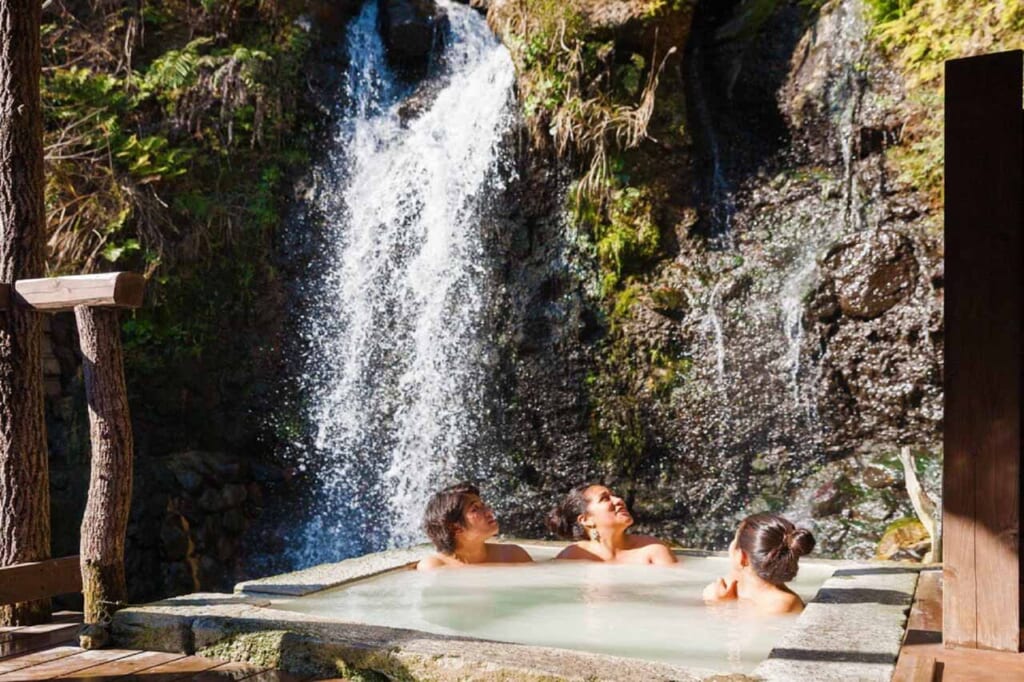 Meet your English-speaking guide at the station, who will take you on an exclusive tour of Beppu highlights. First, your guide will teach you the basic etiquette for using an onsen, often a major hurdle for those trying this unique experience for the first time. Your guide will accompany you into an onsen facility to ensure you are comfortable with the process.
After a thoroughly relaxing soak in a hot bath, you'll be ready for a good meal, so your guide will take you to an izakaya, the Japanese form of a local pub. These cozy establishments serve simple plates of local food that pair well with alcoholic beverages and give you a chance to mingle with friendly local people. It can be an intimidating experience for those unfamiliar with the Japanese language and culture, but with a local guide, you'll be able to relax and enjoy the warm atmosphere.
After an enjoyable evening accompanied by your guide, retire to your room at Amanek Yula-Re, a hotel near Beppu Station built in 2021. Amanek Yula-Re features modern Japanese decor and a rooftop pool with a panoramic view of the city and bay.
Traditional Bamboo Craft in Beppu
Bamboo products have been a traditional craft of Beppu for over a century. Pay a visit to the Nagai Seichiku bamboo factory, where you can watch bamboo artisans up close as they create products from this environmentally sustainable material. Then, purchase bamboo goods as souvenirs at the small shop on site.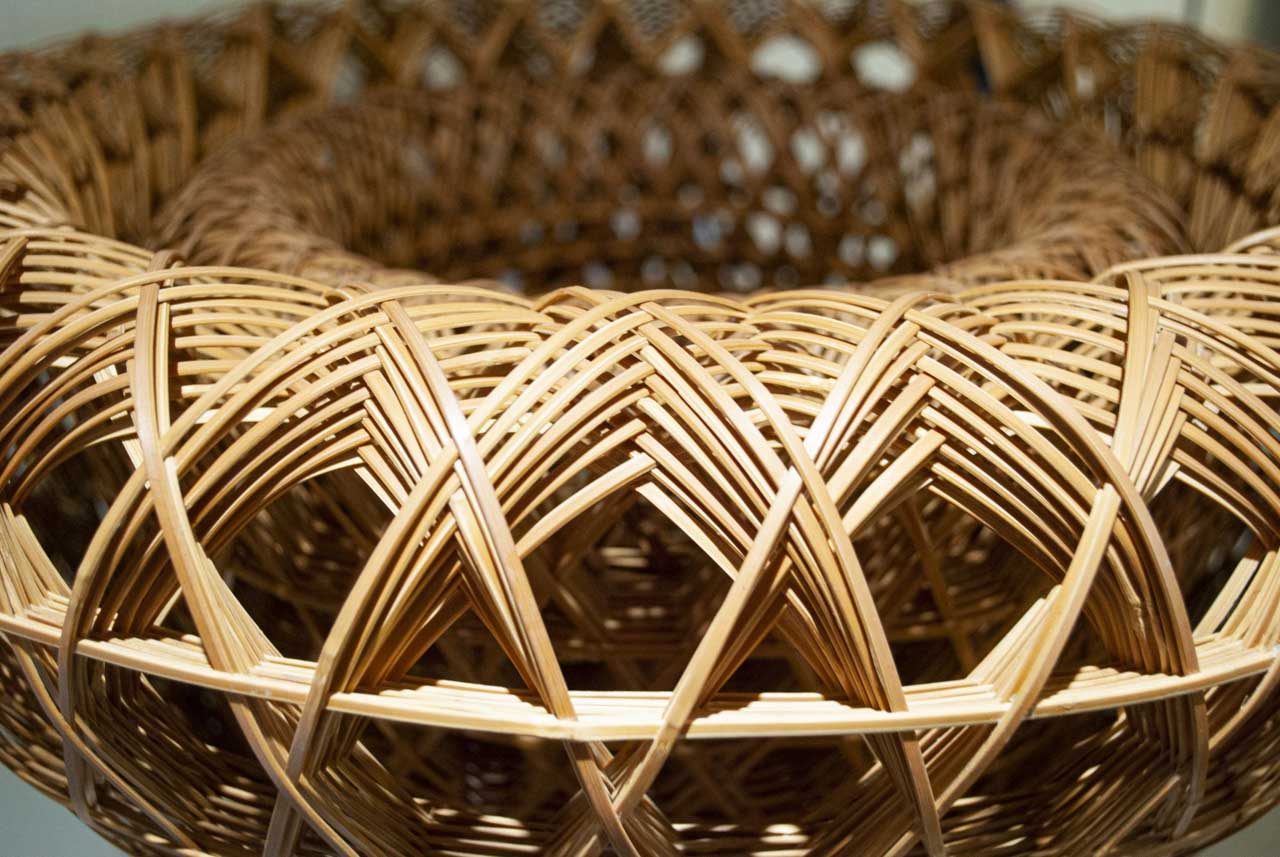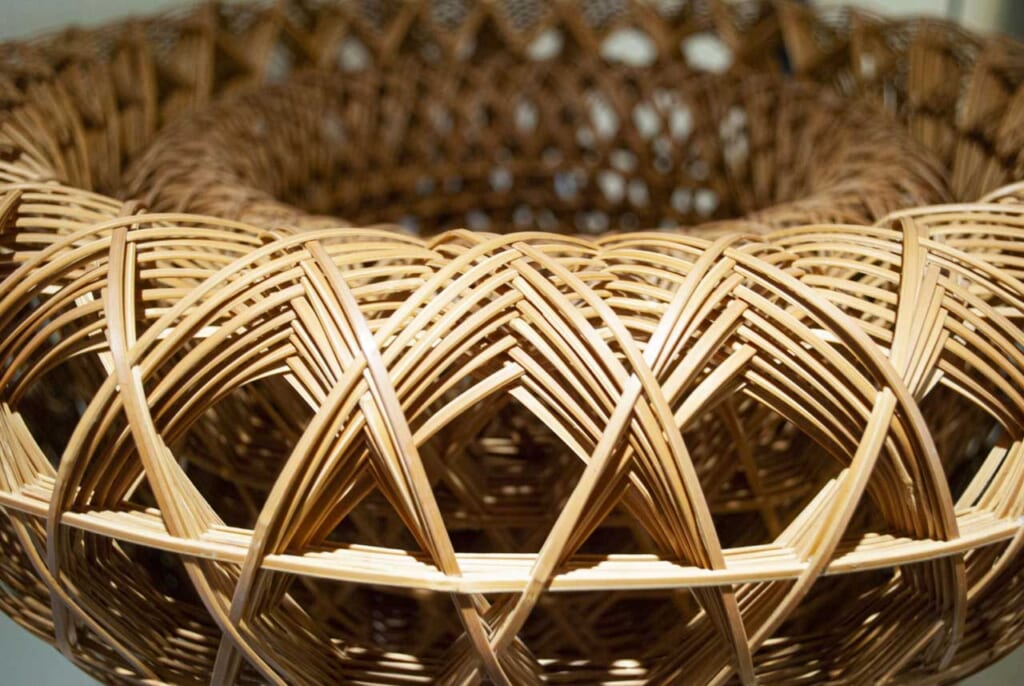 For an experience making your own bamboo crafts, Synergiez bamboo workshop offers you a chance to make your own bamboo chopsticks guided by a professional craftsman. After this 2-hour workshop, you'll leave with a unique handmade set of chopsticks that you can use for meals or give as a gift to a favorite person back home.
Jigoku Mushi: Beppu's Unique Hot Spring Cuisine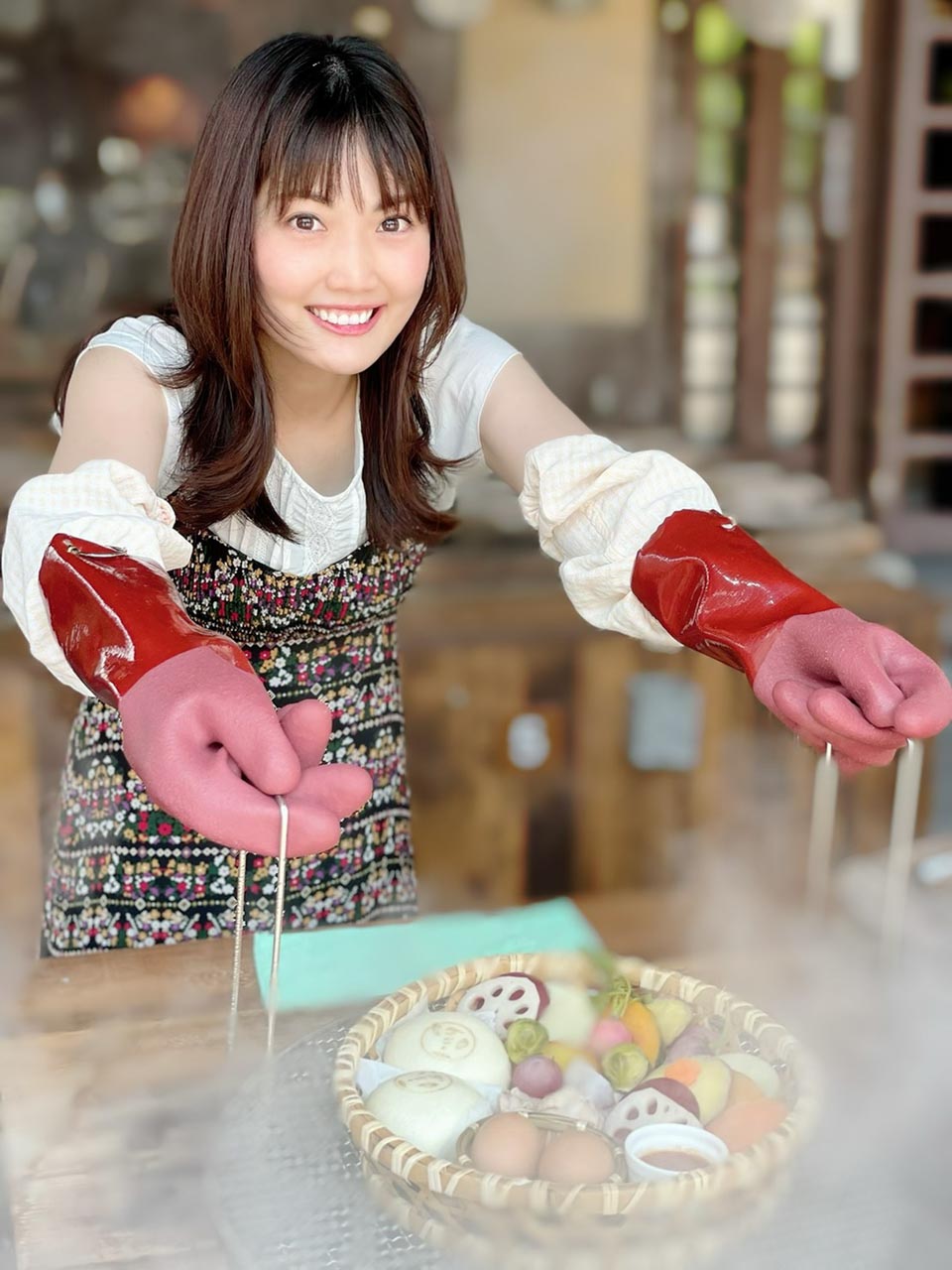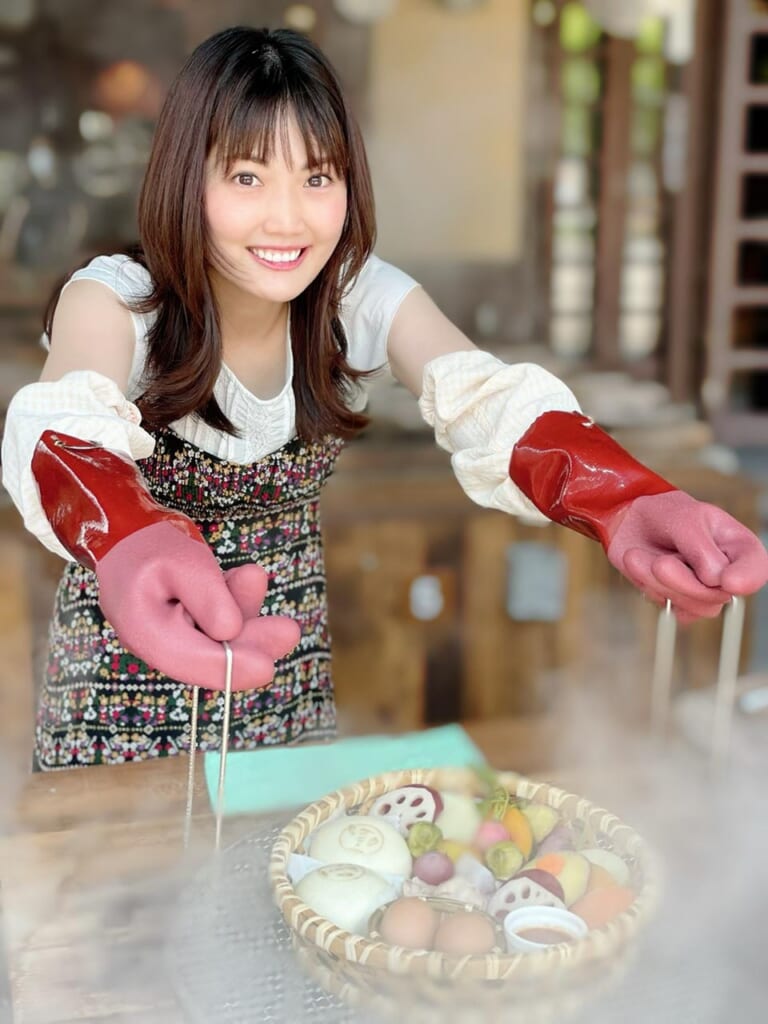 Experiencing Beppu's unique cooking method is a must for visitors to the area, so head to Beppu Market, where you'll first pick out your ingredients for "Jigokumushi," literally "hell steaming." This cooking method uses the underground geothermic steam that heats Beppu's onsens to cook various meats, seafood, and vegetables using the power of nature alone. So choose from items like chicken, shrimp, fish, steamed buns, and the abundant variety of local vegetables and place them in a basket. This basket is placed in a steamer until all the ingredients are cooked. With no cooking oil or additional energy required, Jigokumushi is one of the most healthy and ecologically sustainable cooking methods on the planet, not to mention delicious.
Hot Spring Experiences in Beppu
The huge number of onsen facilities in Beppu can overwhelm visitors, so take a guided tour in English of the Beppu Onsen area. The guide will explain the onsen culture of Beppu and escort you to one of several facilities where you can try various forms of hot springs bathing, both public and private. More than just a relaxing tour, your guide will help you understand the importance of onsen in Japanese culture and society.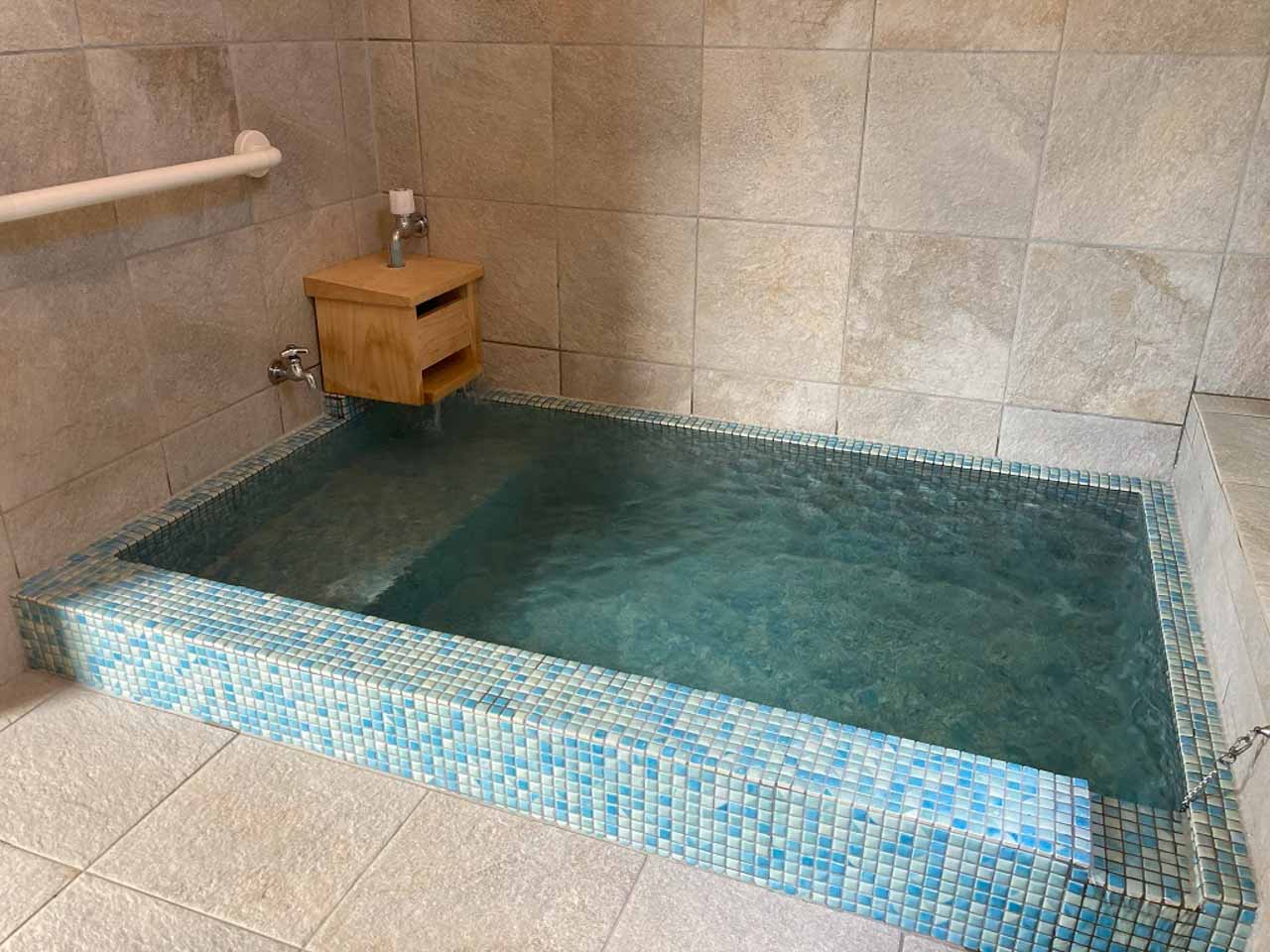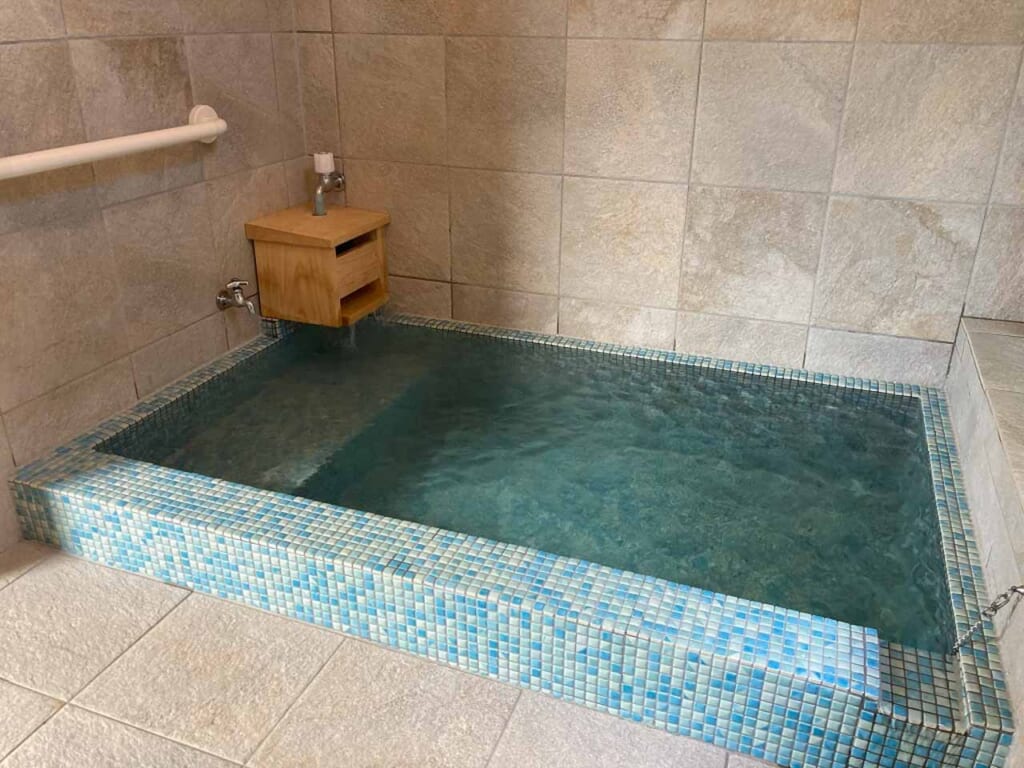 One of the onsen options for your guided tour is Yume Hinoki no Yu Daibutsu Onsen, where you can enjoy a private onsen bath in a hinoki cypress tub. The water's natural mineral content leaves your skin feeling silky smooth, while the subtle aroma of the cypress tub adds to the relaxing experience.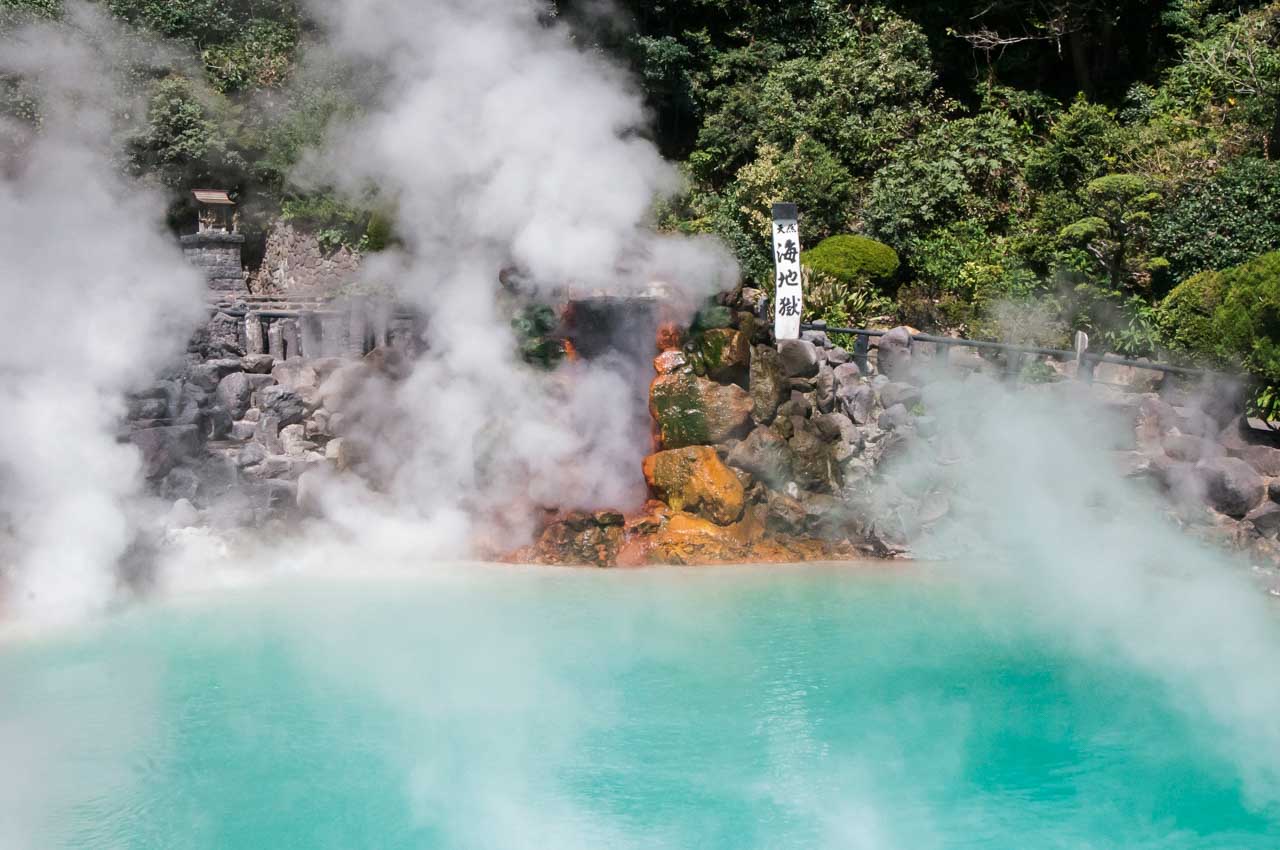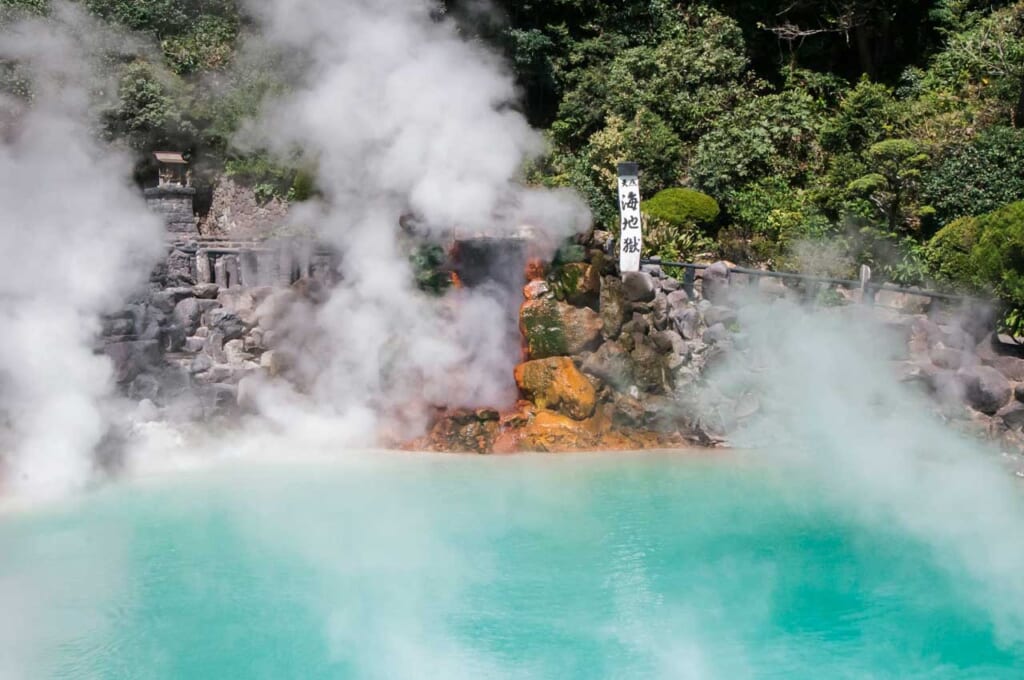 After your tour and before departing Beppu for your next destination, visit Umi Jigoku, literally "Sea Hell," one of Beppu's most famous tourist attractions. This is one of the seven hot springs that make up Beppu's Jigoku Meguri (Hell Tour). These hot springs reach temperatures of over 100 degrees Celsius, hence their "hellish" name. A tour of the seven Hells gives a good overview of the types of onsen water in the Beppu area. Since we don't have time to see them all, Umi Jigoku provides a stunning display of superheated cloudy blue water set in a picturesque location.
Samurai History in Historic Kumamoto
With our time in Beppu at an end, head to Beppu Station to board the Asoboy train to Kumamoto. This unique train runs on weekends and holidays and features dog-themed decor, an exclusive food menu, and, most importantly, panoramic views of the breathtaking Kyushu scenery between Beppu and Kumamoto through its oversized windows.
Kumamoto city grew around Kumamoto Castle, which represented the supreme military power of the domain throughout the Edo Period history of Japan. The security provided by the castle enabled the city to grow large and prosperous, and Kumamoto remains the third-largest city in Kyushu even today.
Tonight's accommodation is at Tsuzura, a 130-year-old former Ryotei inn renovated in 2021. Modern blends seamlessly with traditional in this space where you can not only enjoy a comfortable place to sleep and relax but also enjoy an unforgettable dinner experience at the inn's neighboring restaurant, Furumachi Sen. Here, patrons sit at the restaurant's counter around a sunken hearth, where meats are grilled and served on skewers while the delicious local sake flows freely.
Stroll Through the Gorgeous Suizenji Jojuen Garden
The following morning, take a stroll around the gorgeous Suizenji Jojuen Garden (水前寺成趣園), which celebrated its 350th anniversary in 2021. This unusual garden is said to recreate the views from the post towns along the old Tokaido Road between Kyoto and Edo (modern-day Tokyo) in miniature. Iconic locations such as Mt. Fuji and Lake Biwa are easy to recognize even by those unfamiliar with this part of Japanese history. Seasonal foliage and the clear spring waters that feed the garden's pond add to the picturesque beauty of the park; stop and admire the view while enjoying a warm bowl of matcha tea along your stroll.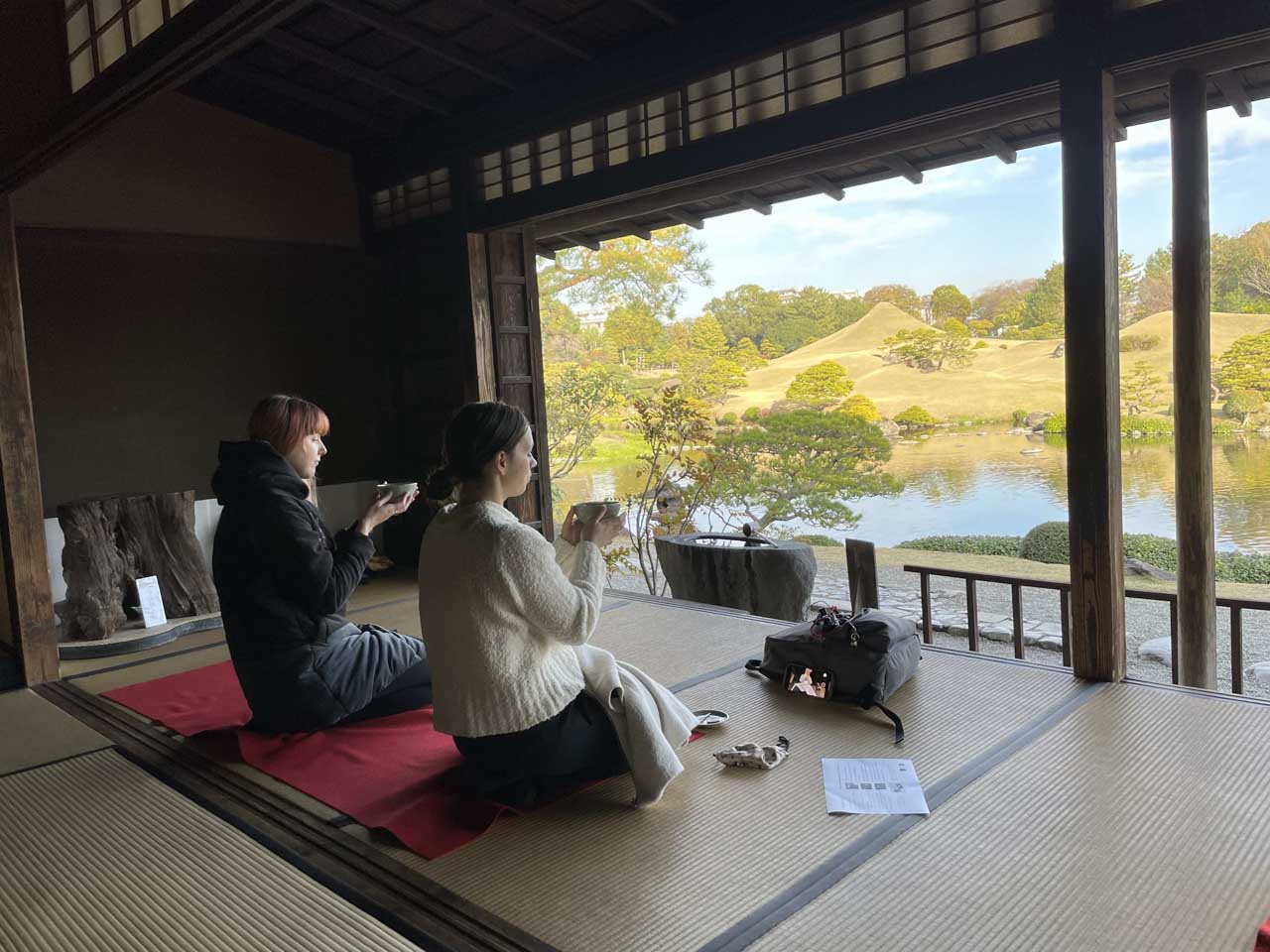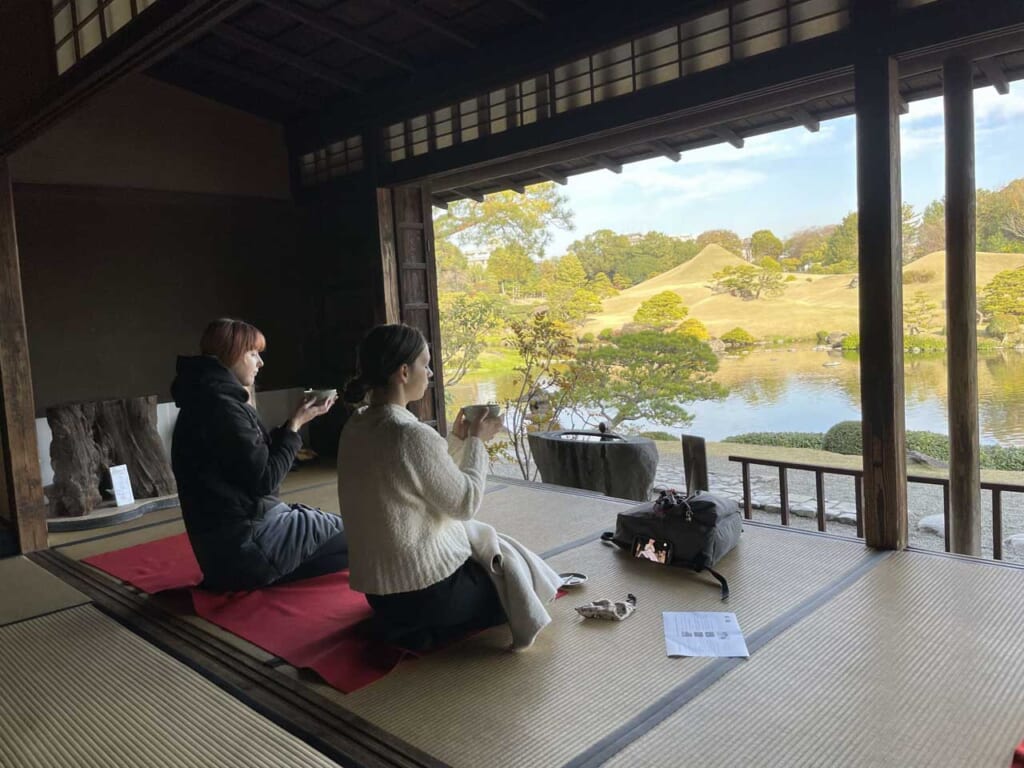 Reigando Cave, the Famed Swordsman Miyamoto Musashi, and the Book of Five Rings
Enjoy the sunny weather because next, you will head for the mountains and into Reigando cave. Here, legendary swordsman, Miyamoto Musashi, wrote "The Book of Five Rings" just before he died. On your climb to the cave, you'll pass a hillside covered in hundreds of rakan stone statues of Buddhist disciples often carved with comical expressions. The cave is on the grounds of the ancient Unganzen-ji temple, which still exists today and maintains several artifacts related to Miyamoto Musashi, who remains as popular as ever centuries after his death.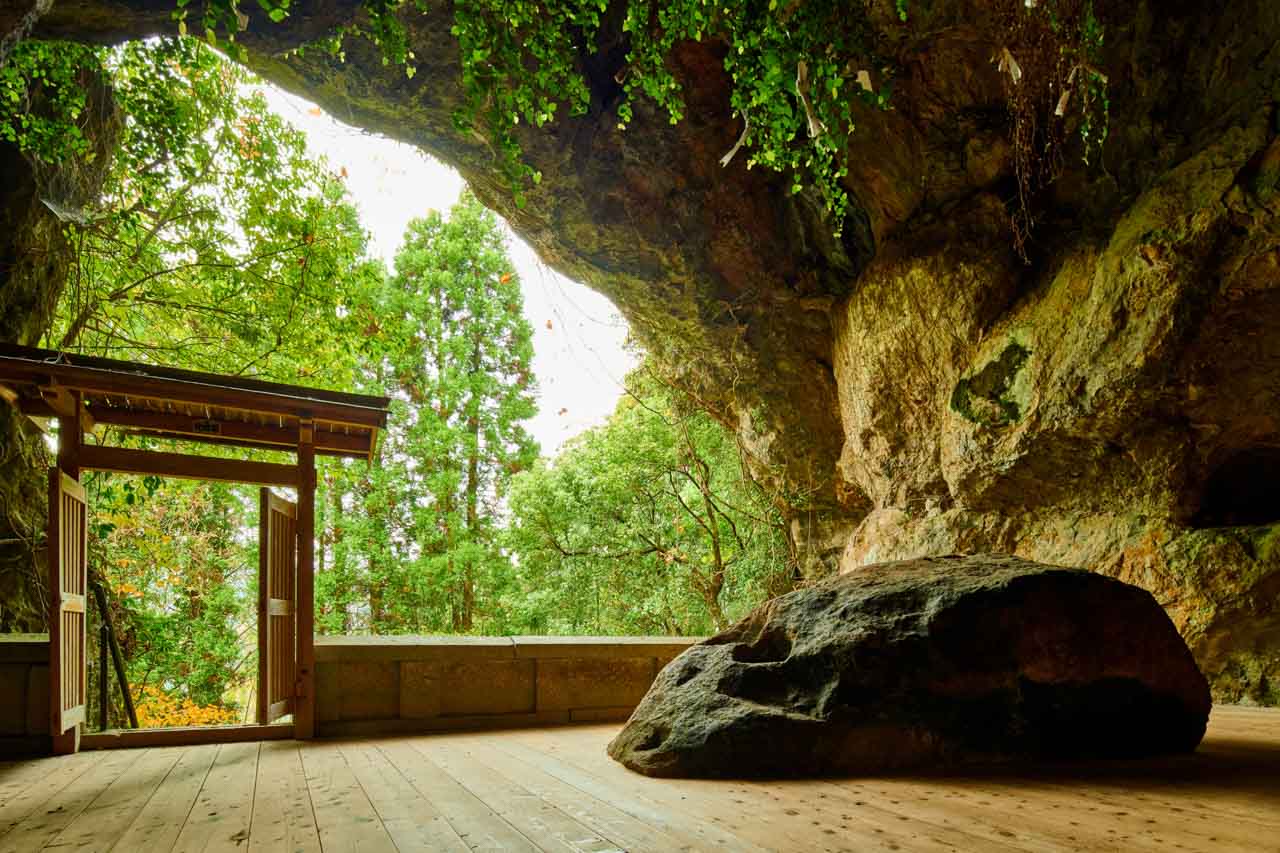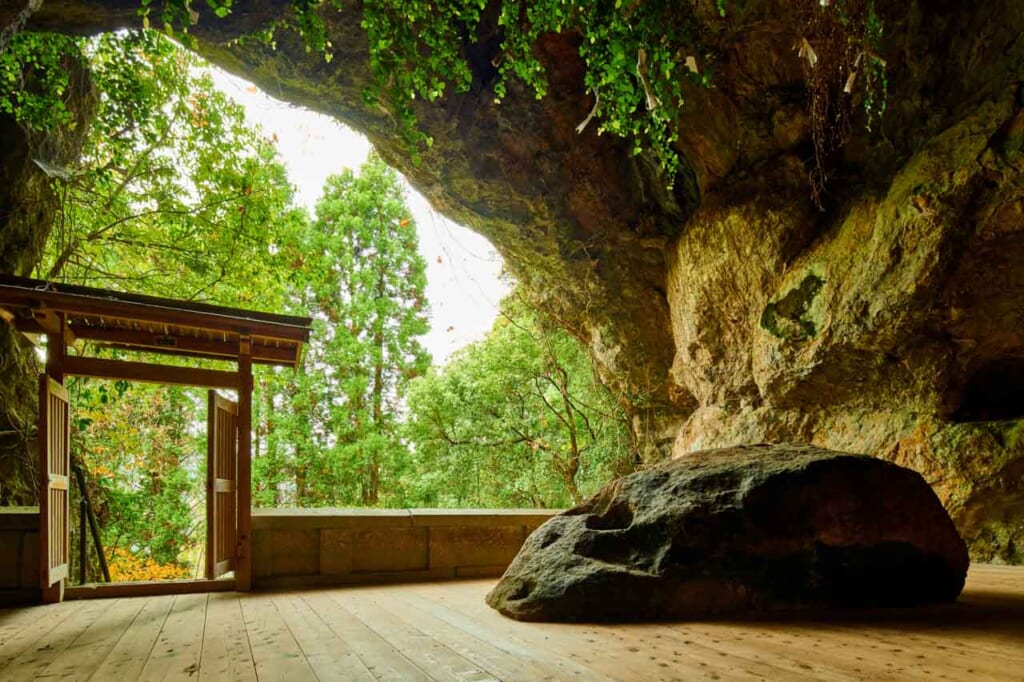 Lunch today is at Kokopelli, an unusually named cafe-cum-antique shop near the entrance to the temple. This stylish cafe features main dishes made with local organic ingredients and delicious desserts. This renovated old house decorated with lovely antique furniture is a perfect example of what makes Kyushu such a unique place to visit.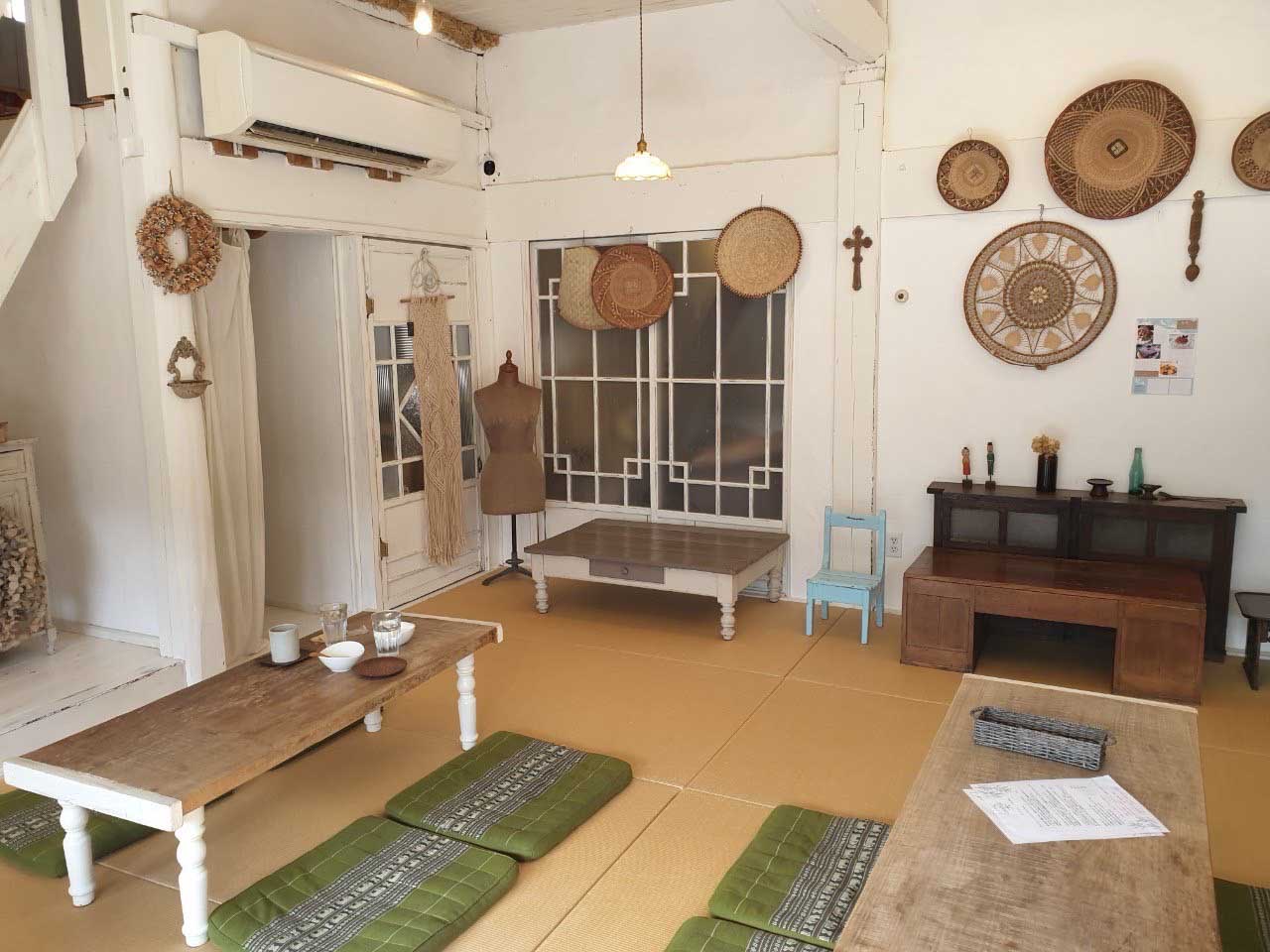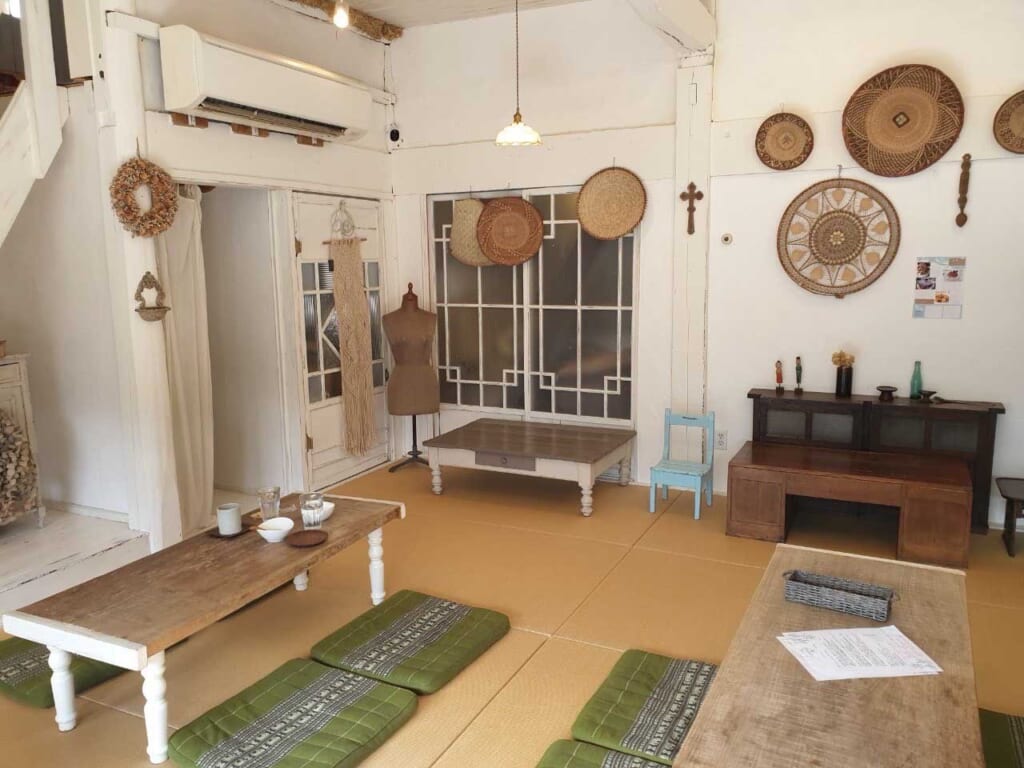 Learn About the History and Resilience of Kumamoto Castle
Nothing represents the strength and resiliency of the people of Kumamoto than its iconic Kumamoto Castle. This historic castle's two keeps opened in 2021 and has much to tell us about Kumamoto and its people. The castle's strength was fully realized in 1877 during the Satsuma Rebellion when a garrison of 3,500 men inside the castle successfully repelled an assault by the 13,000-man-strong Satsuma army. As part of the most recent renovations of the castle, exhibits have also been updated with modern technology, including projection mapping and multilingual apps to make the castle's history more accessible.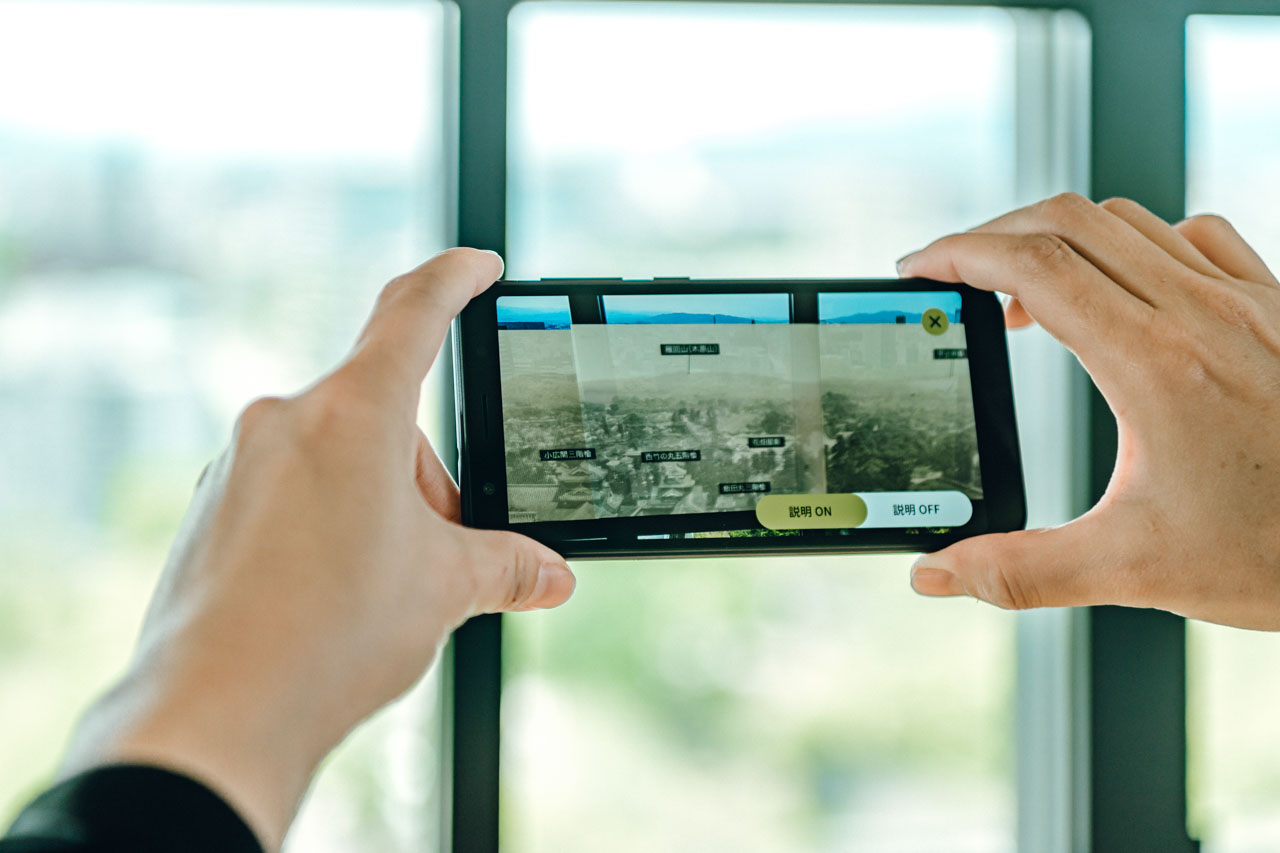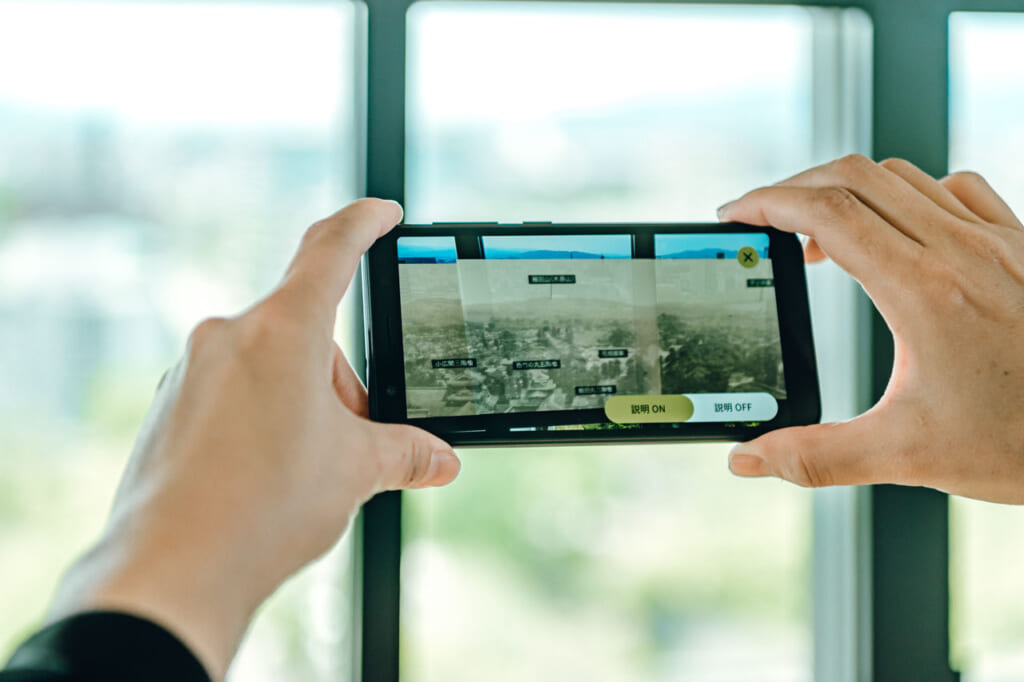 Test Your Japanese Sword-Wielding Skills
After being teased with samurai history and following the footsteps of Miyamoto Musashi over the past few days, many visitors might be itching to try a bit of swordplay for themselves. Just a few minutes from the castle at the Musashi Building, an authentic Iaido (swordsmanship) teacher is ready to instruct you in the Way of the Sword. This 90-minute course is designed to give you an overview of the teachings of Musashi, allow you to wield a real Japanese katana sword, and give you a unique souvenir to take home: a personalized certificate of training (and a special hand towel). After completing your training, relax and enjoy a cup of matcha served with Japanese sweets, just like the samurai of old used to enjoy.
Make Your Own Traditional Japanese Confectionary
If you can't get enough of those Japanese sweets, why not learn how to make them yourself? Japanese sweets, known as wagashi, are made to be beautiful in appearance and delicious to taste. Local confectionery Tenmeido (北川天明堂) conducts small-scale workshops on making sweets with various local ingredients and colorful shapes. This fun experience is perfect for foodies who want a special memory, or perhaps a technique or two, to take home with them.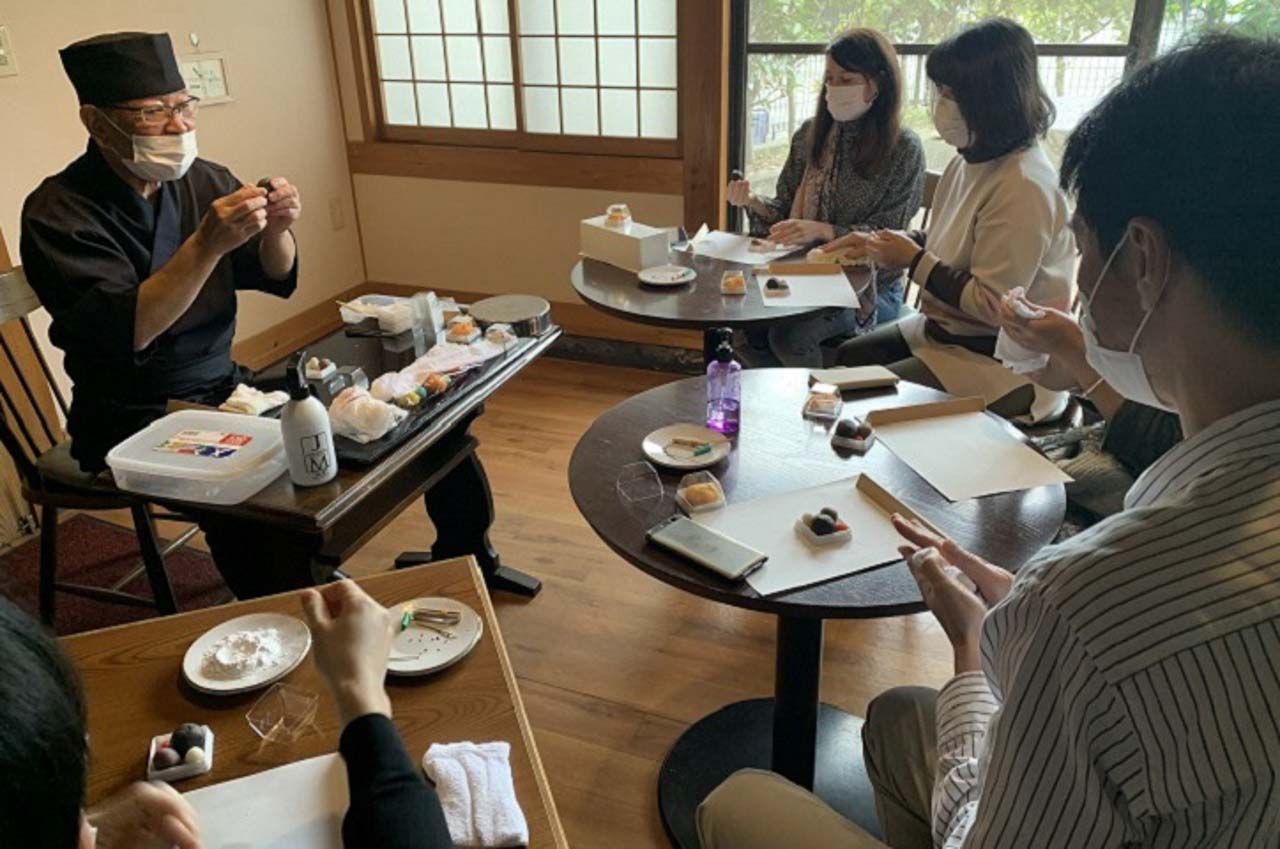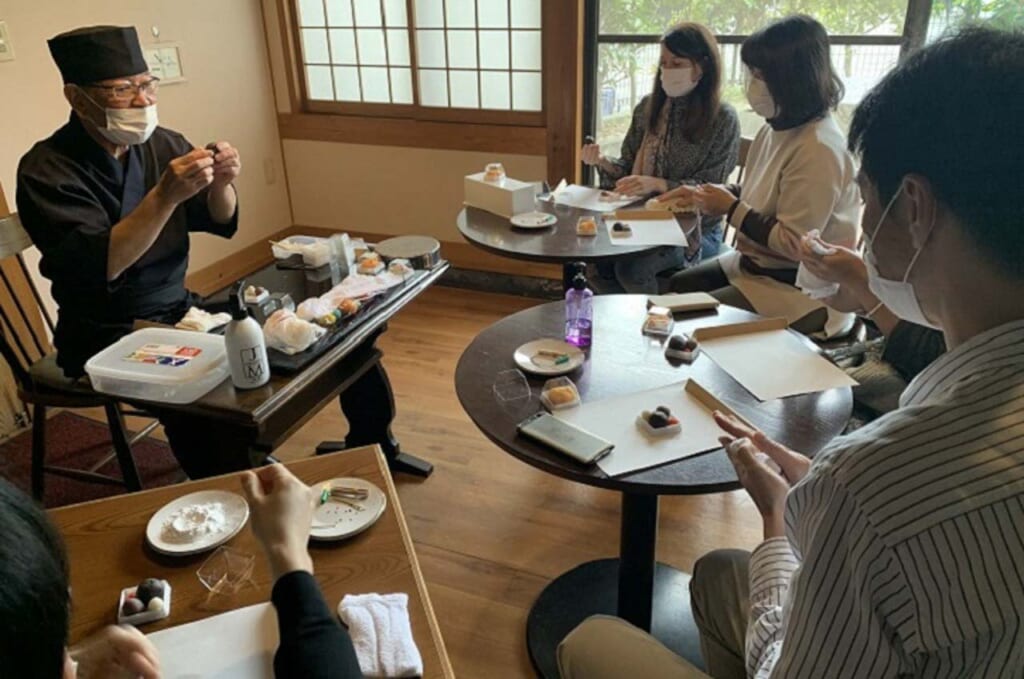 How to Access Kyushu
Kyushu is served by local and express trains connecting all major cities, including Kitakyushu, Kumamoto, and Beppu, with Kokura Station being the main train hub transit point between Kyushu and the main island of Honshu. The Limited Express Sonic train will take you to all major stations and is covered by the Japan Rail Pass.
Four days in Kyushu is not nearly enough to discover the charm and beauty of this region of Japan, but we hope this trip whets your appetite for more. With its proximity to well-traveled destinations like Hiroshima and its lower risk environment in the post-COVID era, Kyushu represents a great addition to your Japan itinerary, if not an entire itinerary in itself.
Sponsored by the Kyushu District Transport Bureau