One of Japan's most impressive night illumination festivals is held in the Kansai region: Kobe Luminarie (神戸ルミナリエ). Although the event takes place in December, it's not to celebrate Christmas but rather to commemorate the Great Hanshin Earthquake that devastated the region in 1995.
Kobe Luminarie: Winter Illuminations Commemorate the Great Earthquake of 1995
The first Kobe Luminarie was held in December 1995 as a message of hope for the people, a little less than a year after a particularly devasting earthquake hit the city and the region on January 17, 1995.
The Luminarie was such a success that this festival of lights, originally planned as a one-time event, now still takes place every year for about 10 days in early December, where each edition attracts over 3 million visitors.
Today, Kobe Luminarie is a monumental light installation in the streets of central Kobe, initially designed by the Italian artist Valerio Festi and by Hirokazu Imaoka. Each year, a team from Italy comes to Kobe to create new decorations faithful to the original vision. Parisians might see something familiar, as Valerio Festi also architectured the famous illuminations of Les Galeries Lafayette department stores in Paris during the holiday season from 2002 to 2012.
More than modern Christmas illuminations, Kobe Luminarie seems to be inspired by Italian light festivals, strongly rooted in Christian traditions that flourished during the Renaissance period. It brings to mind the Santa Domenica Festival in Scorrano, a small town in southern Italy, where every summer, ornate illuminations commemorate the miraculous recovery of its residents from a historical plague epidemic.
Immerse Yourself in the Illumination of Kobe Luminarie
To be honest, I am not particularly fascinated by winter illuminations or by events that attract crowds of visitors. But as I live in Kyoto, a city quite close to Kobe, I thought it was worth going out to see the Luminarie at least once. As it turned out, the illuminations were far more spectacular than I could have imagined.
The Luminarie occupies the big avenues of downtown Kobe, usually frequented by the customers and rushing employees of the many (luxury) shops in the neighborhood. The monumental installations embody an architecture of lights that transforms the city by nightfall, immersing it in a colorful, fairy-tale world tinted with European and Catholic influences.
This impression is further reinforced by Western religious music, which complements this surprising yet quite moving atmosphere in Japan.
Walking Through a City of Lights
While the illuminations are renewed each year, the path is always the same. Visitors begin by walking down a wide straight avenue lined with colorful towering arches.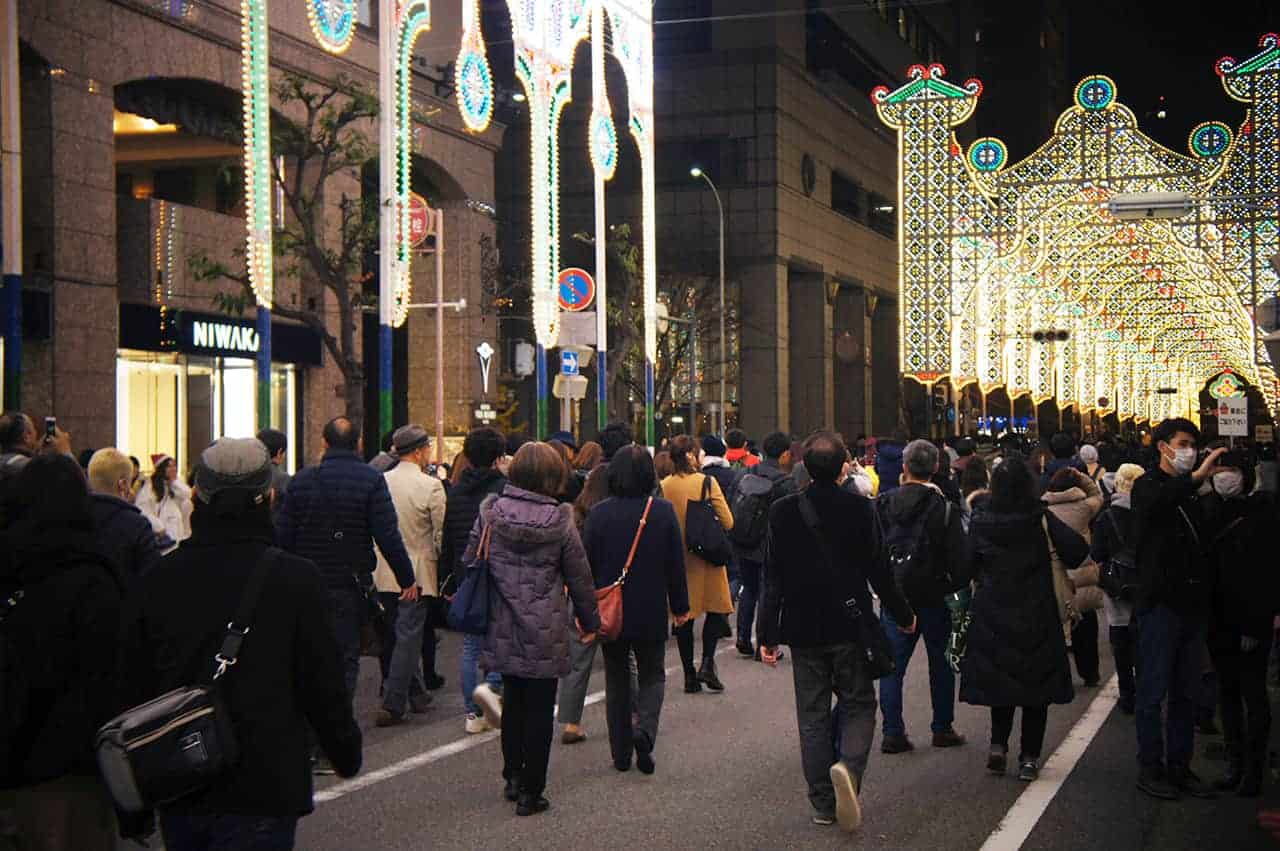 This long street opens into the darkness of a large plaza centered around a monumental structure that I am tempted to call a "cathedral." As the path becomes less restricted, young and old marvel at this edifice of light, discovering its true dimensions as they approach, enter, and are dazzled by thousands of multicolored lightbulbs.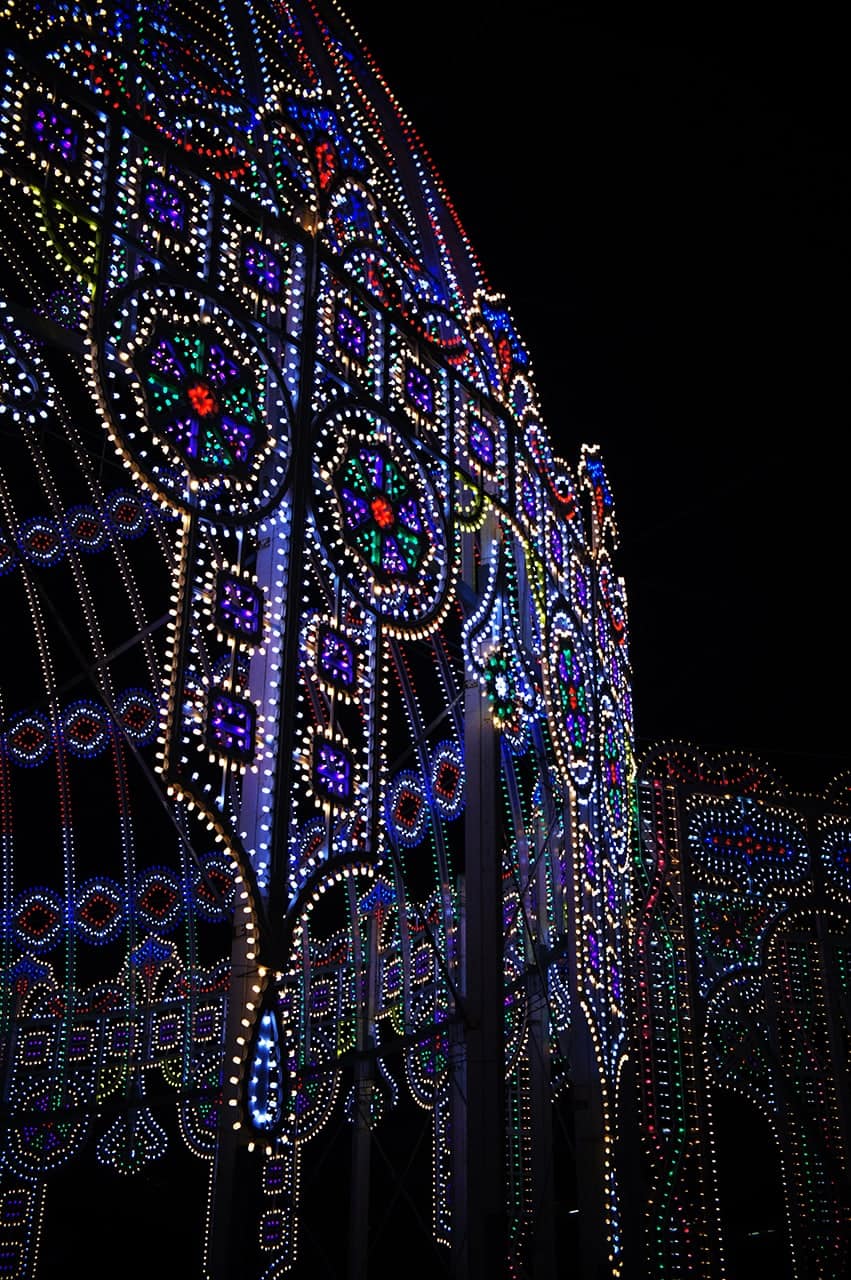 It's easy to imagine how, just as in a fairy tale, this wonderful palace will fade in the first rays of sunlight.
The rest of the path is more down-to-earth and typical of matsuri, where you will find the ubiquitous food stalls of Japanese street festivals.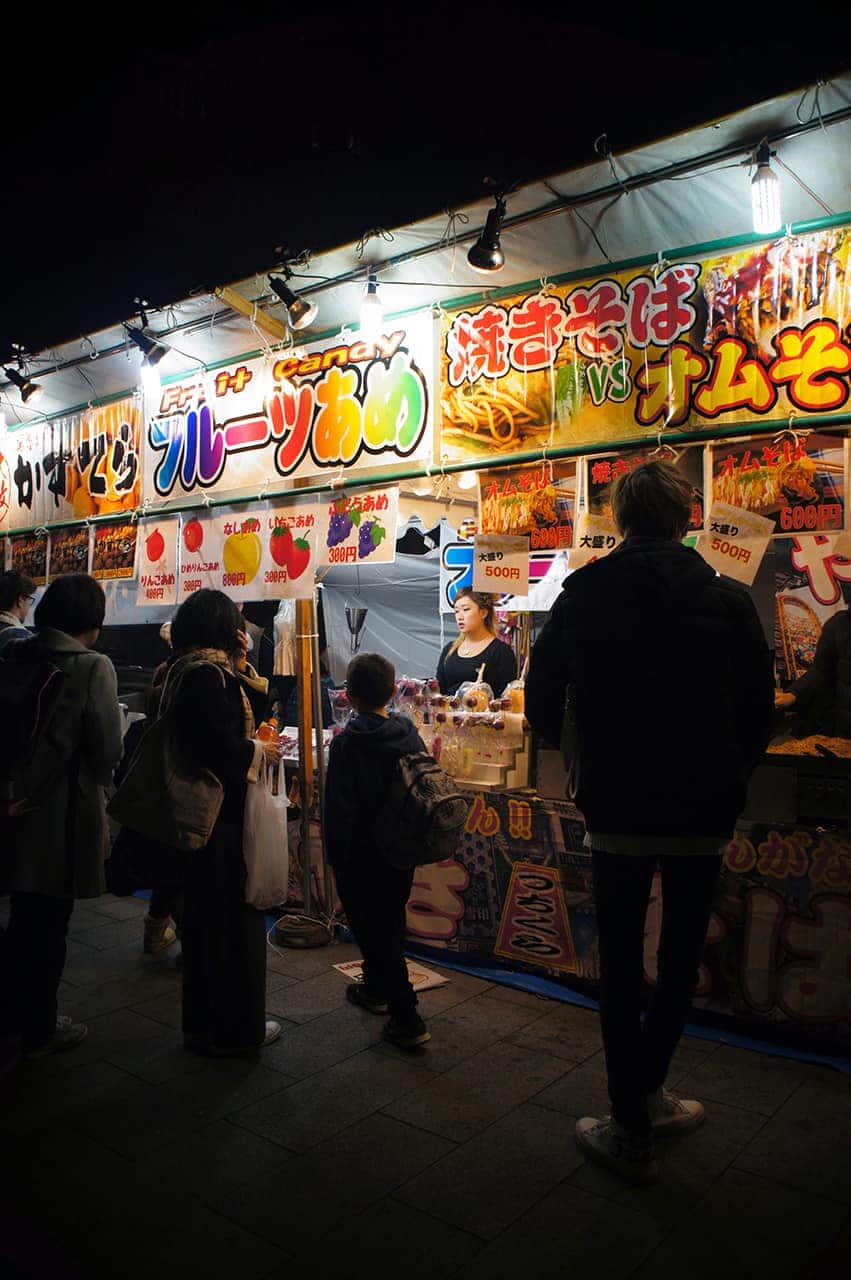 For an audio-visual glimpse of the Kobe Luminarie atmosphere, you can watch this video by Sankei News, shot in 2015:
How to Access the Kobe Luminarie Illuminations
There is no doubt that the Kobe Luminarie illuminations are dazzling. But practically speaking, I must admit that before going, I was a bit worried about the crowd — more than 3 million visitors each year over 10 days means more than 300,000 people each night. Even on a weekday, I knew I wouldn't be alone in appreciating the magical Luminarie.
It was indeed crowded, but Japan's famously orderly event management was meticulously at work to ensure that nothing went awry, let alone become chaotic or oppressive. The itinerary path through the installations is so well defined that there is only one possible way forward — and no going back. Photographers take note: Don't expect to have enough time to shoot beautiful images with a monopod; you will have at most a few moments to stop and snap a quick photo, and this is non-negotiable.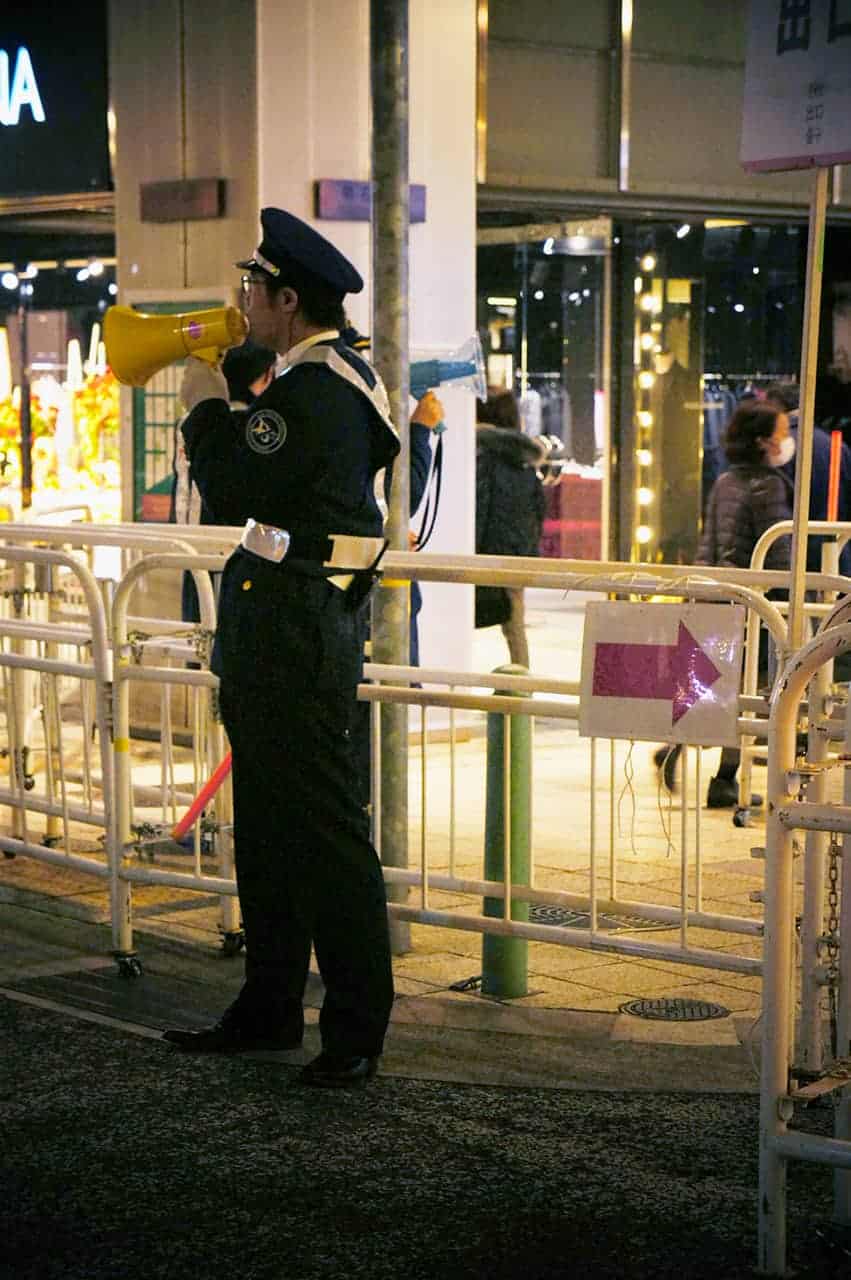 Thanks to these strict rules, which are enforced by numerous agents on-site, visitors can move along at a slow but steady pace. It took me about 30 to 40 minutes to get to the Luminarie.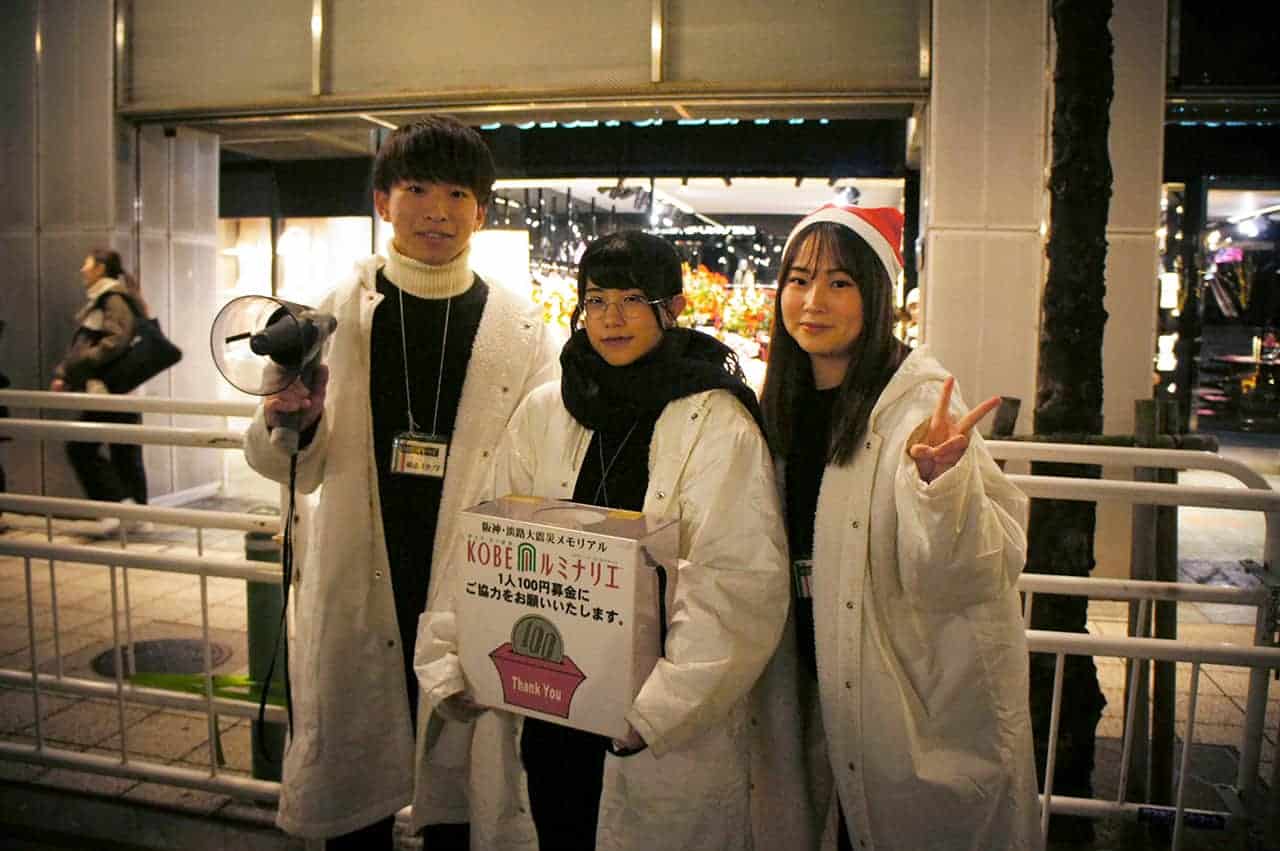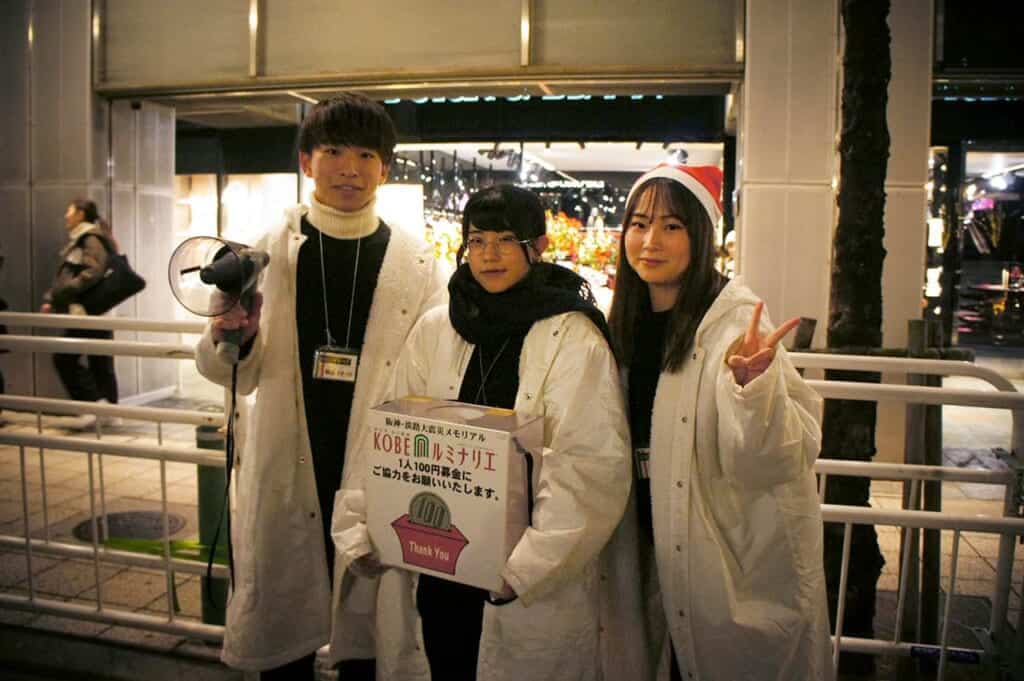 Another thing to note: access to Kobe Luminarie is free, but you will run into many young volunteers holding donation boxes inviting people to drop in 100 yen. I can only encourage you to do so, as this money directly supports the festival and is well worth the spectacle!
What Else to See Around Kobe by Night
As visiting the Luminarie doesn't take long, you might as well extend your visit to the surrounding sights of Kobe by night. Kobe's Chinatown and the city's famous harbor are both within easy walking distance of the illuminations.
Exploring Nankinmachi, Kobe's Chinatown
After traveling through the wonderland of the Luminarie, immerse yourself in the Chinese atmosphere of Nankinmachi (南京町).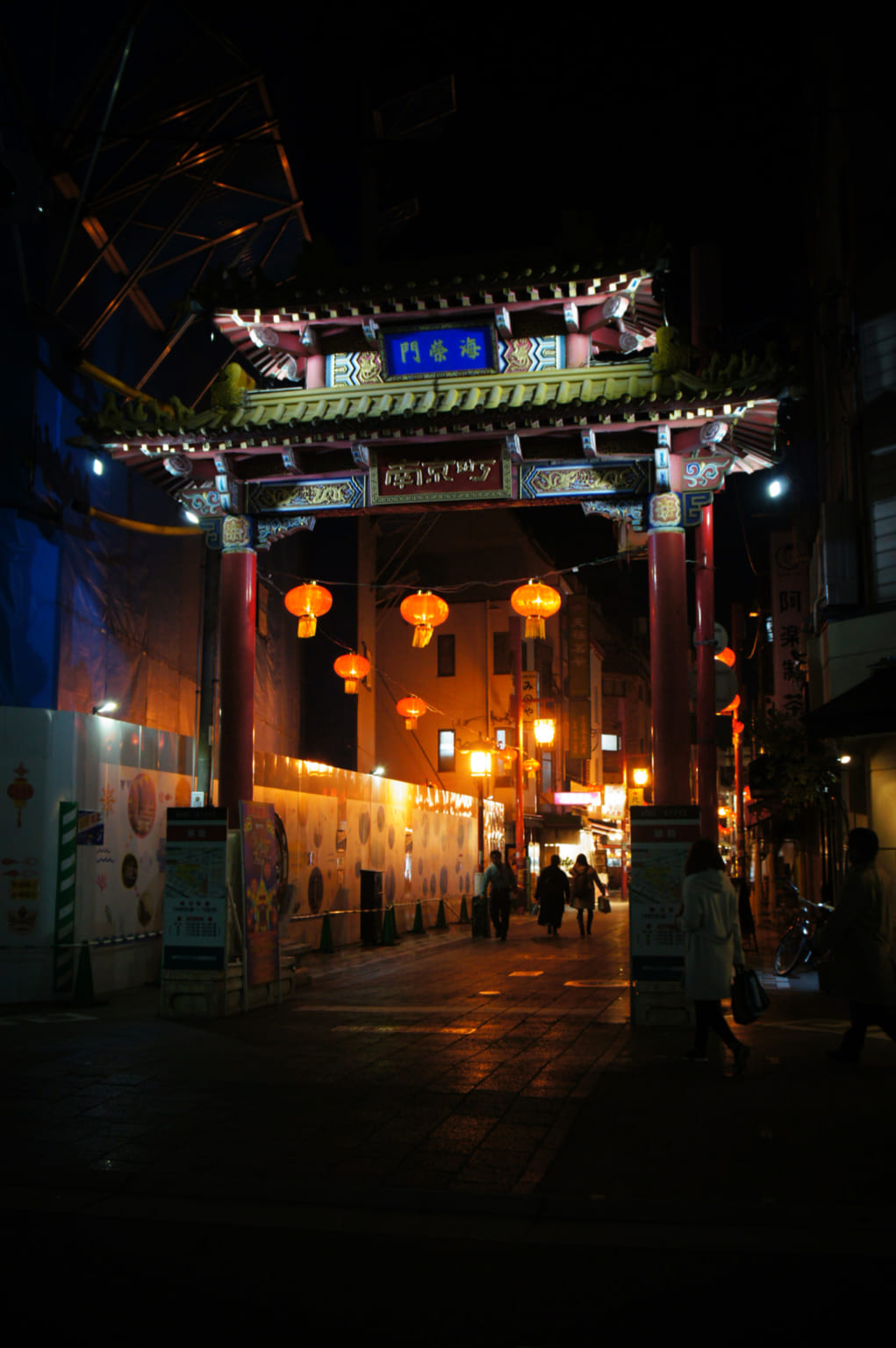 Nankinmachi is one of Japan's three largest Chinatowns, along with Yokohama's and Nagasaki's. Passing under one of the distinctive red gates is like walking right out of Japan and into a realm of Chinese lanterns and countless restaurants selling food to take away right on the street.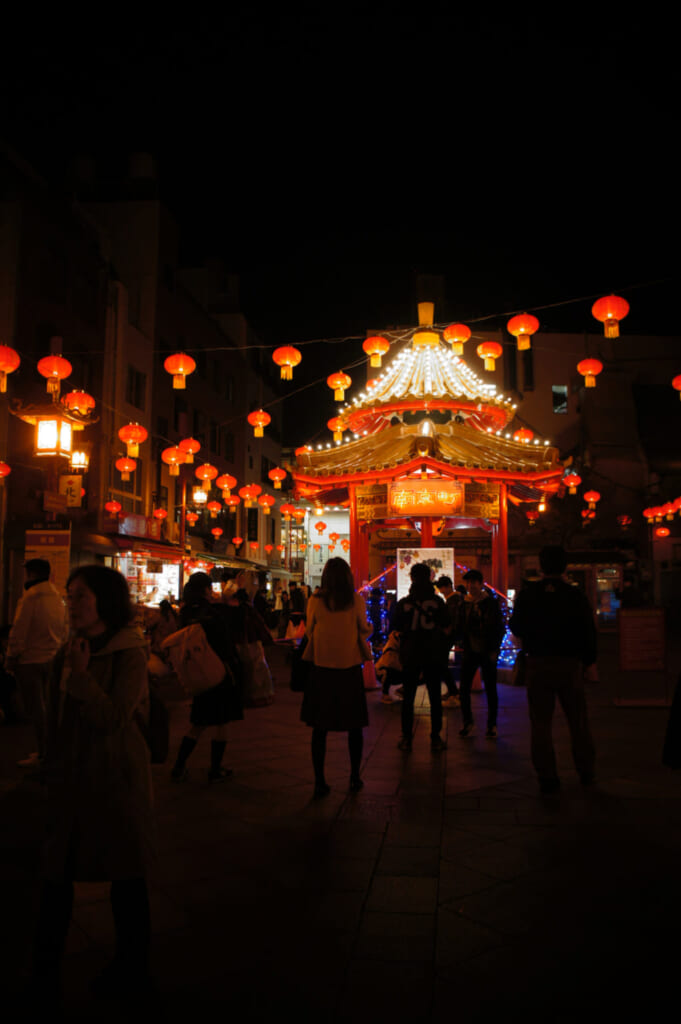 Strolling a Romantic Promenade by Kobe Harbor
Another unmissable neighborhood of Kobe is its harbor, famous for the landmark Kobe Port Tower (神戸ポートタワー).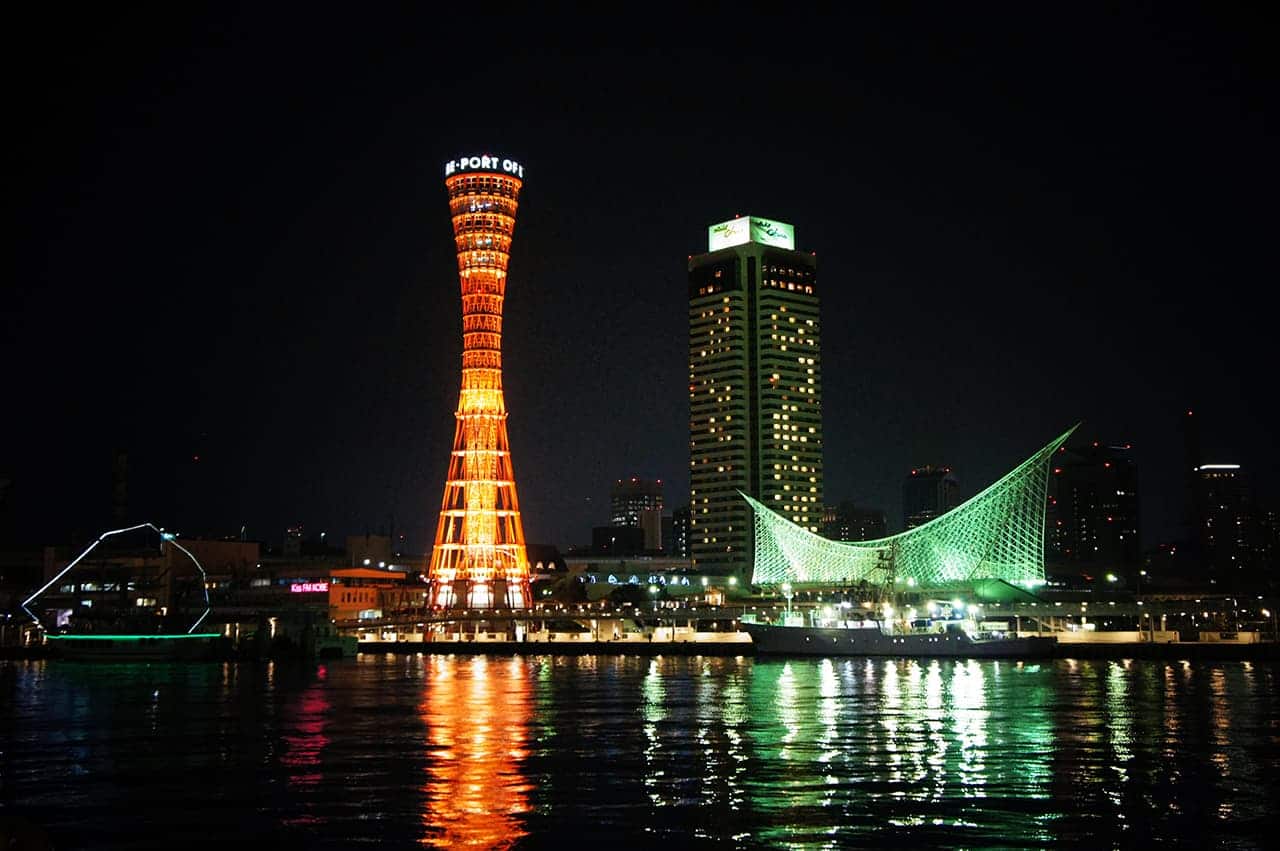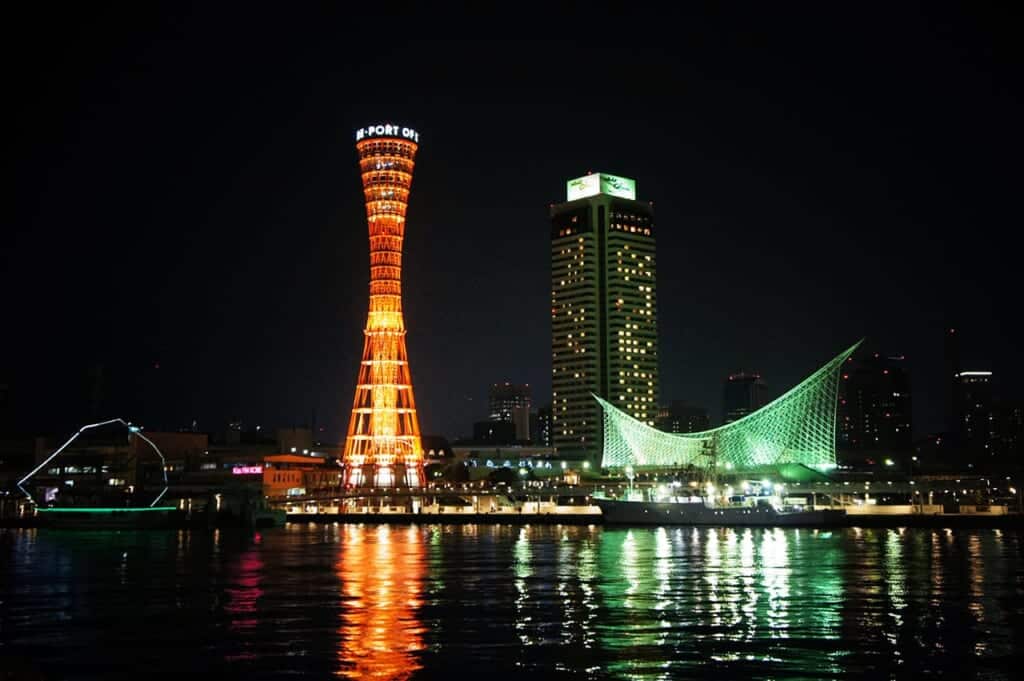 There is plenty to do by day at Meriken Park (メリケンパーク): tower, maritime museum, cafés and restaurants, street art and contemporary artworks, and even short tourist cruises. This is also where you'll find the Great Hanshin Earthquake memorial.
By night, it's the perfect setting for a pleasant, if not romantic promenade by the water.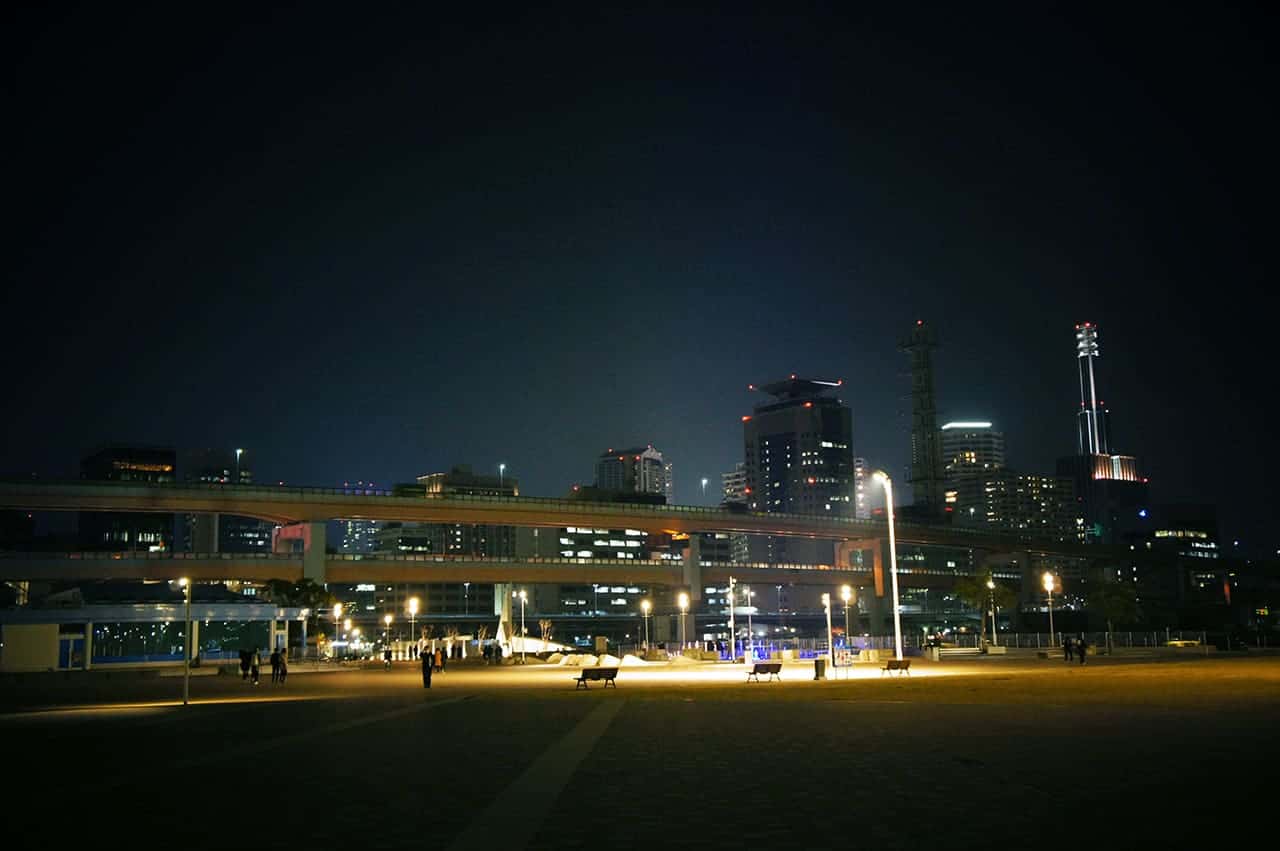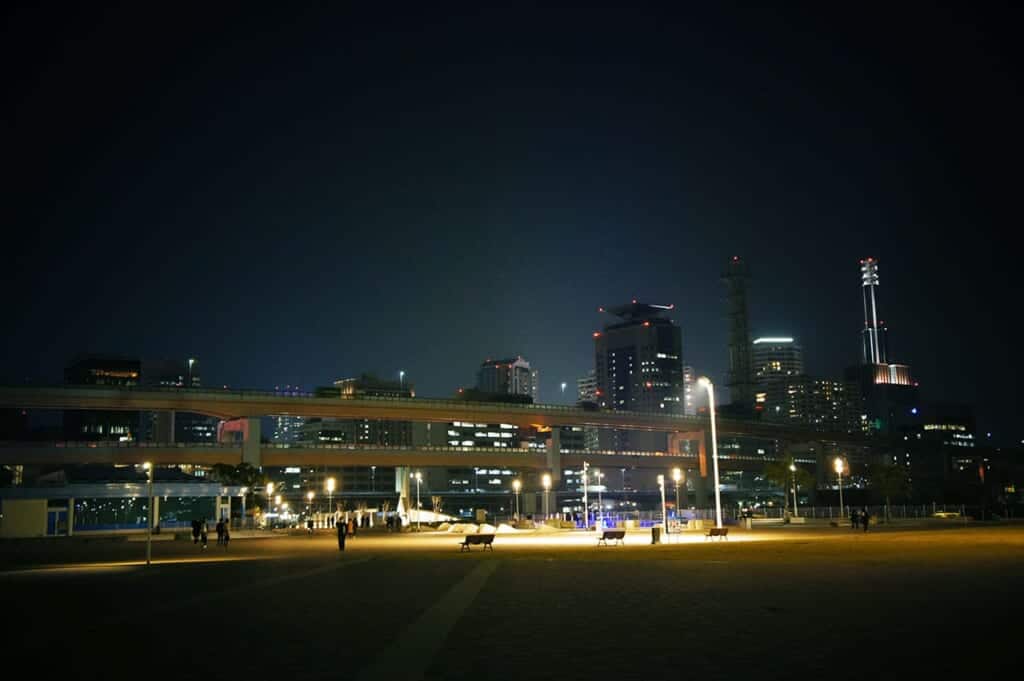 Just across from Meriken Park is Kobe Harborland (神戸ハーバーランド), a commercial and recreation area where you'll find shopping malls, restaurants and cafés, an Anpanman museum, a Ferris wheel, and a few historical sites.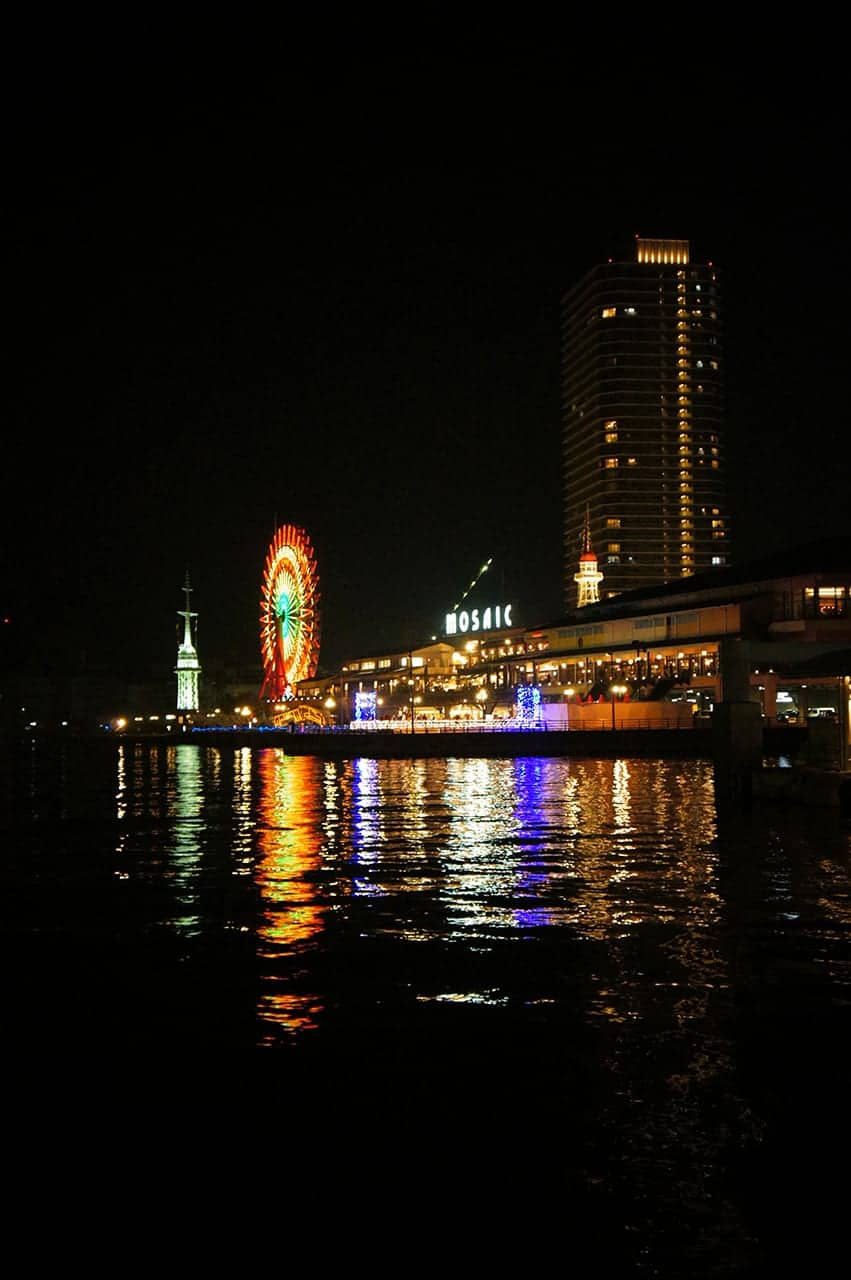 In winter, a temporary ice skating rink is set up at Kobe Harborland with a perfect view of Kobe Port Tower.
The street that connects Kobe station to Kobe Harborland is called Gaslight Street (神戸ガス燈通り), illuminated by old-fashioned gaslights during the holiday season. It's an ideal pathway to conclude (or begin) your night escapade in Kobe during the Luminarie.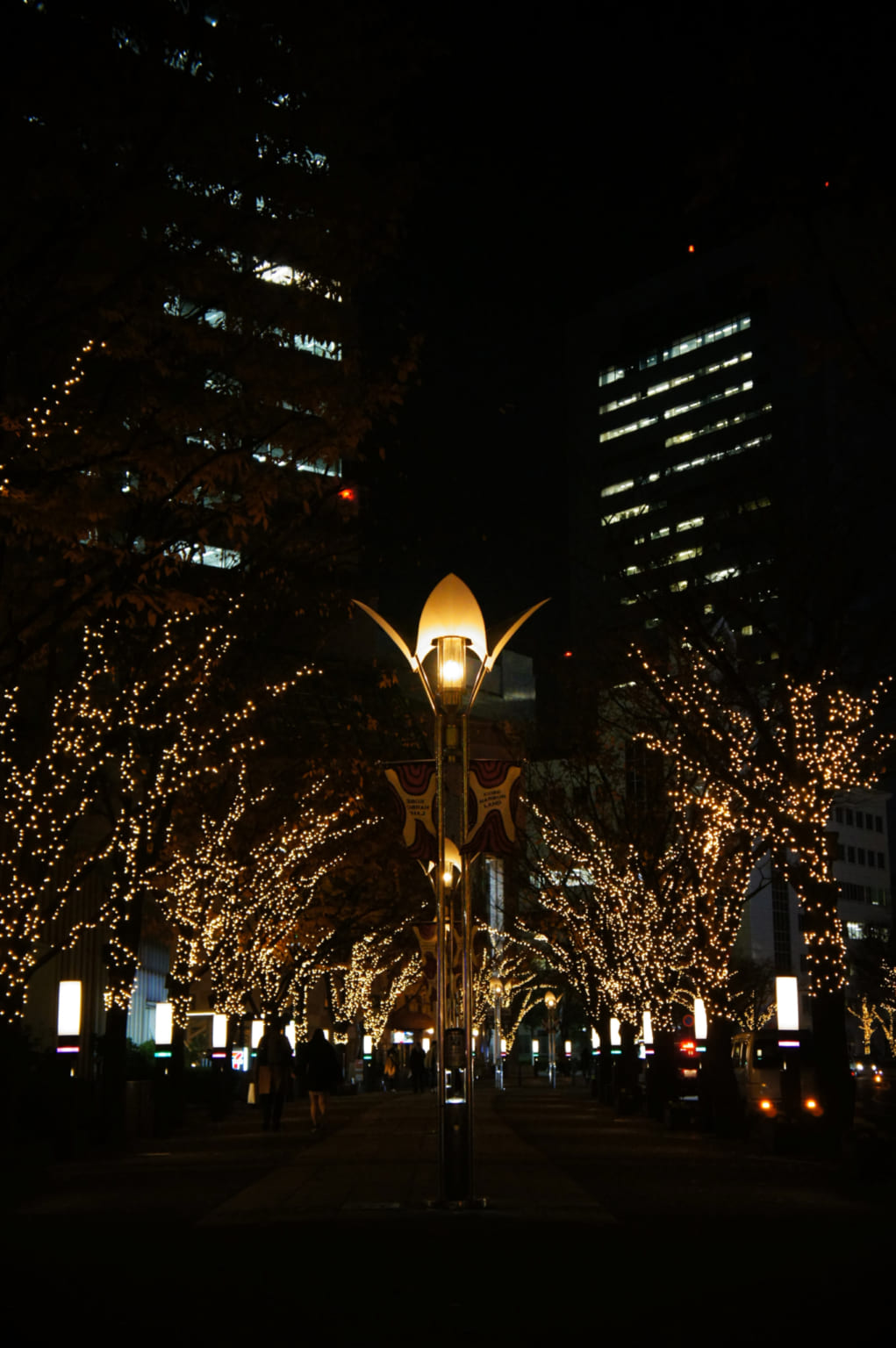 Access and Practical Information
To get to Kobe Luminarie by train, take the JR Tokaido-Sanyo line to Motomachi station. Access is quick and easy from the neighboring cities of Osaka (30 minutes) and Kyoto (1 hour). This journey is also covered by the Japan Rail Pass.
If you prefer to begin or end your visit with Kobe Harborland, the nearest station is Kobe, just one stop after Motomachi on the same line.
Of course, we recommend spending at least a full day in Kobe, where there is much more to discover than its famous Kobe beef (which you should definitely also try if you're a meat-eater).
More information is on the Kobe Luminarie official website (in Japanese).
Kobe Luminarie, which has been held almost every year since 1995 to commemorate the Kobe earthquake, is one of the most impressive festival of lights in Japan. Its monumental installations create a magical city of light in the heart of Kobe, where you will soon forget the crowd.
Translated by Cherise